Hi Everyone:
I would like to dedicate this outing to my dear friends, Pitti, Geraldro, Martin and others who loves and appreciate this kind of outing.
This is a follow up on my previous post: "If You Were a Trout.....".
We have been fishing the beautiful Yellowstone River for the past three days. The water level in the main river is fairly low as we are now entering mid-September. The leaves on the cotton wood trees have just started to turn golden in anticipation of Winter. You can even see some snow on the tops of the distant mountains. The mountain air is cool and crisp, feels great when you take a deep breath, pumping the fresh Montana air into your city polluted lungs. This is one of the many reasons for some people to visit Montana, to see this beautiful country still pretty much in its former pristine state. Long before chemical and thermo pollutions took hold in the big cities and then becomes a part of everyday urban life. People come to Montana to relax, to have fun, to see and appreciate the outdoors. A nice evening sitting on a porch by the Yellowstone river is a great way to look deep inside your soul and do some introspect thinking about things, events, life, etc. Montana, what a special place for people who appreciates a bit of solitude and the great outdoors.
Fishing on the Yellowstone was great fun but not spectacular but we didn't come here to catch the trophy Brown this time. To catch that trophy brown you will need to be on the frigid river when the spawning season is in full force. Sometime towards the end of September and mid October. We are now here for some relaxation, do a bit of photography and maybe even have a nice picnic or two on the rock and pebble strewn banks of the Yellowstone River. During the past three days we caught some nice browns, rainbows, many whitefish and an occasion Yellowstone Cutthroat trout in the slower back washes and quieter eddies.
Today, however, were are going to the famous Nelson Spring Creek for some ultra light tackle flyfishing. You will be presenting your flies to some of the most educated fish in these parts of Montana. The water will be fairly shallow and crystal clear. The flow smooth and consistent. The fish that you seek will be in plain view as they move around and work their way along the weed beds, riffles and rocks in the creek. Well, the problem is, if you can see them, they can also see you and this sometimes creates an impasse between the fisherman and the fish.
(Translation: very difficult fishing!) You will be using size 18 or smaller flies on 6-7x tippets. It will be a fairly long time before each strike. If you over react when a fish takes your fly you will hear that sickening "zing-snap" sound more often than you would like. So please be gentle, very gentle when you set your hook! Sometime this is hard to do with your heart racing at 160 beats per second and your hands trembling during an intense mayfly hatch.
Curiously there are two school of thoughts and dress codes on Spring Creek fishing. You will see some fly fisherman with bigger than needed fly rods, a bright red hat, white flannel shirt, a red colored vest and huge chest high waders with tungsten cleeks on the bottom of their soles. On the other extreme you will see fisherman dressed in camouflaged garb from head to toe. Seriously I even saw a fisherman who painted his face in camouflage paint just to keep the light reflection to a minimum. A kind of Ninja flyfisherman. Man, this is not fishing anymore. this has become an expression.
Well, from my past experience the Nelson trout tended to favor the more subtle and gentle approach. To the Nelson trout, being trampled to death by a size 14 tungsten cleeked boot is more painful that being hooked and played with by a size 18, barbless Olive Dun fly!
We leave Livingston at mid morning and headed out to the East River Road. The Nelson Spring creek is located just 9 miles South of the town Livingston, Montana. You noticed the bug splatters on the windshield as we turned off the main highway and drove along the East River Road. Lots of insects in the air and that is a good sign. Hopefully we will be there just in time for the main morning hatch. A few minutes later we arrived a the Nelson Spring Ranch office. You will be greeted warmly by one of the Nelsons and you will be asked to sign a guest book. Within the pages of this old guest book you will find names like, Joe Brooks, Charles F. Waterman, two of the premier and most respected outdoor writers in the 20th Century. Over the years Nelson Spring creek has played host to so many sports, corporate, Hollywood and political dignitaries that it will be impossible to enumerate them all. However, today we didn't come to pay homage to dignitaries. We have come here to "experience" the fabled Nelson Spring Creek in Montana.
The Nelsons, who owns and operates the spring creek property, have been here for more than six generations. Like most early Montanans they started out as ranchers, doing cattle, dairy farming and other ranching business. (They still do that today) But later they discovered the potential of the Nelson Spring Creek becoming a superb trout fishery after being told by the great late Joe Brooks. Joe fished the little known stream one day and was impressed with the "little creek" that the Nelsons used mainly for "stock watering". Wow! This discovery, to the avid flyfisherman is fantastic news. For the cows, now they have to drink out of a stock tank set up just for them. Not so yummy anymore but still plenty of fresh water to drink when they get thirsty.
Here is a great picture of the Nelson seniors taken in the good old days: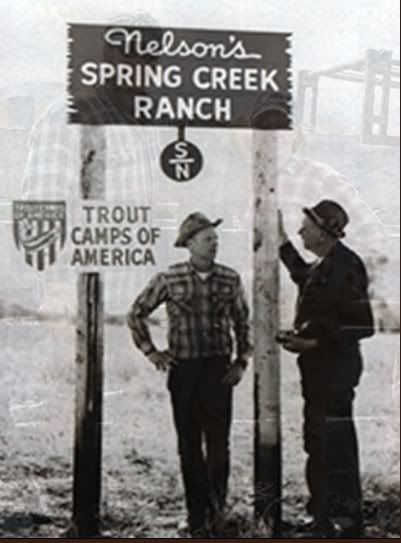 Over the years the Nelsons have done a great deal to improve their precious and rare spring creek property. Just last year they spent a lot of time, thought and money to make the Nelson Spring Creek even better by way of stream maintenance and stream bed improvements. Due to the slow moving spring creek water, siltation and over grown weeds have always been a serious problem in many spring creeks. Without proper maintenance these spring creeks will soon become over choked with weeds.The accumulation of silt on the creek bottom will make these spring creek more shallow as time goes by. Trout, by nature, seeks the best stream habitat that they can find. These fish will soon leave for better waters if stream conditions deteriorated over time. The last time I visited the Nelson Spring Creek was five years ago and they tell me that the "improved" Nelson Spring Creek is even better than before. I just can't wait to go back and fish it again.
Jacquie Nelson, a membersof the Nelson's family and the current Nelson Spring Creek business manager, was kind enough to send me some of her beautiful photographs of the Nelson Spring Creek for this custom outing. Jacquie is an expert photographer and has taken many great pictures of the stream, insects, fish over the years. I am lucky to have contacted Jacquie for these great pictures.
Jacquie Nelson, a big thanks you from all of us at RWFF!! . Without your beautiful pictures this outing would not have been possible!
Below you will see one of the Nelson Spring Creek's famous flats before it enters the Yellowstone River. On the left bank you will see some exposed rocks and dirt as a result of a recent stream improvement project. This bare spot should be again covered by lush vegetation when summer comes around.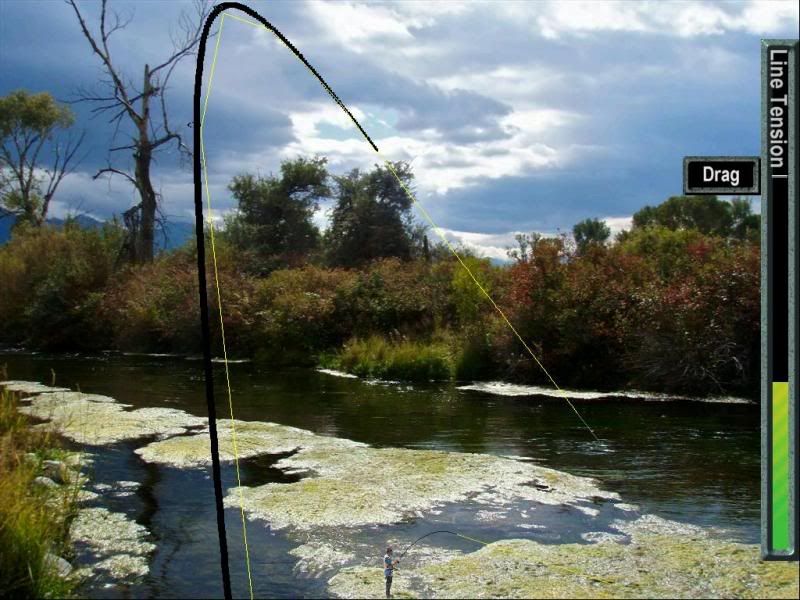 Recently the Nelsons have built a nice hut in the parking and staging area alongside the spring creek. You don't have to sit on the rear bumper of your car, or RV to put on those waders anymore. There are some nice chairs, a table and even rod racks to put your precious flyrods. A really nice and much appreciated touch. Part of the friendly Montana hospitality, I guess.
You can find out more about the Nelson Spring Creek Ranch via this link:
http://www.nelsonsspringcreek.com
Now back to fishing the Nelson Spring Creek. Hey! I noticed you skipped one the line guides as you tried to thread your fly line through your 4 weight Winston split cane rod. Your eyes were focused intensely upon those dimpling and rising trout about 50 yards away. Plenty of fish activities now as the morning hatch reached a climax. Looks like a nice pale morning dun hatch, laced with a few larger sulphurs. I think we have hit the sweet spot this morning.
What happened after that? Well, you will have to download the new "Fabulous Nelson Spring Creek" outing in the Development forum to experience it and find out for yourself!
Good Luck and don't fall in, the moss covered rocks can get a little slippery.
Regards,
Stanley
PS. I apologize for this long post but it is hard to describe Montana and the Nelson Spring Creek in just a few words. Most of you who live in the US might have heard of, or even fished the Nelson Spring Creek before. To our European friends who love trout fishing this will be a nice voyage and a worthwhile read.