Hi Martin, Stanley and Everyone,
Finally finished fishing this outing last night. The last fish I had to catch out of the 16 species was the Yellow Perch. With the size of the fish that were caught it would be best to use medium to heavy tackle. Martin had some excellent scenery in this outing. Also nice background sounds and definitely he put in some tricky currents which took a little bit of exploring but was finally able to drift the fly in their territory where they would finally take the fly. 14 of the species was caught on the surface and the last two was caught at 3 feet. It took me 4 times thru fishing all the sites when I finally caught the Yellow Perch. Another excellent outing from Martin and had a lot of real jumpers. Another excellent outing that is worth a try. Thanks Martin. Approximately 80 fish caught. Caught all 16 species included in this outing.
In Sw Wondrous Yahara River Wisconsin Winter You Are Fishing For: Jumping Smallmouth Bass, Largemouth Bass, White Crappie, Northern Pike2, Muskie, Brookie, Brown Trout Dark ,Red Rainbow, Steelhead Red, Walleye Dark, Chinook Salmon, Lake Trout Plus Flathead Catfish ,Yellow Perch, Coho Salmon, Brown Bullhead - 16 Species.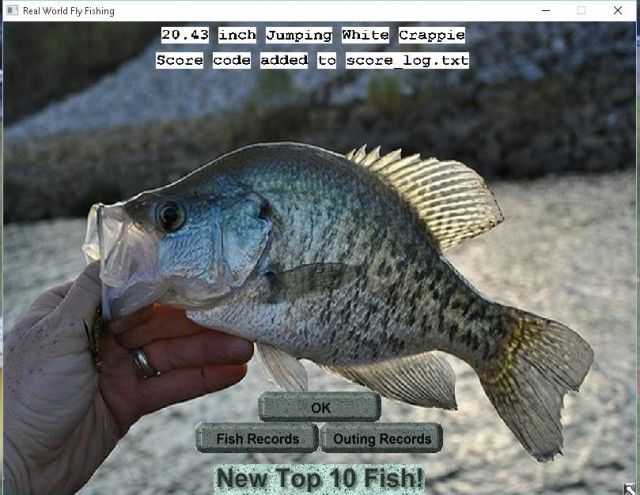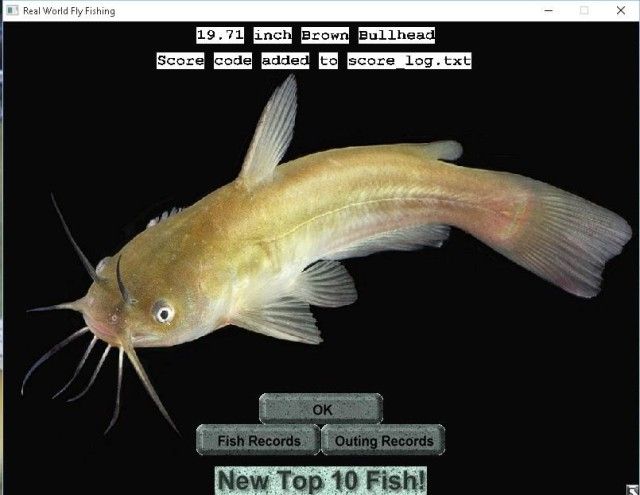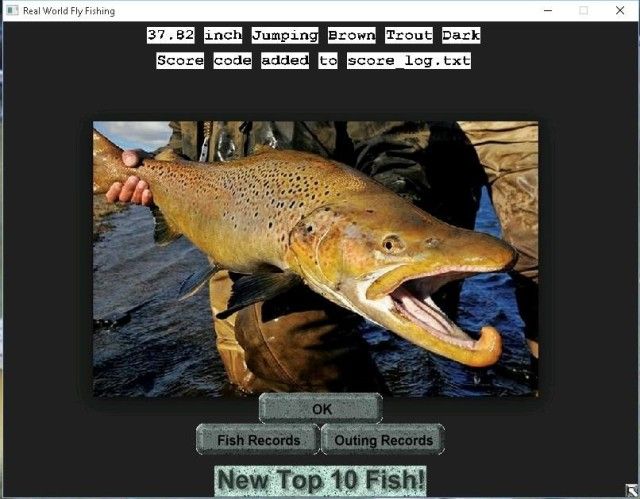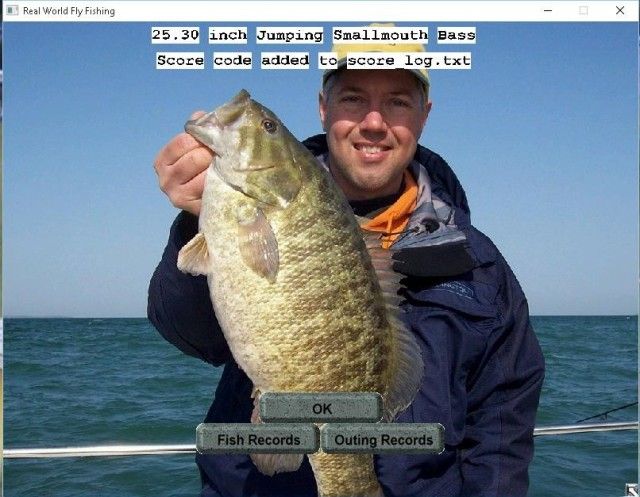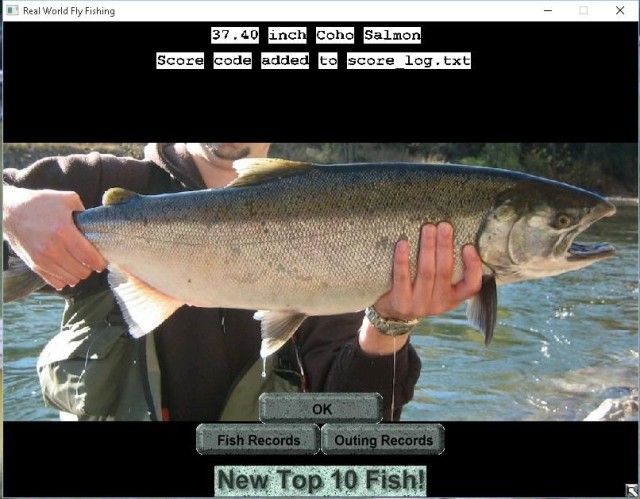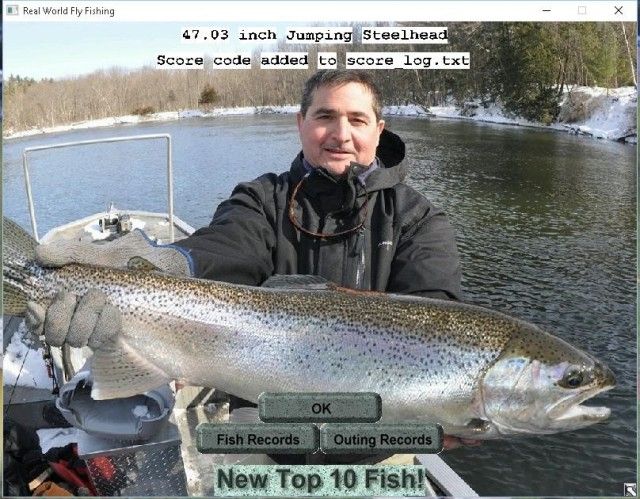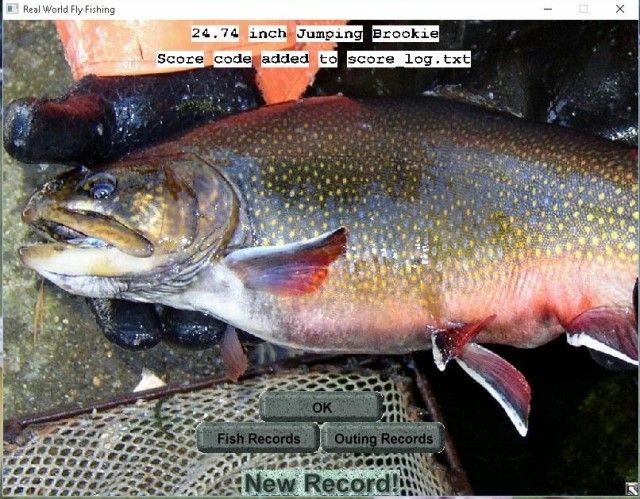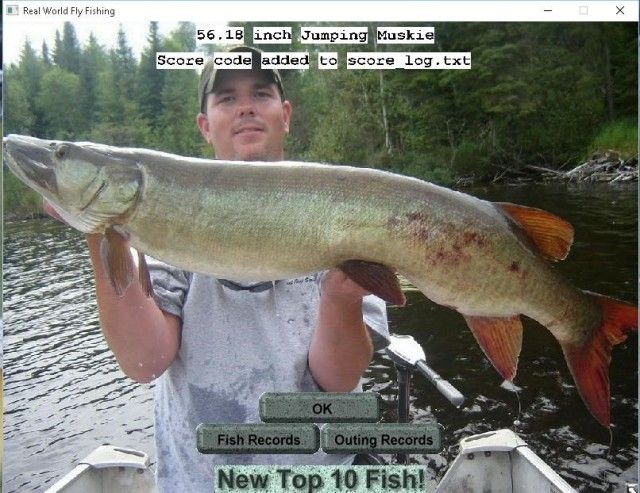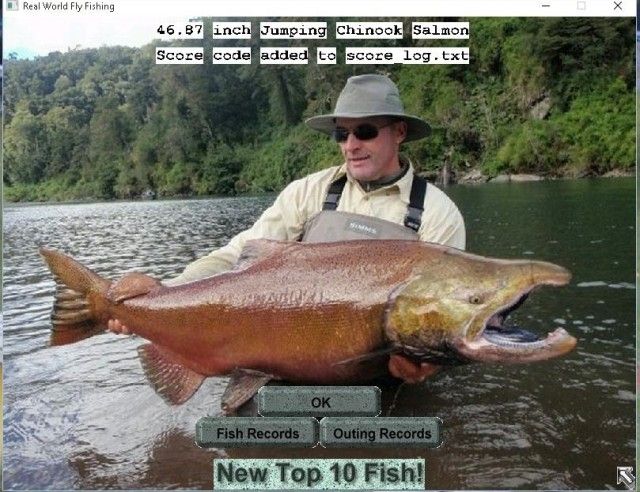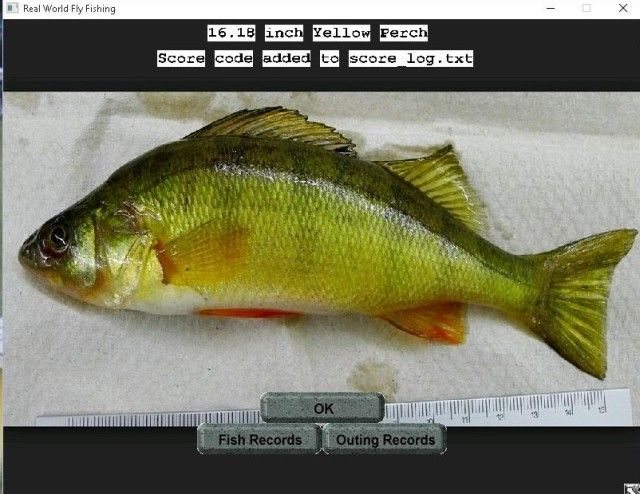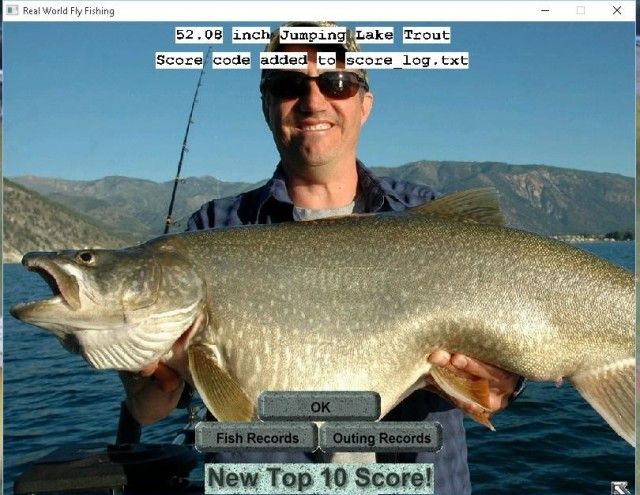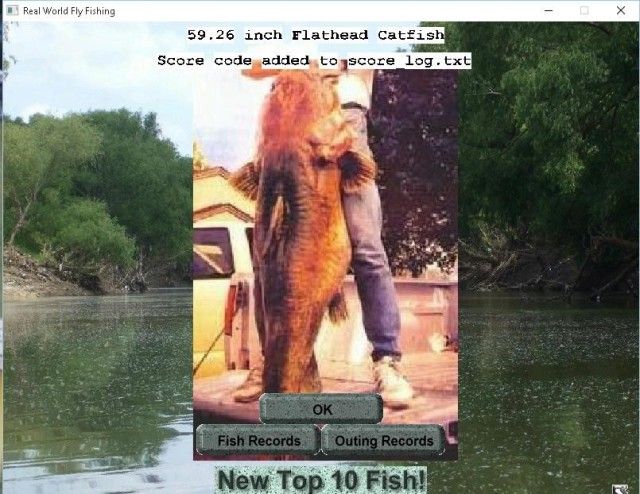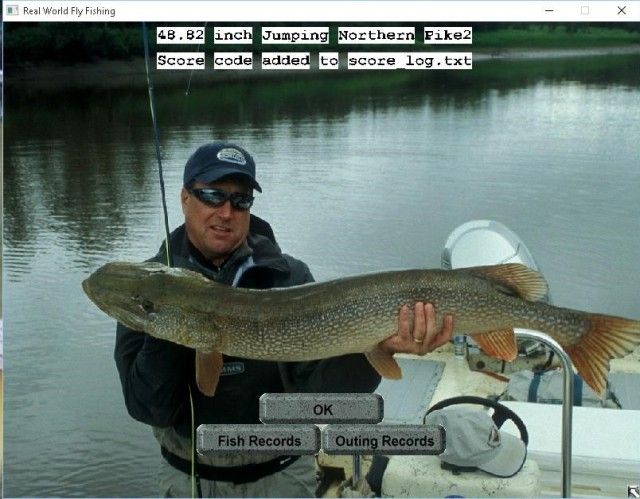 Fish: 44.24 inch Jumping Steelhead Red from Sw Wondrous Yahara River Wisconsin Winter; Code: ZNGXNELOSDOQJ7388MTBITRBLQZLEQADNTTWGMPASDGOXQHKYHLFNKCIZTRNX
Fish: 37.10 inch CohoSalmon from Sw Wondrous Yahara River Wisconsin Winter; Code: USNPXTJRCMLWA2920NRCPZFUKXINZWQPOUTVBLTVOZNUKABRXOVVSNTYPBILE
Fish: 22.80 inch Jumping Brookie from Sw Wondrous Yahara River Wisconsin Winter; Code: XCZTPZPHRLCVS0152LKNJZIUBJDNLIPHBLEWXHIIMWSDCNMSRCZYKLTLDDTDC
Fish: 20.43 inch Jumping White Crappie from Sw Wondrous Yahara River Wisconsin Winter; Code: CXKPMGTOVPDMJ0850IQKKTWUZDXUWPJSMUXBLFFAOMEHTSBGKYGDDQPPNFTAR
Fish: 33.93 inch Jumping Brown Trout Dark from Sw Wondrous Yahara River Wisconsin Winter; Code: BKWXBAPQEJZXY8186PTLFTZZGRGSISPCTNRZAYRKHMBNMQRWEPKMLDJUNXCQF
Fish: 37.06 inch Jumping Brown Trout Dark from Sw Wondrous Yahara River Wisconsin Winter; Code: MXYGFHMFKPXCD0353WEEOPGFRXRDSATOMHGRZXTLGFWDHGJWSLOUEGYHSTABU
Fish: 21.90 inch Jumping Brookie from Sw Wondrous Yahara River Wisconsin Winter; Code: UBDWGEGBYOYKF1827RTTWGPHXQERIJZPHQGCEEMHALMDBJQYQDIXHSWLJXLES
Fish: 18.92 inch Jumping White Crappie from Sw Wondrous Yahara River Wisconsin Winter; Code: QWNPBJVBKVOSW5269QPVWCLEMKVVZJZEZWMKIRGOSYFUETYXUHDUZLXCBKMXA
Fish: 44.39 inch Jumping Muskie from Sw Wondrous Yahara River Wisconsin Winter; Code: SPRRQPCYHASJT9278TTEPBZAQRNYUJZVWAERZGPNUGKLFXYFFKURZGZBRKNSL
Fish: 51.10 inch Jumping Northern Pike2 from Sw Wondrous Yahara River Wisconsin Winter; Code: WRWWVADBTZRUS9321ALWEWIQIXBKZQWIIXDJYIEMUQMKDYAWVVIPPGKUQQSIH
Fish: 34.99 inch CohoSalmon from Sw Wondrous Yahara River Wisconsin Winter; Code: RUQWQPSFCGXLT0941YIROZZWASQGFVYCWSVAZQYHRYRCSCRFDDCSJPIENSILE
Fish: 48.18 inch Jumping Lake Trout from Sw Wondrous Yahara River Wisconsin Winter; Code: OKVYRFRLTTCTO5017OBESXDSJJHNGXMMFOMSKEIAMNZXPITGZMJDNLEBBBZLH
Fish: 50.26 inch Flathead Catfish from Sw Wondrous Yahara River Wisconsin Winter; Code: YKEPOAHOPDYDP3530DPGEUVMTDTNUHWHFBDRYWVLEYJTDVAEGYZVOJMTXXJGP
Fish: 33.45 inch Jumping Brown Trout Dark from Sw Wondrous Yahara River Wisconsin Winter; Code: NVRSSODTAOHCJ5935WXAJJTZIKNSXLSMGBPHQWLEXFAUVPCEBHMSOSACGMKYH
Fish: 17.03 inch Jumping White Crappie from Sw Wondrous Yahara River Wisconsin Winter; Code: NVRSSODOZYGMJ5935WXAJJTZIKNSXLSMGBPHQWLEXFAUVPCEBHMSOSACGZHPM
Fish: 35.88 inch Jumping Brown Trout Dark from Sw Wondrous Yahara River Wisconsin Winter; Code: HQIBPPRYLFOHD3967DHDSPVPEXXKTJEFMDJMPOAFKKOWJLGIBTGRELWDPQWNO
Fish: 35.69 inch CohoSalmon from Sw Wondrous Yahara River Wisconsin Winter; Code: OTCZHUAAQLSFH0617EQXVLWJWUOMCWJKZUYGGMDFXFDDRYDTKDLQYWLEBUKYH
Fish: 40.02 inch Jumping Walleye Dark from Sw Wondrous Yahara River Wisconsin Winter; Code: XKCMQZKAXGUEU4637ZUDHKCFDISDHDJJNRFKFHTSYSWWSNNGNEKBPJIDZTQCO
Fish: 41.25 inch Jumping Chinook Salmon from Sw Wondrous Yahara River Wisconsin Winter; Code: IWEFVXCLHJPKD2334RRQDNVTXBRPUPYXBCSQOEWQNGVZNUZEYJQZTVXQAWNSL
Fish: 19.95 inch Jumping White Crappie from Sw Wondrous Yahara River Wisconsin Winter; Code: PCQJRMXOFHPZH7226MFIRSZJMIZGXOFICSKLDUGKIEIISGOYVNEEUAMZDOPOE
Fish: 19.71 inch Brown Bullhead from Sw Wondrous Yahara River Wisconsin Winter; Code: VTEPQTHDCQKZM4948SSARRUVVISJUEFKODUTIJMKDQATPPGPNYJRJNIZTHGEM
Fish: 39.80 inch Jumping Walleye Dark from Sw Wondrous Yahara River Wisconsin Winter; Code: LUBGCJURHLJJJ6333NBBKYJPEJGSHQPSWQPLQIQWSAZRNKJQTCJCRYJSAHODW
Fish: 37.82 inch Jumping Brown Trout Dark from Sw Wondrous Yahara River Wisconsin Winter; Code: NFCHYHPEPSUCF5766CWUMBBQTOGLFVVQZOOFZXWUJUSPXGJKPEHXQJOZMVOPY
Fish: 17.93 inch Brown Bullhead from Sw Wondrous Yahara River Wisconsin Winter; Code: AXXNYJONLMYTJ2233TZNQSLHOOIMO@IDKJJWAHDOISMYPELCYJDXQPIQEMLTS
Fish: 37.54 inch Jumping Brown Trout Dark from Sw Wondrous Yahara River Wisconsin Winter; Code: JVZEBVUMHJCLZ0832AQHVKOSZINNHXJACVEGTLFFMJAJUMDLDVPICFSWZNIUZ
Fish: 25.30 inch Jumping Smallmouth Bass from Sw Wondrous Yahara River Wisconsin Winter; Code: QVCLGSMIATTXF2143ORSRQEXYORKANFARWBTUJOKKVFATLOGGQVJCDOZTMRWR
Fish: 49.82 inch Flathead Catfish from Sw Wondrous Yahara River Wisconsin Winter; Code: GZMCNLJWIKGNI9974HICZEFIWHPUCWGFXZWSKHUROWGFSUVPTILTFBBQJCUTQ
Fish: 43.29 inch Jumping Chinook Salmon from Sw Wondrous Yahara River Wisconsin Winter; Code: BNMBCQHSXMLSF3423NBUMRCOIIUZXPFZRVJYQYSYWVMVVFEDKEILRRVSDXTOV
Fish: 37.40 inch CohoSalmon from Sw Wondrous Yahara River Wisconsin Winter; Code: GLQWIPNFZJJIU5906QBCETTNNUVQAHFJOUDYEZPYHZPWRREMRMETHBPBEBBXF
Fish: 47.03 inch Jumping Steelhead Red from Sw Wondrous Yahara River Wisconsin Winter; Code: RPSFWACNPQNZG0575PYCARGTAVMGHXMXFQOLGQOUVSXHLQLHMQGGHTWLIXDLY
Fish: 36.00 inch Jumping Largemouth Bass from Sw Wondrous Yahara River Wisconsin Winter; Code: PNSGMDKDENTRP9857XEHWVYNGCKJJGQHNGDYTTKPAKWJKDSUQVVNYNUQPJDGT
Fish: 24.74 inch Jumping Brookie from Sw Wondrous Yahara River Wisconsin Winter; Code: OUMRYNDUZJTVF3533GVSAODOPPGEKSDGHLBXUVUBFQEWDGNKYLTBTQWHGZQJO
Fish: 31.50 inch Jumping Red Rainbow from Sw Wondrous Yahara River Wisconsin Winter; Code: RWLTUQVEDVPKJ4962CKPTKCIMCFZUVNCRYDIBHHHYMTYQATVNBRFGKCSYARWR
Fish: 43.94 inch Jumping Northern Pike2 from Sw Wondrous Yahara River Wisconsin Winter; Code: WGUZSKIBDUNSK7791PUXZAHKTBUNOXMJXIKWIIZHCKYIEKNBSFQOYUKETHGEM
Fish: 17.52 inch Jumping White Crappie from Sw Wondrous Yahara River Wisconsin Winter; Code: WUVBXRVLLKHRY4647FTXLULGJOGQPNMNGEWIOIFZJHWRMNMEUBFOWUWTHLODW
Fish: 34.29 inch Jumping Brown Trout Dark from Sw Wondrous Yahara River Wisconsin Winter; Code: HYLUQPMXQZGKF7652RYTRBQZGOMAPEZHHJJAXOEONZSIZLGWXNSBZOVVKGCRA
Fish: 34.37 inch CohoSalmon from Sw Wondrous Yahara River Wisconsin Winter; Code: GPRGEPOOBIPWR1268XOGRDECVIEIYAPKUCHOIQHQWTAYMNATLJKULXKCCFPZO
Fish: 34.92 inch Jumping Largemouth Bass from Sw Wondrous Yahara River Wisconsin Winter; Code: WFRMYBHKLCUNL6676NPUBICHDRYXOTSNPJZXUAILUZXOSUDBEWIDWTABNXLTS
Fish: 35.14 inch CohoSalmon from Sw Wondrous Yahara River Wisconsin Winter; Code: PJJSSBWPBSFNL1505YAVSUOSLQELLMGGGHGIPLRYLQDAPZWNWYQMTRSHSIPIY
Fish: 32.46 inch Jumping Red Rainbow from Sw Wondrous Yahara River Wisconsin Winter; Code: MRIFUZCSFYYDQ8899MXUAZQFYDPJEFMMIKULTPZTKXCFPDKYOISXAJCKJPNAL
Fish: 21.91 inch Jumping Brookie from Sw Wondrous Yahara River Wisconsin Winter; Code: CVWYXYKYTGLMU8639EOEZORIVEFTOOVSVMILJNEAGGDLWMZPAAIHDHPBZWJGP
Fish: 41.86 inch Flathead Catfish from Sw Wondrous Yahara River Wisconsin Winter; Code: HBAUCLBRKMANQ3195KLIBTLOUQLXKXCFNHLANYDRVKPTPSXGDHJOQDCDWYZJM
Fish: 46.31 inch Jumping Steelhead Red from Sw Wondrous Yahara River Wisconsin Winter; Code: WNVNRACPRSMGN1170TGKSDXTAKRZCOMHCPZLCRLUGWTAIUDPTQCOXDQLSINAL
Fish: 31.61 inch Jumping Red Rainbow from Sw Wondrous Yahara River Wisconsin Winter; Code: WBPDBBGIIYEQO8323GKQPXRJNDPFQ@AMBKVHQJPTGFEMFQHUBSDCSXYSPCEQT
Fish: 37.78 inch Jumping Brown Trout Dark from Sw Wondrous Yahara River Wisconsin Winter; Code: TATGSGXFXQBFB1008MSWUEYEJDPBFBSUHPFEXFBSUUQFWMLBISMAGEBSCVTOV
Fish: 50.72 inch Flathead Catfish from Sw Wondrous Yahara River Wisconsin Winter; Code: MCAYZCLNMRDLL1926TTRILGDWDVOCLSVIWXZYHCFVXVCVTCWQVVNAIHKWQABU
Fish: 37.28 inch CohoSalmon from Sw Wondrous Yahara River Wisconsin Winter; Code: TXUINCLXWKQII2684KGPKVESQDUZKIPWTRCEAVCPMJTTGFURVGUNPXUCLXWHJ
Fish: 19.16 inch Jumping White Crappie from Sw Wondrous Yahara River Wisconsin Winter; Code: BGMOEAWCATQGB9833IOGYPHCTJFGKRFBIHNBWPGTTKRDRUVPKTFLAAPLPLFJB
Fish: 56.18 inch Jumping Muskie from Sw Wondrous Yahara River Wisconsin Winter; Code: DYUGAWCTYVZYW2659NRIIKGPHXUQR?YNGJZQSDYPUDAYQIHVAJUZTIEQYBLTS
Fish: 43.98 inch Flathead Catfish from Sw Wondrous Yahara River Wisconsin Winter; Code: XMMDBTYBZTRSK9856DWJPPBKWXWMPWFJGNUAHYDJFZFKPUHWYCAXQQLRKKEQT
Fish: 44.40 inch Flathead Catfish from Sw Wondrous Yahara River Wisconsin Winter; Code: IBGXWABZBCUTL2899WGCDIOLRPHTFBPEIVBHFOFKCQCYIZSEWBQATJGUDGCCI
Fish: 26.81 inch Jumping Smallmouth Bass from Sw Wondrous Yahara River Wisconsin Winter; Code: SIYDRYRMLNSJI6819PHRAXVLGQUUGKZXNOHUNPDAQVHUAFQQEZRRLQVTAXVUG
Fish: 30.87 inch Jumping Red Rainbow from Sw Wondrous Yahara River Wisconsin Winter; Code: YZNWJFYUIAWMV1302VUBBXYXPJNODBZZZQACSNKZLGIEXOJGWLWFAVRTRQYNB
Fish: 17.04 inch Brown Bullhead from Sw Wondrous Yahara River Wisconsin Winter; Code: GJBPXJTIWFOCE1985NZVHMIVQDPHKGJJTFOQCIFHALGIULCVHOGFVHNFSJSSC
Fish: 33.03 inch Jumping Brown Trout Dark from Sw Wondrous Yahara River Wisconsin Winter; Code: UAARMNXNPZCQP0701QOQWSJTYCUFAFFTCADLQVDLTADJPTGHBNSMJSFACOIUZ
Fish: 50.40 inch Jumping Lake Trout from Sw Wondrous Yahara River Wisconsin Winter; Code: ROIABRBAXKVZH7479OAZANBPEJZPZASAZSCUSHEYNPXNAATQYAYVGSNADFTDC
Fish: 19.47 inch Jumping White Crappie from Sw Wondrous Yahara River Wisconsin Winter; Code: KTSQOKLUWVKQF5514AJDVDMYFDWCMIIYHPNWJJXHEJLSIVWSMRNGNRVROVSHR
Fish: 35.49 inch Jumping Largemouth Bass from Sw Wondrous Yahara River Wisconsin Winter; Code: BBHSNJMVPGKSG0595AERHCQZSKEEMTSETJFMEQWFXMXIKAHJTGJZMLCZKCGEM
Fish: 41.38 inch Jumping Steelhead Red from Sw Wondrous Yahara River Wisconsin Winter; Code: CXKPMGTKWKDHJ0850IQKPIPMTJFAWPJSPVXBLFFAOMEHTSBGKYGDPJQPLVWNO
Fish: 26.32 inch Jumping Smallmouth Bass from Sw Wondrous Yahara River Wisconsin Winter; Code: IUQONXTGFLEDN8113NPJGHJBACLGEOCFNNDIMNMQGSMLPOXNOKAMQYXDNOWHJ
Fish: 25.06 inch Jumping Smallmouth Bass from Sw Wondrous Yahara River Wisconsin Winter; Code: ANGYJBHAEHGMR4529JFRVQMDCWJBKDSBCMLSYRQFPPZYCXQFRJCZWLRCYBDVI
Fish: 55.68 inch Jumping Muskie from Sw Wondrous Yahara River Wisconsin Winter; Code: BXEMKQTWFLACW1156EVISRXHYPRKJDVUXTZUTXEHPYZCALGIRESJLDMYMIPIY
Fish: 36.84 inch Jumping Largemouth Bass from Sw Wondrous Yahara River Wisconsin Winter; Code: OHWCHWZJIOSAI8680RUVQESBHWYSI@WHJHTTUEHFXWOHGTHYSFLEFJUDHMSSC
Fish: 36.71 inch CohoSalmon from Sw Wondrous Yahara River Wisconsin Winter; Code: ZDHIIDFYLICOS9854CYNNHJUEWWGBUJANZWSWVCRABTGSSNNZICGFRMUPIABU
Fish: 41.92 inch Jumping Chinook Salmon from Sw Wondrous Yahara River Wisconsin Winter; Code: YFWBTXIAVKTWU4172UFRSVXBNJSRWJSCMGVCFXKXIBPXWJUYQLLIBOBAVKKYH
Fish: 30.86 inch Jumping Red Rainbow from Sw Wondrous Yahara River Wisconsin Winter; Code: DFOQFFOHBDZEL6334BPTAGPMHKYLSKLUBEXPUERJZJITJTUUHZSFVCGHQMBMU
Fish: 19.69 inch Jumping Brookie from Sw Wondrous Yahara River Wisconsin Winter; Code: RISZQJQMSTVOU7016QAIYSXUCXFWT?MZDCRWUHCGRHCPHXVSLFCGWLQDTJYKR
Fish: 20.25 inch Jumping White Crappie from Sw Wondrous Yahara River Wisconsin Winter; Code: JQMIKMSKTQSNE1574XUTEQCXFQQMBHFCRYXQAUDSQMOGOZWFMIBWVZGKYUBJK
Fish: 48.78 inch Jumping Northern Pike2 from Sw Wondrous Yahara River Wisconsin Winter; Code: DINMHWGFMONDS1681YWUHOBEEDQDIHBRZTYOKMSXGASATHGCGGPEQXRFHXXXO
Fish: 46.88 inch Jumping Chinook Salmon from Sw Wondrous Yahara River Wisconsin Winter; Code: ZCDALOQGCJKUB8759FQDVAPDCKEPT?PEFHSBINLVAYSMGCVODRUVBZUSKRQCO
Fish: 41.53 inch Jumping Lake Trout from Sw Wondrous Yahara River Wisconsin Winter; Code: JCTOGENXLVZAP4528GWTKFRCODEIAJWZAVDWMMYZJHQWFXYBLMMWEZUNJXVRV
Fish: 43.02 inch Jumping Steelhead Red from Sw Wondrous Yahara River Wisconsin Winter; Code: RTUWSADESOBHD9817BZHWWWYVJIZFQWYOTKJLHGLJVIIGMHOPMUHSYRUHTXXO
Fish: 20.28 inch Jumping Brookie from Sw Wondrous Yahara River Wisconsin Winter; Code: MYJTAQVMSGRJC1479DYALCSRNPQASWVSXCRINGKGFIXXTWBVOTEXXBIRZRILE
Fish: 16.18 inch Yellow Perch from Sw Wondrous Yahara River Wisconsin Winter; Code: OKXXYHCCSNCTO5017TQXKHIYUPPTGXMMIRMSKEIAMNZXPITGZMJDFNFBBMHVR
Fish: 35.06 inch Jumping Red Rainbow from Sw Wondrous Yahara River Wisconsin Winter; Code: IUQONXTFFUDDN8113SECTCVPRCLGEOCFNPDIMNMQGSMLPOXNOKAMWHXDOYBMU
Fish: 40.34 inch Jumping Steelhead Red from Sw Wondrous Yahara River Wisconsin Winter; Code: ODUTKOFIFQCTL1448PEKRPTSQJOASGMOVKPVYVWNJCWFLPCRQAGDGEZUKHUVK
Fish: 37.04 inch CohoSalmon from Sw Wondrous Yahara River Wisconsin Winter; Code: JNPGMTGZBOFLX6447RNSPIYGIPGLLCPYTKERKLCWBVEQELKXGUDXAEVEXAILE
Fish: 41.98 inch Jumping Chinook Salmon from Sw Wondrous Yahara River Wisconsin Winter; Code: WXMXYINTYBVSE9884IPZSWDXMPKRFKDJPPWPEQGVYYGHVBYUAQDMXYHZZZDAN
Fish: 58.57 inch Flathead Catfish from Sw Wondrous Yahara River Wisconsin Winter; Code: WYTJXLLZQTVOV2980JNCPYCDFKCINGXGXHAGSZXRYCHBHJQLWGLPYZRCEWODW
Fish: 52.08 inch Jumping Lake Trout from Sw Wondrous Yahara River Wisconsin Winter; Code: EUYAXLKSNCOFE2010CWIEZGVDVBWOIBLHGSYPKPRMXUAPTYVQHDJONOXYADNT
Fish: 36.43 inch Jumping Walleye Dark from Sw Wondrous Yahara River Wisconsin Winter; Code: OIHHBFHJSXJWG1786WWIGHSXJISKQEYLPGFKIMYBFZPBSBRQGNTPKXEONNVUG
Fish: 59.26 inch Flathead Catfish from Sw Wondrous Yahara River Wisconsin Winter; Code: RTQVWUAOTECFD9817HHYUBLINBCZFQWYLQKJLHGLJVIIGMHOPMUHICRUEISPQ
Fish: 48.82 inch Jumping Northern Pike2 from Sw Wondrous Yahara River Wisconsin Winter; Code: ZNGXNELJSHRWJ7388XQLYILROOBREQADNTTWGMPASDGOXQHKYHLFVQDIWGTOV