Hi guys,
Well, I am finally up and at 'em today. Took the day off from work today because I knew I would be home very late. My brother, father, and I took a little trip out, with the main objective to wait for the sun to set an go to Rushford Lake for some night time walleye action. Worked out pretty well, actually!
Since Rushford Lake isn't too far from our land in Great Valley, NY, we went out there to hang around and get ready for the night. While my father stayed behind to pick gardoons (burdock), my brother and I went up to Spruce Lake to kind of warm up, if you will. Basically, although we were fishing for bass and panfish, we were basically checking how our tackle was performing and if any modifications or kinks needed worked out. We were both going with spinning and baitcasting tackle. So, during our one-hour period on Spruce Lake, we did catch a few bass and panfish, but I only grabbed pics of a couple. Here is my brother with two small Largemouth Bass that hit his twister tail: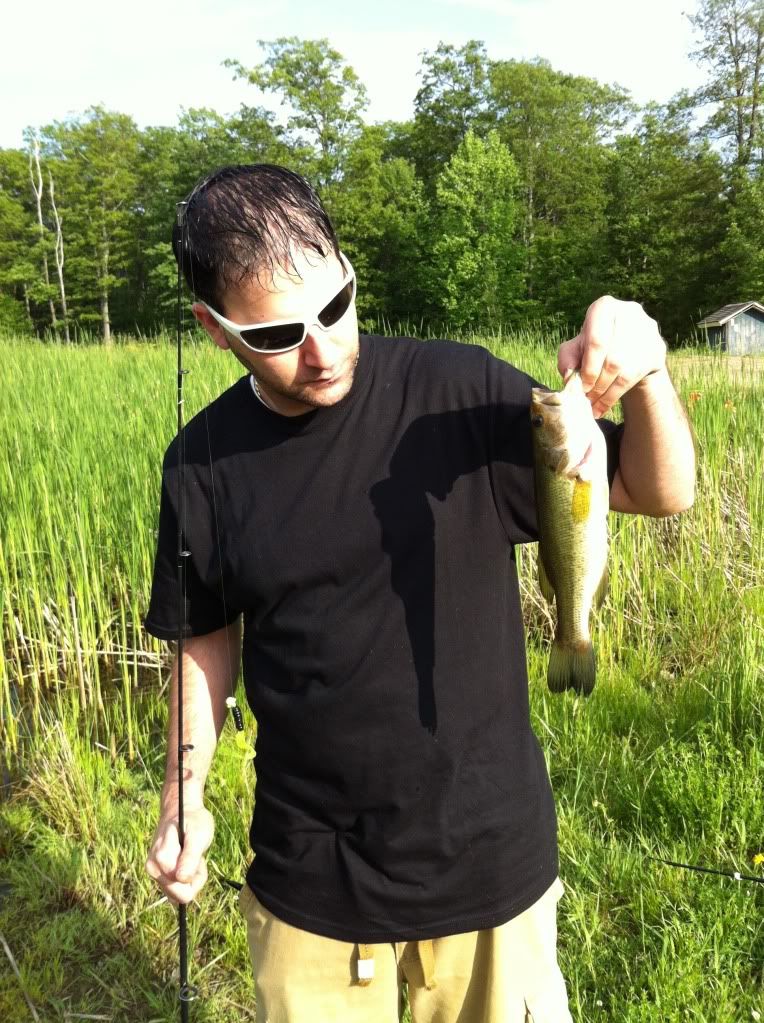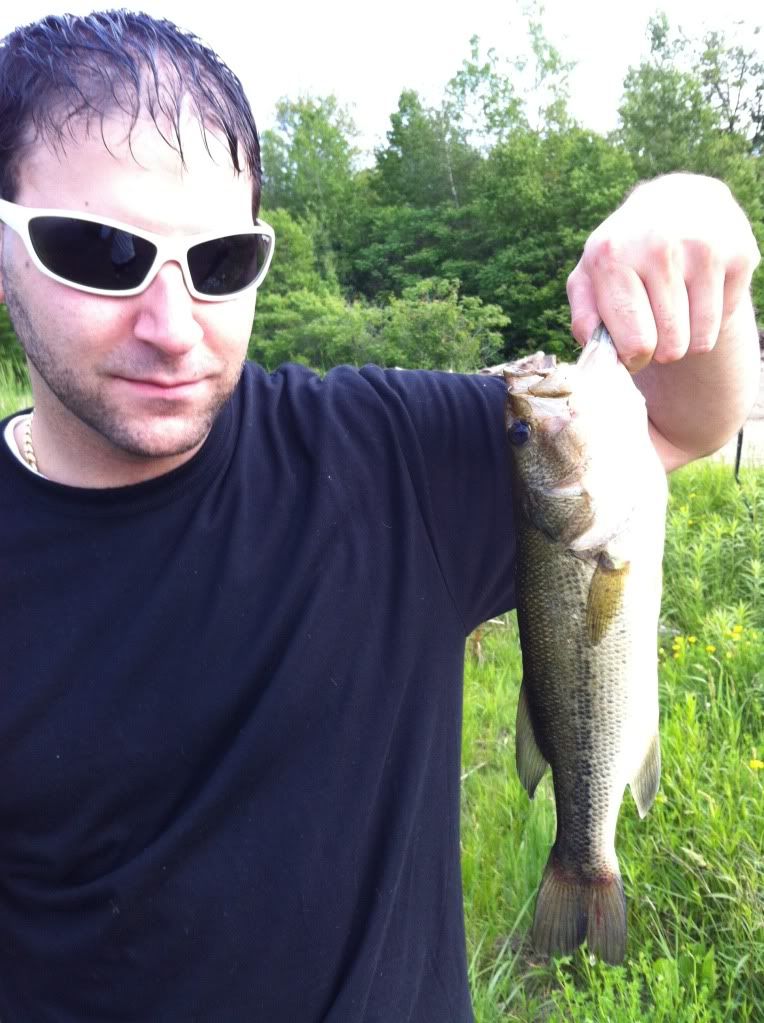 Now, believe it or not, I got a bit of a surprise too. After I caught a few bluegills and small Largemouth using thw spinnig setup, had just switched over to the baitcaster and twister tail when I felt a solid hit, set the hook and the fight began.
Headed straight for the weeds, so I was thinking Largemouth. Boy, I sure got a surprise! This here is a personal best for me, for this is the biggest Pumpkinseed I have ever seen or caught!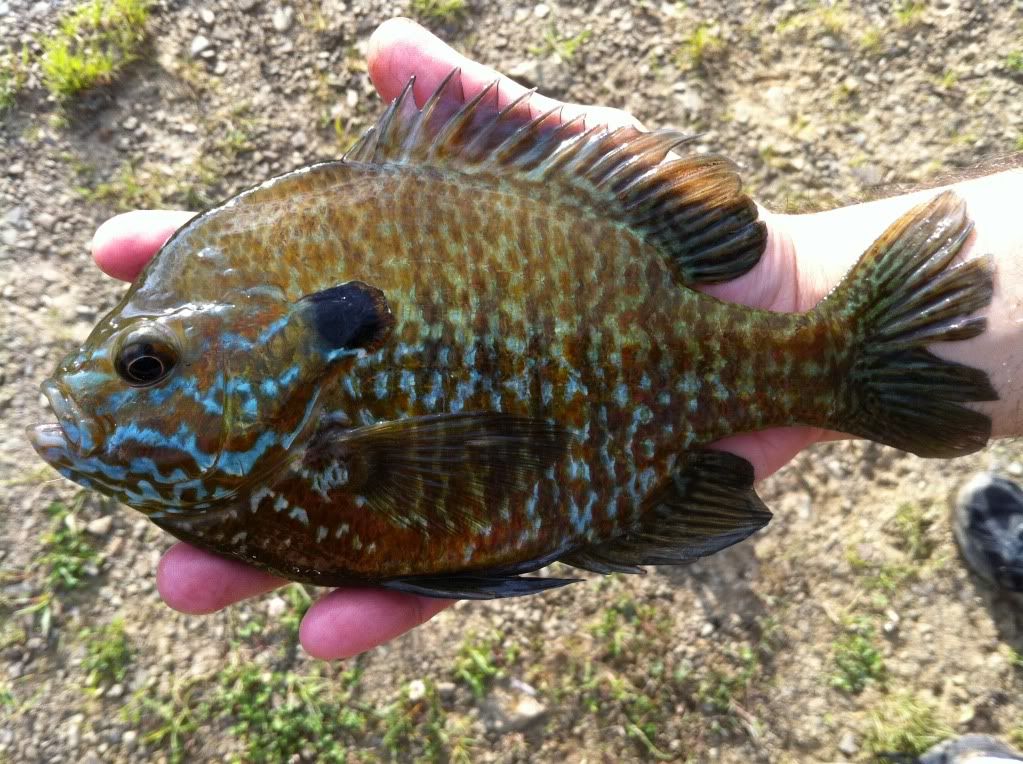 So, after we finished up there and went back to the cabin for some cheese brats (can't beat Johnsonville! LOL), the sun was going down, so we packed up and headed to Rushford Lake. As always, the hordes of Rock Bass made themselves known almost immediately, as I caught one on my first cast. Soon, the walleyes came on to start feeding and we started picking 'em off with a mix of twister tails and swimbaits. Still is pretty cool to shine your headlamp into the water and see all those glowing eyes under the surface LOL. All in all, we caught 14 walleye before the bite died down and the rain moved in. Here is one of the smaller walleye: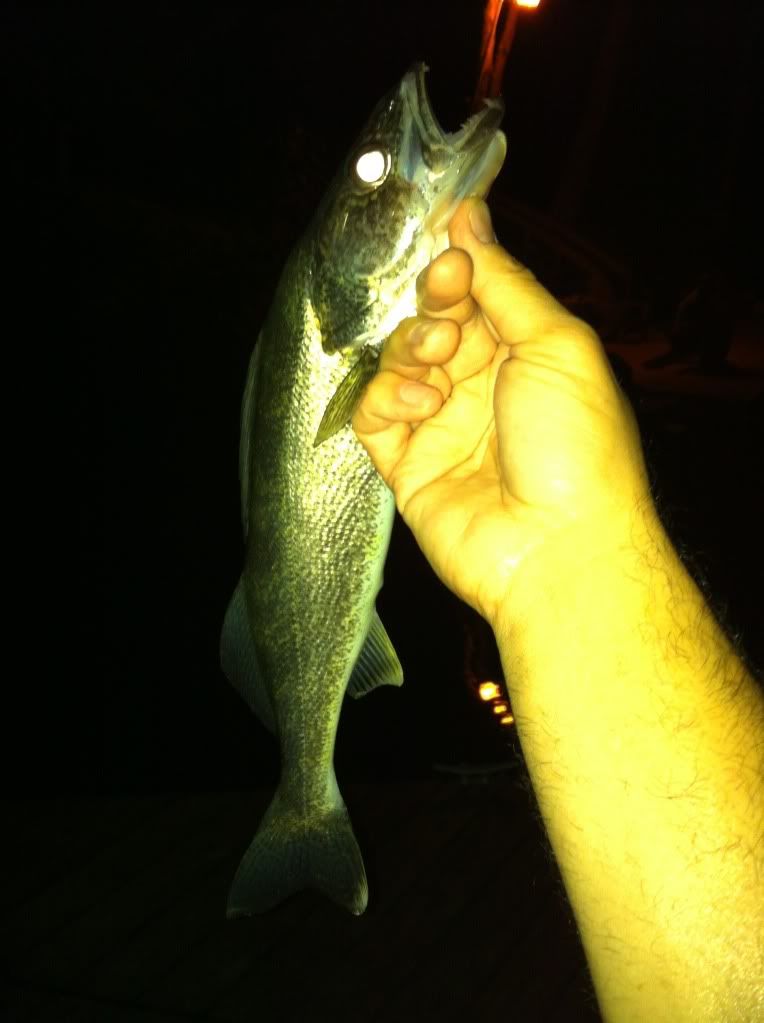 ...and this one was the biggest ( and I happened to have caught him Lol). This picture doesn't do him much justice. He actually measured in at 19",
So, we had a good time. Eventfully the rain moved in and we packed it up and headed home. As said we caught 14 total, and I wish the rain hadn't come through because the bite just stopped! Might head out there again this weekend, and hopefully I'll have more pics for ya. It's hard to take pics at night, an I sure wasn't gonna take pics of 14 walleye LOL!!
Now...tourney time!!! Hope you all enjoyed!