Hi Martin, Stanley and Everyone,
Another excellent outing from Martin. There were a few Beautiful scenes in this outing especially the sunsets. Had good currents and a
lot of excellent sounds. Just watch out for the Seal, in a few sites were concentrating on getting a big fish in and the Seal sounded off,
and almost scared the tar out of me. Some huge fish in this outing. Had the Jumping Atlantic Salmon throw the hook on me a few times. Also
there is a lot of open water to fish in. Definitely a change of pace from fishing in fresh water. Thanks Martin for another very
enjoyable outing. I really enjoyed it. All 16 species Martin included in this outing were caught. All fish were caught below the surface.
I fished between 1 and 5 feet deep. I fished all sites and caught at least one fish in each site.Total of 46 fish caught.
In Sw Wondrous Volatile Irish Sea You Are Fishing For::
Jumping Atlantic Salmon,Grilse Salmon Plus Herring,Haddock,Ling,Ling Cod,Pollack,Pouting,Red Hake,Sea Bream,
Spiny Dogfish,Tope,Spotted Sea Trout,Red Mullet,Ray,Flounder,16 Sp[ecies In Total.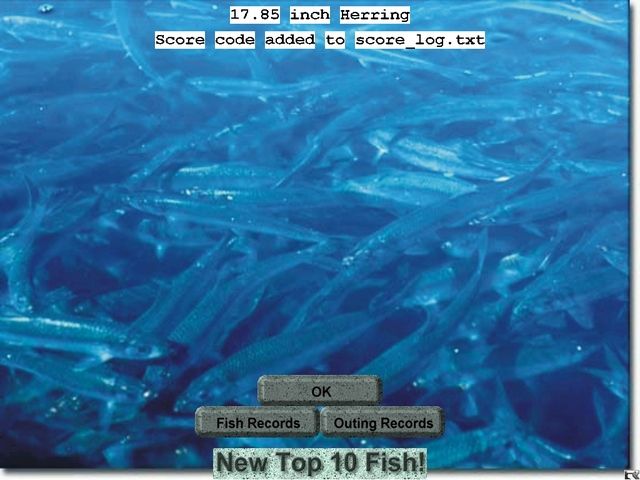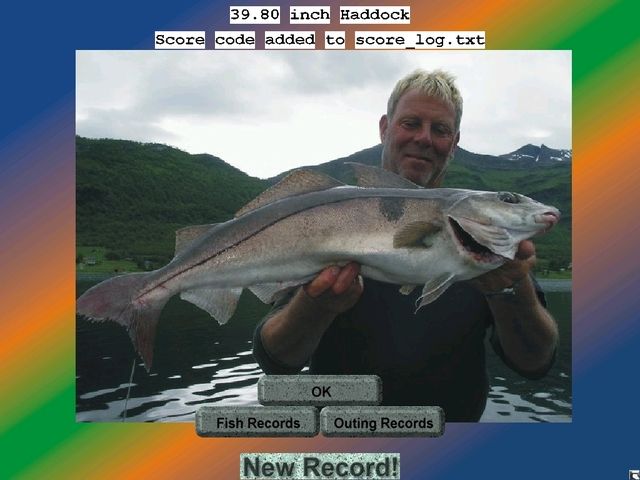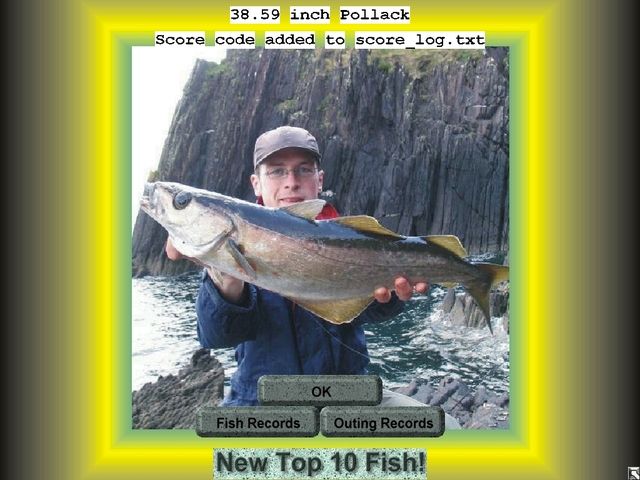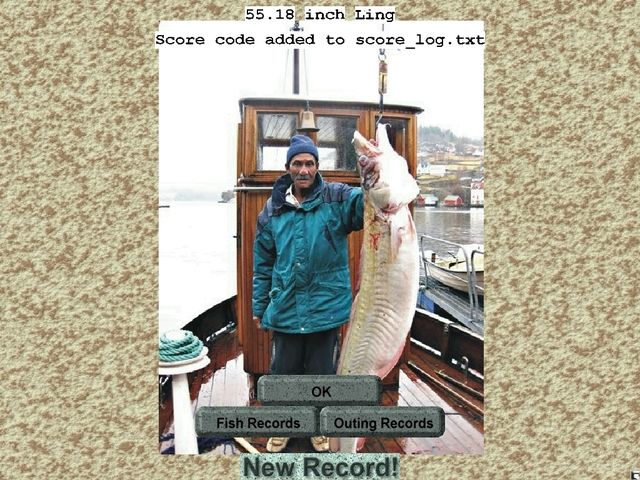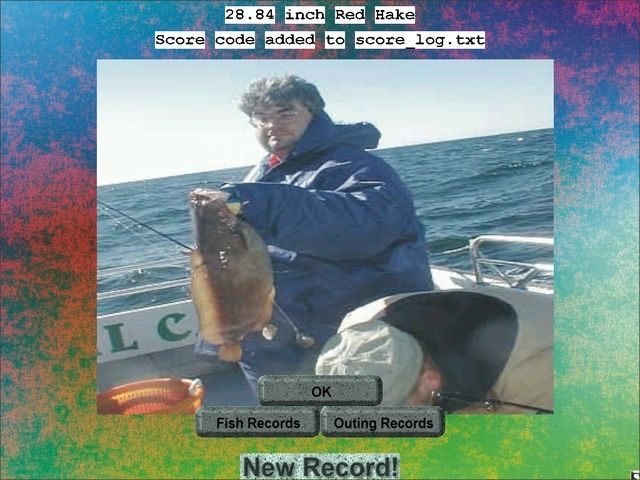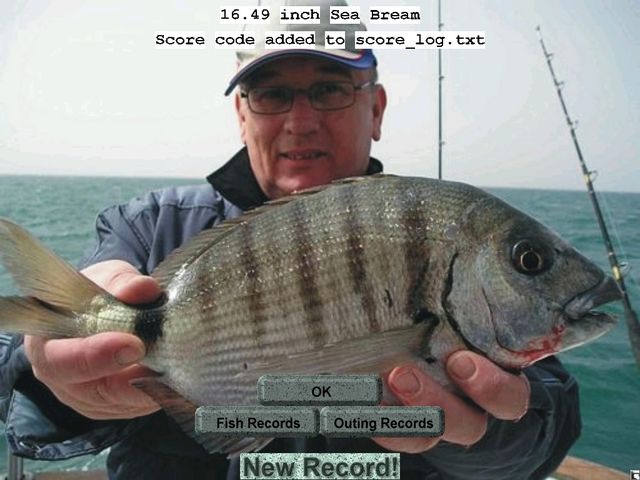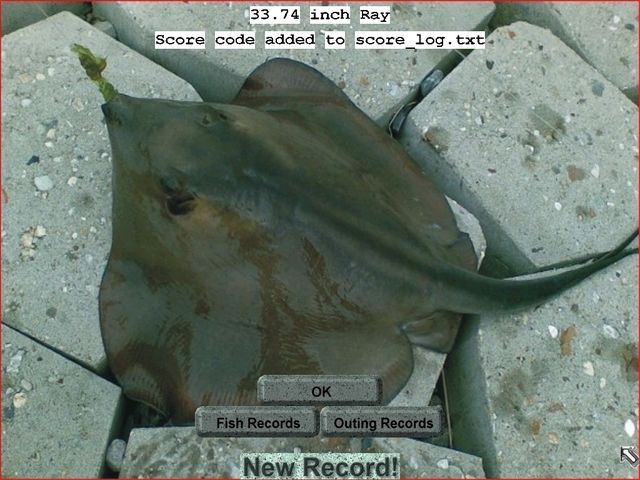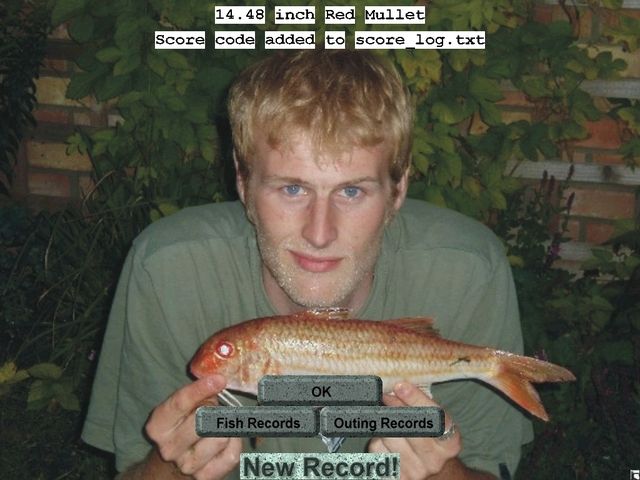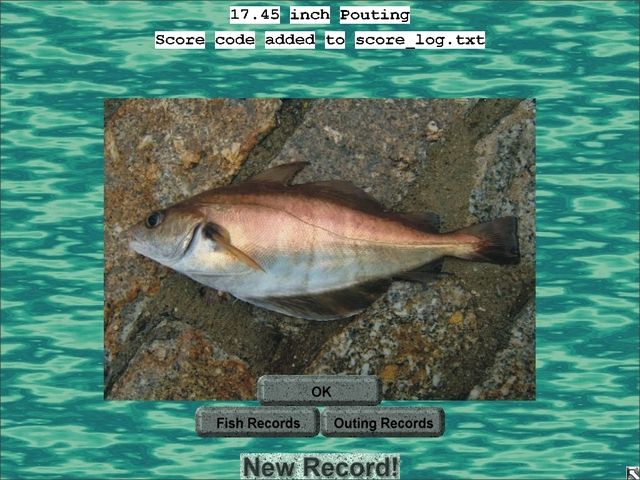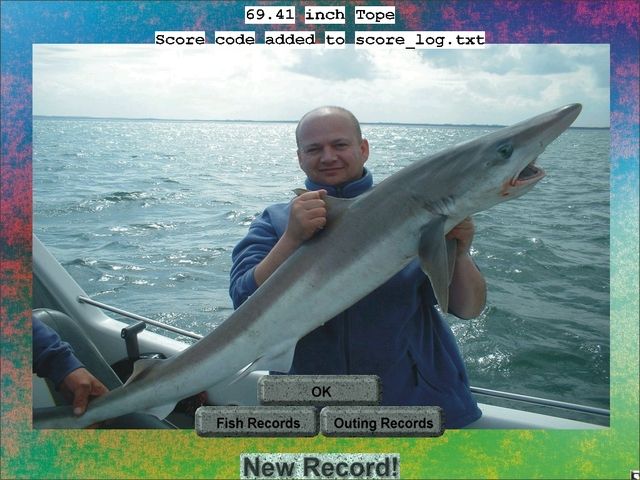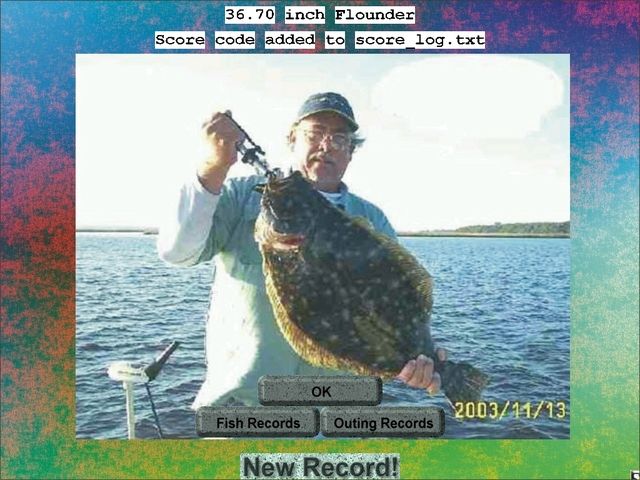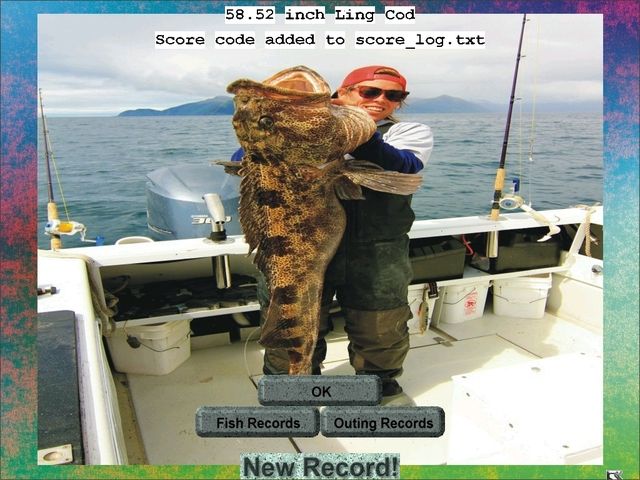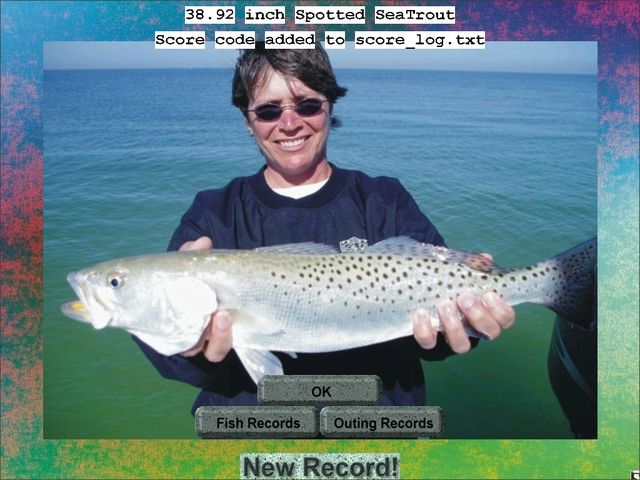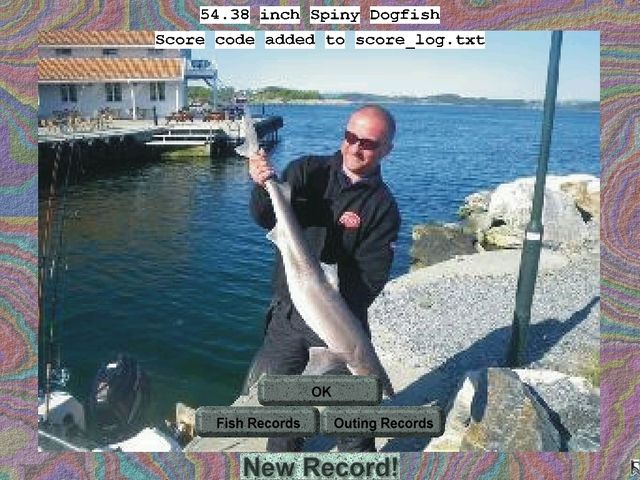 Fish: 17.85 inch Herring from Sw Wondrous Volatile Irish Sea; Code: IIARSXYEWWXLO5386AHTWBLTBKCLSAPCNHYWZEQPGPRRCSXPNWBAZXNBUPXXO
Fish: 45.58 inch Jumping Atlantic Salmon from Sw Wondrous Volatile Irish Sea; Code: RRGFDATJQYJQN5696TPMHVFZGYKPPXIXYIVBIPXLCUBWZOBMUYWTOSZYVSVRV
Fish: 69.41 inch Tope from Sw Wondrous Volatile Irish Sea; Code: CNDIMIHWQZOEA1126YLSOHOHXXOPSTSYEGIWJOTRDXTBWMVRTIXEJCAJGTHSG
Fish: 15.74 inch Sea Bream from Sw Wondrous Volatile Irish Sea; Code: SDVWCGGUYZSZU7541GMGRJLJKENKIMVAZOZFVYTMCLQSKSYHMWVFUYJZYLETN
Fish: 14.48 inch Red Mullet from Sw Wondrous Volatile Irish Sea; Code: TDABRNUYPLMHH6144RPJOBVOFYBIV?IRIYXMONUFBRVWVATFFRJZPENQWOXXO
Fish: 56.02 inch Ling Cod from Sw Wondrous Volatile Irish Sea; Code: HRVPBNPBWJMKU4193EBKCHNOOEZHBNYBXVMDDXSBKBJSLBMWNLOCOCQOVFQEJ
Fish: 35.28 inch Spotted Sea Trout from Sw Wondrous Volatile Irish Sea; Code: FIAEGRMBWBSOS9988INCGKRTQEVZP?COBFMTVJMKTIMMFWTNINSJXFAMODQCO
Fish: 36.70 inch Flounder from Sw Wondrous Volatile Irish Sea; Code: UVPYUBGCNEALO9266SOPBWKWYKBUPTGMXPLCRTUJDERMJOJOUMTTNGGEHRQCO
Fish: 50.00 inch Spiny Dogfish from Sw Wondrous Volatile Irish Sea; Code: WNEQPQCCRWLBN1170TVOXSQMZETFCOMHFUZLCRLUGKNCYUZEJACOLIRLRGXSJ
Fish: 17.19 inch Pouting from Sw Wondrous Volatile Irish Sea; Code: YYIYMHOLYMSLW0406TLKWUSSJKPWVWFDRCOLEWADDRBEBXVWYFOUNHAINNQRE
Fish: 52.44 inch Spiny Dogfish from Sw Wondrous Volatile Irish Sea; Code: PSOGBKTLSOCDD8115GDSSHCDAXRTPECEMHKNLTMDWECPGPCHXRJZHMAKUXYNB
Fish: 38.59 inch Pollack from Sw Wondrous Volatile Irish Sea; Code: EUEZTAOEMOQEE2010ROCTZFYZRBWOIBLKISYPKPRMLOCFTUKGRDJWKPXZYWNO
Fish: 55.18 inch Ling from Sw Wondrous Volatile Irish Sea; Code: BBJTETDHQAJNG0595ATVHCQAXYYEMTSETKFMEQWFXARKAADYJQJZQVDZMGZLH
Fish: 38.92 inch Spotted Sea Trout from Sw Wondrous Volatile Irish Sea; Code: KIYWPAVQHRFBX3782PYQQRNVRXNZAQQZOUUBLKTCLRRTZGNMZTWFNWWIBZZLH
Fish: 14.13 inch Pouting from Sw Wondrous Volatile Irish Sea; Code: NMIUCQRKCITCQ8335OXLKSKARQFETLVOGXDCTNQZNTPIRYNNGZLXTKDGFXWCV
Fish: 36.14 inch Flounder from Sw Wondrous Volatile Irish Sea; Code: OGPOSVJPRFOFR7565PLWTCLWTYAAIDCLTRQCGVPJYZAPKDKOMZDTHALSCSCQF
Fish: 53.86 inch Spiny Dogfish from Sw Wondrous Volatile Irish Sea; Code: UYBGWSOMHOPIU4383XWQQEOOVLLMFQWRWUEBHTVESWBUTCVEATQKXGRDYMVUG
Fish: 36.16 inch Pollack from Sw Wondrous Volatile Irish Sea; Code: ZOXJEKPIKEHTA0484NNISLJZDETJMMCZYMXNUVHWAVBKZGNYKZTPEGNLEBKYH
Fish: 50.52 inch Ling Cod from Sw Wondrous Volatile Irish Sea; Code: RDHEQPDMHNOCZ8648CQMUKTMPLQMNIACPFJHCISTVXDNRLKBTCPUGXFJPKDLY
Fish: 13.68 inch Red Mullet from Sw Wondrous Volatile Irish Sea; Code: CWPBONQWDHDAT9734GALKFJHNLHROTPWHETKXWOEOXXHYCFWESYSJSHEGZPOE
Fish: 39.80 inch Haddock from Sw Wondrous Volatile Irish Sea; Code: TARXGVBBXSBHB1008MHAZTRXIXRHFBSUKSFEXFBSUIKHMMHQYCMAKOCSCXAWP
Fish: 32.85 inch Ray from Sw Wondrous Volatile Irish Sea; Code: KDLICNNGMIXRB4327GOBZEVAQXMYUSLUAENUTKROPMYXAMZOIGITHZJOZDBKA
Fish: 54.01 inch Jumping Atlantic Salmon from Sw Wondrous Volatile Irish Sea; Code: YUAISOWZXVMBZ2244MZYKJPDTXGMXDNCLBSNANHMPPIDGBYPWIATYQFZNKHAE
Fish: 34.54 inch Spotted Sea Trout from Sw Wondrous Volatile Irish Sea; Code: GSYSHGYUUBDMX8595DDTLKCOLXUJOXFHWMAVYQIMLYEQLBIQIHITKCWIVTVRV
Fish: 45.50 inch Ling Cod from Sw Wondrous Volatile Irish Sea; Code: HKUBDXERHDMPQ1704AOXJGYZJXYWNOYETQPFJGYWGQOBHIDAEADCEYCGZXFJB
Fish: 37.63 inch Pollack from Sw Wondrous Volatile Irish Sea; Code: BHDZVYBKTULMS2959KANVSGIJSZYSNZYQIYSKYYPAJLZSCBVWTNWGLAWVRCQF
Fish: 32.08 inch Ray from Sw Wondrous Volatile Irish Sea; Code: DIVXPGXPMYKLS1681TWFUTPRSRKDIHBRZTYOKMSXGOMCJHCRWQPEOYSFJEVHA
Fish: 17.45 inch Pouting from Sw Wondrous Volatile Irish Sea; Code: YKOXIZBJOWYWP3530DEKJJOFSXVTUHWHICDRYWVLEMDVTVWTWIZVEMOTZSODL
Fish: 36.04 inch Haddock from Sw Wondrous Volatile Irish Sea; Code: UTDYVBQHLUEBZ5045PMJZRETULJLZSSTHUWMPUKRWQPYMIHXKODYSRFJTCOPY
Fish: 35.98 inch Flounder from Sw Wondrous Volatile Irish Sea; Code: OFEJYEAIHDYBS4669OGBOZNQIDAJA@IGLDELAMXNQWZVYNAXYJVRYZTHWQKZX
Fish: 58.52 inch Ling Cod from Sw Wondrous Volatile Irish Sea; Code: IPFBNDGWMGYVA9765MUGPTAHFQVWG?PAZQVTUVKCJJUJZCNENIFZOTTJJMZJM
Fish: 37.04 inch Haddock from Sw Wondrous Volatile Irish Sea; Code: UZTZHAALPHFPL5409ZBTNHVUOXLENNYNEMPSVCMASZKOEKFVOJYVHHBODQUTQ
Fish: 30.07 inch Ray from Sw Wondrous Volatile Irish Sea; Code: EAPIPODZZFTJD6870QISSPLBQRFZH?MNXPOGUCIHJFVVEOXBARKNJUGDMHGZG
Fish: 16.49 inch Sea Bream from Sw Wondrous Volatile Irish Sea; Code: ESTXSKJJKIDYW8088OMWRUAMVKJNGHFSUTDQNTGZFWEGHNSTWKNOLQNBPVODL
Fish: 54.38 inch Spiny Dogfish from Sw Wondrous Volatile Irish Sea; Code: WMBDCHTWIRLCW0955RQTAPRGGRBOCSSLXBWUOIBQYZMIMMHFVSUDRUHILESSC
Fish: 60.01 inch Tope from Sw Wondrous Volatile Irish Sea; Code: YFGEBHZVWDQJU4172UUVSVXCSXMRWJSCMGVCFXKXIPJZMJQNGVLIZPCAWXVGK
Fish: 26.39 inch Jumping Grilse Salmon from Sw Wondrous Volatile Irish Sea; Code: BHXAZJXTTJKOS2959KANVSGIJSZYSNZYQIYSKYYPAJLZSCBVWTNWGLAWUWCCI
Fish: 38.47 inch Pollack from Sw Wondrous Volatile Irish Sea; Code: QJCANHVHTIKCY9418BKCMBZINEVPGQTFTTWGIASRSSKGYGNAFCWXAHXXAILES
Fish: 36.06 inch Spotted Sea Trout from Sw Wondrous Volatile Irish Sea; Code: YOTCKUIUSRMBM1780KROVTZUILELRIPAOCZHCFFCTPOFOZAARFEWJAJDEKBMU
Fish: 33.74 inch Ray from Sw Wondrous Volatile Irish Sea; Code: XBESDSYWAVIMB7026KUOJLCIHRNJDDNKWWTFJZQMNHLLGXYIKERNRNDAZEQXJ
Fish: 16.40 inch Sea Bream from Sw Wondrous Volatile Irish Sea; Code: TZYTBDFCXZKQY7605OYZRQDWTEOOSJLOMBRUCMLHTLXRTDSXVOKJEBXXZPFPY
Fish: 28.84 inch Red Hake from Sw Wondrous Volatile Irish Sea; Code: HWFTTMTYPJWRP3431NLZMUFJOEARZLDHUVUSVWUWGHCWSNAVVYCOJEVAABNAL
Fish: 33.82 inch Flounder from Sw Wondrous Volatile Irish Sea; Code: LTMSFIEDPWQAT3217MTCKUEEFKNAZUVORSLUCZZAKLKZRCNGVWBZUHBHUYLTS
Fish: 49.99 inch Ling Cod from Sw Wondrous Volatile Irish Sea; Code: LPQLCHPVMKCHO5975FGYGKUHYXDIBSLVLWHEYIOIWRZPWYRZSZOQQLGYQKBMU
Fish: 34.87 inch Spotted Sea Trout from Sw Wondrous Volatile Irish Sea; Code: VLJVMZHMYBQFK8236MXOYVTDSDFYZJDQFZUEHKIBSIZJPPCQGHYHMNTHZZYKR
Fish: 14.86 inch Pouting from Sw Wondrous Volatile Irish Sea; Code: GTGJWKSODPFDW9411EIWINIUWRUSWCZLEDDMMZAISBFKXRTHEPQETDFLCYGUB