Hey guys,
Got another great update here for you guys, and I think you will enjoy this one most of all. Fall is upon us, for most that means putting the rods away and getting out the rifles. Others, such as myself, know that this is not the time of year to put the rods away just yet, as Fall brings an increase in fish behavior and aggressiveness. Most species really have put the feedbag on and are feeding heavily in preperation for winter. Of course, others begin spawning runs. Yes, this is the time of year when the King and Coho Salmon hit the tributaries to spawn, closely followed by massive Brown Trout and Steelhead. This is a fun time of year if you know what you are doing and can deal with crowds of people at times.
So this past Monday, I was off from work and my father and I decided to take a ride out to Burt, NY to try our hand once again at the Salmon/Trout run. The Salmon spawn is winding down, evidenced by the increasing presence of Steelhead and the very dark coloring they are showing. I wanted to really give it a hardcore shot and brought my 8wt fly rod only, along with some attractor flies and egg patterns I had tied. I'll be honest, I really wasn't expecting much as I was stuck on shore due to not having any waders. (Note to self: START SAVING FOR WADERS!). I was using a blood dot egg pattern in red with a pink dot, on a 9' fluorocarbon leader with 10lb tippet. The fly was rolling out nicely, as I was limited to mostly roll casts.
I was just taking it all in, watching in the water, seeing huge Kings swimming around, chasing Brown trout away, breaching, and of course I saw a really MASSIVE Brown that at least 5 people were trying to catch to no avail. So as I was casting and talking to my father and another gentlemen, I suddenly felt a tug and my drift stopped. Instinctively, I set the hook hard and HOLY GOD did that line start tearing out!! Wasn't sure what I had on, but it was crazy strong. That is, until it jumped...BIG KING SALMON!! Knew this was gonna be a battle and knew I was gonna be at a disadvantage since I couldn't wade after it. So, I buckeled down and used every ounce of strength and knowledge I have of King Salmon to maintain control. Kept the rod tip high, fly line tight, and a close eye on my drag. Guys...wow..can we say RELENTLESS on a fly rod???? I now see what people fly fish for salmon!! I wasn't having much trouble turning him, but when he would take off on his runs I had to relent. He took off on a long run towards the shallows and even though I knew that spelled trouble due to the rocks, there wasn't much I could do about it but hope he slowed before he got there. No such luck. He got into the shallows and as much as I pulled, I could not budge him, although I was able to see him splashing around down there. A fisherman who was in the water close by so saw this and asked if I'd like him to see if he was caught up on the rocks or not, and I said yes please look. He went over there and after a few minutes I saw him grip the Salmon's tail and he said yes, he was wrapped around a rock. He untangled the fish, and began walking him towards me and that's when the realization hit me: I just caught my first King Salmon on a fly!! He passed him to me, and wow this fish was ENORMOUS! My father took these pics, so sorry they are not the best LOL. I also noticed that the fish had an egg sack stuck to his fin haha. Finders keepers!! We weighed him at 20lbs, and by the looks of him he was probably only a few days to a week away from death anyway. His gills had torn so he was bleeding heavily, and was also milting all over me as well lol. I ended up giving him to a another fisherman as I do not like the taste of salmon as it is. I offered him to the guy that got him for me, but he declined. Anyway, here it is guys...my first King Salmon on the fly! :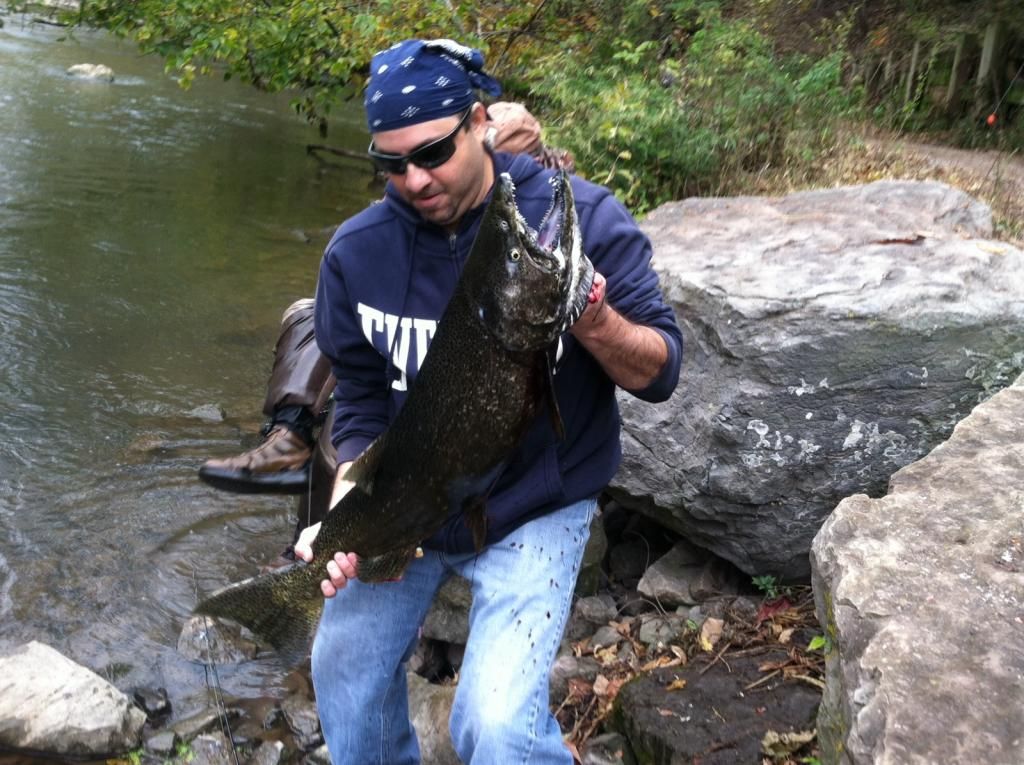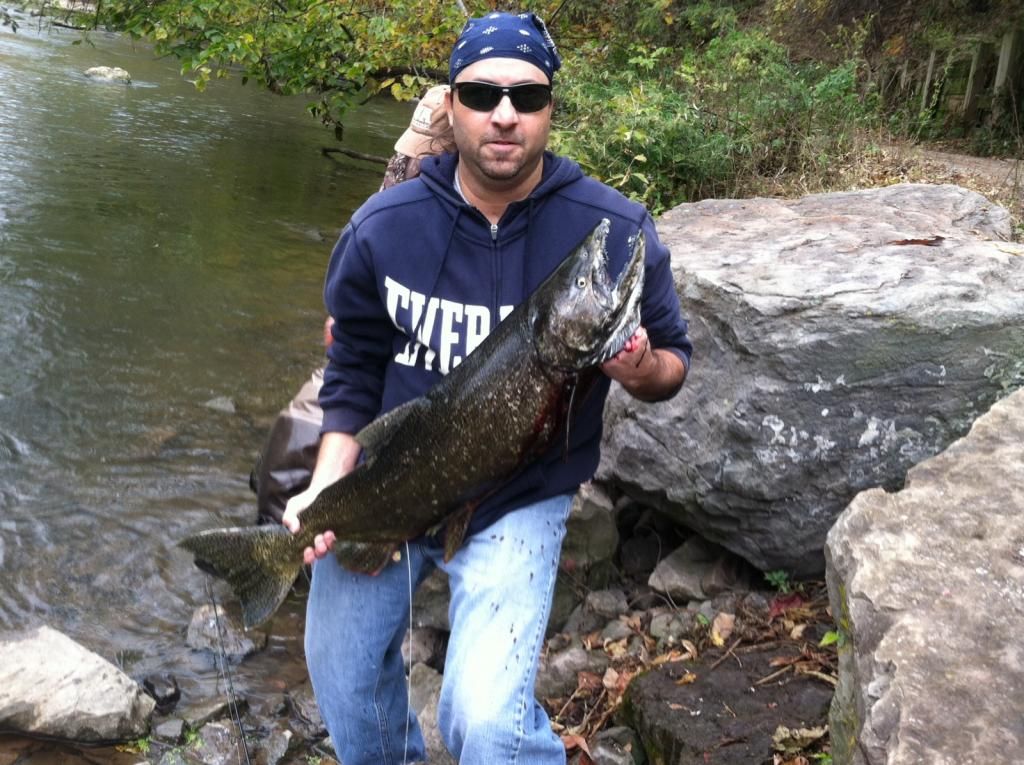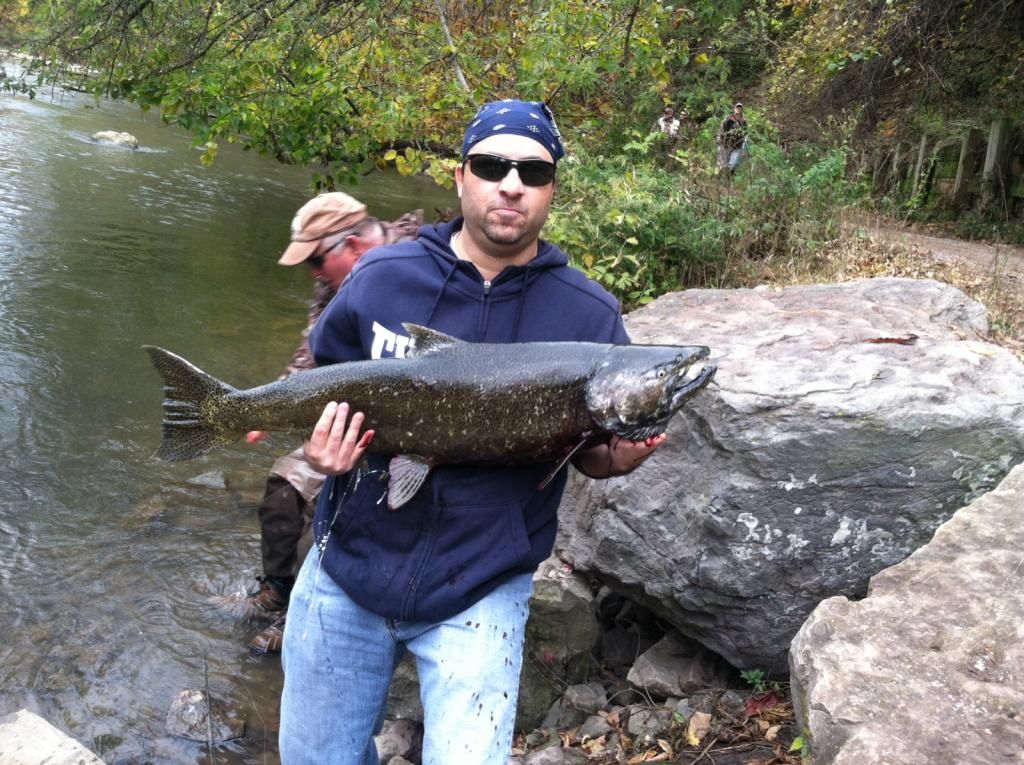 Happy guy here!!