Hey all,
Just wanted to share this experience with you guys as I had the best weekend fishing for Smallmouth Bass. Was fishing most of the weekend, taking advantage of the weather and spring patterns. Was up early Saturday morning and figured to walk up to the Niagara River and fish for Yellow Perch or whatever else. Was up there for a few hours, only caught one little perch so I packed it up and went home. After a few hours, I was sittin around bored and told myself to go back up to the River because A) sitting at the water and catching nothing beats sitting at home and doing nothing on a nice day, and B) just had a feeling. Good move, too. Went back up to the river and rigged up a white jighead with a 3" Berkley PowerBait split tail minnow, in Emerald Shiner color. Not much area along the Upper Niagara to get right down by the water, so was limited to the walls. Castin, castin, and finally got a good bite. Set the hook and brought in this nice little Smallmouth Bass: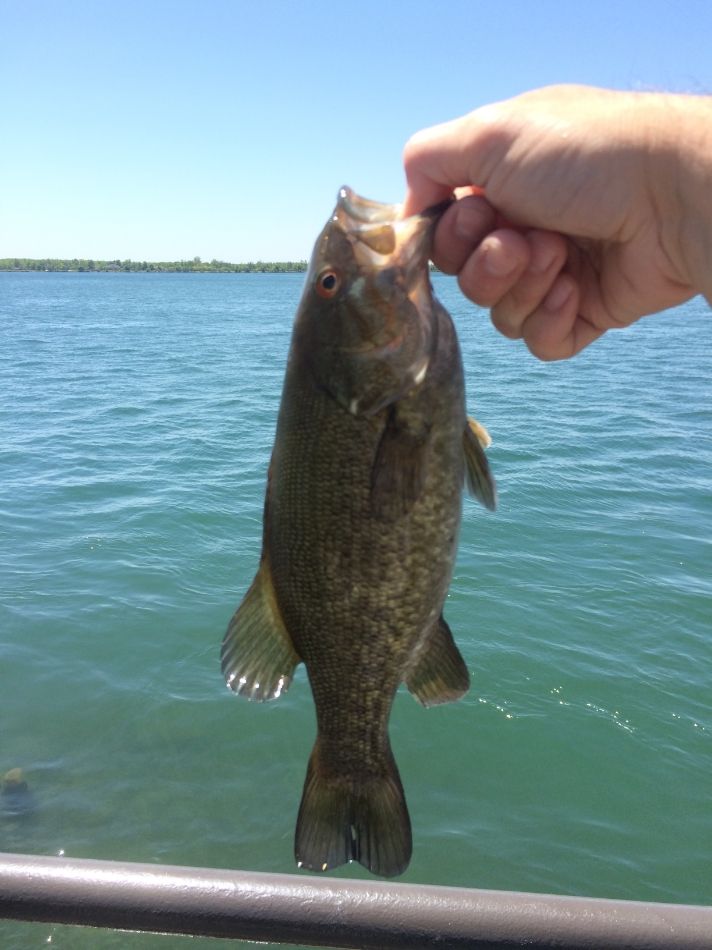 NIce! Kinda surprised me too, because I notoriously have a hard time catching Smallies, well, at leas the big ones. Irony to follow
Caught a couple more about the same size, and quickly realized that it was about time the Smallies had moved in shallow. Cast on out, and in doing so my reel (was using an Abu Garcia Silver Max LP Baitcaster) gave me a minor backlash. As I got that straightened out and reeled in to begin my retrieve, i noticed the line felt a bit heavy. This being the Niagara River, I thought it could be a snag. But, instinct took over and I set the hook. Fish on!! Felt pretty good, and knew it was a nice Smallmouth Bass by its dogging dive and headshakes. Got him in, had a tough time bringing him up over the wall but I managed, and got me a nice 3-4lb Smallmouth. Awesome!!!
(arm is fully extended in pic)
Another pic of it before release:
So around this time, my cousin Jim calls to see if I wanted to try the Buffalo Small Boat Harbor to pick off a few bass. Apparently, there's a mix of Largemouth and Smallmouth hanging around. It was about 4, we decided to wait until 7 when the weather started cooling off and the bass would start moving back into the shallows. We got to the harbor, and I immediately noticed bass on their spawning beds in a few feet of water, meaning there were spawning and post-spawn bass out there. Didn't get much to start with, then I switched over to a Tube jig in pumpkin speck color. Got this little Largemouth on the first cast with it: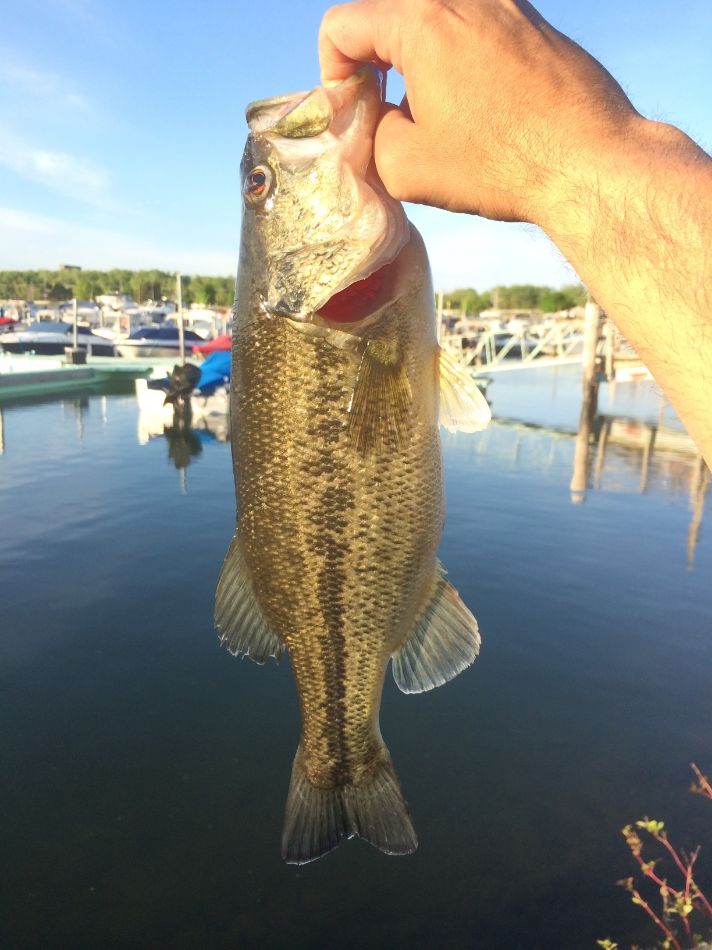 We continued catching Largemouth, but had yet to see a Smallmouth aside from the spawning ones. So Jim and I are casting and BSin' , when I suddenly got a subtle hit on my tube. Set the hook immediately, and it set into what felt like a ROCK, until it started thrashing. Knew it was something big, and told Jim to grab the net becuase it felt like a decent Northern Pike or Musky. So as I'm adjusting my drag mid-fight while keeping pressure on the fish, Jim gets all excited and tells me "Holy crap (use other word LOL), play him good, its a MONSTER SMALLMOUTH!!" What? Me? Monster Smallmouth?? Nooooooooo! I got to see the fish for myself and tried so hard not to let nerves take over, just remained calm and fought him. Anybody who has caught Smallmouth Bass before know that they are hellacious fighters, pound for pound one of the hardest fighting and strongest fish in freshwater. Jim and I coordinated to get her in the net, and when he finally got in the net and Jim scooped her, we were both like "YESSS!!!" I reached in to lip it and could not believe the size of that beast!! Jim ran for the scale, but before that he took this pic. Pardon the stupid look on my face LOL, but needless to say, I was excited!!!!!: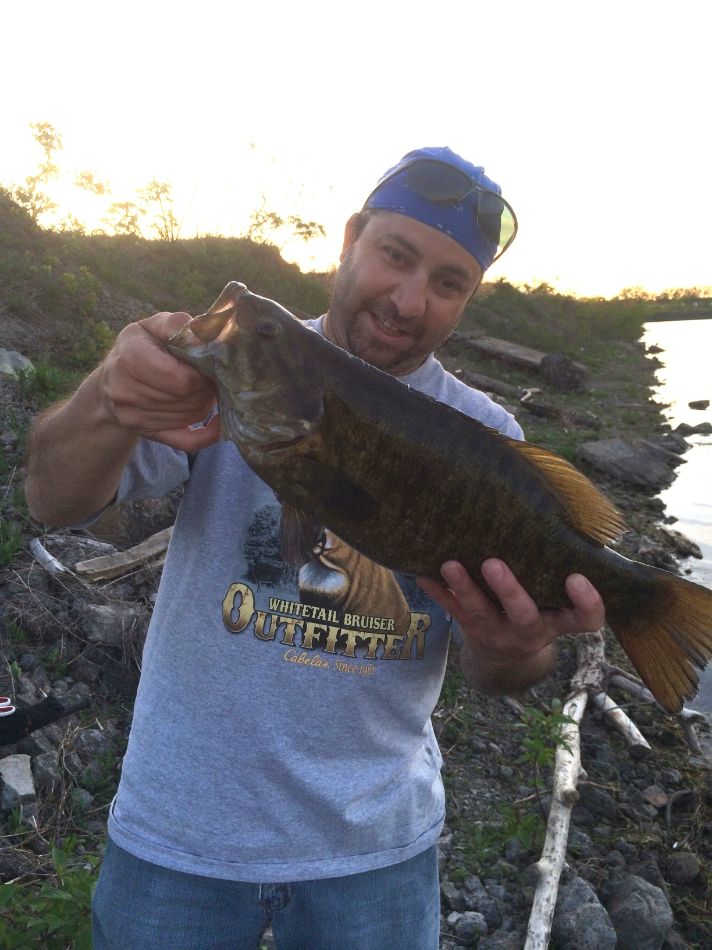 We quickly weighed it, and I almost died! ABSOLUTE TROPHY SMALLMOUTH!
6.2 Lbs!!!
My Biggest Smallmouth Bass EVER!!! Stoked beyond belief!!
ALso, just happened to be that my cousin's daughter's boyfriend happened to be just down from us and saw the whole thing all the while battling his own nice Smallie. Pic of both together, his was a little fatty porker! Weighed 4.10 lbs. We took a quick pic of both of ours together as he couldn't believe the size of mine haha: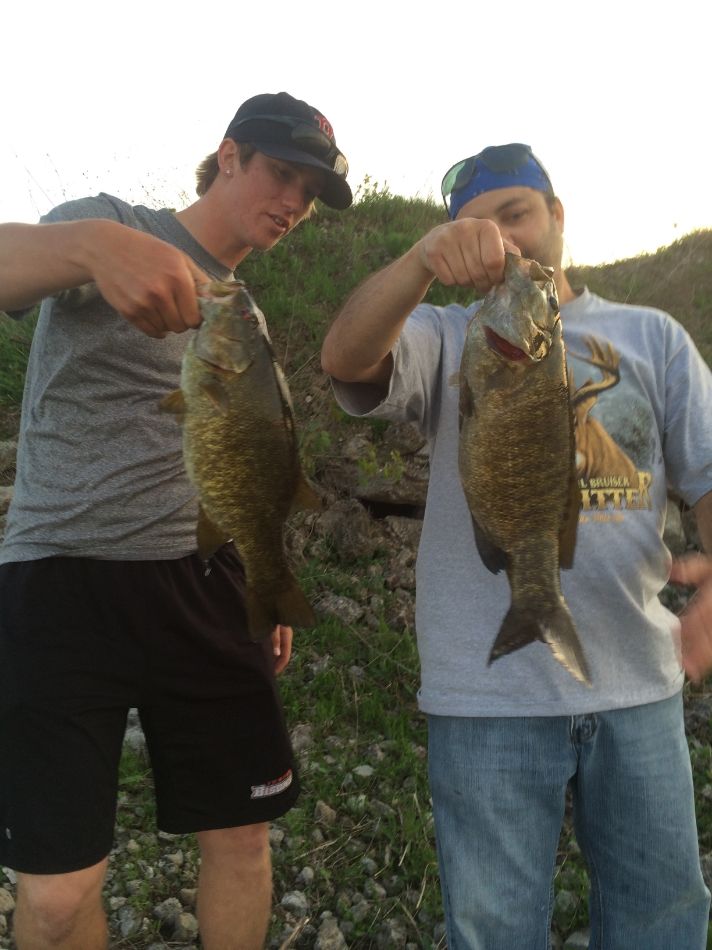 We took two more pics of my huge Smallmouth before I let her go, to live on and fight another day:
She swam away, back to where she had come from. Oh my god, so darn stoked!! Measurements were taken, I am just about assured of getting a replica mount of the beast!
Oh but it doesn't end completely there! Within minutes of releasing the big girl, Jim set the hook into another really nice Smallmouth!! Nowhere as big as the one I had just released, but this one had some really pretty and vivid coloration goin on: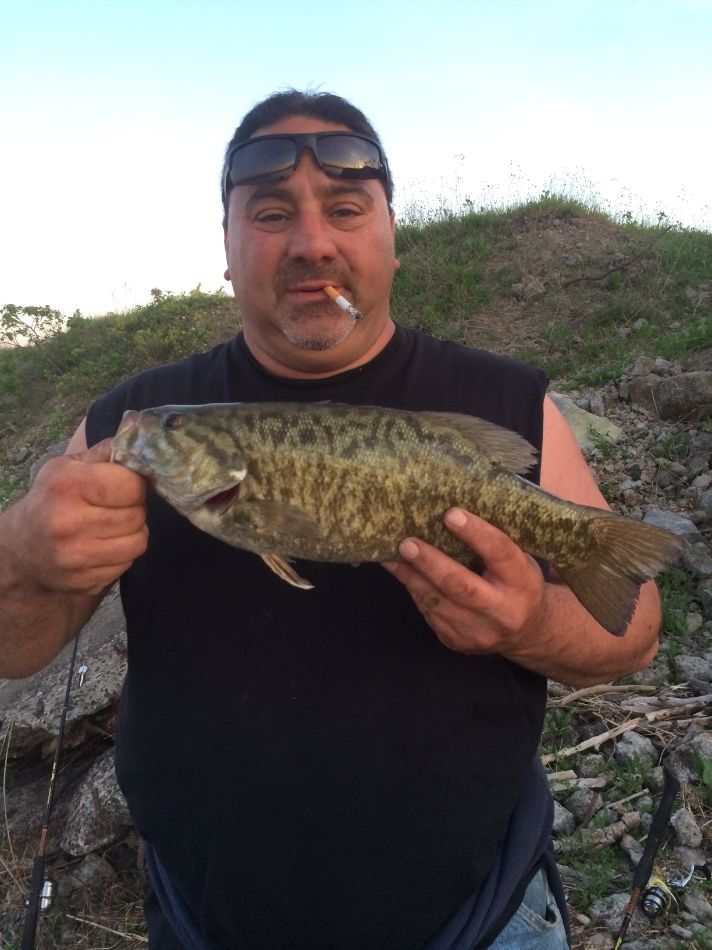 One more pic of it:
After that, it was getting darker and though we hit a few more Smallmouth and Largemouth, the bite began to taper off. We finally left around 10:30pm. What an AWESOME day of fishing. Cannot begin to explain how dang happy I was to land that big Smallmouth, especially since I'm the one that always seems t have the problems finding the big ones. Luck was on my side today, and as I said I am planning on having a replica mount made of that girl as I probably won't ever beat that Smallmouth (well, I mean as far as bass go. I've caught bigger fish of course lol). That one is just really special because of how long I have been pursuing Smallies, only coming up with average results. Sweet!!!