Hey guys!!
Yes, it's ol' Chuck, your fishin' crazy friend from the great state of NY! I see you guys are currently embroiled in quite a nice challenge put together by Stanley, very cool! Wish I could join you guys. Be that as it may, I am doin the real deal now and will continue to bring you guys stories of my catches. Today was the first very warm Spring day we've had here in WNY, with temps making it to 79°F. I made a little bucket list of fish that I wanna try my hand at catching on the fly rod over the winter, with the Common Carp at the top of the list. As we know, carp are big, plentiful, and can put up quite a fight on conventional tackle. Flyfishing for them is a whole new ball game. They don't call them "freshwater bonefish" for no reason as they can be quite difficult to get to take a fly. Armed with that knowledge, I thought about the time of year and what carp around here would be looking for. I came up with a very simple fly pattern using nothing but egg hooks and McFly foam. I tied it in a few different sizes (which ended up a very smart move). I call it the Sweet Corn: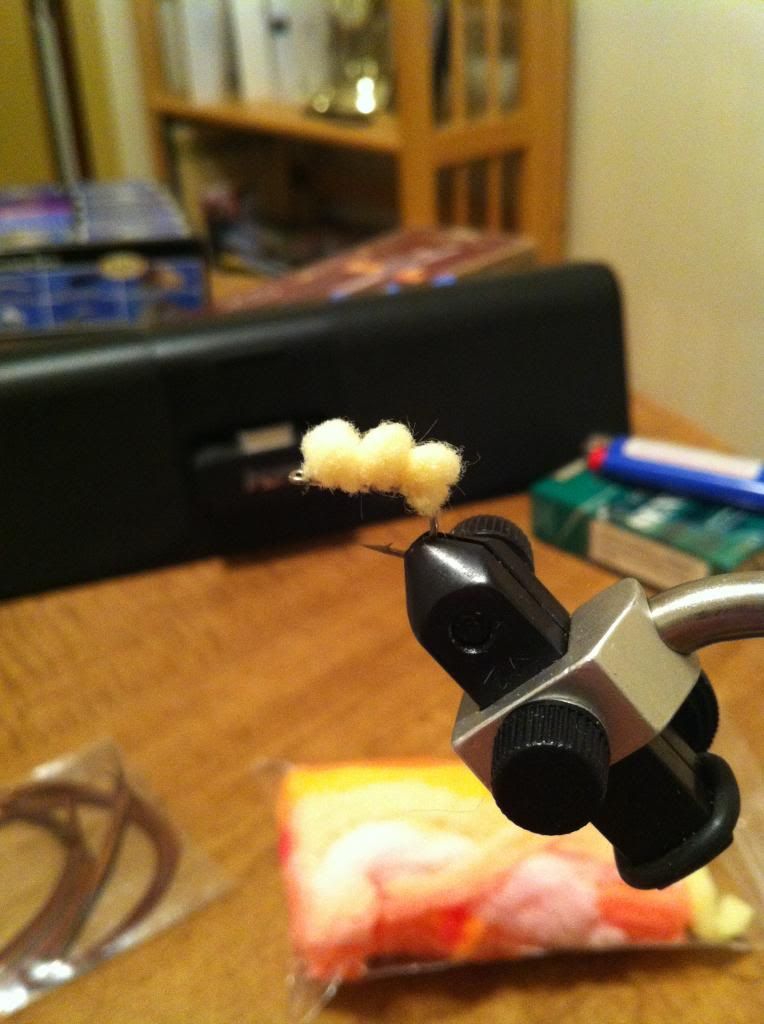 Very easy to tie, kind of like you would a spawn imitation but the loops are tighter.
Anyway, I had went to Oppenheim Park a few days ago with the same agenda to catch a carp on a fly, but failed in that attempt. However, I did get a few hits but missed each time. Defeated but not deterred, I grabbed my 8wt and went back today. Water was a bit stained/muddy, but I did notice something that I did not see the other day: Mud plumes. That told me that the carp were feeding. Got the fly rod ready, tied the fly on, and waited before I cast to see any more plumes. Was hard to see the fish at all due to the muddy water, but the shore areas were ok and I was able to see the plumes in the mud. Cast out about 10 ft from where I thought the carp was going, pulled ever so closer very slowly and waited. Nothing.
After a little while, a slight drizzle came down and then the sun came out. As soon as the sun came out, I saw my fly line move to the right and tighten, and I immediately strip-set, FISH ON! Didn't feel big, so it was an easy pull in. Ended up being this huge Golden Shiner: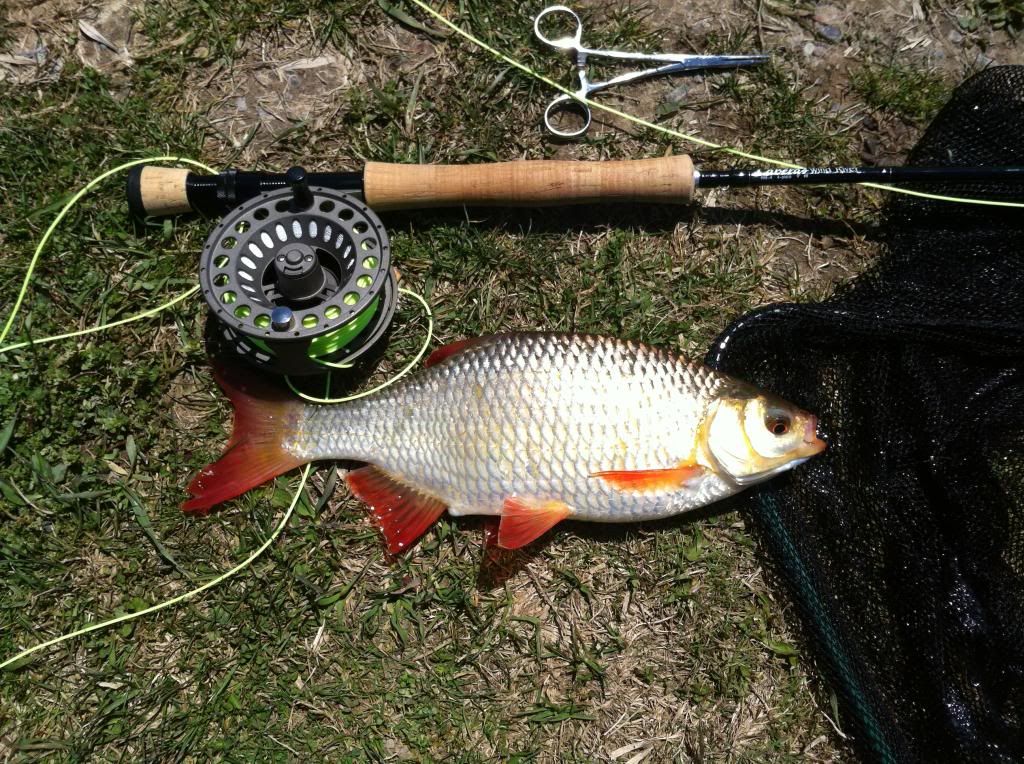 Ok, not what I was after but it's a fish so I'll take it. A few more casts yielded nothing. After a while, I got another hit, but missed. My own fault because of course I just happened to be lighting a cigarette. Saw another puff of mud coming up and cast nearby. Waited and waited (it's kinda like nymph fishing where you don't do much haha), and out of nowhere the fish grabbed the fly, I set only to miss again. Stripped in a little bit and waited, thinking it would come back. Certainly did, and hit the fly hard! Strip-set...and MISSED AGAIN!! I told myself it's gotta be something weird as to why I am missing so much. I cut the fly off and replaced with a size larger, a #6. Lemme tell you, made all the difference right there. Another cast, and another take, this time it was fish on!! Again, it felt small. Sure enough was, but man another big Golden Shiner: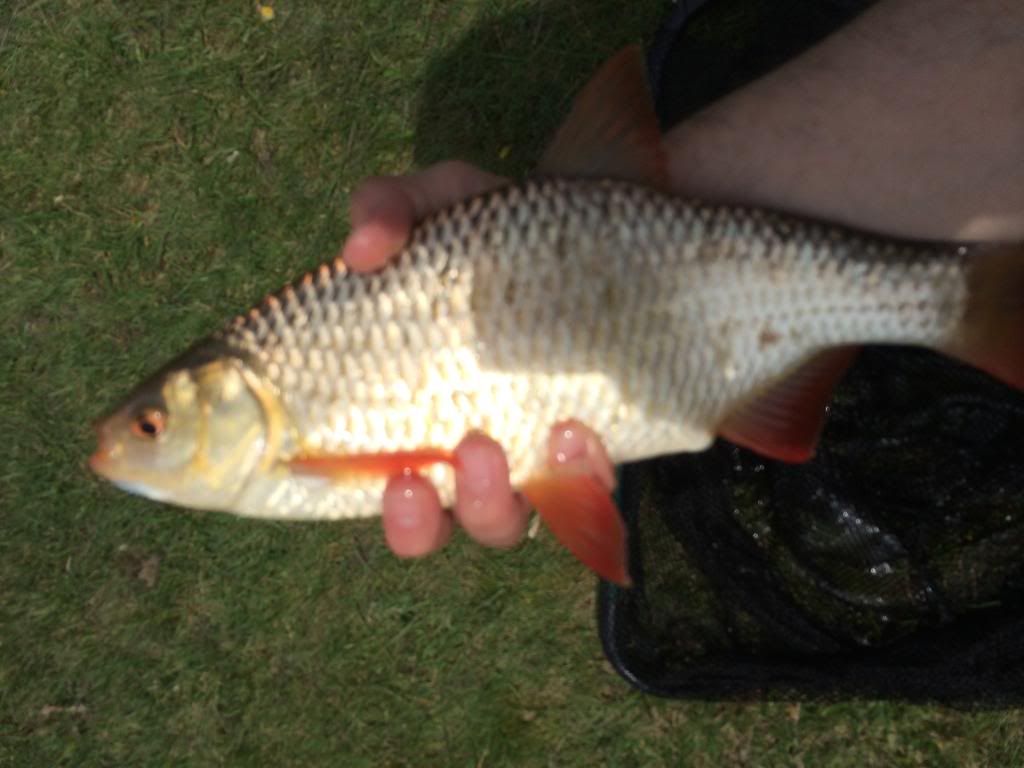 Sorry about the focus in the pic, still getting used to the upgraded phone. After releasing the stupid shiner, I cast again and slowly stripped it in. Saw more puffs off to my right, so brought the fly to where I though the fish might be headed. I waited, and just when I thought it was gonna be another long day, the fish hit with so much authority I thought my rod would of came out of my hand had I not had a good grip on it! Set the hook hard, and it was game on!! Fish felt pretty good, and when it surfaced I got excited because it was a carp! But wow, I had NO IDEA what I was in for. Keep in mind, I've caught big Northern Pike, Muskies, King Salmon, etc on conventional tackle, even big carp. But OMG, this fish had serious POWER! It took all of my strength to keep it under control, and it went for long runs. I actually had to walk with it along the bank so I could keep my line tight. This fish fought so hard I was getting tired, as was the fish. I could not believe the power this fish had! Finally, I got its head above the water and dragged it to my waiting net. I am happy to show you guys my very first Common Carp on the fly rod!! 8lbs!!! (????)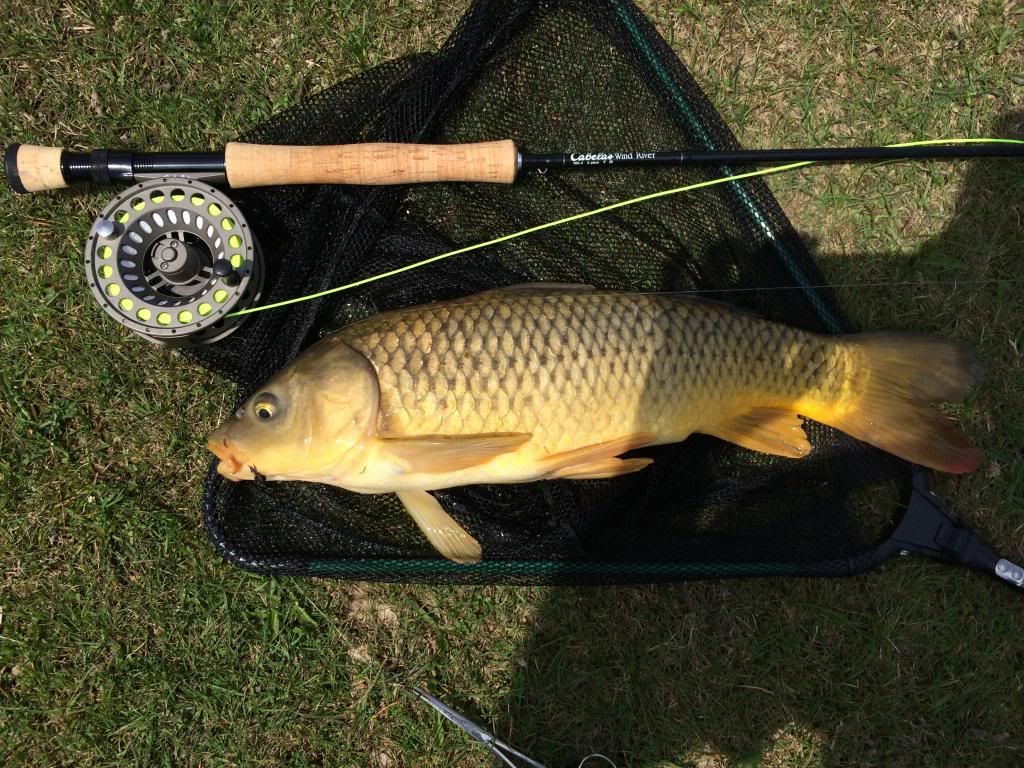 An 8lb fish fought like that?? Really?? I was so beat after that fight!! After I released him, I hD to sit down and relax because that adrenaline was pumping and that fish took a lot out of me. What a battle on a fly rod!! And big significance here.
Not only is that the first carp I've ever caught on the fly, but it's also the first fish I've caught with a fly that I made myself!!! AWESOME!!!
So, after some water and a quick smoke, I stood up to cast and noticed there were quite a few plumes of mud. The carp were feeding heavily. Awesome, I thought. I casts fly again, and after a few minutes I had a light takes I I set the hook. I literally pulled this guy right out of the water, and what a nice surprise!! A little Rainbow Trout!! Another first! First trout on the fly and first on a homemade fly!!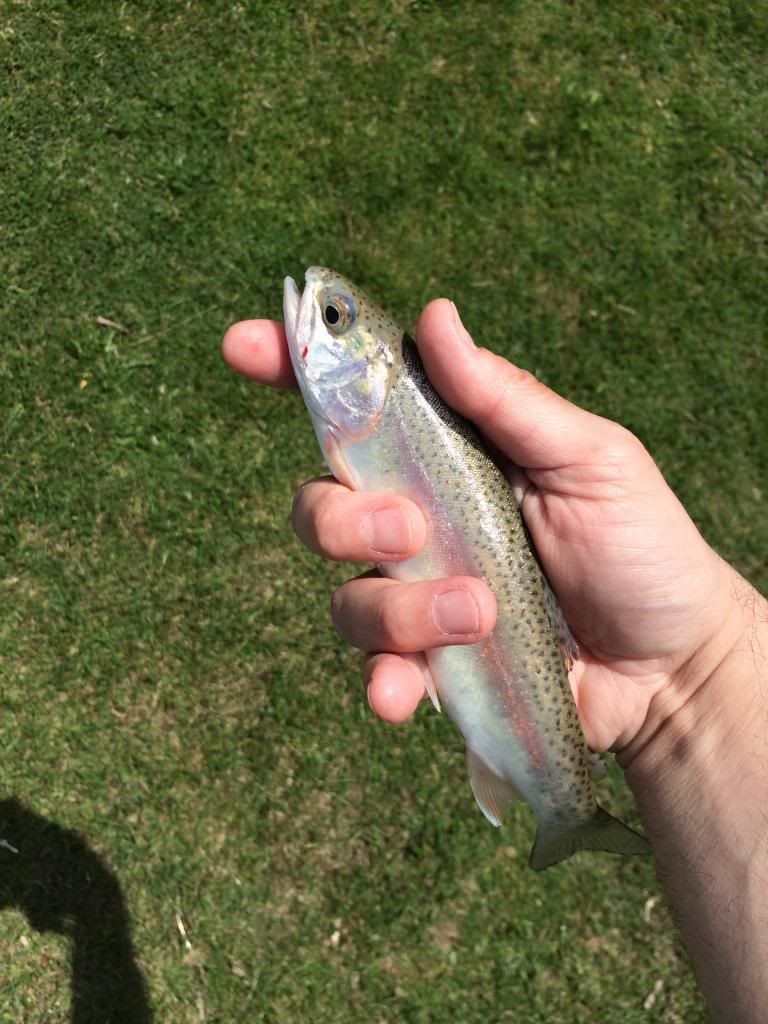 So about this time after I release the Rainbow, I am noticing that I appear to be surrounded by carp, heavily feeding. This little guy surprised me. Thought it's was another shiner when it hit, but turned out to be a small carp: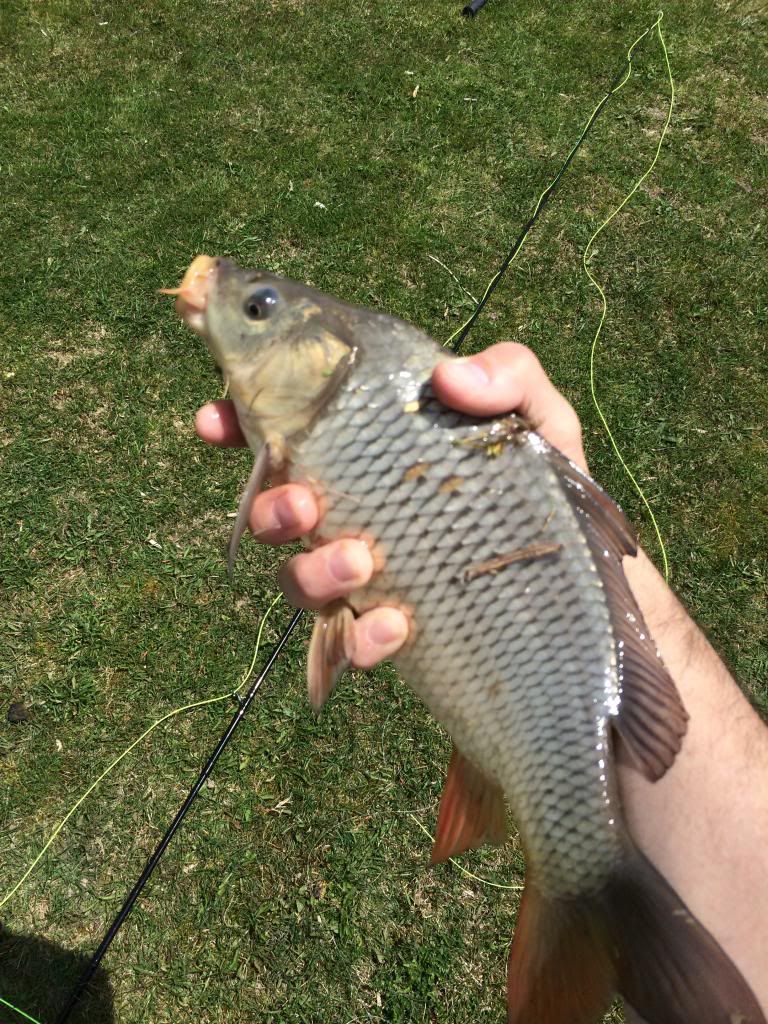 By this time, I was getting tired with the heat and all, but stayed determined even though my time was running out. A young man and his girlfriend showed up and asked if I had caught anything, and I sAid I had. We got to taking for a little bit before I cast back out. I saw a plume again almost right in front of me, and I also made out the shadow of the fish as it disappeared. Pulled slightly and waited. Just as Inwas about to pack it up, my line got SMASSHED and smashed HARD! I set that hook and immediately knew it was a much bigger fish. This guy was RELENTLESS. Lots of power runs, and just the sheer power it had while I was trying to get it under control with the rod amazed me. It surfaced, and I saw it certainly was a much bigger carp! About this time, the guy I talked to had happened to see the commotion and came over. He saw the fight I was having and grabbed my net. The carp brought me once again for a run along the banks, constant tug of war goin on. Every time I'd get the fish close, he'd see the net and bolt. Finally, after a 10 minute battle, I got him close enough with his his head up, and the guy finally got the net on him. Weighed in at 12lbs. Unbelievable battle for 12lbs!! Guy was also nice enough to take the pic for me. Pic does the fish no justice though, due to the angle I was holding him:
So that was it for the day, and I'll tell you, I've NEVER been so sore after fishing! My left arm is KILLIN me!! I hope you guys enjoyed this run down, even though I know it is a long read. But I can say that although I am seeking bigger, I finally caught a carp (or 3 lol) on the fly...my OWN fly!!