Hi guys,
As you all know, my computer is currently down and out so I have not been able to do anything with RWFF for a while now. Basically, need a new computer. Well, a new computer costs $$$ that I do not have. I will probably have to wait a while, with the holidays coming and basic life in general. Might not be able to do anything until tax season. But, I have plenty going on to keep me busy. As we all know, the Fall fishing season is in full swing, with the lakes and river temperatures now dropping into the low-50's. The fish are mostly fattening up for the winter, Steelhead, Salmon, and trout are making their annual spawning runs, its just a good time of year to be a fisherman. And as you all know, thanks to influence and a kick in the rear from you guys here, I also have recently taken up fly fishing. I've come a long way since practicing in my back yard, though I still have much to learn. I have caught bass and panfish on flies and even a few unconventional methods. But, it has been a lot of fun and exciting learning a new method of fishing. I have a 7/8 WT setup from Scientific Anglers that I use for catching bass and panfish. But, of course the will to challenge myself even further always wins out. As if just learning the ins-and-outs of fly fishing wasn't enough, I wanted to try for these fish in lighter fly tackle. The 7/8 WT is more than enough power, from what I understand it can also handle pike, muskie, Salmon, carp, steelhead, etc. For the areas I have been learning on, I though that maybe it was a little overpowered. Probably isn't, but remember, you're talking to the guy that likes to go after big 5-10lb Largemouth Bass with ultra-light tackle LOL. So, I did a little research around to find a good, all-purpose fly rod, not too heavy, not too light. After a bit of reading and asking questions, I determined that a 3/4 WT rod is basically only good for special situations, such as small trout streams for example. The only small trout stream I really only fish is the creek in Great Valley, with Brookies and Rainbows providing the most action. Nothing really ever over 14", except once in a while. So, naturally, I checked out the next WT class, 5/6. More research done, and I found the perfect rod for all-purpose fly fishing. 5/6 WT it is. I went looking around for a good starter package, and came across a place that was recommended to me by a friend,
Wild Water Fly Fishing
. Great company, answered all questions and helped me decide on a nice fly rod, that just so happens to include quite a lot in the package. I purchased the Deluxe 5/6 WT combo, and it came with everything you see below: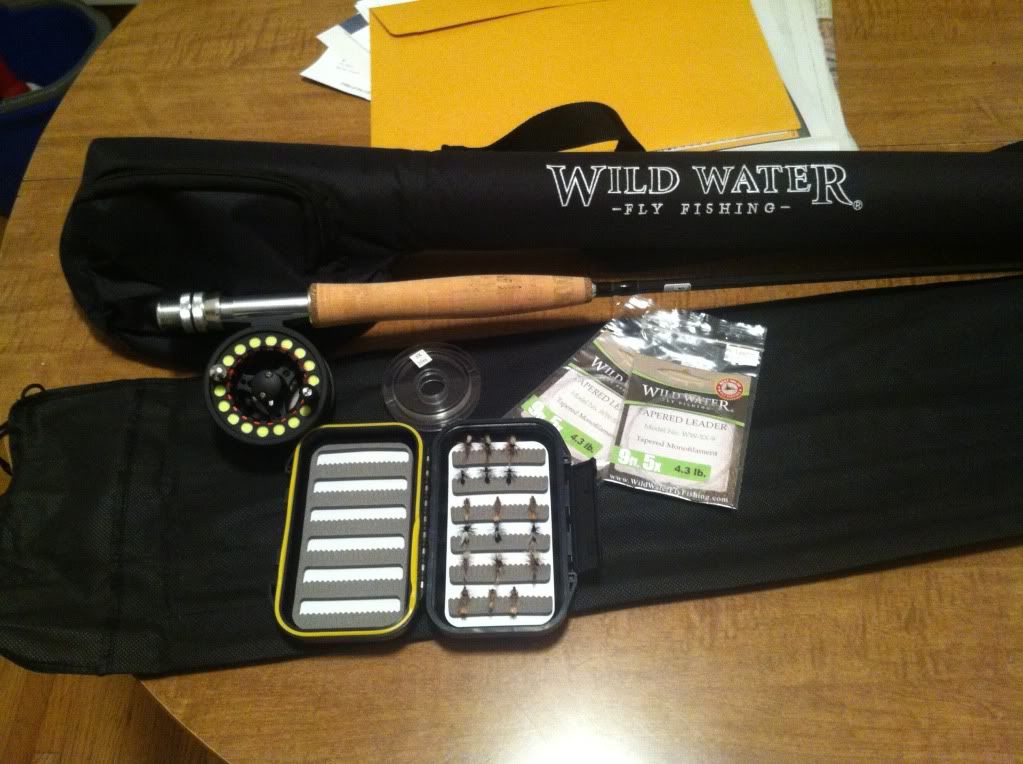 It includes a metal, large arbor reel, WF-5F fly line, 100 yards of #20 braided dacron backing, 5X tapered leader, a spool of 5X tippet material, 2 extra 5X tapered leaders, rod case, rod sock, and a fly box with 18 flies (Parachute Adams, Gold Ribbed Hares Ear nymph, Black Ant, 6 each). Not a bad deal at all for $114 USD, huh? If anyone is interested in checking out this great company, here is a link for you:
http://www.wildwaterflyfishing.com/Default.asp
I might even pick up their one of their assortments of flies!
Now, on that note, I also had another stroke of luck. Stanley has been pestering me (LMFAO) about getting into fly tying. I wasn't sure about it because time is usually not on my side. But, from what Stanley told me, it can really come in handy during the winter months here. Keep my mind occupied instead of sitting here watching TV. And also, I can use the artistic side of me to create different patterns based on available forage in NY waters. I gave it some thought even further, and then Stanley gave me the good old kick in the rear that was needed. He talked to an old friend of his and got me in touch with him, and soon after, I decided I wanted to try it. A big thanks goes to Stanley and Mr. Bailey, for I also picked up a beginners fly tying kit!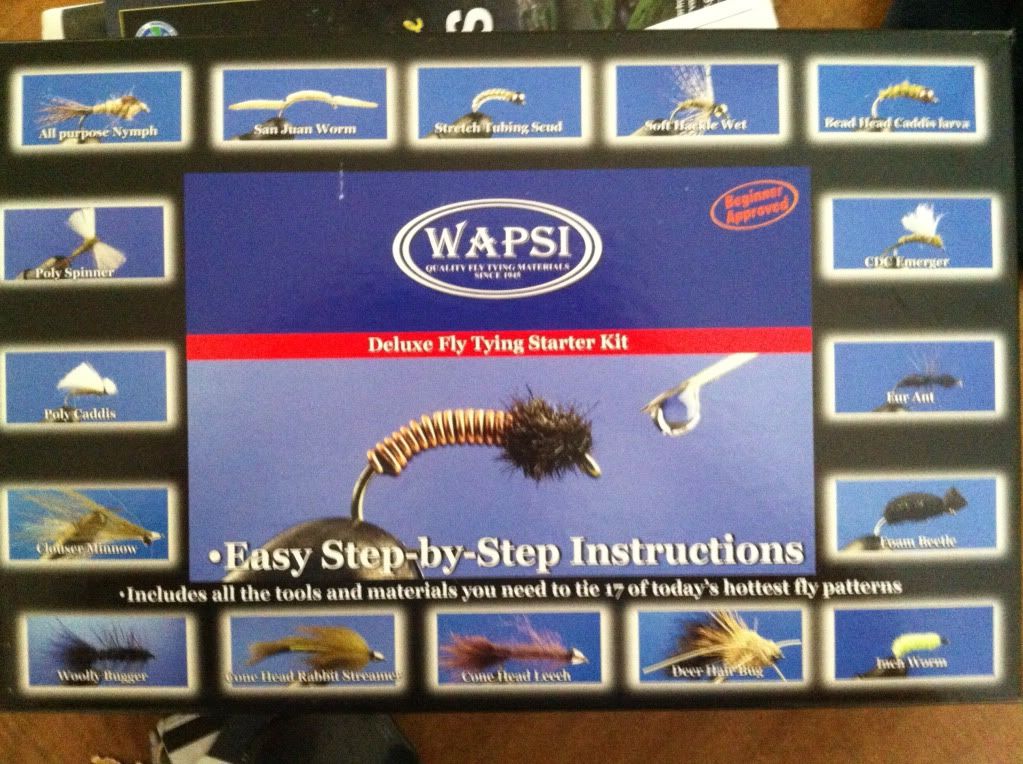 I am in the process of clearing out a section in my basement. There is a workbench there, and I figured it would be the perfect spot to set up shop with the vise. Plus, the cats won't bother me LOL. It's almost there, just gotta get a space heater as it's a little cold down there, and put some more stuff in the garage, then basically clean it up more.
Now, as far as the weight off of my back goes, we all know here that I notoriously cannot catch a big Smallmouth Bass for the life of me. They are abundant here in my area, but for 25+ years, I cannot catch a big one! Just dinks. Never fails. Everyone around me can be catching 2-4 lbers, but then there's me doin the same thing and catching the ouncers LOL. Its a curse I'm tellin ya! Well, I was out the other day, enjoying a nice, 60-degree Fall day at the river, throwing crankbaits with an Abu Garcia baitcaster and a St. Croix rod. I was using a Rapala X-Rap along the rocks and near weeds, Smallmouth and Muskie habitat (and Yellow Perch). Another gentlman had joined me on the lighthouse pier, and of course we were just hanging there, fishing and BS'n. He was using live Emerald Shiners and was getting a few perch, nothing big. He asked me if I wanted to try using some since I wasn't getting much, as I only had a strike but missed the hookset. Told him no, was just gonna stick with the X-Rap because for some reason I had a good feeling. What an omen. The second I finished that sentence, "ba-BBAANNGG!!!!" HARD hit, in which we both said "WHOA" and it was on! I was able to tell from the fight that it was a bass, and I was just hoping to god it wasn't a Largemouth (not that there is anything wrong with ol' BucketMouths, as I love to catch them) as I wanted a Smallmouth. Could this finally be it??? The gentleman, his name was Robert, quickly reeled in his line and grabbed his net as to help me land the fish. Once I saw it in the water, I got very excited, especially when Robert got the net on him! I can finally, FINALLY say, after an almost lifelong pursuit and almost obsession, that I caught a really nice Smallmouth Bass!!!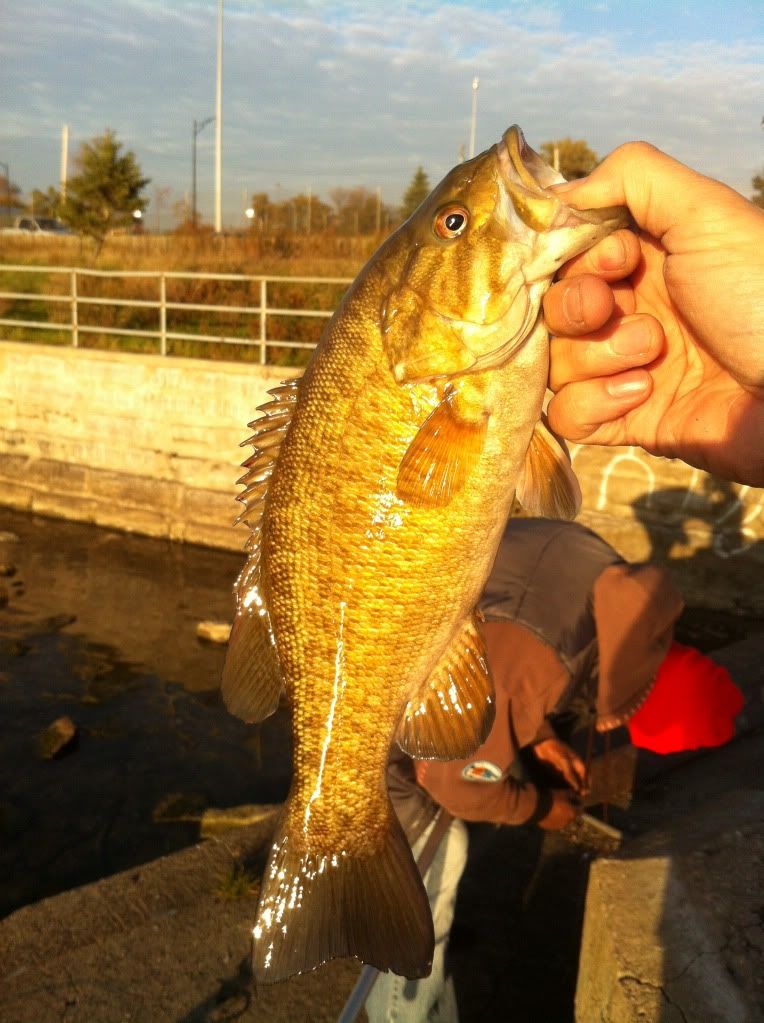 I know it's nothing huge, probably 2-3 lbs at max, and I'm sure most of you have caught bigger. But this is my very first Smallie that can actually be weighed in pounds instead of ounces LOL. Cannot describe the feeling. Finally, a nice bronzeback!
I know its been very quiet around here, but I really do try to keep you guys updated and bring you my real life fishing stories as they happen. I know some of you have a hard time getting out there due to various issues, and if my posts here can help inspire you to just get out there and do it, or if thats not a possibility, then to just enjoy my posts and maybe relive some of your memories. You can also follow me on my journey to becoming an even more complete angler as now I will also have fly fishing stories and pics coming, hopefully pics of fish caught using flies that I tied myself!