Hi all,
I know. When does this guy stop fishing, right? LOL! Hey, I fish as often as I can, and since I've picked up fly fishing and getting more confident by the day, I try as often as I can for any species. Granted, it has not been my year for big fish and lots of travel like I normally do, but fishing is fishing. So, early yesterday morning I was up and the idea came to me to take a walk down to the River, but near where my Uncle lives. I decided on this because I wanted a chance at something big. I was figuring it would be good to practice fighting a hefty fish and have some fun in the process. Nearly every time I go by my Uncle's, there are huge Carp hanging around in the River. I figured why not see if any are around and give them a shot. I looked into the water, I saw at least 4 carp hanging around, mouths moving along the bottom as they were feeding. I tied on a Woolly Bugger and went to work. (A little more on this later) Cast after cast, these guys showed minimal interest. Closest I got to getting one is when one gave it a very quick and soft bite to see what it was, as carp are well known to "taste" thier food before committing. I never did get a hit, as they were more curious than anything. Just kept approaching the Woolly Bugger and backing off. Oh well. Can't win em all.
So, as I'm on my way home, my father calls me to see if I wanted to take a ride out to Great Valley to basically enjoy the 70 degree October day, so I said sure because I could go fish up at Sprague Lake. I know there are Largemouth Bass and panfish in the Lake, but I made a promise to myself to use the flyrod only! To remove temptation, I brought only my fly tackle. Hey, gotta practice in order to get good!
So, when I arrived at the lake after my father dropped me off, the water was clear as glass. I thought I might be making a mistake because the water was that clear and the sun was high. Usually spells tough fishing conditions. I guess I got lucky and the resident fish were hungry, as I absolutely demolished them! Between the Woolly Bugger and Bleeding Minnow streamer (I don't know the real name LOL), I was hitting Bluegills, Pumpkinseeds, and Largemouth at a good rate. Made the fly fishing a lot of fun. Hell, I even out fished two teenagers who were using lures over on a dock. For every fish they caught, I caught 5 LOL. I didn't take pics of every fish I caught, because this would be a very long post LOL! So, here are the ones I did take pics of. Nothing big, just lots of fun:
Bluegill that hit first, Woolly Bugger: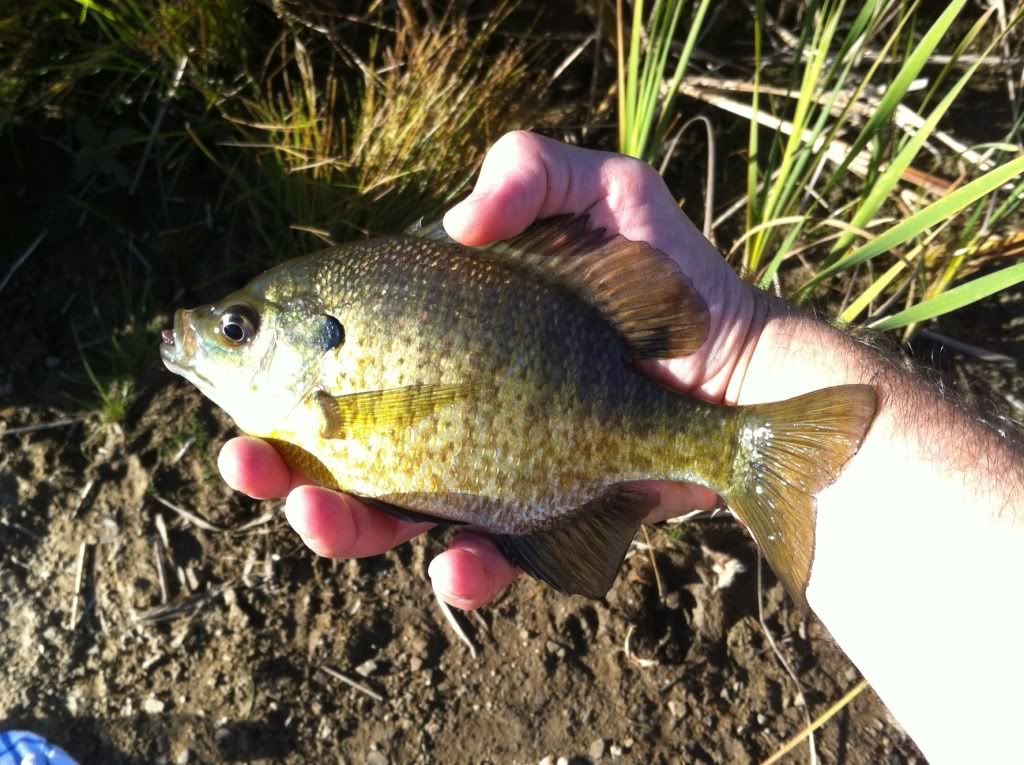 Followed by two Largemouth on the Bugger (see how clear the water was?):
Pumpkinseed, such a pretty fish.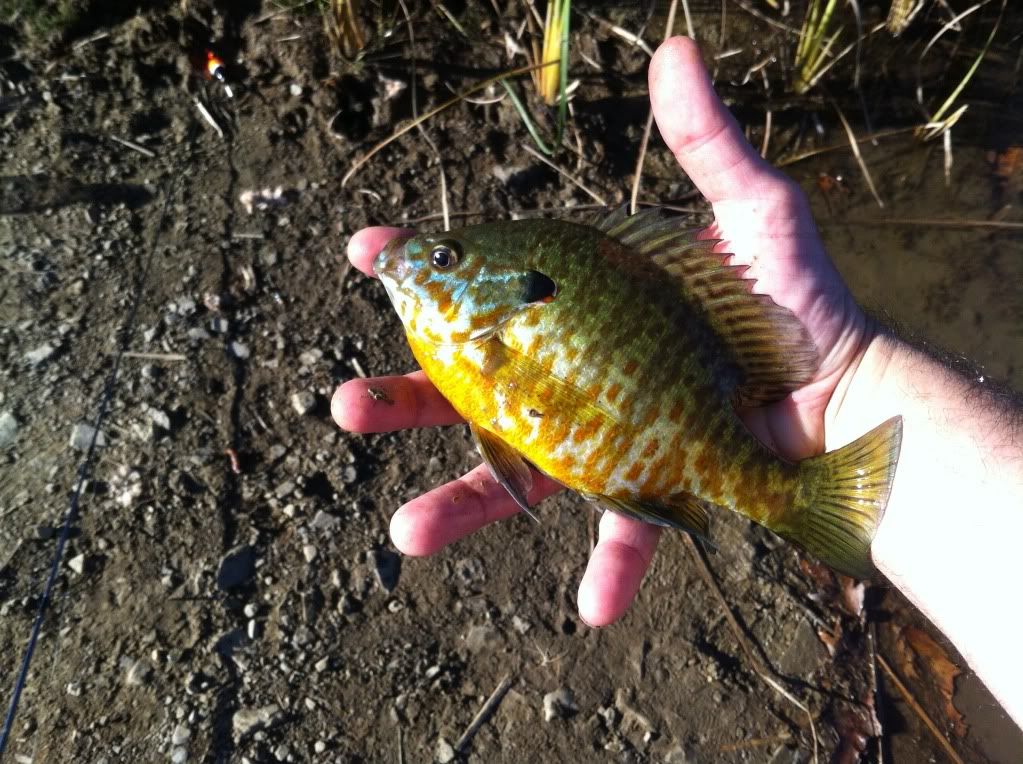 The bite seemed to tail off after that. I changed retrieves, but with no results. So I switched over to the Bleeding Minnow streamer. That sure got thier attention again!
Bluegill that hit the streamer: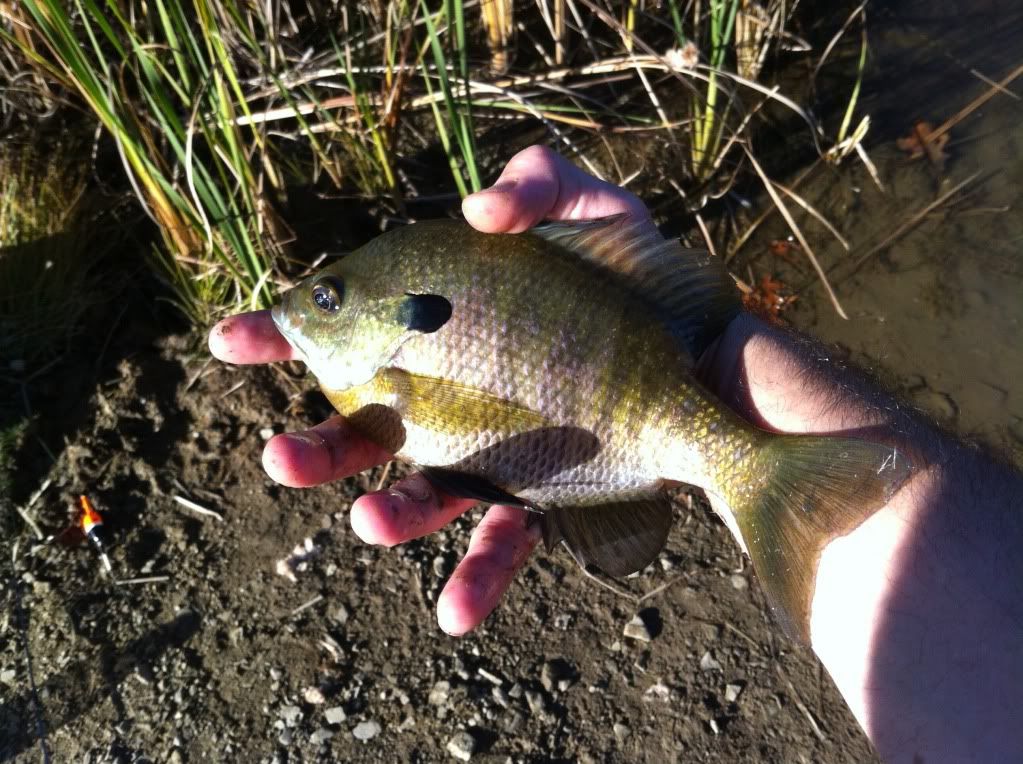 This little bass was a scrapper! Easily the best fight of the day!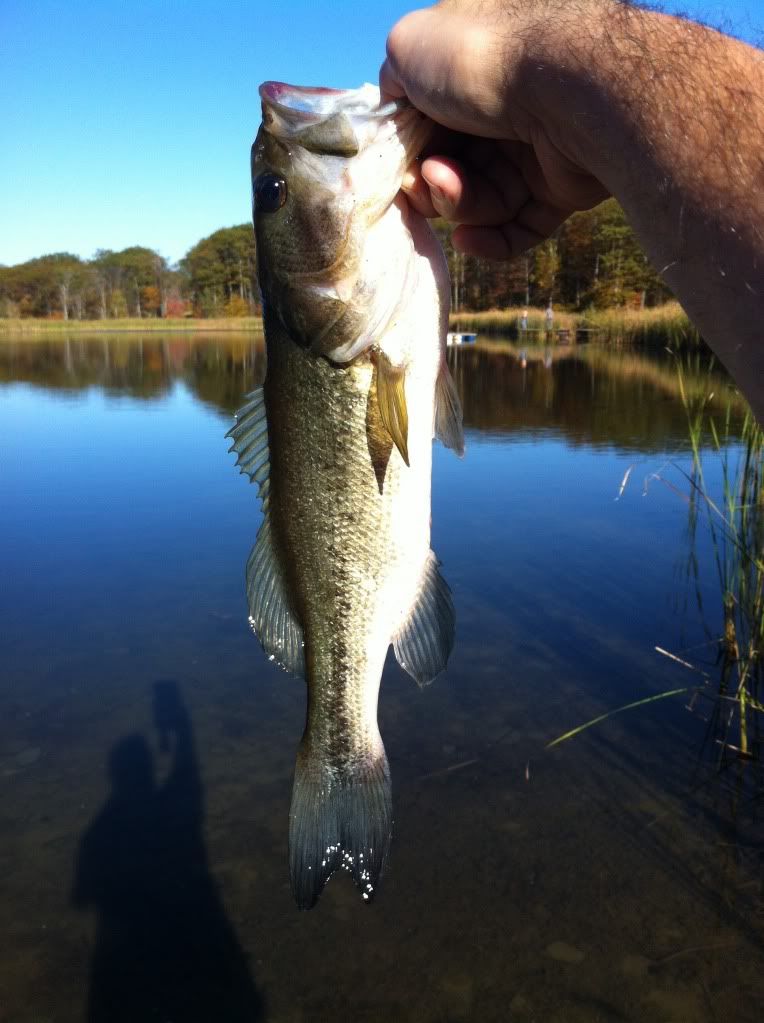 Another pretty little Pumpkinseed:
...and a Bluegill: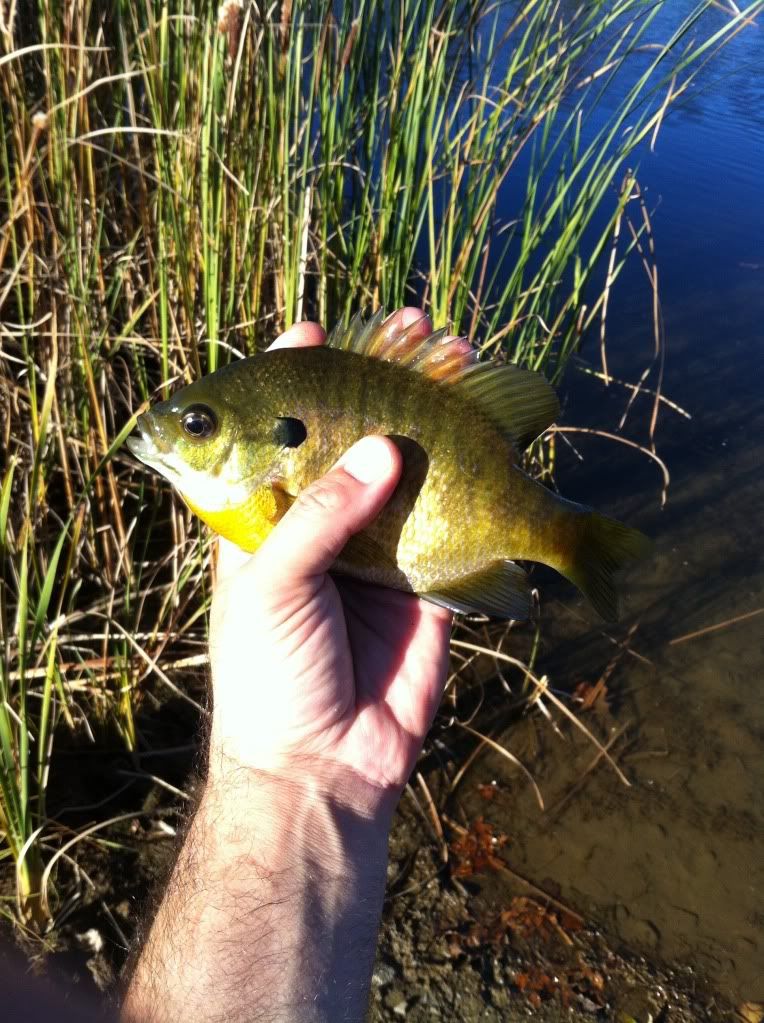 Another nice little Largemouth:
Again, the bite seemed to die after this. I switched back over to the Woolly Bugger and gave it a quick jerking retrieve. Nope, the fish weren't done yet! This guy slammed it!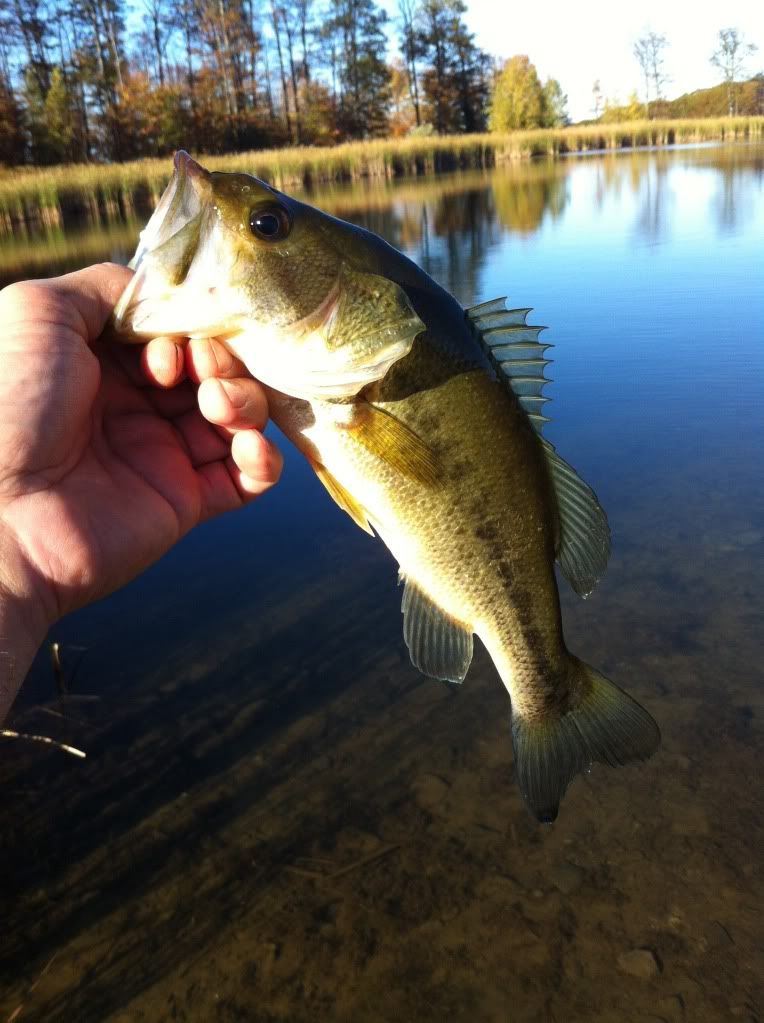 Bluegill on the Bugger. I purposely left the Bugger in its mouth to at least have a pic of one with the fly used LOL. Also, perfect hook set
(Yes, Stanley...I did it on purpose! LOL!!)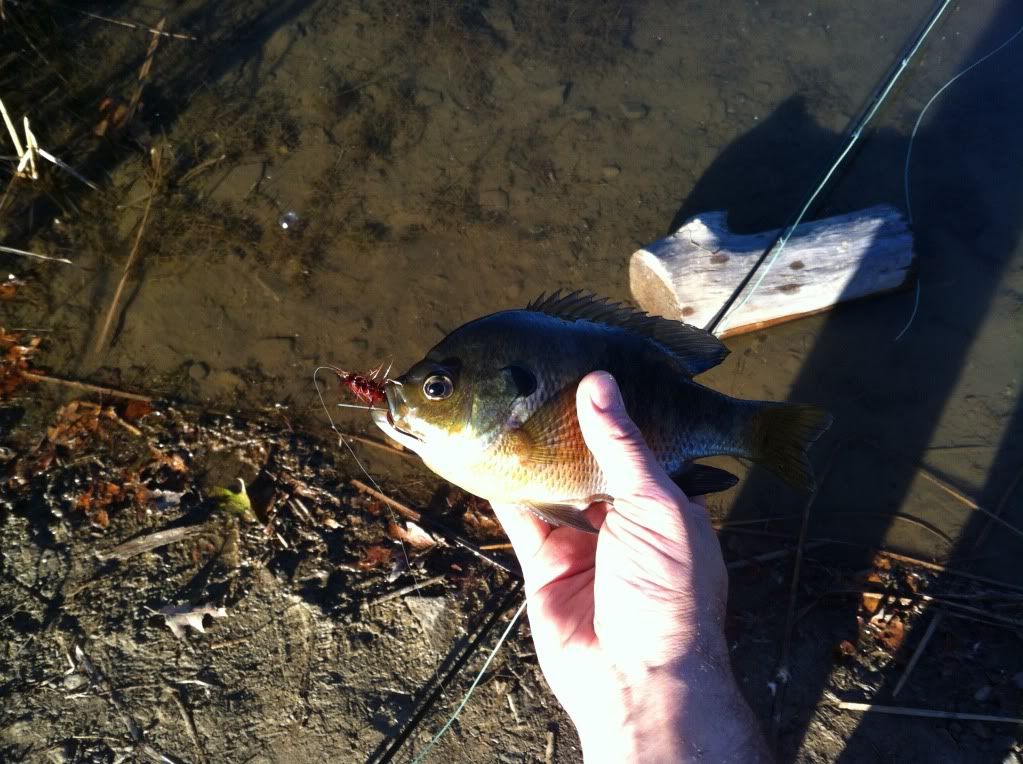 Finally, one last Bluegill with the sun going down: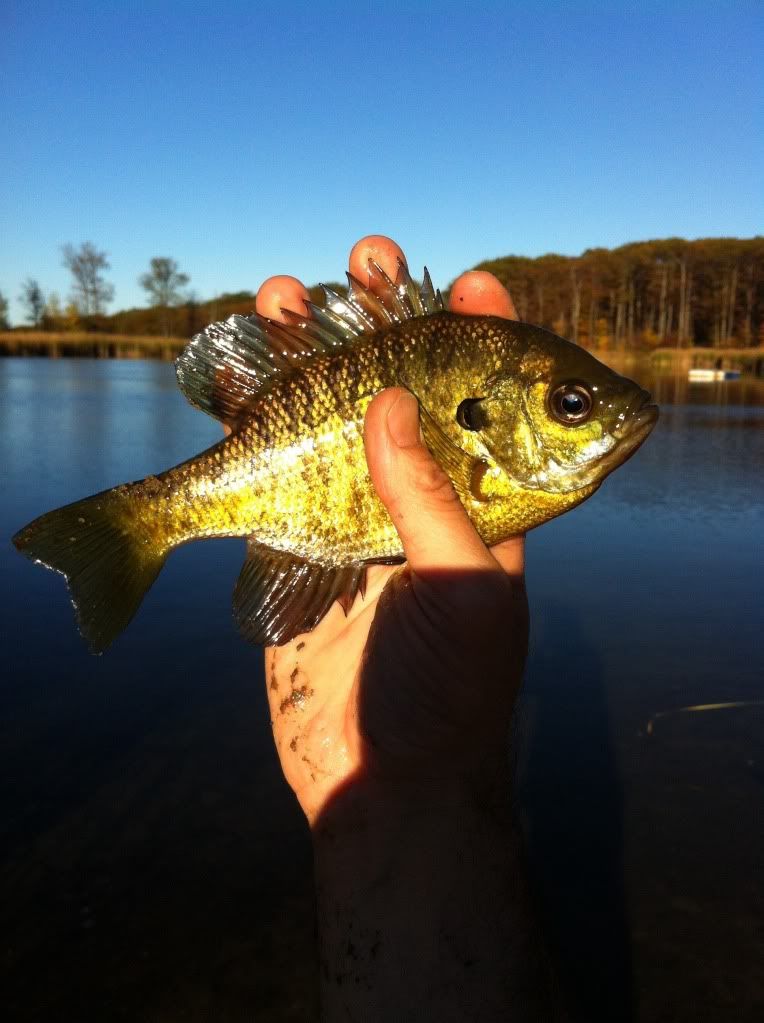 So, as you can see, I wasn't fishing for monsters. Was just having fun really. Turned a dead day of carp fishing into a very productive day of flyfishing. With the amount of carp in my area, there will be other times. I also learned what I was doing wrong after an email from Stanley. I was working the Woolly Bugger like I would normally. Stanley told me that carp usually won't take Buggers, or actually rarely should I say. He told me to pick up some nymphs and work in an up and down motion, like jigging, to entice carp. Great advice there, and much appreciated! I was gonna go out again this morning as it is more optimal with cloudy skies, but I am tired this morning. So just gonna be a bum and sleep a bit more then watch some football. Hopefully, my next update will be about a big carp, or Steelhead or King Salmon! Hope you enjoy the pics!