Hi guys,
Sure is quiet around here! Hopefully some if you are out taking advantage of the Salmon runs right now! I am trying to get up to Eighteen Mile Creek in Niagara County to hit some King Salmon before the spawn ends. Time hasn't been on my side though, among other things. However, I did get an opportunity to fish for bass and Bluegill in Franklinville, NY at Gary's Place. My father and I went out there to help Gary winterize his cabin. After we were done, we had a few hours so I fished while they relaxed. Even though I had a spinning setup with me, I told myself that I wanted to strictly use flies this time around. As I looked around the front pond, I saw sporadic activity on the surface, even watched a huge Largemouth chase a Bluegill, though he missed. A little pic of part of the front pond: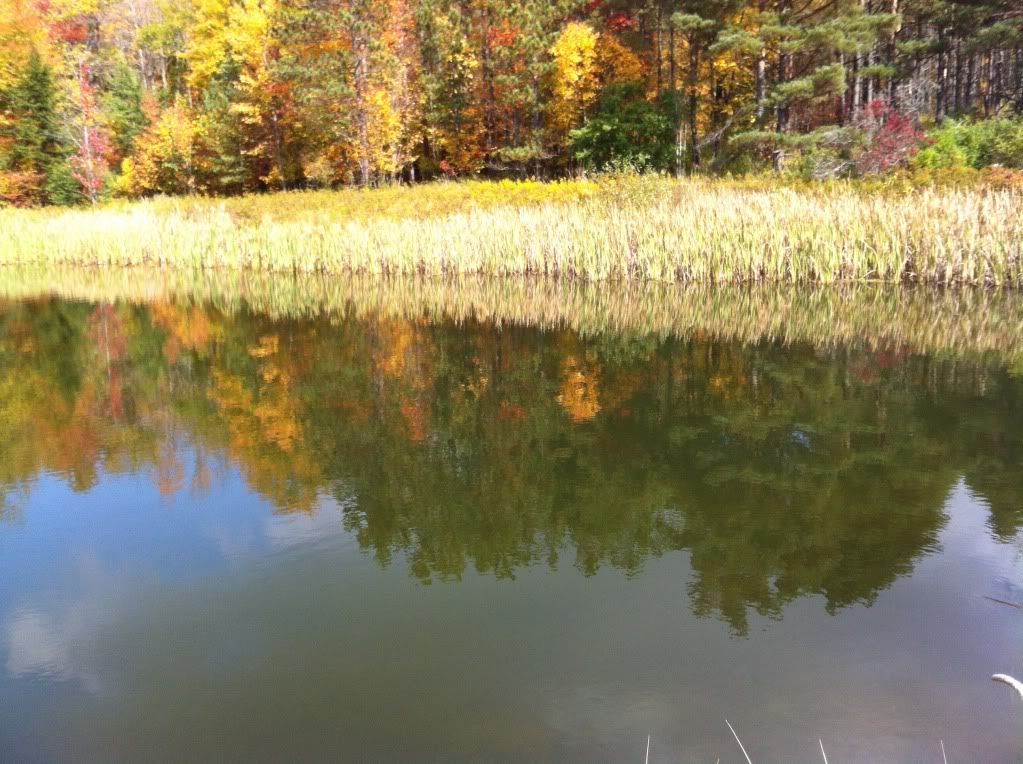 I assembled my fly rod, tied on a small popper, and cast over near the edge and using quick strips, worked the popper. I soon saw a wake coming behind the popper, and as I prepared, the fish hit and I set the hook perfectly in the snout. Didn't take long, but turned out to be this little guy: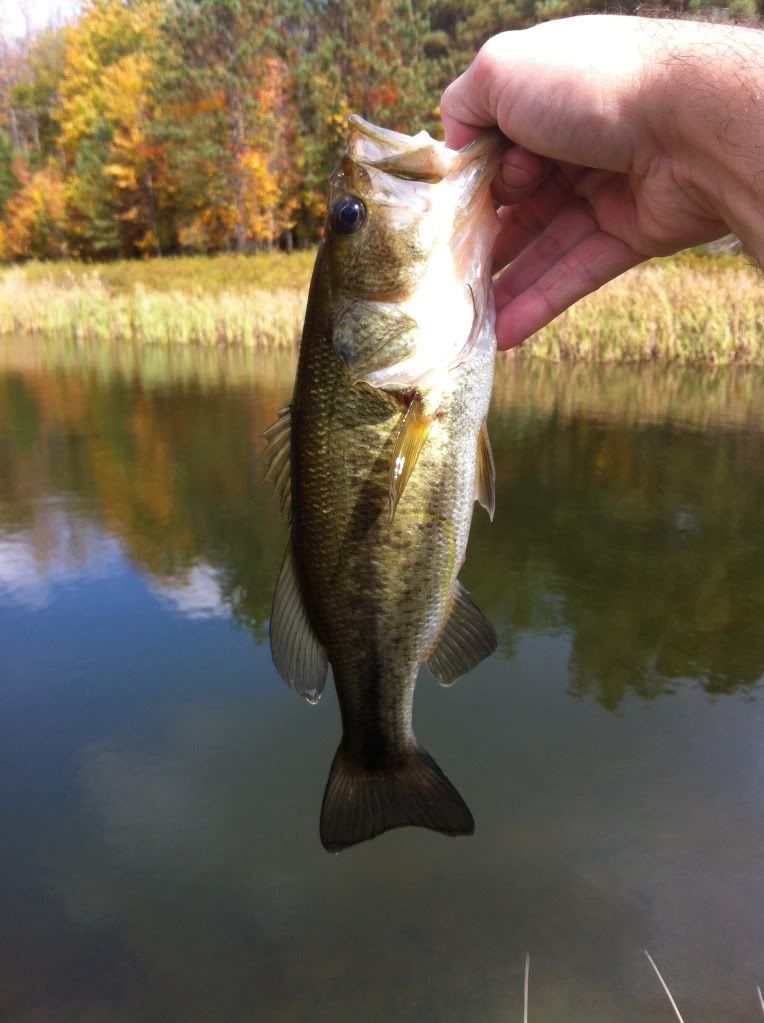 So, after I let him go, and kept a watchful eye out for one of the BIG bass that reside here, I had a few more explosive hits but missed each time. This little guy wasn't quick enough though LOL:
So, Gary comes on up and we're talkin, and he asked me if it is possible to use live bait on a fly rod. I told him I'm sure it can be done but the casting might be a little weird. Asked him if he wanted to try it, so I untied the popper and tied on a small #6 hook for him. Nabbed a grasshopper, put him on the hook, carefully casted out, and passed Gary the rod to show him how to strip. Didn't have to wait long. The hopper was grabbed with the quickness and the fish actually hooked itself LOL. So, here is Gary's first ever fish on a "fly" LOL!!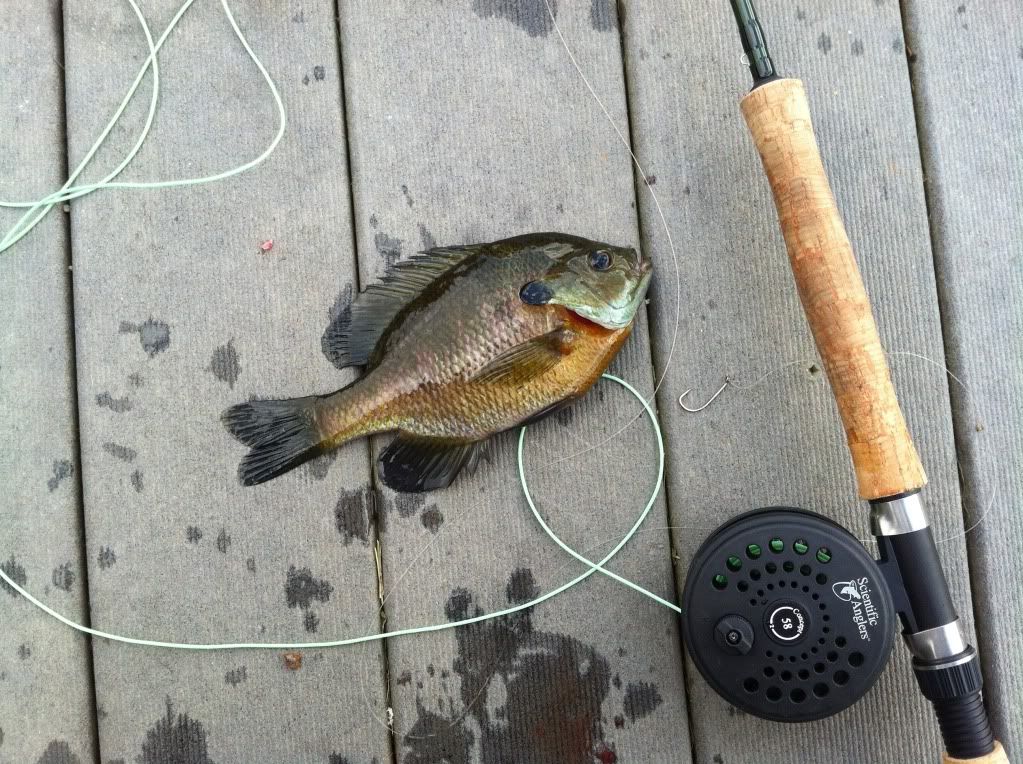 Nice little Bluegill, and while I don't think we've created a new fly fisherman, Gary was astounded as to how much different the fight was on a fly rod, even for a Bluegill!
As the afternoon wore on, and after I tied on a black wooly bugger, I kept getting hits but missed more than I'd like to admit LOL. My thoughts drifted to the BIG Largemouth in the ponds....the ones that can get up to 10 lbs. I've mostly caught them on spinning and baitcasting gear, with the best luck coming on live Bluegills. So, I made my way over to the weed areas where almost immediately I saw a very big Largemouth Bass make for the safety of the weeds. I was determined to catch a big 8 lb bass on the fly rod, so I started tossing my bugger around the area to entice them. No luck. Changed retrieve to a slower presentation, still no luck. Switched over to a San Juan Worm, and let it sink slowly. Soon, I saw my line moving and I set the hook, and away to the races he went!! What a BATTLE!! The best part was playing tug-o-war with this bass to keep him out of the weeds. He jumped, head shakes, and bulldogged for a good 5 minutes a before I was finally able to lip him. He was a bit skinny, all head LOL. But a big bass nonetheless. Probably about 3.5-4lbs, wish he would of had the weight to match his size!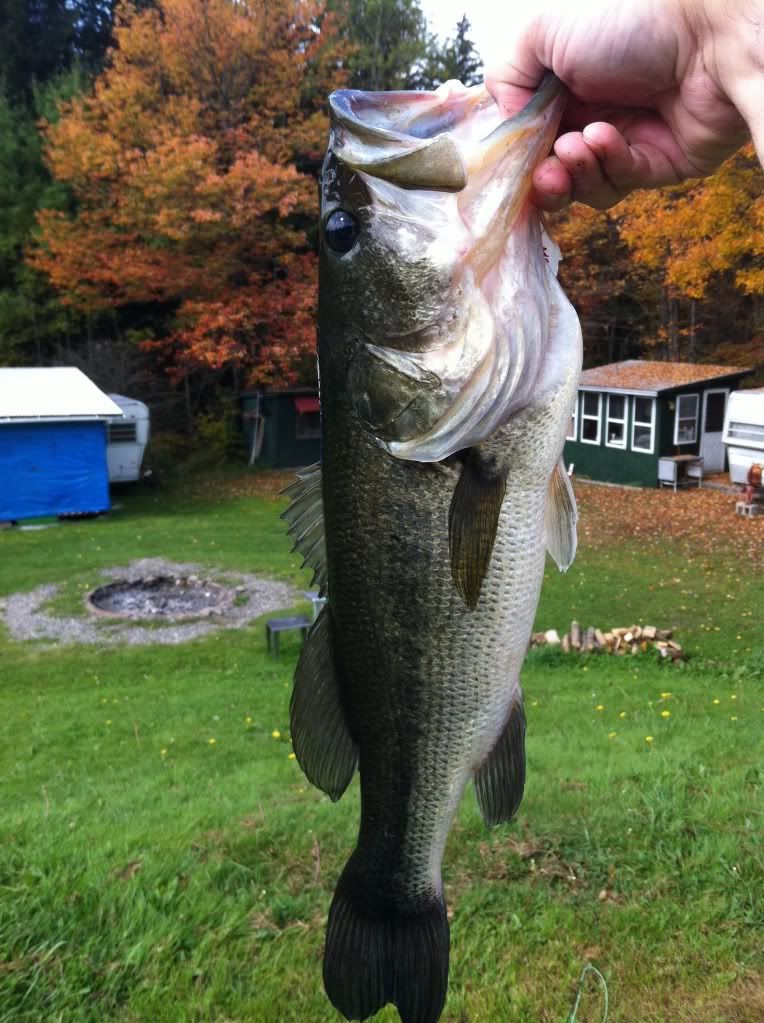 As you can see in these two pics, he was quite large. Didn't get an exact measurement, but I would think from the tip of my hand to the middle of of my bicep is pretty large LOL.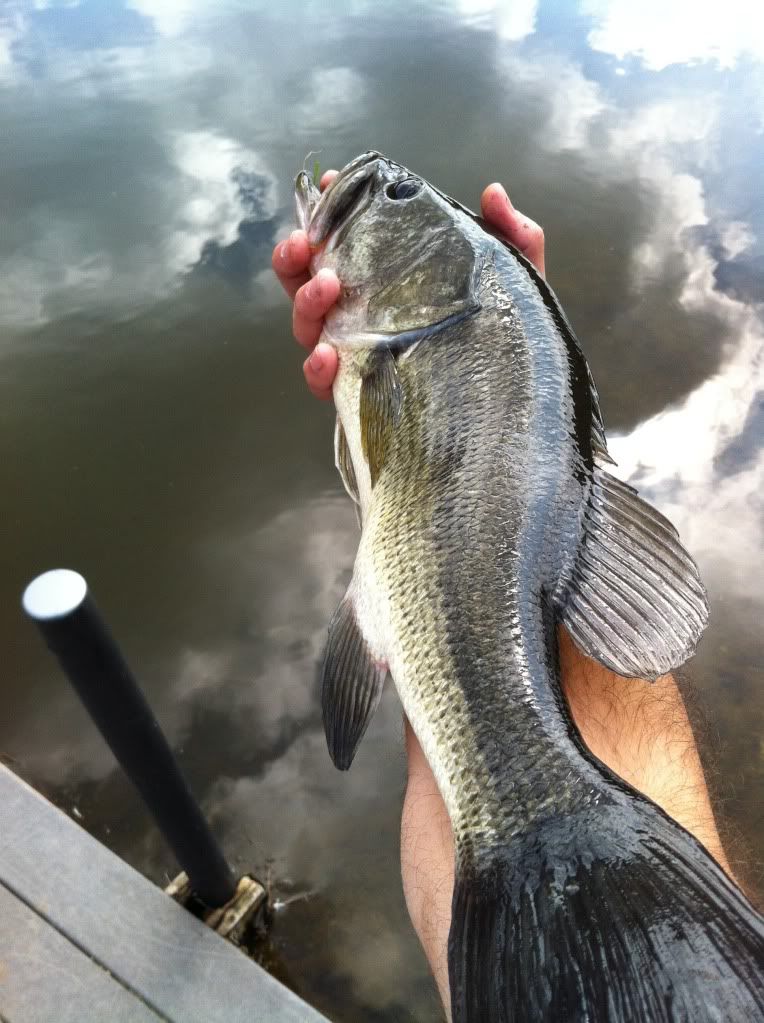 After a bit more, I ended up hooking a little Bluegill. As I am stripping it in, out of nowhere I see a wake come right at the bluegill, and underwater a HUGE mouth engulfed it! My fly rod dipped hard, and I pulled extra hard to set the hook from the Bluegill into the enormous Largemouth. My rod got really heavy, drag screamed, he gave one mighty head shake and *SNAP*. My rod went limp. I was releaved to find that the bass did not break or damage my rod. However, it was strong enough to break the tapered leader straight off the fly line. That was one of the biggest Largemouth Bass myself or even Gary had ever seen in his ponds. If I had to guess, I would of given him 10lbs, easy. I may have lost this time, but I know he is still in there. I will be back to hunt him out. That is a real trophy Largemouth.
So that is the tale of my latest fishing excursion. I hope to get out for King Salmon and Steelhead soon. I am relieved that the only thing that snapped was the leader on my fly rod, but I guess with the Bass' strength and the added weight of the Bluegill, I kinda got lucky. Harrowing experience, and I really wanna catch that big girl on the flyrod. Might be able to, might not....but at least I know she preys on Bluegills.