Hi there everybody,
The forum is on the quiet side with everybody doin their thing, and of course I hope you are all well. My computer remains deader than a door nail, so I obviously haven't been able to play on RWFF. Really sucks because there is a lot of great work coming out. But, remember I am a fisherman first and foremost, and will gladly hit the waters anytime over sitting home and watching TV or playing on the computer LOL! And I have been doing just that. Been a strange year so far, busy as well. I haven't been able to go for many big fish outings, but with Fall upon us and the Salmon in the tributaries lets hope that changes!!
That said, I had an Abu Garcia Silver Max baitcaster that my brother let me keep because it was the wrong-side retrieve for him (he retrieves with his left hand). Since I already had a Silver Max as well, I figured I'll spool this one up differently. My Silver Max is spooled with 30lb Sufix 832 braid, so I decided to spool this one for lighter presentations and went with 12lb Berkley Vanish fluorocarbon. This kind of presentation requires a sensitive rod but with enough backbone to pull fish out of cover. I went to my local Gander Mountain to find a rod, with a budget of about $125. After some really careful testing and comparing, I went with the St. Croix Mojo Bass rod, 7' Medium action with a Fast tip. Got home, set the Abu on it and she was ready to go. Great baitcasting combo here: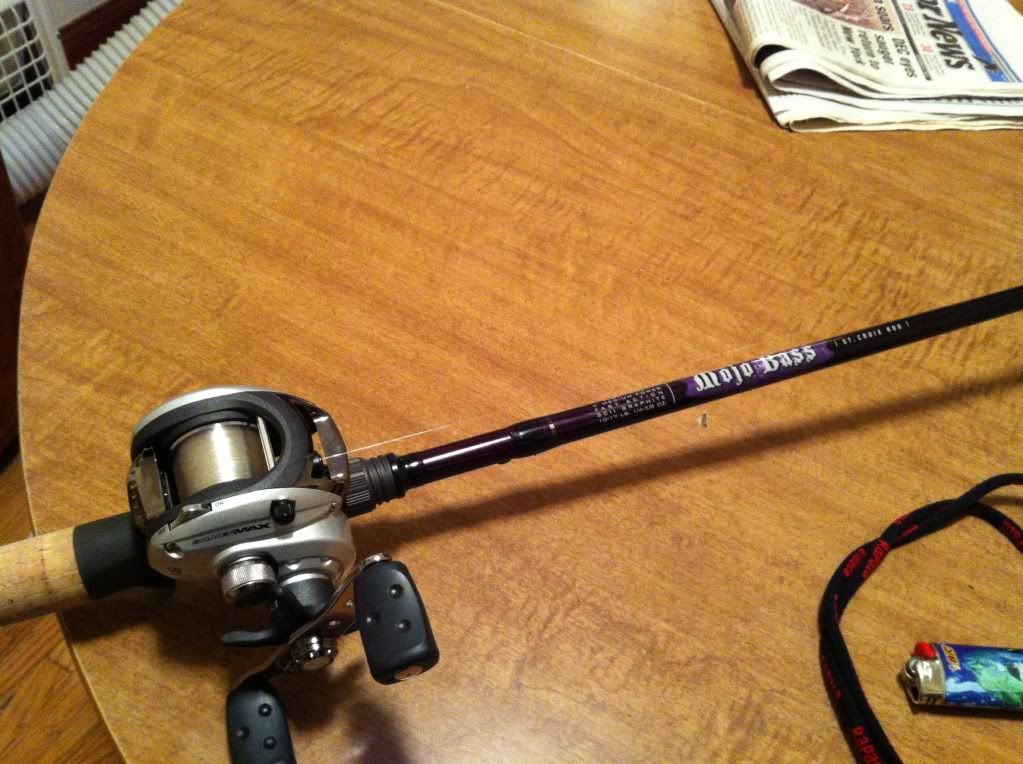 So, I decided to take it the following morning up to the Niagara River for a test run on Smallmouth Bass. I was using soft plastics so set it accordingly. I'll tell you guys, this is a view of the River at sun-up on a calm day. I will never grow tired of these views:
Also along the way, as the sun got higher, I saw this MASSIVE carp cruising the shallows, feeding. Was gonna take a crack at him, but as said I was after bass and had nothing with me that would tempt a carp. Sorry if the fish is hard to see, but honestly that's about a 40lb carp!: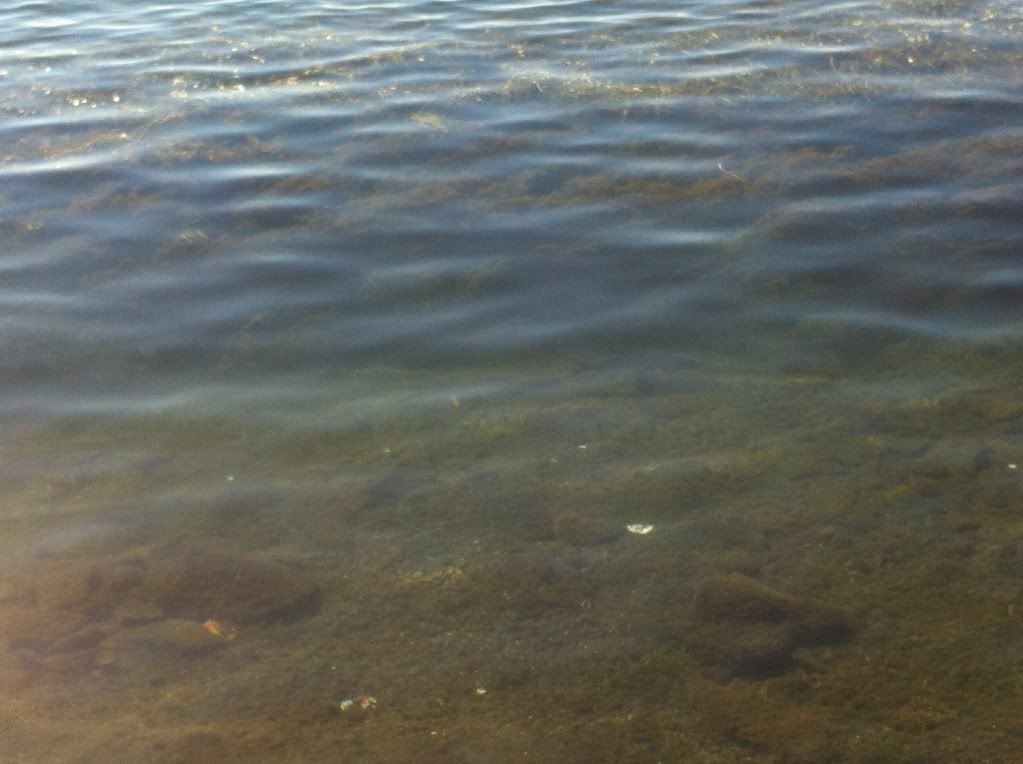 So I arrived at one of my honey holes, which is classic Smallmouth habitat with a couple of logs and a channel that are part of a deep, rocky drop off. As I scanned the perimeters of the drop off, I saw a few bass sitting just inside the hole (a good pair of polarized glasses is almost key here!). So, with the water being crystal clear, I rigged a circle hook and a Yamamoto 5" Senko wacky style with no weight in order to allow for a slow, wobbly descent. Within minutes, had a hard hit and hookup! As I was bringing it in, I'm thinking "Yeah! Big Smallie!" Boy was I in for a surprise. The Smallie turned out to be a Largemouth Bass!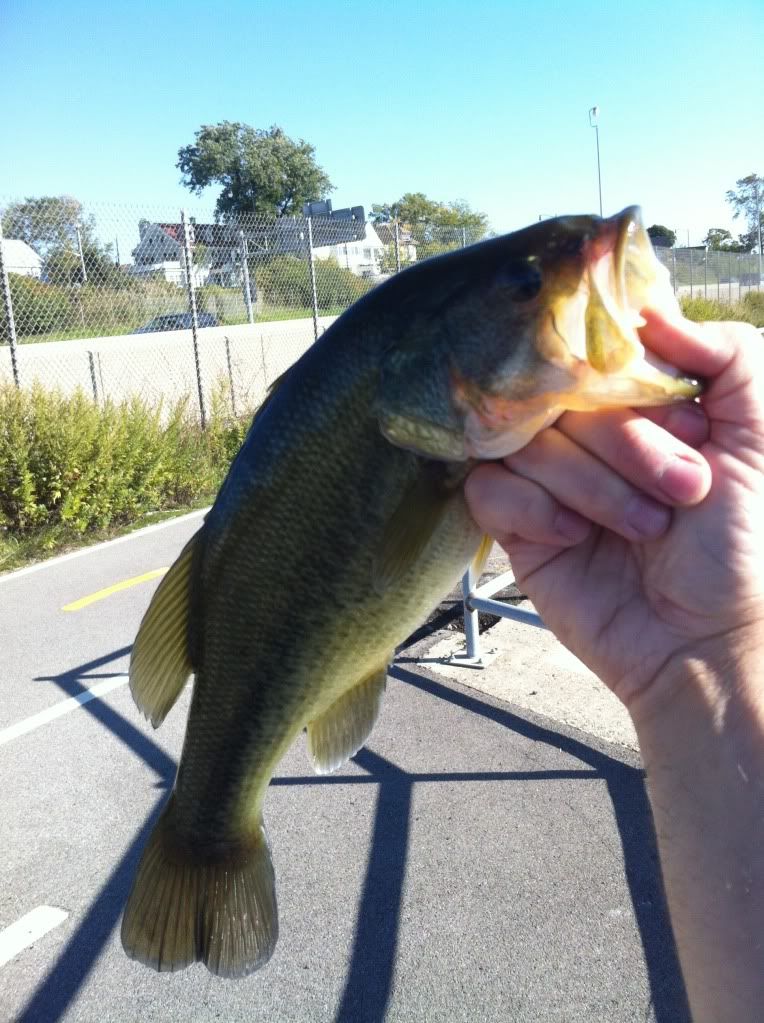 Nice fish, of course. But a Largemouth in Smallie habitat? Ok, it happens now and then. Pitched again, and after some jigging action, got another solid hit. This one became a FIGHT. The bass bulldogged, and then gave a few head shaking jumps. I was sure this was a Smallie due to the constant bulldogging as Smallmouth are known for. But what the?!?! Another Largemouth! And a fat one at that!: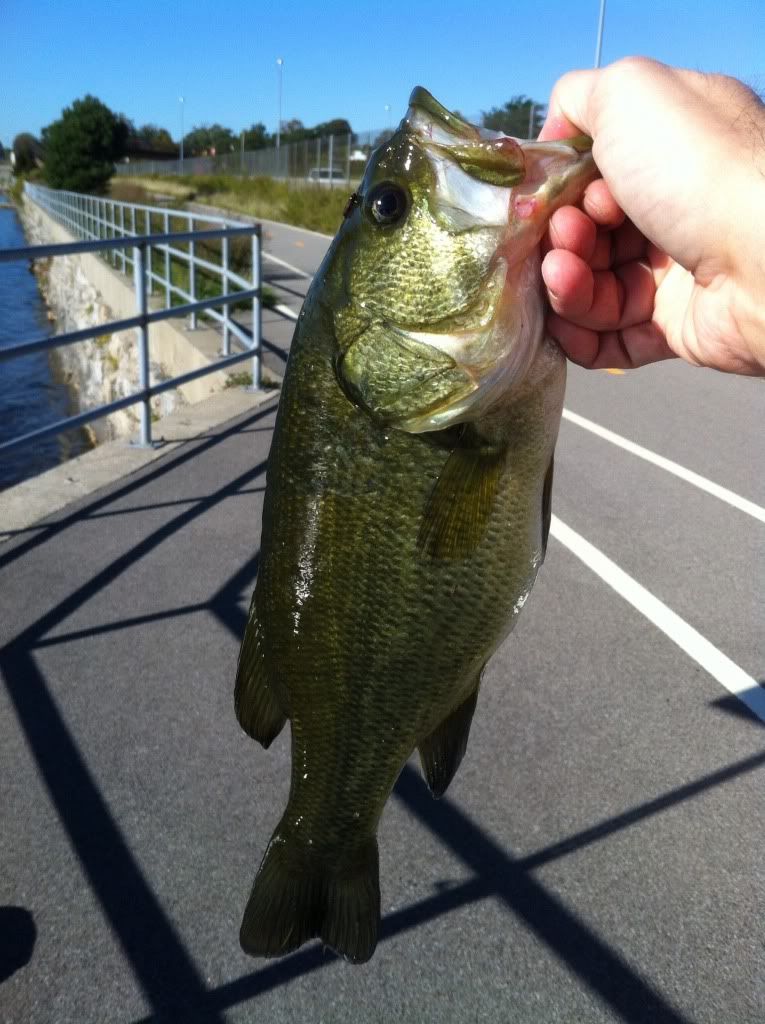 The Senko was really working for me, as I did battle with three more nice porky Largemouth: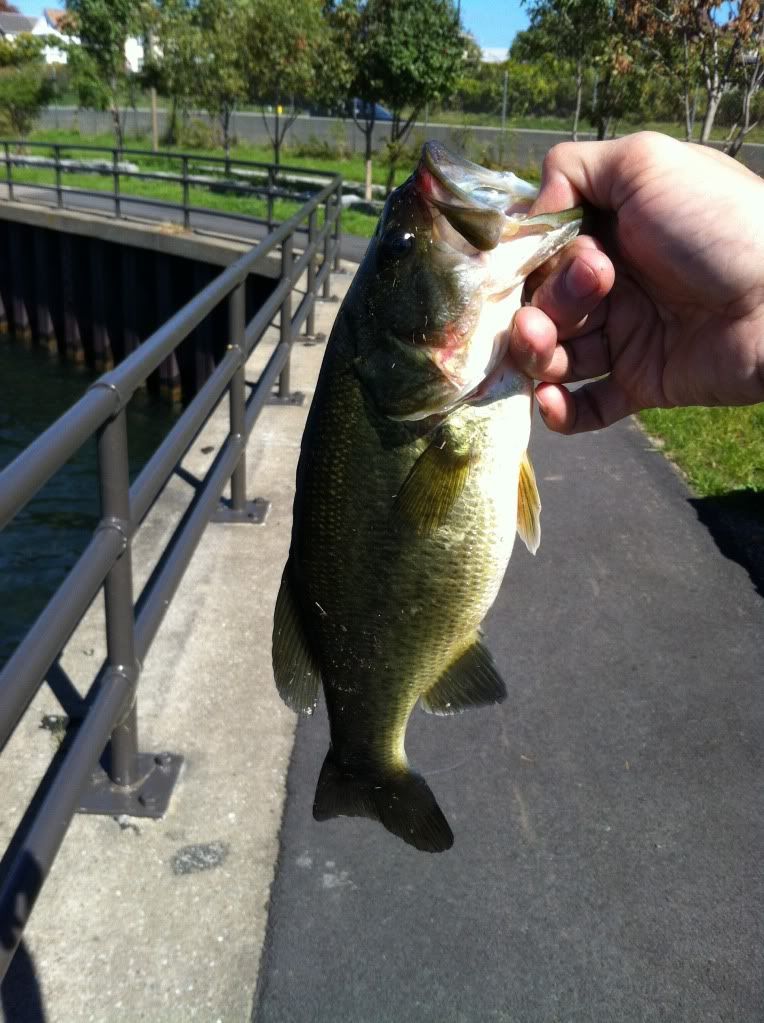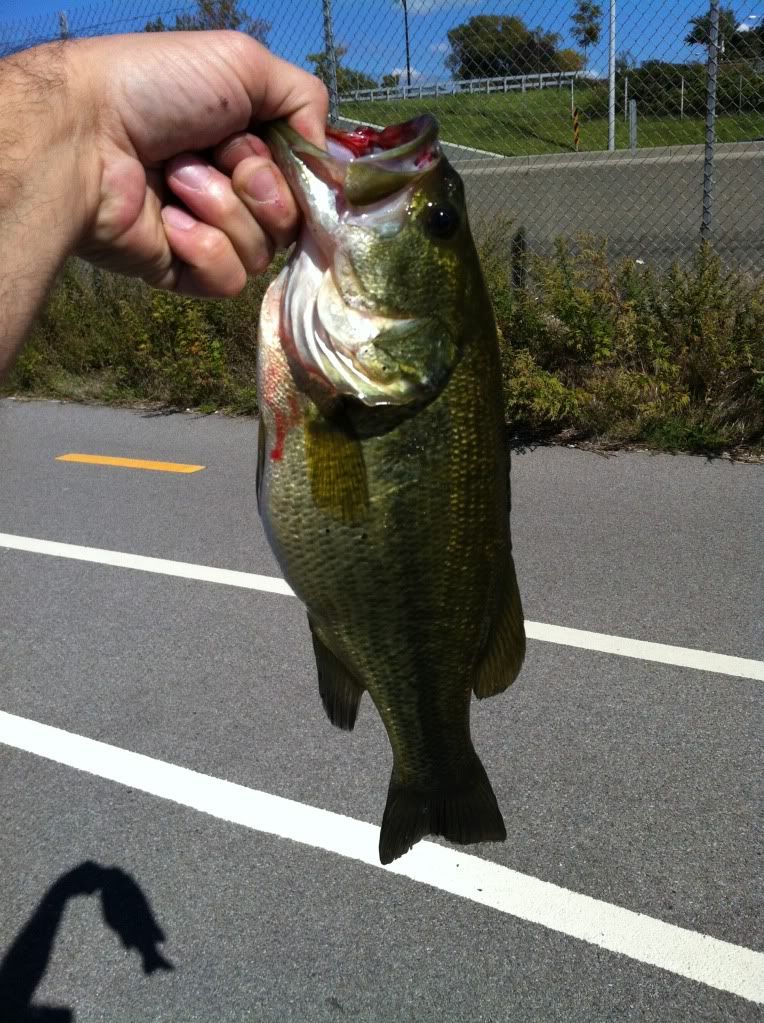 So, with that, I packed it up and went home for breakfast. The St. Croix rod was a great pickup, was perfect for the way I was fishing. Very glad I bought it. But it is quite perplexing as to why there were so many Largemouth bass in Smallmouth territory? There is a small population of Largemouth in the Niagara River, but they are mostly found under boat docks and in the bays. What they were doing in a rocky hole is beyond me and is quite strange. They were obviously feeding, as it's obvious by thier fat bellies. Never did catch a big Smallie, so the search continues. Still, cannot complain because those Largemouth provided great morning action and lots of fun. I'd say it was productive!
Anyway, that's it for now. Gotta get the rods rigged up because my father and I are going out to Franklinville to help Gary winterize his cabin. And of course, I'm gonna hit the ponds for some BIG Largemouth action. Hopefully I'll have a nice report for you all, as I fully intend on using the fly rod. Would love to hook and fight a big, 7-8 lb bass on the fly. Here is the chance!