Hi guys,
First thing is first, I have to apologize for my absense as of late. A lot going on in my life right now. Recently broke up with my girlfriend of 4 1/2 years, am moving into a new place by myself, basically readjusting my life. Been a stressful period for sure, but I will get through it and be fine. Couple that with the super hot weather we've had here and work, it's been pretty miserable. I am also working on an outing for you all bit basically taking my time to make sure it comes out no less than perfect, even though the forum activity has been slow. Hoping to have it out to you guys soon, but cannot give a timeline because I have been going to my new place after work and painting and cleaning it. Pretty much knocked off the security deposit LOL!
Anyway, I did get to do a little fishing this past weekend. Haven't been able to get out as much as I like to so far, and with everything going on I needed a good stress reliever. Went out to Franklinville to visit Gary and his wife, who were staying the weekend at their land. The weather was hot and cloudy, so I figured take advantage of the cloud cover and throw some lines in at the ponds. I approached the dock, and noticed a whole bunch of bluegills hanging around, which was weird for them. I asked Gary about it, and he told me they had just fed the fish, so they were probably waiting for more. He also said to keep an eye out because as the bluegills were feeding, quite a few large bass were cruising around the outskirts, and one was even hanging around the dock. Funny thing was as soon as he said that, I spotted the bass just outside the dock. So, put the baitcaster away and grabbed the spinning tackle for live bait instead. Casted out just a little ahead of where I had spotted the larger bass. Within a minute, had a super hard hit and set the hook. Guess which fish hit the 'crawler?? LOL! Yep, the big bass hit!
4-5lbs:
So, I caught a few bluegills after that. I then hooked into a bluegill and as I was reeling in, my line got very heavy for a second. Gary and my father were on the dock with me and my dad asked "what the hell?" Suddenly, my line went to the left very fast, and then we all saw what was going on. A very large bass was chasing the hooked bluegill on my line! So, naturally I stopped the retrieve, let the scenario play out, and sure enough that big girl opened up and slammed the bluegill, in which prompted me to set the hook double-hard in order to get through the bluegill and into the bass. Oh boy, I have to tell ya, I've battled some bass in my time but this fight will stand out as one of the best! As soon as I set that hook, she gave all she had, with hard head shakes, hard and fast runs, high acrobatics, and I actually had to adjust my drag a few times to maintain the upper hand. When all was said and done, I finally lipped her, measured and weighed (Gary likes this done so he can keep track). She was an aggressive and hungry post-spawn female, weighing in at 6.83 lbs and 24". This pic actually does her no justice, as in the pic my arm is actualy fully extended: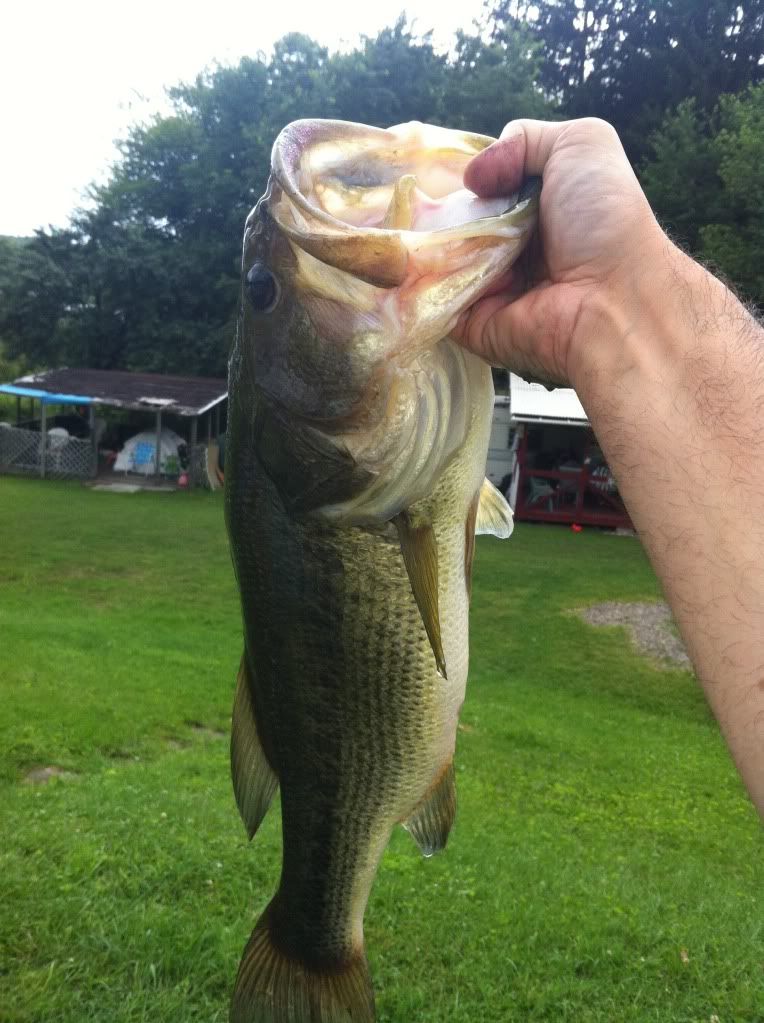 Funny thing is, through all that, the little unlucky bluegill went from unlucky to VERY lucky. We had a good laugh about it because through the mayhem of the bass battle, the bluegill managed to come unhooked on a jump and happily swam away to live another day hahaha.
I put the spinning tackle away, and took out the fly rod to try for my first fish on the fly since things were in such a biting mood. Tied on the Wooly Bugger, and went to work. Gary told me that the fish may not take it because they have never seen anything like that, and as I already knew those fish are damn PICKY. Usually, when a fish doesn't know what something is, curiousity gets the best of them. Unfortunately, not this time. Gary knows his fish, that's for sure. Only had a few curious follows from bluegills, the bass paid it no attention. I worked it for two hours, with nothing biting. So, the quest continues. I will try again, but this time early morning or evening. On the plus side, my casting has gotten pretty good!!
So, we left Gary's and headed back to Great Valley to eat and relax. I was gonna go up the mountainto Spruce Lake and try the flyrod on those fish, but it was WAY to hot to go all the way up there. So, I called the neighbor to see if he wouldn't mind if I fished at his small pond next door, provided of course that I clean up (always do anyway). And of course, he said no problem, so I grabbed the ultra light action spinning rod and walked over there. He has bass in his pond, nothing big though. Mostly 1-2 lbers at max. But, the thing is, those small bass can provide a lot of fun on ultra light tackle! And they sure did, although the bite was mostly slow. So, I leave you guys with a few small bass to end the evening.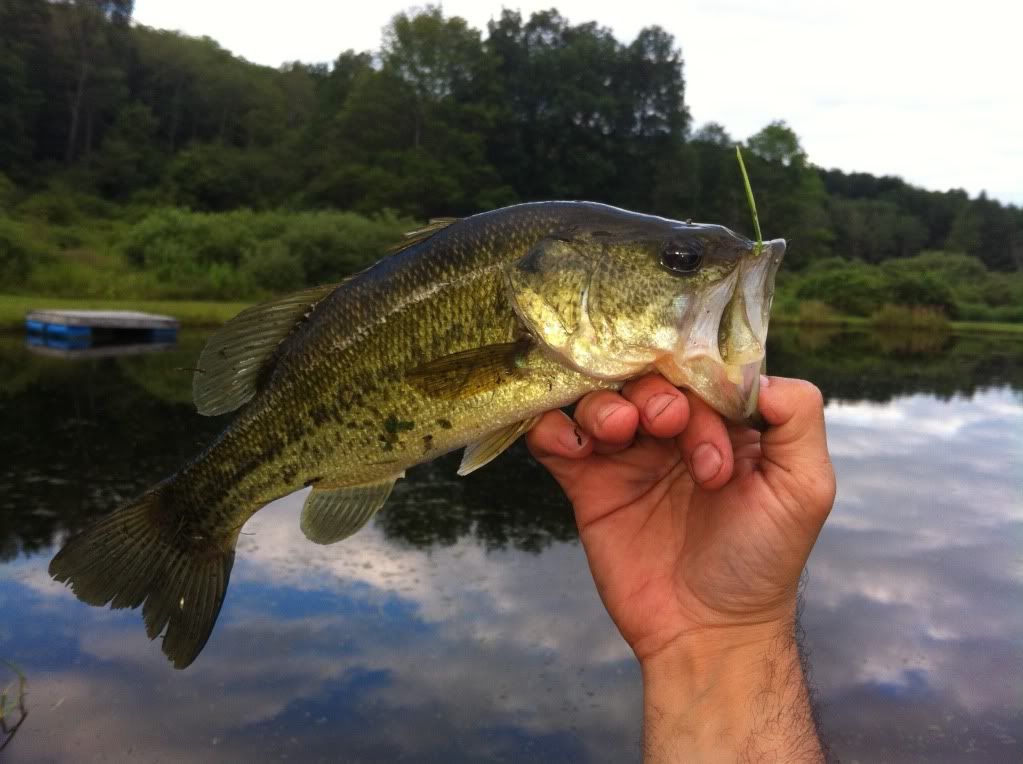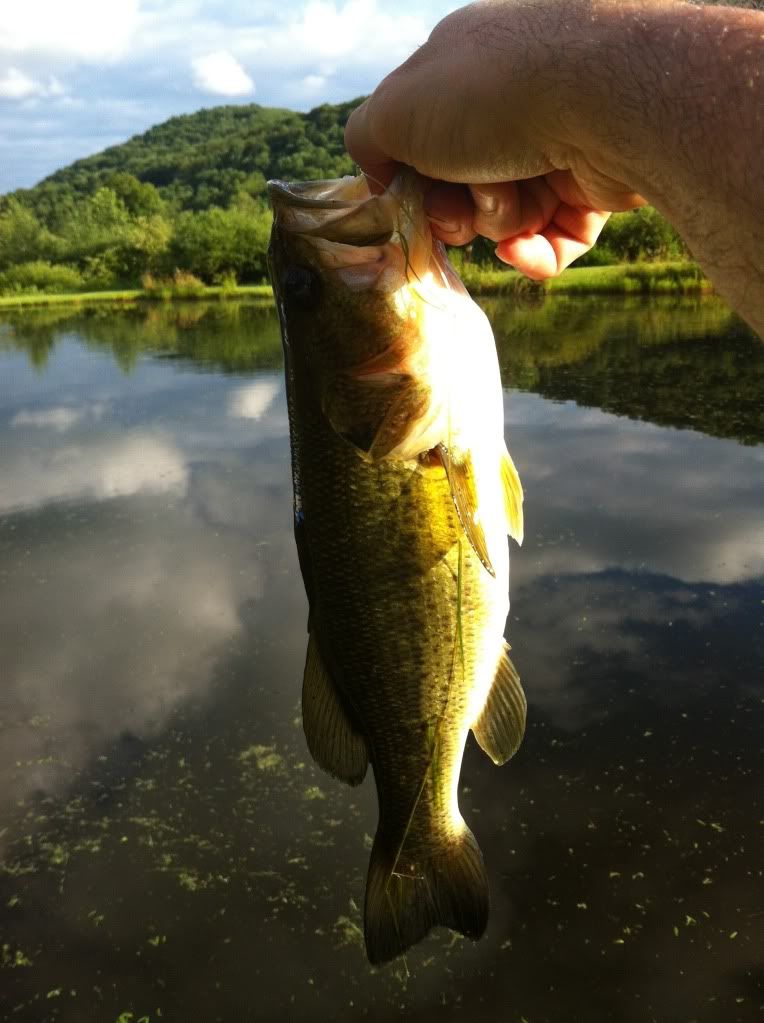 The next generation LOL: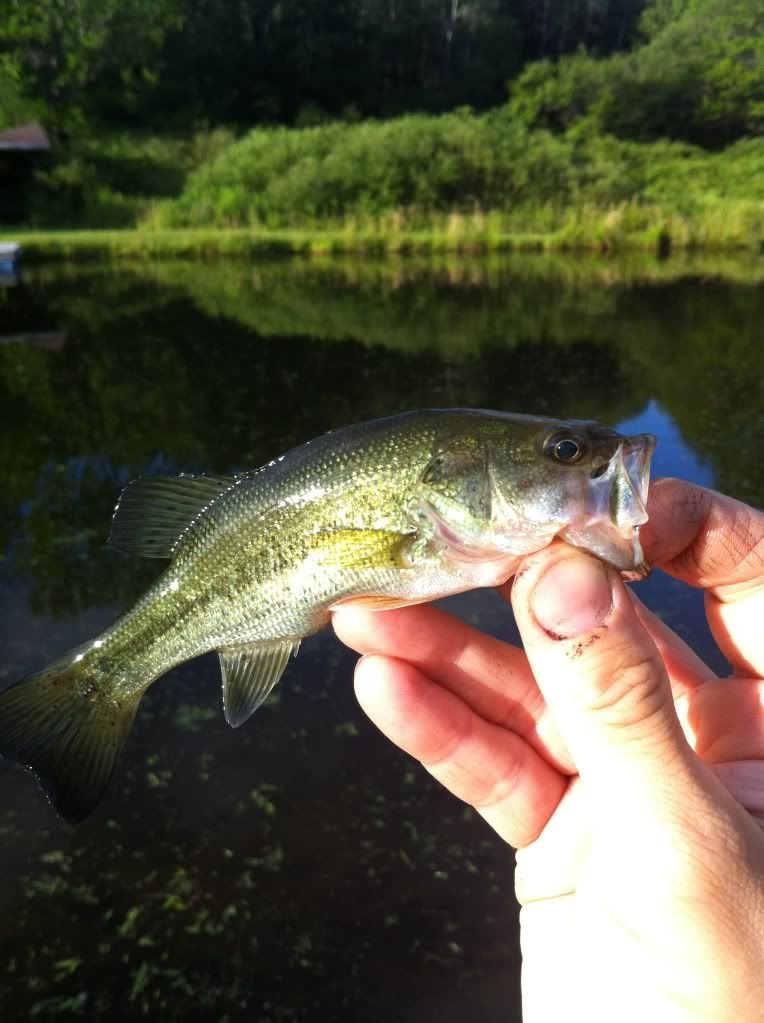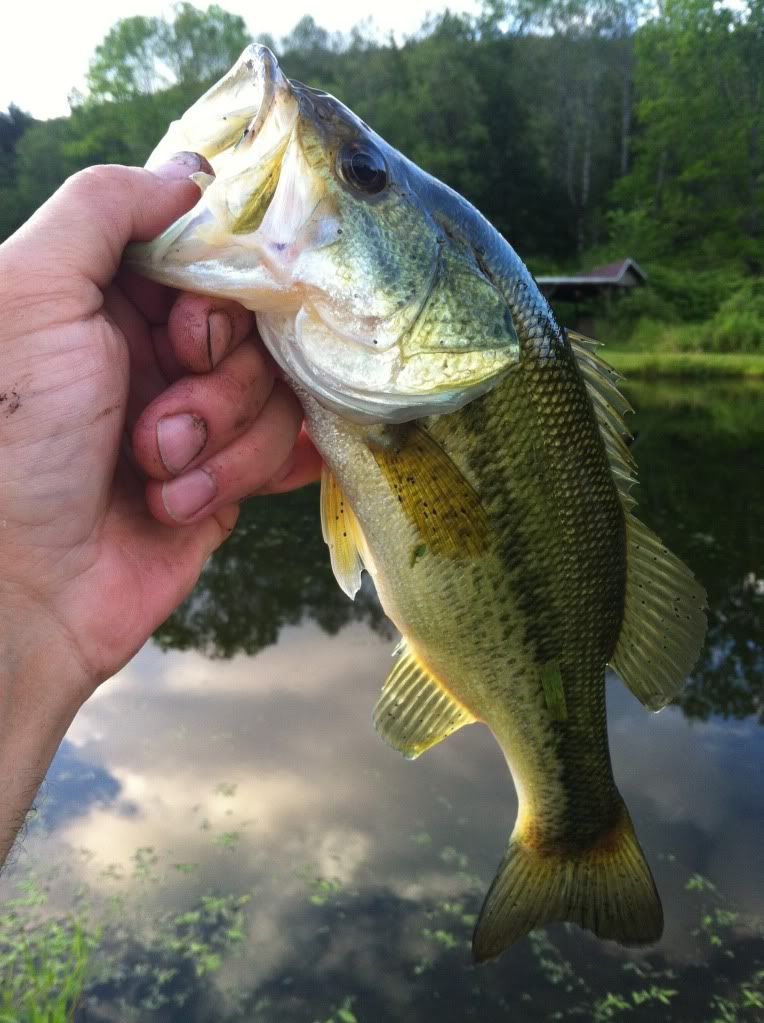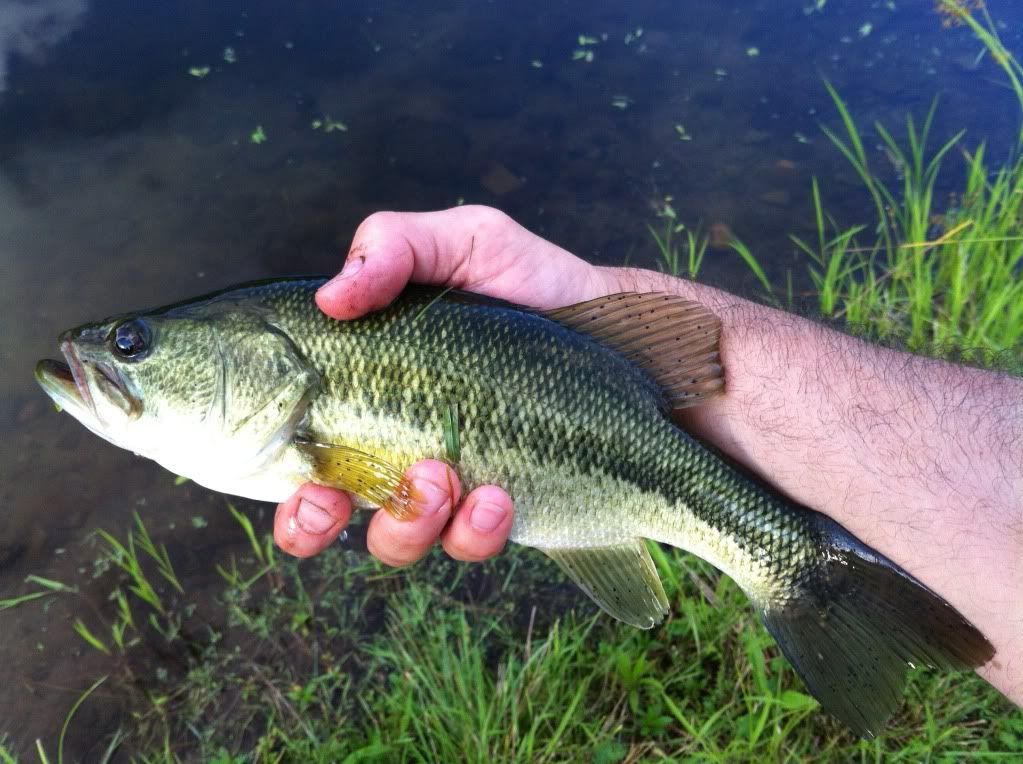 Oh, and before I go, I did manage a small Brook Trout from the creek. Note the "fishing platform" LOL!