Hello everyone,
I do have a really good excuse for being slow to respond this week. I hope you will all forgive me, but I have been fishing. I spent a while yesterday morning fishing a small river near home. I wish I'd taken the camera, the fall colors were beautiful. Caught a couple really nice 10-12 in native rainbows... sorry, no pictures.
Here's a picture from my fishin trip last Sunday: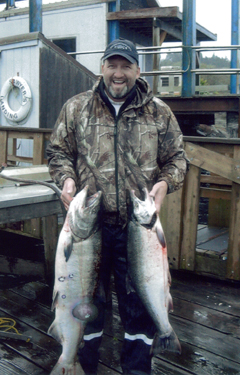 These beauties came from Newport Bay, Oregon. It was cold and rainy, but worth the trip. The one in my right hand is a 27 lb Chinook Salmon, the one in my left hand in a 16 lb Coho Salmon. We also caught a smaller Chinook and a native Coho that we released. We were trolling with Herring for bait - nope, no fly rods here. I did find out there is a run of Chum Salmon in a small river near here (Miami River) that you can fly fish for - guess I'd better save up for a 12 weight rod..........
Tight Lines,
Dave