Hey guys,
Sorry I haven't posted here much in the past month or so, but have been very busy in a good way. My cousin and I have been absolutely hammerin the the Smallmouth Bass on Lake Erie and the Niagara River. We ain't exactly talkin babies here, have pulled some real bruisers! Sure pays to be out in a boat, even if its just a little 14" aluminum with an old 10hp Johnson motor ('55). It also pays to know your quarry, what they prefer, where they live and feed on, what methods work and what doesn't in different conditions, water temp, air temp, etc. I'm going to post a bunch of pics for you guys, and I mean a BUNCH of pics. I'll describe what I can, but know that all fish were taken on spinning and baitcasting tackle, not fly since I do not have the means to get my flies down to them (no sink-tip or full sinking line). That's a goal for next year though! I plan on bringing my fly rod with me when the Smallies start showin up in the harbors after ice-out. Also, bear in mind that I did not take pics of every single fish we've caught. To start off, here are a couple of Crayfish flies I tied in preparation for that time next year. Heck, might even work on Largemouths right now!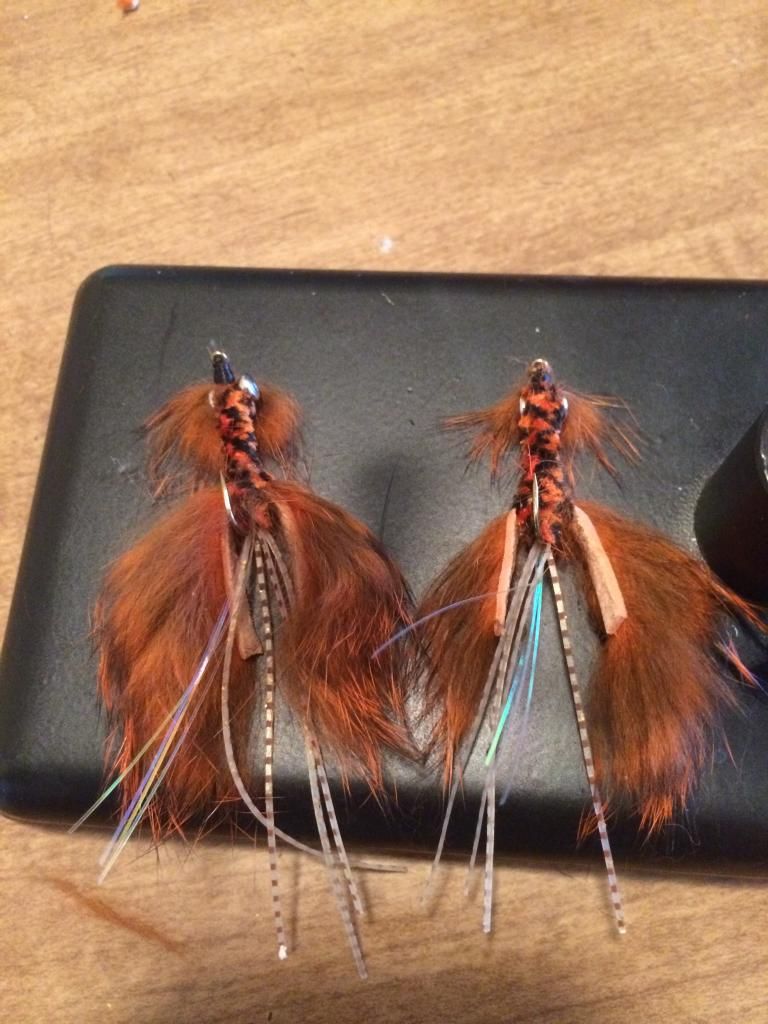 Don't mind the skimpy little "claw" on the one on the right hand side LOL. That's what happens when you tie in the wrong piece of zonker strip without noticing until you are finished
Still, it gives the fly a bit of character, and lets be honest, not every real crayfish is perfect.
Now, for some Smallmouth Bass action! A morning out on Lake Erie did very well for us, though we caught more small bass than large ones. My cousin's 15 yr old son came out with us as well, and caught his first ever Smallmouth.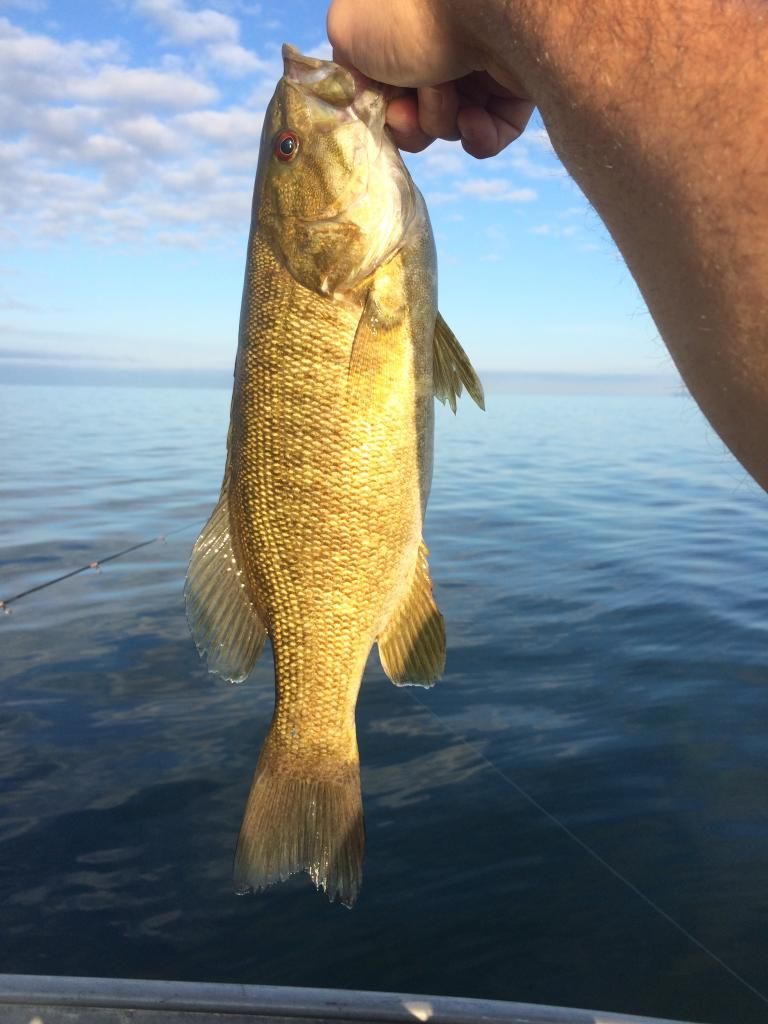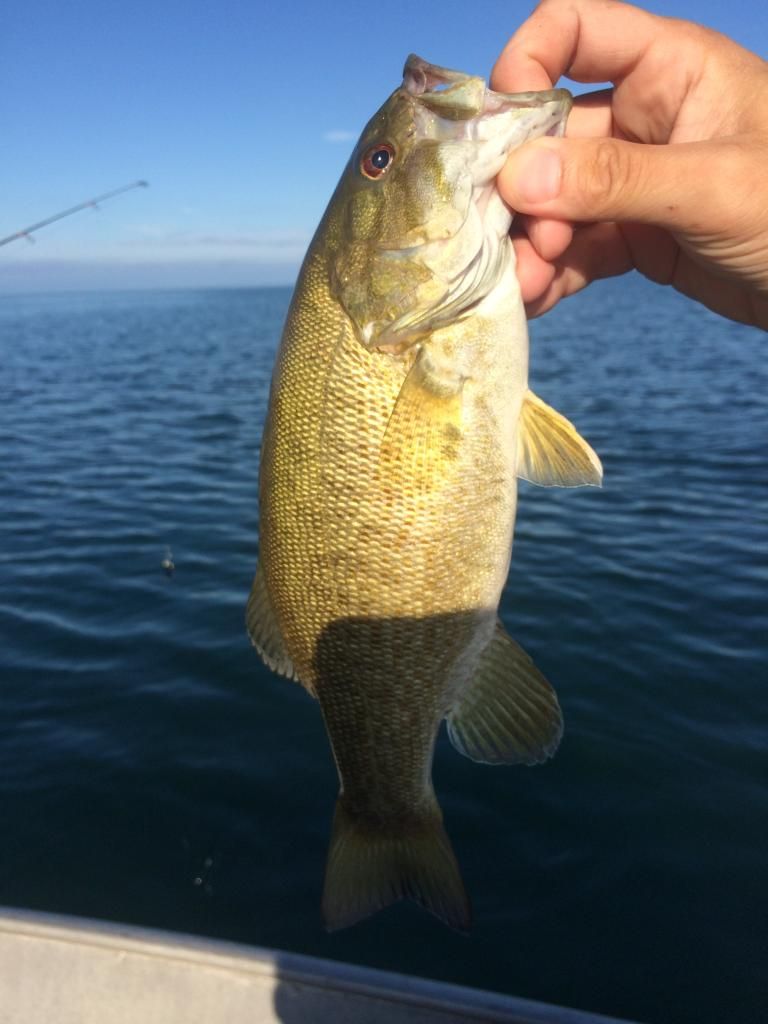 Jimmy III's first Smallmouth Bass: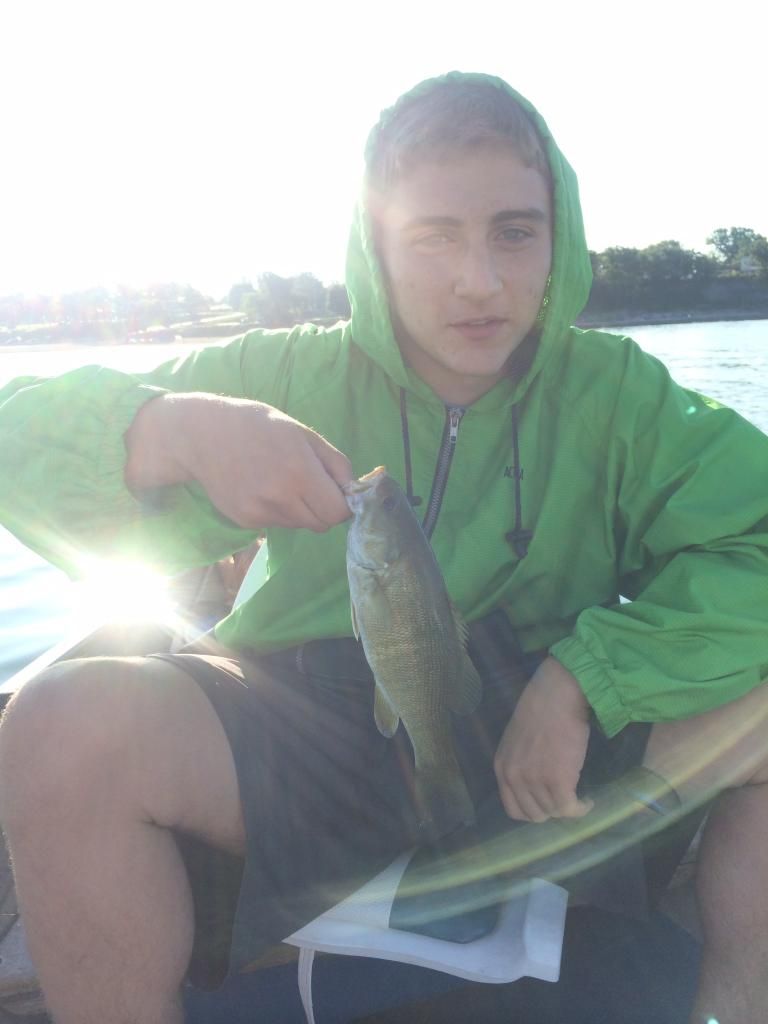 His next one was bigger: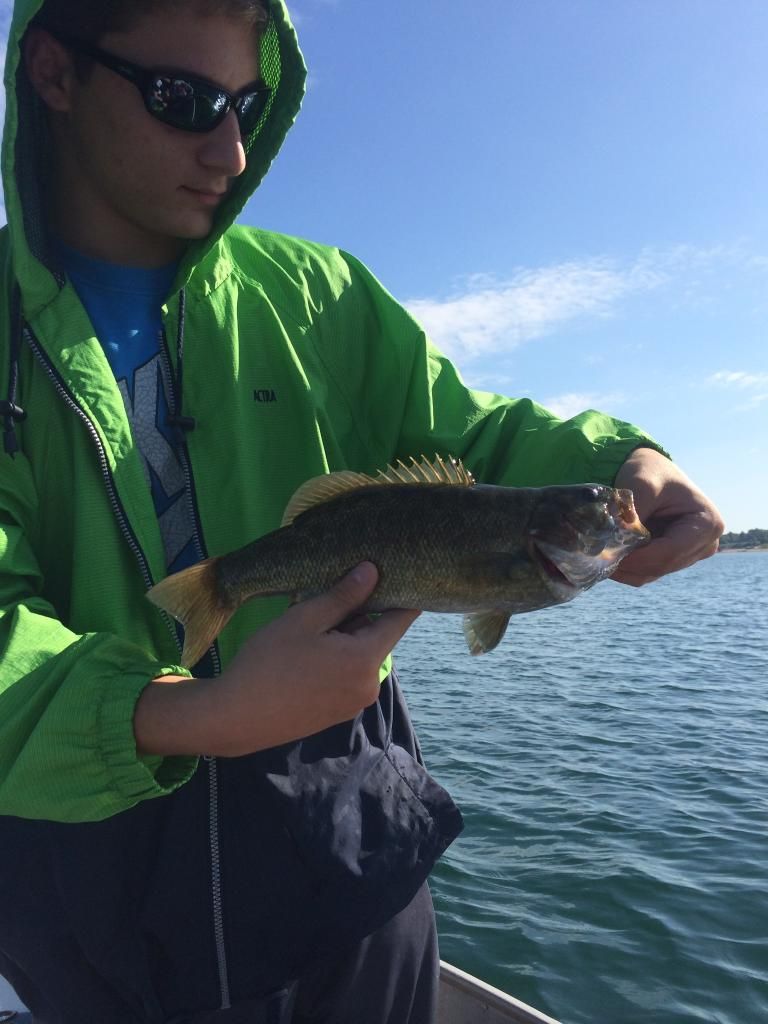 Good to keep the kids involved! In this day and age of extreme technology, we mustn't allow our Great Outdoors and outdoor Sports fall to the wayside. Keep them kids interested!
I ended up with two nicer Smallies of the day: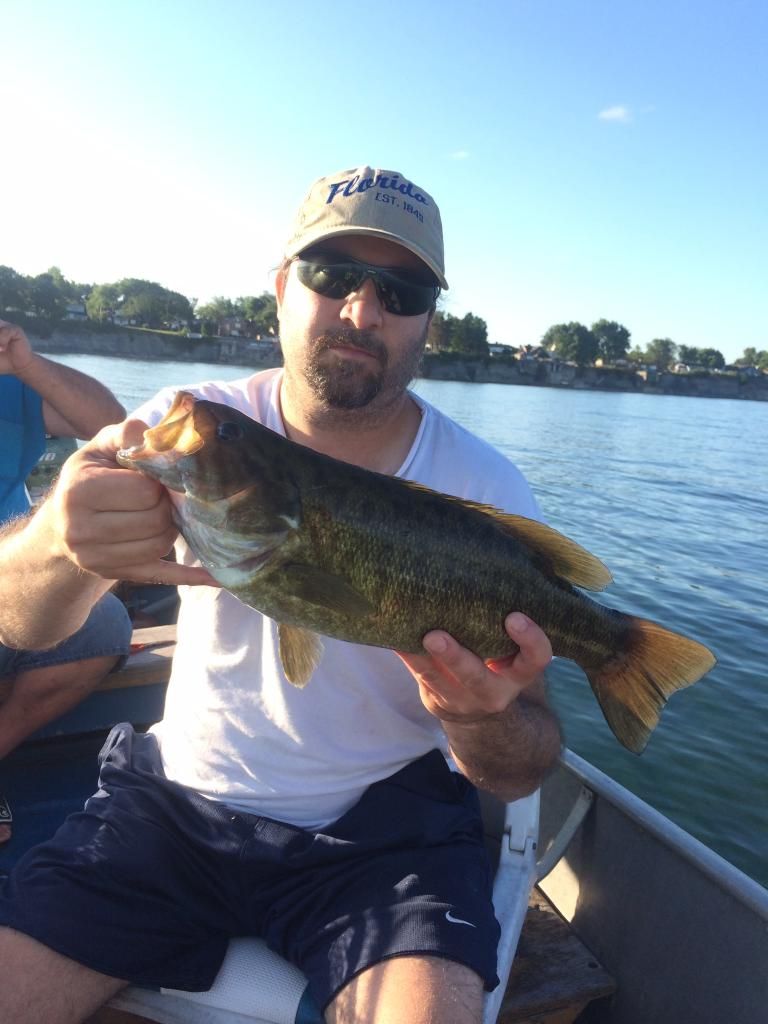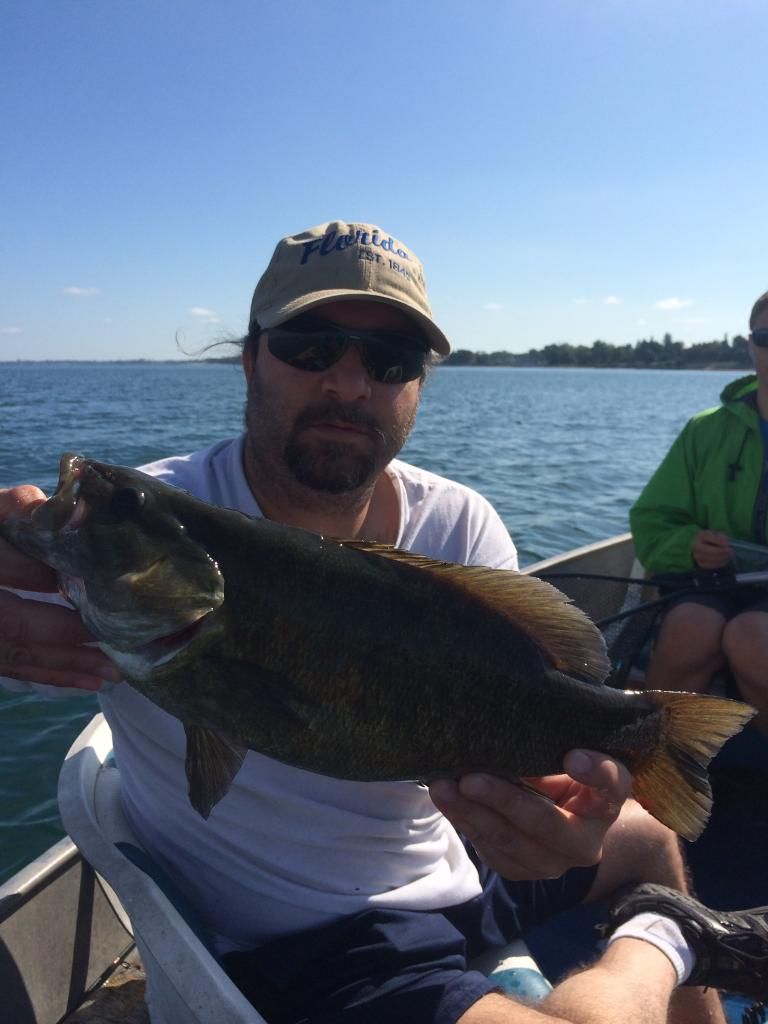 But Jimmy Jr took the day with this 19" 4lber! :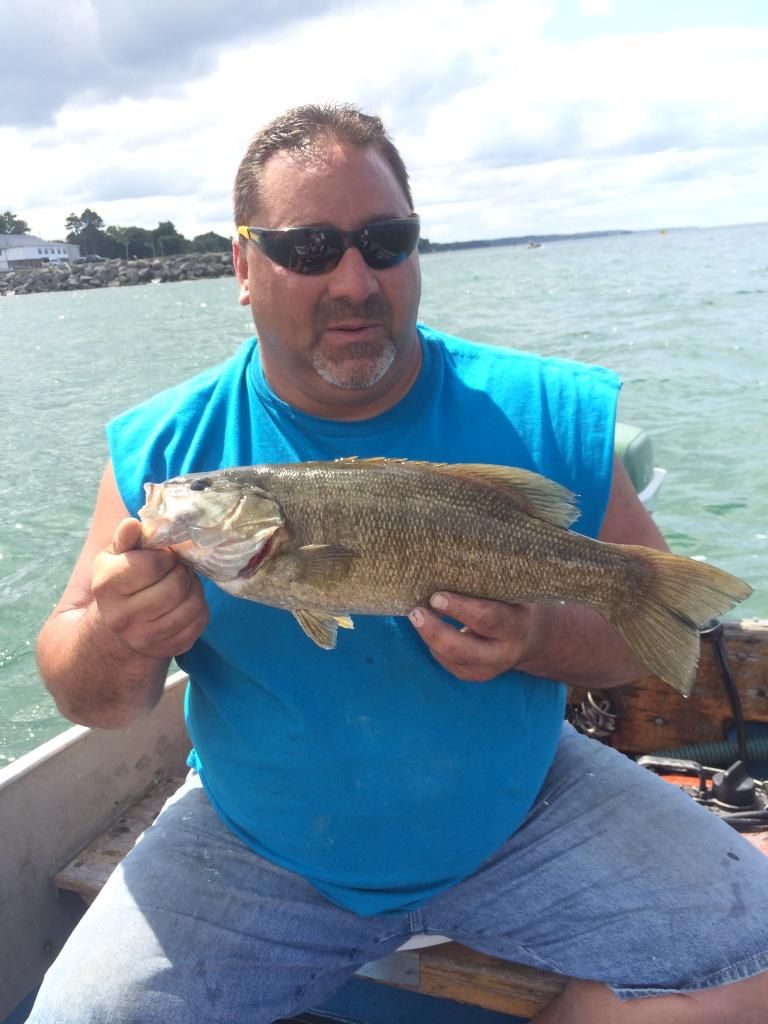 Another day found us beginning on the Niagara River, not too far from my house actually. After a very slow early morning, trying to figure out what the bass wanted, we drove in relatively shallow (about 6 FOW), just enough to see the bottom and find that there was rocks and gravel on the bottom. Jimmy threw a crankbait, but I tied a Carolina Rig with a Yum Crayfish. That was the ticket. First cast netted me this little guy: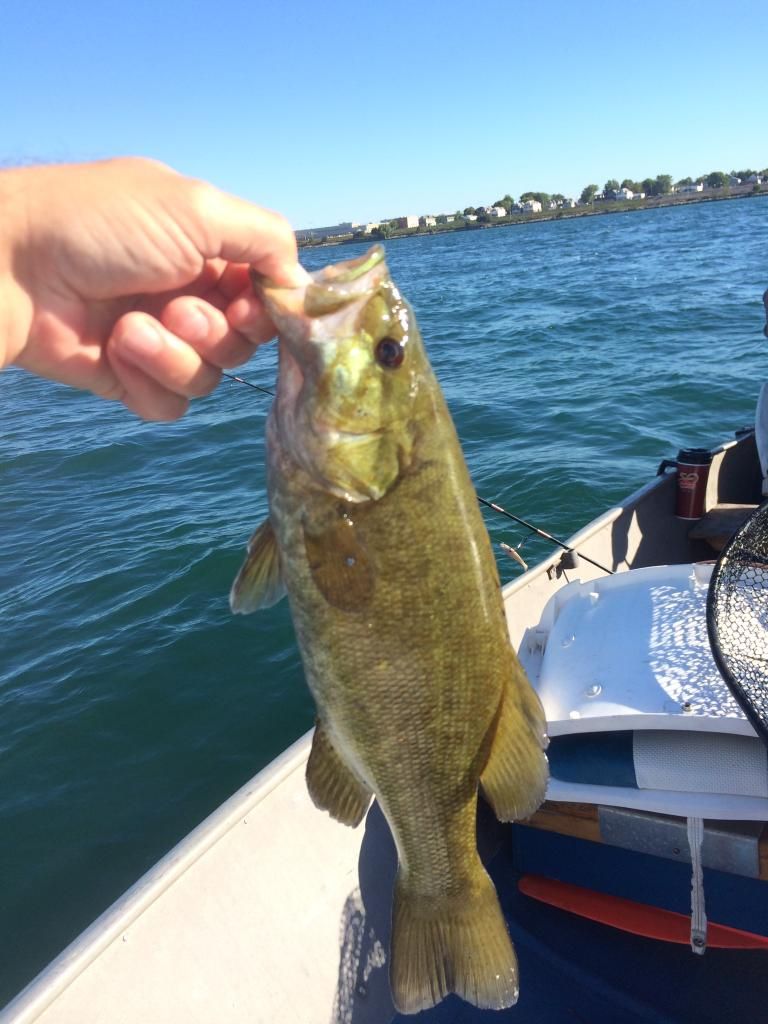 After releasing him, I cast again to the same spot, let it drop, and within a twitch had another hit. But, I didn't get as solid a hookset as I wanted/thought and as soon as it jumped, the hook was out. Sucked too, becuase it was a really big and dark fish, easily pushing over 5lbs. Darn. The very next cast, I set the hook into this incredibly strong 17" Smallie. What a battle he gave, jumping and running as hard as a pissed off Steelhead! Nice strong and healthy Niagara River Smallmouth Bass!: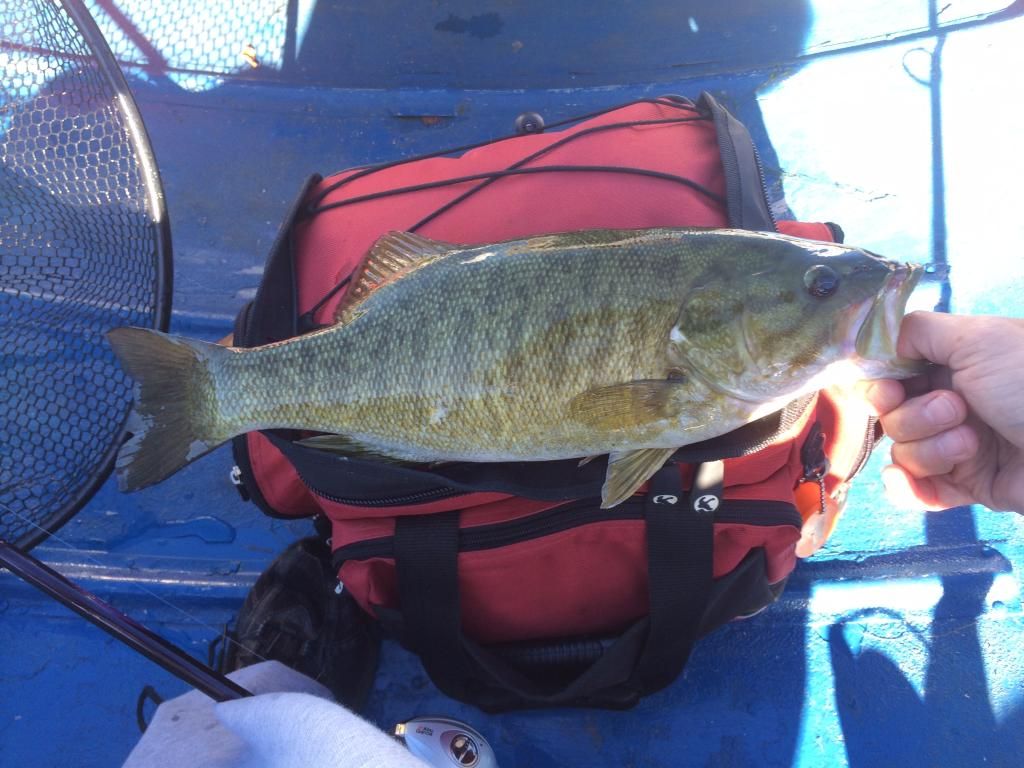 Before we had started getting hit, Jimmy had called his girlfriend to bring the trailer so we could go to Lake Erie instead and even though we had finally found them on the river, we figured it was best to not piss the girlfriend off and tell her nevermind after she had already driven to us LOL. So, it was off to the Lake. Poor Jimmy ended up skunked for the whole day, but I ended up also catching a few on the Lake. This little guy hit my Rapala DT after a cast over some rocks: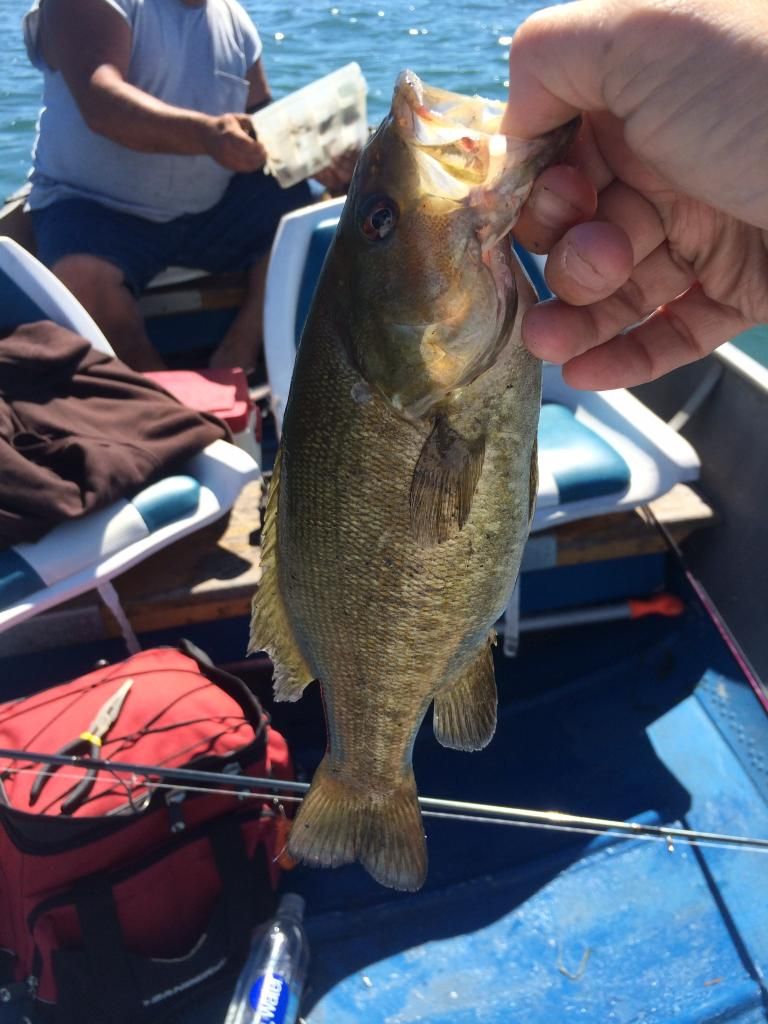 And immediately followed by this really nice 17":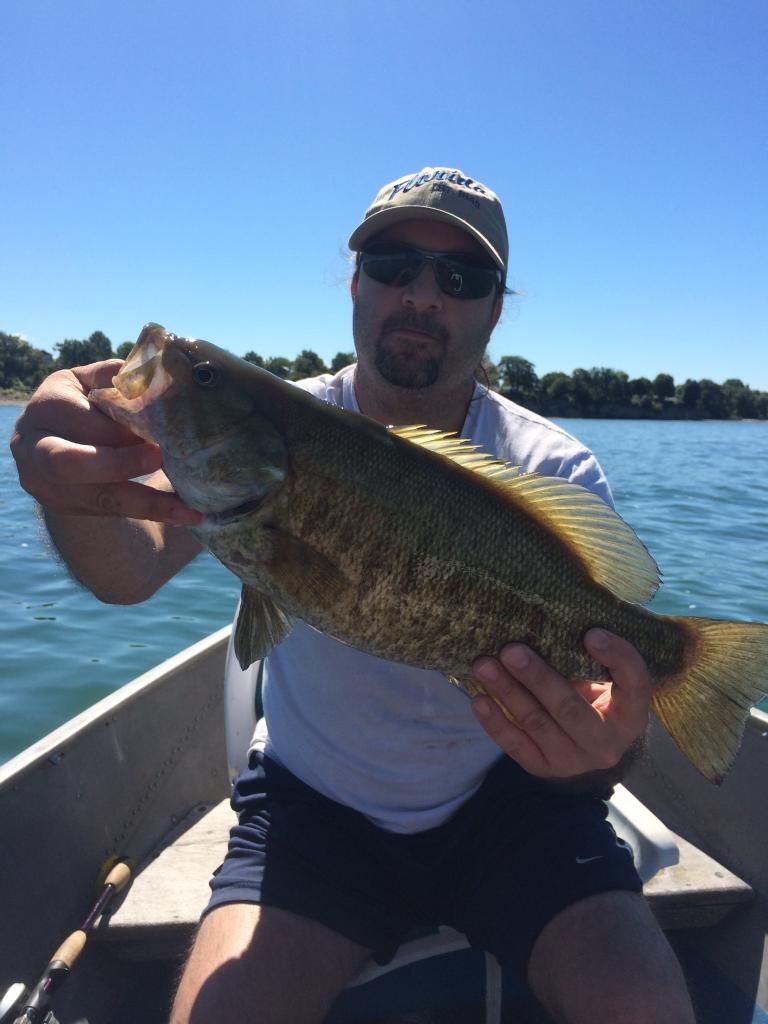 So, another morning comes and another day spent on the Lake! It was a bit slow due to some murky weather conditions off our launch point at Hamburg Beach, and a bit cold at 45 degrees air temp, but we did ok for what we were working with. Jimmy went with the Storm Twitch Stick and Storm Hot-N-Tots in silver, blue, and orange which had been our top producers, but with the murky water I went with a black, silver and yellow Hot-N-Tot and Rapala Shad Rap. I did this knowing full well that a dark profile shows up better in murky water. Jimmy should of listened to me...I was right
. This decent little 16" blew up my Hot-N-Tot: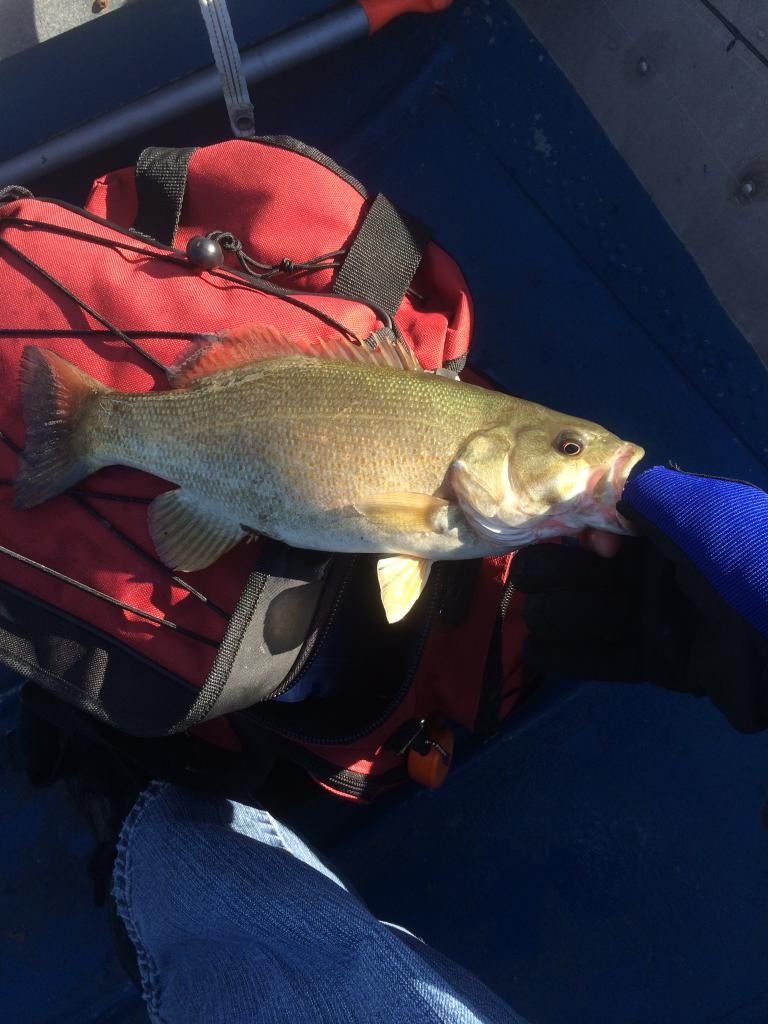 Followed by this nice 18". Stanley my friend, I took this picture with you in mind. Notice no hand in its mouth, all looked good, but darn it the tail wasn't flared nor was its spines, and it was a little too bright, otherwise this 18" Smallmouth would of been a PERFECT profile fish for you!! :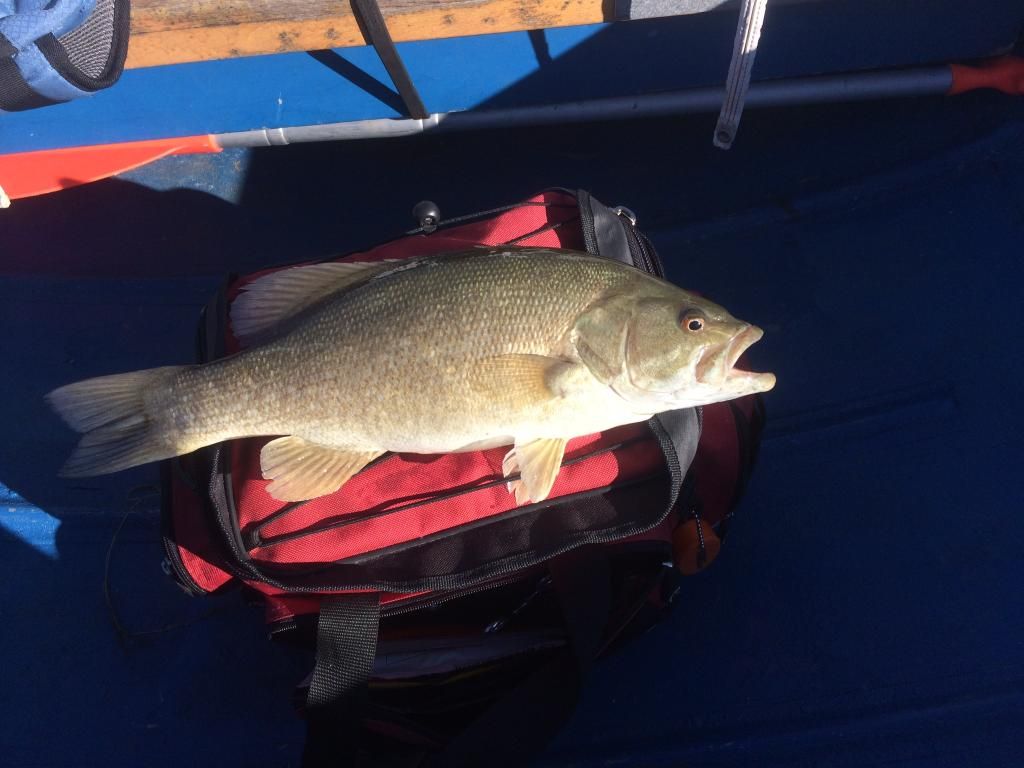 After that one, Jimmy took my advice and switched to a black, silver, and yellow Husky Jerk. Guess what? He had a fish within seconds LOL. We didn't take pics though, because it was small, like 14". We had a bit of fun catching some little guys in the 12"- 15" range, but we were lookin for that BIG ONE. We drove over to this deeper section close to the windmills and the mouth of Smokes Creek, where the water clarity turned out to be much better. After a half hour of tossin jigs, we went back to cranks. I tied on my Rapala X-Rap in black, silver holo and red, and was fan casting when I received an enormous hit, and I set my hook into what felt like a rock until the head shakes began! I won't lie, both of us thought I hooked into a Northern Pike, and thats exactly what it felt like...until it jumped for the first time. HUGE Smallmouth! And I'll tell ya, this one was an absolute BRAWLER. I was standing in the boat, tryin to get leverage on him as my rod was doubling over. Had to adjust the drag quite few times but this bass would not relent. He was diggin so hard Jimmy and I figured he was diggin himself to China, and was gonna end up comin up through Stanley's toilet
I'm tellin ya, this fish was one of the STRONGEST fighters I've ever caught! Finally tired him out enough to get him into the net, and we quickly unhooked him, pulled out the tape and scale. 21.5", 5.1lbs! There's the big guy we'd been lookin for!:
(First pic from Jimmy's camera)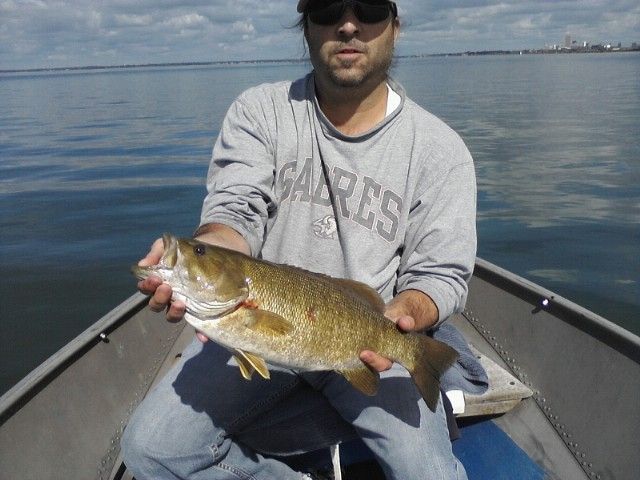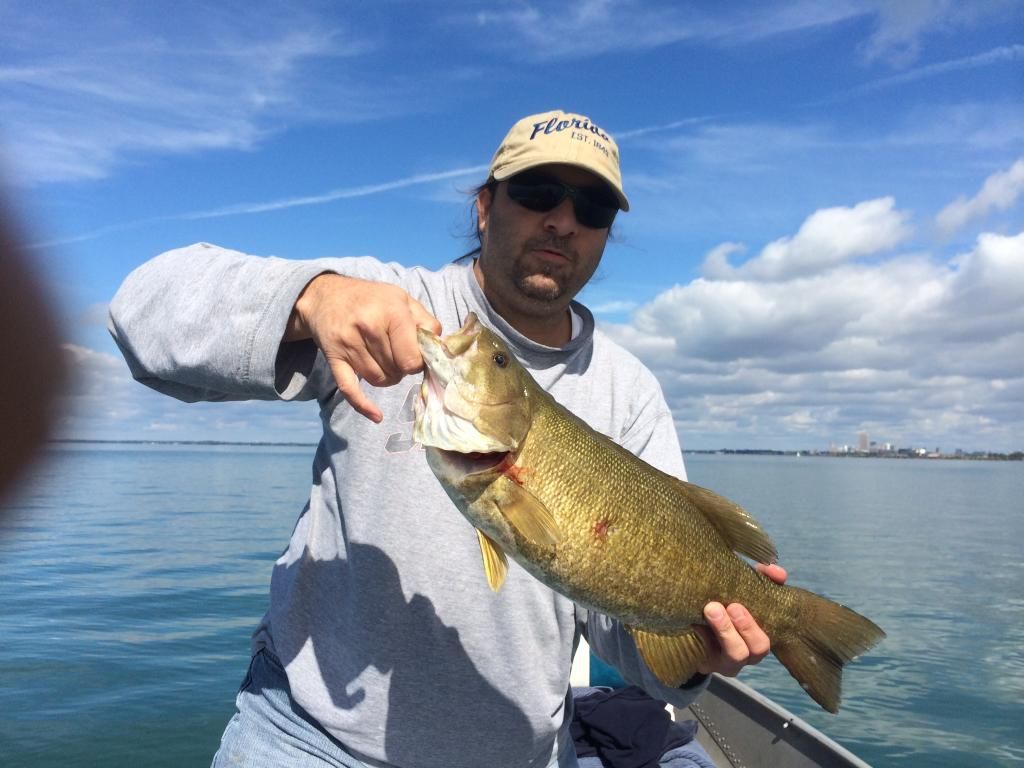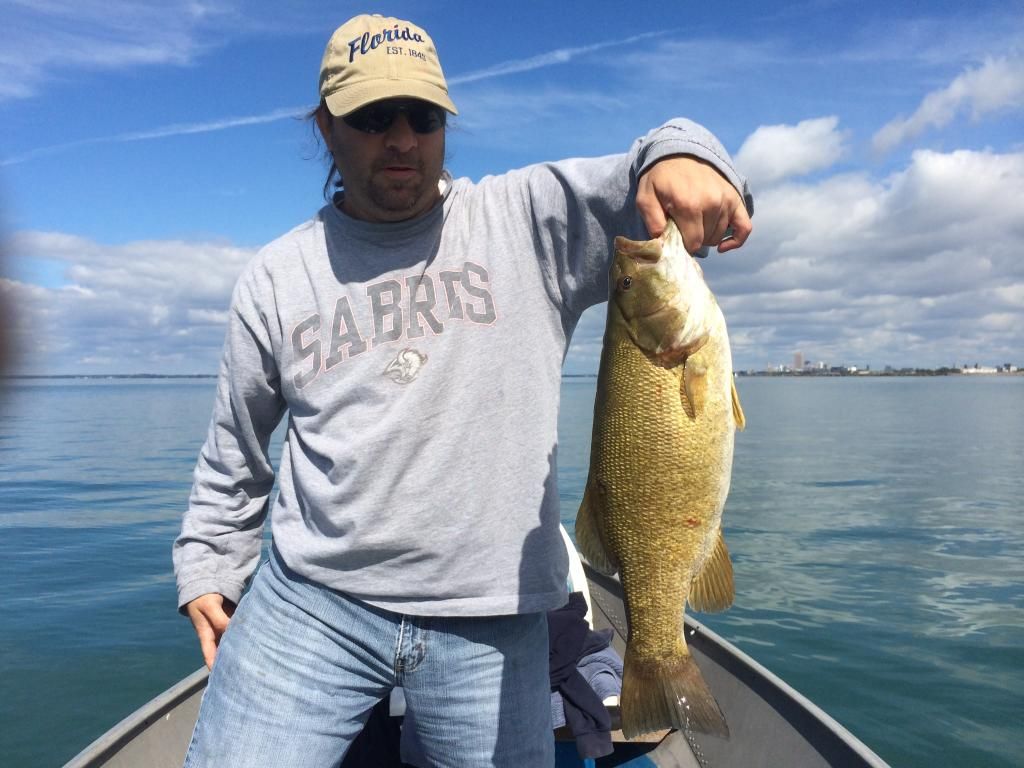 Certainly a wall hanger for anybody, but after the measurements and pics, I revived him at the side of the boat and he happily swam away..but not before giving me the fishing equivalent of the middle finger and tail slapping the water so that I got wet LOL. We fished for a bit more, or actually Jimmy did while I relaxed. Caught him 3 more bass in the 15"-17" range before callin it a day.
Well, thats all I have for ya now. I know there will be more coming, with the weather changes coming and all. Steelhead and Salmon will be coming in soon, in fact the King and Coho Salmon are already staging off the Lake Ontario piers getting ready for the spawning runs. The bass, Walleye, and Northern Pike will begin movin in soon as well. So far, this is a summer that I won't forget. I went from not having much luck with Smallmouth Bass through the years to literally makin up for it in a few months, beginning with my personal best 6.2lber back in May-June (still planning on a replica mount of that one). Again, I hope you all enjoyed this post. I know its alot of pics, but I hope it doesn't bog down anyones computers. Until the next report, tight lines everybody!