Hi guys,
Another day, another fishing trip for me! Told you guys when I first came around that I do A LOT of fishing, and around here we are in the midst of prime-time for many species. Most of the species are hungry or spawning, and the Lakes and river water temps are hovering around 55 degrees. Today was a record setting day for me today, not in fish size (I wish!) but rather in numbers. I usually read the local fishing reports published every Friday by the NYDEC (New York Department of Conservation). I was actually supposed to go out to Great Valley and fish for various species, but those plans got canceled. My father called to see if I wanted to fish a few spots along Lake Erie or the Niagara River. I checked the reports and found that Yellow Perch were being taken in abundance at many spots along the river, along with Smallmouth Bass. Top baits were Emerald Shiners. We stopped at the local bait shop and picked up a bucket full of shiners, in which I attached my aerator to so they would not die quickly. Took three set-ups with me for different situations and quick rig changing, but I would find that all I needed really was my light tackle setup, which is a 7' Eagle Claw Light Action Spinning Rod, Pflueger President spinning reel spooled with 6lb Sufix Braid, 18" 6lb Berkely Fluorocarbon leader, #6 hook, and a 1/4 Egg sinker on a 3-way swivel. Here are a few shots of the Upper Niagara River from where we were fishing off Squaw Island: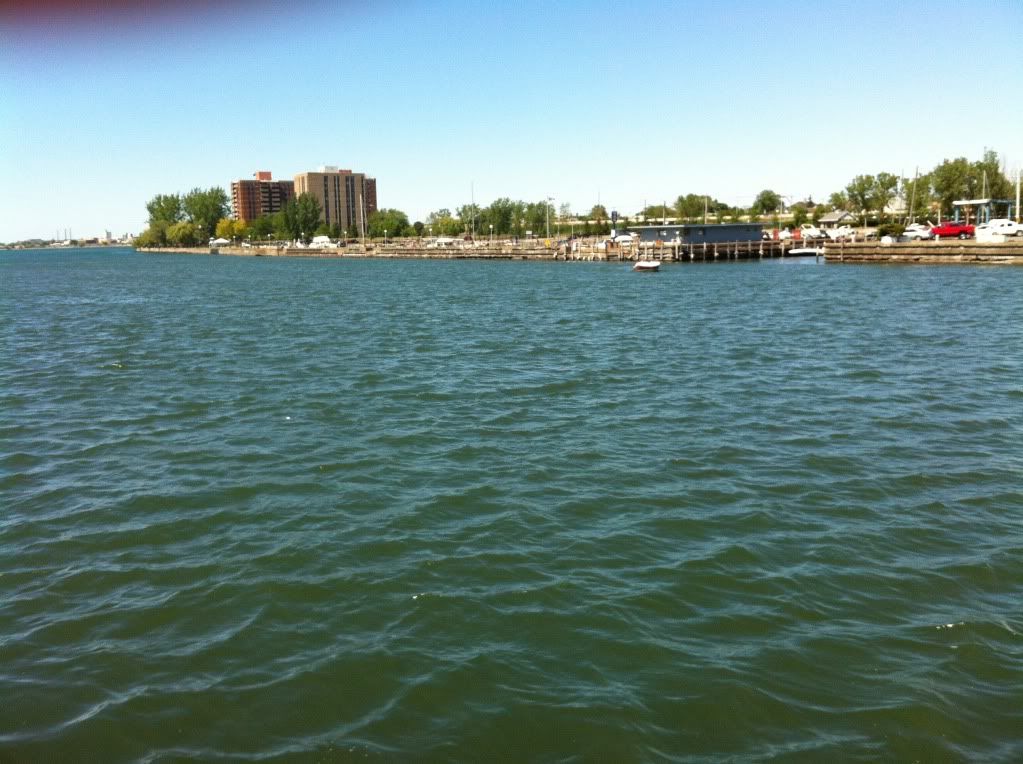 Now, as I said today was a day of records, and talk about using the right bait! I got a hit almost right away, but lightly, and pulled up a decent Yellow Perch. I told my dad to change his rig and put a sinker on so the shiner gets down quickly, and any little bump, line jump, anything that feels odd, set the hook because they are inhaling the shiners. Basically, a drop-shot rig. Here are two decent Yellow Perch I had caught: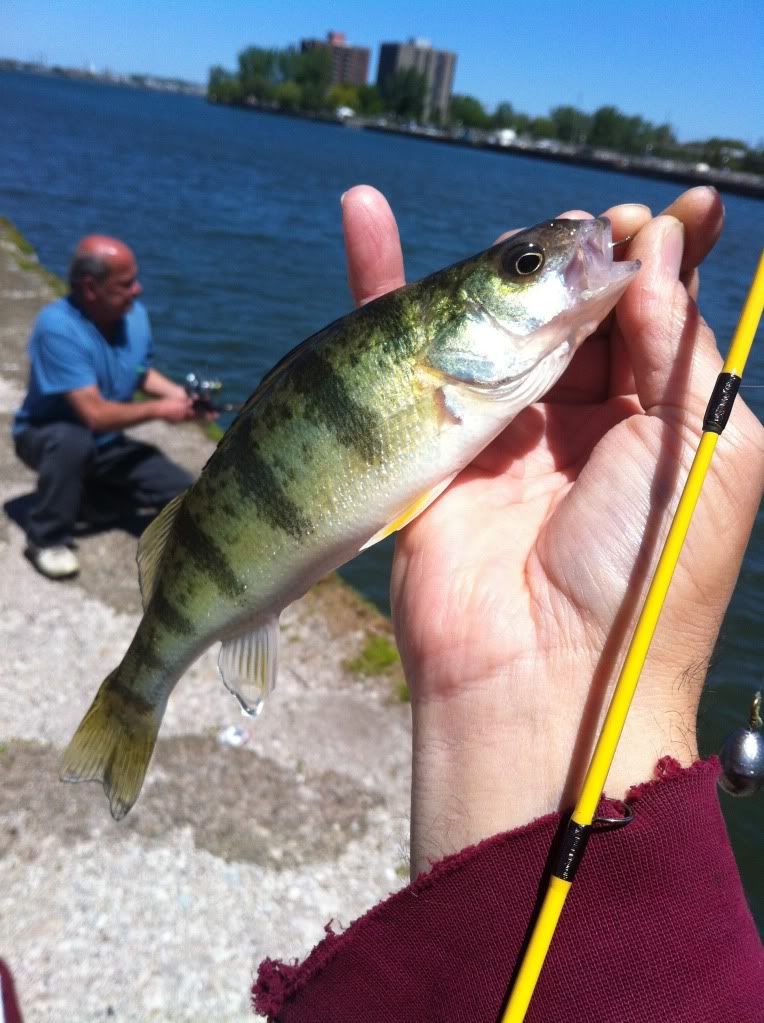 After all was said and done, between the two of us we caught at least 60 (yes, you read that right!) Yellow Perch, large and small. Now, I normally practice very strict catch and release, but we were catching so many I figured what the heck, lets keep a few to fry up for a change. So, we kept some bigger ones from there on in, and I ended up bringing 6 nice sized Yellow Perch home. Here they are on the stringer, sorry the pic is kind of dark: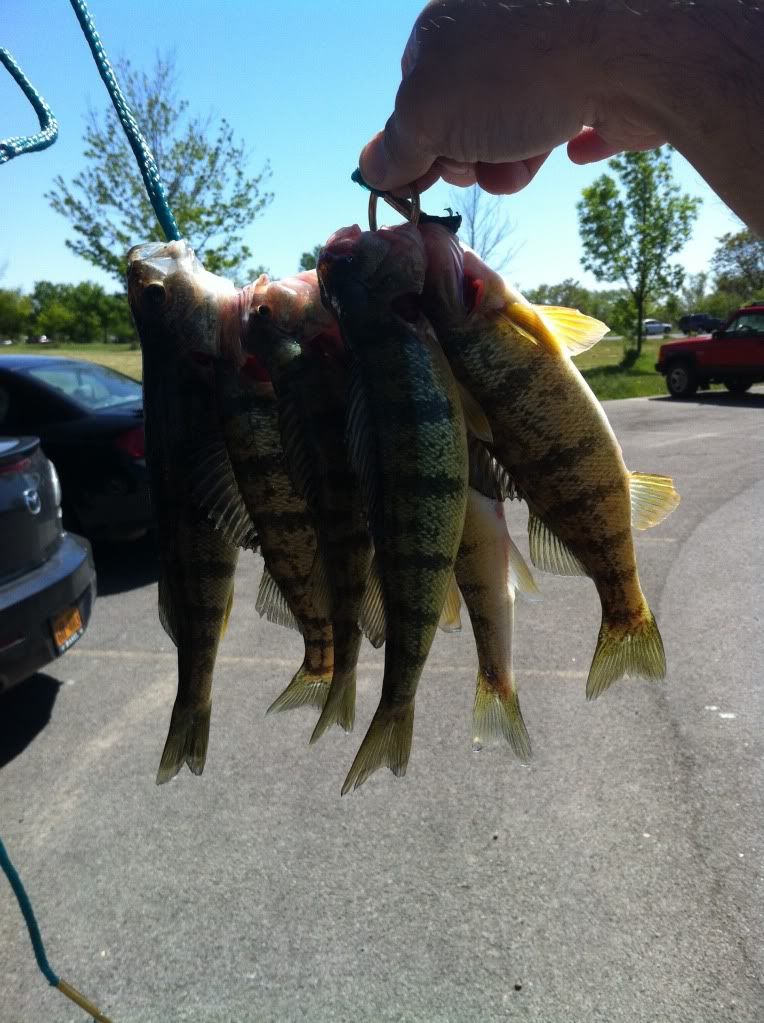 ...and here is tonight's dinner, fryin up in butter with pepper and lemon. Delish!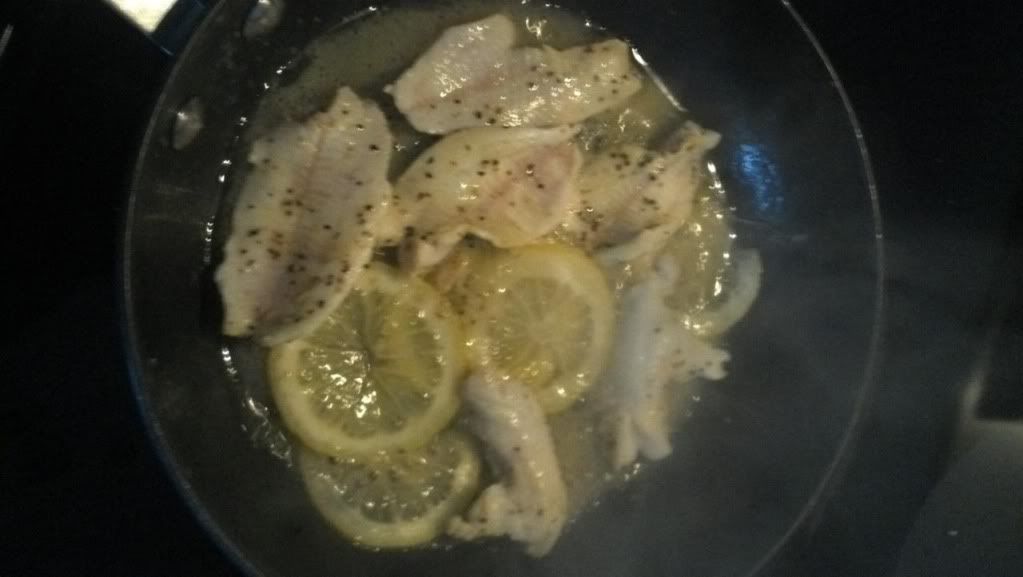 So yeah, we had a good day. I have never caught so many Yellow Perch before, or as fast and furious. Literally every cast yielded a perch, large or small. It was as simple as pitch, let sink, tighten, wait for a light bump, set hook. We demolished them today!! 60+ Yellow Perch!!!!
(See Stanley? Can't see the bait! Told ya I usually remember to take it out first! LOL!!)