Hey guys,
Had a terrific day of fishing today with my father and our family friend, Gary. Went out to Gary's land out in Franklinville, NY to check out how his bass population was coming along and if we had to eradicate some Bluegills. He owns 3 large ponds that are stocked with Largemouth Bass, Bluegills, and Bullhead Catfish. He had been saying that he hasn't seen a catfish in 5 years, and I noticed last year that there were WAY too many Bluegills around. There are some BIG Largemouth Bass among his 3 ponds, some of which have been there since the beginning. But, they really haven't been biting too well on anything, and plus the Bluegills were a bit out of hand. So, what does he do? Call in the big guns...me! Hahahaha! Funny thing is, I guess since our aim was to determine the pond growth in all 3 ponds, but Nature had other ideas. More on that later.
Now, don't be fooled. These bass, although they are in ponds, are SMART. Granted, you'll catch a few small ones by doin the worm-n-bobber thing as the kids do, but if you want to target BIG fish you'd better be on your toes and know your stuff. These bass will come close to the shores and stare at you before slinking away, as if to say "I see you, bub. Better luck next time". Anyway, figured on tossing a few nightcrawlers to start out with for the Bluegills, but quickly learned by doing one little thing, the bass will bite, too. A lot of people that go for Bluegills like to cut thier 'crawlers in half. And, this did work for them. Here's a couple of nice 'gills:
BIG OL' SLAB BLUEGILL!
Then, I found that if I leave a whole 'crawler on and upped the hook size from #6 to #4, the bass would take 'em too. And I sure caught come dandys in the 2-3lb range: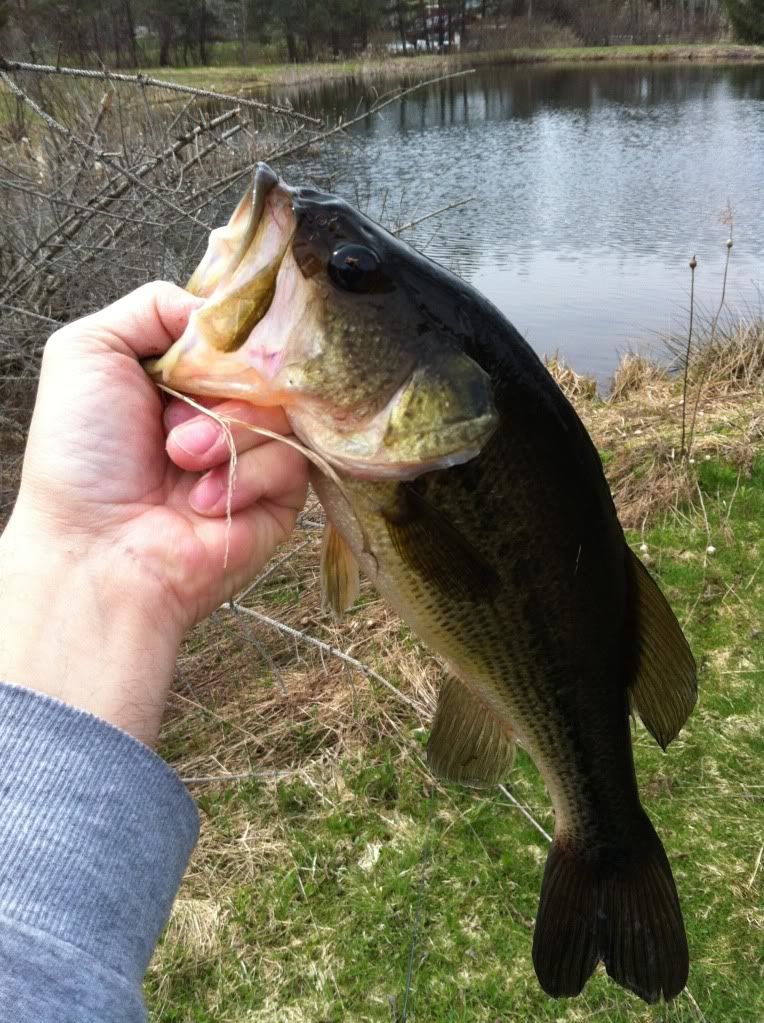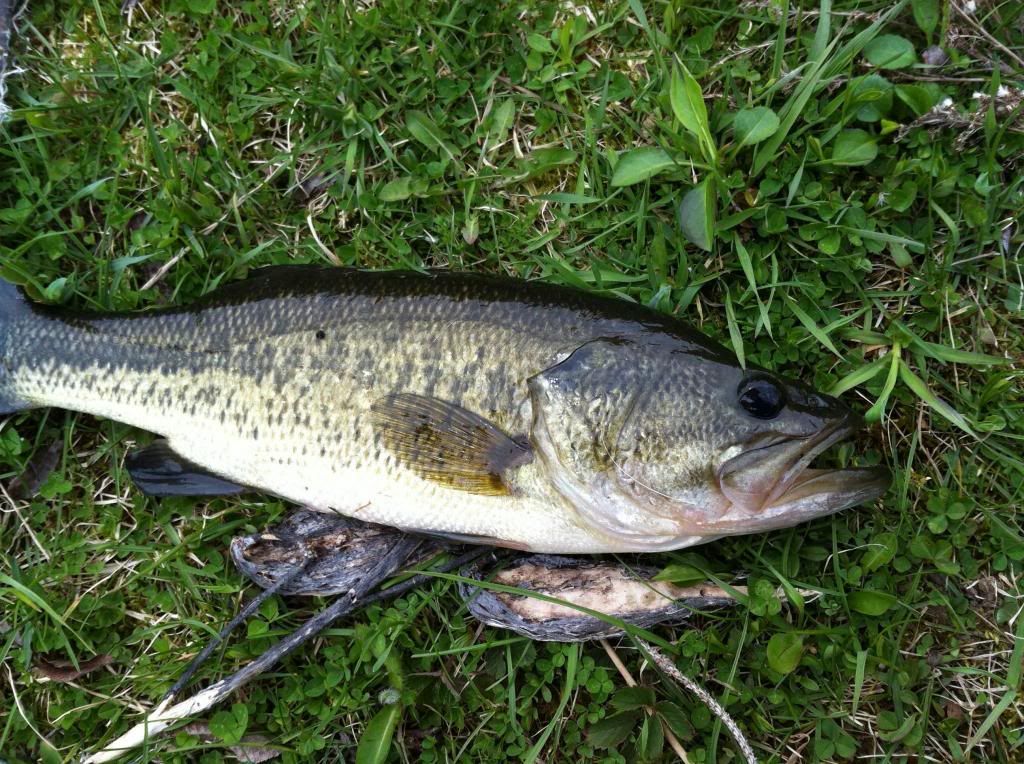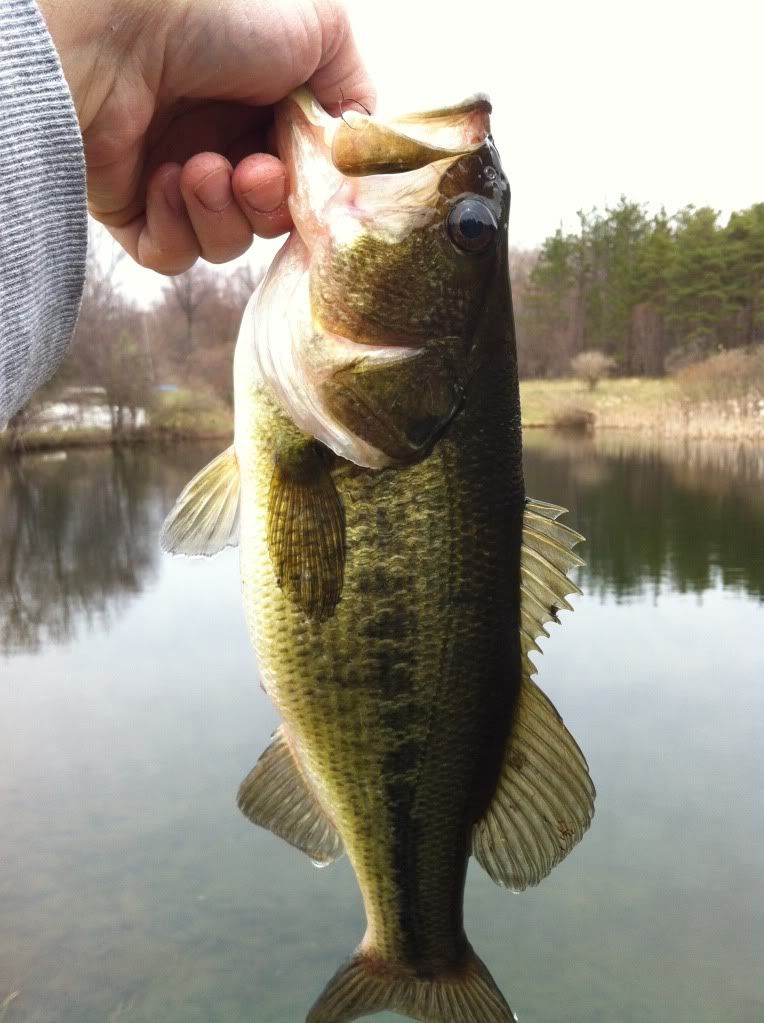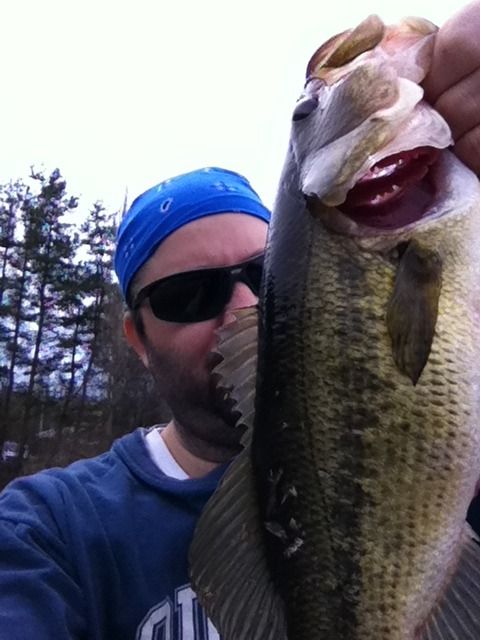 So, now comes the fun part. My dad had noticed a couple of big ones cruising around, but neither he nor Gary could get them to bite. They would approach the 'crawlers, look at it, and give them the proverbial middle finger and keep going. So tried all tried feverishly to get them to bite. My father and I actually got one to bite, but it was light both times and he spit the hook on both of us. So, I sat and watched them for a while to figure out what exactly they were doing. I knew they were hunting, but what? As I watched them, I saw the bigger of the two bump a Bluegill near the surface, and came around and bumped him again. Hmmm, I thought. They were not being territorial, and they were not protecting nests because it is too early for Largemouth to spawn, plus the water was still too cold. So it dawned on me, and I told my father and Gary that if all goes to what I think is going on, I will catch them both. I went to one of the other ponds and caught a few decent bass, then got a hit from a little bluegill. Perfect, I thought. I walked the little guy back to where my dad and Gary were fishing and hooked the Bluegill through its lips, and tossed in. Sure enough, I found out real quickly what the big bass wanted!! Out of nowhere, one of the bass sped up along side, bumped and bit, and I set the hook! Nice, 4-lb Largemouth:
Lucky for me, it didn't destroy the Bluegill, and I aimed for the larger one. Tossed back in, and gave the 'gill a little more action. Before I knew it, along comes the big guy. I told Gary, since he was right near me, to come and watch this. Here is a pic my dad took gettin ready:
The bass didn't disappoint! Up close and personal, he banged the 'gill with his snout, then turned to get it headfirst and right before our eyes, just inhaled it! And I set the hook and the fight was on!! One of those things I wish I would have got on film! Anyway, here he is, all 22" length, 14" girth, 6.2 lbs of him! You can also see the bluegill in its mouth: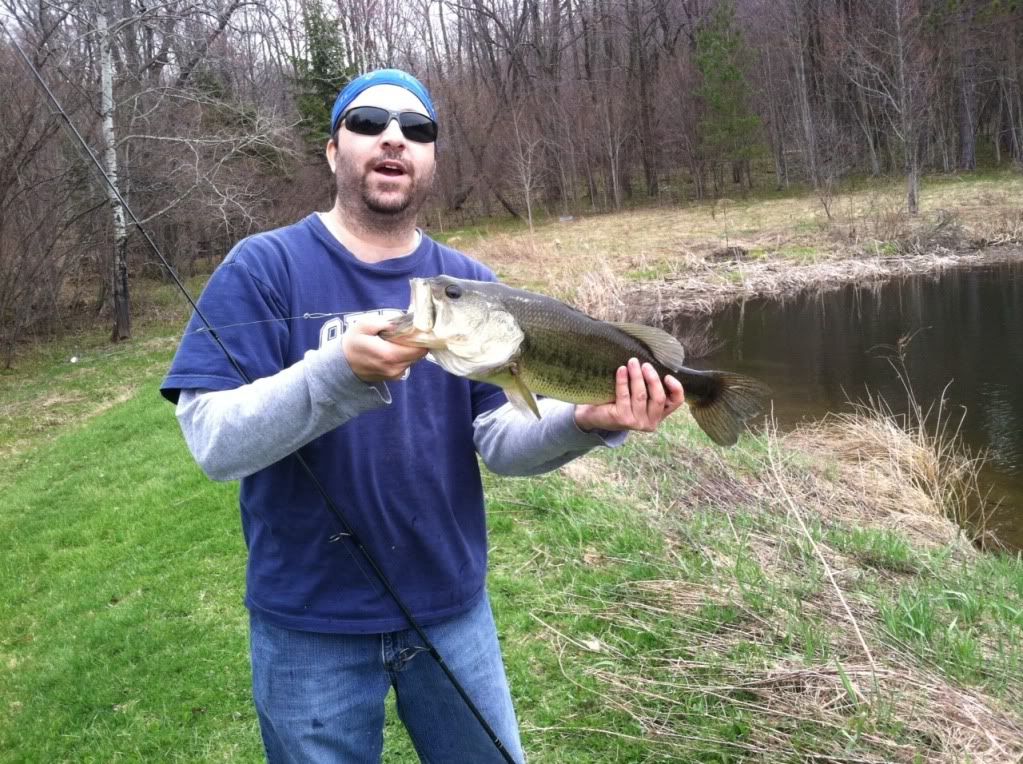 The big, gaping maw, filled with Bluegill!
And, since it was his land and only right, I had to let Gary take a pic with it since he's used to catching minnows LOL: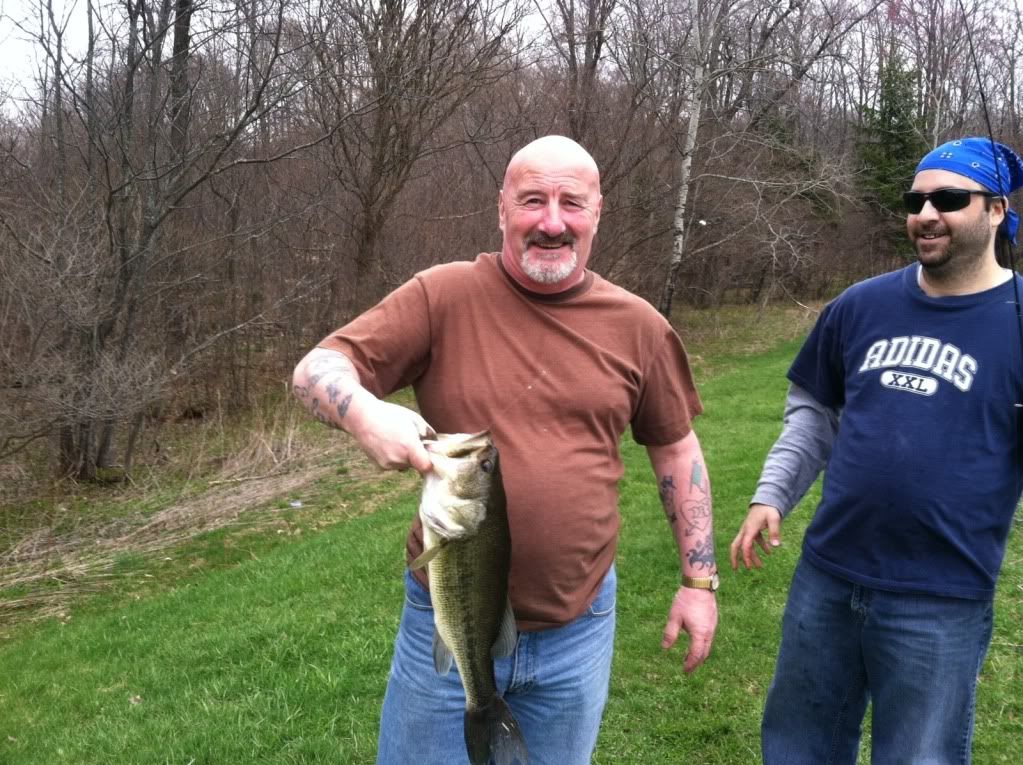 Yeah, it was a good day. We also ran over to Harwood Lake, but by this time the wind had already picked up and the clouds rolled in, so we just checked out the lake and left. We'll be back though, as Harwood Lake is stocked with Brown, Brook, Rainbow and (GASP!!!) Tiger Trout, Largemouth Bass, Channel Catfish, Northern Pike, and various panfish. Harwood Lake: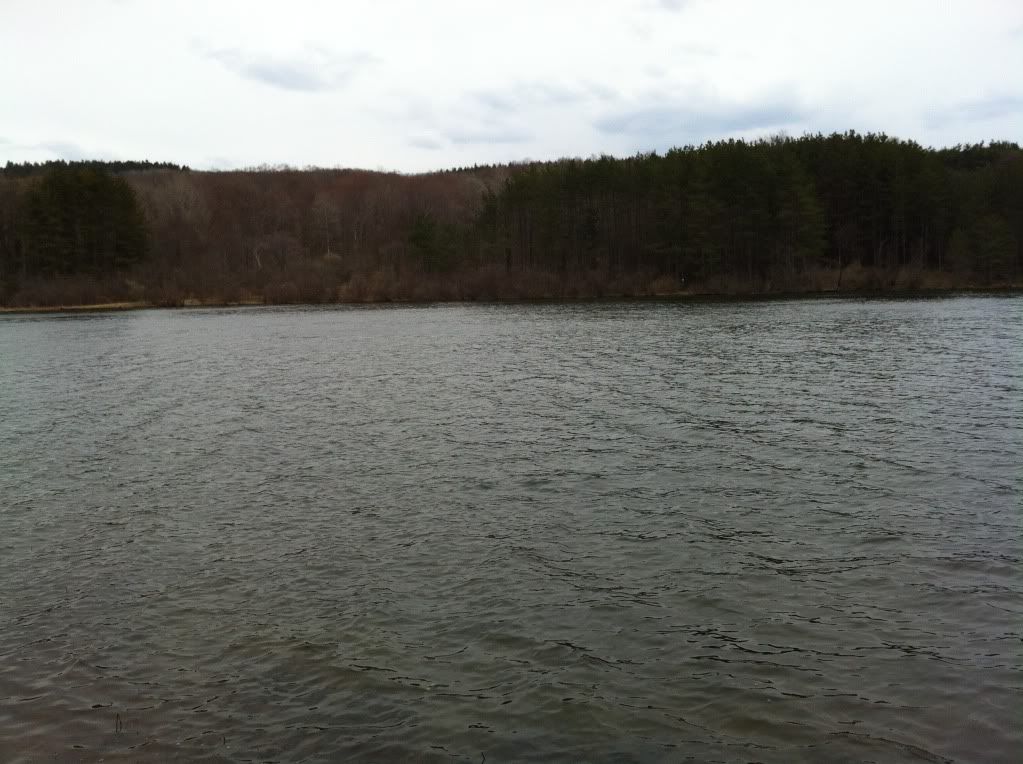 Ok, well, just thought you guys would like to hear about my day. I leave you with a little 15-second vid of a 2lb Largemouth I was fighting. Click on the pic to watch the vid