Hey guys,
As you guys probably noticed, I was on the quiet side today. That was because my brother and I took his son (my baby nephew) out on a little impromptu trip out to Great Valley, NY to let him play around. Needless to say, I of course grabbed my light spinning rod and some tackle in hopes that the creek would not be running muddy and would be able to hit a couple of Brook Trout. As you know, you have all seen this creek in the summer due to my Great Valley, NY outing I created a while back. And, of course as you know it has a lot of history behind it. So it was time for my little nephew to see the creek where he, like the rest of us, will probably catch his first fish. So, while they played up at the house, I took a walk down to the creek to give it a look and determine if it was fishable or not. Happy to say, it most certainly was! I crouched down and watched a bit, keeping a low profile as to not spook the fish, and though I didn't see any rising I did pick out a few in the currents and a couple going in and out of the famed deep hole. A little further down, I also happened to spot a really, really big Rainbow Trout hanging out under a stump. I mean BIG. For that creek, really big. I estimate around 25 inches!! I tried really hard to get a picture of it, but obviously the sunlight didn't cooperate and even if I would have gotten close to it, I would have spooked it. I tried in vain to throw a few different things (redworm, nightcrawler, single trout egg, small egg sac, roostertail spinner) allowing the current to take it towards it, but it would not bite. Came close a couple of times to investigate, but backed off. I guess it didn't get that big by not being picky. But, at least the Brookies were in a little bit more of a biting mood, as I caught three small ones. Here are a few pics of the creek in its higher, faster state. And wow, that water was COLD!! I'm sure you guys as pros can pick out exactly what spots would be holding fish!: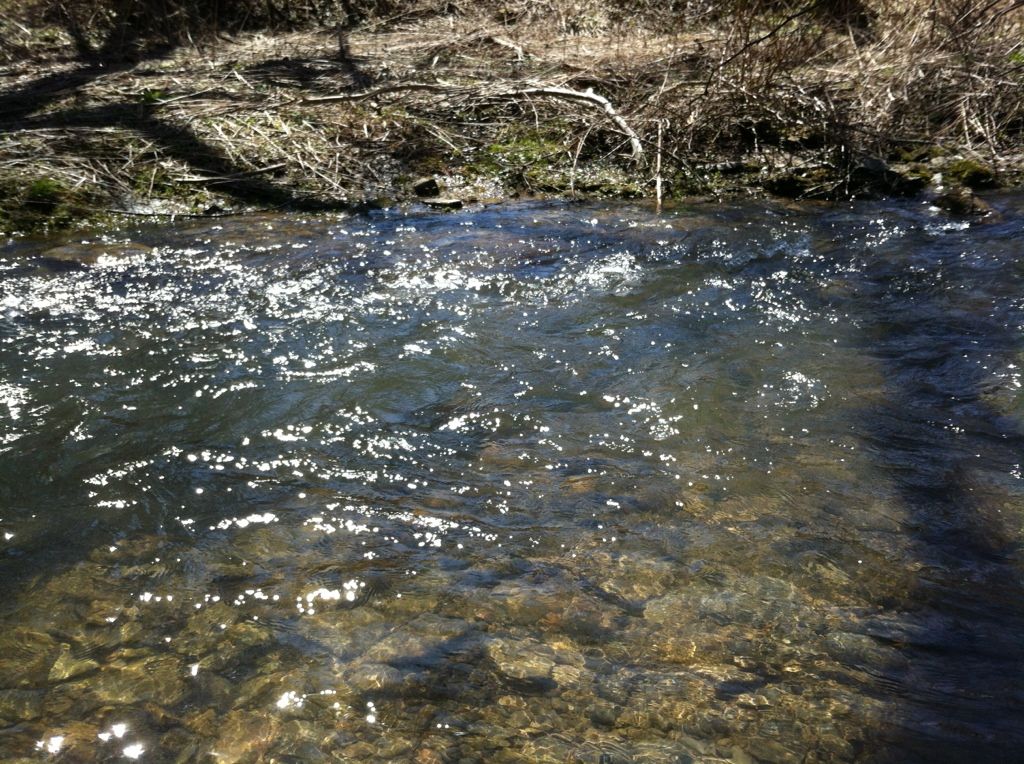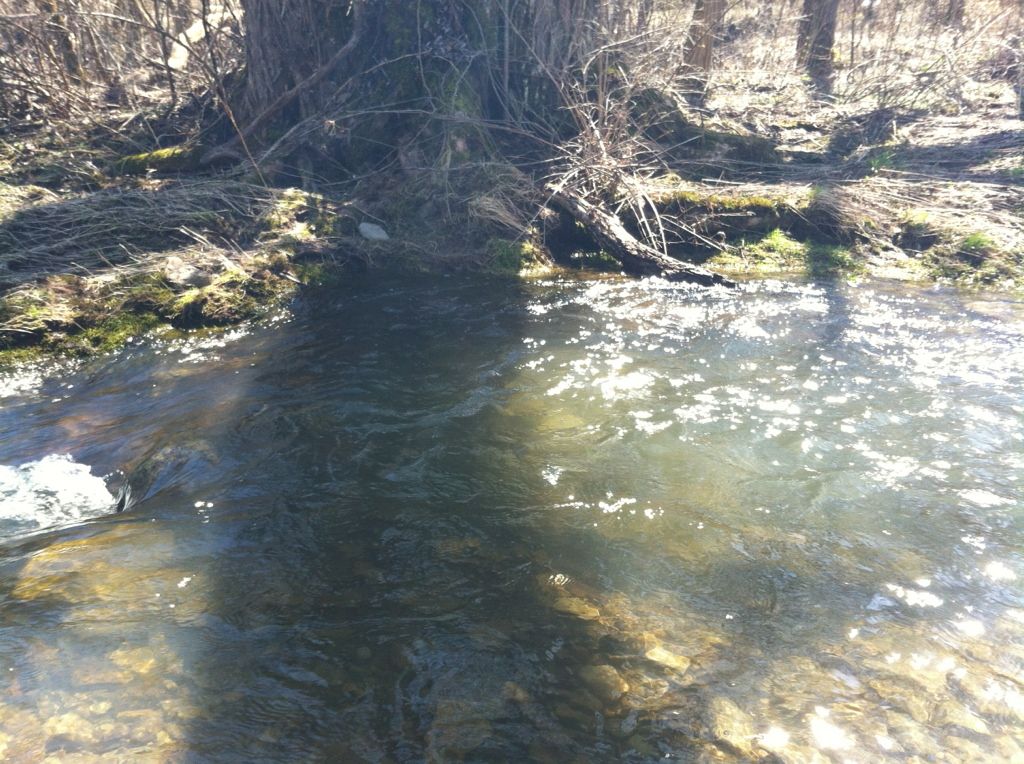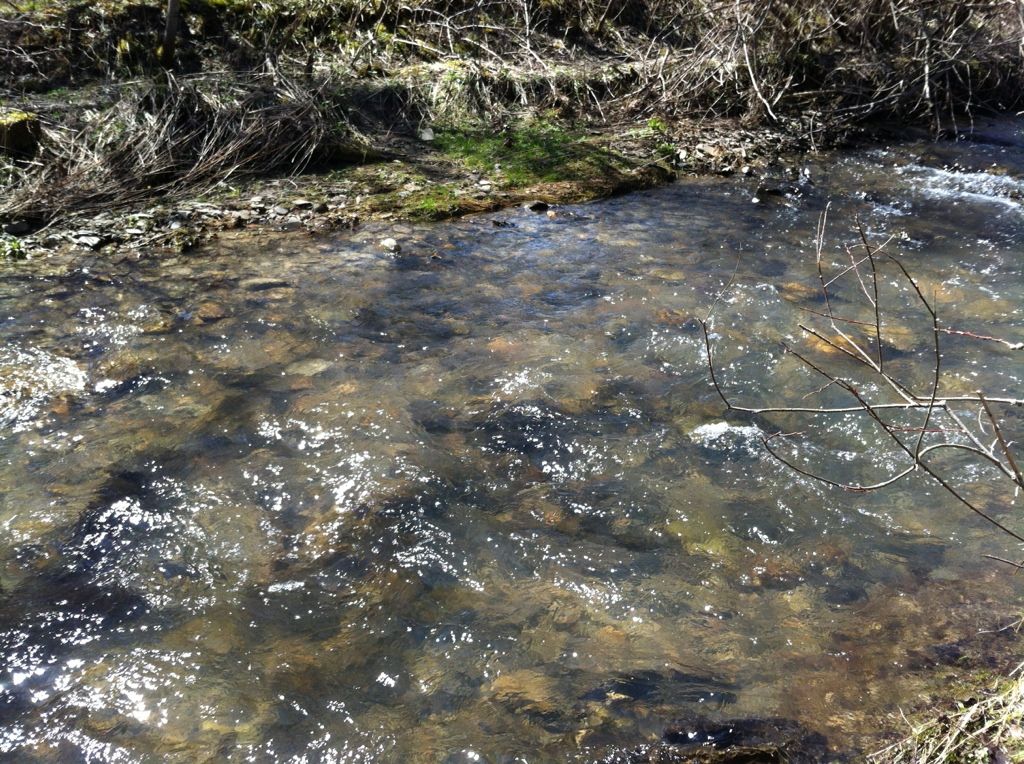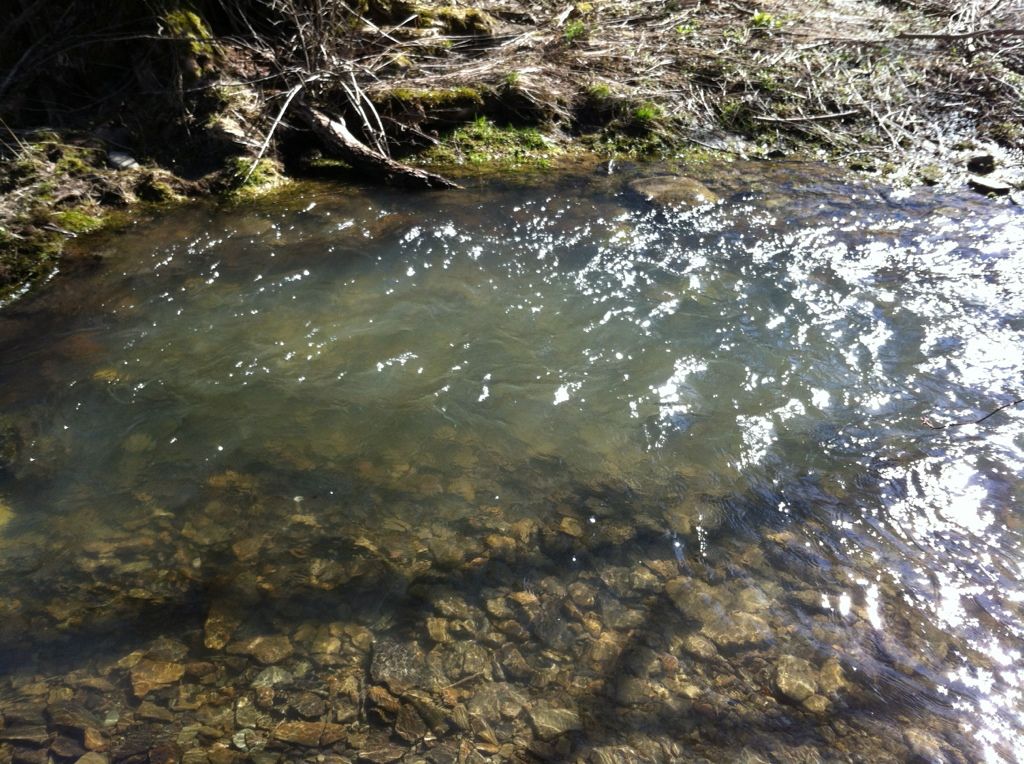 The big rainbow is in this pic below, though impossible to see. He is just adjacent to the green patch of grass with the overhang. You might be able to make out it's shadow a little bit, or even just slightly see its back: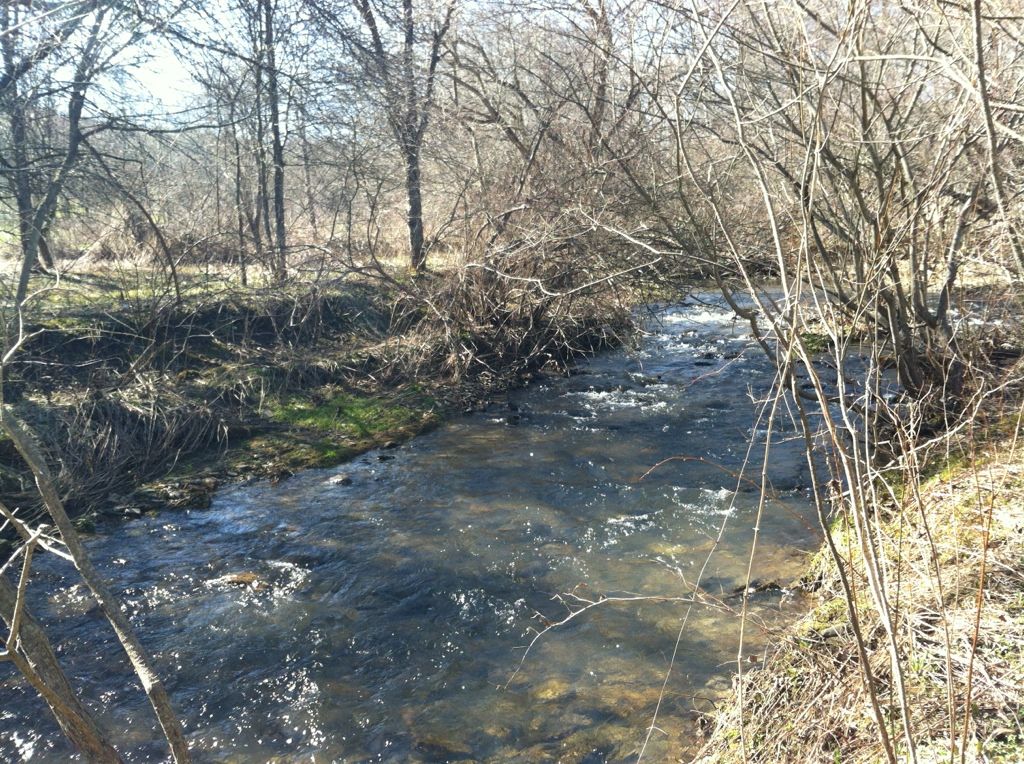 And as I said, the Brookies were around. Here's a little eager biter. Just learned the hard way not to trust redworms LOL! Released unharmed of course
Now, I also took a little video of the creek for you guys! For some reason, the sound didn't transfer so I will go and have a look, but here is a link to see how the creek was flowing. Watch in HD for best results!!
http://www.youtube.com/watch?v=nnBQqPo3sBM