....another continuation..
Same post from Sep 16, 2012:
Myself, Mike, and his son Kobe doing a little "dangerous" fishing on the Niagara River. I only say dangerous because the water in front of us, except for a few little pockets, runs at a constant 17-20 mph. You can clearly see the current in all of the pics. Don't worry, Kobe was safe. Safer than what Mike and I were LOL.You can see in the background of the pics with Mike's big head LOL, the Peace Bridge, which is one of the international bridges here to Canada, and of course on the other side of the water is Canada. Also, in the pic w/ Mike, beyond the Peace Bridge you can see where the Niagara meets Lake Erie.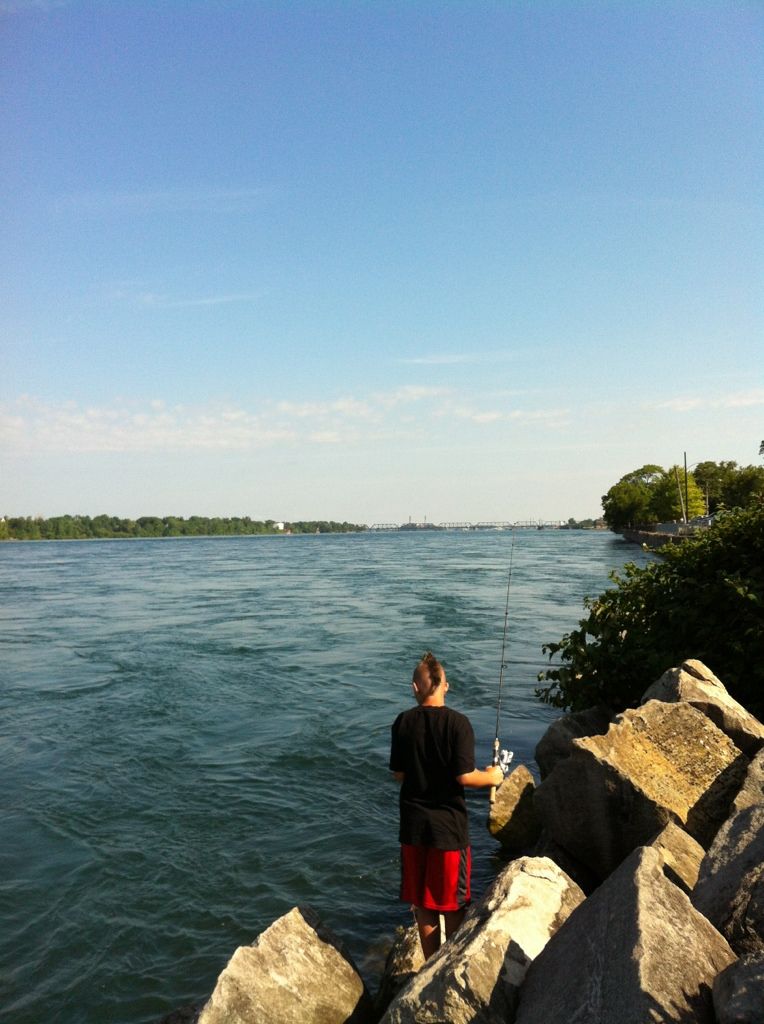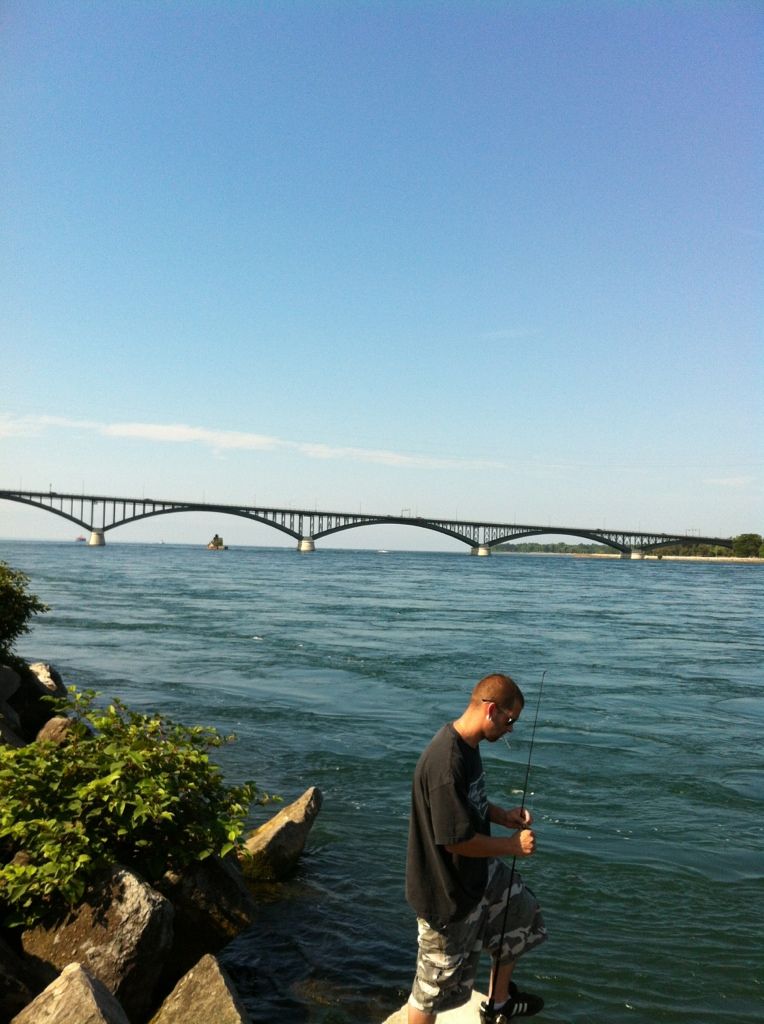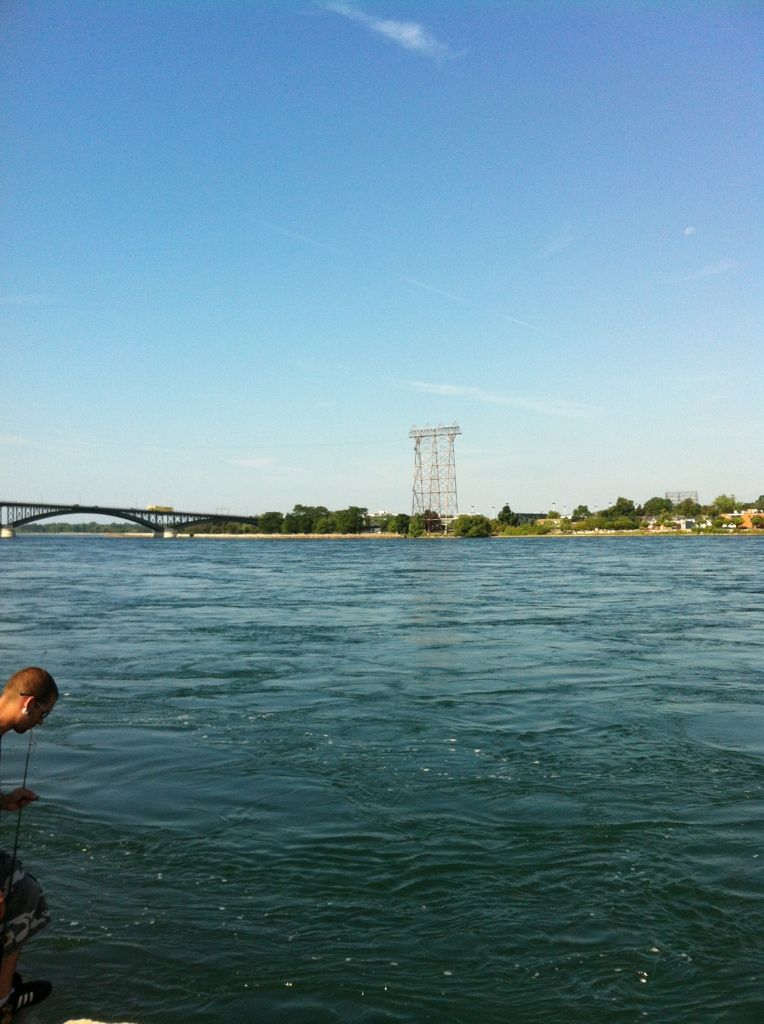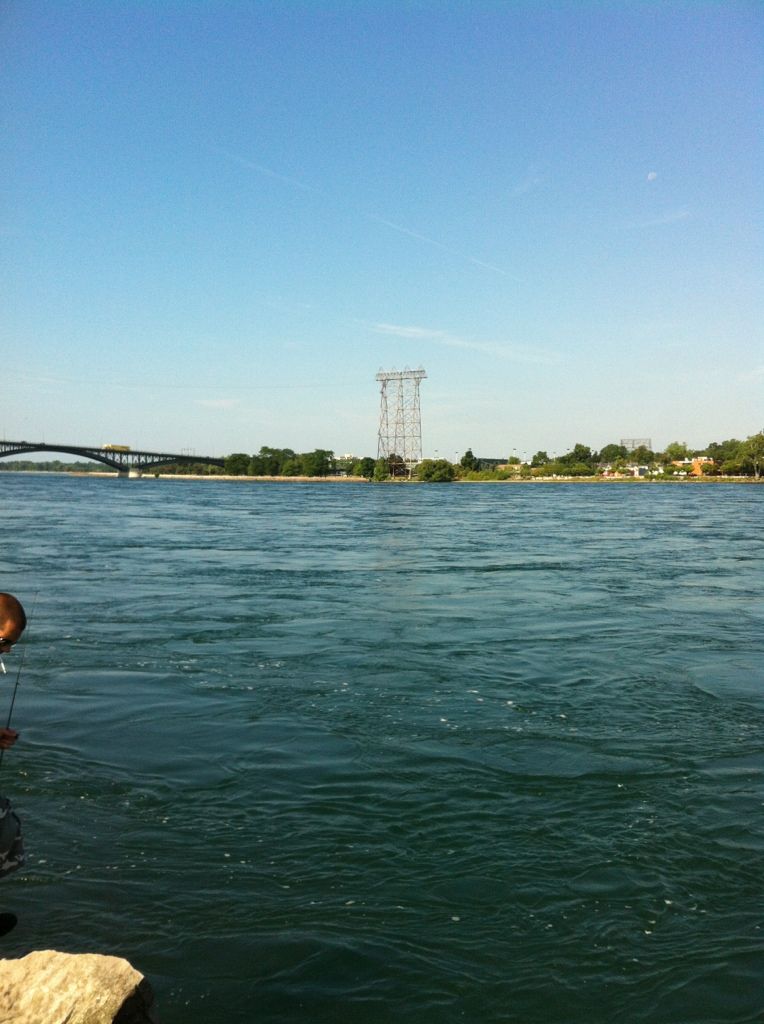 We didn't catch anything right there, just had a few hard hits. We went over to Squaw Island, which is on the Niagara River, and fished the norther tip. Now, this just has a funny story, because anyone that knows me knows I have been after smallmouth bass forever. We live here in a smallmouth mecca, with Lake Erie and the Niagara River being renowned for the smallmouth fishery. However..I cannot seem to land a decent smallie for the life of me! I always manage to catch a tiny little thing, like the size of my finger! I have hooked bigger ones, but they always manage to escape me. But, this day on the Squaw Island tip, I finally caught a smallie bigger than my finger!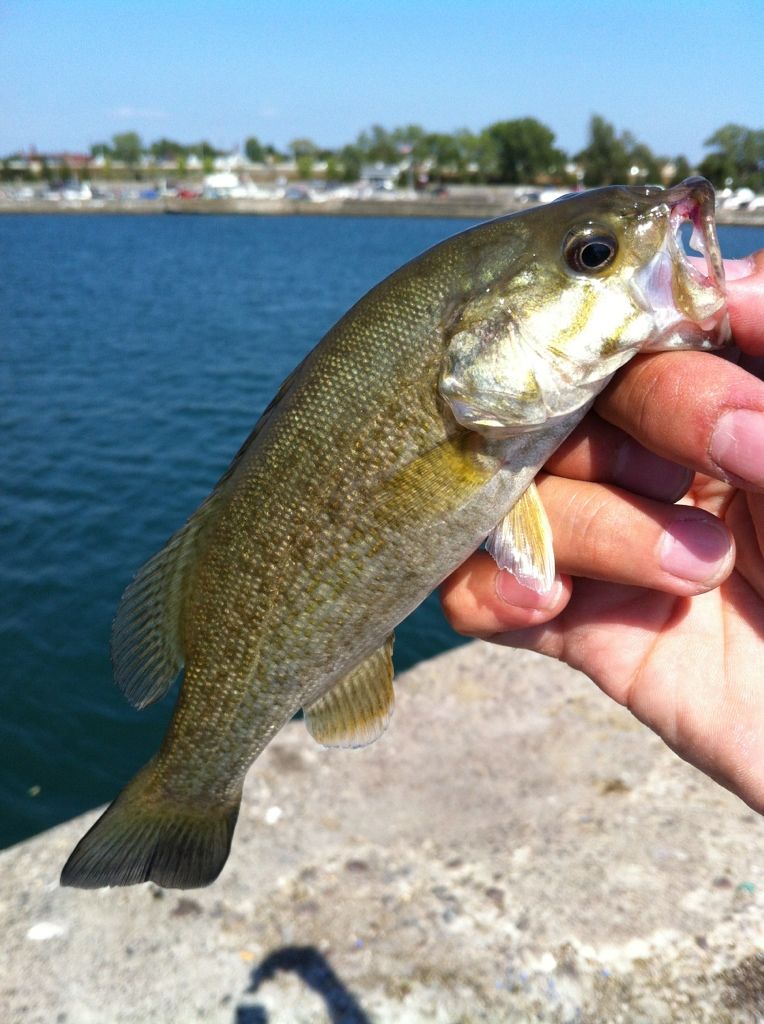 LOL!! Not a big one, but hell..its my first one that actually has a little size ....just not much!! Hahahaha
When the action slowed, we went over to Buckhorn State Park, because Kobe likes to fish there. It is MUCH calmer waters, still being the Niagara River: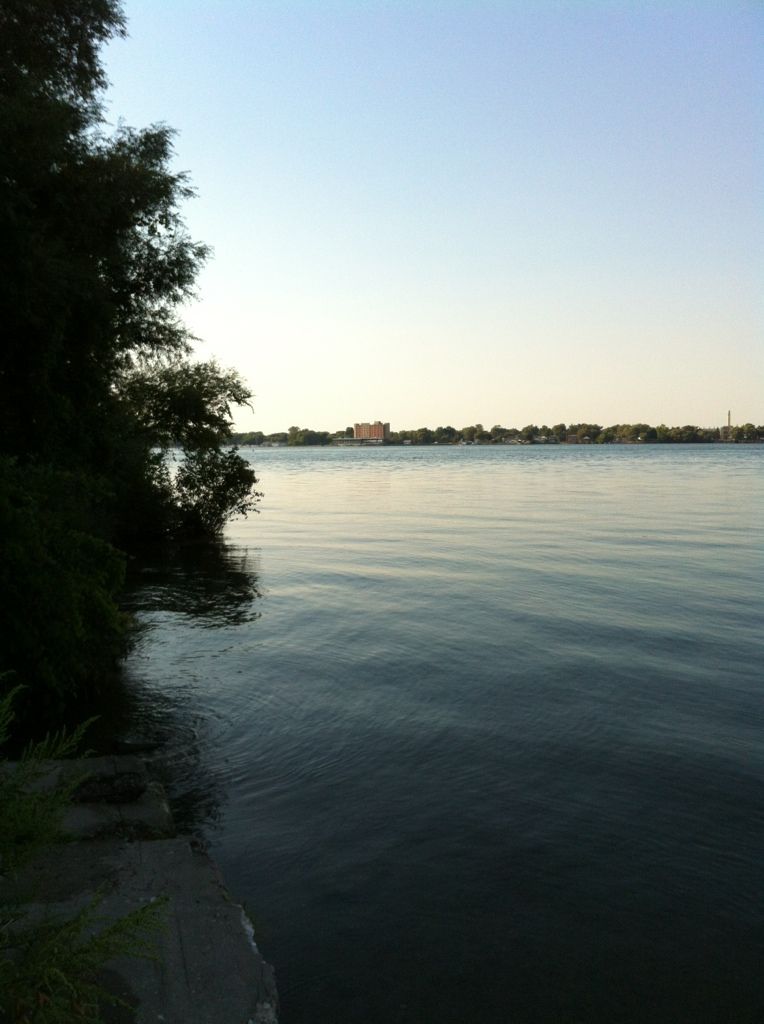 Kobe caught a little brown snake, too: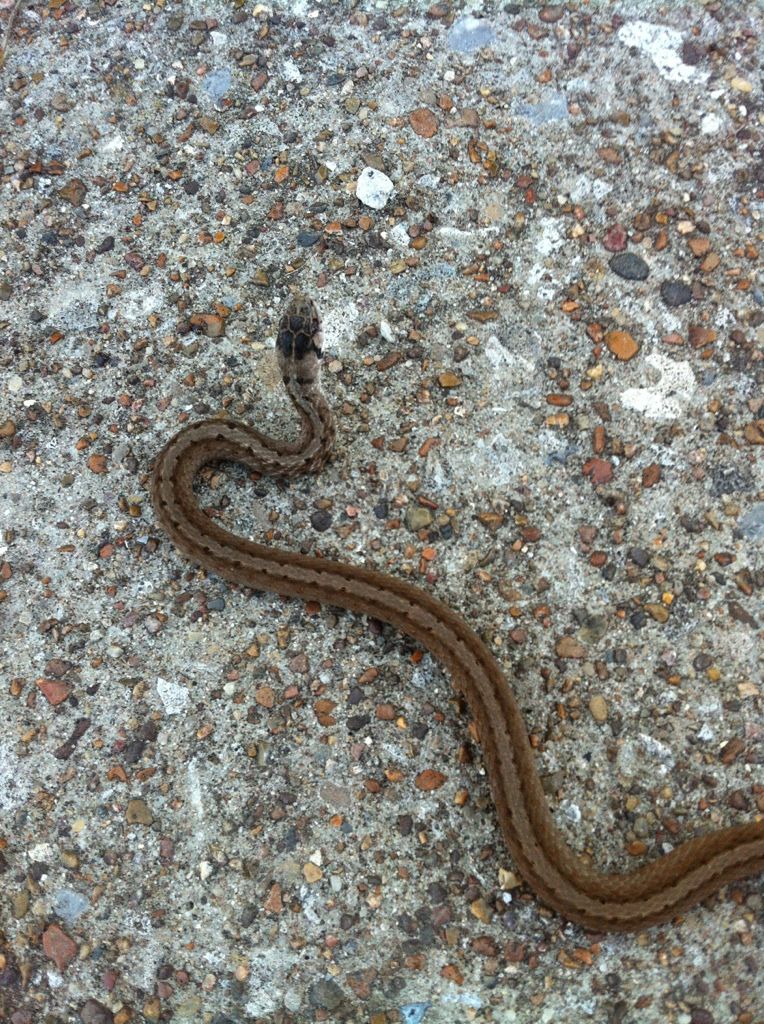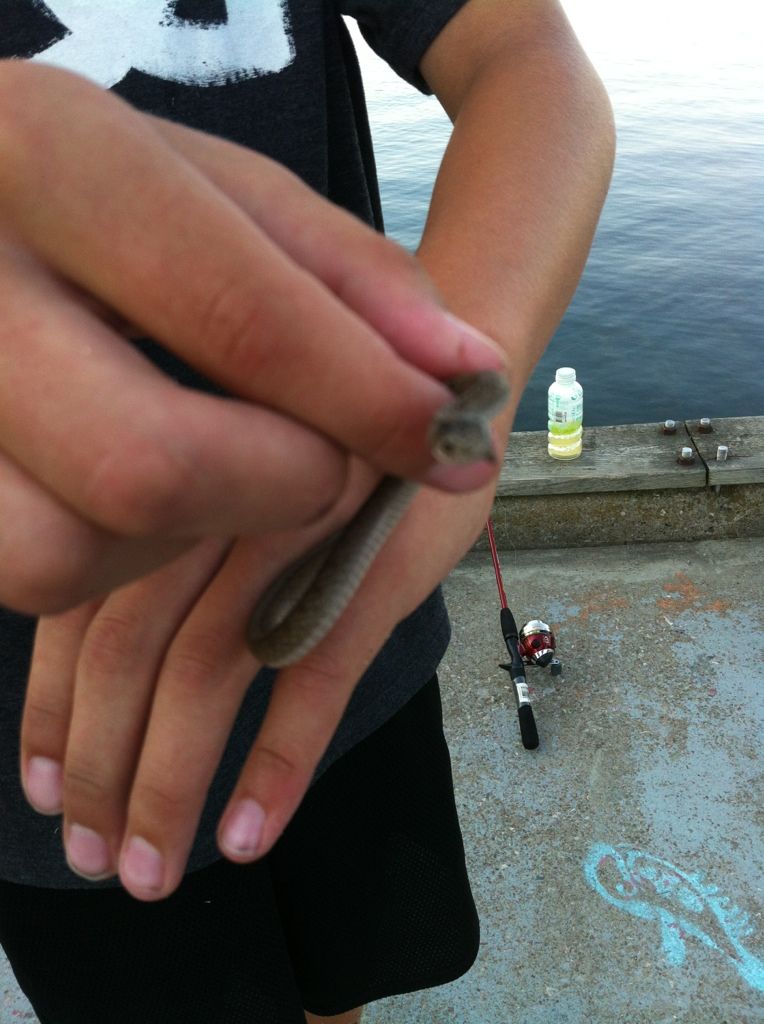 The fishing was slow, as it usually is in middle to late summer. I did manage to catch these two rock bass, though. Although rock bass are small, they do give a decent fight, and these two were also very brightly colored: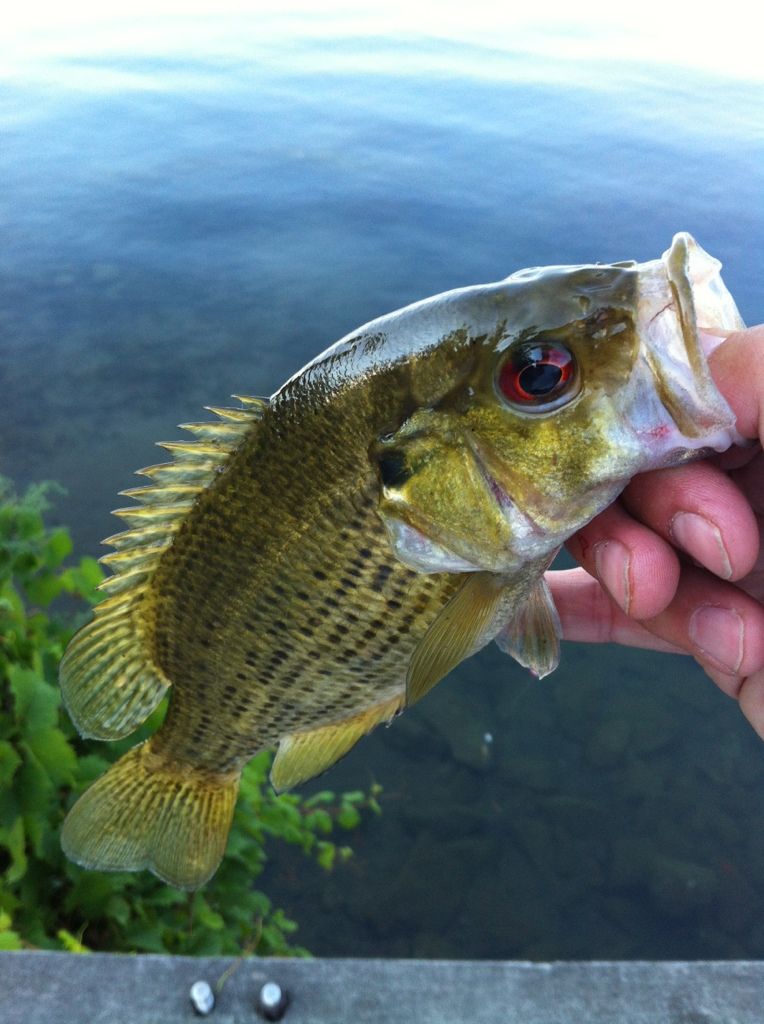 I also recently went to Rushford Lake with my brother and father to do a little night fishing for walleye. We had a great time, although no monsters were caught. We kept a few for the the fryer, because walleye is probably one of the greatest tasting fish on Earth. Walleye have some pretty serious teeth, but I'm happy to report that none of us got bitten, only one close call. The pics were a little hard to take being at night and all, and damn it got cold!! LOL Anyway, here ya go:
First walleye of the night: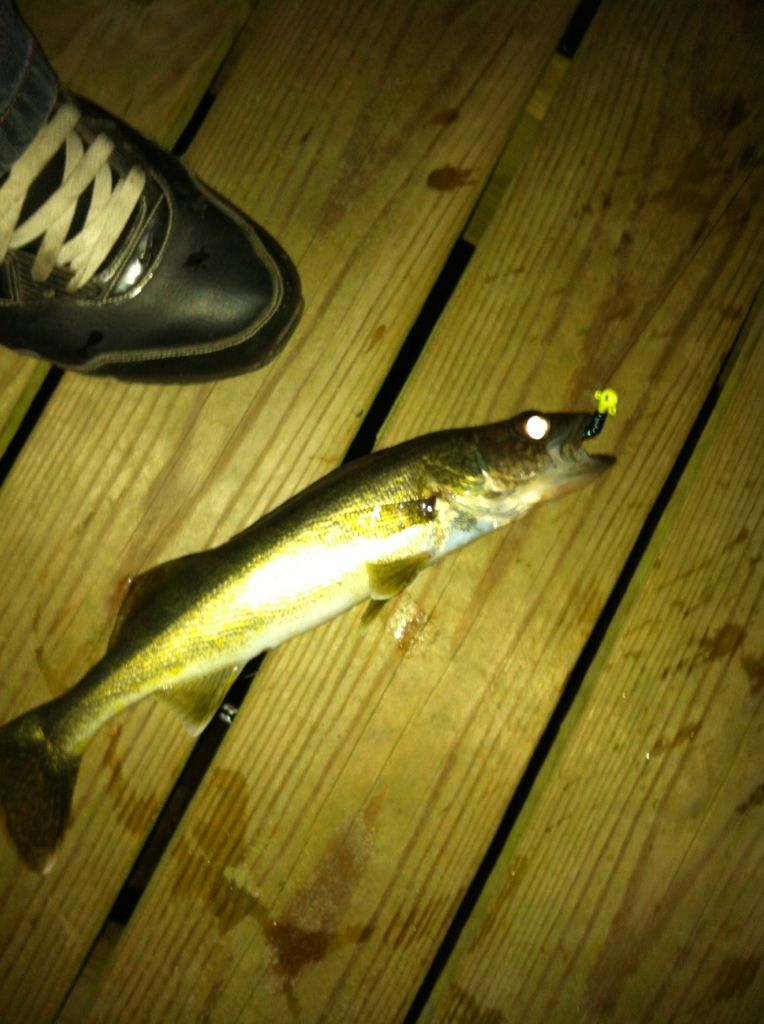 When fishing for walleye or smallmouth bass, you will almost always encounter hordes of rock bass. This one here was probably one of the biggest rock bass I've ever caught. Fat little bastard! :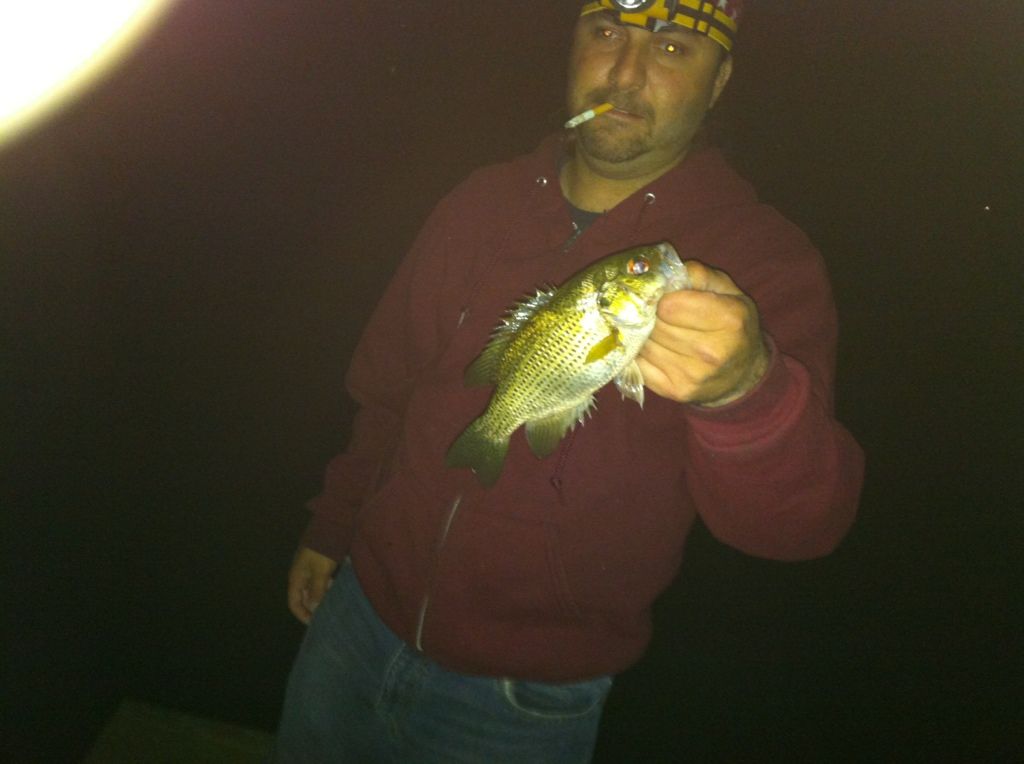 Decent size walleye here. This guy sticks out because he hit my twister tail so damn hard I thought it may have been a northern pike! He fought like a champ, too: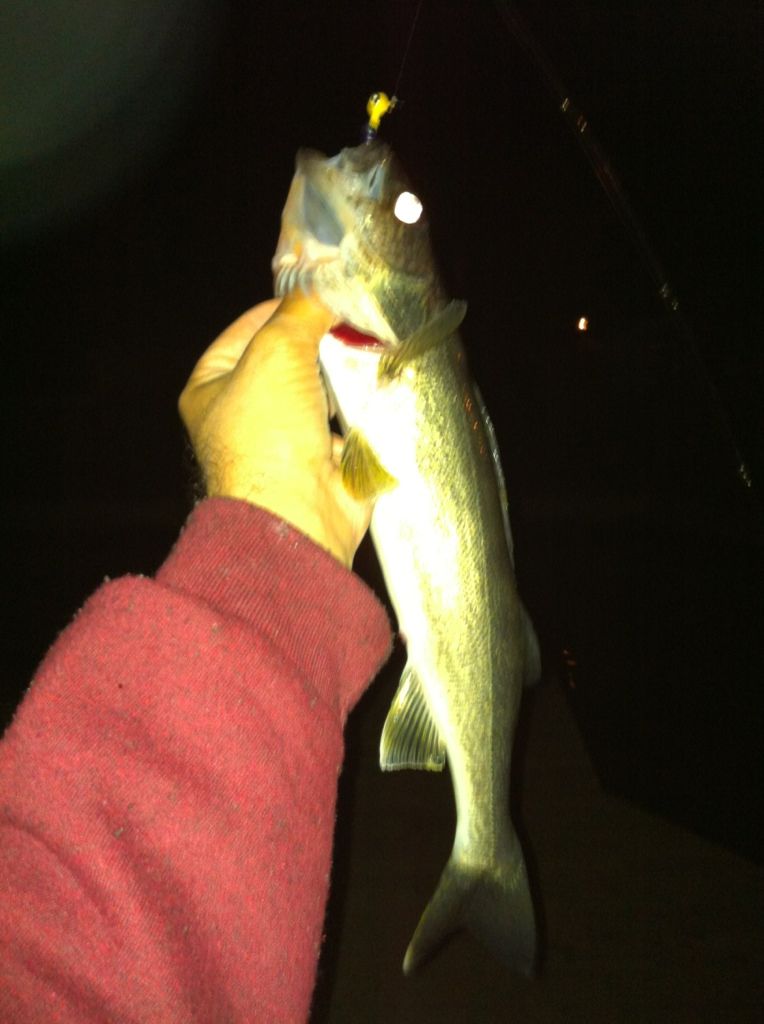 Our night's catch. All in all we caught 17 walleye (keeping 7) and 6 rock bass. Not a bad night if I say so myself!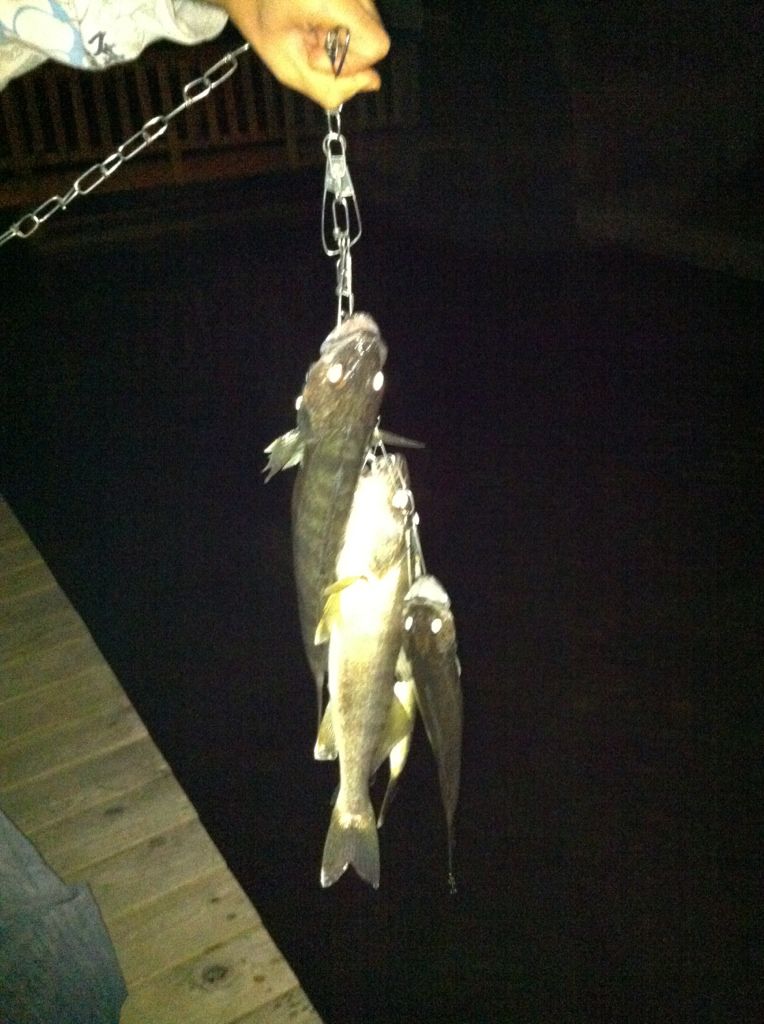 Of course, the dirty part LOL! As my brother was filleting them, he brushed a finger across one of the teeth, giving him a little cut. Lucky it was dead, or it would have bitten him.
Finally, almost dinner time!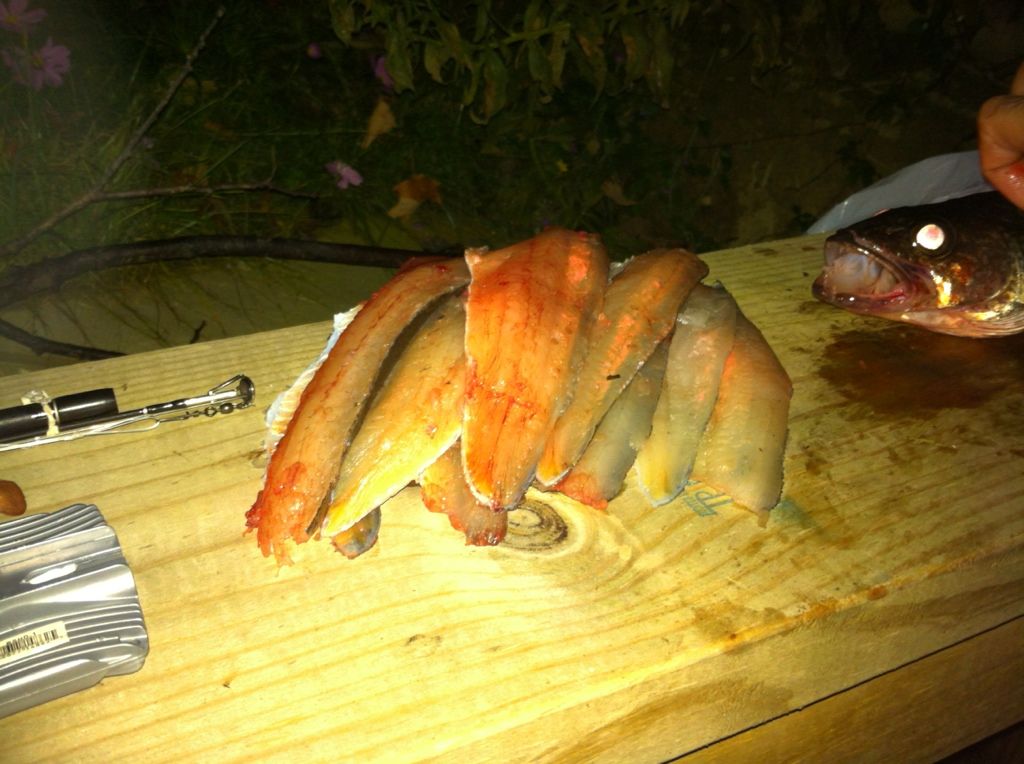 Thats about it so far. I have a few more trips lined up between now and December before things get too cold, as I do not like ice fishing. I do hope if any of you guys (:D) have any fishing pics to contribute from this year, please feel free to do so. I do hope for a few more nice catches this year, and I have to say this has been one of the best years of fishing I have ever done. Glad I can share it with you guys!
-------------------------------------------------------------------
October 25, 2012: Well, got back this morning from Burt, NY on Eighteen Mile Creek, near Lake Ontario. Went with my father to fish for salmon and trout during their spawning runs. As this is probably one of the last trips of the year, we hoped to hook into at least one King Salmon since the big ones are now around. At the banks, it is still amazing to see 50lb salmon jump clear out of the water to grab passing flies.
We were drifting with egg sacs, since neither of us fly fish. Anyway, I did hook up with our only fish of the morning, a nice 19" rainbow trout, which also happens to be my largest rainbow to date (I have caught bigger steelhead, but this one is considered a rainbow trout due to all of its coloring still)
Of course, she had a date with our plates LOL.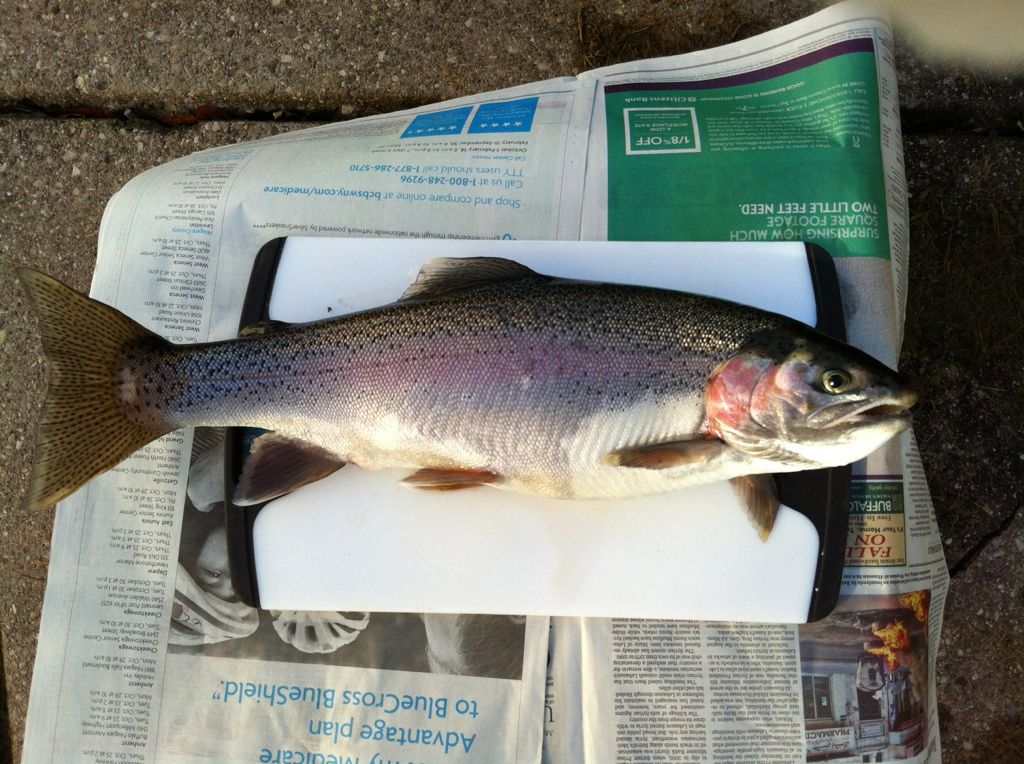 She was also quite pregnant with eggs, which I cut the membrane out and kept both sides of eggs in a bag. Gotta cure em within a day or so unless I go fishing for them again. Nothing like fresh skein for trout and salmon!
I also managed to get some nice pics of the beautiful fall scenery, made even better by a foggy but sunny morning.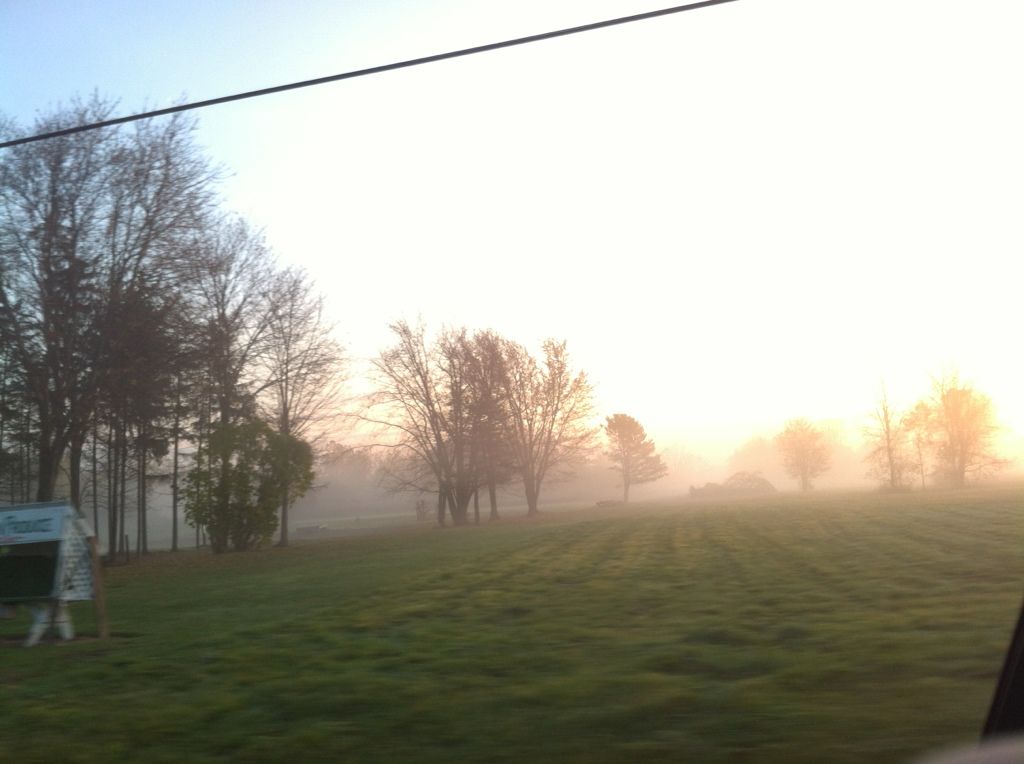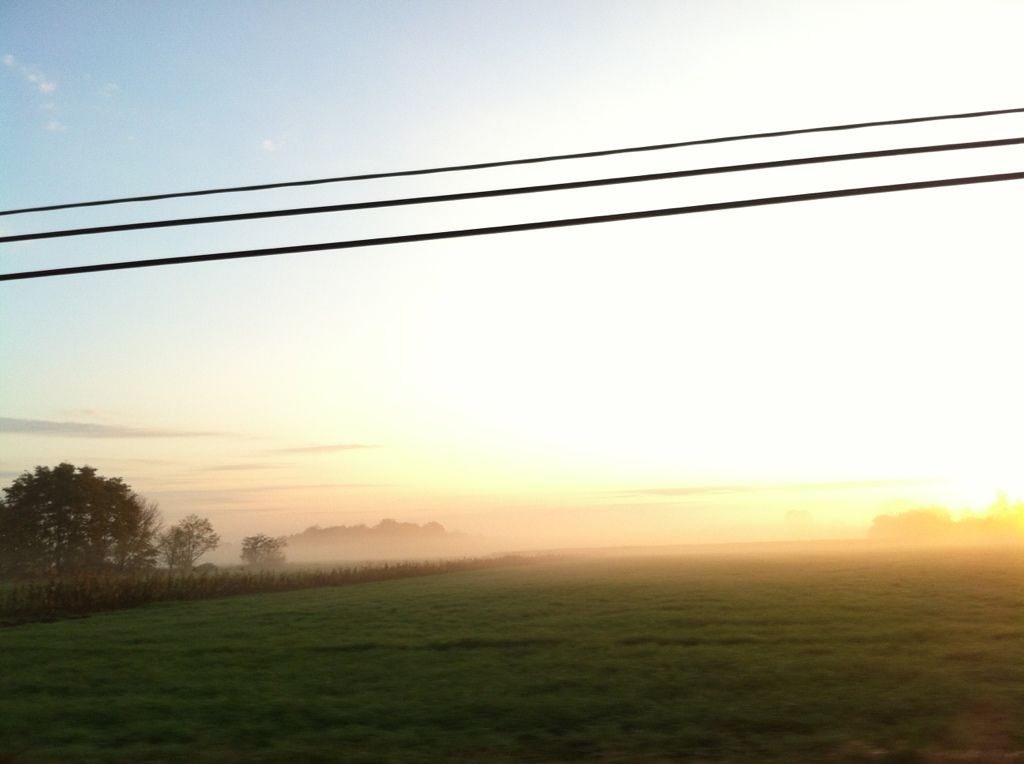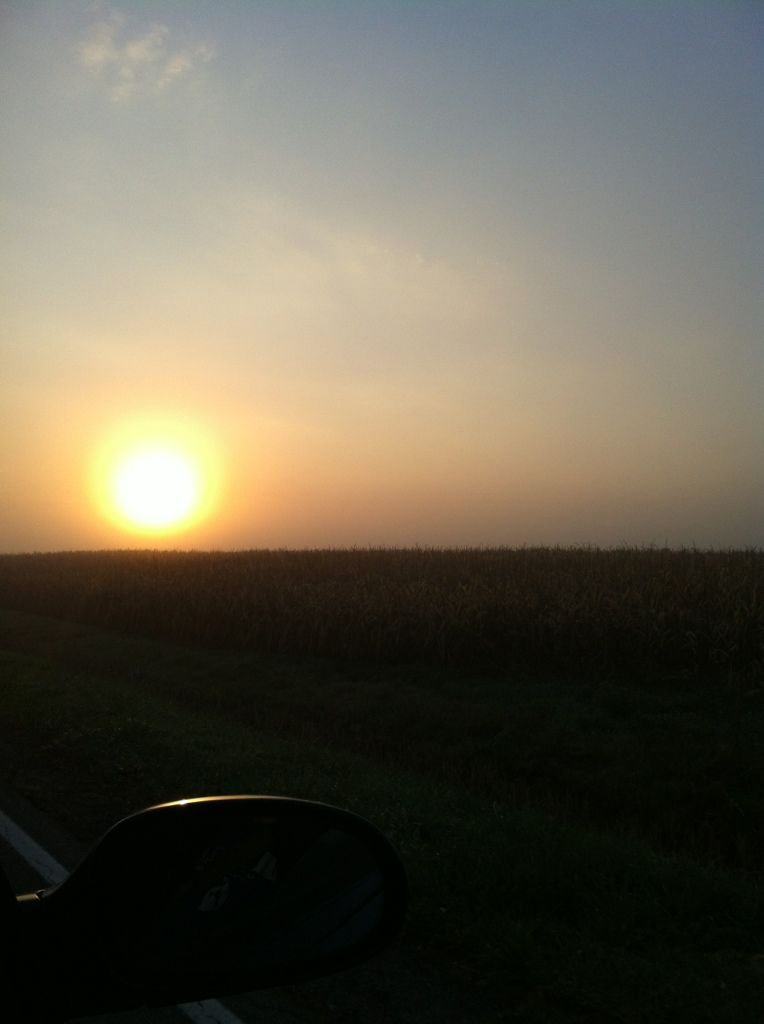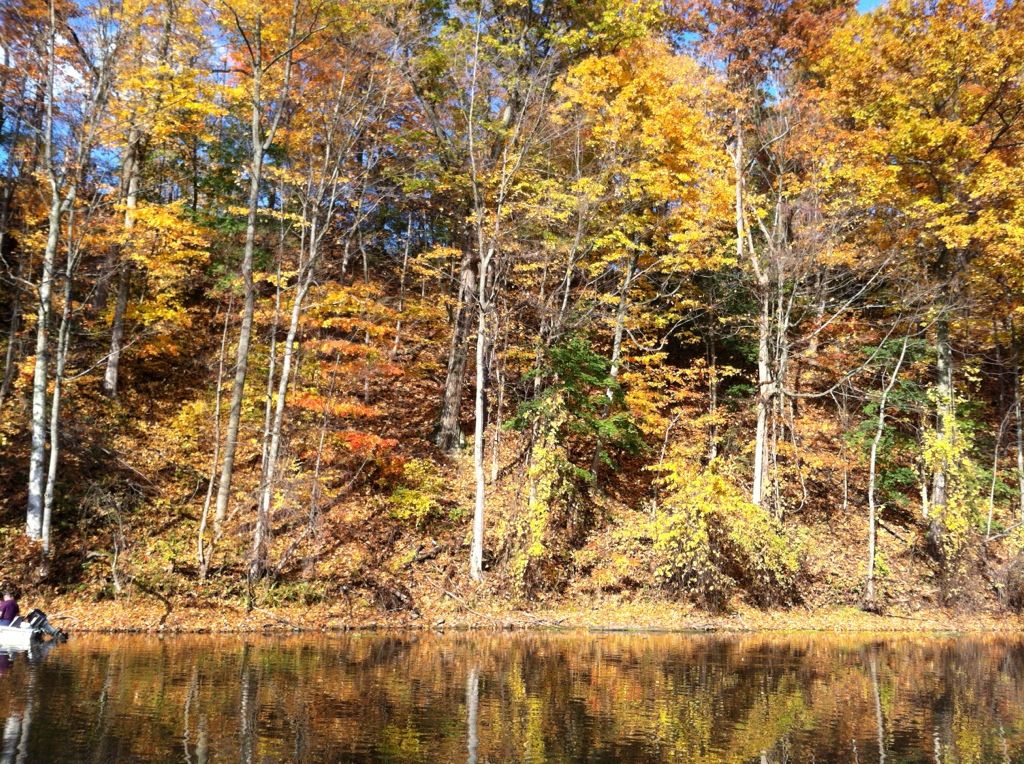 The gauntlet of fisherman in the faster water. I stay clear of them, not because they all suck, but rather I do not like fishing elbow to elbow with people, plus I fish to enjoy myself not deal with attitudes. They were catching some nice salmon though: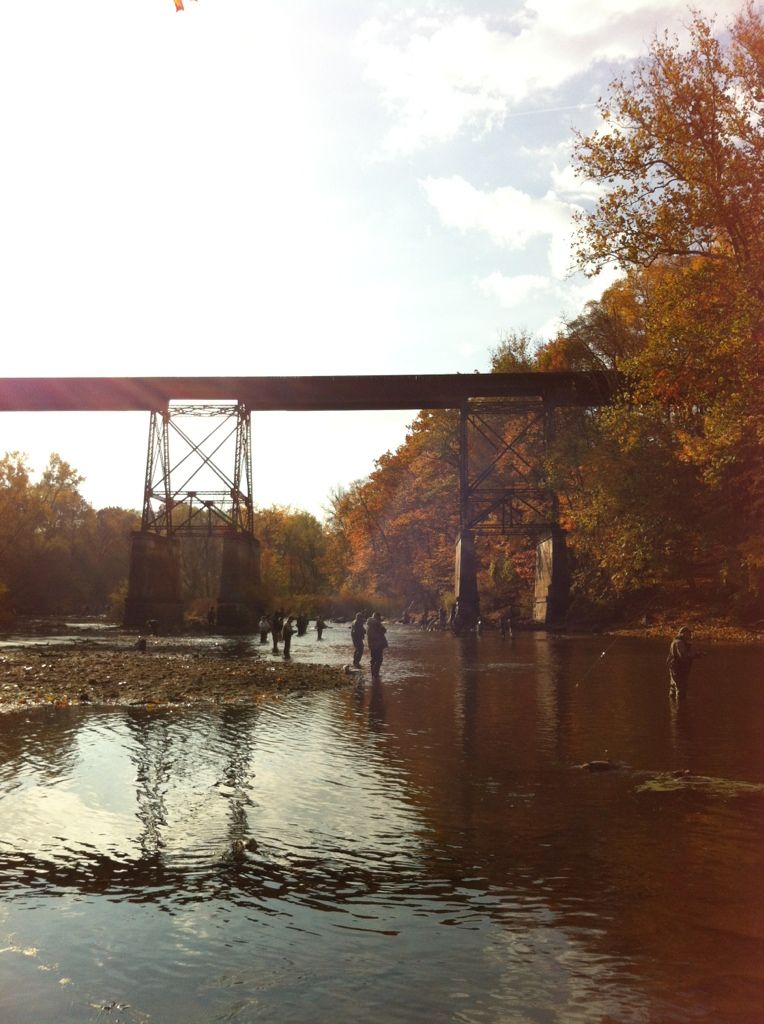 Finally, a couple of spawned out King Salmon. End of the line for these ladies.
Their teeth this time of year are unreal:
That's all I got for now, and I hope we have at least one more fishing trip to take this year before it gets too cold. I really wish my father would of caught one today though. Would be fun for me to see him wrestle a big king salmon in the low water. He thought he had a battle with one being on a boat, he has no idea how different and much stronger Kings are at this time of year and in low water!!
--------------------------------------------------------------------------------------------------
November 18, 2012: Kind of a surprise update! While everyone is out hunting (our shotgun deer hunting season started yesterday), of course I'm out fishing LOL! Although the weather is a bit cold and the days are shorter, this is actually one of the best times to fish since most species are really jacked up and feeding heavily for the upcoming winter months. Couple that with the salmon spawn and the trout run, and its a very exciting time of year to fish, that is if you can brave the cold.
Anyway, was out in Great Valley today helping my father fix a few pipes in the bathroom before it gets too cold out to do so. We got done early, so I figured I'd grab my pole and head in the back to the creek. Figured what the hell, I had about an hour of daylight left, no harm in seeing if I could pull a couple brook trout or rainbow trout from the creek. A little overkill though, as my spinning outfit was spooled with 30lb test Spiderwire braided line with an 8lb test fluorocarbon leader...basically rigged for salmon. Oh well.
Put on a 'crawler, tossed into the deep pool in the creek right in front of a small log, and BANG!! Hooked up with a nice brook trout. I was surprised because this was actually one of the biggest brookies I have pulled from the creek in all my years of going out to Great Valley!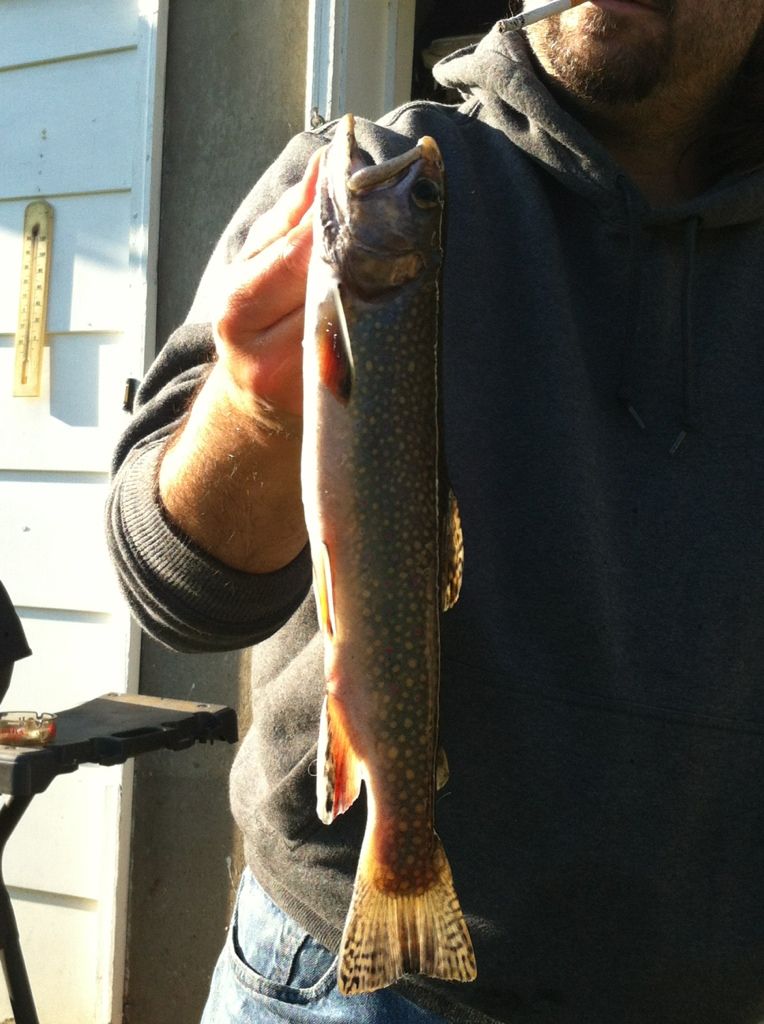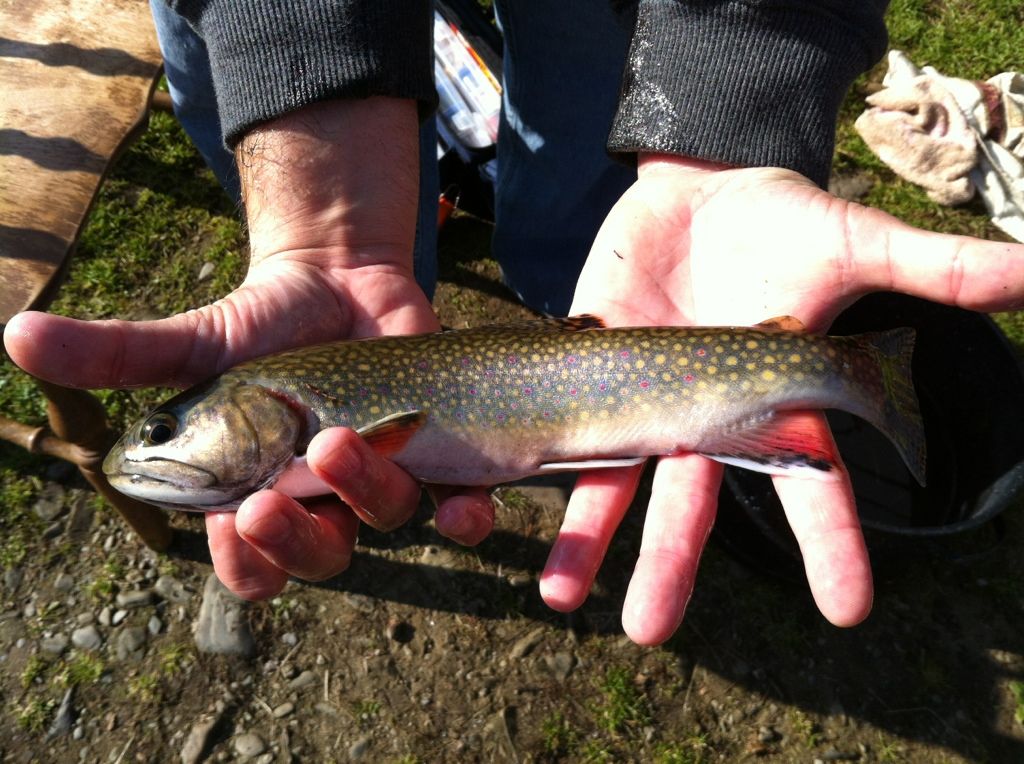 Skinny little guy for his size. He was 13" (roughly). Only fish I had time to catch, but provided a memory for sure!!
As much as I wanted to let him go to get bigger, unfortunately he was mortally hooked deep and would have died slowly in the creek, so after these pics I broke his neck and filleted him for my uncle. Needless to say, especially with a fire going, my uncle had a really good dinner!