Hey everyone,
Just thought I'd share a whole slew of pics from this past 2012 season, as I may not be going out again before January 1, 2013. These are reposts from theHunter forum, and since they are all posted at different times and dates I will add the dates in each. Also, if the pics resolutions are too high, someone let me know and I will use thumbnail view. So without further adieu, I offer you guys a view into my fishing life this year
:
May 15, 2012: My buddy Mike and I recently took his 12 yr old son Colby fishing over at Buckhorn State Park here in Grand Island, NY. It was a perfect day to fish, 70 degrees, a little sun, a little clouds, tho the water was a little bit murky. We had some fun, started out slow but then picked up. Caught a few nice fish (even a shocker!), but it was mostly about getting Colby out there and keepin him interested in the outdoors. As luck would have it, and even tho he is still a bit afraid of actually holding the fish LOL, he managed to catch the big one of the day! Here are some pics for ya:
My little largemouth bass. Prolly only about a lb. or 2, but he hit nice and solid and I got a perfect hookset: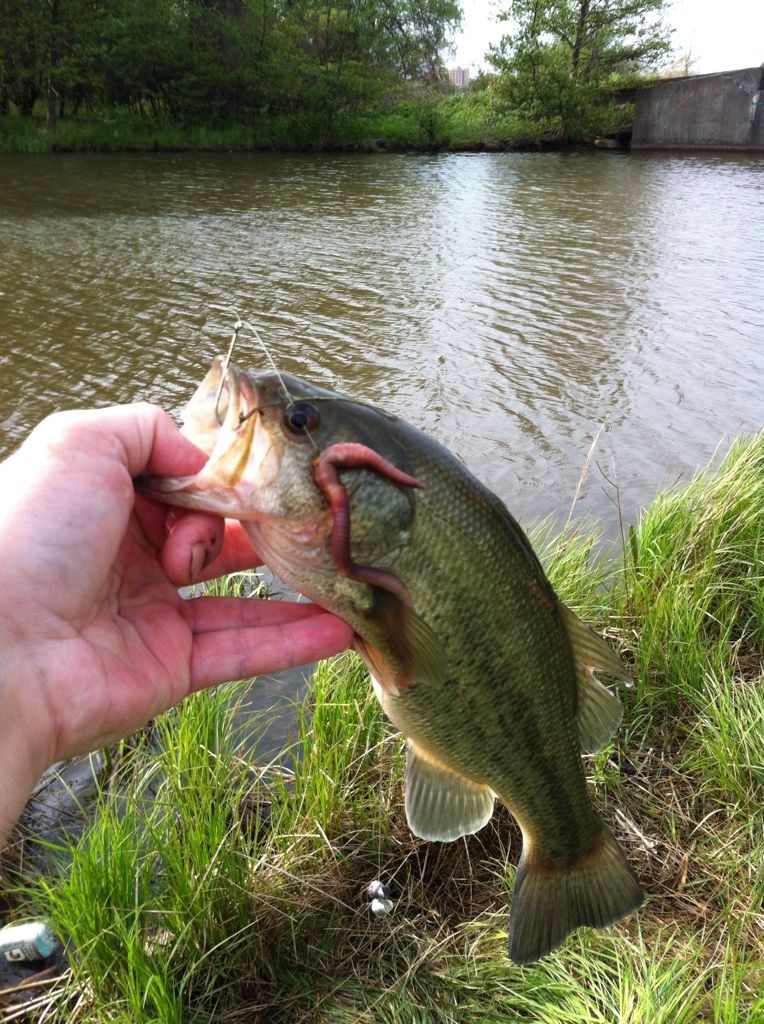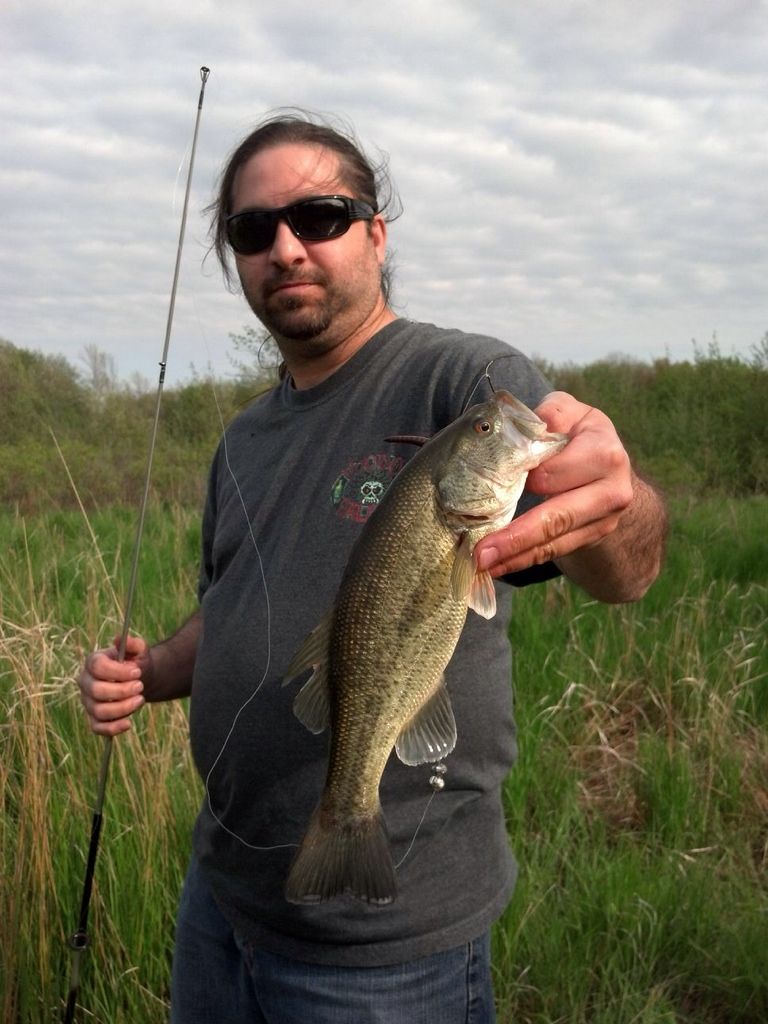 Colby's big bass. This guy went about 3 lbs, and hit with so much ferocity that Colby thought he needed a net. Luckily, I was standing nearby, dropped my rod and helped him land the fish. In the pic, Mike and I were trying to coax him to hold his catch, but he wouldn't do it. Ahhh, kids...LOL. So, that is my hand in the pic holding the bass. Great job Colby!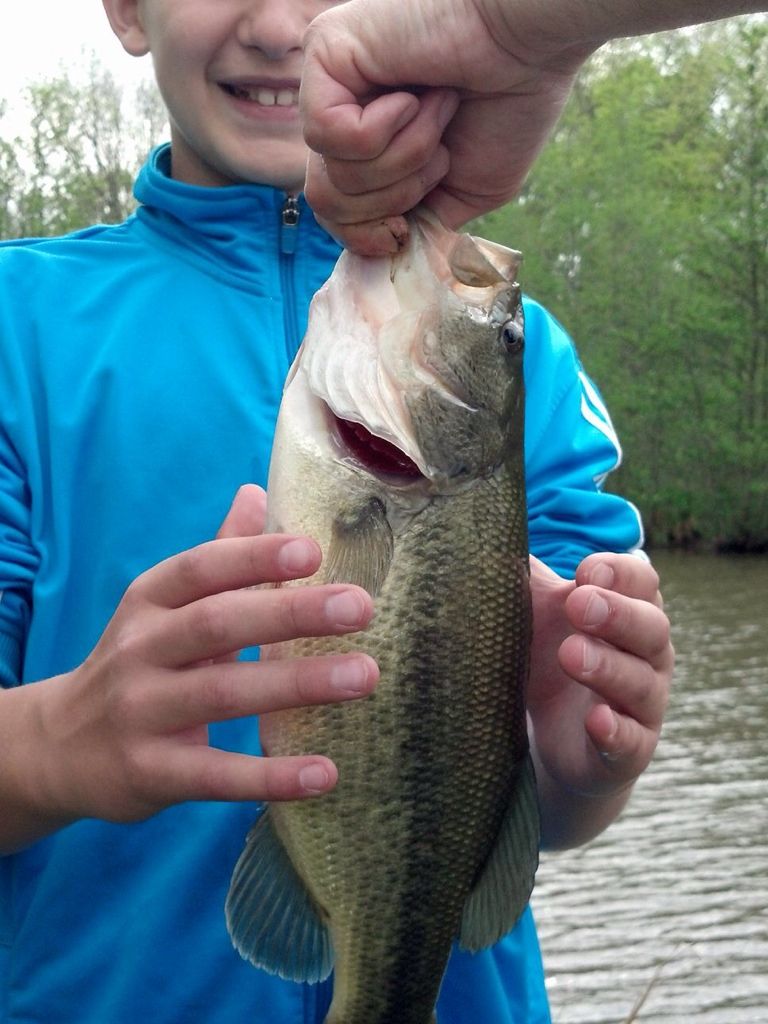 This is the one that was a shocker. Mike caught this one and we were both like "WTF?" When it first hit Mike thought he maybe had a small carp on, and I even thought that when I seen it in the water. Until I saw the red fins. After careful speculating, it was determined to be a rudd, which niether of us had ever caught before: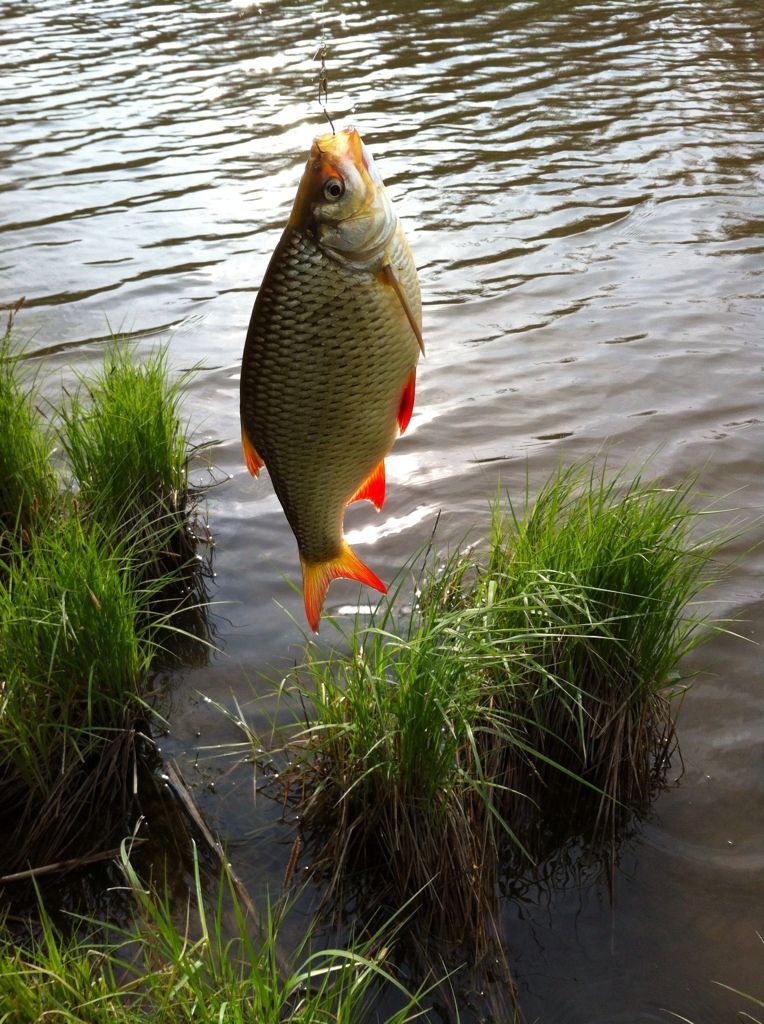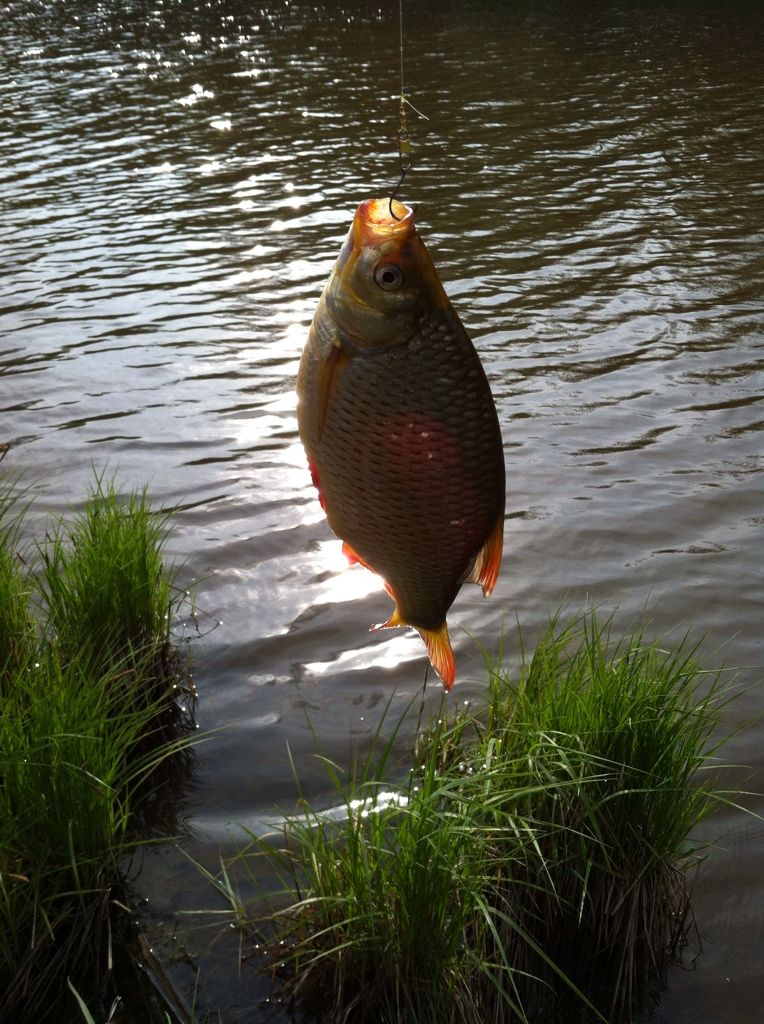 Mike with his rudd. See how big this damn thing was???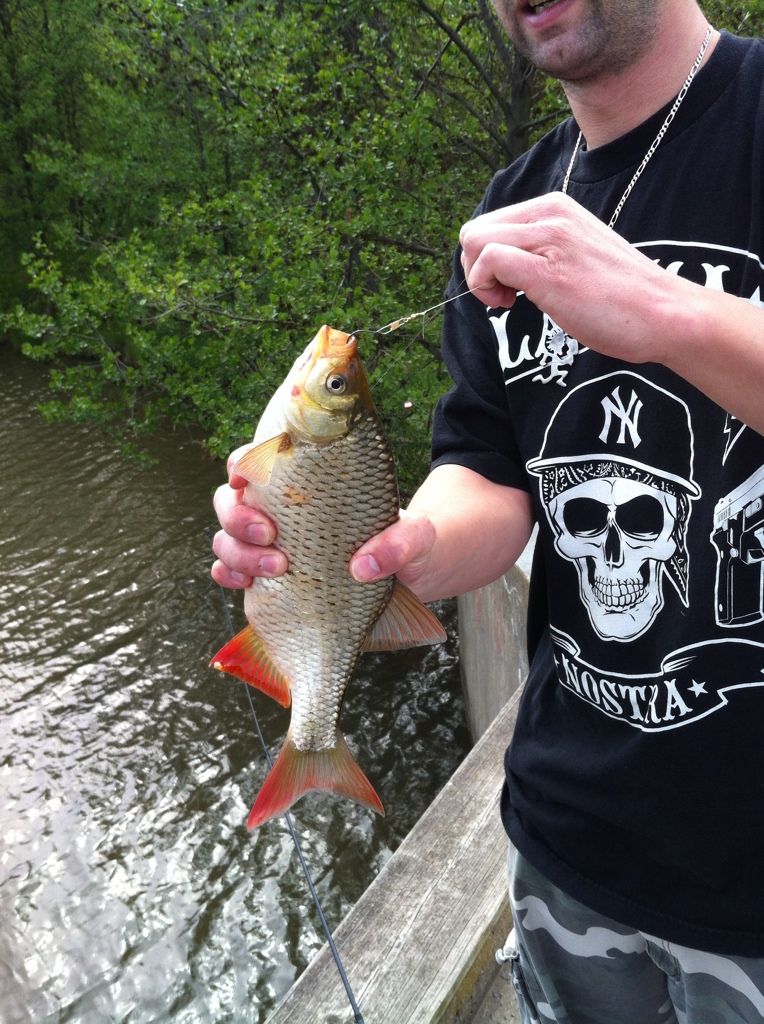 We caught quite a few more fish, some small largemouths, some sunfish and rock bass, but overall it was just a nice relaxing day. Colby has even expressed his desire to me about how he'd like to try hunting some time, so Mike and I are gonna talk about it and maybe set it up around hunting season. Always good to get a kid away from the computers and video games and outside to enjoy this world that we live in.
Now I also couldn't resist taking this picture, but this is of the path we take to our fishing spot on Buckhorn. Tell me it doesn't scream "Whitehart Island" LOL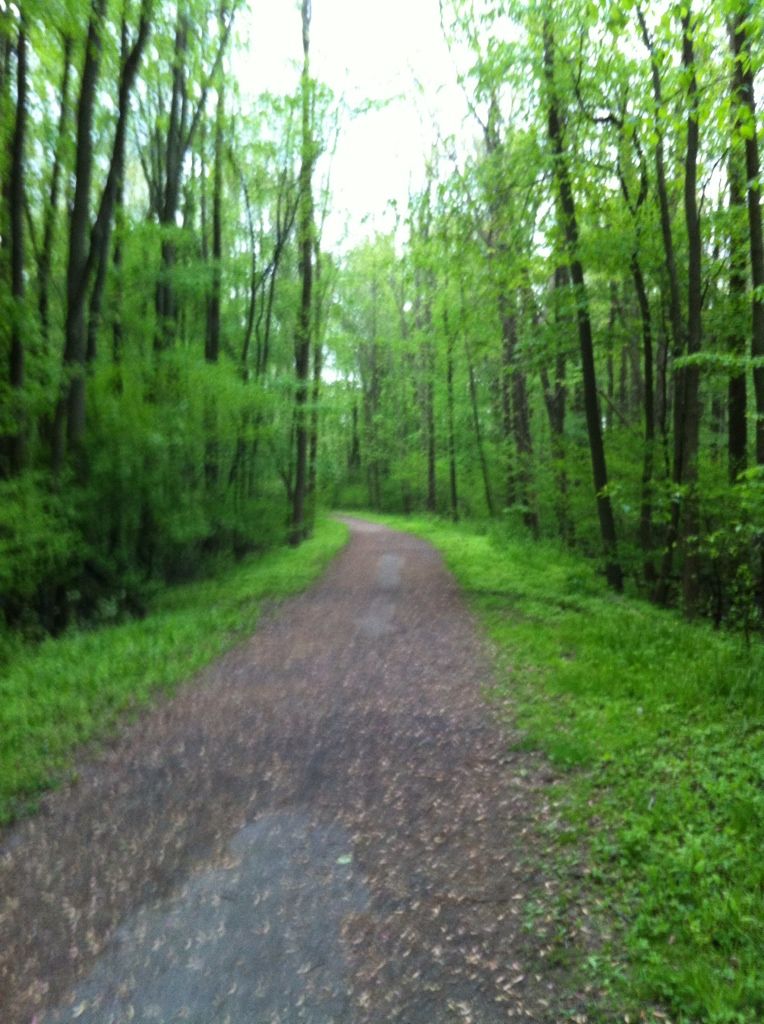 ---------------------------------------------------------------------------------------------
May 18, 2012: Another one today, and a much bigger one! This bass I caught today at Ellicott Creek. It was kind of cool because when we got there, we saw a bunch of big bass chasing sunfish. They did not go for my worm, so I changed up and went to a bluegill-patterned crankbait. Still, no dice. After watching them for a few minutes, I tied a small hook on and put a piece of worm on it. It took a little bit and a few misses, but I caught a small sunfish. Changed hooks again, this time to a bigger hook, hooked the sunfish through the lips and cast out. Within 5 minutes (and one narrow miss) this big boy hit with some serious force! Glad my idea to use a live sunny worked!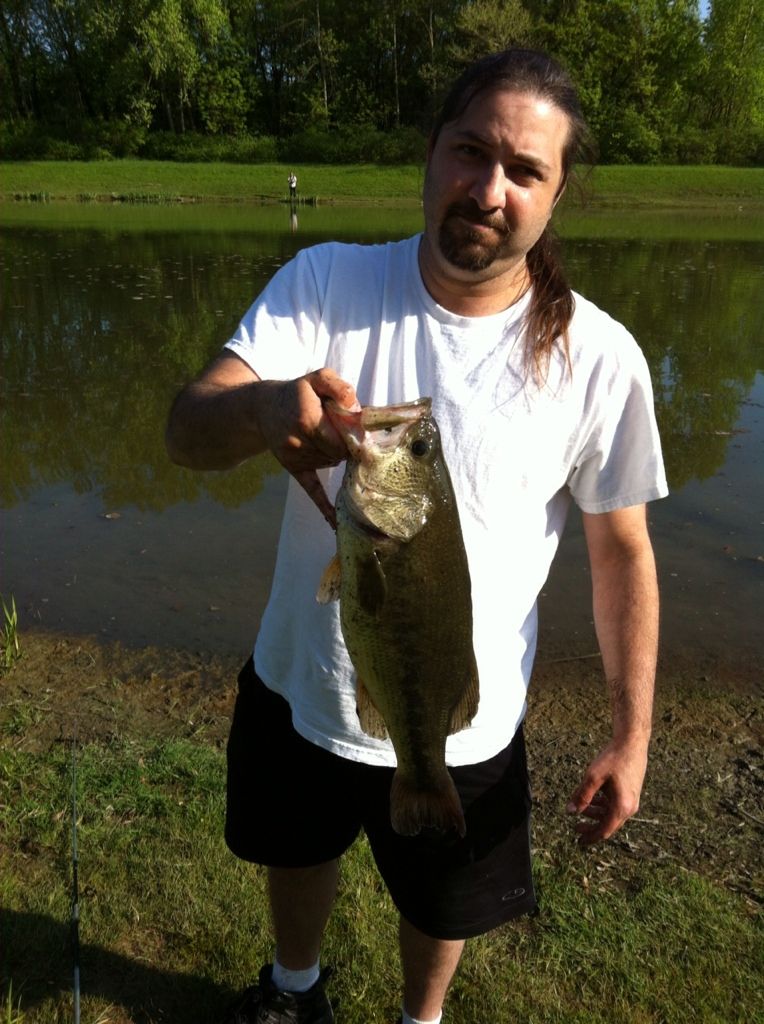 Let's see what my trip to Franklinville, NY brings tomorrow (Saturday). Last time I was there, I caught a huge 9 lb bass!
---------------------------------------------------------------------------------------------
May 19, 2012: Hey guys...
Well, back from my trip to Franklinville today and I gotta tell ya...I'm TIRED. Today was the day to battle beasts it seems, because I caught a LOT of BIG bass. I didn't break my personal best of 9 lbs, but then again I also didn't have a scale with me. I really wish I did, because this behemoth largemouth was just HUGE: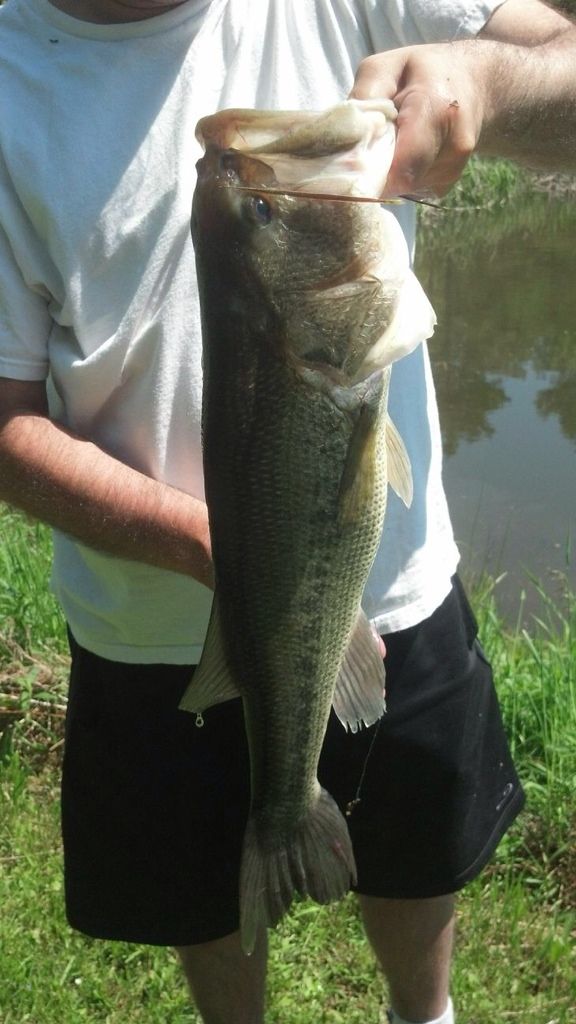 Looked like he had won a previous fight with someone else too, as he had a swivel and piece of line hanging out of his arse!! One thing I know for sure..this guy was very easily 7-8 lbs. HELL of a fight, too!
Just a couple more pics of the different large bass I caught today: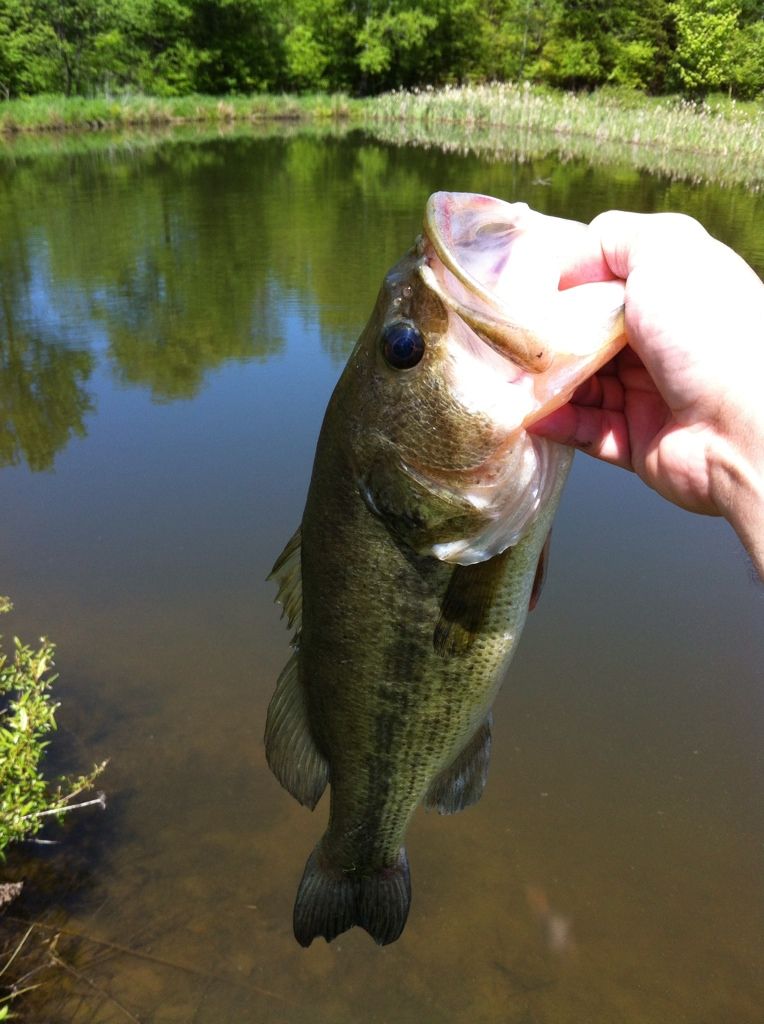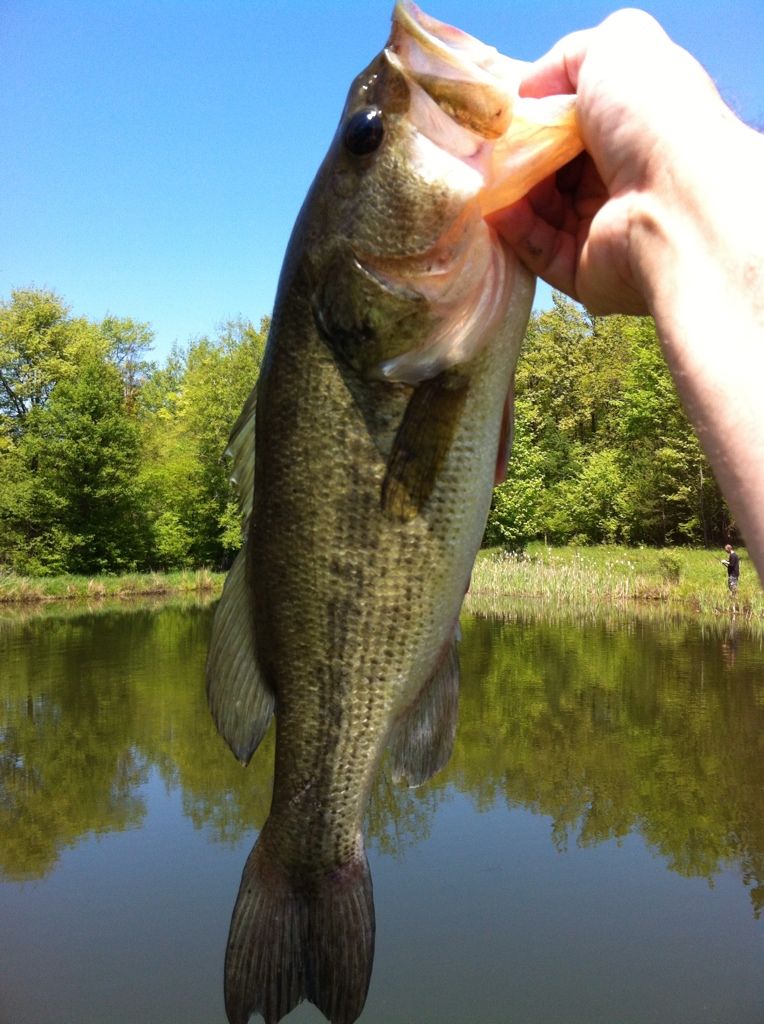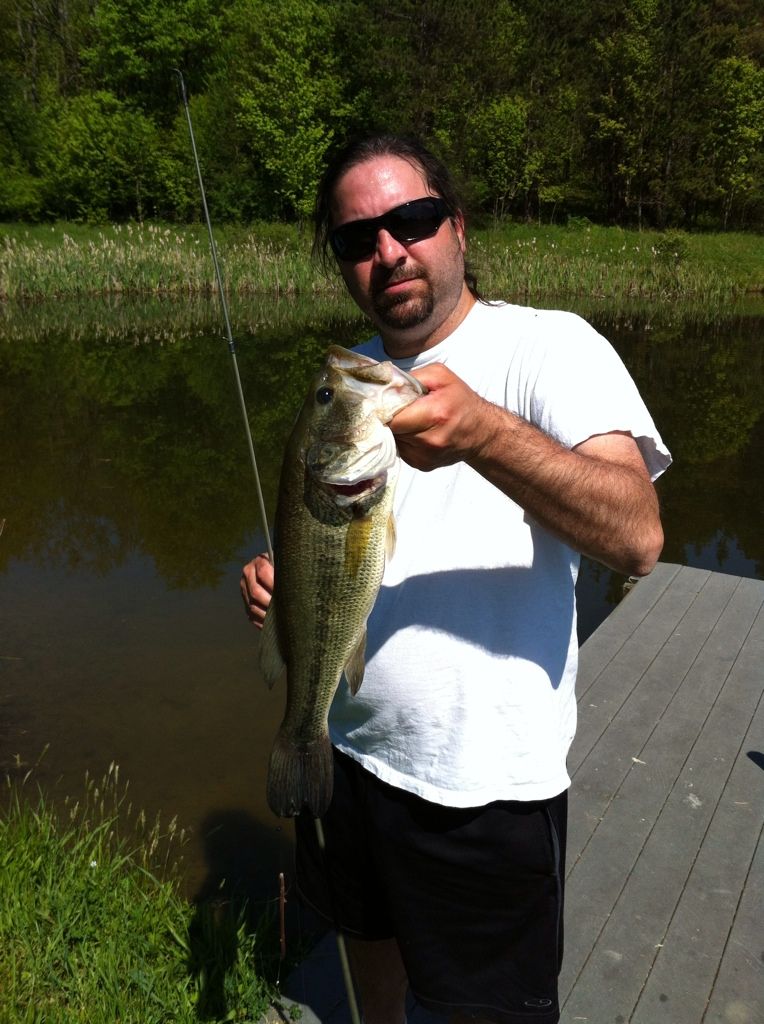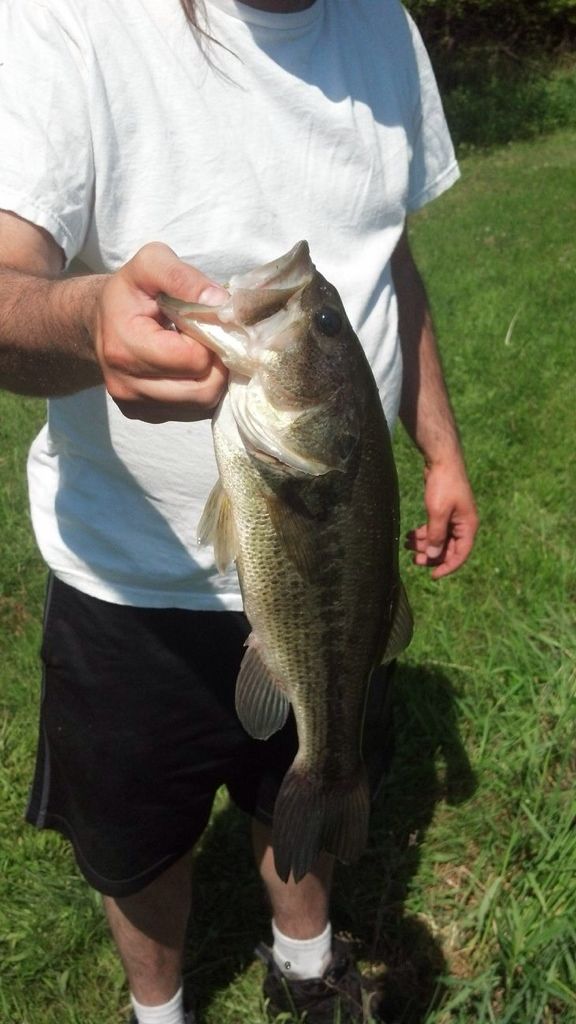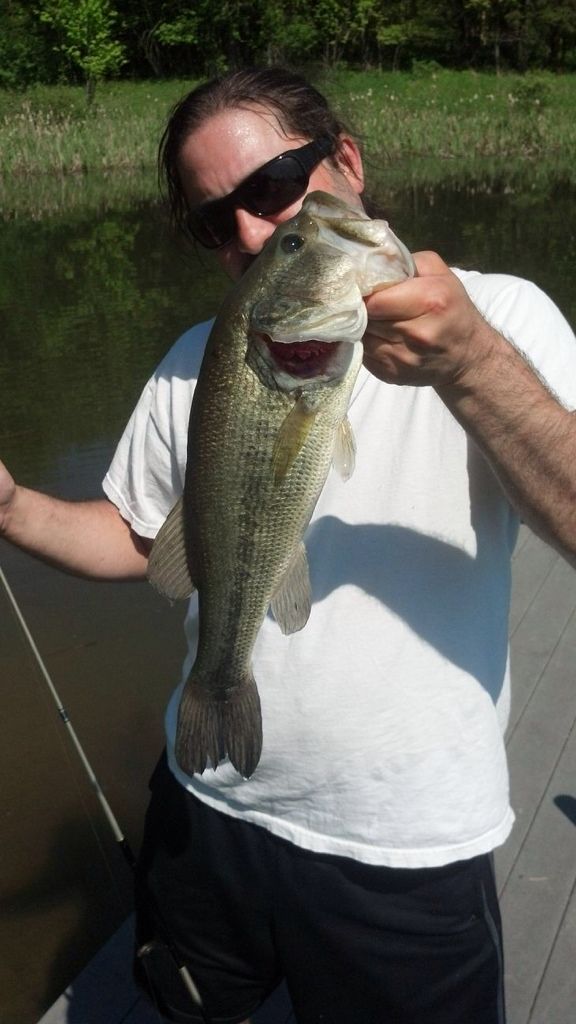 Fight picture my friend Mike took. Note the big nightcrawler used (Yes Henry...our 'crawlers get big around these parts! Big bait for big fish!)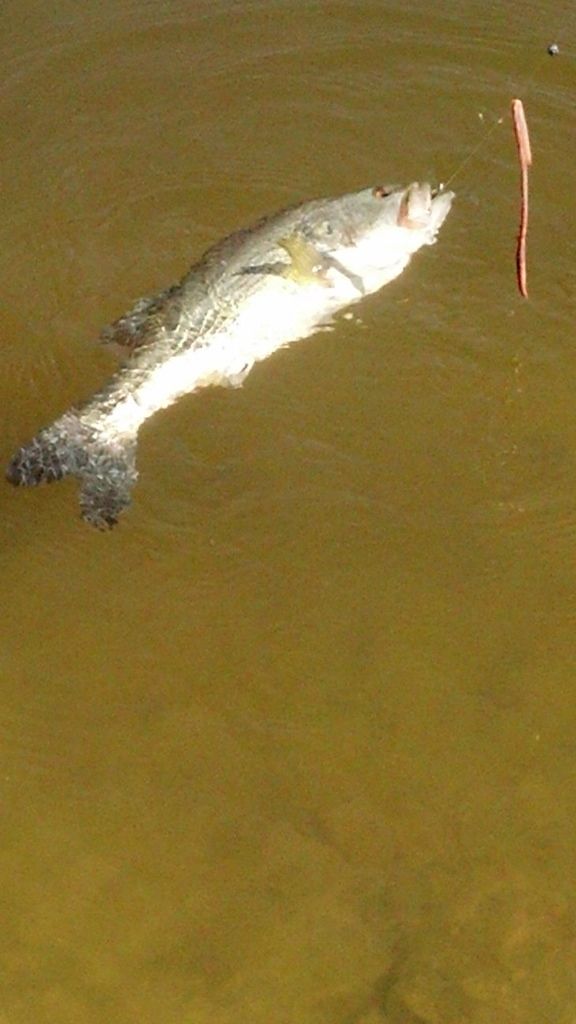 Finally, a couple decent bluegills...and no, these ones were not used as bait LOL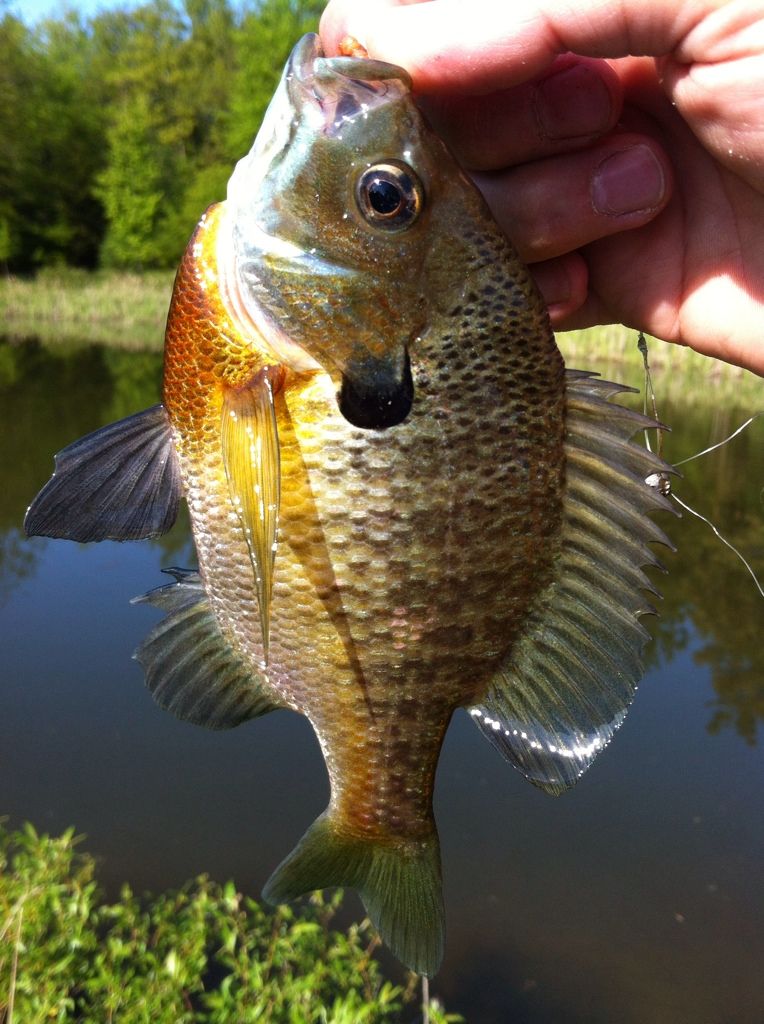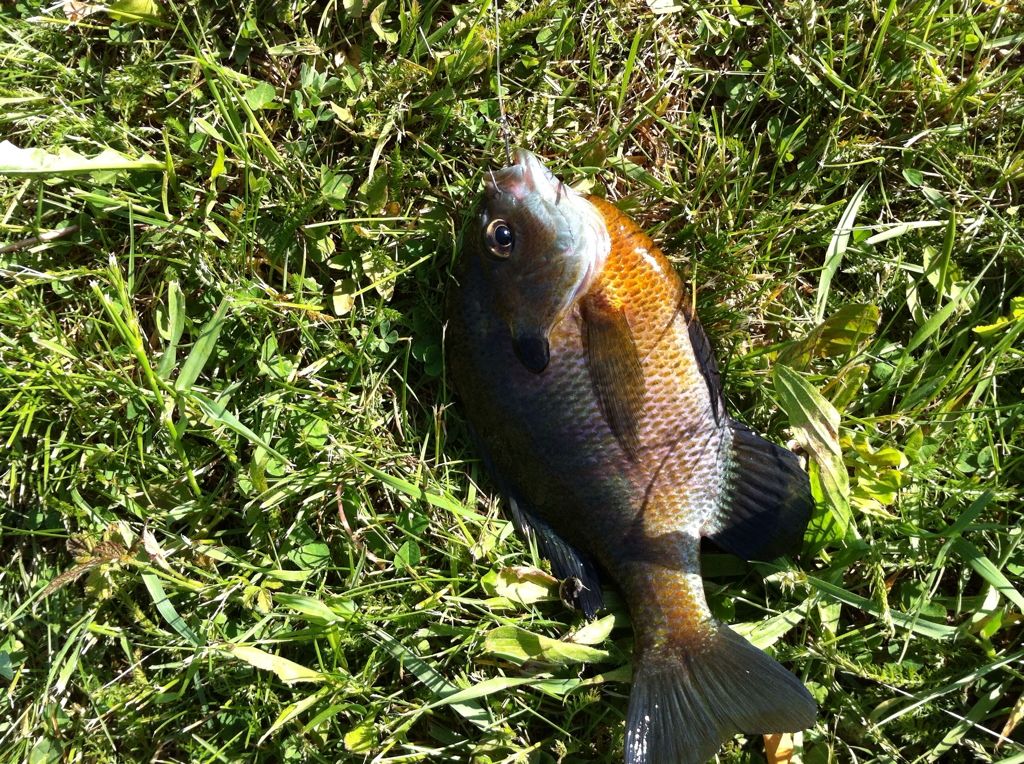 Ok, now that I am sunburned and whipped to hell courtesy of these fish, I am all set to do it again tomorrow morning (Sunday). Goin with my brother on the kayaks to do some more. Hopefully, I'll have some more...but this was a day to remember...
----------------------------------------------------------------------------------------------------------------
June 24, 2012: Hey guys,
Helluva day today! As some of you might remember, my brother had won a raffle for a free fishing trip on Lake Ontario when we went to the Outdoors Sports Expo in March. Well, today was the day! We decided that besides myself and my brother, that Dad and cousin Jimmy would come too. We met up with our charter captain, Captain Roger from Papa Smurf Charters, got on the boat, and headed out on Lake Ontario for the morning. Here is a couple pictures from the lake:
Pier at Wilson Harbor, Lake Ontario sunrise: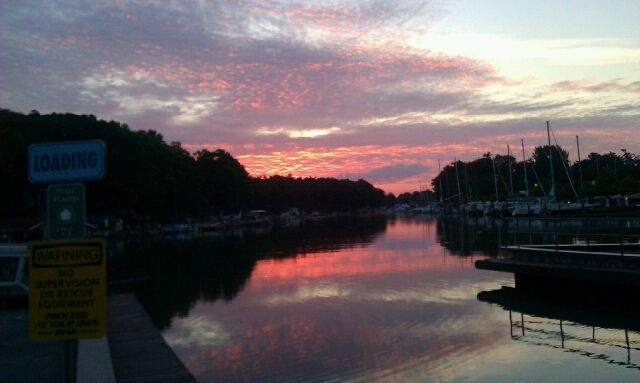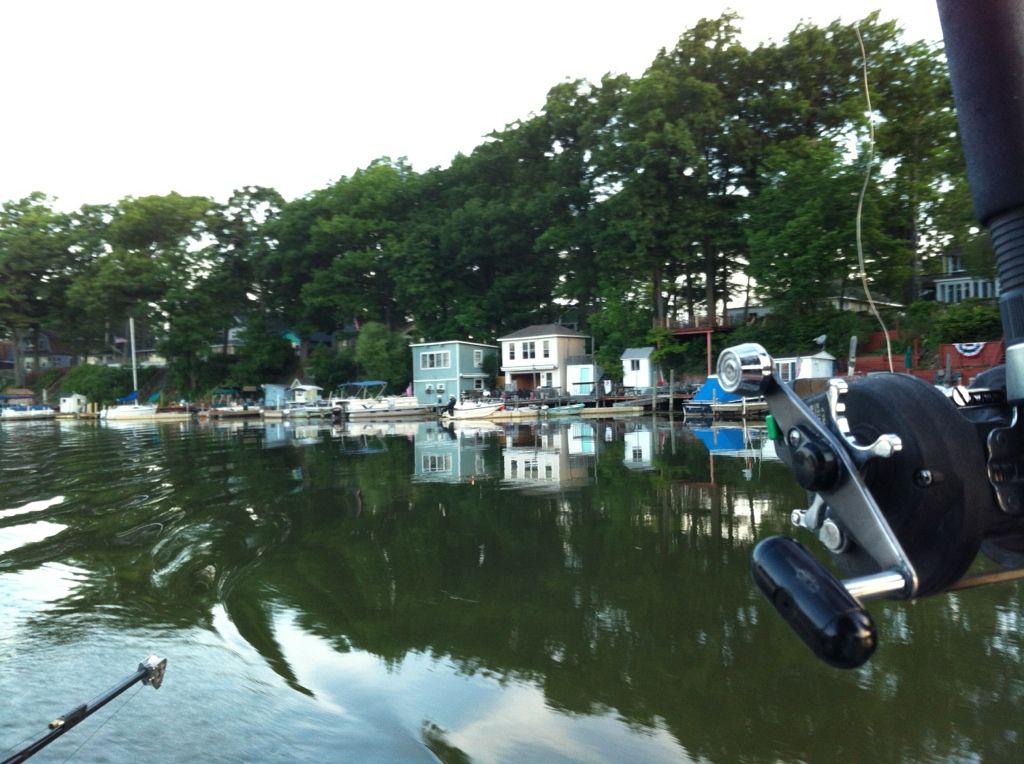 On the boat, in deep water: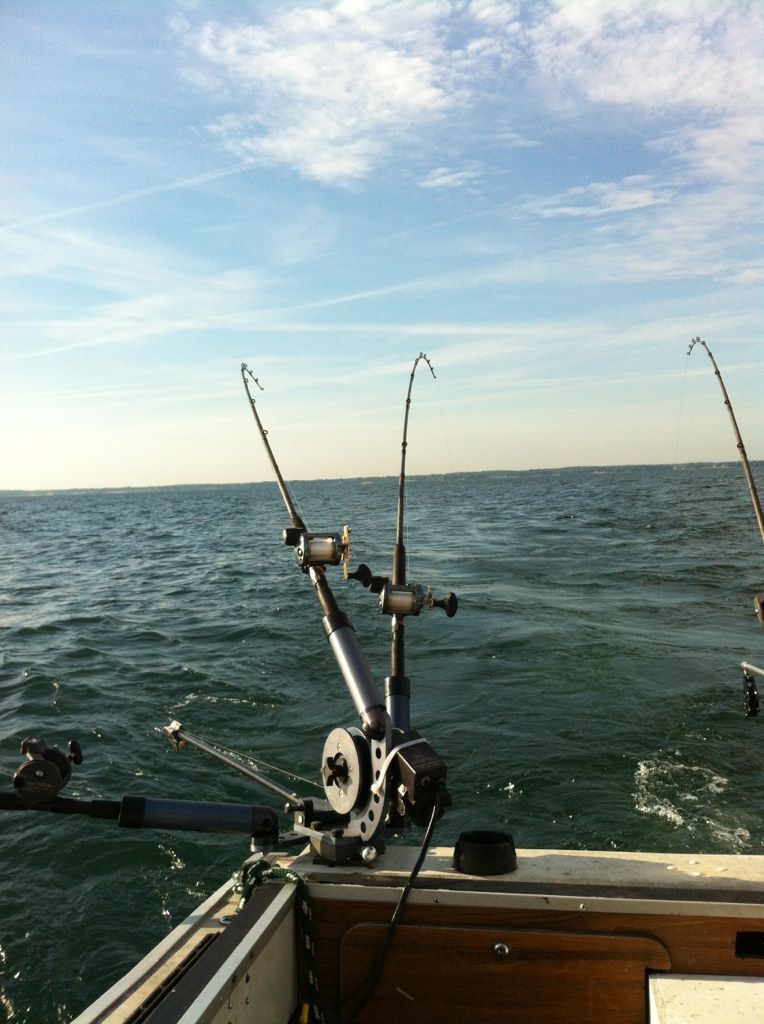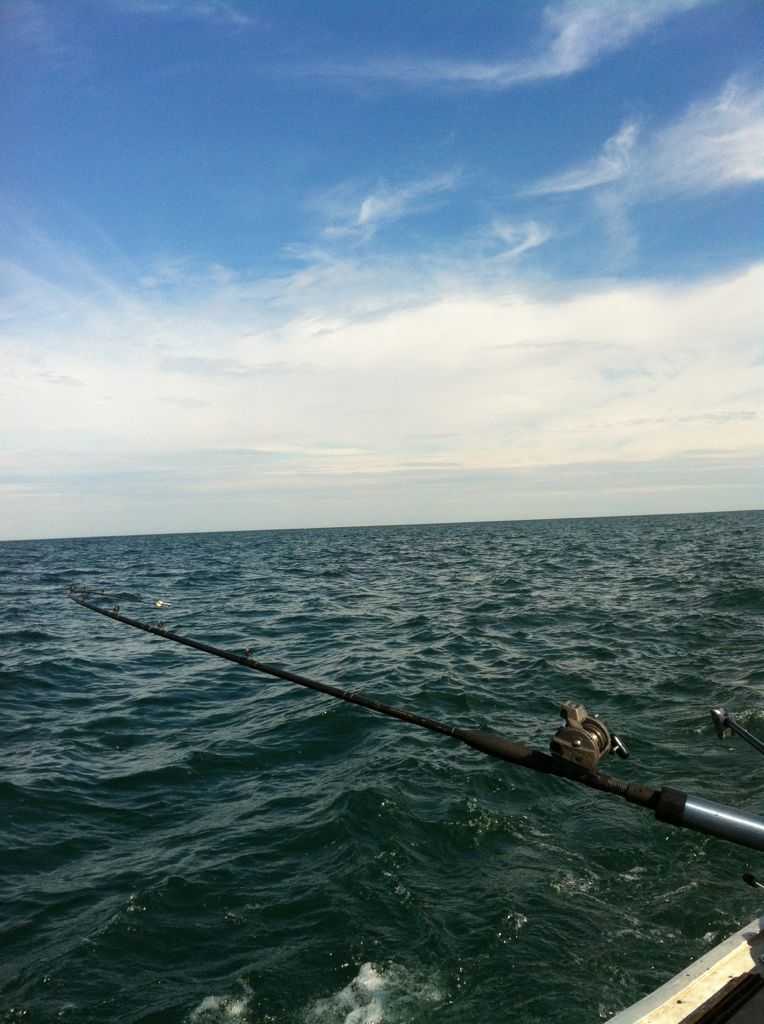 We were trolling spoons and streamers at depths of 100-120ft, at distances of over 200ft. The captain was bringing us through HUGE schools of baitfish (alewives, smelt) that the salmon would be after. Man, he sure delivered! My cousin Jimmy caught the first King Salmon, about 9 lbs, but at those depths and distances he still put up good fight: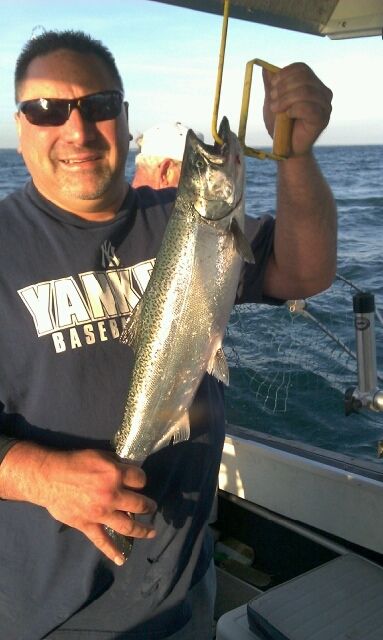 My brother hooked up next with a better King, about 12-15 lbs: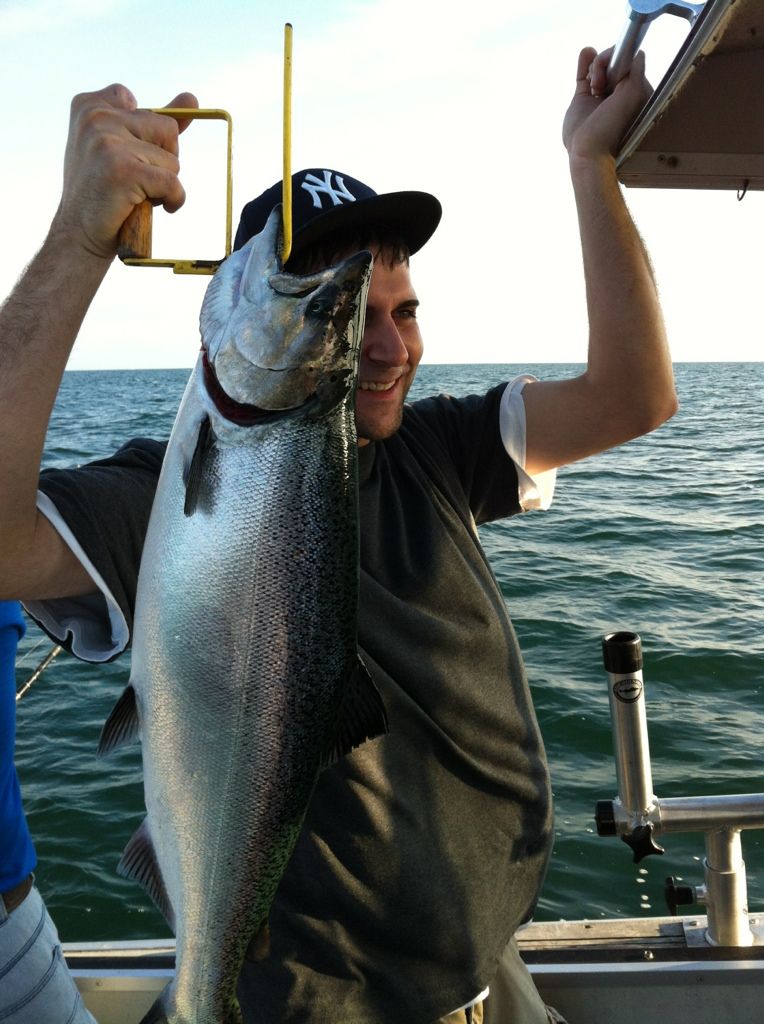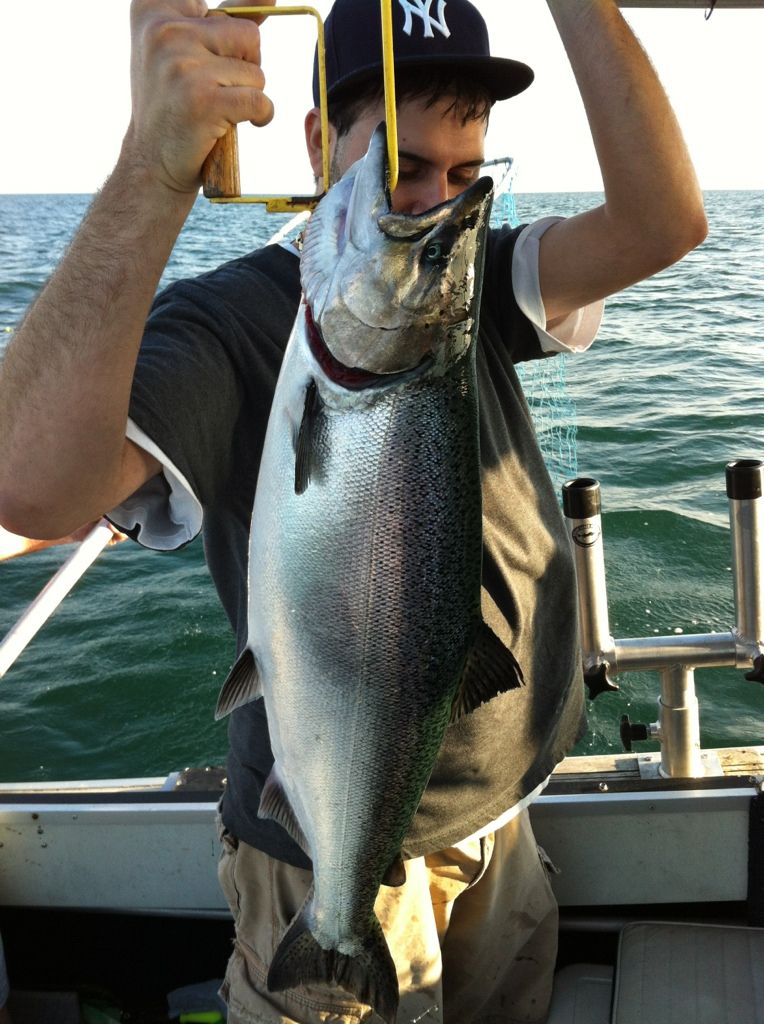 He got a little...bloody!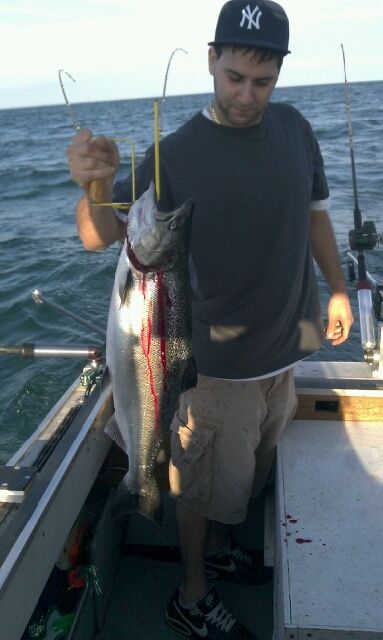 I hooked up next with a decent steelhead (lake-run rainbow trout), but even tho it was nice, it was JUST under NYS regulations of 21", coming in at 19" and 10 lbs. So we let him go, because we were not even gonna risk getting our guide and captain in any trouble with the DEC. But, I did get a pic of him while Capt. Roger held him for me: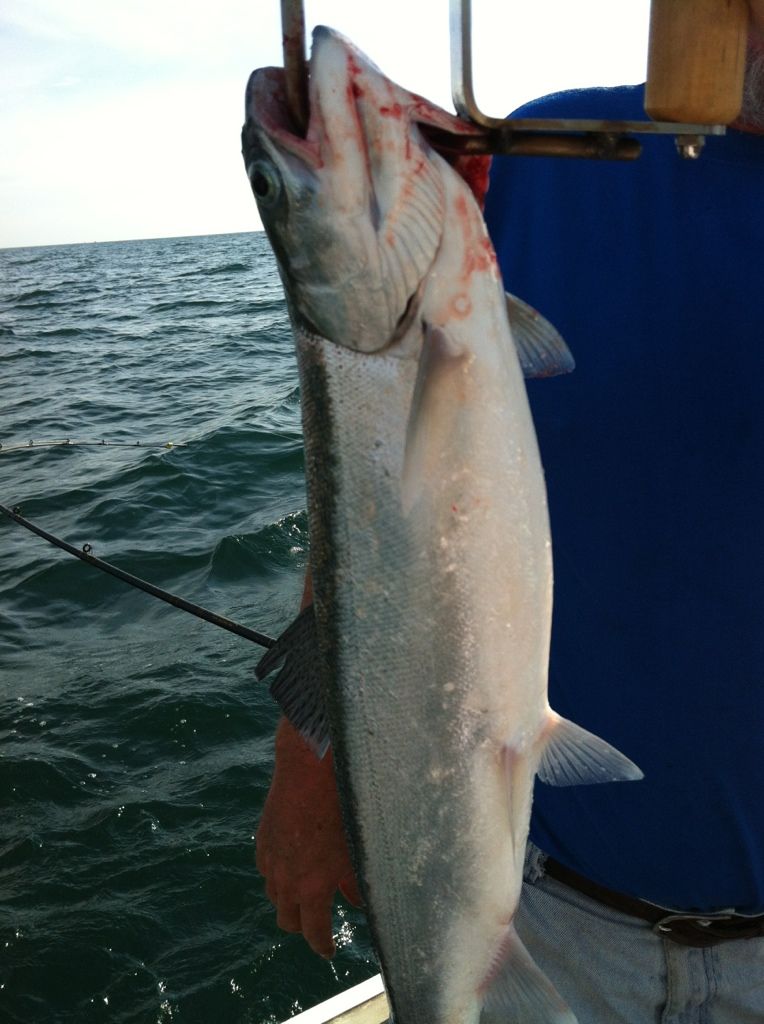 We lost a couple after that, but hey no big deal. Soon after, Dad hooked up with what would turn out to be the big one of the trip, and gorgeous 23lb King Salmon: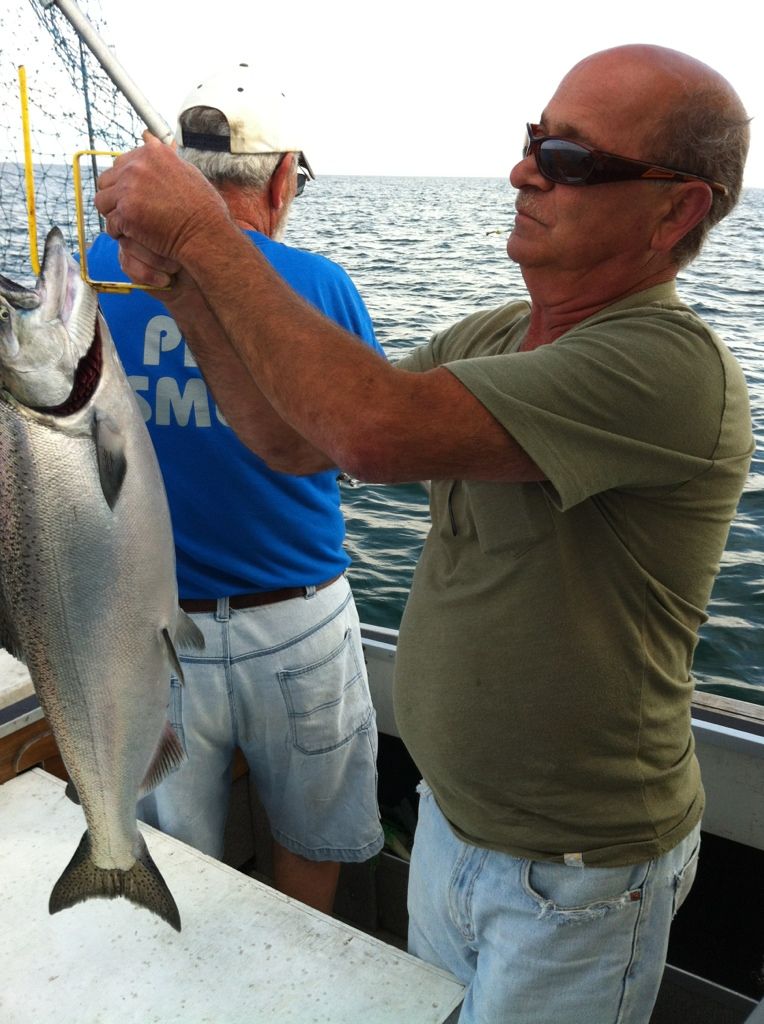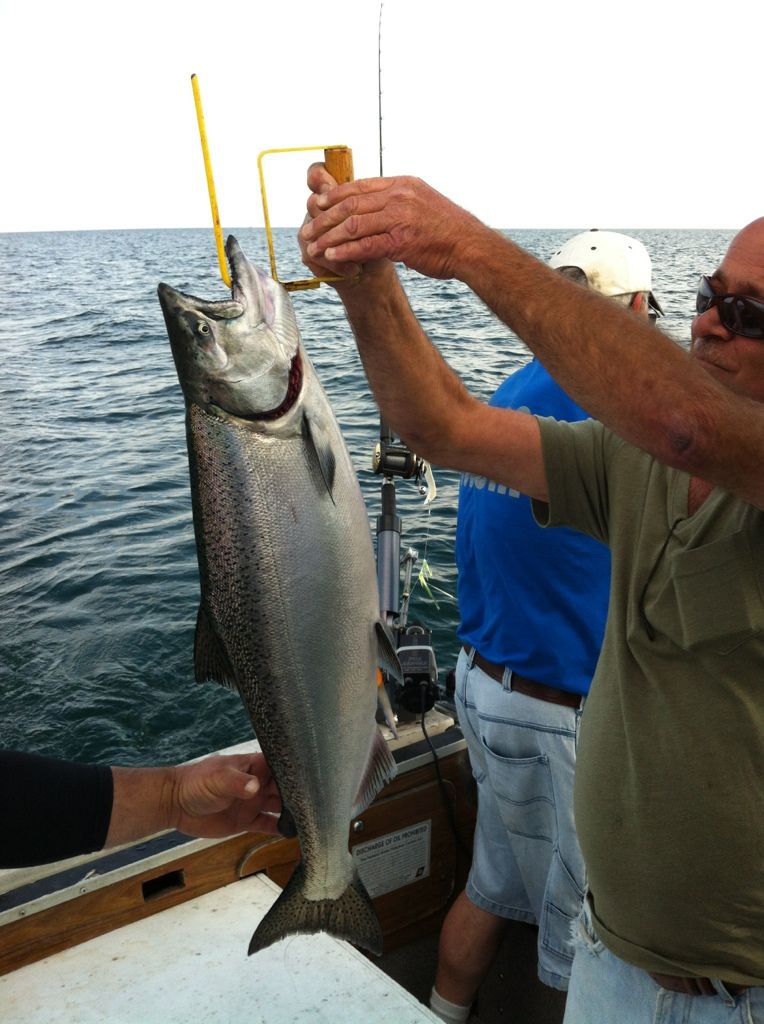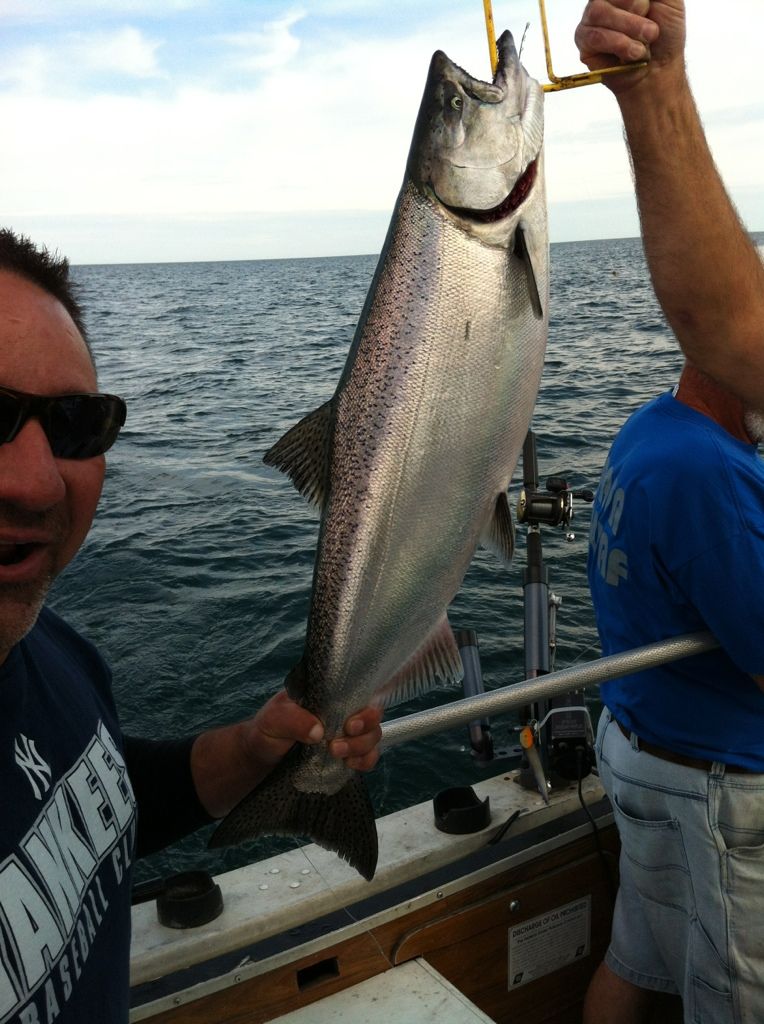 Way to go, Pops!
After about 45 minutes to an hour without any action and time winding down, the Capt said he wanted to get us on at least one more fish. I took one side of the boat, my brother the other side. Finally, a hit in my brother's side, and the war was on! The fish hit at 265 ft out and 100 ft deep, and was fighting super hard. Took my brother 20 minutes to get him in, and it turned out to be a really nice, 15lb Coho (silver) salmon: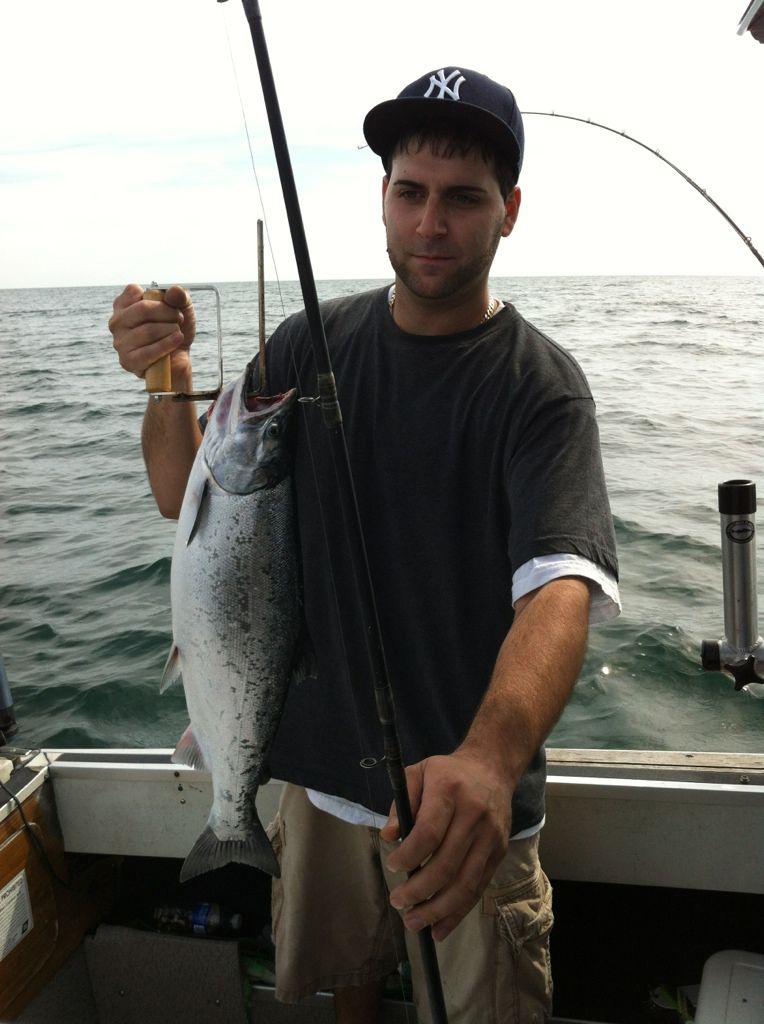 Great day on the water for sure!
Our catch in the cooler: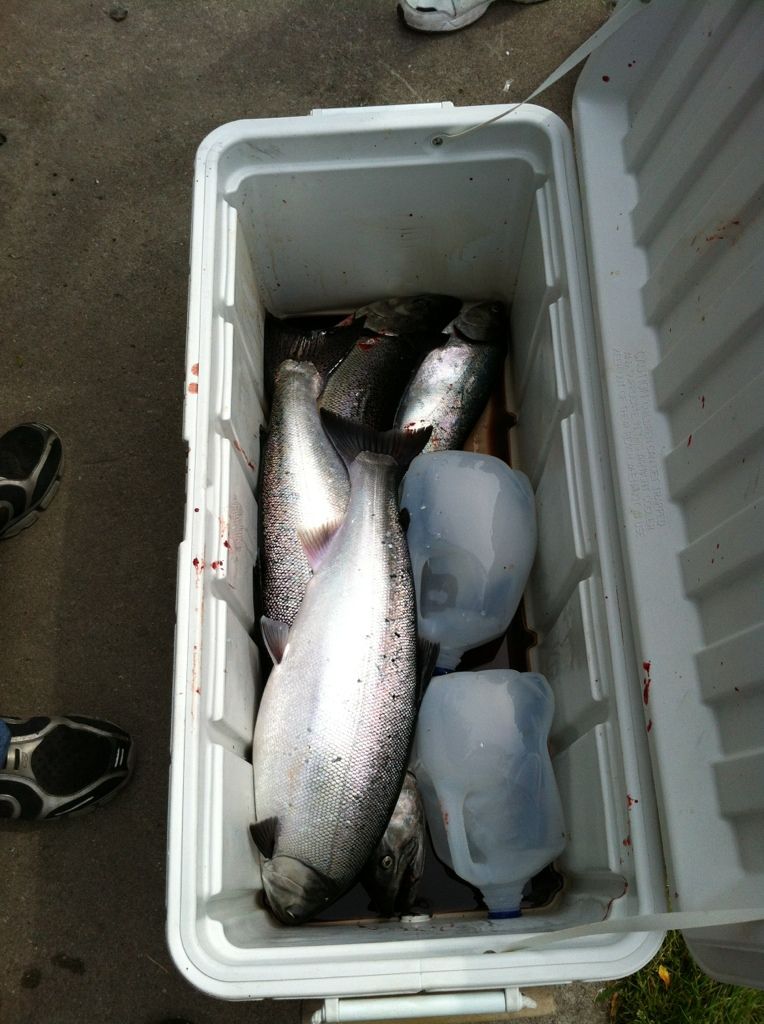 Finally, picture time and fish cleaning:
My brother and his Coho: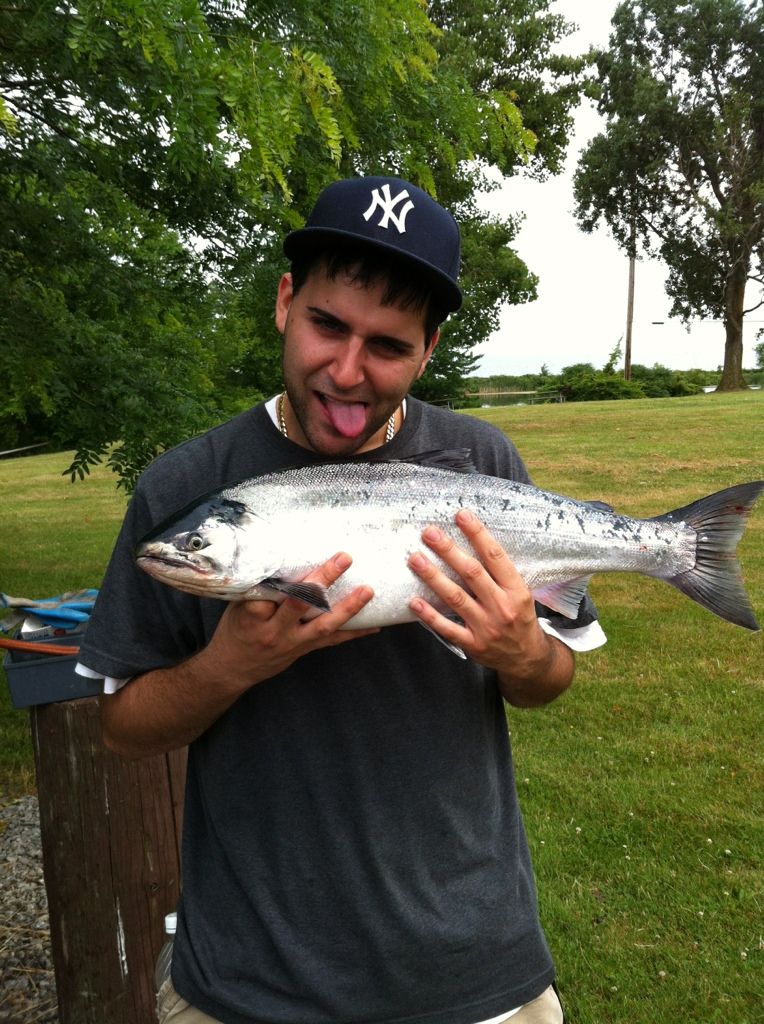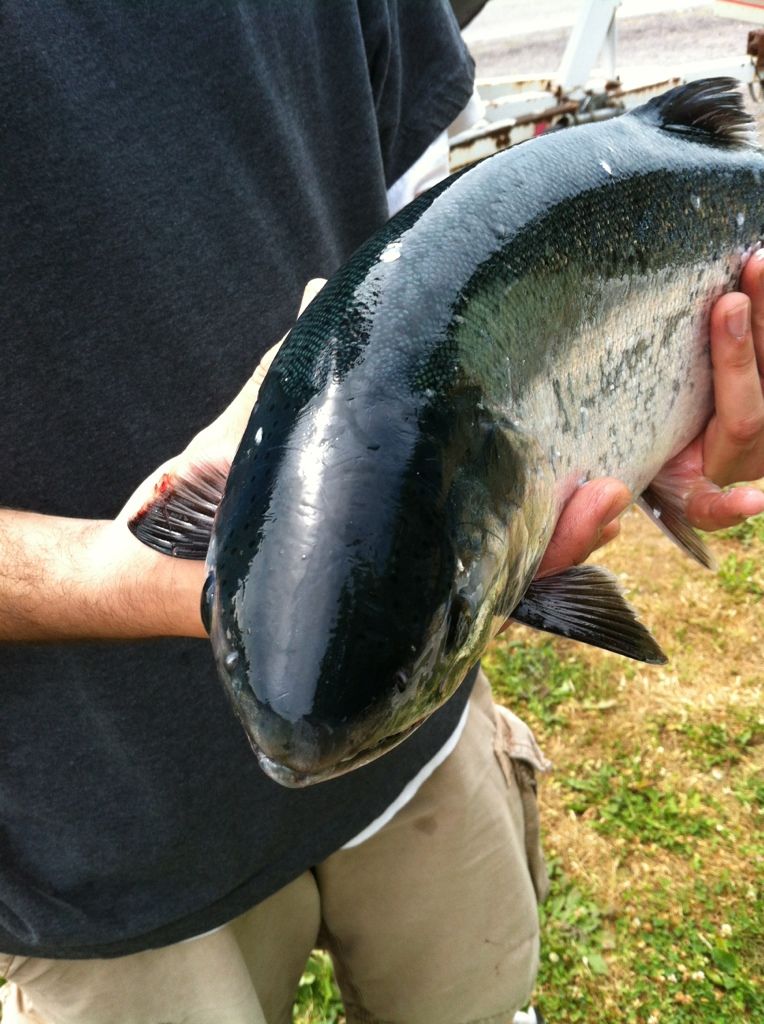 My dad with the big King and my brother with his Coho:
My dad with his beast!: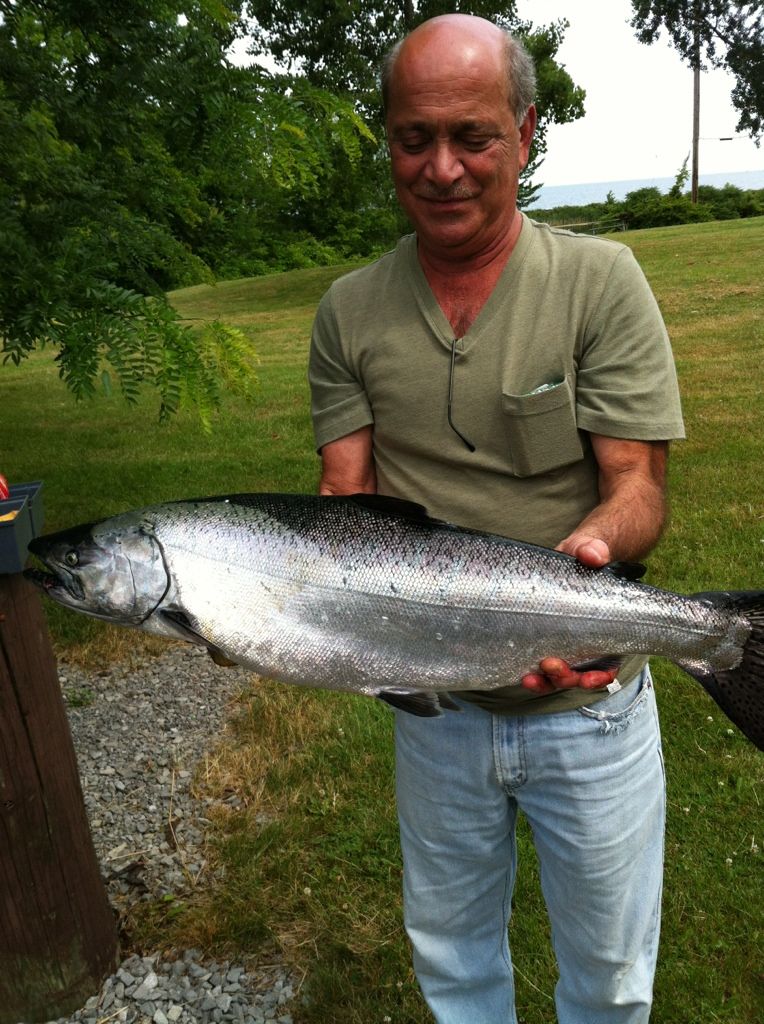 My brother and I with his 2 salmon, me holding the King and he holding the Coho: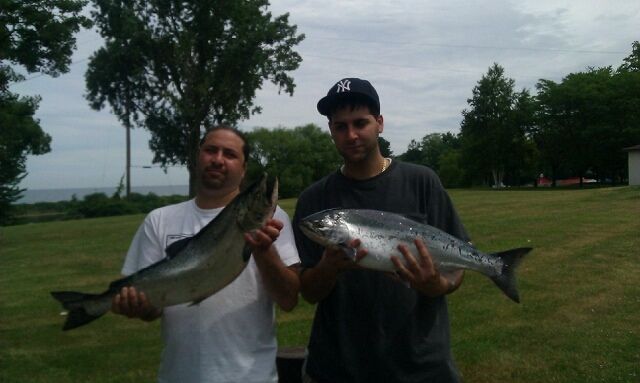 Filet time, courtesy of Capt. Roger: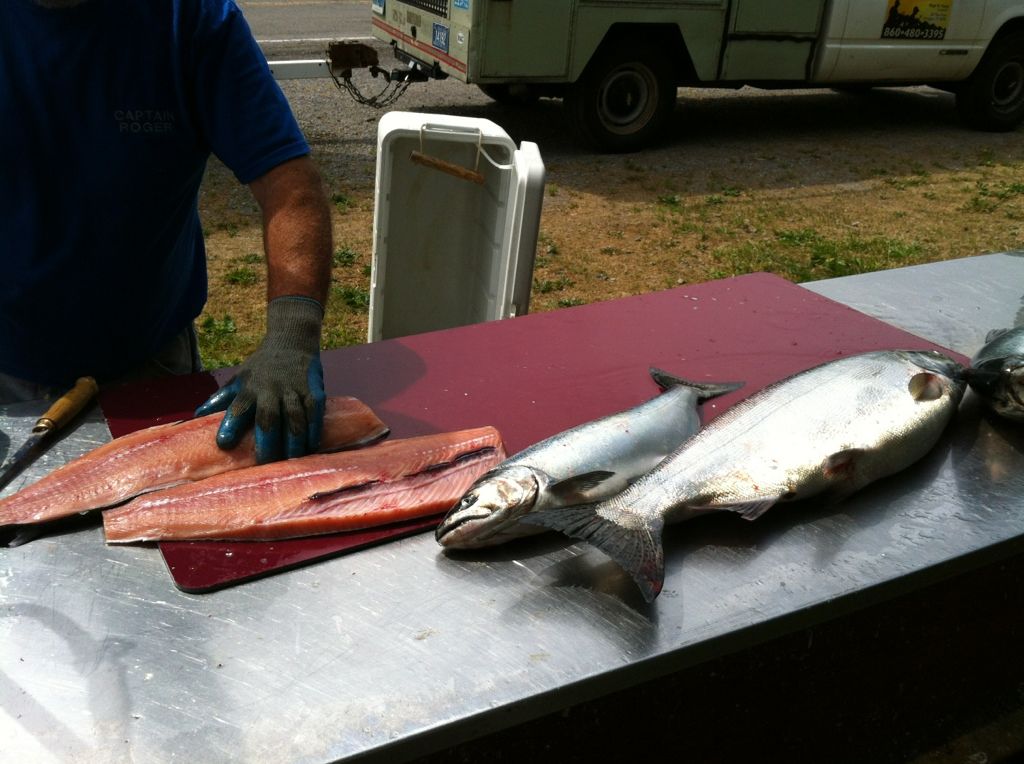 We had an amazing time for sure, perfect day on the water. I'd go again in a heartbeat. Capt. Roger was a great guy, very attentive and personable, teaching us things as we went along. He just loves what he does, and it shows in the experience you get while on his rig. Because of this, I am going to give you guys his contact details should anyone ever wanna book a trip with him. Rates are very good, $300 minimum, but basically it works out to be $100/per person for 5 hours of fishing. Time does not start until the lures hit the water. He has 2 boats (we were on the smaller one) and can fit up to 6 people on his bigger boat. He gets you on the fish, and doesn't let up, plus he directs you on getting them in the boat. Just a great guy and even better guide. Again, if anyone is ever interested, here is the details:
Captain Roger Young
papasmurffc@hotmail.com
1-860-480-3395
Hope you guys enjoy these pics ALMOST as much as we enjoyed the fishing!!!
--------------------------------------------------------------------------------------------
Ok..lemme break off this post here and continue in a new thread so this one doesn't get so godawful huge....