Hi all,
Got another RL fishing expedition update for you, but this one is special and significant. I had a rough work week so was really looking forward to getting away from the city and out to Great Valley for the weekend. However, Mother Nature decided to throw me a curveball as well. She greeted me with driving rain that didn't let up all day Saturday. I was thinking it was gonna be a long night just sitting in the cabin watching TV. I made the decision to say screw the rain and see if I could catch a couple of Brook Trout from the creek. Set up a light tackle rig and put on my boots for the muddy walk to the creek. Put on a nightcrawler (which the resident brookies bite the best on) and dropped it in. Within a few minutes I got a light bite and set the hook. Caught this little guy:
Big creek chub, nothing special. Cast out again as the rain started to pick up and got another bite. Another dumb creek chub, although a big one: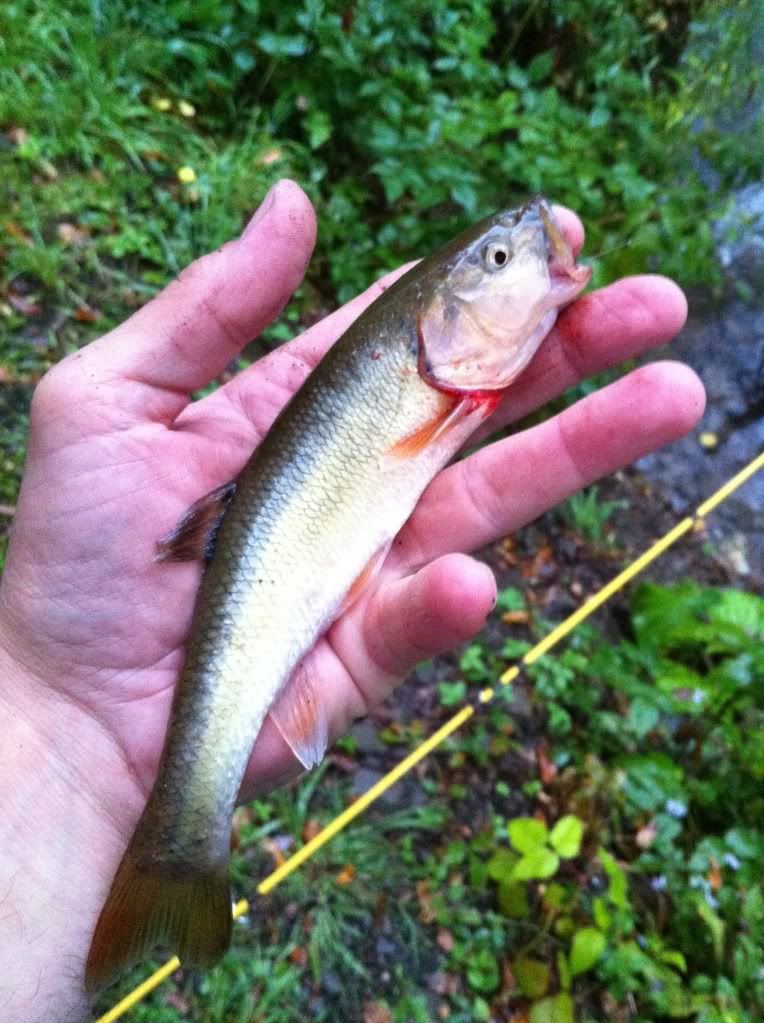 I ended up catching one more, but all that told me was since the creek chubs were present in the hole, the Brook Trout were not there. That's how it goes. So, packed it up and went back to the cabin, soaked and hoping the rain would let up.
Later on in the evening, the rain let up and stopped for a while, besides a drizzle. I knew I couldn't get up the mountain to Spruce Lake because it would be very muddy and dangerous to go up the mountain, so I made a very critical decision which turned out to be one of the best I ever made.
I called the neighbors, Mr. and Mrs. Ditcher, and asked if it would be ok if I threw a couple lines in thier pond. They gave me the ok, and as I got ready I told myself "You know what? Time to try the fly rod". Grabbed my fly rod, a couple of flies (popper, wooly bugger), and went over there to finally give it a shot. I surveyed the surface and, using knowledge I gained from you guys and RWFF, saw there was not any surface action going on. So, tied on the wooly bugger. A couple of casts in, no fish. I made a decision that made all the difference in the world. I know it is unconventional, but I cut off a tiny piece of nightcrawler and added it to the hook for scent. I cast out near the weeds and within a few minutes, I saw my line moving. Well, my friends here at RWFF, it gives me great pleasure to show you, finally,
MY VERY FIRST EVER FISH ON THE FLY!!
This one's for you guys!!
Not a big one, but doesn't matter to me. It was all about experience!! A bit later on, I got another one, which gave a very solid fight. What a difference it makes on the fly rod. This one was bigger and I even recorded part of the fight (will be in the link at the bottom):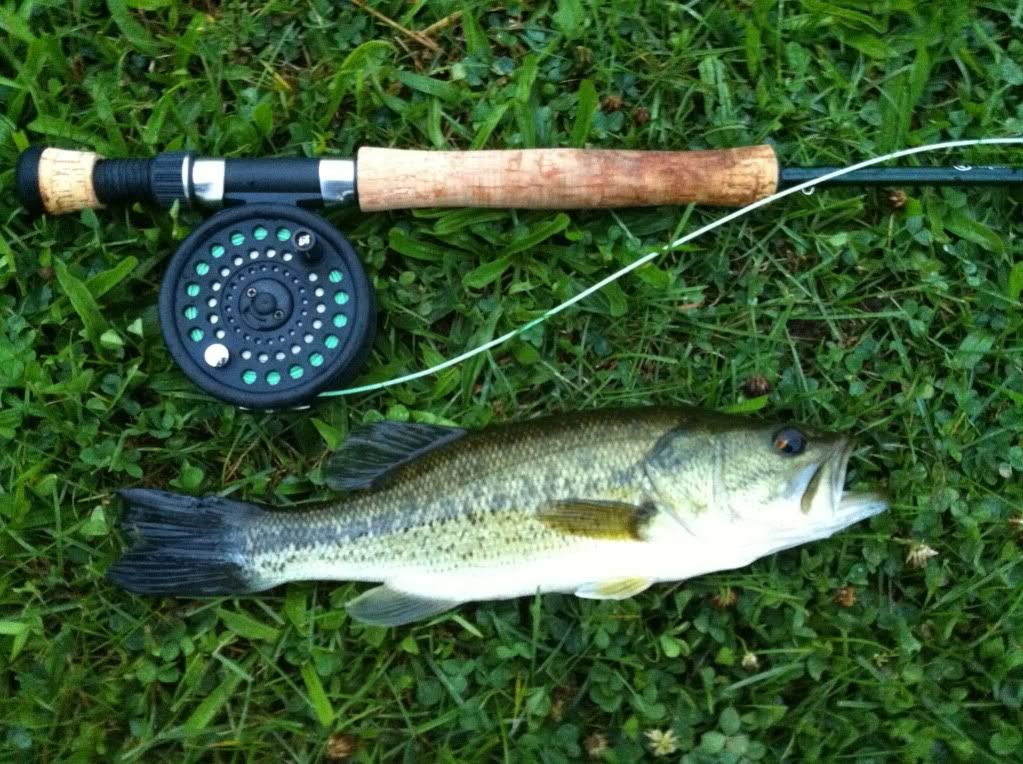 As it got darker, and I had the fly fishing adrenaline flowing through my system, I told myself to make one last cast near the weeds and see what happens. Slowly worked the wooly bugger along, when out of nowhere it got smacked and smacked HARD. The fight was on almost right away!! This one bulldogged right away and got me on the reel. I scaled the drag back just a little bit as he was really pulling with all his might. Soon, he became very acrobatic and was really trying to take the fight to me. It took a while to tire him out, but I finally lipped him. Only about 2-3 lbs, but a solid fish. Never knew they could fight that hard!: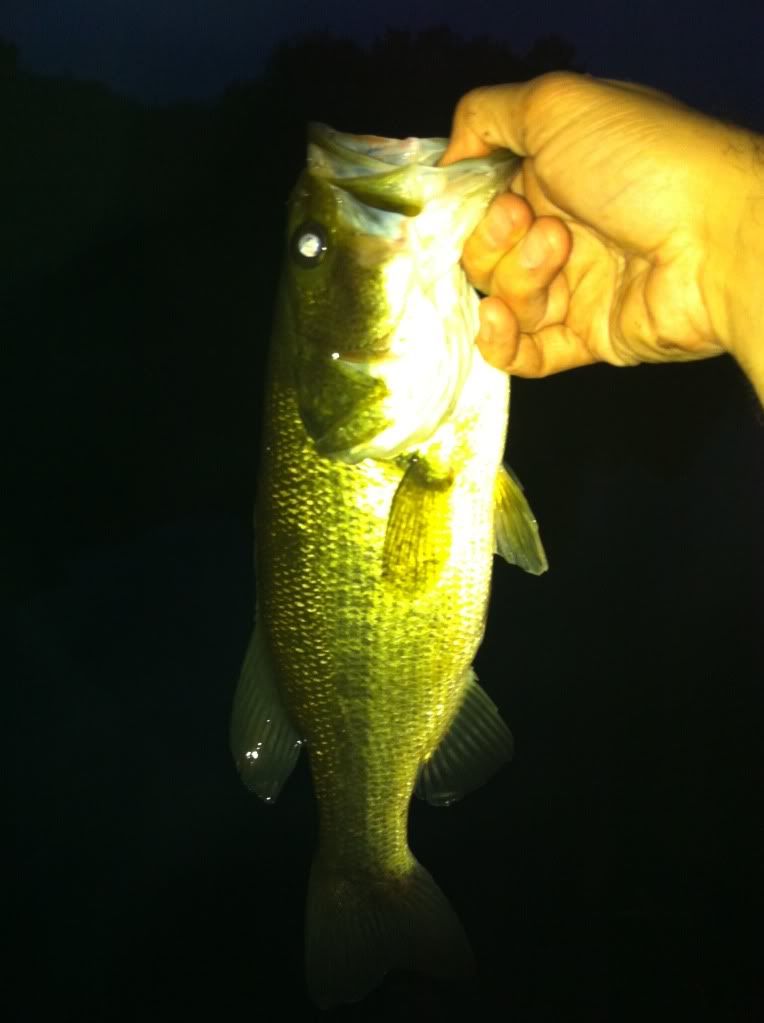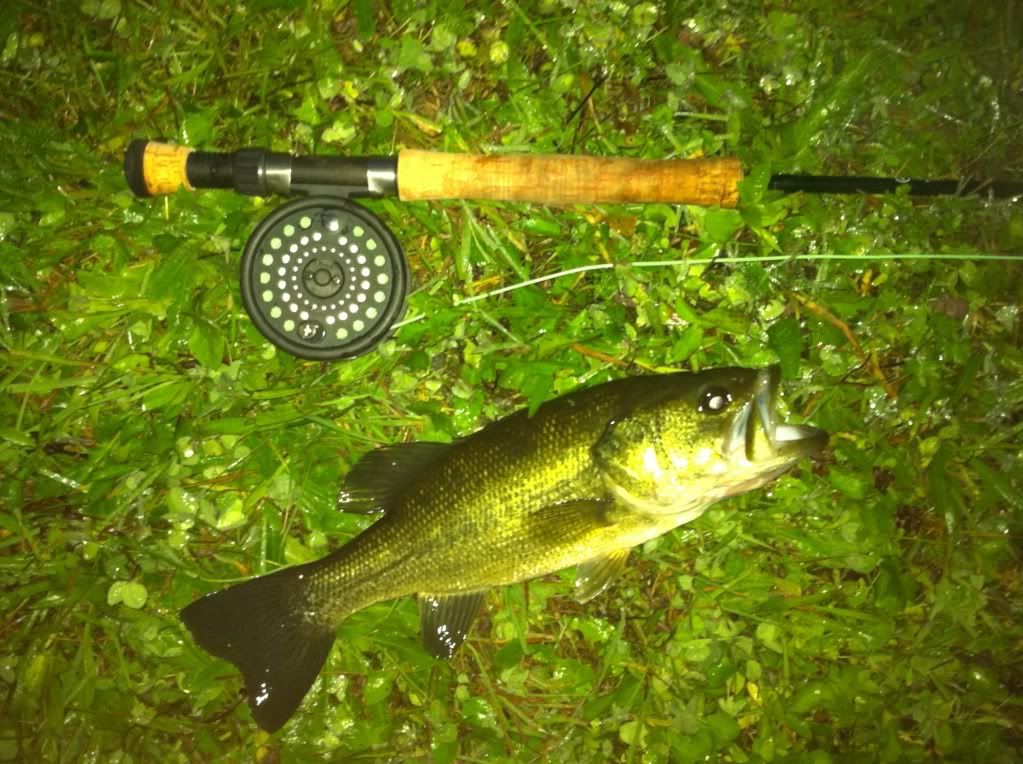 With that, I packed it up and went back to the cabin. Still pumping with adrenaline from that last battle,
I told myself that if it wasn't raining, I'd be back in the morning.
Morning came, and I grabbed the flyrod and headed back over to the pond.The bite was a bit slower, but the fish I did catch on the fly turned out to be nice ones, even had another take me for an across-the-pond, drag-peeling fight! Exhilarating!!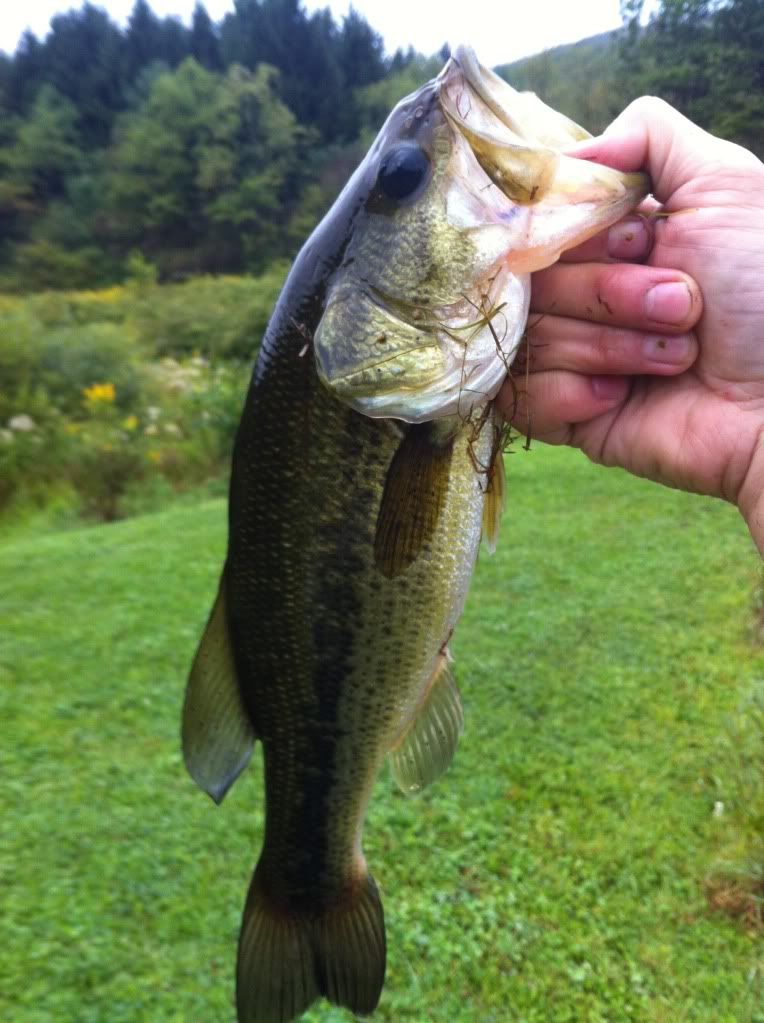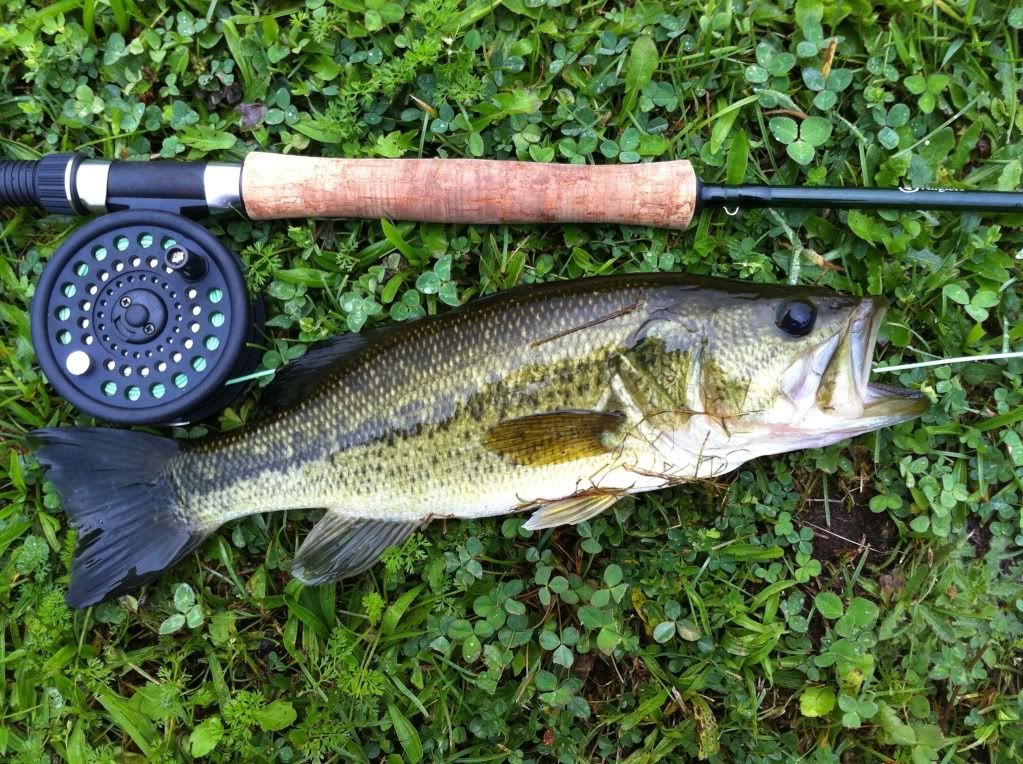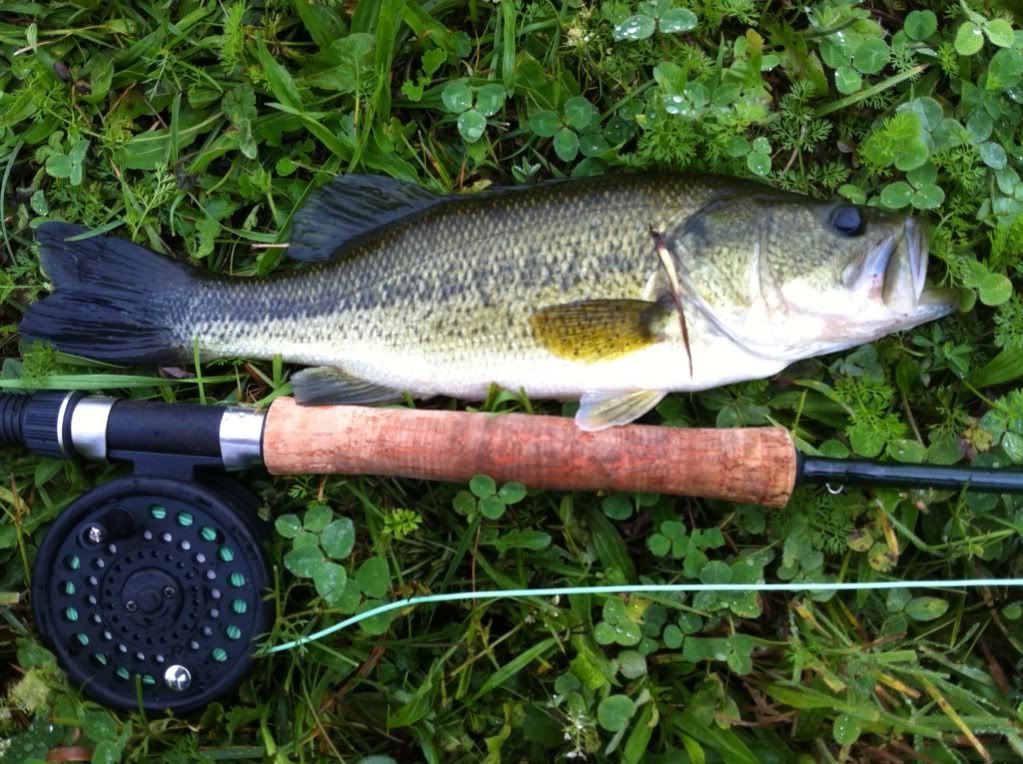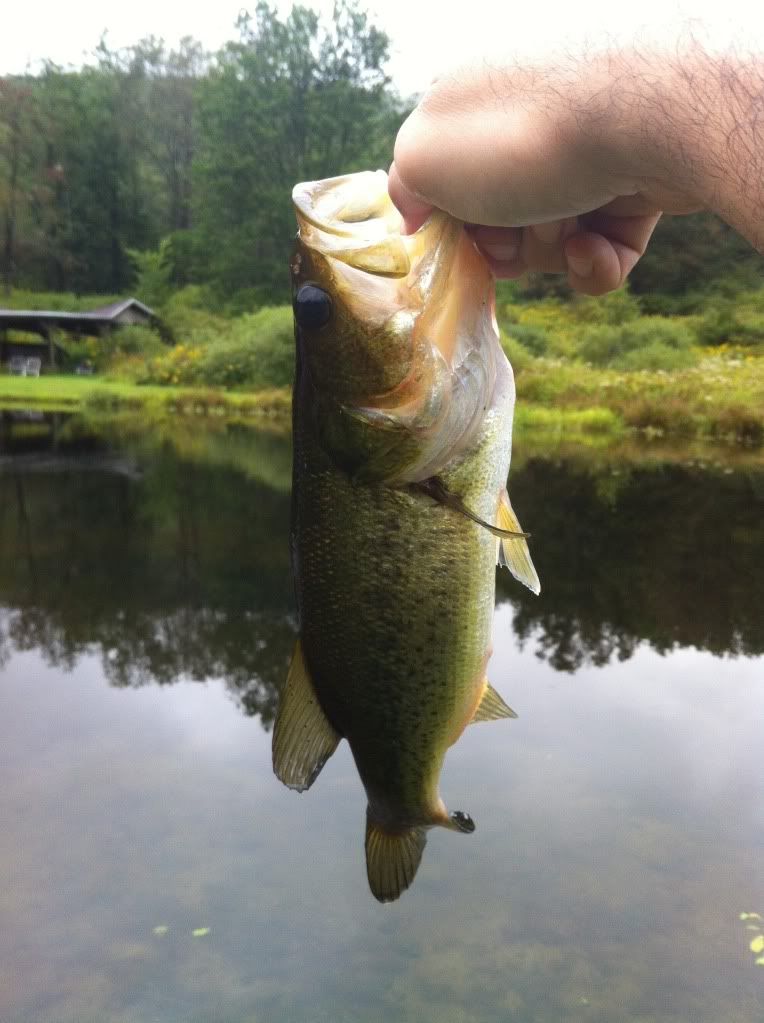 ...and the final fish of the day before they shut down and the bite stopped.
Well, there you have it. I can finally say I caught fish on a fly rod! I cannot believe the difference in the fight, as some of those bass really gave me some real battles! I know the method I used to catch them isn't exactly conventional or considered "pure", but I couldn't care less about that as I just wanted the experience. The tiny piece of nightcrawler literally just cover the tip of the hook, just enough for scent. That was the deciding factor. Without it, those fish were not interested. Glad I made that choice. I also found I still have a ways to go as far as accuracy on my casts, as I got hung up a few times as well. But I learned a lot as far as hooking and fighting fish on the fly, and also learned that I need to learn how to set the hook on fish that bite from a distance as I missed a couple of strikes at great distances. I'll get it.
I think you guys may have created a fly fishing monster, as I really enjoyed myself and plan to do it again. May not be my main way to fish, but I love having it in my arsenal!! I leave you guys with a little video I took while digging a decent bass (mentioned above). Sorry if the quality sucks, was pretty tough to hold and battle a bass with the flyrod and record with my phone LOL!! Special note to Stanley: thanks for all the tips my friend. As you can see, they all came to a head and helped me turn a miserable rainy day into a very productive evening!!
http://youtu.be/3RR7xEfebu0