Hi Martin, Stanley and Everyone,
Well I finished this outing a few days ago and finally getting a chance to post. Martin you left one species of fish off of your list for this
outing and that was the Jumping Northern Pike 2. Martin definitely did an excellent job on this outing as usual. A couple of the jumpers had a habit
of throwing the hook if you pressured them to hard. Definitely some excellent senery and excellent job with the currents. Martin definitely chose
the right species for this outing and I caught all 16 species of the outing on a dry fly. Some of the larger fish you want to take your time getting in.
You can definitely expect a long and hard battle with these jumpers. I fished through the outing twice to be able to catch all 16 species. The
last one I needed to catch was the Jumping Largemouth Bass and that ended up being a personal record. As usual Martin did an excellent job on this outing
and it made it nice to fish a place I hadn't fished before. It's not to far of a trip from my home, would be nice to do a visit there and try my luck.
Other then that with Martin's outings from all over the world it gives you a chance to experience new places. Try this outing and enjoy yourself. I
caught a total of 44 fish.
In Sw Wondrous Wistful Lake St. Clair Michigan 1 You Are Fishing For: Jumping Smallmouth Bass, Largemouth Bass, Lake Trout, Mooneye, Bowfin,
Black Crappie, White Crappie, Muskie, Northern Pike 2, Brown Trout, Brook Trout, Rainbow, Walleye, Chinook Salmon Plus American Paddlefish, White Bass, 16 Species In Total.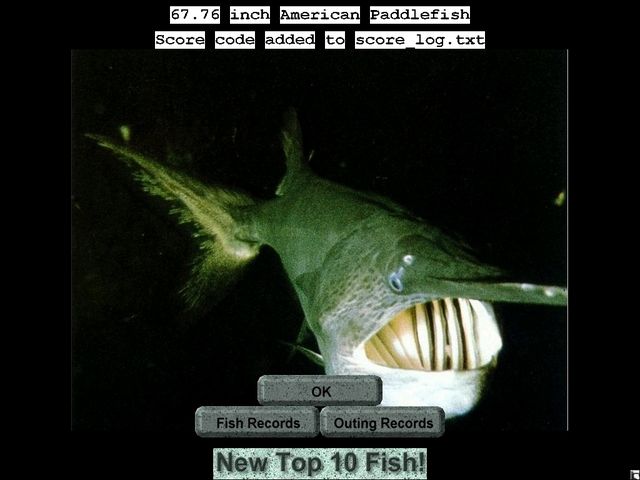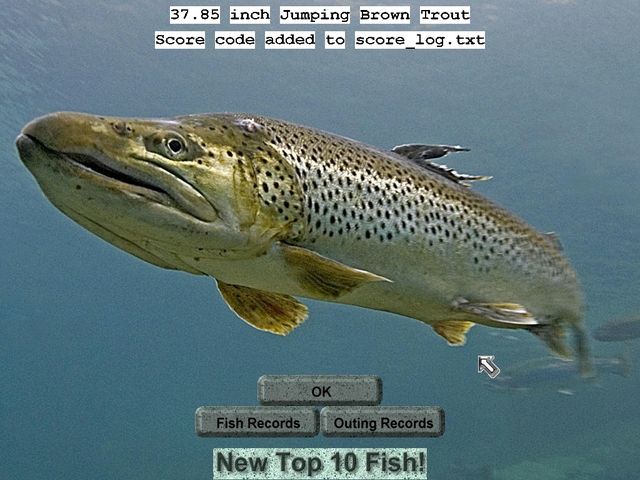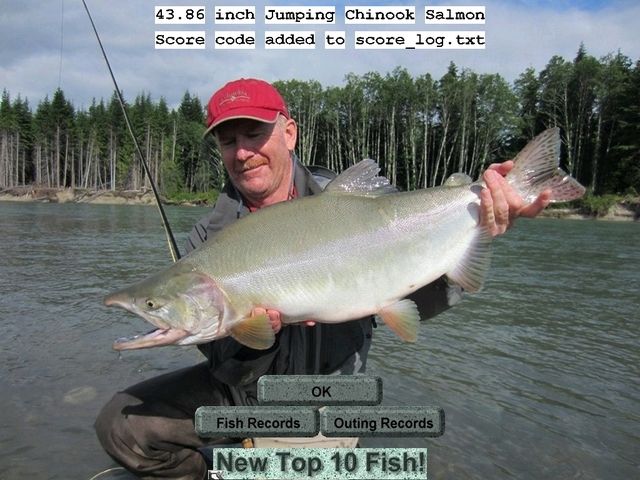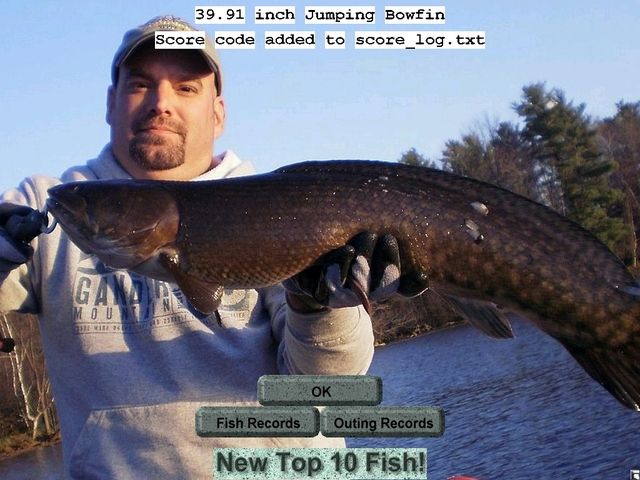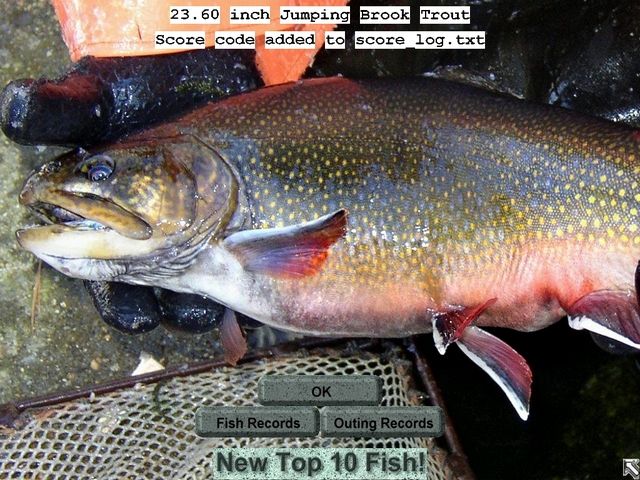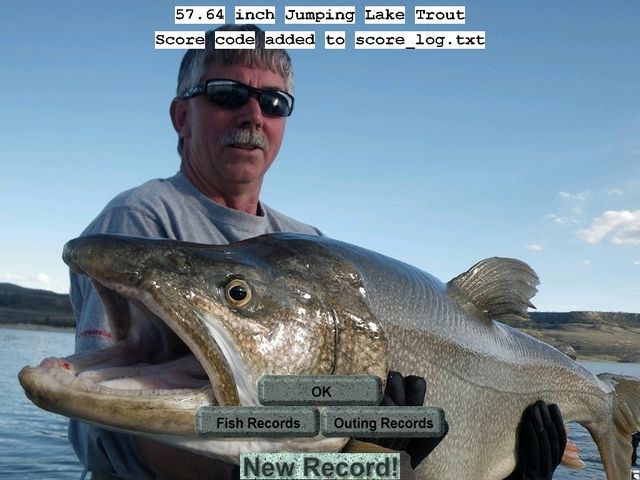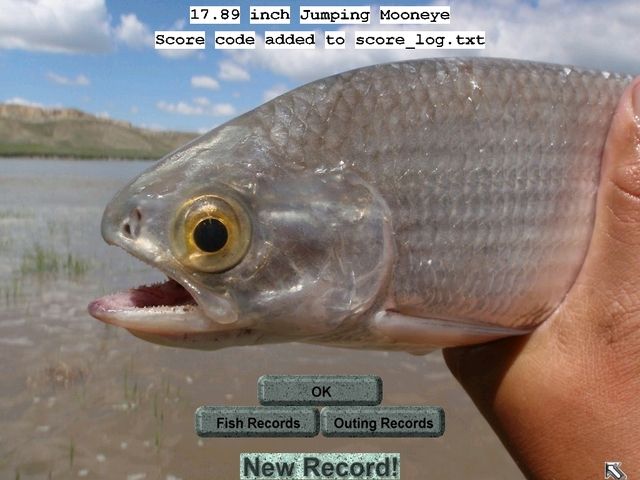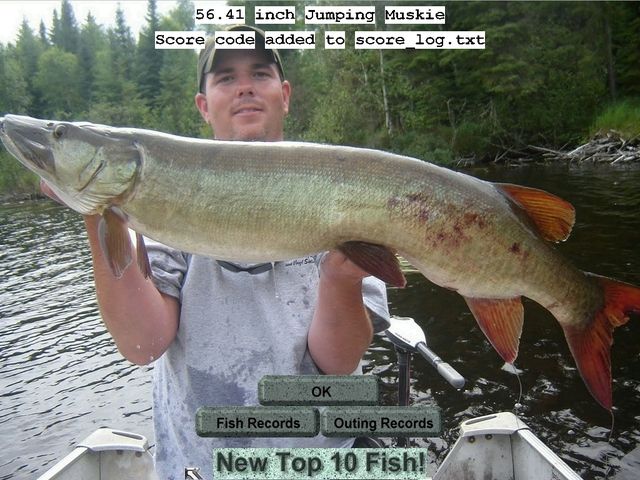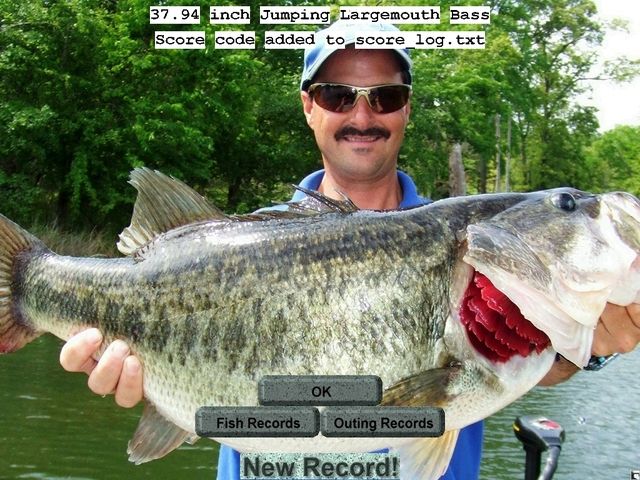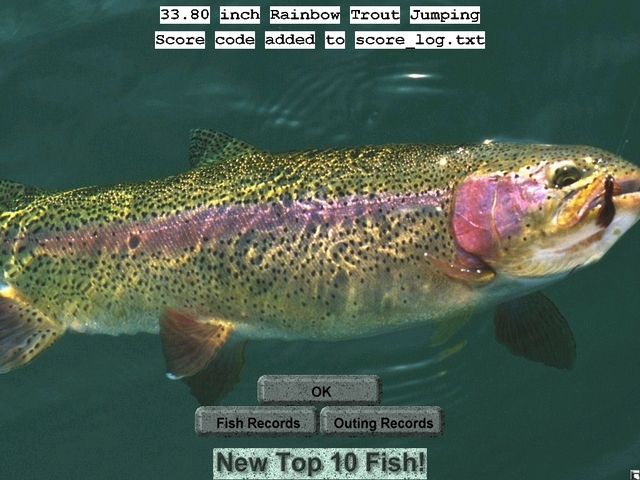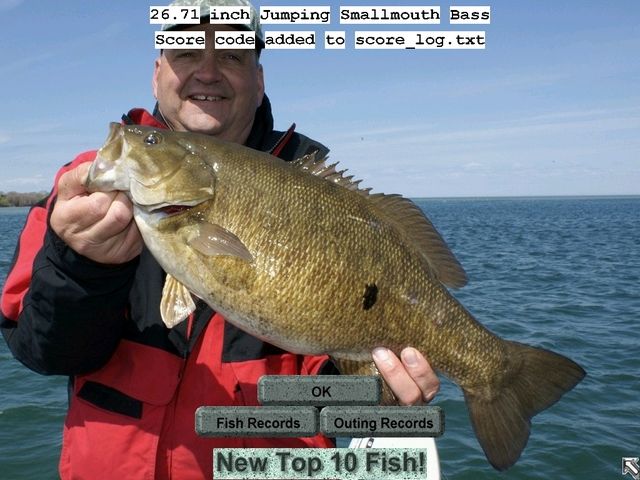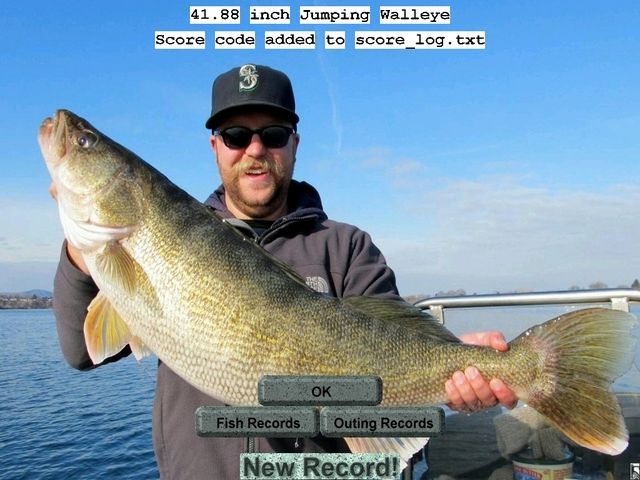 Fish: 26.72 inch Jumping Smallmouth Bass from Sw Wondrous Wistful Lake St.Clair Michigan 1; Code: CTIGQYSUTBQXM4587HEDDJQCCDWQYOYRXVTDPWVJZHUZIIMRGHSTZOVFQFWAA
Fish: 56.41 inch Jumping Muskie from Sw Wondrous Wistful Lake St.Clair Michigan 1; Code: FPSHICIETRLSE2545AUQIPSNGWUKDWCMDSJQPAGXXUODDAUFIUWJXSFUGPLHN
Fish: 41.88 inch Jumping Walleye from Sw Wondrous Wistful Lake St.Clair Michigan 1; Code: ICNLNPNATIXAC5914JAPTLWPLCBKNFJANINYTWWGCQEUEJRVIXXLKLQFIXUJG
Fish: 49.89 inch Jumping Northern Pike2 from Sw Wondrous Wistful Lake St.Clair Michigan 1; Code: GTACYRBEEYFGW9411PQCTNJRAVUSWCZLBBDMMZAISCMKRLMKELQEEUELZGUJG
Fish: 37.04 inch Jumping Brown Trout from Sw Wondrous Wistful Lake St.Clair Michigan 1; Code: ZVRQGMFWYAJYL4963LHBWMHDLPUUALCXIZUKHLABVHDBXLXQLHWPOOSTQPXEW
Fish: 18.36 inch Jumping White Crappie from Sw Wondrous Wistful Lake St.Clair Michigan 1; Code: GRMKQRSSCCJRG5489MNWRIEGXOCRGBLLLSOEKHRILWLWUNRBUNAQLSLXNOUJG
Fish: 20.61 inch Jumping Black Crappie from Sw Wondrous Wistful Lake St.Clair Michigan 1; Code: WFRMYBHAKOTIL6676YMERXWXGPADOTSNPJZXUAILUOYQCOSTUCIDLUABLXKMD
Fish: 57.64 inch Jumping Lake Trout from Sw Wondrous Wistful Lake St.Clair Michigan 1; Code: BNMBCQHBYAMBF3423YYECQXGGIAZXPFZRVJYQYSYWKNXFZTVAKILGSVSCSKMD
Fish: 17.61 inch Jumping Mooneye from Sw Wondrous Wistful Lake St.Clair Michigan 1; Code: CRVOAYJBRAEQX0366IYCDSABRPYHQVCZHFMUNFMJSTLLLKSBOJCGOUUSATMAV
Fish: 41.59 inch Jumping Walleye from Sw Wondrous Wistful Lake St.Clair Michigan 1; Code: LEUNQBFUWNTLF6343EXMLGNAIPBFXATWPDOJAJKDEMSVRDXGXFEPXXWHAVPTJ
Fish: 33.80 inch Jumping Rainbow from Sw Wondrous Wistful Lake St.Clair Michigan 1; Code: WGUZSKIFDKNEK7791ARHPZCCRBANOXMJXIKWIIZHCZZKOECTILQONVKERAUEA
Fish: 42.99 inch Jumping Chinook Salmon from Sw Wondrous Wistful Lake St.Clair Michigan 1; Code: TPXURWKWZLXAG8171PTJBHDNWIDCPNNUGKCQSVQGAJYKAYJVOLJLDGFROTSVN
Fish: 18.71 inch Jumping White Crappie from Sw Wondrous Wistful Lake St.Clair Michigan 1; Code: JAFXZEWNIOFWI0596JTEGFAIDOGZSRIYHKWOSVOZBQHKSKLDRTWJUPTZVPDGT
Fish: 67.76 inch American Paddlefish from Sw Wondrous Wistful Lake St.Clair Michigan 1; Code: NXHPMOEQCGDVY9956LXRBESTPOHHFMGMWREXSNUENICKDHTMBLCGAGDXYKVOI
Fish: 23.60 inch Jumping Brook Trout from Sw Wondrous Wistful Lake St.Clair Michigan 1; Code: DWGOLWTVVEHSG8537CDLRFCBMIWHJXCUNNJIQMPYNMRMDEUXXQEDNUDUKGEID
Fish: 18.87 inch Jumping Black Crappie from Sw Wondrous Wistful Lake St.Clair Michigan 1; Code: WWJSMRFDNVCWG8769USNLYLBLVEZFFJFEVLYQZOZQCZPUFDMCNVBMUXOQCXFM
Fish: 38.91 inch Jumping Chinook Salmon from Sw Wondrous Wistful Lake St.Clair Michigan 1; Code: SOOEDYBZPLAYC6173KTLHNMKIUPNUEFZGBAALXFRUSDLDBDGHAMOGMRQIPXFM
Fish: 35.06 inch Jumping Brown Trout from Sw Wondrous Wistful Lake St.Clair Michigan 1; Code: ZJEOREJPPSIGE1038QLHMYATGISZHPQCHMPYCDEIEYOGVGAVTJXDZNIZWXJTD
Fish: 41.24 inch Jumping Walleye from Sw Wondrous Wistful Lake St.Clair Michigan 1; Code: XLNZDQSPHIVLT6752MWQDMEDUUYUH@LFVJIJTPLNXLYSOXMPSSSMMVTODHHHW
Fish: 14.19 inch Jumping Mooneye from Sw Wondrous Wistful Lake St.Clair Michigan 1; Code: NWUFMFMSJWIFZ8051JZOWBLVWCPPFHMIOSAGEECIFXBQRZJVFVUVOKTMSVMAV
Fish: 24.12 inch Jumping Smallmouth Bass from Sw Wondrous Wistful Lake St.Clair Michigan 1; Code: ELKUKVHUWWBXL5401UHPJBMCNHQCSREMMIPTTCMMBMQPXWCZVVBONVGUXTFBL
Fish: 20.22 inch Jumping Black Crappie from Sw Wondrous Wistful Lake St.Clair Michigan 1; Code: TTZDOWDDSRBLL6342WYNNANKDVNNMOFVMJGOWMJYPDJUVVFCRHOMPHASLZWKT
Fish: 24.38 inch Jumping Smallmouth Bass from Sw Wondrous Wistful Lake St.Clair Michigan 1; Code: HRTOKYSWUDNUU4193PJQNHOLSIZHBNYBUUMDDXSBKCQSFVFZNHOCFDPOUOVOI
Fish: 15.11 inch Jumping Mooneye from Sw Wondrous Wistful Lake St.Clair Michigan 1; Code: NCLCWQWNVDECZ0629ILDVSSRUVUSPXFLAGNGRXDYCSJJYUMMZEJHAUDBTQBZA
Fish: 43.86 inch Jumping Chinook Salmon from Sw Wondrous Wistful Lake St.Clair Michigan 1; Code: RAOZXJOPOOCDT1501IYJYCQSWOGTXDSFFVJAMIZFGHZFBRRWMJJVMYBLVBXFM
Fish: 32.78 inch Jumping Rainbow from Sw Wondrous Wistful Lake St.Clair Michigan 1; Code: EZLWOUMVHTYAA2378LGPVMYQEUKFUGFQDFANZBREJJPYFZBLXZRVDVSJBFSPQ
Fish: 51.26 inch Jumping Muskie from Sw Wondrous Wistful Lake St.Clair Michigan 1; Code: VJMABTATWIUIV4115UVWHQOPSBVXRIPPDGFOFTZJKDWVMLBCVFITCPRTKJRUX
Fish: 37.86 inch Jumping Brown Trout from Sw Wondrous Wistful Lake St.Clair Michigan 1; Code: DGZVZWWYLTSPC7430ICFVOKCSOSCAHFQGAJGINIFYBSOFDBDLOZQEAXSTQMMQ
Fish: 41.86 inch Jumping Walleye from Sw Wondrous Wistful Lake St.Clair Michigan 1; Code: XSONJZMYDDRMW9329QJDWFTJYBRFU?MDIYFGFGXBBWBKSIUESDEMLMZVTKJQK
Fish: 52.11 inch Jumping Muskie from Sw Wondrous Wistful Lake St.Clair Michigan 1; Code: SWRWWGVHWDSGW3865QKCYIHXFVIPH@ATBHBOTXJAXHHFLBEMWBGRPWGIDLLHN
Fish: 19.52 inch Jumping White Crappie from Sw Wondrous Wistful Lake St.Clair Michigan 1; Code: TGJPEGHDBJBSO1591AXQGJIVGVTBTVYVEFQLENVBQJMEYIYQDBHPBAXOLYWKT
Fish: 23.28 inch Jumping Smallmouth Bass from Sw Wondrous Wistful Lake St.Clair Michigan 1; Code: NFCHYHPVOESAF5766NTECAWIROMLFVVQZOOFZXWUJJTRHAYCFKHXVPOZLBNFQ
Fish: 18.91 inch White Bass from Sw Wondrous Wistful Lake St.Clair Michigan 1; Code: NAKGLERYUONIJ6408MJXLMMNQOCJHXJLKPGYPXUGVLHVBOKEPXTLPAKFJXOPY
Fish: 17.30 inch Jumping Mooneye from Sw Wondrous Wistful Lake St.Clair Michigan 1; Code: UAARMNXYOJDRP0701BLAHSKRHUOFAFFTZZDLQVDLTPELZNVZRTSMOYFABNEID
Fish: 39.34 inch Jumping Walleye from Sw Wondrous Wistful Lake St.Clair Michigan 1; Code: KREYZCBZWFQIQ1393IVHWXIKLOYTWPMXGYYOHSWHWSDGVJRUSZXSGDUDANMAV
Fish: 17.19 inch Jumping White Crappie from Sw Wondrous Wistful Lake St.Clair Michigan 1; Code: VJMABTADVATBV4115UVWHQOPSBVXRIPPDGFOFTZJKDWVMLBCVFITCPRTLCCRA
Fish: 39.91 inch Jumping Bowfin from Sw Wondrous Wistful Lake St.Clair Michigan 1; Code: JCTOGENNLTAMP4528MEKIKGMGVYIAJWZXSDWMMYZJWRYPRNTBSMWDWUNGYXFM
Fish: 30.24 inch Jumping Rainbow from Sw Wondrous Wistful Lake St.Clair Michigan 1; Code: SRFIFPUQIWLQJ3499HAMPVYCFVHNKBWWNJTZBXYFJJNBMPPNNPKFBZCOAJDNT
Fish: 48.60 inch Jumping Lake Trout from Sw Wondrous Wistful Lake St.Clair Michigan 1; Code: VSBYOKDXTKRDV1723BSHCORHIOGRMALOGERCUBUOVUBBNBLHGOBGMSYPLWNFQ
Fish: 17.90 inch Jumping Mooneye from Sw Wondrous Wistful Lake St.Clair Michigan 1; Code: VYQHAKOBWRSMI3086MZRQEHQUIHKACJPDCCAAJWYRDVZGWKFTRFDCINTVGNFQ
Fish: 25.11 inch Jumping Smallmouth Bass from Sw Wondrous Wistful Lake St.Clair Michigan 1; Code: MBBMIRNWURHRV0800DLYTYBOGPGDUPQQAXMIKYKJOBVKTWHXKTNKWNPZPSFBL
Fish: 33.26 inch Jumping Brown Trout from Sw Wondrous Wistful Lake St.Clair Michigan 1; Code: IQOERXSHDQQGQ2871ZHPFWHCCPVOOVREENZKIECYJNCDEMQYJUNKYQCUMQYAH
Fish: 31.96 inch Jumping Rainbow from Sw Wondrous Wistful Lake St.Clair Michigan 1; Code: GFZATJXGVRDGH3544ZRBGCYWSIAXVMZIKEJSYZVPLFWAJJVGCPBWWRSWSHNFQ
Fish: 37.94 inch Jumping Largemouth Bass from Sw Wondrous Wistful Lake St.Clair Michigan 1; Code: IMMVVXRIASLET4628SUDTLXNMBMWQTZDQFCUENJHUTRTJIURPXHBUUHKPEGXW