Hi Martin, Stanley and Everyone,
Well this is another River in northern Indiana not to far from where I grew up. This was a very polluted River
at one time. With the developement of city sewers and doing away with home septic systems and making the Steel Mills,
that lined the Southern part of Lake Michigan, to clean up their water treatment systems before the water was put back into the
Lakes and the Rivers, the ecosystem cleaned up very quickly, it made it a lot safer to eat the fish that were caught. Martin
did another excellent job as usual, with excellent currents and sounds and definitely some excellent scenery. Always including
some of Stanley's Jumpers always made the outing more realistic. Some of these areas seemed familiar. Martin did include 16 species
of fish in this outing which I caught all 16 on the surface with a dry fly. It took me a while to get this outing posted, Ive
been quite busy around here, plus we have a week worth of winters return. Cold weather and our 1st accumulation of snow for this
year. We got about 2 inches of snow on the ground and the next few days we will have some light snow, then a warm up. Caught a
total of 41 fish and fished all 16 sites Martin include in the Outing. Thanks again Martin for your time and hard work and bringing
back some younger memories for me. Roger
In Sw Wondrous Wistful Calamut River Indiana You Are Fishing For: Jumping Bowfin, Silver Carp, Northern Pike2, Brook Trout,
Brown Trout 2, Rainbow Trout, Chinook Salmon, Smallmouth Bass, Largemouth Bass, Walleye, Mooneye Plus American Eel,
Freshwater Drum, Channel Catfish, Flathead Catfish, Coho Salmon - 16 Species In Total.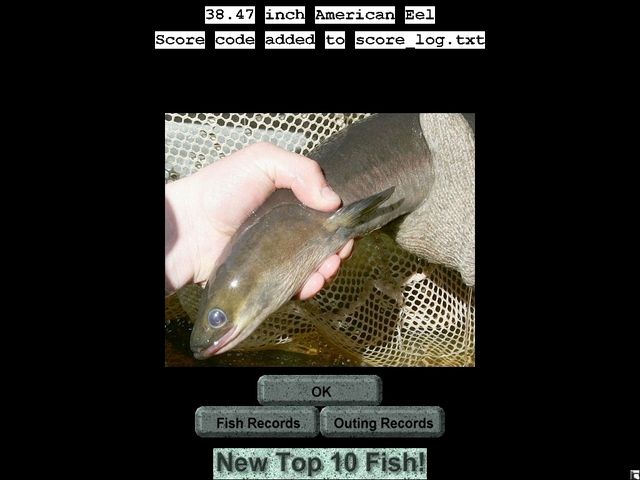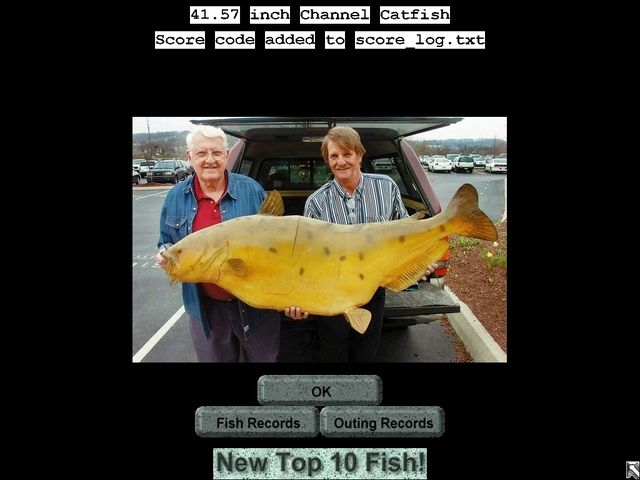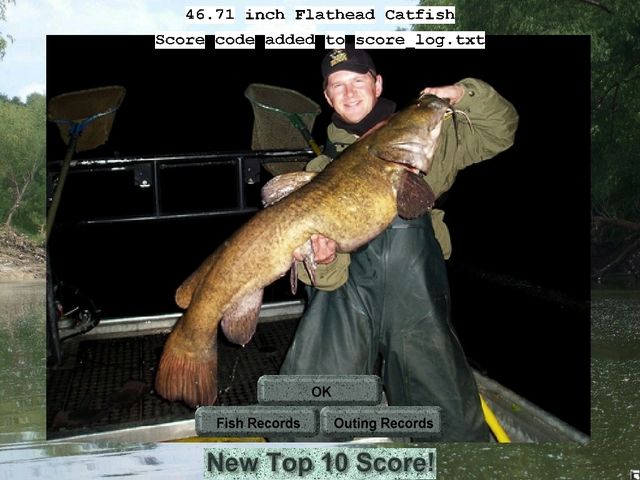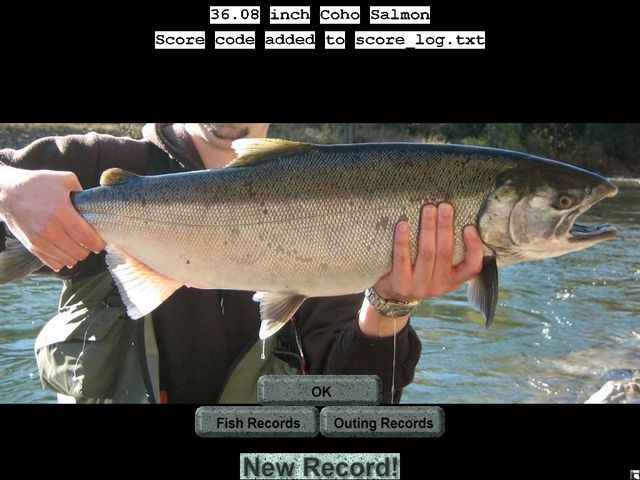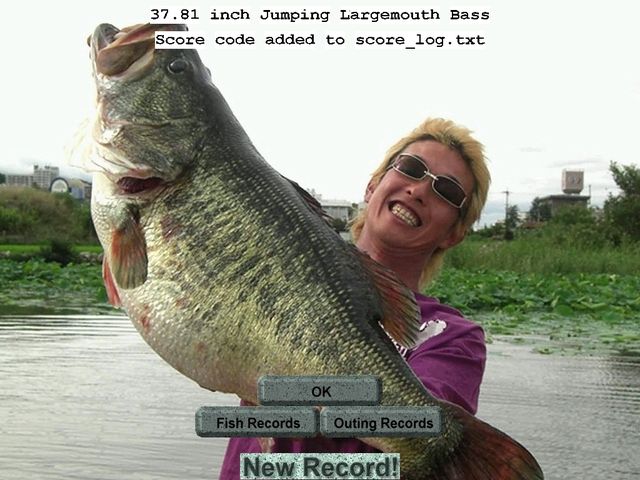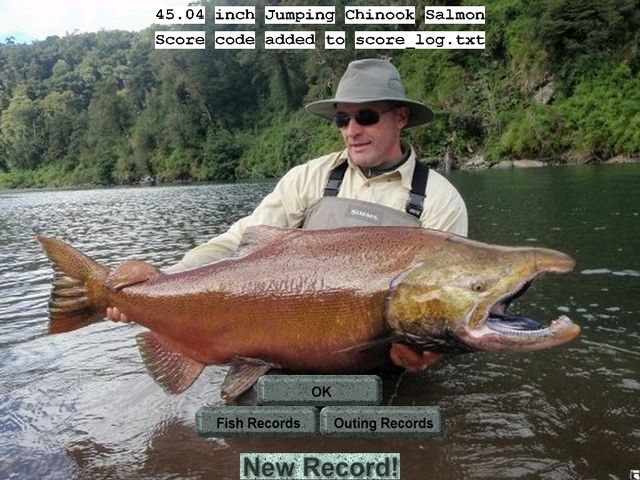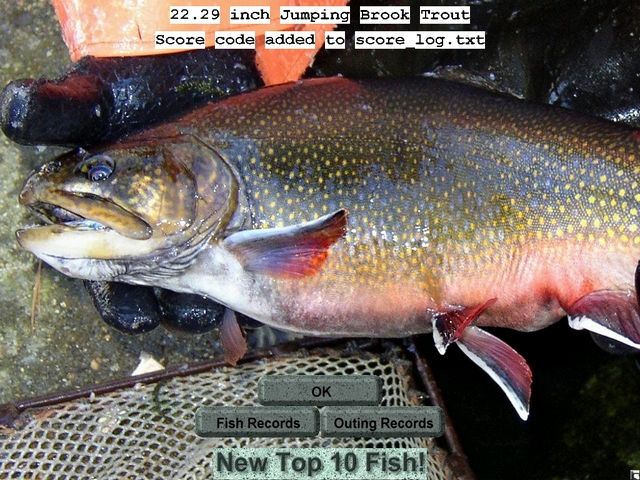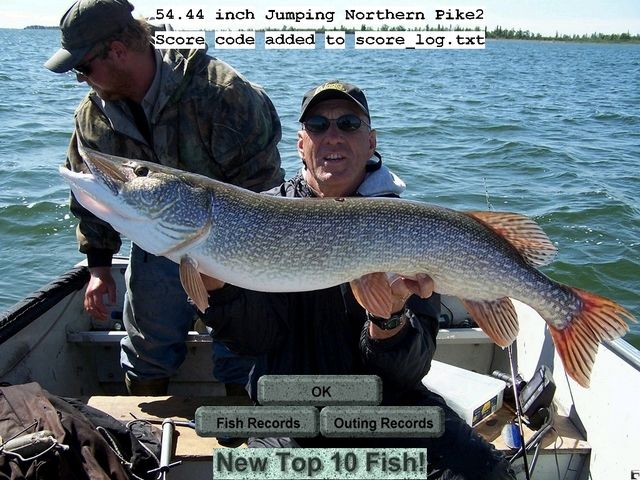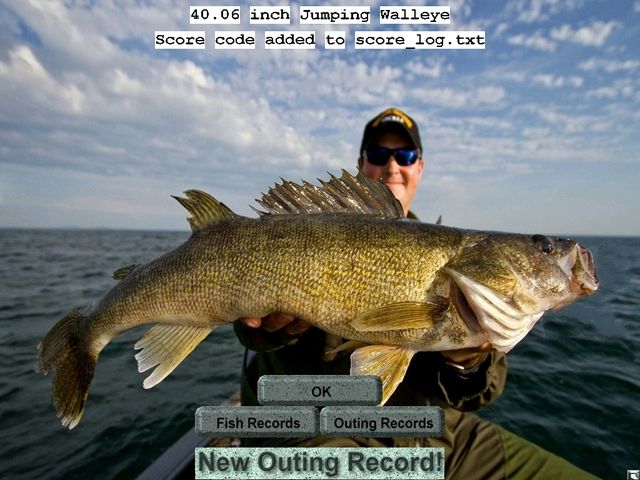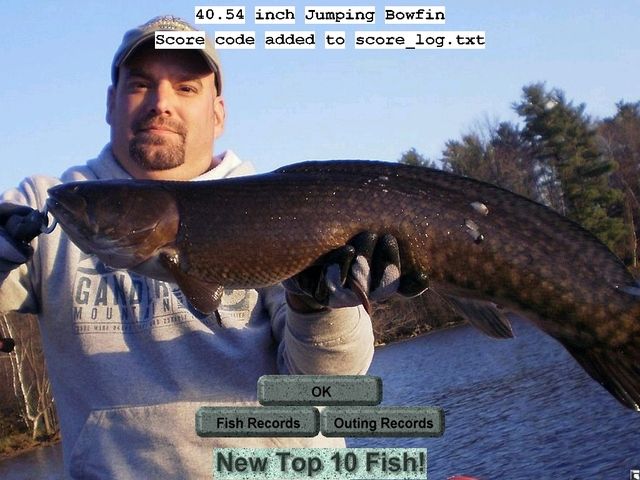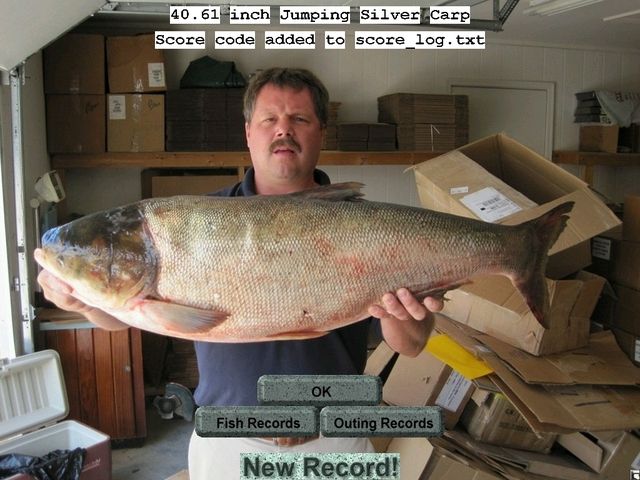 Fish: 36.51 inch Jumping Walleye from Sw Wondrous Wistful Grand Calamut River Indiana; Code: DAJUOOMQHYQTQ7977YVVHYUTZCRBQMZXKKQACNGODSPRNBYNCDETUBYNCUOPY
Fish: 26.22 inch Jumping Smallmouth Bass from Sw Wondrous Wistful Grand Calamut River Indiana; Code: LHLSSKYRHREHM1480CENSOZRFIKGRXJTNLHQQJDZLVCDARFDYECOOOEOSUDNT
Fish: 40.06 inch Jumping Walleye from Sw Wondrous Wistful Grand Calamut River Indiana; Code: CADQUHLHPPLZC8273URBKZCWEJUDDAMYSAZBJXFVWEKMTTCOJIPINJVEBOFVG
Fish: 40.61 inch Jumping Silver Carp from Sw Wondrous Wistful Grand Calamut River Indiana; Code: FRGZPCSFTLHIT6586ISBUIMICVGTXXYMTIYYRSPPEIYRBGRCOCLWIWFHNKEID
Fish: 36.93 inch Jumping Silver Carp from Sw Wondrous Wistful Grand Calamut River Indiana; Code: CMIAJHHKXRXBB0020HOVUFJGQPXXOXYTTGWFVFBVVVZIEYZJAGPTSHFYVGKMD
Fish: 54.44 inch Jumping Northern Pike2 from Sw Wondrous Wistful Grand Calamut River Indiana; Code: PLEPFDAKEVANA5836MZLKPOTAVYAFFCGXXNQRCBQTTNYWRIDRMFZLWRDCVCCS
Fish: 37.81 inch Jumping Largemouth Bass from Sw Wondrous Wistful Grand Calamut River Indiana; Code: PMPCZUJOMNVJR6951OWOPRVZLHQSNJWDFPZHFLSLAWORIHSUNCNCVXBFIBRJX
Fish: 37.10 inch Jumping Brown Trout 2 from Sw Wondrous Wistful Grand Calamut River Indiana; Code: XGADMZQXVBNVX6494DMJLZMIUUPLNBZIHKAUBYBAJFMPHLSYWPFAILMUXFEDG
Fish: 33.62 inch CohoSalmon from Sw Wondrous Wistful Grand Calamut River Indiana; Code: JWDMZKJEZOVEQ1957NKUQLIIQULFLBLWKMQXHUXJMBJFQWFBCBXTLRAHDJAOA
Fish: 46.71 inch Flathead Catfish from Sw Wondrous Wistful Grand Calamut River Indiana; Code: OWWHKGJQBPFON7754UVISSDSRVENWTZHYCQFWUEBMLOMKGZATAIPMVNDQAMMQ
Fish: 33.31 inch Jumping Brown Trout 2 from Sw Wondrous Wistful Grand Calamut River Indiana; Code: ZFCFMFIHNPVOH3875RGDANQERVIPNVFBBNLIYNMRHEDWAKRDUWRUXWDQYTCXN
Fish: 41.58 inch Channel Catfish from Sw Wondrous Wistful Grand Calamut River Indiana; Code: HHMQAZTUOGZQK6469GPCFYVNRIOWBRIHSFXGTGXAZZKTSOFCAAFDNEWADXSFI
Fish: 34.46 inch Jumping Rainbow Trout from Sw Wondrous Wistful Grand Calamut River Indiana; Code: AVSRCJBXLTBKT8202AMREMBWIHWDK?UDUSUOYICOBTEMCATSZBNKEGEUQUKMD
Fish: 20.96 inch Jumping Brook Trout from Sw Wondrous Wistful Grand Calamut River Indiana; Code: WEGIDKZUBNTGU3570WOJMUXRNUJMKWQJHSVGGJQHVLPWQYDJTWASTDHQFFOAJ
Fish: 43.36 inch Jumping Chinook Salmon from Sw Wondrous Wistful Grand Calamut River Indiana; Code: WRWWVADQTRSUS9321LIGULCGLVDQDQWIIXDJYIEMUFNMNSKVGLIPIKJUNUGRR
Fish: 35.26 inch Jumping Rainbow Trout from Sw Wondrous Wistful Grand Calamut River Indiana; Code: LVELXSDSQQISA8438ADOFALNNVEJTVRPEHBKEQISSABNJUDGAARNICRDDFAOA
Fish: 31.09 inch Jumping Rainbow Trout from Sw Wondrous Wistful Grand Calamut River Indiana; Code: QTOTZSDUAPXOP8914WEWFJBDSHFBOMJZBOUKSRFSDWWOFZWPHIFVPULDFCXEW
Fish: 38.47 inch American Eel from Sw Wondrous Wistful Grand Calamut River Indiana; Code: XRGFBQITLZWOF8224PEARCMEGOZOYUJHAGBHRXFFBTSQGAFTZFWJDQNLNWSVN
Fish: 38.67 inch Jumping Silver Carp from Sw Wondrous Wistful Grand Calamut River Indiana; Code: QNYKNSSSWCZGD8650TXMJLLCZVEHISDGFQBEMJLJHNCQNEXRUFKYAEXHVHBZA
Fish: 45.04 inch Jumping Chinook Salmon from Sw Wondrous Wistful Grand Calamut River Indiana; Code: JUWRHMTYXRHCJ9716KHWOGCEEOTWDAPVUWBHFCOJEVAJTPDLSVHFAPZLRHKGX
Fish: 33.38 inch Freshwater Drum from Sw Wondrous Wistful Grand Calamut River Indiana; Code: ILXNDAGCIFIPV3523QXIOJQHBPMMMXFHIORDQERLNIIZGAXHORZYMYVAJTNFQ
Fish: 35.61 inch Jumping Brown Trout 2 from Sw Wondrous Wistful Grand Calamut River Indiana; Code: NLZIKGZHTCUNR7239YAOQQMRCIFMXPBJVEZLFFYDNRNOACRGFXDUNKIWUGNQJ
Fish: 48.22 inch Jumping Northern Pike2 from Sw Wondrous Wistful Grand Calamut River Indiana; Code: YUAISOWTWPMWZ2244XHEVJQAXBGMBDNCIYSNANHMPQPDAVMZROATBRCZMCSVN
Fish: 36.08 inch CohoSalmon from Sw Wondrous Wistful Grand Calamut River Indiana; Code: MOLWVOPNUJJSK3753RMDJGGDEIAPSIWQJCCMDPYGVVTAQJIQSJUZMZPENHJTD
Fish: 37.16 inch Jumping Silver Carp from Sw Wondrous Wistful Grand Calamut River Indiana; Code: JXNWRVMQIBUVP4153PPXVOGOBPLWTXFASETOVCPFTMKZCEPAYJFWVKKRKHLRG
Fish: 36.35 inch Channel Catfish from Sw Wondrous Wistful Grand Calamut River Indiana; Code: AYBQKSZKWOXYZ5359FTALUNFFIOEAWCZSAMNOQVKIKOULGFAGHLAZBPSHLLBQ
Fish: 22.29 inch Jumping Brook Trout from Sw Wondrous Wistful Grand Calamut River Indiana; Code: HVUXGYTVWUTDZ2335WOCASZAHVAZDHJCJBQBHGDTYEJCARENCWUDDEIXQMJTD
Fish: 40.43 inch Jumping Chinook Salmon from Sw Wondrous Wistful Grand Calamut River Indiana; Code: AAYJZKDXFPNTU0777FAEQIAUOWJPVKLBYHDWXSDIQKKLPFMSXLVCOPMYVXLHN
Fish: 16.24 inch Jumping Mooneye from Sw Wondrous Wistful Grand Calamut River Indiana; Code: EAHXHEMOYRTAD6870BQYDPMYUVFZL?MNUMOGUCIHJGCVYILLVXKNMVDDIGGXW
Fish: 40.54 inch Jumping Bowfin from Sw Wondrous Wistful Grand Calamut River Indiana; Code: CQKJGPIBAOCYG7261OBHGPTVYUGQMRIUZNADZWUNKQKRZUVQVDUVMHIHTRZSH
Fish: 23.54 inch Jumping Smallmouth Bass from Sw Wondrous Wistful Grand Calamut River Indiana; Code: RKGRFRAZUHIVK1237SLFZDRQXVJFF@IZQSGEOZLGZKFFPYHIPTSTYTQRDUVOI
Fish: 43.57 inch American Eel from Sw Wondrous Wistful Grand Calamut River Indiana; Code: EKKUCEDKFGJFU4506TKMEQFWCVQKOMCQEJDCFTUQUJQVLGNPUXULVDVJRRCRA
Fish: 37.76 inch Jumping Brown Trout 2 from Sw Wondrous Wistful Grand Calamut River Indiana; Code: XCZTPZPHSABRS0152WHXZOCKEHFTPIPHBLEWXHIIMLTFMHWRCSZYTTSLBEJQK
Fish: 46.03 inch Flathead Catfish from Sw Wondrous Wistful Grand Calamut River Indiana; Code: LAGDQNBSTQLPI8193XSAZVKLSBRVEHIVIVKTDARUHKHMWZWGYSROJXZGBCCCS
Fish: 34.04 inch Freshwater Drum from Sw Wondrous Wistful Grand Calamut River Indiana; Code: ADLLEVLQYCZNI5813LINFQMDKPTPLHBGXOWVNSEEFCUTYTYAVATBZOYWOIUJG
Fish: 38.72 inch Jumping Silver Carp from Sw Wondrous Wistful Grand Calamut River Indiana; Code: HCOHLIFOBSSKP6011XFNWLEJQIFUWTWKVGPRBHVNDCRPLCREKNRRXLKOBDXCT
Fish: 34.05 inch CohoSalmon from Sw Wondrous Wistful Grand Calamut River Indiana; Code: LCRQEZUQUOXNY2124BUGBBIOEIJWLHEWZMZBGRAMOYRAUFYXIRHBURBUNJOAJ
Fish: 53.86 inch Jumping Northern Pike2 from Sw Wondrous Wistful Grand Calamut River Indiana; Code: ZXFIVMODAAGYS8084OKHZRMPPVMDMMQXYIJSJDKBLVMPVRUNQXMDPWSOCEKMD
Fish: 37.68 inch Jumping Walleye from Sw Wondrous Wistful Grand Calamut River Indiana; Code: XNBQSQCCIWJRA0972IZWFRJOYBQDBAZGLZXRVHMNMZHGLWJMXIIZXYSBPZHHW
Fish: 46.48 inch Flathead Catfish from Sw Wondrous Wistful Grand Calamut River Indiana; Code: DPJZRZWEIHMQV4048QRYYMFUIBDWZGBPJYNLEVDKJAWUZLGPRPBEGUVNVCDNT
Fish: 20.79 inch Jumping Brook Trout from Sw Wondrous Wistful Grand Calamut River Indiana; Code: EWMRMLTDNOLUT7231GHOOEMGHBSFIJPLXXIGJBQRUAEQWLKKLVTXBJFLJIUEA