In Sw Wondrous Wistful Menominee River Milwaukee 2
In Sw Wondrous Wistful Menominee River Milwaukee 2 You Are Fishing For: Jumping Smallmouth Bass, Largemouth Bass2,
Northern Pike2, Steelhead Red, Bowfin2, Muskie, Tiger Muskie, Walleye Dark, Brookie, Brown Trout Dark, Red Rainbow,
Bluegill, Black Crappie, Plus Sauger, Yellow Perch, White Bass - 16 Species In Total.
Hi Martin, Stanley and Everyone,
Fished this one and is definitely another fine outing to fish. Excellent sounds and currents and definitely some hard fighting fish and jumpers. Be patient
especially when fishing dry flies. Sit and watch for the rises and quickly throw close to that area and about 95% of the time you will get a quick hit. I was
able to catch all 16 of the species Martin included in this outing. There is definitely some nice scenery in this outing and I did catch all species on topwater.
Thanks again for another excellent outing and with a lot of Stanley's jumpers included even made it better. I even had 1 fish miss the fly and came completely
out of the water.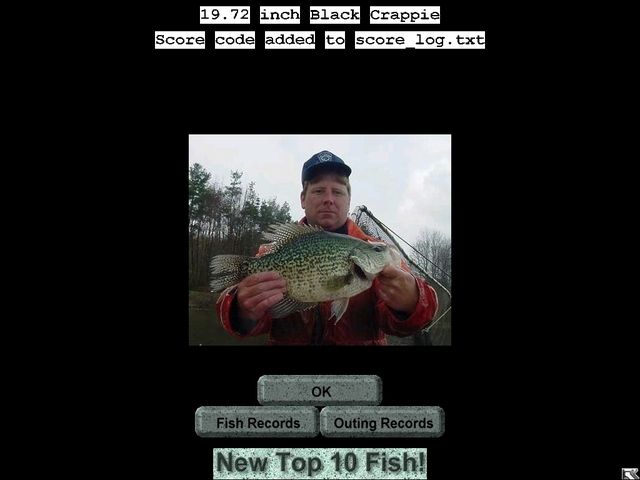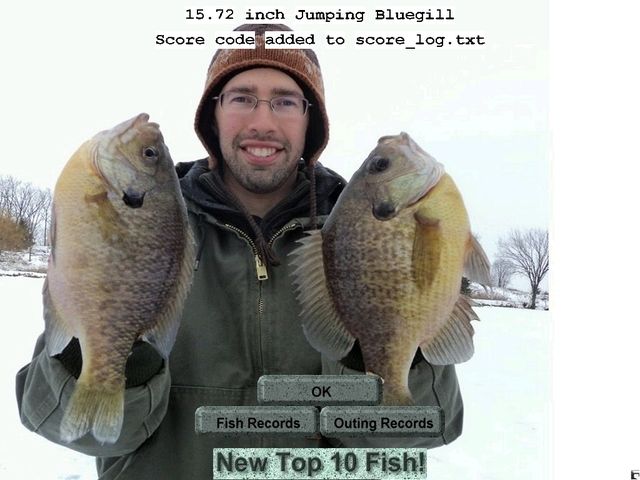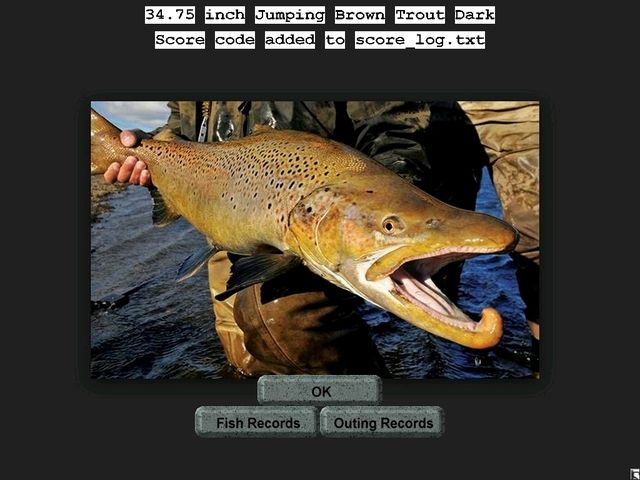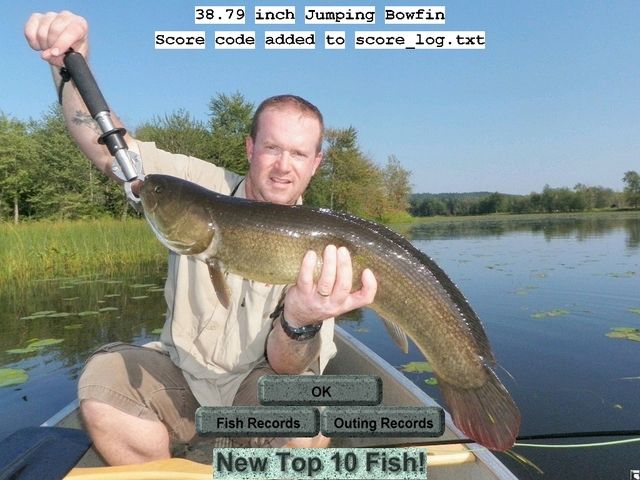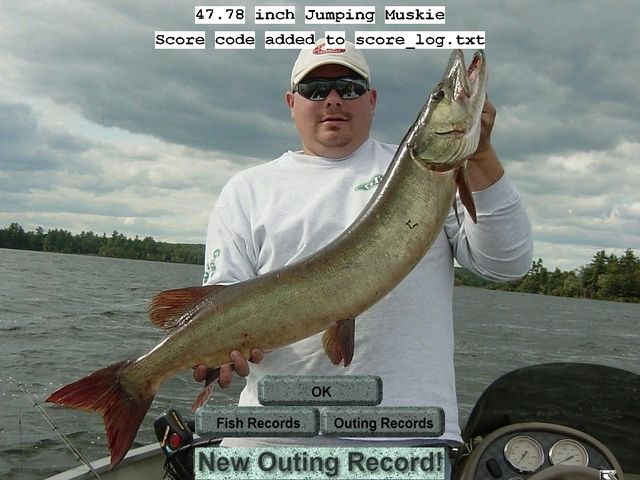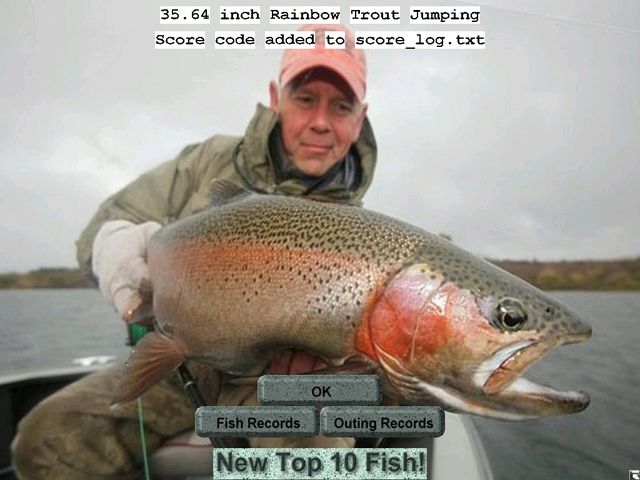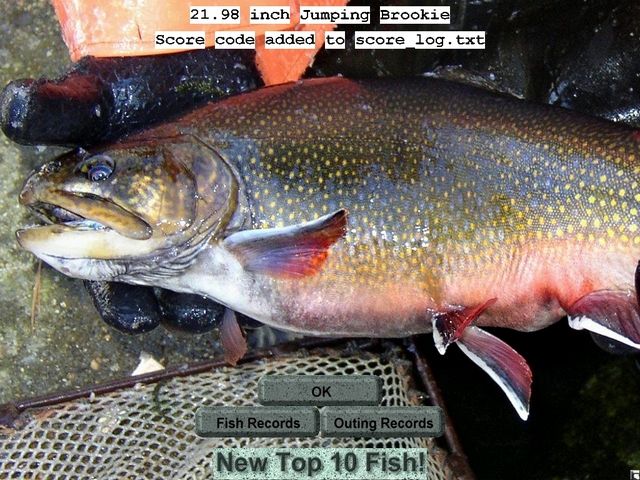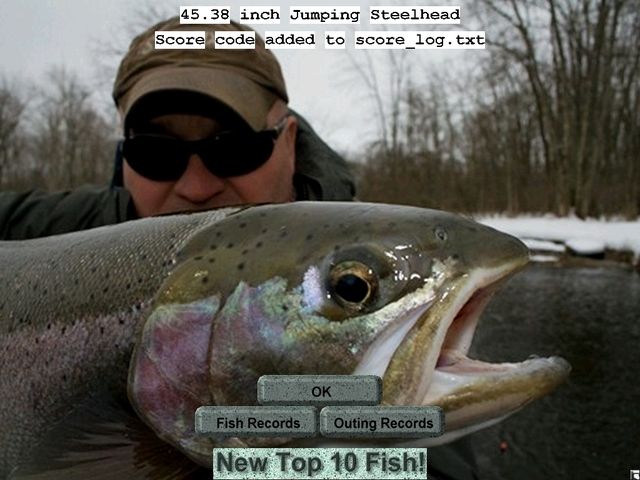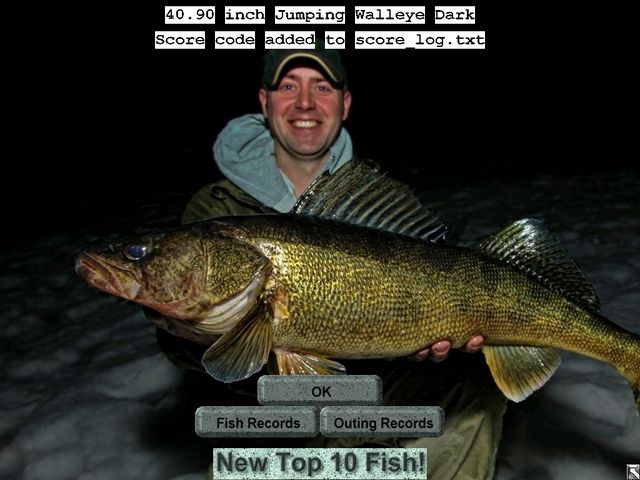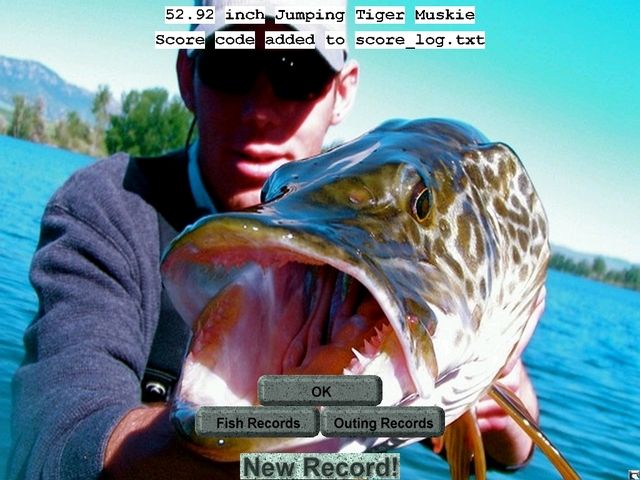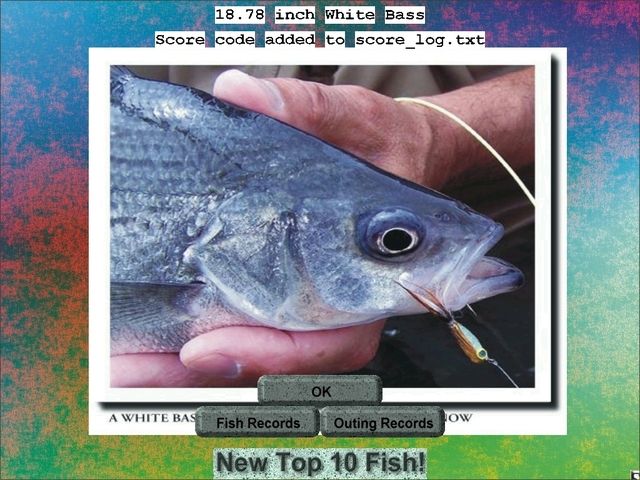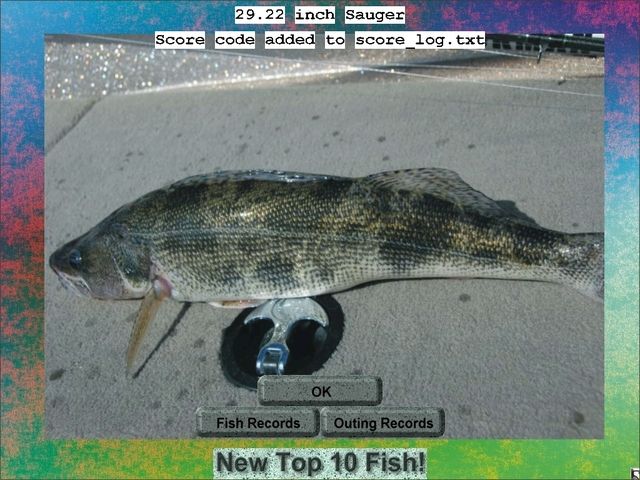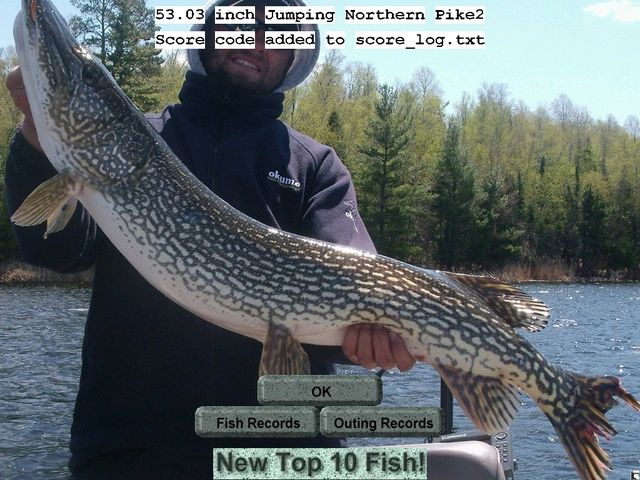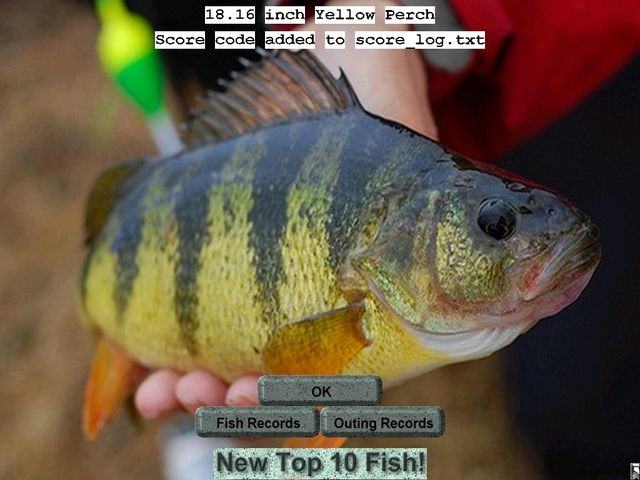 Fish: 45.38 inch Jumping Steelhead Red from Sw Wondrous Wistful Menominee River Milwaukee 2; Code: GMZOZAQRQACRL6022DDPAUNKWPTHMDZGWUGPSQGUPRRSNTEYXUMEJIZEJXHHW
Fish: 40.90 inch Jumping Walleye Dark from Sw Wondrous Wistful Menominee River Milwaukee 2; Code: EDGCRNEASQJVJ1917HQZLXQQQOXABWCSSCGFKCJDQXMDHWDXSWQDALSCBZXCT
Fish: 43.31 inch Jumping Steelhead Red from Sw Wondrous Wistful Menominee River Milwaukee 2; Code: QSDGEJUHISFZZ7018CHTAHVFZVNJGIPDTOILEINWDTWMTRSLKCXLAOESAUGGG
Fish: 18.70 inch White Bass from Sw Wondrous Wistful Menominee River Milwaukee 2; Code: BKJSFOBHDUYAY8186AQVVITPJPIYMSPCTNRZAYRKHBCPWKHROPKMQCLUMDBXF
Fish: 15.72 inch Jumping Bluegill from Sw Wondrous Wistful Menominee River Milwaukee 2; Code: YETPYGHKKJZRV3077DFYYLZTDHUASNQGBDJLROTBANPXVMSCEVVYESSPNXJQK
Fish: 21.98 inch Jumping Brookie from Sw Wondrous Wistful Menominee River Milwaukee 2; Code: LEUNQBFZVTUYF6343EXMLGNAIPBFBATWPDOJAJKDEMSVRDYJRZEPBCXHAZUJG
Fish: 38.79 inch Jumping Bowfin2 from Sw Wondrous Wistful Menominee River Milwaukee 2; Code: GBXRXJVISWWXC5292SMPURNGCVQFBLOHDXNCUICXPLDROFSCUMVVWIZNVDMMQ
Fish: 20.17 inch White Bass from Sw Wondrous Wistful Menominee River Milwaukee 2; Code: HTTADMWRVJYVJ8314TLWQMTWDPQQNGUCKLBLFOBBRQZOCTITRIEPUKKBHYPZO
Fish: 17.64 inch Jumping Black Crappie from Sw Wondrous Wistful Menominee River Milwaukee 2; Code: HNJWOYZXRUAKX6840QEMBWLNKUPXHMOIOVQNZOZJVIFRKQKWEFAAEUNFVEBZA
Fish: 37.41 inch Jumping Largemouth Bass from Sw Wondrous Wistful Menominee River Milwaukee 2; Code: HVUXGYTFXJTPZ2335WOCASZAHVAZDHJCJBQBHGDTYEJCARKJBGUDFELXSOMAV
Fish: 36.43 inch Jumping Bowfin2 from Sw Wondrous Wistful Menominee River Milwaukee 2; Code: EERHMENLBNALI2012IVCQAPOJBPJJSEOATSWYLAZYAVXTEVOOEYOSJBMGLLRG
Fish: 19.72 inch Jumping Black Crappie from Sw Wondrous Wistful Menominee River Milwaukee 2; Code: NHXZNHYRPKOOU9087RVKEFBUVVVUZVJQPEVVBOFLYXCNFGBVJDXTSORNYXSVN
Fish: 47.78 inch Jumping Muskie from Sw Wondrous Wistful Menominee River Milwaukee 2; Code: RKGRFRATVFJTK1237SLFZDRQXVJFF@IZQSGEOZLGZKFFPYNEODSTKPTRCIWKT
Fish: 32.49 inch Jumping Red Rainbow from Sw Wondrous Wistful Menominee River Milwaukee 2; Code: AHQXXBWWBCGYF4356KNRRAXASCCIJJMZDWATRIWVUWFDTPIDXGYCQGVFMYFBL
Fish: 13.74 inch Jumping Bluegill from Sw Wondrous Wistful Menominee River Milwaukee 2; Code: ZWUDAVOKODEBC5188MMEUOFJEBMLEIWBQRXBVUSFDSMVJBIKBRESSZLDWYNFQ
Fish: 18.84 inch Jumping Black Crappie from Sw Wondrous Wistful Menominee River Milwaukee 2; Code: EWMRMLTDNMLZT7231GHOOEMGHBSFIJPLXXIGJBQRUAEQWLQGKFTXNFILJHEID
Fish: 29.22 inch Sauger from Sw Wondrous Wistful Menominee River Milwaukee 2; Code: CYEWBZTWFHVUA3955UKPFTPIVVZSIMLWUUASZNXWVMODPUCSROOFHNBZRZDLY
Fish: 16.20 inch Yellow Perch from Sw Wondrous Wistful Menominee River Milwaukee 2; Code: AWXCDUVPTCBNK1128CRUBOICBCWVKVOZCJXFMZTSAWMGNIRFMTVNPHZFXBNLW
Fish: 53.04 inch Jumping Northern Pike2 from Sw Wondrous Wistful Menominee River Milwaukee 2; Code: JUWRHMTJYZHCJ9716KHWOGCEEOTWDAPVUWBHFCOJEVAJTPJHRFHFCPCLSRCCS
Fish: 35.63 inch Jumping Red Rainbow from Sw Wondrous Wistful Menominee River Milwaukee 2; Code: XOEVNZLLADKXZ3877JEZKUIUJVINJWTKTRJIJPEJMCIAXMZASAQKLVFMVODNT
Fish: 52.11 inch Jumping Northern Pike2 from Sw Wondrous Wistful Menominee River Milwaukee 2; Code: DZESVNLIQASCM3774ALVYNGSJBNHDUSRMVKHGMQLCDBBMSHQYRCCMUPTCJOAJ
Fish: 34.75 inch Jumping Brown Trout Dark from Sw Wondrous Wistful Menominee River Milwaukee 2; Code: YPVMBXUKCQHDD3806XXXDWZXXBWDDFJFTAKGQOXYTTDZUBEXZLMHXCTFHXHCZ
Fish: 13.39 inch Jumping Bluegill from Sw Wondrous Wistful Menominee River Milwaukee 2; Code: IDYQHGOMCPOOT6020KFSQNUUEOTCRCLEVIRPHFOCKTMOQRCPQZFNOOBHNGEID
Fish: 18.78 inch White Bass from Sw Wondrous Wistful Menominee River Milwaukee 2; Code: AMQGSGKTNZQVB3424SXYBOHDSCMJHHYERUIBKAZJQTZYAJOBNTUOVVIZQYLWD
Fish: 18.92 inch White Bass from Sw Wondrous Wistful Menominee River Milwaukee 2; Code: QTBODGPVZCATP8914WEWFJBDSHFBOMJZBOUKSRFSDWWOFZCLGSFVXDODHOEQT
Fish: 52.53 inch Jumping Northern Pike2 from Sw Wondrous Wistful Menominee River Milwaukee 2; Code: NCLCWQWOXOGSZ0629ILDVSSRUVUSTXFLAGNGRXDYCSJJYUNPTYJHKIEBTRRUX
Fish: 18.04 inch White Bass from Sw Wondrous Wistful Menominee River Milwaukee 2; Code: FSEHOHMMCXYOK7682CPWZLTOUHFLXTSJJABPGAHSELYLMOHXJDTHRGRSVKPZO
Fish: 35.42 inch Jumping Brown Trout Dark from Sw Wondrous Wistful Menominee River Milwaukee 2; Code: ZPUPUMUSTEJEY1509ASRAORCSUTBQRWDDCAEIDYRZHJDFIZVSGBSZRXWIOJQK
Fish: 15.40 inch Yellow Perch from Sw Wondrous Wistful Menominee River Milwaukee 2; Code: ZXHHCOZSYOEES8084OKHZRMPPVMDMMQXYIJSJDKBLVMPVRAJPHMDHBVOEPFML
Fish: 52.92 inch Jumping Tiger Muskie from Sw Wondrous Wistful Menominee River Milwaukee 2; Code: EOJZMDZXJRRFR2746SPYQJQMKIZDMOVRLQHSJCNIIDAFGLQSVDZMSESSPDAMF
Fish: 25.43 inch Jumping Smallmouth Bass from Sw Wondrous Wistful Menominee River Milwaukee 2; Code: UHAXSEQWCDEVA3390NXNALZGUBHQSEFQDGSIKMOQWAIDDXEQMGDMXVMPAZHAE
Fish: 18.16 inch Yellow Perch from Sw Wondrous Wistful Menominee River Milwaukee 2; Code: NEBTKARQWQYDO4640LOBXXXCYCMBJQTMQOCOTOMQJGSXWSPFDWZUECGOHWCCI
Fish: 43.18 inch Jumping Steelhead Red from Sw Wondrous Wistful Menominee River Milwaukee 2; Code: BAWNTSLVXFICP9470JWYNZSRJPGNIWYAIQBVQHEBXYXIIMNMPQBOAEUOWEWHJ