Hi Martin, Stanley and Everyone,
Another excellent outing by Martin, good currents, excellent scenery and sounds included. The fish are some times a little slow on the take and other times they'll
smash the fly as it hits the water. All 16 species Martin included in this outing were caught and as usual, some of Stanley's infamous jumpers are included and
watch because some will throw the hook if you pressure them to hard. This outing is definitely a good one to try. After this posting I will move on to another part
of the world. Haven't decided where yet because Martin has so many tempting destinations out there for us and sometimes it's hard to decide where you would like
to go next. No matter where I go I can look forward to some more relaxing but exciting fishing. 61 FISH CAUGHT TOTAL. 15 species caught on dry fly
Jumping Roach caught on wet fly.
In Sw Wondrous Vibrant Wistful Campbeltown Loch Scotland You Are Fishing For::
Jumping Brook Trout,Brookie,Brown Trout,Brown Trout Dark,Rainbow Trout,Red Rainbow,Northern Pike2,Roach,Grilse Salmon,Atlantic Salmon,
Lake Trout,Arctic Grayling Plus Ferox Trout,Grayling,Barbel,Chub,16 Species In Total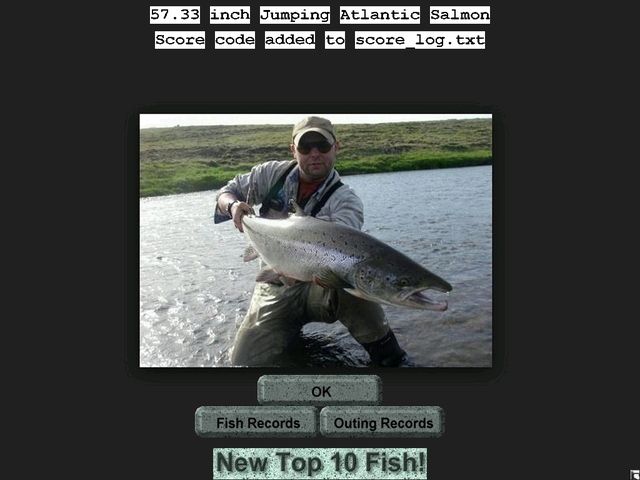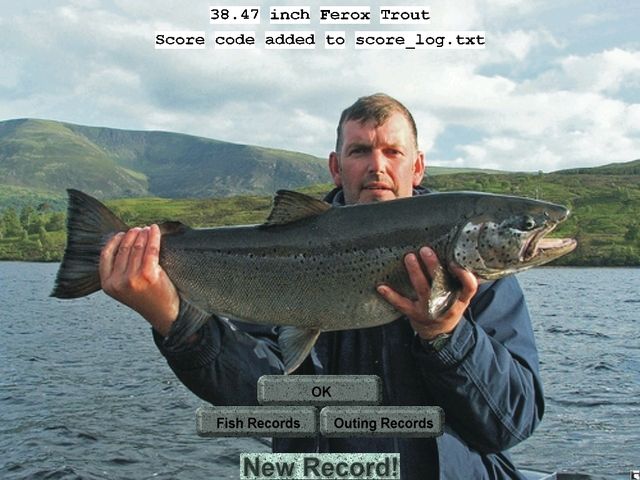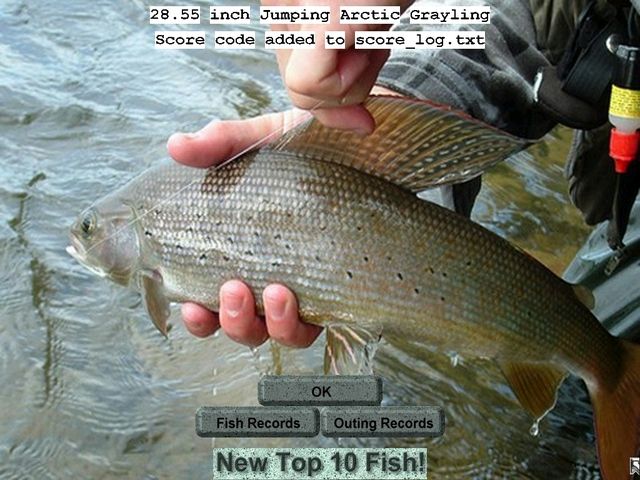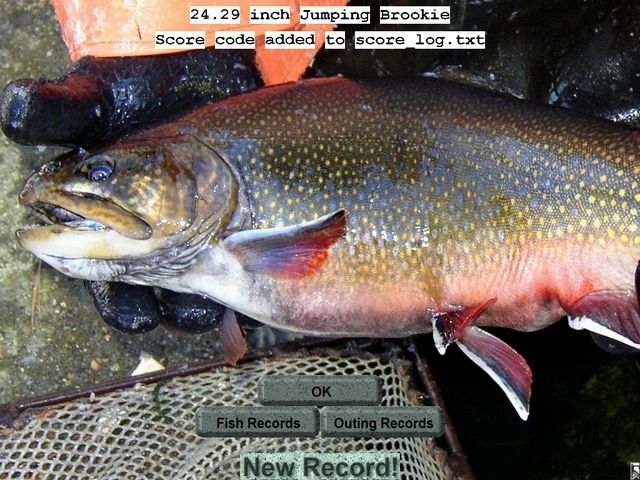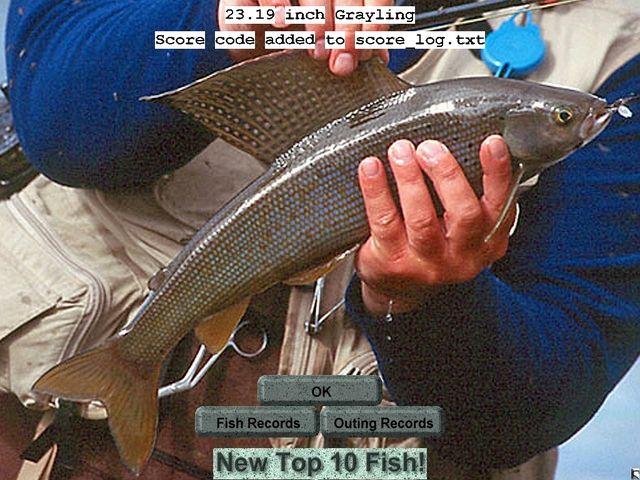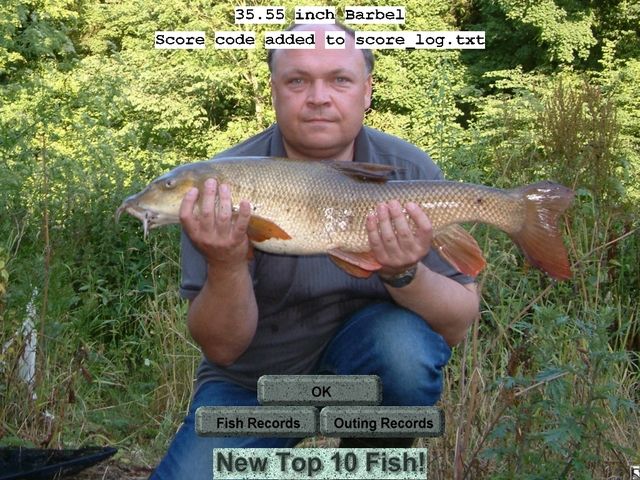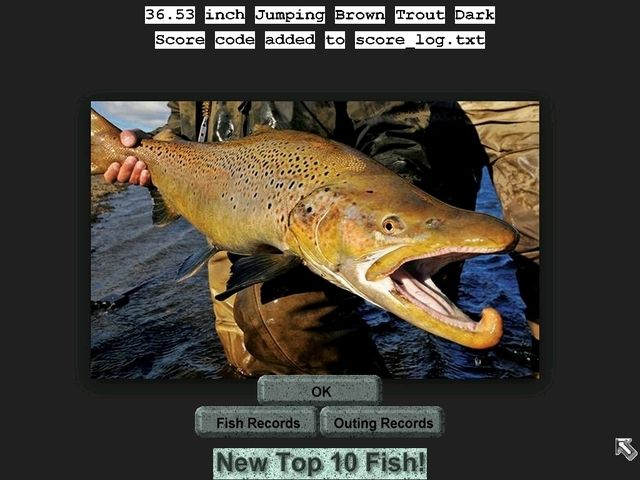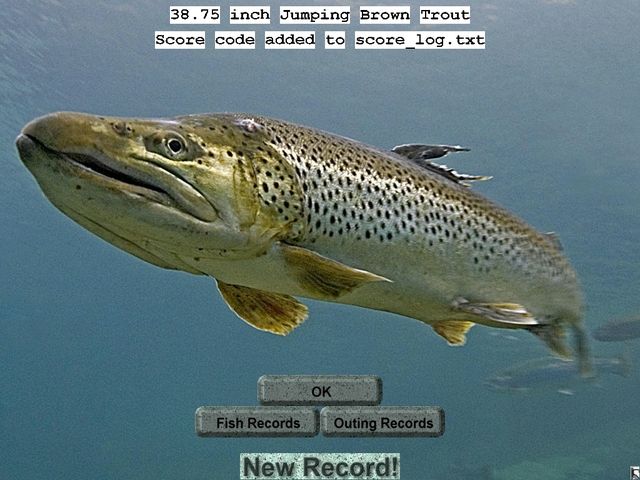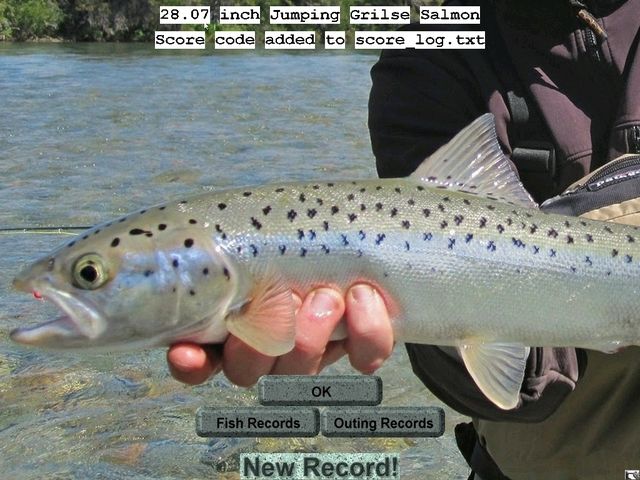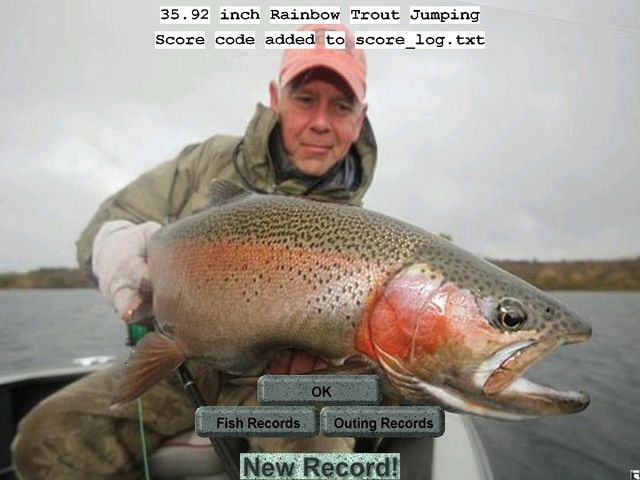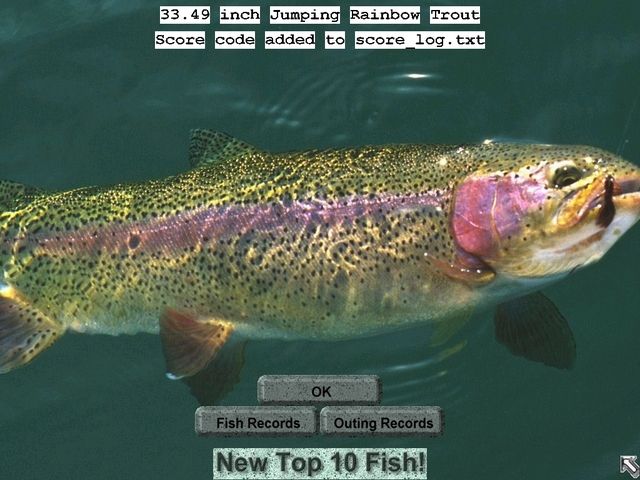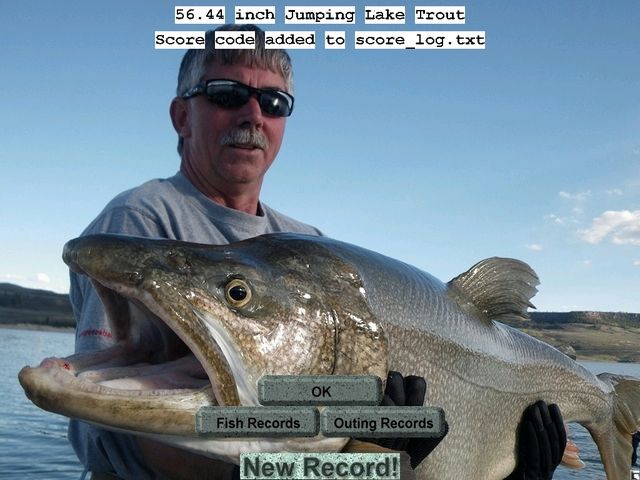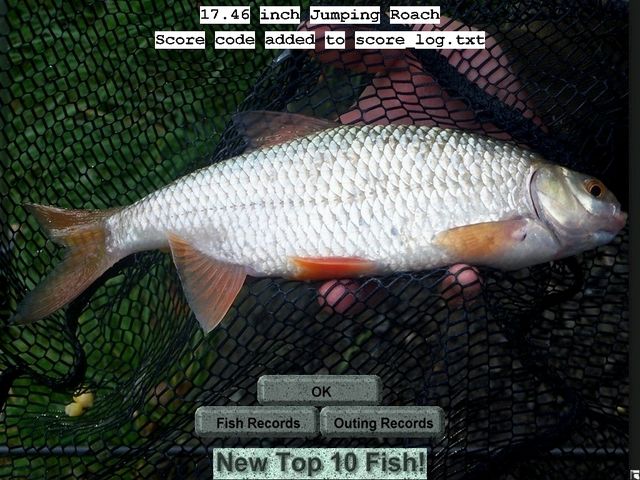 Fish: 54.55 inch Jumping Lake Trout from Sw Wondrous Vibrant Wistful Campbeltown Loch Scotland; Code: XSONJZMNEQQHW9329QJDWFTJYBRFU?MDIYFGFGXBBVKIAQFMTPEMMFZVRDKGX
Fish: 35.92 inch Jumping Red Rainbow from Sw Wondrous Vibrant Wistful Campbeltown Loch Scotland; Code: ZCDALOQVCYKYB8759LYUTFENUCYPT?PECFSBINLVAMCMYEVOUJUVBPUSHWQPC
Fish: 43.60 inch Jumping Northern Pike2 from Sw Wondrous Vibrant Wistful Campbeltown Loch Scotland; Code: NHXZNHYDQIOCU9087RVKEFBUVVVUVVJQPEVVBOFLYWLLNOLAQVXTPCQNXMKMD
Fish: 33.55 inch Jumping Brown Trout Dark from Sw Wondrous Vibrant Wistful Campbeltown Loch Scotland; Code: QFVRVLQDQBFTB3266FFVLQQQCULXIXJEKJAQLKAZWYPCFENELOQWYABOYDYAH
Fish: 20.38 inch Jumping Brook Trout from Sw Wondrous Vibrant Wistful Campbeltown Loch Scotland; Code: EWMRMLTDNOJFT7231GHOOEMGHBSFEJPLXXIGJBQRUZNOETALRXTXKTHLJDZSH
Fish: 48.95 inch Jumping Northern Pike2 from Sw Wondrous Vibrant Wistful Campbeltown Loch Scotland; Code: CNTFEYQMPEQGA1126JTYZHPEBBOPSTSYBFIWJOTRDXJZYOZCUQXEBWZJCIPTJ
Fish: 33.49 inch Jumping Rainbow Trout from Sw Wondrous Vibrant Wistful Campbeltown Loch Scotland; Code: WGUZSKIFDKLZK7791ARHPZCCRBANOXMJXIKWIIZHCYIIWMNBJXQOETKESKMAV
Fish: 38.47 inch Ferox Trout from Sw Wondrous Vibrant Wistful Campbeltown Loch Scotland; Code: EYWOCROIPQDKJ1452JJMQKRSLIKOMKLMNNXWLTAJBFPCCRUCJVJLDVIYXXVUG
Fish: 32.29 inch Jumping Rainbow Trout from Sw Wondrous Vibrant Wistful Campbeltown Loch Scotland; Code: QGYWHCYZAJXES4161HKYQTOVVPLOQTDISJEHZARVDBQWRUFEZWYZIBLZFEMMQ
Fish: 26.42 inch Chub from Sw Wondrous Vibrant Wistful Campbeltown Loch Scotland; Code: KMKXUDQLJHJVU1125HTANCZPKOXSYRIARZRZPSMTAMSAWENECYCGTZPJVJBZA
Fish: 33.90 inch Jumping Rainbow Trout from Sw Wondrous Vibrant Wistful Campbeltown Loch Scotland; Code: HPXWDYJITUVYE0062MGSDCJZOBHGLMCJELXVBGJJDVXCPXWRVVYOMCOSHDLRG
Fish: 19.20 inch Jumping Brookie from Sw Wondrous Vibrant Wistful Campbeltown Loch Scotland; Code: OQKHUNCMWCDJA5290KGYECNRGBDMM@TFBMFZQMKKICDVAMREUHFSVTBYGCLRG
Fish: 37.40 inch Ferox Trout from Sw Wondrous Vibrant Wistful Campbeltown Loch Scotland; Code: VTIPRZXLDIJUM4948DPKHQPNTIYJUEFKODUTIJMKDEKTHRGPEQJRPMIZSHTOV
Fish: 28.14 inch Chub from Sw Wondrous Vibrant Wistful Campbeltown Loch Scotland; Code: YODUSYCZSJMJM1780VZUGTARMPELRIPALAZHCFFCTPEDQBELSNEWLPIDBOKMD
Fish: 33.48 inch Ferox Trout from Sw Wondrous Vibrant Wistful Campbeltown Loch Scotland; Code: ZUCQTBHHONRFM1867JCYRJAXSUUCSPAAAAITTDJFWDLFULYGQKOEELJQMIQEJ
Fish: 21.20 inch Grayling from Sw Wondrous Vibrant Wistful Campbeltown Loch Scotland; Code: WBMIXBGOHOCBO8323RHAFMLZQBRLQ@AMBKVHQJPTGTOMXSHUSKDCYWYSOACRA
Fish: 35.19 inch Jumping Brown Trout Dark from Sw Wondrous Vibrant Wistful Campbeltown Loch Scotland; Code: OMJYYFIWVYXQD7038DBUSSDUQOBCOXIMVFBJMVRSTHKLFINXAKZQZFYPIHCCS
Fish: 24.30 inch Jumping Brookie from Sw Wondrous Vibrant Wistful Campbeltown Loch Scotland; Code: OVXWLWLBRSLOW4638TQFNQXMGBMWKPFKPLNOIDMXEHXQGYXCLTAEJQGSKPCCS
Fish: 38.76 inch Jumping Brown Trout from Sw Wondrous Vibrant Wistful Campbeltown Loch Scotland; Code: AGOKDKOZJZOOO1230IQOMYRUHIKQXFRDVWXCDAFAMSOHPPARIQQZDTLUFTLRG
Fish: 21.22 inch Grayling from Sw Wondrous Vibrant Wistful Campbeltown Loch Scotland; Code: POAYCUSVNHMQG0973KZURXADPOHBRCSDVFOPHKCLIJHDNNKLDDDQNFEBVIRZC
Fish: 23.56 inch Jumping Brookie from Sw Wondrous Vibrant Wistful Campbeltown Loch Scotland; Code: YETPYGHKKRZBV3077DFYYLZTDHUAONQGBDJLROTBAMYVDUCHLNVYRLRPMACCS
Fish: 23.19 inch Grayling from Sw Wondrous Vibrant Wistful Campbeltown Loch Scotland; Code: OHTHDWZVHBPNI8680CRFBETZQOSSI@WHGGTTUEHFXKYHYVHYJXLELIUDGRAMF
Fish: 36.00 inch Jumping Brown Trout Dark from Sw Wondrous Vibrant Wistful Campbeltown Loch Scotland; Code: FZJZQJMNQKZAV0271OCJSMIVZOZVHKSONPYMSRTYHWLBYOIRRGFHIUWZIMISN
Fish: 34.80 inch Jumping Brown Trout from Sw Wondrous Vibrant Wistful Campbeltown Loch Scotland; Code: IRRRMOBNMATSH3996BESCZGINBNFORMAMEKJWNTURPMVYKLGHOVNBCLWSWXVE
Fish: 34.78 inch Jumping Brown Trout from Sw Wondrous Vibrant Wistful Campbeltown Loch Scotland; Code: MMWJDQAFTPSOV9531OKXYBBSABIGGHIPTTNEBYOGONSKATEAONELSTYQBHHNK
Fish: 35.34 inch Jumping Brown Trout Dark from Sw Wondrous Vibrant Wistful Campbeltown Loch Scotland; Code: QOBXIBTIGIRKU9876VCPOOKISHEZMOFCNPEVASDEOPUIGUYJWXSJILIJAZKGX
Fish: 31.17 inch Barbel from Sw Wondrous Vibrant Wistful Campbeltown Loch Scotland; Code: SEPZHWGJIQJFL8647TZPZMLMHVEBQIPWEMLWJGLICOGKXLUJBMDQVTAKADQPC
Fish: 50.74 inch Jumping Lake Trout from Sw Wondrous Vibrant Wistful Campbeltown Loch Scotland; Code: JKXHZEHWQIUWR8200SNAGFBGDOJKVEYBSZLKULBIUSEINZYPRFFHFZKFDAUJG
Fish: 24.01 inch Jumping Brook Trout from Sw Wondrous Vibrant Wistful Campbeltown Loch Scotland; Code: SOOEDYBYOXXMC6173KTLHNMKIUPNUEFZGBAALXFRURMJLJOOIMMOHFRQIGXEW
Fish: 40.73 inch Jumping Northern Pike2 from Sw Wondrous Vibrant Wistful Campbeltown Loch Scotland; Code: LIWWNBYTZOHRK4586DCQQRYXQUKXNCDXVCLHERUVSFUVUQNVTWKQSRRRYATIQ
Fish: 22.36 inch Jumping Brookie from Sw Wondrous Vibrant Wistful Campbeltown Loch Scotland; Code: MVKPQHDKHQEKV6032EZQCZVKIOBZC@FNORRJXGJLZFXPCJPFZWYZCWXLESZSH
Fish: 31.81 inch Jumping Red Rainbow from Sw Wondrous Vibrant Wistful Campbeltown Loch Scotland; Code: RRGFDATHQKKNN5696EXSSVGWKCKPPXIXVHVBIPXLCURUBQFXVGWTGMYYSNLHN
Fish: 25.13 inch Jumping Arctic Grayling from Sw Wondrous Vibrant Wistful Campbeltown Loch Scotland; Code: ALSGUBXEDXUXC0508RADWLIYHIMSVDWAJVEKWRHNIPHCWBOPYDELRQPOKFYYM
Fish: 57.33 inch Jumping Atlantic Salmon from Sw Wondrous Vibrant Wistful Campbeltown Loch Scotland; Code: LTQTHSTZQUODT3217XBIVUFBJONAZUVOOQLUCZZAKLAXTERRWEBZWWAHSRZSH
Fish: 50.30 inch Jumping Lake Trout from Sw Wondrous Vibrant Wistful Campbeltown Loch Scotland; Code: QYBHQJEDMLGEL9380FOLOXLGTHPKPKVEPECSKRPFZSZHUBAODXTISBZXKILWD
Fish: 28.08 inch Jumping Grilse Salmon from Sw Wondrous Vibrant Wistful Campbeltown Loch Scotland; Code: TQIZMNLGIGNYF9097RRMGSJTHUDUXJPQOCFHGEICILICUOECLNROLJOUTRFVG
Fish: 35.00 inch Ferox Trout from Sw Wondrous Vibrant Wistful Campbeltown Loch Scotland; Code: SWNBEMGOVMSVW3865QKCYIHXFVIPH@ATBHBOTXJAXGQDTJPUXNGRGTGIFFZJM
Fish: 27.65 inch Chub from Sw Wondrous Vibrant Wistful Campbeltown Loch Scotland; Code: DVWWKXBCMZNMP7432BGIMCVVTWEPBBIQFWGRCDFUNAAQZWVOKMWBVQTRFQLWD
Fish: 25.70 inch Jumping Arctic Grayling from Sw Wondrous Vibrant Wistful Campbeltown Loch Scotland; Code: NHXZNHYHPQOMU9087RVKEFBUVVVUVVJQPEVVBOFLYWLLNOLAQVXTFGQNZBCCI
Fish: 42.04 inch Jumping Northern Pike2 from Sw Wondrous Vibrant Wistful Campbeltown Loch Scotland; Code: NNNZZOJGVTMEH1450BLUAVRVOPWVBQPKLUOTHWHDUEGAFQKYVYTIVWMJIKADP
Fish: 35.55 inch Barbel from Sw Wondrous Vibrant Wistful Campbeltown Loch Scotland; Code: IUITZVKLFUFAN8113YMTRHKZJUFGEOCFKMDIMNMQGGWLHQXNFCAMMBXDMRPTJ
Fish: 18.86 inch Jumping Brookie from Sw Wondrous Vibrant Wistful Campbeltown Loch Scotland; Code: BUNPJZBJKHONQ6800KKRWJUNKOTKLGFXWLGVDPLLADZNJZUSCHULMLBATRDNT
Fish: 19.62 inch Jumping Brook Trout from Sw Wondrous Vibrant Wistful Campbeltown Loch Scotland; Code: OJKUWWQUJHDAX2901YTLLKYCTVKBYASHXXIBWVQFEQADVUBPUVBSUOVRSYSVN
Fish: 35.19 inch Jumping Brown Trout Dark from Sw Wondrous Vibrant Wistful Campbeltown Loch Scotland; Code: GHVSJJGLWFUVP7766CTZQHDHWPRGCFVIAVZAAQEHTTGMOPAFOZQSYQUSFBDNT
Fish: 56.12 inch Jumping Atlantic Salmon from Sw Wondrous Vibrant Wistful Campbeltown Loch Scotland; Code: MUHKDQUWAPKCX5136CUNXWWEXCBICCCRGZNSJXSPRCWVQTXODOQWRHNIZCGGG
Fish: 32.64 inch Barbel from Sw Wondrous Vibrant Wistful Campbeltown Loch Scotland; Code: GIQKPYGOOLPZO8881WZCNKKNPBRPKKPNIMKZOZODSWPGAFSWCPYUIJEULACRA
Fish: 37.16 inch Ferox Trout from Sw Wondrous Vibrant Wistful Campbeltown Loch Scotland; Code: JTHRCBVJFAGDK6811ICTJDDZTBBMREVZMEPPRUWNFJINPPJUKPZUFORIOXLTS
Fish: 21.43 inch Jumping Brookie from Sw Wondrous Vibrant Wistful Campbeltown Loch Scotland; Code: IKYDFXHDYSPJE0407PSFJGRBIVUUAALCAXNMCWAPNERDCSDRYDRNAXFPEAUJG
Fish: 25.97 inch Chub from Sw Wondrous Vibrant Wistful Campbeltown Loch Scotland; Code: UOMGCFTLYYAVD6679RKATEONYHABCUGOIVOFXCADATMSHYFKUJHUWVZXQCDLY
Fish: 31.75 inch Jumping Red Rainbow from Sw Wondrous Vibrant Wistful Campbeltown Loch Scotland; Code: WPIFGALKSNZTC5399IGASXXVHOLOSPIHSGOBWQUMNQMWXCYGUOSCEIRHCTOPY
Fish: 45.39 inch Jumping Atlantic Salmon from Sw Wondrous Vibrant Wistful Campbeltown Loch Scotland; Code: GHVSJJGDWPVPP7766CTZQHDHWPRGCFVIAVZAAQEHTTGMOPAFOZQSYQUSFYKBS
Fish: 50.85 inch Jumping Atlantic Salmon from Sw Wondrous Vibrant Wistful Campbeltown Loch Scotland; Code: XPPIZQUUKTEEQ4903LBUPXPACIIFEBVGKQMZXGWFUEZSRKTENJYNHOWXBAAWP
Fish: 36.33 inch Jumping Brown Trout from Sw Wondrous Vibrant Wistful Campbeltown Loch Scotland; Code: NCLCWQWCWYFYZ0629ILDVSSRUVUSPXFLAGNGRXDYCRSHGCXUAQJHRRDBTOLRG
Fish: 30.69 inch Jumping Red Rainbow from Sw Wondrous Vibrant Wistful Campbeltown Loch Scotland; Code: HSVTFPBJMKHKK7298ROTLKVRKCRZBJSGCTYURGKFRMHSZLIZCKWMXBZRADLWD
Fish: 48.53 inch Jumping Northern Pike2 from Sw Wondrous Vibrant Wistful Campbeltown Loch Scotland; Code: JCTOGENZLCZAP4528MEKIKGMGVYIAJWZXSDWMMYZJVAWXZYBCEMWUTUNHWVOI
Fish: 34.50 inch Barbel from Sw Wondrous Vibrant Wistful Campbeltown Loch Scotland; Code: ZMVYFTTNIKWFK6453VSQTGELVBJAXUGYFUIFSDXWKOHMMCXTBJDULFLXREZJM
Fish: 28.55 inch Jumping Arctic Grayling from Sw Wondrous Vibrant Wistful Campbeltown Loch Scotland; Code: RBRMSAXTGHUJR4627EKDDLPDNPJZFHMBRVUZARQBOJJXVPMDCLRGNWKWCZTOV
Fish: 56.44 inch Jumping Lake Trout from Sw Wondrous Vibrant Wistful Campbeltown Loch Scotland; Code: ZKPTDVSGIWCDD2131LEBZGZFPCCFPTKYSMTPQMWEDAGYOEVCQLNGALSKFMBXF
Fish: 36.54 inch Jumping Brown Trout Dark from Sw Wondrous Vibrant Wistful Campbeltown Loch Scotland; Code: LLMBPSRJKDUWR9723DXRNFKVKCFML@TUELLGUZVRZWELDWZDZCIPDQCPQRAMF
Fish: 32.42 inch Jumping Rainbow Trout from Sw Wondrous Vibrant Wistful Campbeltown Loch Scotland; Code: WXMXYINIYSTOE9884ILHYHSNCOPFFKDJPNWPEQGVYMQHNDYURIDMNSHZYQPIY
Fish: 17.46 inch Jumping Roach from Sw Wondrous Vibrant Wistful Campbeltown Loch Scotland; Code: QMNFTBJCDGXAE5555MGAUPFCEIXEWNJBZAXNYATFZJKUJWDBMZUWNVHWSCDVI