Hi Martin, Stanley and Everyone,
Another excellent job Martin. Very impressive outing. Had some really good currents, you had to fish just right to get to
some of the fish. Excellent scenery and definitely some really background sounds. You know how sometimes you go fishing and once in a great while,
you happen to run into a pesky mosquito, well this is one outing that fulfills that day of fishing. Excellent outing all the way around. really
enjoyed it and Martin included a lot of Stanleys infamous jumpers. You'll also get a few fish that will top over 70 inches and close to 80 inches.
Also caught all 16 species that Martin included in this outing and all fish were caught on a dry fly on the surface. Thanks again for all your
hard work. Will start fishing one of your newly released outings starting in the next day or so.
Total of 52 fish caught.
In Sw Illinois River Oklahoma You Are Fishing For: Jumping Brown Trout Dark, Northern Pike2, Rainbow Trout,
Smallmouth Bass, Walleye Dark, Bowfin, Largemouth Bass, Walleye Plus Alligator Gar, American Eel, Blue Catfish,
Chain Pickerel, Flathead Catfish, Freshwater Drum, Channel Catfish, Sauger 16 Species In Total.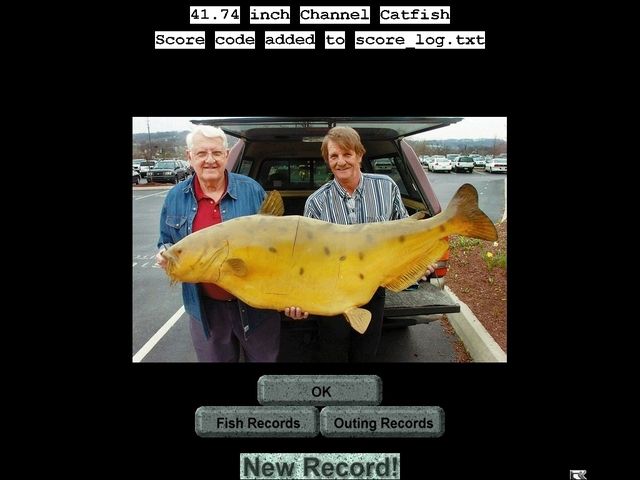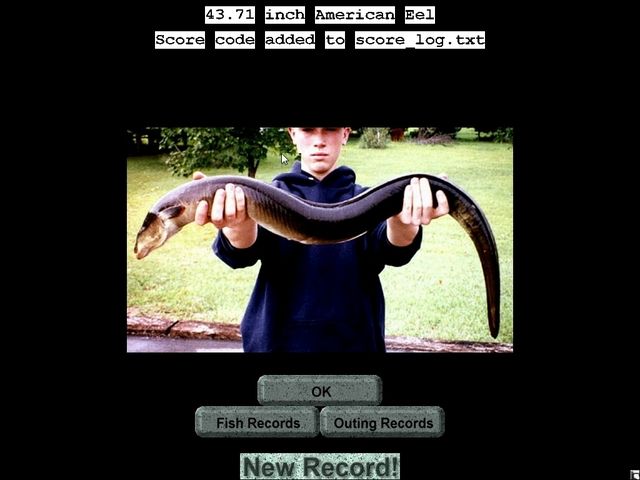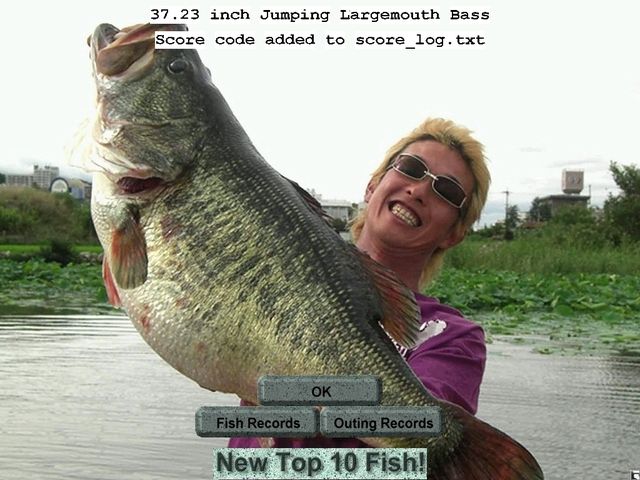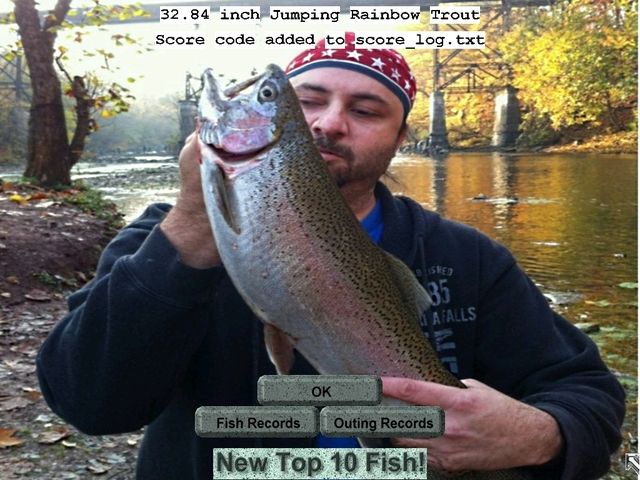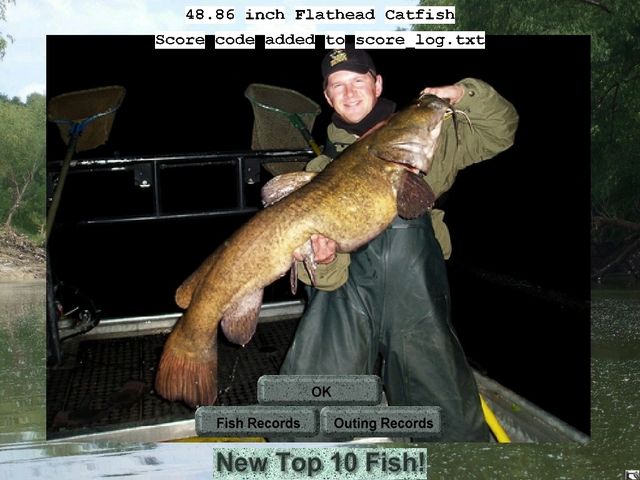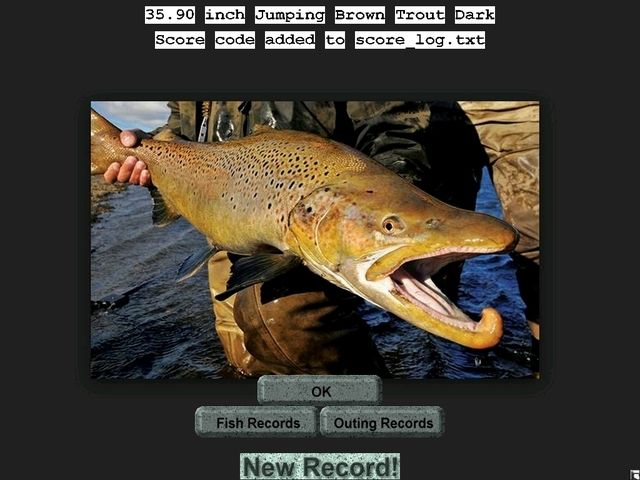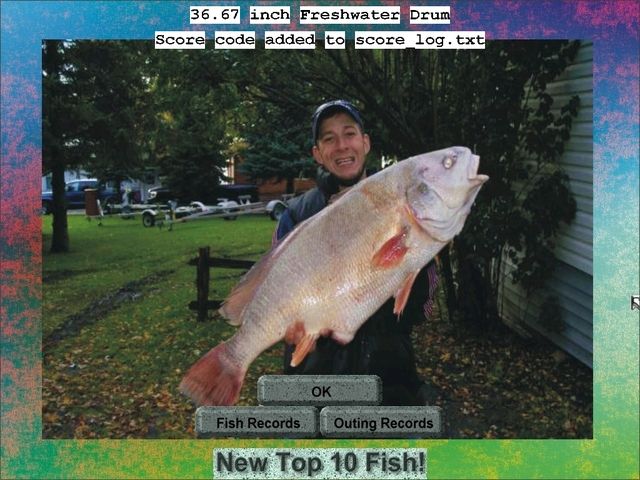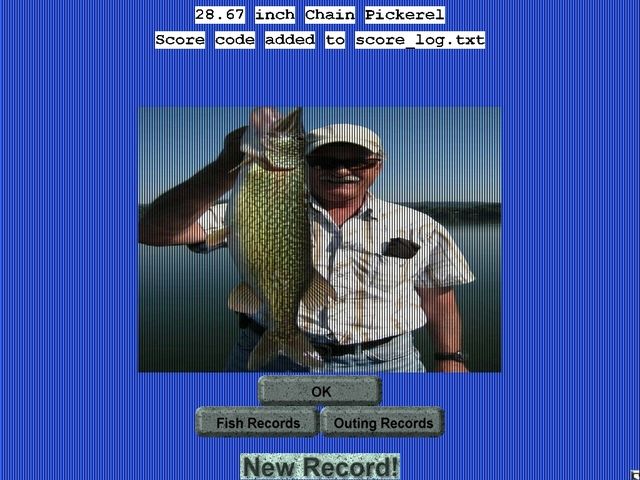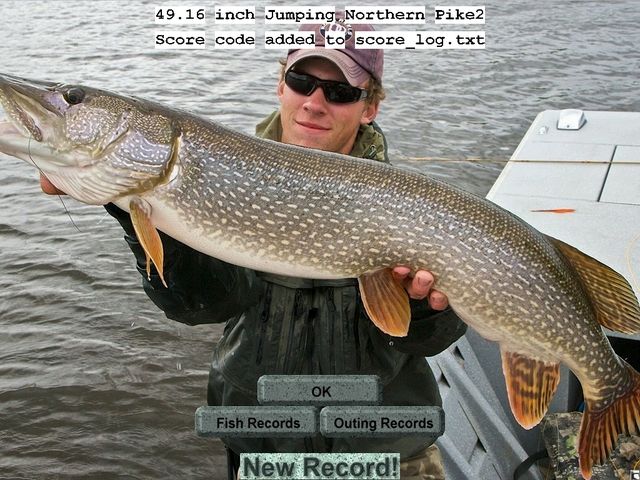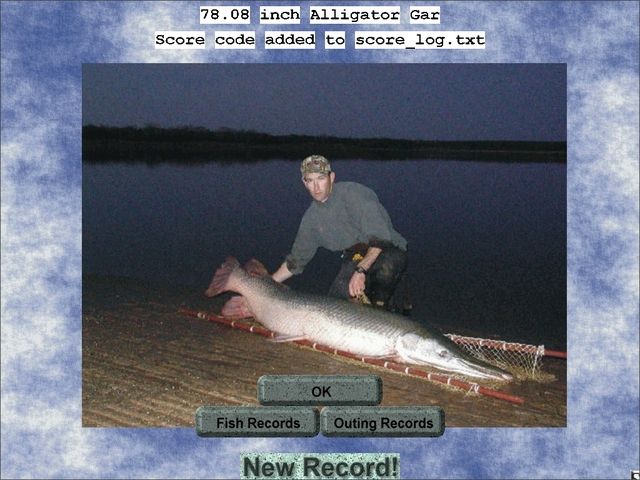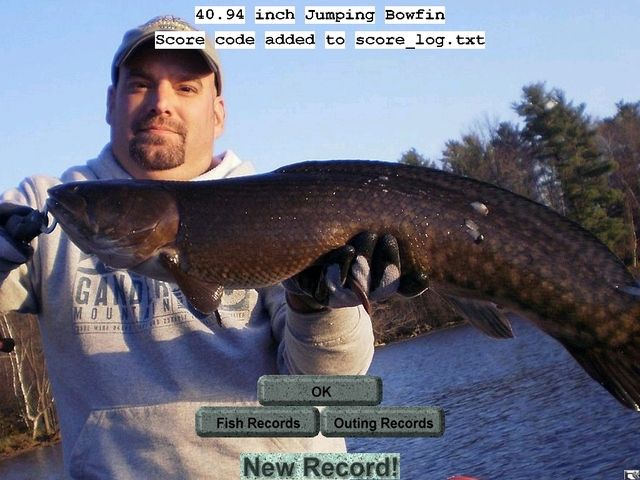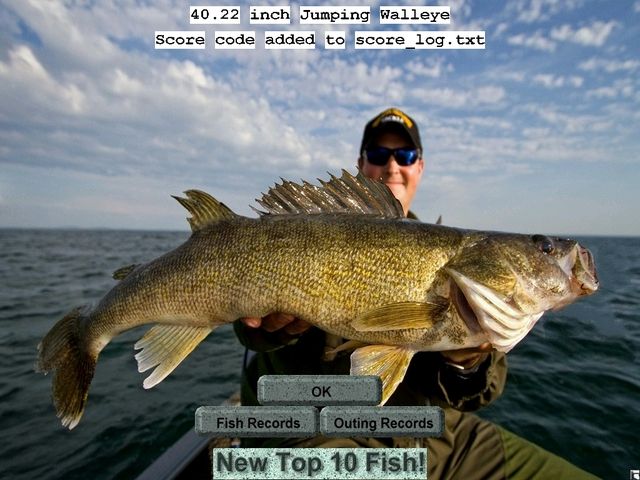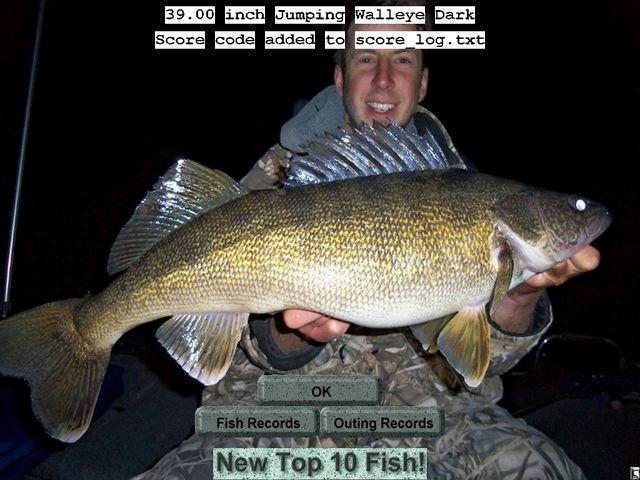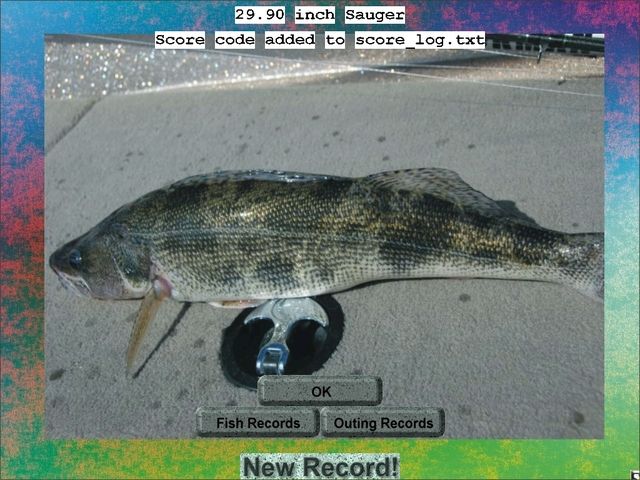 Fish: 36.32 inch Freshwater Drum from Sw Wondrous Illinois River Oklahoma; Code: GESBCUECLNHJJ2639XMYBZZYZWIFPIFMCNGBKQDLERGAKZNOYZTTMUITMBWKT
Fish: 25.86 inch Sauger from Sw Wondrous Illinois River Oklahoma; Code: YCORTQHTJBGJN9855IDAWFUHZICRIMCFKVUDPXJCTOZEKUHPSVFKEMXBCNYNB
Fish: 38.37 inch Jumping Bowfin from Sw Wondrous Illinois River Oklahoma; Code: KQTLMTSXMVXAR9477GYMRVJMSCGCYLSTYYVPTBELXWVGWHJKNBPPWYJSSZAOA
Fish: 40.22 inch Jumping Walleye from Sw Wondrous Illinois River Oklahoma; Code: UIDKMVRGVBXLR4216PCQFOYMFVZIYAZVMFDZYUGMEBBRCTGMYMLXOECSFHYYM
Fish: 37.23 inch Jumping Largemouth Bass from Sw Wondrous Illinois River Oklahoma; Code: HGQRHIGPETEXL3463ESZIWOHGOOERVGDKGTPFXOESLDTTEKLBSXSAUFXYPBZA
Fish: 41.74 inch Channel Catfish from Sw Wondrous Illinois River Oklahoma; Code: WVRBPIBYWJIYP7763SVKGVNEAIMIZJOJOWHZCQWVJORHVVDCYPNRBXFDLRLHN
Fish: 28.67 inch Chain Pickerel from Sw Wondrous Illinois River Oklahoma; Code: JUPMFOPGXAJNJ9716KHWOGCEEOTWBAPVUWBHFCOJEKTDGVSLPDHFXGALRXBKK
Fish: 36.34 inch Jumping Largemouth Bass from Sw Wondrous Illinois River Oklahoma; Code: EGFYTEXQDFUQX6053MXISFUZNIGSPTSPYKZEACKYFEQNDQYIWAOCGCTASQVZT
Fish: 29.90 inch Sauger from Sw Wondrous Illinois River Oklahoma; Code: MOBVUAAXUCMWK3753RMDJGGDEIAPQIWQJCCMDPYGVKMUDPXQPRUZJQQEPEDGT
Fish: 35.30 inch Jumping Brown Trout Dark from Sw Wondrous Illinois River Oklahoma; Code: QJWBRSRLTFKLY9418MSIXBAFRIVPIQTFQRWGIASRSIKAFGQKXQWXAZVXWLISN
Fish: 49.16 inch Jumping Northern Pike2 from Sw Wondrous Illinois River Oklahoma; Code: BSZYTZRAJCRZA2888GILMDPBGIBBFNRWFURNJYCUTFZVQZRBJPEXJIYMHYMAV
Fish: 43.71 inch American Eel from Sw Wondrous Illinois River Oklahoma; Code: JAICMEBOJNFWI0596JTEGFAIDOGZURIYHKWOSVOZBFAEFQVKJLWJJQSZVDFBL
Fish: 26.58 inch Chain Pickerel from Sw Wondrous Illinois River Oklahoma; Code: NWNAKHIQKIKSZ8051JZOWBLVWCPPHHMIOSAGEECIFMUKEFTCXNUVDKSMQRULA
Fish: 35.43 inch Freshwater Drum from Sw Wondrous Illinois River Oklahoma; Code: IHWEHAFUFNCKY4260JKWCYFKMCDUMDVGBHVFLWZTYCQRYCQAQCTPDFTQNLPZO
Fish: 32.84 inch Jumping Rainbow Trout from Sw Wondrous Illinois River Oklahoma; Code: ZSSUEVMKMUZTF8626FAAHEVMOOCTMOMABSBDRLZNONMFBCVPWSZRYYGUZPMAV
Fish: 37.11 inch Jumping Walleye from Sw Wondrous Illinois River Oklahoma; Code: YIVYVGAVOYDAA9219KKKKDKQTVDSOOIHPLNJVFLLPWTBDXFMWYJHJGLYKXLWD
Fish: 36.58 inch American Eel from Sw Wondrous Illinois River Oklahoma; Code: VXRZSTKGGJYVJ0181KCWTBAKJOHTU?PLUCYJMAECRPNZHTCMPTXTHPCIQLFBL
Fish: 55.20 inch Blue Catfish from Sw Wondrous Illinois River Oklahoma; Code: AYAUZYTAXHWJZ5359FTALUNFFIOEYWCZSAMNOQVKIZHOYMUADPLAMWQSITBZA
Fish: 26.65 inch Sauger from Sw Wondrous Illinois River Oklahoma; Code: LATYODVNTWNZI8193XSAZVKLSBRVCHIVIVKTDARUHZAGJFLGVAROGOAGDHYNB
Fish: 46.58 inch Flathead Catfish from Sw Wondrous Illinois River Oklahoma; Code: ZMZSXPZSIWXNK6453VSQTGELVBJAZUGYFUIFSDXWKERIRAWSSPDUJIKXPSFVG
Fish: 37.24 inch Channel Catfish from Sw Wondrous Illinois River Oklahoma; Code: UDJJTEUXAVPSV5048GSJOAOJEVYYSCVPXGVKGDWZIVINVHROQZYKYLQGSAHCZ
Fish: 35.90 inch Jumping Brown Trout Dark from Sw Wondrous Illinois River Oklahoma; Code: PBNFXDWEWOOJJ6020VFPKGNVRVNPZRLEUAYUPLOPAFBKEYVYHUWBMNBPUMBZA
Fish: 37.18 inch Jumping Bowfin from Sw Wondrous Illinois River Oklahoma; Code: QAIVECOGWUVFF2808FVOBDYMBUKVM@WGWLTBTSXMHIFVDQGFLHCKGSVUVMWKT
Fish: 37.40 inch American Eel from Sw Wondrous Illinois River Oklahoma; Code: JNZQWVFJBOGVX6447XVJNNNQAHALNCPYQHERKLCWBZYMBLJWOSDXOBUEVMHHW
Fish: 27.35 inch Chain Pickerel from Sw Wondrous Illinois River Oklahoma; Code: CSRWTRNFBTWBO1482KDFIVZHBBYZAREVPEPLBNDNRTMZKYMZCJKQVSDDEXAOA
Fish: 40.51 inch Jumping Bowfin from Sw Wondrous Illinois River Oklahoma; Code: NTDACOUYZDNMT1714ESEPTHDZBYOJKWLPKAZOWBMQDKUVRHMZZWFIPHOSYFBL
Fish: 28.10 inch Sauger from Sw Wondrous Illinois River Oklahoma; Code: CBPXJALPHMMOT9399OWEPBJCWVUUBFGVASDSXGXZDEEASHBGUYXKKXGHJWSSC
Fish: 35.22 inch Jumping Largemouth Bass from Sw Wondrous Illinois River Oklahoma; Code: CNTFEYQKPRNLA1126JTYZHPEBBOPUTSYBFIWJOTRDNTVDMYBLWXEPDYJCLVOI
Fish: 48.86 inch Flathead Catfish from Sw Wondrous Illinois River Oklahoma; Code: OKRXVZOCTTFJO5017ZYOIMXIMHJTIXMMFOMSKEIAMRTTMISFHKJDTKEBXTBZA
Fish: 26.12 inch Jumping Smallmouth Bass from Sw Wondrous Illinois River Oklahoma; Code: NKOVPXRKBKZNB4104WDLTNFLRONVNTZNNMWUROGHFDGOBAWHOPVJYEALPXWKT
Fish: 36.55 inch Jumping Walleye from Sw Wondrous Illinois River Oklahoma; Code: MGGIZIPXPFRDI9268LVNKLKRHPHMCNCOXVTYUQMWKVIINPFCSYBWRKBTTLADP
Fish: 27.97 inch Sauger from Sw Wondrous Illinois River Oklahoma; Code: KPZBTMJNVBYXA6272MTJUSDHZHHSQOYXQHRYFTNPPTMEKRZLRSHFCBZQPPABU
Fish: 39.26 inch Channel Catfish from Sw Wondrous Illinois River Oklahoma; Code: EFNOWNBBTZBXZ5138KAFNDWTCVPBHOYTILVNMUSDYTPLRAORISGZNFJXMIPWU
Fish: 42.43 inch Jumping Northern Pike2 from Sw Wondrous Illinois River Oklahoma; Code: VZBLMTXJHZJCZ4102OEUVHGWNUZCC@LLLTNZOSOTZDXMFSEDZRNGAJDWCJRZC
Fish: 36.78 inch Jumping Walleye Dark from Sw Wondrous Illinois River Oklahoma; Code: HTGFZYKVWZBEJ8314TLWQMTWDPQQLGUCKLBLFOBBRFSIPZRXPGEPFFIBGZSVN
Fish: 39.00 inch Jumping Walleye Dark from Sw Wondrous Illinois River Oklahoma; Code: EZLWOUMAHAVAA2378LGPVMYQEUKFWGFQDFANZBREJYISSFLSPRRVSVRJCASVN
Fish: 65.76 inch Alligator Gar from Sw Wondrous Illinois River Oklahoma; Code: KVHHUQNZAHFPN9735PITIITHSBILWJWYUXCELBHYLBHCCTXIEODCSRWMYVTOV
Fish: 39.10 inch Channel Catfish from Sw Wondrous Illinois River Oklahoma; Code: NZLEMOJKDVVDG3285OHPDJYETVZQWECNMATFUEDWUDFSNTFJDCSUYFVLJKIXK
Fish: 30.51 inch Jumping Brown Trout Dark from Sw Wondrous Illinois River Oklahoma; Code: ZNGXNELXSPPRJ7388XQLYILROOBRGQADNTTWGMPASHAKUQGJGFLFTJCIVINFQ
Fish: 53.70 inch Flathead Catfish from Sw Wondrous Illinois River Oklahoma; Code: DCTKHISRJHLIF1198BXBJDAFKJIKENVXATFIEEQOKVSZXFHDJJUHOEUINBSPQ
Fish: 27.94 inch Sauger from Sw Wondrous Illinois River Oklahoma; Code: GMIIBKHWQIEVL6022DDPAUNKWPTHKDZGWUGPSQGUPGKMAZNCVSMEKIXEKXUYV
Fish: 27.97 inch Sauger from Sw Wondrous Illinois River Oklahoma; Code: MZVSWRVPLOULS4584LEUOKGHYCKSCAPOCQVHBPCCNXSNCMKLKHLIVZZUELABU
Fish: 36.19 inch Jumping Walleye Dark from Sw Wondrous Illinois River Oklahoma; Code: OUMRYNDPAVRSF3533RSCQNYGNPMEMSDGHLBXUVUBFUYSAGMJGJTBNWVHFWOPY
Fish: 36.67 inch Jumping Walleye from Sw Wondrous Illinois River Oklahoma; Code: HNJWOYZSSNANX6840QEMBWLNKUPXFMOIOVQNZOZJVXYLXWTACDAAPPLFWCHHW
Fish: 74.03 inch Alligator Gar from Sw Wondrous Illinois River Oklahoma; Code: ZNIWEKWCTHOVJ7388XQLYILROOBRGQADNTTWGMPASHAKUQGJGFLFTJCIWSFBL
Fish: 78.08 inch Alligator Gar from Sw Wondrous Illinois River Oklahoma; Code: NOSLCDDOGMNSY2356DIXFGQAZBWNLMROBMSKVFZZUYRYWWTOIUJSVAVUNLBZA
Fish: 38.65 inch Channel Catfish from Sw Wondrous Illinois River Oklahoma; Code: USNPSVIGCNNZA2920YOMFOZKNVKTBWQPOUTVBLTVODHQHAAQFMVVYMTYMKFVG
Fish: 26.86 inch Jumping Smallmouth Bass from Sw Wondrous Illinois River Oklahoma; Code: HNJWOYZOSDBGX6840QEMBWLNKUPXFMOIOVQNZOZJVXYLXWTACDAAPPLFVIGXW
Fish: 40.94 inch Jumping Bowfin from Sw Wondrous Illinois River Oklahoma; Code: DVDBYNKGMMOPP7432BGIMCVVTWEPDBIQFWGRCDFUNQKMEUUNBSWBTTSRFGTIQ
Fish: 47.87 inch Blue Catfish from Sw Wondrous Illinois River Oklahoma; Code: SUWEUELSTGBIP9644NAVWDCLBOQGB@MSLZMGRFZAQQQDAJLKEVIDBZMNRKGXW
Fish: 56.71 inch Alligator Gar from Sw Wondrous Illinois River Oklahoma; Code: XYFNMMIMIMZDI1503BQOKVJSSVSGKSSEEOYFLOZKFTOCPQCIXYZJFHUSDUJQK
Fish: 36.67 inch Freshwater Drum from Sw Wondrous Illinois River Oklahoma; Code: OUIWBHTMAVTOF3533RSCQNYGNPMEMSDGHLBXUVUBFUYSAGMJGJTBDBVHFATOV