Hi Martin, Stanley and Everyone,
Finally had some time to fish one of Martin's new outings with one of Stanley's new Jumping Sunapee Trout. Stanley did another excellent
job on the Sunapee Trout. Martin included 16 species in this outing and the best jumper out of all of them was Stanley's Jumping
Landlocked Salmon. This fish would completely come out of the water when it hit the fly. Martin also did another excellent job on this
outing. Had som nice sounds, definitely some beautiful scenery and alot of fish that hit the flies really hard. Had to be careful on not
setting the hook to hard or you had the possibility of snapping your line. Had some nice currents and the fish didn't hit to quickly, had
to use a little patience in letting the fly drift in the right spots for the fish to hit. Another excellent outing on Martin's part and
another enjoyable one to fish and sit back and relax and spend some time. I fished all the sites and definitely made sure that I caught
all 16 species, especially Stanley's Jumping Sunapee Trout which made another excellent edition to the species list. I really enjoyed
getting back into the fishing. Thank You to Martin and Stanley for all their time spent on making the new outings and new fish species.
I caught all the fish on the surface with a dry fly and caught a total of 45 fish and enjoyed the scenery and sounds and catching all that I did.
In Sw Wondrous Sunapee Lake New Hampshire You Are Fishing For::
Jumping Sunapee Trout,Brook Trout,Lake Trout,Smallmouth Bass,Rainbow Trout,Landlocked Salmon,Brown Trout 2,Sockeye Salmon F,
Sockeye Salmon M,Mountain Whitefish,Walleye Plus Burbot,Chain Pickerel,Brown Bullhead,Yellow Perch,Kokanee,16 Species In Total.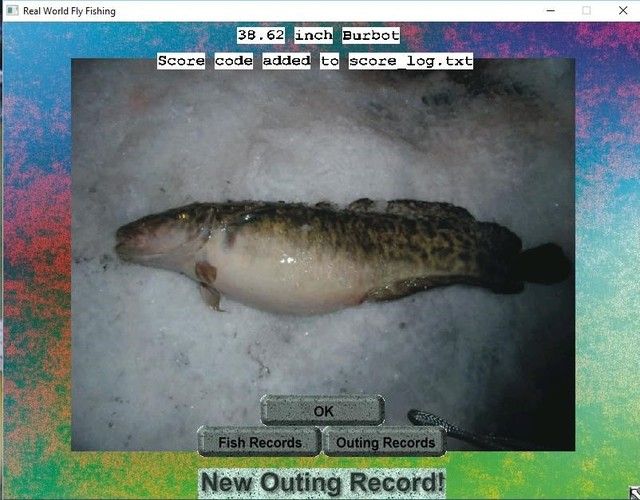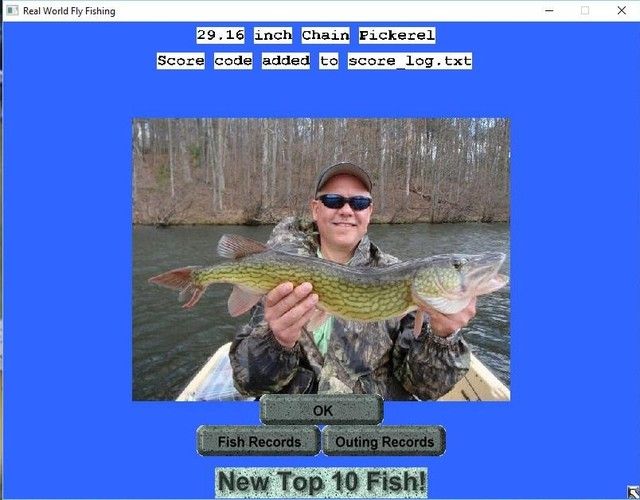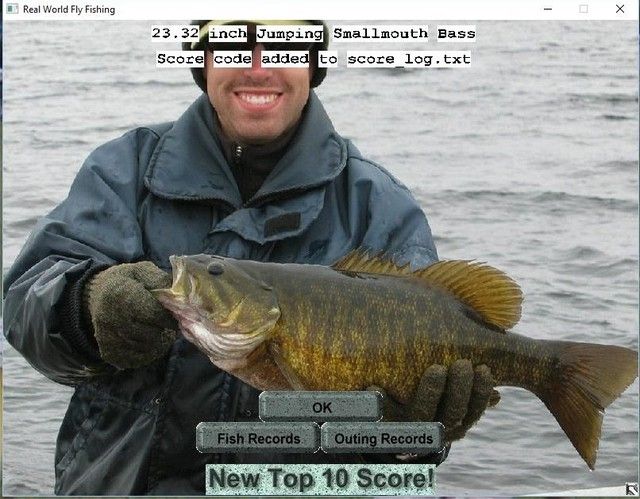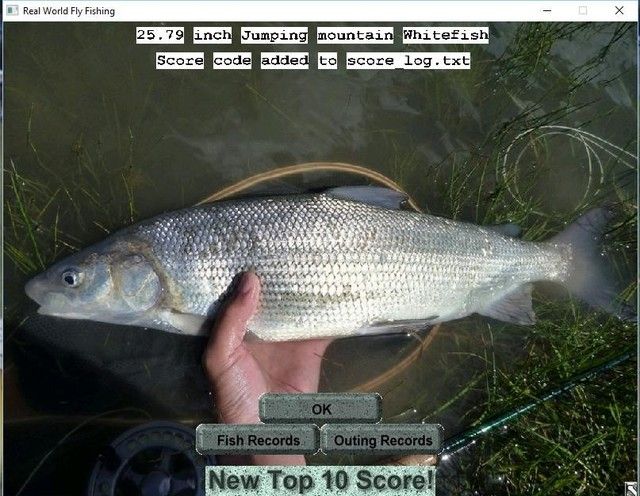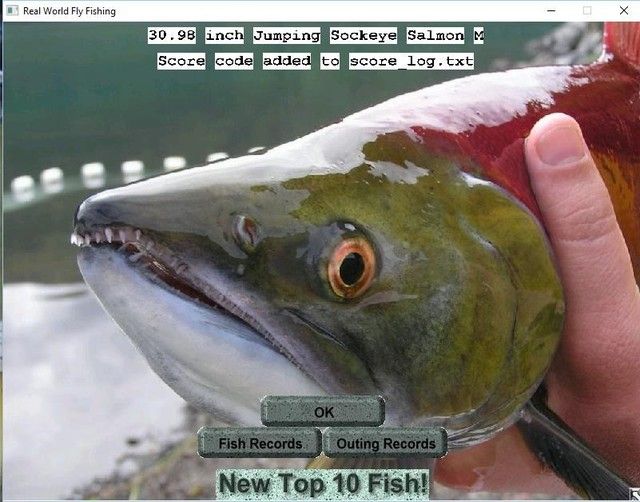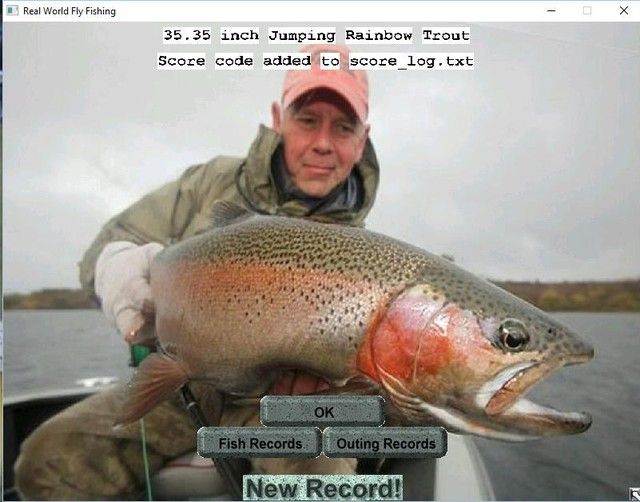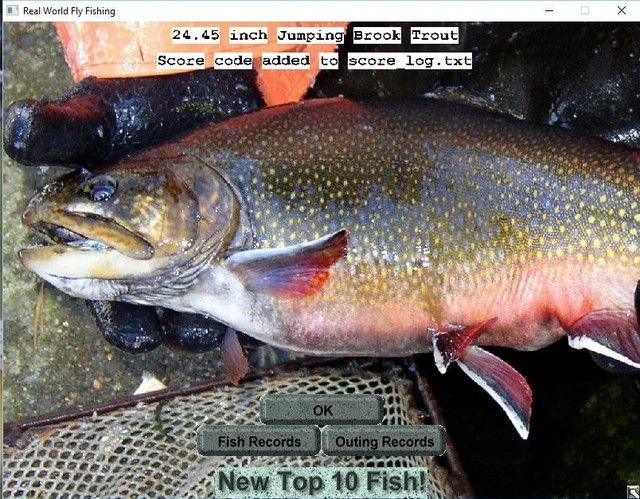 45 fish caught.
Fish: 31.22 inch Jumping Sockeye Salmon F from Sw Wondrous Sunapee Lake New Hampshire; Code: ZXFIVMOIZEDMS8084OKHZRMPPVMDIMQXYIJSJDKBLRHLBQBSKGMDKHWOCKWKT
Fish: 17.64 inch Yellow Perch from Sw Wondrous Sunapee Lake New Hampshire; Code: CXMOTIEUVMEHJ0850TNUAIQKCBZAWPJSMUXBLFFAOXAFJLSKPXGDHJSPKCYYM
Fish: 30.82 inch Jumping Rainbow Trout from Sw Wondrous Sunapee Lake New Hampshire; Code: NJLQUGICSFJUK3008UYQOKGFYBNDDOFRFNKDDFPLGHHWIDWVPINGNFTIJBCCS
Fish: 32.25 inch Jumping Brown Trout 2 from Sw Wondrous Sunapee Lake New Hampshire; Code: UUIMCUNSDZFHP6141CZSPUEVRBBCHXMQMLIDDKCNEQSOYRUMNLLJPIPUYZZSH
Fish: 30.29 inch Jumping Sockeye Salmon M from Sw Wondrous Sunapee Lake New Hampshire; Code: LPOKLSSQMRAPO5975QOERKVECBDIBSLVIRHEYIOIWOBLWRMOHOOQEBHYNBMMQ
Fish: 18.40 inch Brown Bullhead from Sw Wondrous Sunapee Lake New Hampshire; Code: TJAQNWVCUBVFU6618FEZNRMMCOCBJSOSKMRSUNWXFXRINVMSYJFOQPLNDBQPC
Fish: 38.62 inch Burbot from Sw Wondrous Sunapee Lake New Hampshire; Code: SEPZHEGJIXLYL8647TZPZMLMHVEBQIPWEMLWJGLICLSIVCLNPTDQHUCKBOYYM
Fish: 29.16 inch Chain Pickerel from Sw Wondrous Sunapee Lake New Hampshire; Code: JCMJEGJWLJXPP4528MEKIKGMGVYIAJWZXSDWMMYZJSMUVQPFQLMWQQWNFEXVE
Fish: 31.54 inch Jumping Sockeye Salmon F from Sw Wondrous Sunapee Lake New Hampshire; Code: MGGIZIPTPARCI9268LVNKLKRHPHMANCOXVTYUQMWKCKKGIXHPZBWPEETSMLHN
Fish: 23.32 inch Jumping Smallmouth Bass from Sw Wondrous Sunapee Lake New Hampshire; Code: RISZQJQDSXUDU7016WIZWXMEUPZWT?MZABRWUHCGRSYNXQMWQECGICSDRRMAV
Fish: 25.80 inch Jumping Mountain Whitefish from Sw Wondrous Sunapee Lake New Hampshire; Code: ONLDSWJNLPTKU0154FGPXUBAJITLWUDIDEMAAMJWBPFDOPWACZHTMZSAOZRUX
Fish: 21.04 inch Jumping Sunapee Trout from Sw Wondrous Sunapee Lake New Hampshire; Code: KAMASMEZAEHQV9290MXGCWSFXIVXFVVXZMMNLKQTIAPDRRINZHKUAUZQCQQPC
Fish: 30.44 inch Jumping Rainbow Trout from Sw Wondrous Sunapee Lake New Hampshire; Code: YZNWJFYUIAUVV1302GRLMXZVYBHODBZZWPACSNKZLRECNHAKBKWFSVTTPXBZA
Fish: 27.79 inch Chain Pickerel from Sw Wondrous Sunapee Lake New Hampshire; Code: NFVCWJLNPIUZF5766NTECAWIROMLFVVQZOOFZXWUJFONNZAOUDHXIJQZKGIIU
Fish: 34.61 inch Jumping Landlocked Salmon from Sw Wondrous Sunapee Lake New Hampshire; Code: WZAPOIXPZEODM3005RAWSGXTIOWAVLZKCDEXGHPNFQETJSRGPNTAUJKMIERKN
Fish: 30.98 inch Jumping Sockeye Salmon M from Sw Wondrous Sunapee Lake New Hampshire; Code: ZZTHCMGDANAGI0205KMNJWJABUDMYFMYOZYALULSSFRZYOVJUECRWBPCODWKT
Fish: 21.96 inch Kokanee from Sw Wondrous Sunapee Lake New Hampshire; Code: ORWKNGBPONZSZ8396MLBJFMXROCDUVVJJDJQEUTGQKQNJLSHEWNDRVNJONEQT
Fish: 25.65 inch Jumping Mountain Whitefish from Sw Wondrous Sunapee Lake New Hampshire; Code: FDNFLCNYIOMXF0610KTBHXINLILQSAPRKEEEDSKWXHUEYCZEGPWXVLPSATJQK
Fish: 30.71 inch Jumping Sockeye Salmon F from Sw Wondrous Sunapee Lake New Hampshire; Code: NEZUDYGGXCAGO4640LOBXXXCYCMBFQTMQOCOTOMQJCNTCRQOYVZUHIHOFLHCZ
Fish: 43.79 inch Jumping Lake Trout from Sw Wondrous Sunapee Lake New Hampshire; Code: AZTAYJCANESBQ6574HZDQWMLQVGVWSEEAZQECZMGPJRKCVEWOGTLTRLDOYZSH
Fish: 39.98 inch Jumping Walleye from Sw Wondrous Sunapee Lake New Hampshire; Code: CTIGQYSYTORXM4587MAINXFMUVQQYOYRXVTDPWVJZDPVOHODVASTSSXFMRYYM
Fish: 20.00 inch Jumping Sunapee Trout from Sw Wondrous Sunapee Lake New Hampshire; Code: GZQDJRMMHHDJI9974SFMPDAAUHVUCWGFXZWSKHUROHCDINMTYHLTNGDQIRZSH
Fish: 32.08 inch Jumping Sockeye Salmon F from Sw Wondrous Sunapee Lake New Hampshire; Code: MTWXJZTGHIRNG2011AWKSUPYEIJYU?INYAKBVPATRWZZCCDTDFILTIGYSVLHN
Fish: 26.14 inch Chain Pickerel from Sw Wondrous Sunapee Lake New Hampshire; Code: PVOCLNISKHOGJ3532WTHKPPRBVIMFBSJHMLMBTNQLSOTPWKMSVHXGCMIJZFYR
Fish: 25.96 inch Jumping Smallmouth Bass from Sw Wondrous Sunapee Lake New Hampshire; Code: ZDONFFZDKXDNS9854NVXYHKSNOQGBUJAKWWSWVCRAMPEILEREHCGNWOUOZUJG
Fish: 35.35 inch Jumping Rainbow Trout from Sw Wondrous Sunapee Lake New Hampshire; Code: MFDDEZGEXDPYR6162KXKFIELWVPVSJIRPEQHGHVAKZBQUAFQBJTLDIMJMLIXK
Fish: 38.50 inch Jumping Brown Trout 2 from Sw Wondrous Sunapee Lake New Hampshire; Code: IRRRMOBNMEROH3996BESCZGINBNFORMAMEKJWNTURMYTWBCKVVVNDINWTQXFM
Fish: 24.44 inch Jumping Mountain Whitefish from Sw Wondrous Sunapee Lake New Hampshire; Code: FWSVGTUWEFNUH5934JCILWEDCVPDRNCKPHGNKRSKACMRNRMNYYHJPFNBSCTIQ
Fish: 40.88 inch Jumping Walleye from Sw Wondrous Sunapee Lake New Hampshire; Code: SIYDRYRQLBSQI6819AEBLXWJPIOUGKZXKLHUNPDAQGDSQYHUJYRRTVXTYPGXW
Fish: 19.21 inch Jumping Sunapee Trout from Sw Wondrous Sunapee Lake New Hampshire; Code: FKFTRTYWWDDDI3107WGOBQXUXONIF?YPOTBBXJWJBTQVCNQSHAIXKZDAYKADP
Fish: 30.56 inch Jumping Brown Trout 2 from Sw Wondrous Sunapee Lake New Hampshire; Code: HSVTFPBTMKHXK7298ROTLKVRKCRZBJSGCTYURGKFRJTQXCZDQRWMJDBRYCLBQ
Fish: 32.91 inch Jumping Brown Trout 2 from Sw Wondrous Sunapee Lake New Hampshire; Code: HYLUQPMXQXIUF7652CVDHALREOSAPEZHHJJAXOEONKOGPEXACMSBHTXVIQKGX
Fish: 20.99 inch Kokanee from Sw Wondrous Sunapee Lake New Hampshire; Code: BTDAMAJRAAVPR5784IFORGNHZCBSLKLBNLDEPGUPSPCRVATFCGMIXMTXOXYNB
Fish: 22.32 inch Kokanee from Sw Wondrous Sunapee Lake New Hampshire; Code: GDMHKTERSYOYS9413VPVEWSSOBIOFMDHUOCKWILPENHIRKVCZKLIOWTJHNTOV
Fish: 20.28 inch Jumping Sunapee Trout from Sw Wondrous Sunapee Lake New Hampshire; Code: HJHNRZYYOVSIS0688JRAPEBYUPGFFSWHIOMOVXHAHKPDVLOYFHVRZSUWQPFVG
Fish: 24.45 inch Jumping Brook Trout from Sw Wondrous Sunapee Lake New Hampshire; Code: BYPZFHCRNPSQN4052RPVITXKACCCJIXYCKKLHGWDOUWUCMHDTLAUDBYJPAKMD
Fish: 24.12 inch Jumping Smallmouth Bass from Sw Wondrous Sunapee Lake New Hampshire; Code: WFRMYBHRKSRLL6676YMERXWXGPADOTSNPJZXUAILUKTMINUFJVIDEYCBMGDNT
Fish: 21.46 inch Jumping Sunapee Trout from Sw Wondrous Sunapee Lake New Hampshire; Code: ZWUDAVOBOLDZC5188MMEUOFJEBMLAIWBQRXBVUSFDOHRPAJTWQESRTMDXGPTJ
Fish: 23.30 inch Kokanee from Sw Wondrous Sunapee Lake New Hampshire; Code: SJCGKRIXCTRVH7715BJWQZCPHUODOGTUSDTLBGVDYJMLCORMFGZCDOGWFBUTQ
Fish: 17.92 inch Brown Bullhead from Sw Wondrous Sunapee Lake New Hampshire; Code: UFWKKEUUBLMWK9079JVPYGUUQCPHYDJQNXLSIUFYPQTLMYLJXZOYXMUUENLRG
Fish: 23.31 inch Jumping Smallmouth Bass from Sw Wondrous Sunapee Lake New Hampshire; Code: CKUAUHXPVMBVM6909ELPKZDUEIFWDWCTDXPXTOSEODLQNREYCJZGIHQKJPRUX
Fish: 38.78 inch Jumping Walleye from Sw Wondrous Sunapee Lake New Hampshire; Code: WQTJARUVKDBHT8405JLDPAVBABLGRLCMAXASKZMIVYZOHBHBEDAMZDDRHQZSH
Fish: 18.07 inch Jumping Brook Trout from Sw Wondrous Sunapee Lake New Hampshire; Code: FMTLYTQSYMXDX7428AIMDVDFBVEJN@MPEKQRZAFBIZZJALKJZZYKVBWVIWAOA
Fish: 19.82 inch Jumping Sunapee Trout from Sw Wondrous Sunapee Lake New Hampshire; Code: EYAJULDHOXFTJ1452JJMQKRSLIKOMKLMNNXWLTAJBCBAAILGXCJLFBKYVJLRG
Fish: 18.21 inch Brown Bullhead from Sw Wondrous Sunapee Lake New Hampshire; Code: XYVTCGSRGAXFI1503BQOKVJSSVSGISSEEOYFLOZKFAQEIJUNUZZJDBXSCMHCZ
Fish: 27.60 inch Jumping Mountain Whitefish from Sw Wondrous Sunapee Lake New Hampshire; Code: NWUFMFMSKJKUZ8051JZOWBLVWCPPFHMIOSAGEECIFTWMXYLHUOUVRJVMQSKGX
Fish: 26.39 inch Jumping Smallmouth Bass from Sw Wondrous Sunapee Lake New Hampshire; Code: VYQHAKOHXAQNI3086MZRQEHQUIHKACJPDCCAAJWYRZQVMVMRIKFDFHPTVNLHN