Hi Everyone,
Finished fishing this new outing of Martins and he did another excellent job, good currents, excellent scenery and definitely some excellent fishing.
You have to watch the currents very closely in some of the sites to be able for the fish to catch the fly. Caught most of the fish with a dry fly.
I caught all 16 species that Martin included in this outing. I think everyone will really enjoy it especially the Jumpers.
In Sw Wondrous Nolin River Lake Kentucky You are Fishing for::
Jumping Smallmouth Bass, Largemouth Bass, Walleye, Red Rainbow, Brown Trout, Muskie, White Crappie, Black Crappie, Bowfin. Mooneye, Brookie Plus
Channel Catfish, Flathead Catfish, Blue Catfish, Freshwater Drum, American Eel - 16 Species In Total.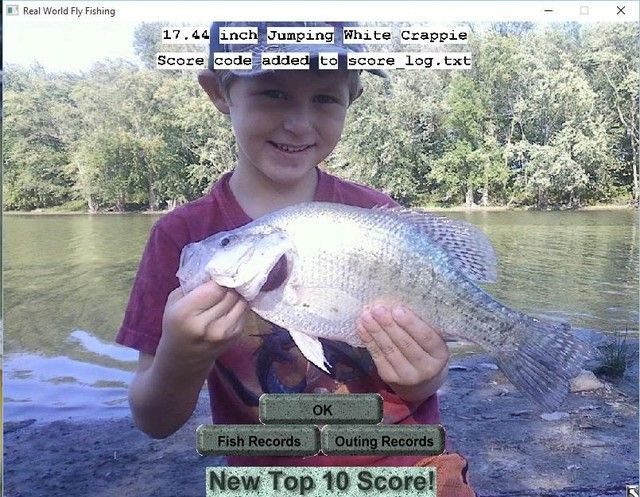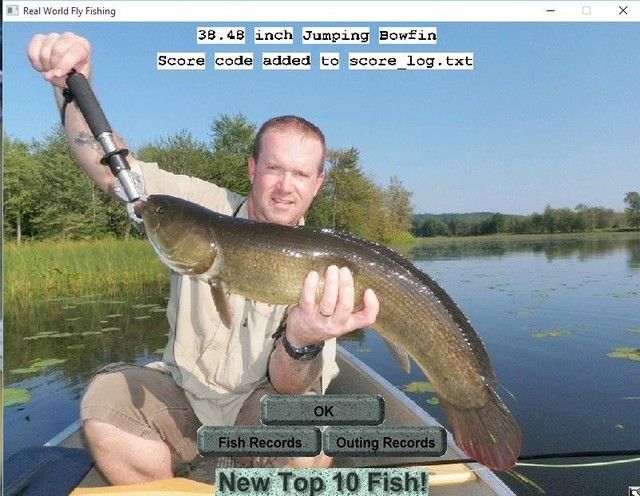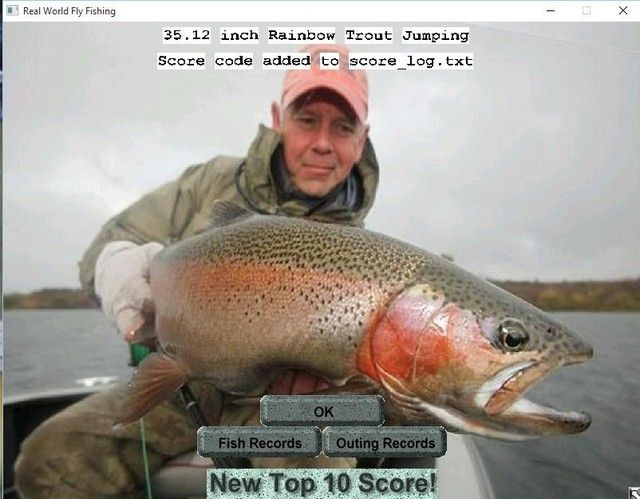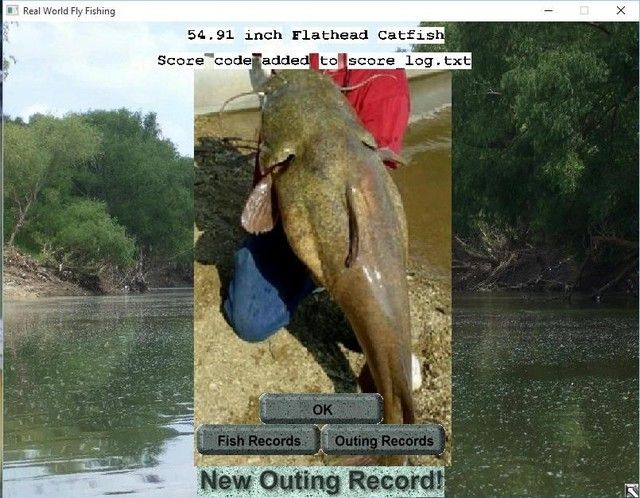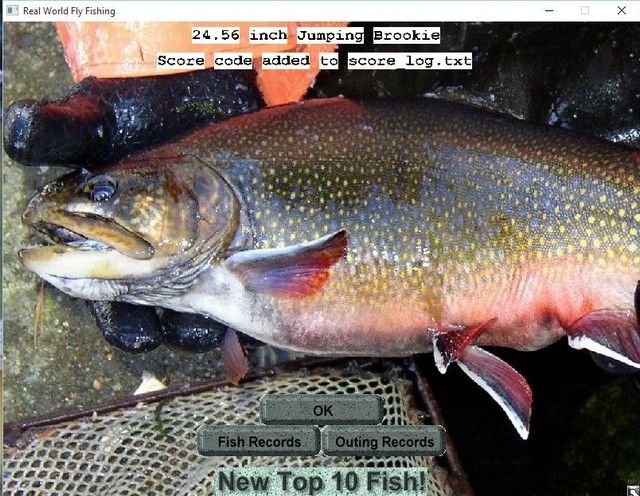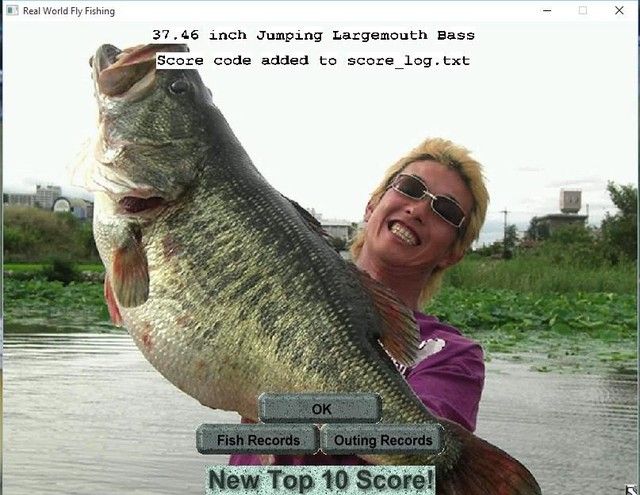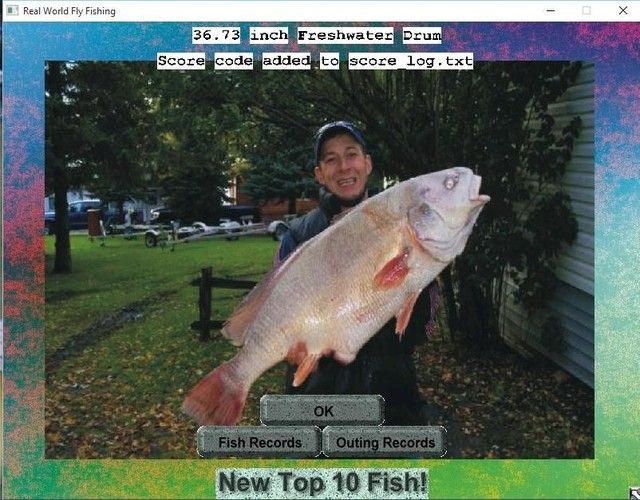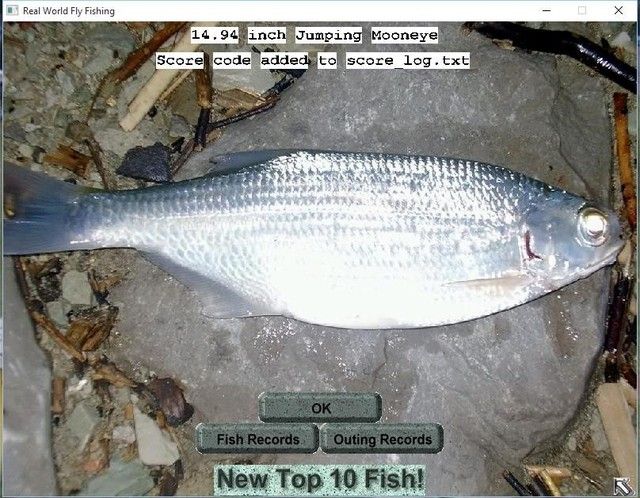 Jumping Smallmouth Bass, Largemouth Bass, Walleye, Red Rainbow, Brown Trout, Muskie, White Crappie, Black Crappie, Bowfin. Mooneye, Brookie Plus
Channel Catfish, Flathead Catfish, Blue Catfish, Freshwater Drum, American Eel
Fish: 20.66 inch Jumping Black Crappie from Sw Wondrous Nolin River Lake Kentucky; Code: YRJDIXDFCUBPT7827PCTDBDLSQUMHGXFNJROKNGYIYYHDRLMPGCUITSBVUJGP
Fish: 17.24 inch Jumping Black Crappie from Sw Wondrous Nolin River Lake Kentucky; Code: BVQUDQKQCPEOH9905BKKQLSVURZBTKHBHEKMRYDHZYKCZJZKPCCVIJJLACWNO
Fish: 17.44 inch Jumping White Crappie from Sw Wondrous Nolin River Lake Kentucky; Code: YTXVXXNNDBUPI1148LMRFHIWDXMVXGTGDBGWMEQQPEHDBPFCZFSITNUPIISHR
Fish: 38.48 inch Jumping Bowfin from Sw Wondrous Nolin River Lake Kentucky; Code: BVQUDQKQDKFMH9905BKKQLSVURZBTKHBHFKMRYDHZYKCZJZKPCCVIJJLAYRWR
Fish: 37.65 inch Channel Catfish from Sw Wondrous Nolin River Lake Kentucky; Code: FOAXLTEOAPTFN1449SNICAHTWKCTVSIQXFXZBSOBPIGVDCQOMVOYOYVJXDMPD
Fish: 35.12 inch Jumping Red Rainbow from Sw Wondrous Nolin River Lake Kentucky; Code: JOYQDEIKTVYEW7543ODUCBSGQEQXTGJCYGIIYUUAJEZOMFPPKHLILEEOCGXSJ
Fish: 52.62 inch Blue Catfish from Sw Wondrous Nolin River Lake Kentucky; Code: QAAURINXXJXXF2808UYELOEWYWIPK@WGWLTBTSXMHKFVCUCZLGCKUUVUXOZJM
Fish: 33.72 inch Jumping Red Rainbow from Sw Wondrous Nolin River Lake Kentucky; Code: HVUXGYTLXFUUZ2335LRSKDFKEXYTZHJCJBQBHGDTYVCWMBPHZDUDEBJXUUZGB
Fish: 36.81 inch Jumping Bowfin from Sw Wondrous Nolin River Lake Kentucky; Code: YKIQKGKNPPAGP3530DPGEUVMTDTNUHWHFBDRYWVLEEDPZZVXOVZVIKMTXHFML
Fish: 36.78 inch Jumping Walleye from Sw Wondrous Nolin River Lake Kentucky; Code: YFWBTXIUVFTIU4172UFRNGEJTDKLWJSCJDVCFXKXIHJTSNPRYILIDNAAUBRWR
Fish: 54.91 inch Flathead Catfish from Sw Wondrous Nolin River Lake Kentucky; Code: GNGSYLOQBSXDB7127UMIPIZAMDRTIIBKELSGGZYQOLLGLTTVJHUHALHOPITOV
Fish: 24.56 inch Jumping Brookie from Sw Wondrous Nolin River Lake Kentucky; Code: CUTTCPBRCARSD5603CIBCLKCKKOCGSTVFMEUVFNFHBONGIKJMHAECWEQTGDLY
Fish: 34.04 inch Jumping Red Rainbow from Sw Wondrous Nolin River Lake Kentucky; Code: XFXYZIIYDPMEG5279RKWQHUMYKVNBFFLZTXDNHJEBTWPHFTTFOXPZHEJUVEQT
Fish: 42.49 inch Jumping Muskie from Sw Wondrous Nolin River Lake Kentucky; Code: VBJAILGVRWAWB9520VOVTXHMSKAHVNMNRAEAXTOAHXLEIMGPQUOIWZSBRYLES
Fish: 37.46 inch Jumping Largemouth Bass from Sw Wondrous Nolin River Lake Kentucky; Code: TPXURWKFZGVZG8171EWZLSJXTKBWPNNUGKCQSVQGAAREMIPWGCJLWNERQTTDC
Fish: 33.42 inch Jumping Red Rainbow from Sw Wondrous Nolin River Lake Kentucky; Code: NSSWQXLHHVUSD0618RQRTBHILRERHOCPHTWIAOKQQUKAIFLPDPOUNYPDODDVI
Fish: 23.70 inch Jumping Smallmouth Bass from Sw Wondrous Nolin River Lake Kentucky; Code: YFWBTXIQUSSAU4172UFRNGEJTDKLWJSCJDVCFXKXIHJTSNPRYILIDNAAVANSL
Fish: 31.03 inch Jumping Red Rainbow from Sw Wondrous Nolin River Lake Kentucky; Code: ICNLNPNVTYUTC5914YDFDWCZIEZENFJANINYTWWGCHXOQTXWAOXLDSPFJXHAE
Fish: 37.70 inch Channel Catfish from Sw Wondrous Nolin River Lake Kentucky; Code: FVBLJKQYWJVJQ4039WAVQEDIOKNFJRINHHUWWIAGTUCVHMYDNGZGFPAQNXJFZ
Fish: 33.30 inch Freshwater Drum from Sw Wondrous Nolin River Lake Kentucky; Code: NPXWJIIHWCHZW5572UQQMTDQPYMYRQLKJLDJJNRVBDZSZRZHWBQVSDEFWCILE
Fish: 38.94 inch Channel Catfish from Sw Wondrous Nolin River Lake Kentucky; Code: WYQFRRTZPZWZV2980EYJXOXXUEUCNGXGUEAGSZXRYIBXDNLEEDLPAYQCESJFZ
Fish: 33.90 inch Jumping Red Rainbow from Sw Wondrous Nolin River Lake Kentucky; Code: RJVEKARJLQPUT8111FQSDLQUJDPHBCGDIBVNAQUKRYXFPRICPKKJALZOYEWNO
Fish: 25.67 inch Jumping Smallmouth Bass from Sw Wondrous Nolin River Lake Kentucky; Code: LKJOUBQTZJTZA6607WPNKHJTYDABDCZQTTAPGREVADGFWQCFCZAEGURMMRXXO
Fish: 34.61 inch Freshwater Drum from Sw Wondrous Nolin River Lake Kentucky; Code: JUSWKGJPXGJHJ9716ZKMYRIOBQRQZAPVUWBHFCOJEMTDFZOFPCHFRRALVRYTZ
Fish: 30.14 inch Jumping Red Rainbow from Sw Wondrous Nolin River Lake Kentucky; Code: CNTFEYQQPMNDA1126YWOJSVOYDMJSTSYBFIWJOTRDPTVCQUVLVXETKYJDRDLY
Fish: 31.26 inch Jumping Brown Trout from Sw Wondrous Nolin River Lake Kentucky; Code: ESKIQLSNLXDBW8088OXSMFHTWQHHGHFSRQDQNTGZFOEANRRXOXNOFTLBMVAMF
Fish: 38.26 inch Jumping Walleye from Sw Wondrous Nolin River Lake Kentucky; Code: HQIBPPRTLIMXD3967DHDSPVPEXXKTJEFMDJMPOAFKQISFPBBJQGRORWDPHDLY
Fish: 18.45 inch Jumping Brookie from Sw Wondrous Nolin River Lake Kentucky; Code: IJNRLGYXGGWIN9281CYSWORFUKSXAWRGSXKVONITFTAFUEOLBAJKSGVMZVJGP
Fish: 36.73 inch Freshwater Drum from Sw Wondrous Nolin River Lake Kentucky; Code: NHTEQBOJQBOPU9087GYAOQHESXTOVVJQPEVVBOFLYOVHRQGTHAXTHQPNAPMFI
Fish: 14.94 inch Jumping Mooneye from Sw Wondrous Nolin River Lake Kentucky; Code: DQQNHWIURKHVU5164HZRNARKQQBIDDWTRXYCSEVGRUQIWLBILEJORLNXCFWNO
Fish: 17.96 inch Jumping Black Crappie from Sw Wondrous Nolin River Lake Kentucky; Code: TPXURWKVYMXXG8171EWZLSJXTKBWPNNUGKCQSVQGAAREMIPWGCJLMSERPJJGP
Fish: 24.51 inch Jumping Smallmouth Bass from Sw Wondrous Nolin River Lake Kentucky; Code: QLKSYSAXUEEUN3439FXWRRMASQKSORPFOHMOKSCJZYTOBIGVHOMLGEWLMSDAN
Fish: 43.21 inch American Eel from Sw Wondrous Nolin River Lake Kentucky; Code: EYDOHLIMPVCKJ1452YMCAVXCIKIIMKLMNNXWLTAJBXZYGTPVAAJLVJHYYIQCO