Hi Martin, Stanley and Everyone,
Well I spent the past week fishing this outing. I spent about 10 hours total on this outing. One fish I hooked, which was the Jumping Striped Bass which if I'm not mistaken was developed by our infamous fish maker, Stanley, jumped constantly for almost 45 minutes. Using heavy tackle since there are huge fish in this outing, I thought I finally had this fish tired out and just about 5 feet out from me the fish jumped and didn't break the line, but threw the fly back at me. As you could see on my pics that are posted, there are definitely some huge fish in this outing.
Stanley did an excellent job with all the jumpers that Martin included in this outing.
Martin did an excellent job with the scenery, sounds and his currents. In a few of the sites you had to use trial and error on some of the currents to get the fly in some of the spots where fish were holding. I enjoy this in his outings, it makes the fishing even more realistic. Caught 14 of the 16 species on the surface and 2 of them I caught at 5 feet.
When I fish an outing my first thought is to make sure to fish all the sites. To check out the currents, sounds and the scenery. My second goal is to try to fish on the surface through the whole outing with the thought of trying to catch at least one of each species included in the outing. If that isn't accomplished on the 1st time thru, then I will fish it thru at least one or two more times from 1 - 6 feet deep hoping to catch the last of the species I missed when I fished the surface.
Want to thank Martin for his hours devoted to bringing these outings for us to enjoy and Thank you to Stanley for his magnificent jumpers. One of his jumpers even came out of the water and took the fly on its way back down. Thanks again for another most enjoyable outing. Will fish another one and will post as soon as it is completed.
Caught all 16 species included in this outing and caught approximately 50 fish.
In Sw Wondrous Yaquina River Oregon 1, You Are Fishing For: Jumping Westslope Cutthroat Trout, Cutthroat, Walleye Dark, Steelhead Red, Striped Bass, River Redband Trout, Sockeye Salmon F, Sockeye Salmon M, Arctic Grayling, Atlantic Salmon, Mountain Whitefish Plus Burbot, Northern Pikeminnow, Lahontan Cutthroat Trout, White Sturgeon and Golden Trout - 16 Species In Total.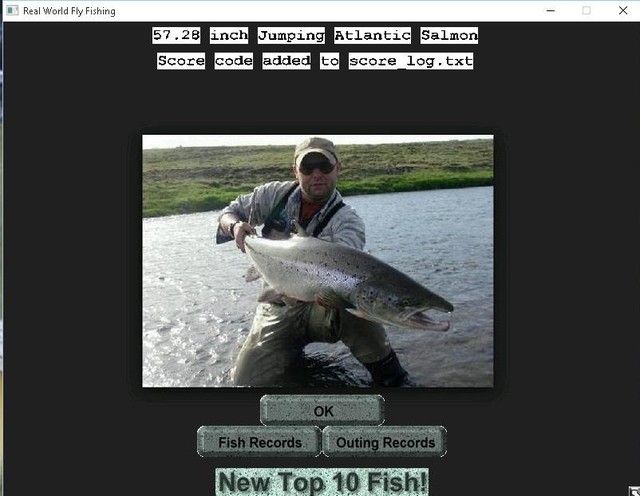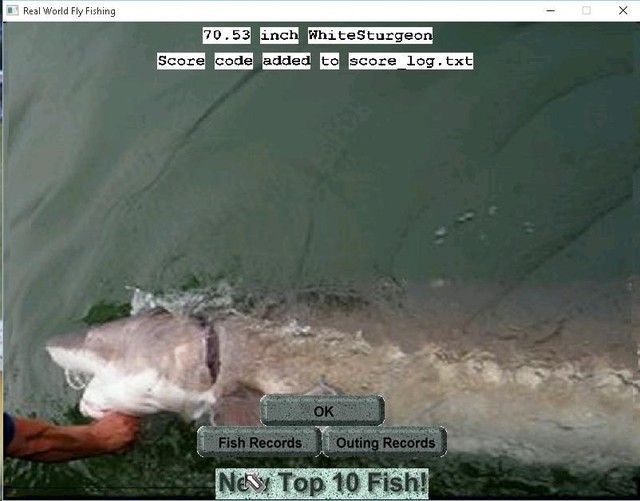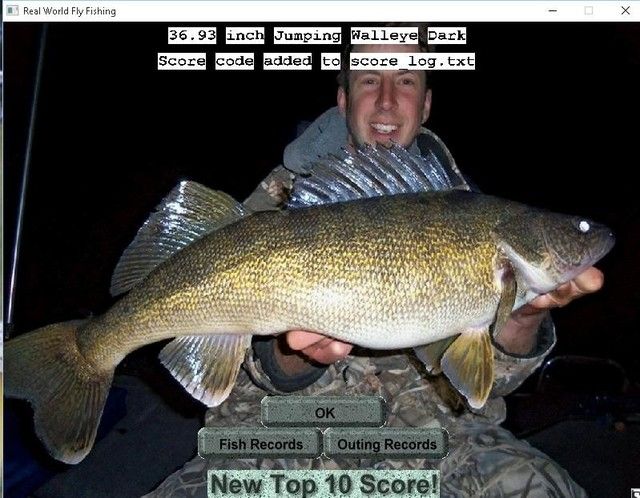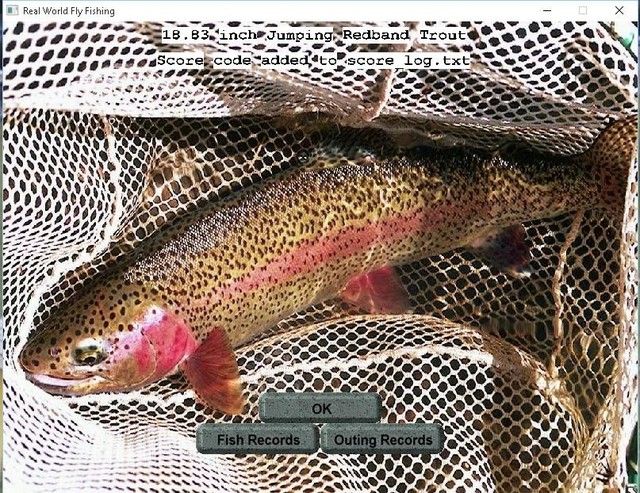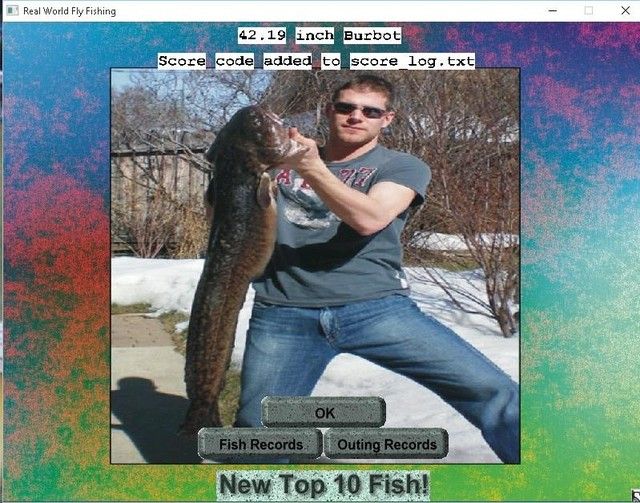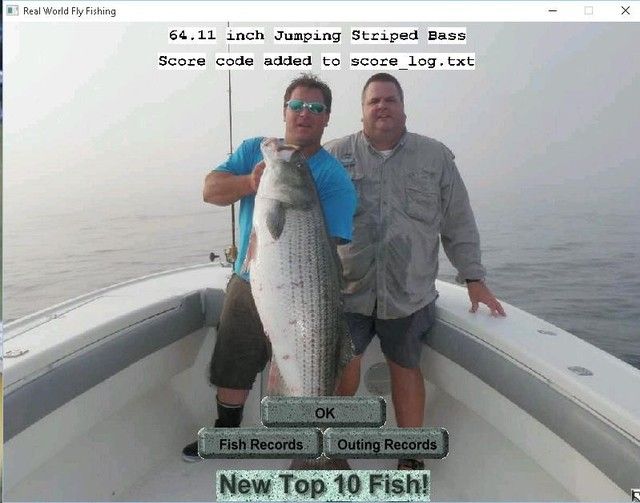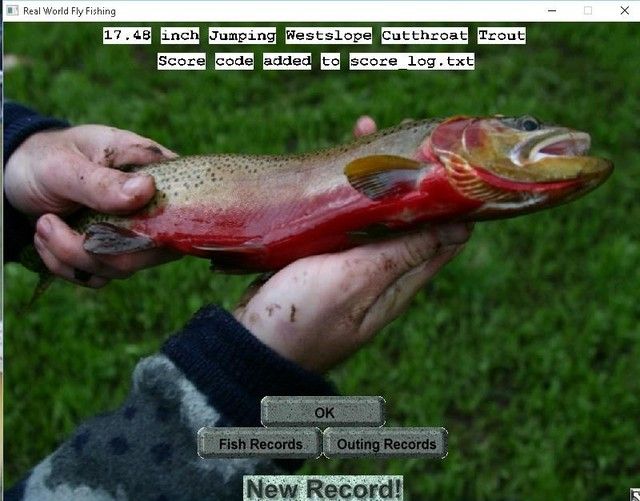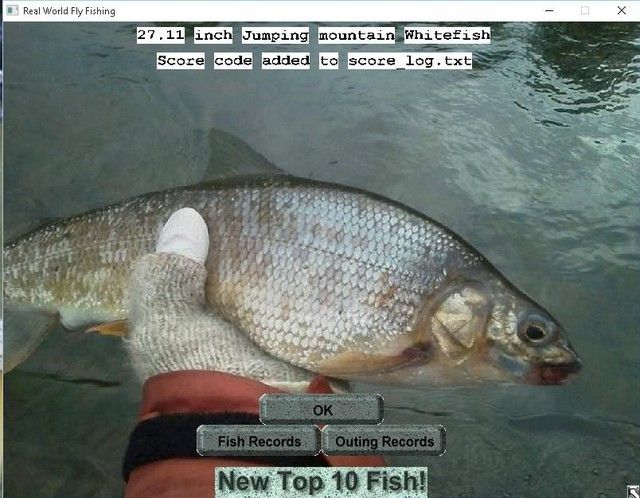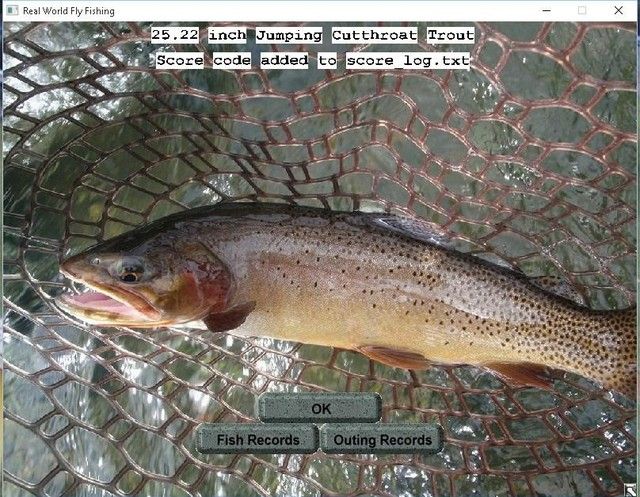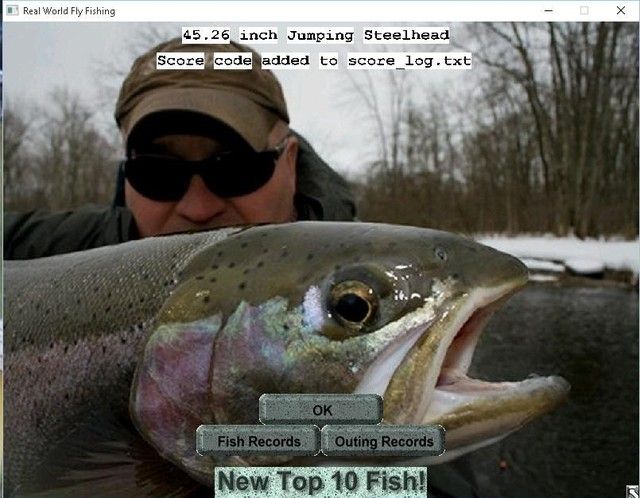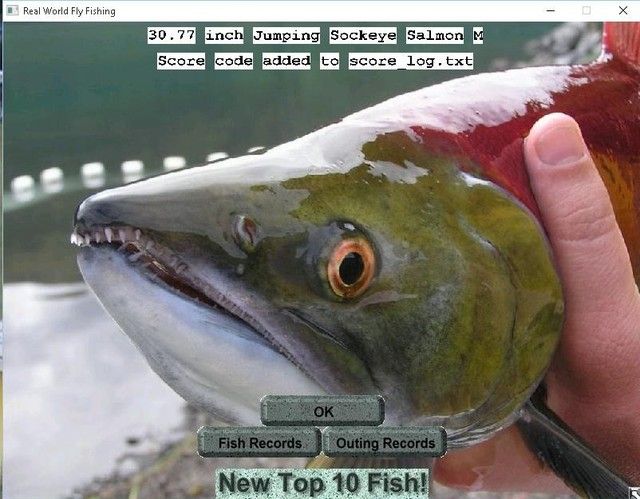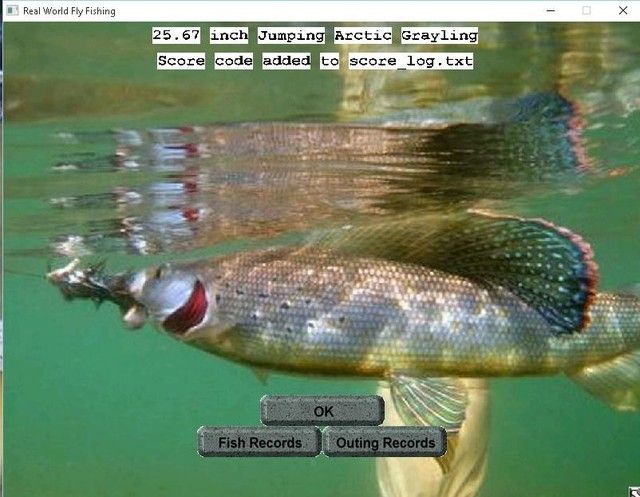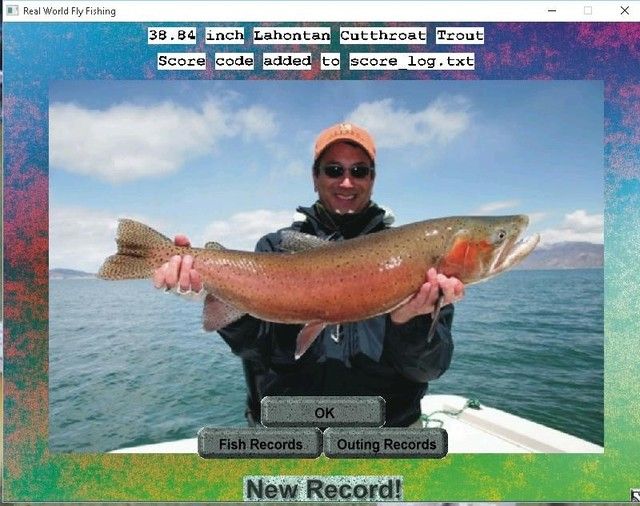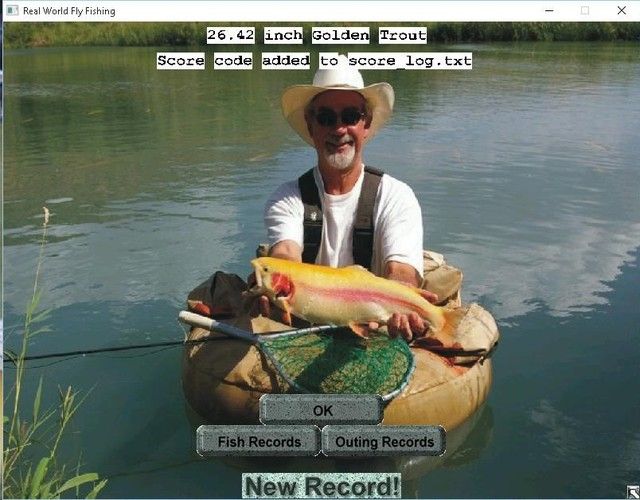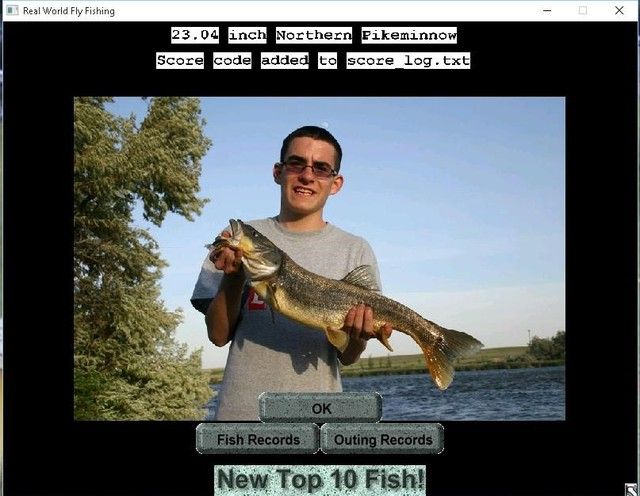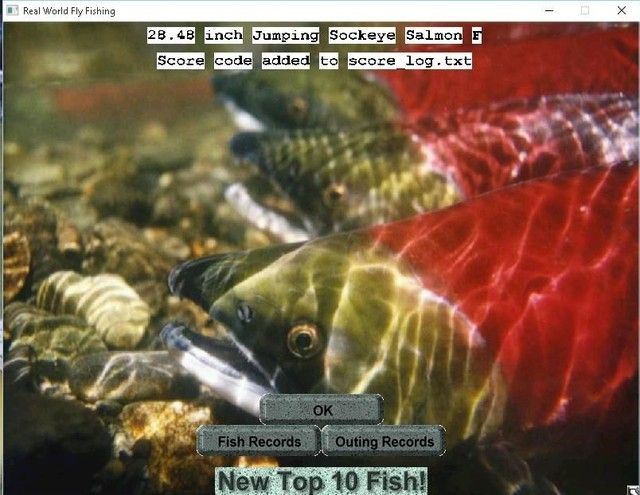 Fish: 41.20 inch Burbot from Sw Wondrous Yaquina River Oregon 1; Code: NJDVGMZISQGKK3008JBGDKFHPJTDDOFRIOKDDFPLGFHYSKAFV9NGXUPIMWCQF
Fish: 57.28 inch Jumping Atlantic Salmon from Sw Wondrous Yaquina River Oregon 1; Code: WJTEUABIPBYLQ5818MBGLHFWECQNEUCOYRDVYIACRKEYNYUWJ9OFUETCSHXCT
Fish: 40.02 inch Jumping Steelhead Red from Sw Wondrous Yaquina River Oregon 1; Code: VVACQTWGEVCWC8960WVGEELYBEGCCFTKEMJBKJVCKFGPNVELI1ZFEWHNCVNQJ
Fish: 18.43 inch Jumping Redband Trout from Sw Wondrous Yaquina River Oregon 1; Code: QWNPBJVWKVMVW5269QPVHZVULFNTZJZEZWMKIRGOSHBUETTLF7DUNTWCXPZSH
Fish: 37.48 inch Lahontan Cutthroat Trout from Sw Wondrous Yaquina River Oregon 1; Code: XBYCTOOBAZHMB7026KFKPTTFHSDBDDNKTUTFJZQMNCNJQXXHF4RNPSAAUQXEW
Fish: 40.48 inch Jumping Steelhead Red from Sw Wondrous Yaquina River Oregon 1; Code: BHXAZJXFTXKXS2959KLJBAXFJTPQSNZYNGYSKYYPAENXCCAUR9NWEQXWSDFVG
Fish: 37.65 inch Burbot from Sw Wondrous Yaquina River Oregon 1; Code: OEXDRLXUPWEJB3543MMUPEXHPSYJSCOKAYBUMEGJQOAZXFPFX6OGMDHFNLFVG
Fish: 61.42 inch WhiteSturgeon from Sw Wondrous Yaquina River Oregon 1; Code: DYHBEBPYYAAWW2659NRIOSXNMMEIR?YNDEZQSDYPUMWYQICJL3UZVXCQXQPTJ
Fish: 70.54 inch WhiteSturgeon from Sw Wondrous Yaquina River Oregon 1; Code: XAYXMWTKSXHHL6921IAPSRMZWFEJDHTGKUPOUQZRFZNPFPFPR8JDNZQXPLSVN
Fish: 45.00 inch Jumping Atlantic Salmon from Sw Wondrous Yaquina River Oregon 1; Code: AGOKDKORJGMQO1230XTEHGHUDFAIXFRDVWXCDAFAMNAHXNVFC0QZZJJUEZKGX
Fish: 36.93 inch Jumping Walleye Dark from Sw Wondrous Yaquina River Oregon 1; Code: WDDVRBQIKVASD2454KMWCZGLYFZMYSWMRSKPSAYLNCKAVWWZF6SQFOXFZORKN
Fish: 18.83 inch Jumping Redband Trout from Sw Wondrous Yaquina River Oregon 1; Code: UHAXSEQVCWGJA3390CADVTPGQYXIOEFQDGSIKMOQWUDBTDJJN0DMKQJPYPPWU
Fish: 15.28 inch Jumping Westslope Cutthroat Trout from Sw Wondrous Yaquina River Oregon 1; Code: RGEIJJZMRFADN3965TGBMSGTQIINDFQYKLCGSITPKKPTKZVQM8MSZXNHEVULA
Fish: 14.93 inch Jumping Westslope Cutthroat Trout from Sw Wondrous Yaquina River Oregon 1; Code: HCOHLIFSAUTFP6011MIDLLDLHQLUSTWKYJPRBHVNDWMNBICTK7RRSPKODYKZX
Fish: 48.90 inch Jumping Atlantic Salmon from Sw Wondrous Yaquina River Oregon 1; Code: LZOUTRECTWQWF6671OLQGKVEUQUUNOCQNRXAIZBJGOHUMEKCU7XOXGUMFHQCO
Fish: 59.28 inch WhiteSturgeon from Sw Wondrous Yaquina River Oregon 1; Code: QEXAEHCEASCHK0040TLIDNIMAQZNASPHFVPZXBIWWISBBUYBJ1ILBBPDWRYKR
Fish: 34.24 inch Lahontan Cutthroat Trout from Sw Wondrous Yaquina River Oregon 1; Code: FFCSYIDJLHEDM4831CZPYCNBOXJZAALJDATUFJTWELEUGHGEE4MKGYMGOMKYH
Fish: 38.64 inch Burbot from Sw Wondrous Yaquina River Oregon 1; Code: SXUOCVVZMQNKV4781HLVSLNFHPGHPWCXMIMFHFAWFMCXNYUHN8OCDCOTMGKZX
Fish: 36.97 inch Lahontan Cutthroat Trout from Sw Wondrous Yaquina River Oregon 1; Code: XLPUBWZVHDYGT6752BZGSMDFLCEUH@LFYMIJTPLNXFTQEDSLN6SMZIROFSCQF
Fish: 42.19 inch Burbot from Sw Wondrous Yaquina River Oregon 1; Code: VAYAZIOZHVGHC8604BJSTKTYBDJVNRSRMBTJJLEEZXMOAAWTF3GFFRIQLVDAN
Fish: 27.07 inch Jumping Mountain Whitefish from Sw Wondrous Yaquina River Oregon 1; Code: OVXWLWLMSVKRW4638ITVCQWOXJSWKPFKSMNOIDMXECJQOWSQF5AEVKESMMWHJ
Fish: 23.98 inch Jumping Cutthroat from Sw Wondrous Yaquina River Oregon 1; Code: UYSDYCOJFKPUU4383XHMQEONQXRMFQWRWTEBHTVESRDSDCUDV1QKLPODZMILE
Fish: 29.12 inch Jumping Sockeye Salmon M from Sw Wondrous Yaquina River Oregon 1; Code: GJJKQJYPXROKE1985NZVHMIVQDPHKGJJTFOQCIFHAUCIULXJS4GFNALFSRUYV
Fish: 50.77 inch Jumping Atlantic Salmon from Sw Wondrous Yaquina River Oregon 1; Code: FHOOHCGVMHSAC8062RYFUILKBVVIIBHKQLJCHBDOMAFIDGIVP9KYZAOBYVDGT
Fish: 16.29 inch Jumping Redband Trout from Sw Wondrous Yaquina River Oregon 1; Code: QUZYMJDBJBRLG1039YJZCMAJDCFSSILDJFXCGAXOKTAGHVRVV4NYKVCOLROAJ
Fish: 64.11 inch Jumping Striped Bass from Sw Wondrous Yaquina River Oregon 1; Code: IVTBIOUUQXWLM1238ARWOJRFCPXXMTWBSLOZAVEMFERFBEKBV3IWRSMFRQBZA
Fish: 42.02 inch Burbot from Sw Wondrous Yaquina River Oregon 1; Code: VXGZRZWGGPWRJ0181KCWTBAKJOHTS?PLUCYJMAECRUPDKTYBS5XTFCBIPAWKT
Fish: 62.80 inch WhiteSturgeon from Sw Wondrous Yaquina River Oregon 1; Code: HWKXFUPSQRWNP3431YTFXUGGSIARZLDHRTUSVWUWGCEUCNZUQ8CONSSAYKFBL
Fish: 17.48 inch Jumping Westslope Cutthroat Trout from Sw Wondrous Yaquina River Oregon 1; Code: BJLSGJOETSETI4270ZTRQXNJYUQHIOVYDONAMQHOIKXTAICKB3DJDTYJFPPTJ
Fish: 28.48 inch Jumping Sockeye Salmon F from Sw Wondrous Yaquina River Oregon 1; Code: HFFEVZXPMBELV2348CMWDTQBNBWNIQMGBOIYRPWIKNWDKWOBQ9PQCPVMSYEID
Fish: 27.11 inch Jumping Mountain Whitefish from Sw Wondrous Yaquina River Oregon 1; Code: XGADMZQIVRNWX6494DMJLZMIUUPLJBZIHKAUBYBAJZHNXRDNW1FAJYMUXHULA
Fish: 56.30 inch Jumping Striped Bass from Sw Wondrous Yaquina River Oregon 1; Code: HSVTFPBKNKGXK7298ROTLKVRKCRZBJSGCTYURGKFRHTSHJDNW0WMJWXRZRRJX
Fish: 25.22 inch Jumping Cutthroat from Sw Wondrous Yaquina River Oregon 1; Code: GQBXWAJRSIPSQ4364ZLJWQDKJEAUYFRHCTKNWZZMDFXAYDFYT3SFDWRNJUKYH
Fish: 22.90 inch Jumping Cutthroat from Sw Wondrous Yaquina River Oregon 1; Code: OUMRYNDVZHULF3533GVSAYEQKRKYKSDGHLBXUVUBFZAWDGIYJ9TBBOUHGXABU
Fish: 37.24 inch Burbot from Sw Wondrous Yaquina River Oregon 1; Code: UXZVPRWXOXSNW1287WCJGNWPLWRXXUCMLTAKTLDIKGCYRMKDZ3IHABXSTONSL
Fish: 27.18 inch Jumping Mountain Whitefish from Sw Wondrous Yaquina River Oregon 1; Code: HKSAMIHGHLLJQ1704AZTERFGKDWQNOYEQNPFJGYWGLQZRICZZ4DCIMZGYBPIY
Fish: 45.26 inch Jumping Steelhead Red from Sw Wondrous Yaquina River Oregon 1; Code: OGTPUFYKROPRR7565PWSONSDUEYUIDCLQPQCGVPJYUCNUDJNH1DTLOISBKABU
Fish: 30.77 inch Jumping Sockeye Salmon M from Sw Wondrous Yaquina River Oregon 1; Code: RKGRFRAZVOISK1237HOVJOXAUXHZB@IZQSGEOZLGZEADFESXP5STJCQRFPILE
Fish: 26.74 inch Jumping Mountain Whitefish from Sw Wondrous Yaquina River Oregon 1; Code: ZWUDAVOVPQEBC5188BPUJKMRGYIBAIWBTUXBVUSFDMHTZHNDC7ESRMIDYGCCI
Fish: 55.45 inch Jumping Striped Bass from Sw Wondrous Yaquina River Oregon 1; Code: SPRRQPCEILSPT9278TTEUMAYVMLUUJZVZDERZGPNUPGLFXTTQ2URTXYBQDPIY
Fish: 25.67 inch Jumping Arctic Grayling from Sw Wondrous Yaquina River Oregon 1; Code: THUUQWIMSQCSE4497QFJSIOJBEHITSSSXZCCSWNXXPQWAWOLU9PANTFZUQTDC
Fish: 38.84 inch Lahontan Cutthroat Trout from Sw Wondrous Yaquina River Oregon 1; Code: VGYRXIPHLCJHO9898DYCHERFYFANBLZLIBMPPTYNVFHDTDVIK6KUKMEVUMPZO
Fish: 50.72 inch Jumping Atlantic Salmon from Sw Wondrous Yaquina River Oregon 1; Code: AWVDWSKGUKDNK1128RUKQKPKDZSLGVOZFMXFMZTSAQHEDOWYN3VNOUWFZREWY
Fish: 25.20 inch Jumping Arctic Grayling from Sw Wondrous Yaquina River Oregon 1; Code: CEEARHNLRCAXZ4516IHVLFUTVLALXCWZJDWRNGYMSBQUEVJKD1VJSKQGCRZGB
Fish: 26.42 inch GoldenTrout from Sw Wondrous Yaquina River Oregon 1; Code: OSVYXNGPZBYTQ9512CTUVEALLFQLUSPGUGUHSDLKPLRJFIGIZ5DFQUTUUNPZO
Fish: 26.59 inch Jumping Mountain Whitefish from Sw Wondrous Yaquina River Oregon 1; Code: PZXQJLFKMJWJO1702SBBLWHPLFGUCUCCRXHKFKGIAKHFUAKVS7VZLJDSQTXCT
Fish: 56.86 inch Jumping Atlantic Salmon from Sw Wondrous Yaquina River Oregon 1; Code: HXIPWGDAAUPEG6556PBQRTLUNZOYHHFDCVFJJFMSOFNONVJLM4KYXLBLFUMPD
Fish: 25.82 inch Jumping Cutthroat from Sw Wondrous Yaquina River Oregon 1; Code: FUFDZTKRDOVKZ1813VVSQMFAALTKJUOJCTRFIAQKTUDXAAOHU9JVEEQFHEWHJ
Fish: 23.04 inch Northern Pikeminnow from Sw Wondrous Yaquina River Oregon 1; Code: YXDJYZZUGJZLF9381SRDRNBSWRLVVADZJLLUQNIHEBUIAPKEX2GJNEPYFEZJM