Hi Martin and Everyone,
Finally had a chance to fish the last 5 sites in this outing and finally caught the last 2 of the 16 species Martin included in this outing. Martin did another amazing job on this outing, I had alot of fun and spent quite a bit of time on it. Included is some excellent scenery, some fast water, good wilderness sounds and definitely plenty of fish to catch. It was nice to see some of the older created fish in this outing. Some I haven't caught in a long time. So all 16 species were finally caught. Another excellent outing which I really do think everyone would enjoy. With all of his last outings that he released, it's hard to pick and choose which one will be fished next. Probably go out of the US on the next one. Thanks Martin for another great outing. Still looking up some more info that you need. Also 53 fish caught in all.
In Sw Wondrous Rough River Lake Kentucky 1 You Are Fishing For: Jumping Smallmouth Bass, Largemouth Bass, Walleye, Muskie, Northern Pike2, Striped Bass, White Crappie, Brook Trout, Brown Trout, Rainbow Plus Black Bass, Yellow Bass, Spotted Bass, Rockbass, Chain Pickerel, Sauger, 16 Species In Total.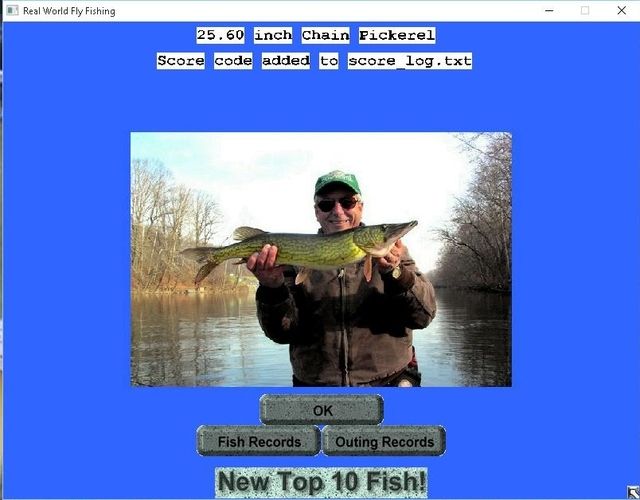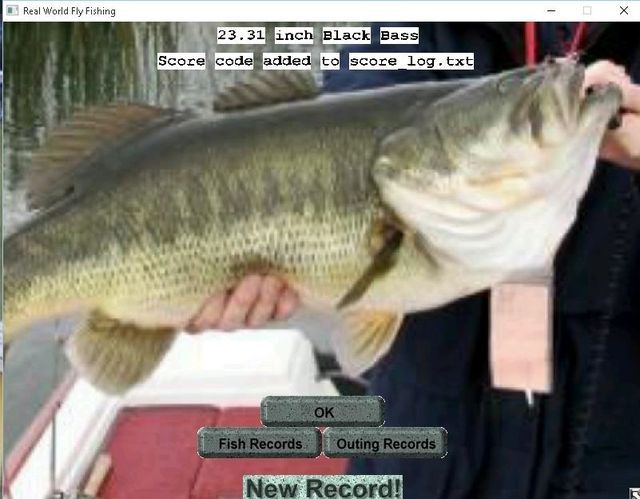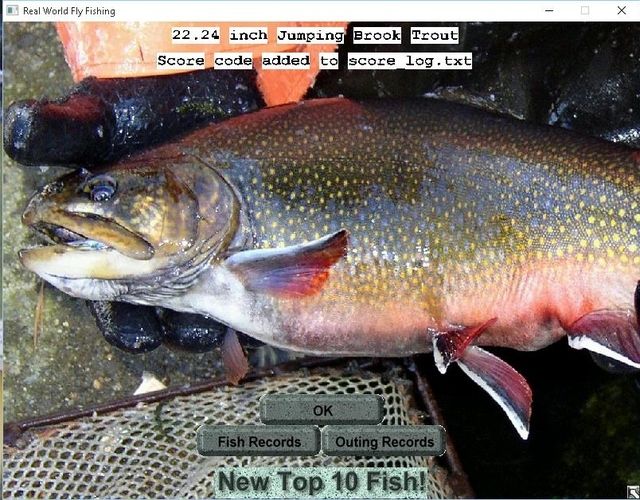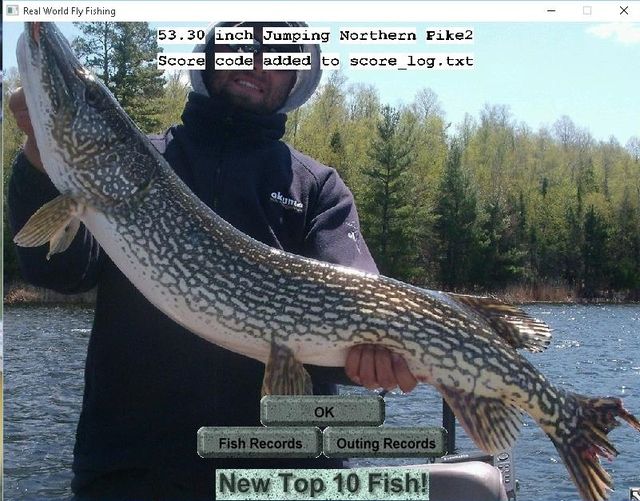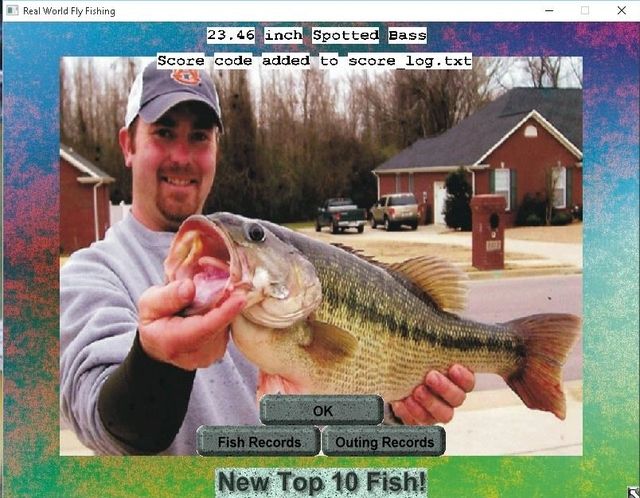 Fish: 33.63 inch Jumping Brown Trout from Sw Wondrous Rough River Lake Kentucky 1; Code: NBAYCHOOMMNRI9503DRQFPKVSQIBVTDLVKKPDGLCUKWDYOIWVEBWBUTQQSZJM
Fish: 34.45 inch Jumping Rainbow from Sw Wondrous Rough River Lake Kentucky 1; Code: GLXBFRHJZGJNU5906QBCJSNHCCHQGHFFRVDYEZPYHJEMNVZFZJETOIPBEPQJO
Fish: 14.28 inch Yellow Bass from Sw Wondrous Rough River Lake Kentucky 1; Code: CHFDZMRNKKOMG1652OHESRYFHXBWT@MSHKOYDOZIZLTSKOWXHABHMODMTLRWR
Fish: 26.08 inch Jumping Smallmouth Bass from Sw Wondrous Rough River Lake Kentucky 1; Code: CFPMLYNAJMTWY7631KEYQMTTVQKND?YSRCHIBOQQSFKEMPUHWCDUBUCQHDVUG
Fish: 26.06 inch Sauger from Sw Wondrous Rough River Lake Kentucky 1; Code: GYOKRSCLZEKEK8859FDZZASWADBCAALFSCLBWYCVHDUBCIGRMPDQCPRFFHBMU
Fish: 42.97 inch Jumping Northern Pike2 from Sw Wondrous Rough River Lake Kentucky 1; Code: BQLGMZAFIDAPL8567SIVZYIAUJQSBNVSSFCXGGTULXLBAXLEZPGJBTGRXITDC
Fish: 50.22 inch Jumping Muskie from Sw Wondrous Rough River Lake Kentucky 1; Code: EZLWOUMQHLVWA2378AJFKMXSVCQFAGFMGGANZBREJEDMRJHMPQRVFWSJEGFJB
Fish: 32.16 inch Jumping Rainbow from Sw Wondrous Rough River Lake Kentucky 1; Code: HGQRHIGVEOEQL3463TVPXSVPILKUVVGZNHTPFXOESRYNSIGFBRXSDZGXACMPD
Fish: 14.09 inch Yellow Bass from Sw Wondrous Rough River Lake Kentucky 1; Code: QTQSGGPVZYXOP8914LHMUFILUEBRQMJVEPUKSRFSDRKCRJHJEPFVPQNDHOEQT
Fish: 60.15 inch Jumping Striped Bass from Sw Wondrous Rough River Lake Kentucky 1; Code: IRRRMOBENAQFH3996QHIRVNQPYJVURMWPFKJWNTURLRLCMGZYTVNCKLWVNSSC
Fish: 22.07 inch Spotted Bass from Sw Wondrous Rough River Lake Kentucky 1; Code: AMMOSYVCNDNCB3424HAOQKOLUZIZJHYAUVIBKAZJQONMMTTZLQUOTRHZRBEQT
Fish: 26.06 inch Sauger from Sw Wondrous Rough River Lake Kentucky 1; Code: LYMKASMAJZUFO3575MONBEWEMLKSLSZPFQTJUQJNHMZQWSAIDWPMDTEBZGCQF
Fish: 18.92 inch Jumping White Crappie from Sw Wondrous Rough River Lake Kentucky 1; Code: OMJYYFIRUHALD7038SEKHOKCSLXSUXIIYGBJMVRSTDPBJKIQRPZQQRYPLRHPM
Fish: 33.02 inch Jumping Rainbow from Sw Wondrous Rough River Lake Kentucky 1; Code: HUJKMPLXOEZRA9410KTPKLHKQYEYXKOCWFFKTXLXZOWWATXIDNMARDSMNYEQT
Fish: 44.21 inch Jumping Northern Pike2 from Sw Wondrous Rough River Lake Kentucky 1; Code: BMKPQAHXFMQZO2327LVRMJGJXTWXDLLRMZGHCQACPCARFBPXELAINBLHZCSHR
Fish: 18.53 inch Jumping White Crappie from Sw Wondrous Rough River Lake Kentucky 1; Code: RZKXEHOLVBEUP9209ZSYFNJRJSZIQSDVSODPRPIVFFSWVSAEBNPEYQNQRNTDC
Fish: 52.67 inch Jumping Northern Pike2 from Sw Wondrous Rough River Lake Kentucky 1; Code: QBTIQLWYPSQNW5723VDHVFEULXINQVYZHNWSHBPIHZBJOKMQAOKMLYGFEXKYH
Fish: 21.83 inch BlackBass from Sw Wondrous Rough River Lake Kentucky 1; Code: NISCVVCWZVIKL2182HDDYEHHQMRCJSLJAXHMPXXHYVRUCYQKVQFWIPZXFKFML
Fish: 22.06 inch Spotted Bass from Sw Wondrous Rough River Lake Kentucky 1; Code: QUIBQPALJHQOG1039NMPRIHRFZBIYILZMGXCGAXOKUTWDZRASXNYPNEOOMPOE
Fish: 32.68 inch Jumping Rainbow from Sw Wondrous Rough River Lake Kentucky 1; Code: FAOBJLUBQCZBY5473COIPLDDZMYNACZIOCMENKJAIPDGDZRDLZZYFBKUKRYTZ
Fish: 28.31 inch Sauger from Sw Wondrous Rough River Lake Kentucky 1; Code: WBYXDLXOIVDMO8323GKQUISHSYNBW@AIEQVHQJPTGPTCBUCNJPDCPIYSRQGUB
Fish: 51.13 inch Jumping Muskie from Sw Wondrous Rough River Lake Kentucky 1; Code: PJQXPDQOBIFML1505YAVXFPQQLCHRMGCJNGIPLRYLASQLDRGEVQMQCSHTLQCO
Fish: 17.22 inch Rockbass from Sw Wondrous Rough River Lake Kentucky 1; Code: HPFMYMVJSESIE0062BJISYQHQYDWRMCFHRXVBGJJDRCSTZRKMAYODOOSKBSHR
Fish: 25.60 inch Chain Pickerel from Sw Wondrous Rough River Lake Kentucky 1; Code: WEZDBMVDBSSWU3570LRZBQEZPRFCMWQFKTVGGJQHVGDKCIODQDASJDJQHHEQT
Fish: 18.31 inch Rockbass from Sw Wondrous Rough River Lake Kentucky 1; Code: CLNDKMKDMQUGK7005VUIECJCODDGQBETOVSOHXKZONECFSAEBXHJGOYVSSEWY
Fish: 37.59 inch Jumping Brown Trout from Sw Wondrous Rough River Lake Kentucky 1; Code: NSSWQXLRHZVJD0618RQRYQAAFXMXNOCLKVWIAOKQQYFUIFLPDPOUCBQDNVJGP
Fish: 34.48 inch Jumping Rainbow from Sw Wondrous Rough River Lake Kentucky 1; Code: HDRMGRNTLXKPF7117ONGQOJRADLMG?YCOASIPPNJDANXJUUPVCZCYIVZJKNSL
Fish: 49.82 inch Jumping Striped Bass from Sw Wondrous Rough River Lake Kentucky 1; Code: RXWGPHEMVOKBI5088DPSVLVHMWRRISPVCZOZPQZDYZQIXUYORGZQNOUDFENSL
Fish: 16.71 inch Yellow Bass from Sw Wondrous Rough River Lake Kentucky 1; Code: PFQNARBLYXBAO2362RNRLZXMYJDHBLVBDGCKTCZGXGHOYZVZJYCCMGXYWXHVR
Fish: 46.62 inch Jumping Northern Pike2 from Sw Wondrous Rough River Lake Kentucky 1; Code: VPCBMTLXAPEYP6496TNWKGEADDVQDDVNLCQVDBTTGGEHQXFBSRDQJCNQWUMFI
Fish: 18.20 inch Rockbass from Sw Wondrous Rough River Lake Kentucky 1; Code: ISKMTLNTDLJVG6892SMLWBMQWETXCVGAXEOAKVLYQOZFOUYQMJCYBPDHCKXXO
Fish: 33.73 inch Jumping Rainbow from Sw Wondrous Rough River Lake Kentucky 1; Code: MKIRVIQASEXNN5400HKHLWUINCWXWHMLGDYWZGFOGVOEHXXDVUOYYDWCTRYKR
Fish: 33.35 inch Jumping Largemouth Bass from Sw Wondrous Rough River Lake Kentucky 1; Code: IEBDUPWKUSPVR9945TODKQACGQZTBGFXGACGVOGYRRBWORZNKNNYLPRSVDWNO
Fish: 34.83 inch Jumping Brown Trout from Sw Wondrous Rough River Lake Kentucky 1; Code: NGNMTYPKZQVOE8961ETXWCBQTQJCTRPIKGSWNFOQRPQZFAOULRPIXVGCTDODW
Fish: 52.62 inch Jumping Muskie from Sw Wondrous Rough River Lake Kentucky 1; Code: ACMBGKUUITAIJ2998YGAPNFZICHYFLHYRYSEZJMIXMINYNZDERLQQRQLJNQJO
Fish: 23.46 inch Spotted Bass from Sw Wondrous Rough River Lake Kentucky 1; Code: WJCHYGYQNTYDQ5818MBGLHFWECQNKUCKYRDVYIACRLXOJCUBGQOFPAVCVXCFU
Fish: 53.30 inch Jumping Northern Pike2 from Sw Wondrous Rough River Lake Kentucky 1; Code: JNWLJVAZCEGLX6447MYZCNMSRPGLRCPUTKERKLCWBFTGAPFQORDXRGVEWOJGP
Fish: 34.40 inch Jumping Largemouth Bass from Sw Wondrous Rough River Lake Kentucky 1; Code: XBWHVIHKAWHEB7026KFKJLCHCDTJJDNGWVTFJZQMNDGZMBXMCRRNKOCAXSILE
Fish: 54.17 inch Jumping Muskie from Sw Wondrous Rough River Lake Kentucky 1; Code: GDLJMJNGUENJS9413KSLTWRUFJOOLMDDXRCKWILPEMAAXVZRCILIDCRJJVILE
Fish: 23.24 inch BlackBass from Sw Wondrous Rough River Lake Kentucky 1; Code: FQVTHQEZATMMU5661WQOEGMFARUCRTWEOKMHDJYTXSLLBASFXTEUOVPWKVILE
Fish: 37.93 inch Jumping Largemouth Bass from Sw Wondrous Rough River Lake Kentucky 1; Code: IEBDUPWKUWRBR9945TODKQACGQZTBGFXGFCGVOGYRRBWORZNKNNYLPRSWUQCO
Fish: 22.22 inch BlackBass from Sw Wondrous Rough River Lake Kentucky 1; Code: CZQOGCYFWJWFZ4071LSIRVVPFQXJSQFPFMMJNEPSVKCLNVRPDTWQXOKKYYCQF
Fish: 48.96 inch Jumping Northern Pike2 from Sw Wondrous Rough River Lake Kentucky 1; Code: INPIHGZRKMERK5744JCWNOUVWWKNW?BVBGGLSWBDCRGJHIKSVWPMVARVZVZLH
Fish: 34.82 inch Jumping Largemouth Bass from Sw Wondrous Rough River Lake Kentucky 1; Code: QFVRVLQNQCGUB3266UILAQPSTCRXOXJANMAQLKAZWUUSJGIXCTQWXTCOBBEQT
Fish: 35.08 inch Jumping Brown Trout from Sw Wondrous Rough River Lake Kentucky 1; Code: SBYPLHXLXBWPF3320CUEHWGXBKBBYLZWIZSXTGSUVTBKSYDVMLFSZRQMCJCCI
Fish: 22.24 inch Jumping Brook Trout from Sw Wondrous Rough River Lake Kentucky 1; Code: CTIGQYSDSXOBM4587BDYCXEOLDWQEOYNAWTDPWVJZCINUSSSYYSTPFWFOSYTZ
Fish: 20.78 inch Jumping White Crappie from Sw Wondrous Rough River Lake Kentucky 1; Code: ZRHHJMEIUHGCG5721TFNZTVQVJQCIKSAWVPMKDIRHIGFOYZKIBRGIJZRVJYTZ
Fish: 23.50 inch Jumping Smallmouth Bass from Sw Wondrous Rough River Lake Kentucky 1; Code: KBPFNDFGKPBUM0395DXZWZQNHCAPT@PXKMYEZTHWICJPJSWBQNSFXNITMIAQC
Fish: 39.73 inch Jumping Walleye from Sw Wondrous Rough River Lake Kentucky 1; Code: BJLSGJOEUOFSI4270OWHFXMLPCWHOOVUGPNAMQHOILQJWMCPYEDJANBJHBXXO
Fish: 51.55 inch Jumping Striped Bass from Sw Wondrous Rough River Lake Kentucky 1; Code: PWGMHUNPTPJGI6465NTAESMZDXGDTXMBSNODPCFULUPFHPYSJJPANIVLTFFJB
Fish: 23.31 inch BlackBass from Sw Wondrous Rough River Lake Kentucky 1; Code: EWEQZIOUNRJYT7231VKEDELIYJYFKJPHAYIGJBQRUVSEIVVEICTXJMILLVFML
Fish: 15.98 inch Yellow Bass from Sw Wondrous Rough River Lake Kentucky 1; Code: VVCBXHIGDWFOC8960WVGYWUAWPWKIFTGHPJBKJVCKGZFJZEQFUZFHZKNHCAQC
Fish: 25.42 inch Jumping Smallmouth Bass from Sw Wondrous Rough River Lake Kentucky 1; Code: MKIRVIQBRWWIN5400HKHLWUINCWXWHMLGDYWZGFOGVOEHXXDVUOYGKXCTTNSL