Hi Martin and Everyone,
Well I finally finished fishing all the sites in this new outing of Martin's. Another excellent outing, good scenery, sounds and currents. Fished
mainly on the surface. Fish were ready to annihalate the fly. Had 4 or 5 Jumpers that threw the hook on me. There are some big fish in this
outing as you should check my caught list. Don't fish to light of tackle, some of these fish are super jumpers and if you fish to light, their
jumping will definitely snap you off. Another outing well done. All 14 species were caught.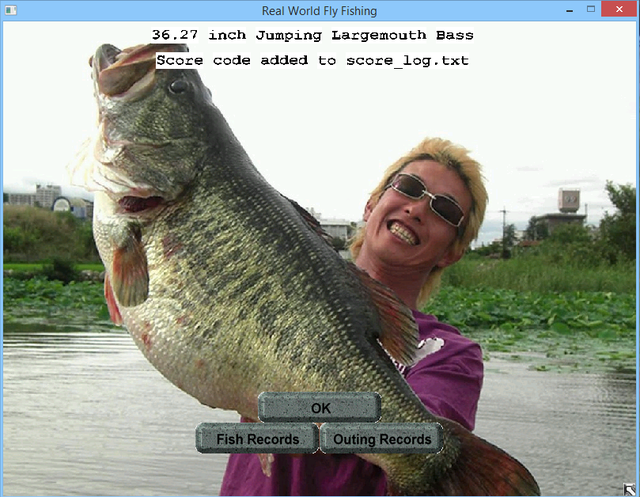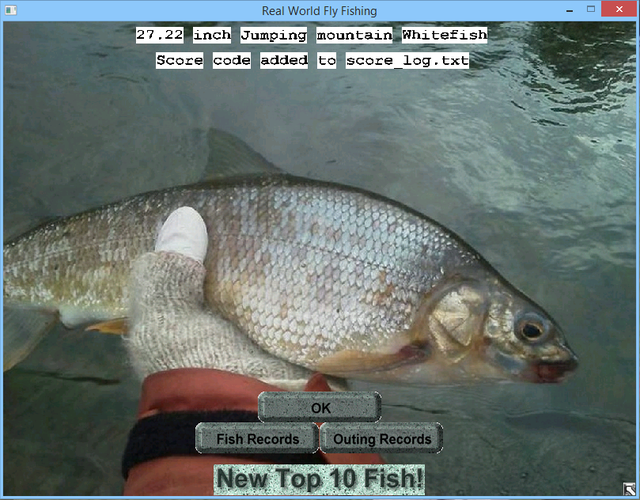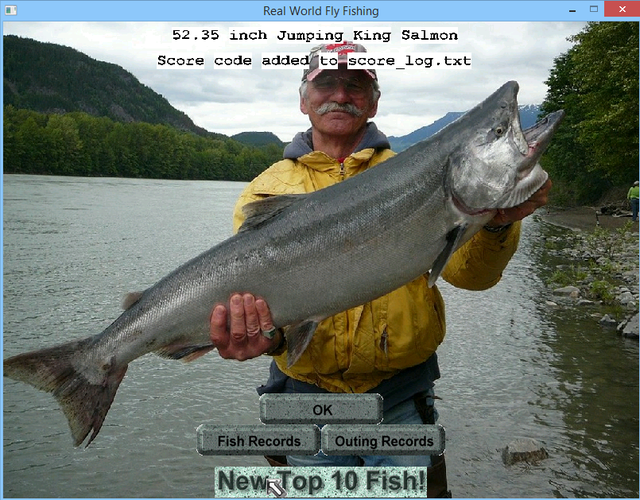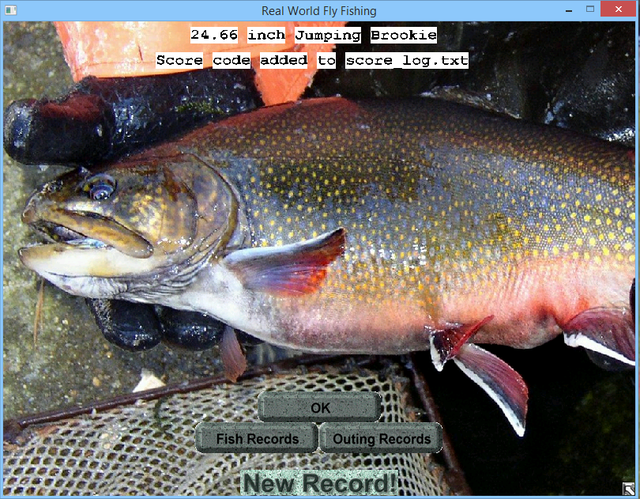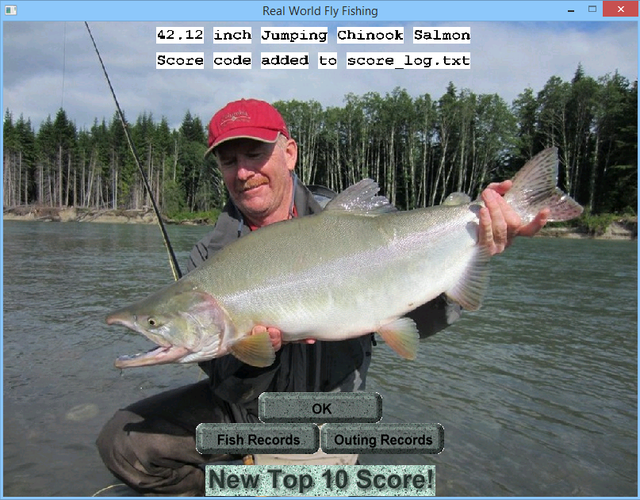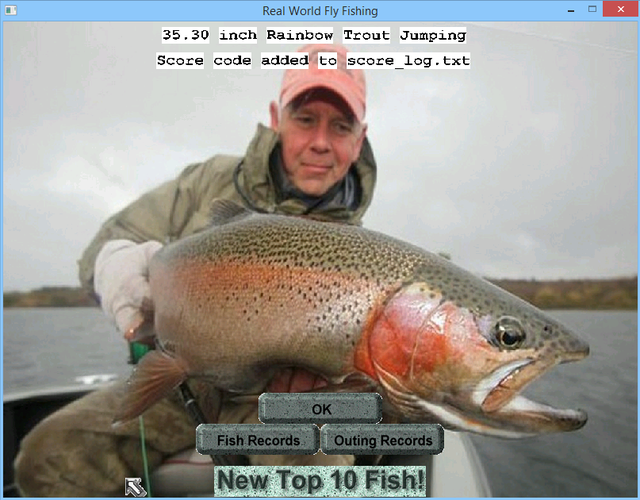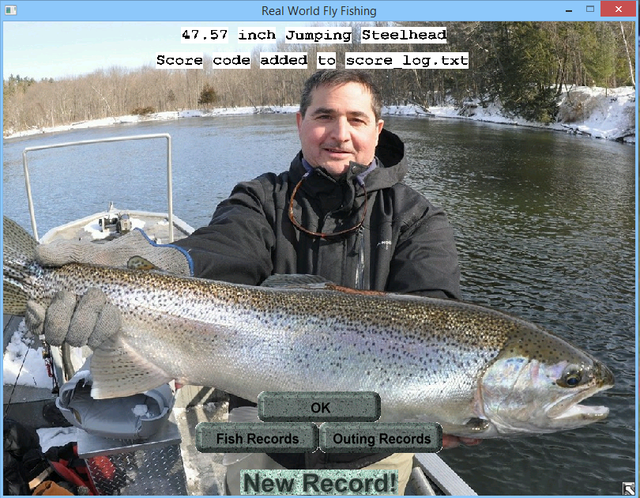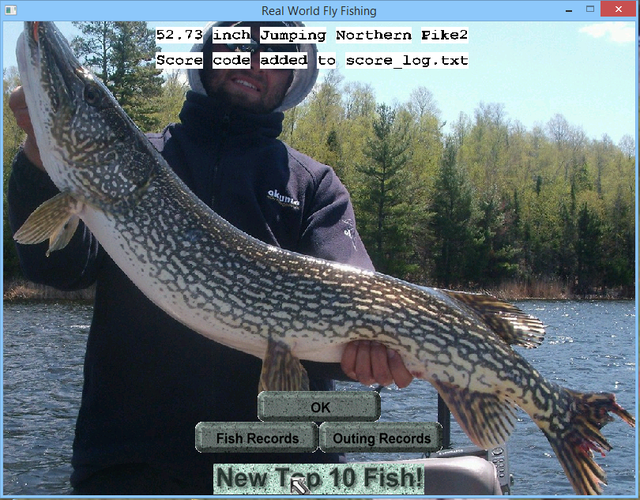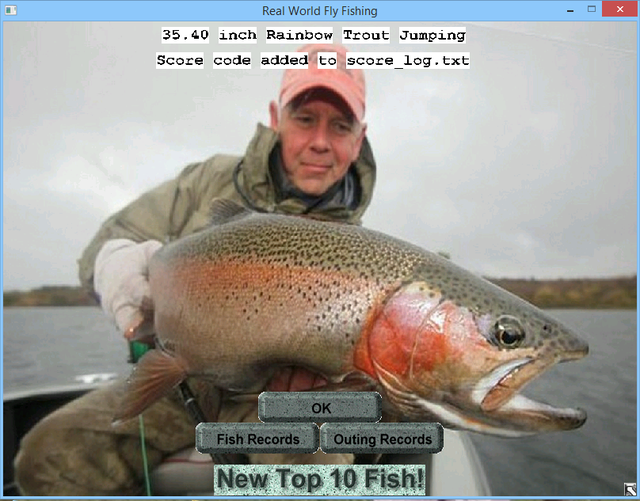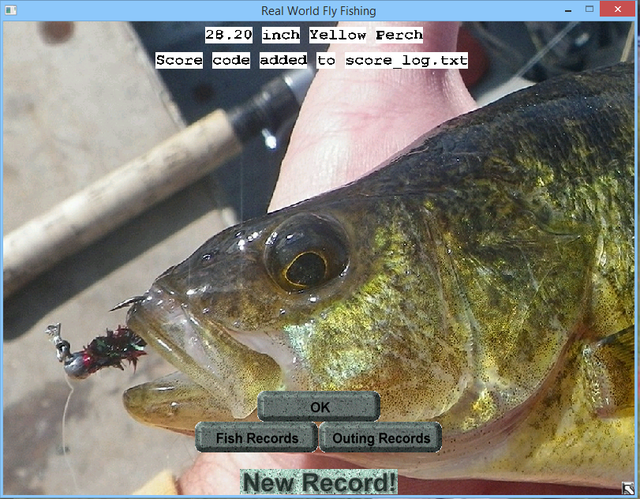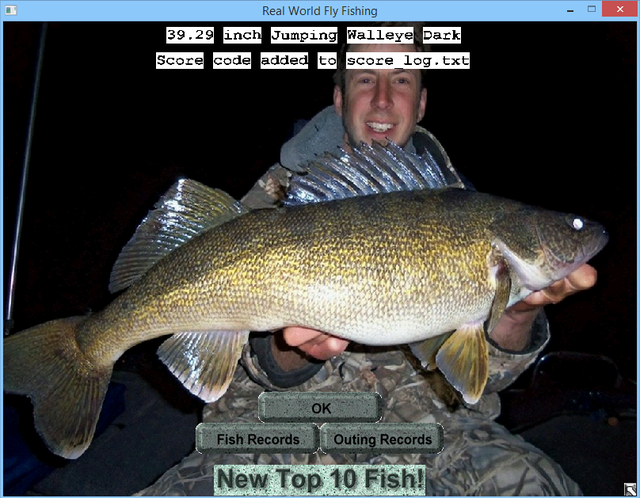 Fish: 37.17 inch Jumping Walleye Dark from Sw The Wondrous Sutton River Ontario; Code: GKMWKAYIPIHAV2800PEZMPOBJQPYWLLBJFZHNKQZSYIDEDDMOAWIKJFQAPTAR
Fish: 35.30 inch Jumping Red Rainbow from Sw The Wondrous Sutton River Ontario; Code: TIXGLFRTDJUKD5512SKMXONIBJQKFXMSFXFTDZYPITVRKOCOQYXLCXZCARQCO
Fish: 25.75 inch Yellow Perch from Sw The Wondrous Sutton River Ontario; Code: ROKZITMRWLWIH7479OAZANBPEJZPDBSWZTCUPBXUYZYOYCKPREYVTTNAFHJSU
Fish: 35.79 inch Jumping Largemouth Bass from Sw The Wondrous Sutton River Ontario; Code: DUSWEWBKUYVQR4316OEVWZVRZJKYFXGQAYCATOHUQTIXTOUVQIPQCVJHBIFJB
Fish: 39.62 inch Splake from Sw The Wondrous Sutton River Ontario; Code: TZYHVBFCYWLMY7605OJVRQDVOQUOWKLKMBRUZGEDEHEQBFNHYIKJNSWXAOBKA
Fish: 48.64 inch Jumping Muskie from Sw The Wondrous Sutton River Ontario; Code: BQLGMZAEIJZIL8567SIVZYIAUJQSZOVSSHCXDAMQWXXMCVHKKWGJHNGRYOTAR
Fish: 52.73 inch Jumping Northern Pike2 from Sw The Wondrous Sutton River Ontario; Code: BDVRCJDSRHXMV4717DGXJHVKWQVOYVPTJCUCDBYTPDHWFIAYWIHMILEMXYXXO
Fish: 35.94 inch Jumping Largemouth Bass from Sw The Wondrous Sutton River Ontario; Code: HECZAIWCDZNUE0242QKJNQIXLXCVEVSGWQEZAAXAVDAKWIAUCZHFOENCPWYKR
Fish: 28.01 inch Yellow Perch from Sw The Wondrous Sutton River Ontario; Code: VGYVGETHLSGCO9898DYCHIJZNQKXFMZHIBMPMNRJGGMERFRTSOKUFUGVVRYTZ
Fish: 36.97 inch Jumping Walleye Dark from Sw The Wondrous Sutton River Ontario; Code: SXCJQPEYMOORV4781HLVSLNFHPGHTXCTMIMFEZTSQNHYLAQSVQOCOPQTNALKX
Fish: 26.14 inch Jumping Smallmouth Bass from Sw The Wondrous Sutton River Ontario; Code: HQIBPPRPLWLLD3967DHDXEOHYDFQXKEBPEJMMITBVUPXHNXHUXGRTKXDQCVRV
Fish: 42.33 inch Splake from Sw The Wondrous Sutton River Ontario; Code: OPIYETSUOYLLK4375XLLOAGNEXRUIWZFWOUIZXLKTULUUWQLACXPQHJVEBQRE
Fish: 42.37 inch Jumping Northern Pike2 from Sw The Wondrous Sutton River Ontario; Code: DFOQFFODBPXHL6334WAANLDYQKYLWLLQBFXPRYKFKTJUHVLTADSFSZGHQVUVK
Fish: 35.40 inch Jumping Red Rainbow from Sw The Wondrous Sutton River Ontario; Code: YIVYVGAQOWEDA9219ZNAZDJSKDJSQPIDSPNJSZEHACAGEZXMHEJHSGMYMIUVK
Fish: 35.36 inch Jumping Rainbow from Sw The Wondrous Sutton River Ontario; Code: PBNFXDWUWOMHJ6020KIFZGMXIDTPBSLAXCYUMFHLLLIPFANYSAWBVNCPXKHPM
Fish: 24.66 inch Jumping Brookie from Sw The Wondrous Sutton River Ontario; Code: PJQXPDQDAHHNL1505YAVXJHKFWMRPNGCJJGIMFKUWAEBNBNMPCQMWXSHTPNSL
Fish: 37.92 inch Splake from Sw The Wondrous Sutton River Ontario; Code: NAGODNWDVHNJJ6408BMNAMLPHWIJLYJHNRGYMRNCGGHUPWMLSVTLNAKFNFMCX
Fish: 39.48 inch Jumping Chinook Salmon from Sw The Wondrous Sutton River Ontario; Code: HRTOKYSGVSNEU4193EMGCHNNJQFHFOYXXWMDARLXVXQRTDHGQFOCDDPOWWYKR
Fish: 37.15 inch Jumping Walleye Dark from Sw The Wondrous Sutton River Ontario; Code: EZLWOUMAHYVPA2378AJFKMXSVCQFYHFMGHANWVKAUEPXTHDSAXRVBVSJFZPYE
Fish: 28.20 inch Yellow Perch from Sw The Wondrous Sutton River Ontario; Code: GFBZALIRVOAIH3544TJKIXJMAQGXZNZENHJSVTOLWAWZXRXNFNBWURSWWUHVR
Fish: 26.14 inch Jumping Smallmouth Bass from Sw The Wondrous Sutton River Ontario; Code: KSHDTTKJOTQZG4498JAKBAPQVIYLINGPWPKFSVHHPQDZUHDAJFFDGWMOGXJQK
Fish: 42.16 inch Jumping Northern Pike2 from Sw The Wondrous Sutton River Ontario; Code: QFVRVLQPQKDGB3266FFVLQQQCULXMYJAKJAQIETVHUGDLEEDNAQWVHBOADHHW
Fish: 25.23 inch Jumping Mountain Whitefish from Sw The Wondrous Sutton River Ontario; Code: GDLJMJNGSBNPS9413KSLTWRUFJOOJNDDXQCKTCELPMMLZTVXNPLIJXRJKDYQO
Fish: 23.56 inch Jumping Smallmouth Bass from Sw The Wondrous Sutton River Ontario; Code: AEATWKEVHAUYZ6919MFQCSLJVBTHLNVYFOHMYCOWQAVMYJXZZEAEPGJHUCXCT
Fish: 52.36 inch Jumping King Salmon from Sw The Wondrous Sutton River Ontario; Code: DQQNHWISTWFPU5164SWBDPLATODOHEWPRXYCPYOCCYXNYJXOWLJOWEOXAARUX
Fish: 40.85 inch Jumping Steelhead Red from Sw The Wondrous Sutton River Ontario; Code: INPIHGZWKEEGK5744UZGYOVTFOENU@BVYFGLPQUZNRSUJGGYGDPMBVRVWIAMF
Fish: 33.28 inch Jumping Rainbow from Sw The Wondrous Sutton River Ontario; Code: DTPJJNBJLVSOA3201XEKKXPKPPMGXBMMPFRJFGPYRQHDIYKWCAHNQZAWSLNFQ
Fish: 27.22 inch Jumping Mountain Whitefish from Sw The Wondrous Sutton River Ontario; Code: QSDGEJUBICEQZ7018CHTAHVFZVNJGJPZTOILBCGSOOWLHZTPTGXLKODSATPTJ
Fish: 39.30 inch Jumping Walleye Dark from Sw The Wondrous Sutton River Ontario; Code: LKJOUBQXAXSOA6607HMXAWDJBBCHHDZMTTAPDLXRLHNKYOYLNGAERWSMLEMPD
Fish: 41.16 inch Jumping Northern Pike2 from Sw The Wondrous Sutton River Ontario; Code: MDPMPZXNWRCRC2921GVEDDGZKOXMGRMNZNBZJKMXOKFXFDLUXPDYVTRNCTJFZ
Fish: 43.66 inch Jumping Northern Pike2 from Sw The Wondrous Sutton River Ontario; Code: DLDRQFYHFCZQY6708YPKBBTZJWZEBGRSYBRVXGEPGTDRSXJIFYVCYTCEADBJK
Fish: 47.57 inch Jumping Steelhead Red from Sw The Wondrous Sutton River Ontario; Code: VPCBMTLCAQETP6496EKGVGFYMVPQBEVNIWQVAVMPRGQSSVBHDYDQVGNQVGCCI
Fish: 30.33 inch Jumping Red Rainbow from Sw The Wondrous Sutton River Ontario; Code: MUHKDQUUZPLXX5136CUNXWWEXCBIGDCNGZNSGRLLCYNWWTONFAQWETNIZKIUZ
Fish: 42.12 inch Jumping Chinook Salmon from Sw The Wondrous Sutton River Ontario; Code: BTCCOQSWBWSGR5784IFORGNHZCBSPLLXNLDEMANLDOHUDJTAQLMIYWRXNCHHW
Fish: 36.27 inch Jumping Largemouth Bass from Sw The Wondrous Sutton River Ontario; Code: PNSGMDKDENUSP9857IBRMUTFECQJNHQDNGDYQNDLLUXKIFJTJZVNHCUQPYVOI
Fish: 39.33 inch Splake from Sw The Wondrous Sutton River Ontario; Code: JAOAVBNOJJEKI0596JTEGFAIDOGZWSIUHKWOPPHVMLHJGSNKURWJODTZXVDVI
Fish: 40.20 inch Jumping Steelhead Red from Sw The Wondrous Sutton River Ontario; Code: CDBVWQEFIIZMJ3410SZCRHOFACMETHCRYISAWRZMWRUBRPVWPDNGKIIDVTPIY
Fish: 48.76 inch Jumping King Salmon from Sw The Wondrous Sutton River Ontario; Code: CGSRYHWZTROXP8737XGLYPSXXVVEJESWWQLZMZAILIFJAEIMVRTXFDTBNEJGP
Fish: 40.89 inch Jumping Chinook Salmon from Sw The Wondrous Sutton River Ontario; Code: TJILGWATVXXCU6618FEZNRMMCOCBNTOOKMRSRHPTQWWLVEMNMOFOHEJNEXHHW
Fish: 19.87 inch Jumping Brookie from Sw The Wondrous Sutton River Ontario; Code: LEUNQBFZVRUNF6343EXMLGNAIPBFBBTSPDOJXDDZPHSUFLZNADEPRLWHAGXCT
Fish: 44.80 inch Jumping Steelhead Red from Sw The Wondrous Sutton River Ontario; Code: HGQRHIGWEAHCL3463ESZIWOHGOOETWGZKGTPCRHADRKYUGCLMYXSFHGXAYPZO
Fish: 40.04 inch Jumping King Salmon from Sw The Wondrous Sutton River Ontario; Code: VXOUFTFTGNWTJ0181KCWTBAKJOHTW@PHUCYJJUXYCVUEIVUMAZXTWYDIQRRZC
Fish: 24.20 inch Jumping Mountain Whitefish from Sw The Wondrous Sutton River Ontario; Code: VMLXCCTVOAGBJ1351ZDXOYBGPCFQLHFIKOXWSVTTKPGCJHPRFRGRBTCSDKDLY
Fish: 40.06 inch Splake from Sw The Wondrous Sutton River Ontario; Code: NBJBYEFKMTLMI9503OOAQPLTBICBTUDLSHKPAAEYFKIOAMECGLBWDCTQRSNAL
Fish: 35.66 inch Jumping Largemouth Bass from Sw The Wondrous Sutton River Ontario; Code: FPSHICIDSWMRE2545FQVSDHXYOOKHXCIDSJQMUZTIPOCRIWMLSWJRGFUCZTOV
Fish: 22.74 inch Jumping Brookie from Sw The Wondrous Sutton River Ontario; Code: ALSGUBXODUWGC0508GDTLLHAYQSSZEWWMWEKTLAJTLYDCBFOAPELUGPONNODL
Fish: 36.50 inch Jumping Walleye Dark from Sw The Wondrous Sutton River Ontario; Code: MSTSOQLEXLRSP1915NUXKRQUKDPHQDONTNYKESBTVSEAZVTXVCAILRMNREDPU