Hey all,
Was up early this morning and since the weather wasn't exactly nice enough to go out fishing, I fished at home from my computer haha. Where there's a will, there's a way! I DLed and installed Stanley's
King's River
, lookin to put the hurt on some big Browns and Rainbows. I went with light tackle - 4wt rod and 5x leader to start, along with a black ant fly. This setup proved to be the ticket and a lot of fun on the little guys, but I found out quickly that a higher weight class was the ticket after being broken off a few times. Switched up to a 5wt and 4x leader. Made the little guys easy, but the 20"+ fish gave terrific fights. Thoroughly enjoyed the outing, and couldn't believe how quickly an hour had passed LOL. I didn't go through all 17 scenes, but I think I made it through 14-15. Very nicely put together, loved the fact that there were only a few species of trout. I'd kill to have a day like this in real life. A few pics for ya: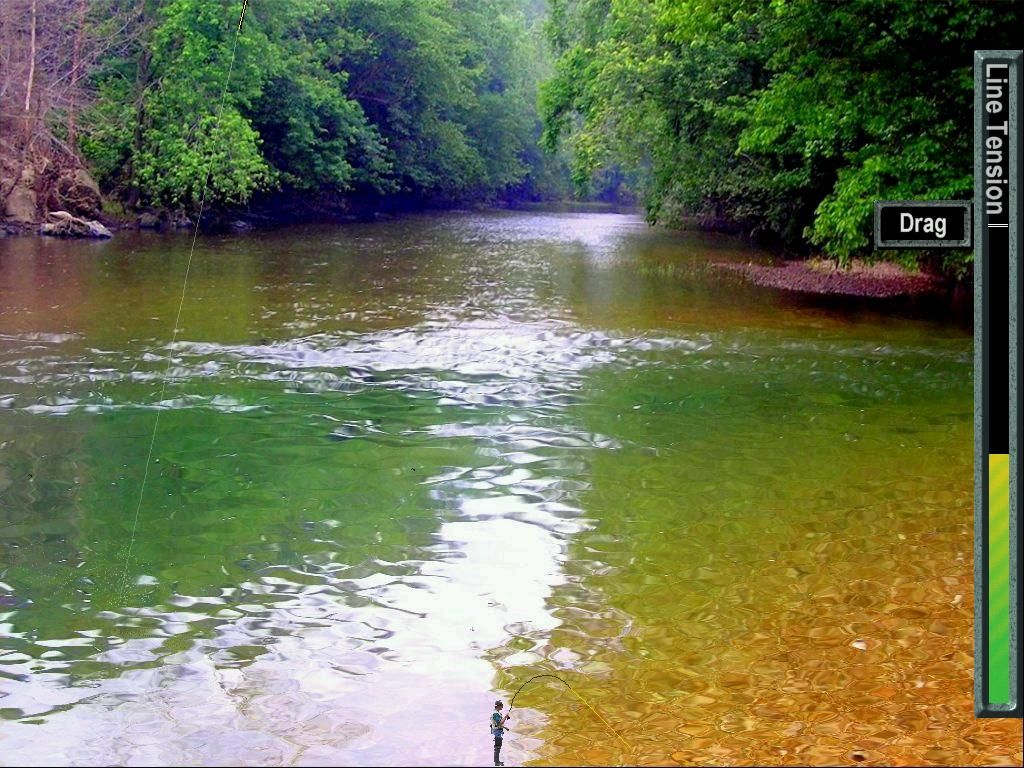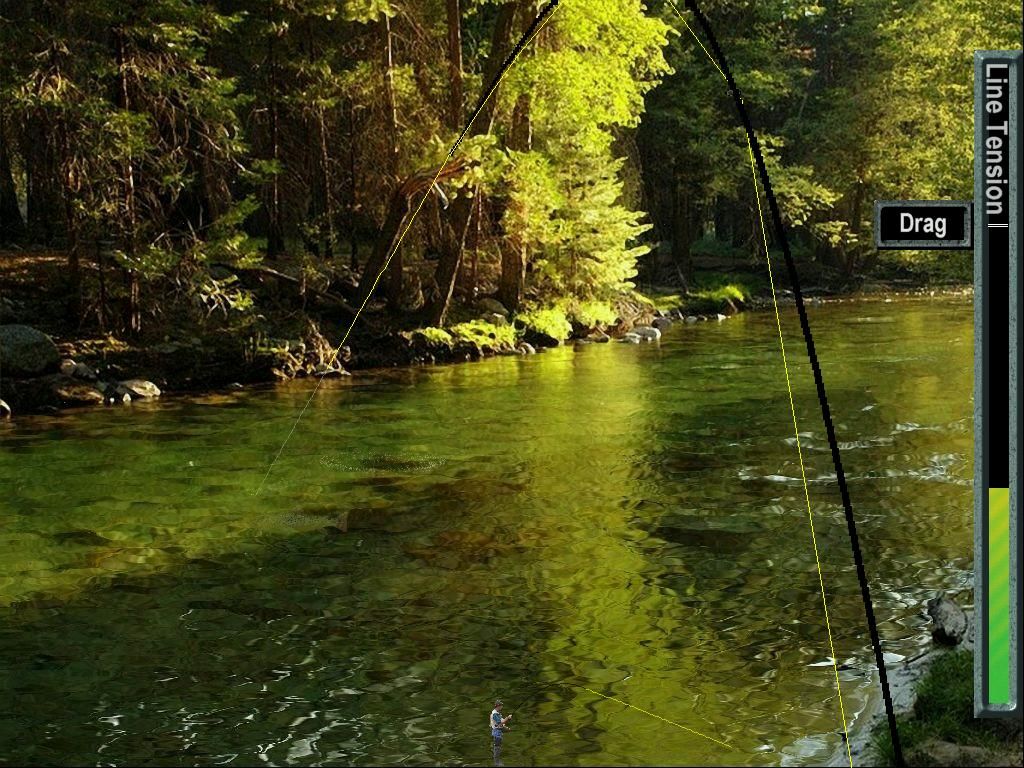 a few gorgeous Browns: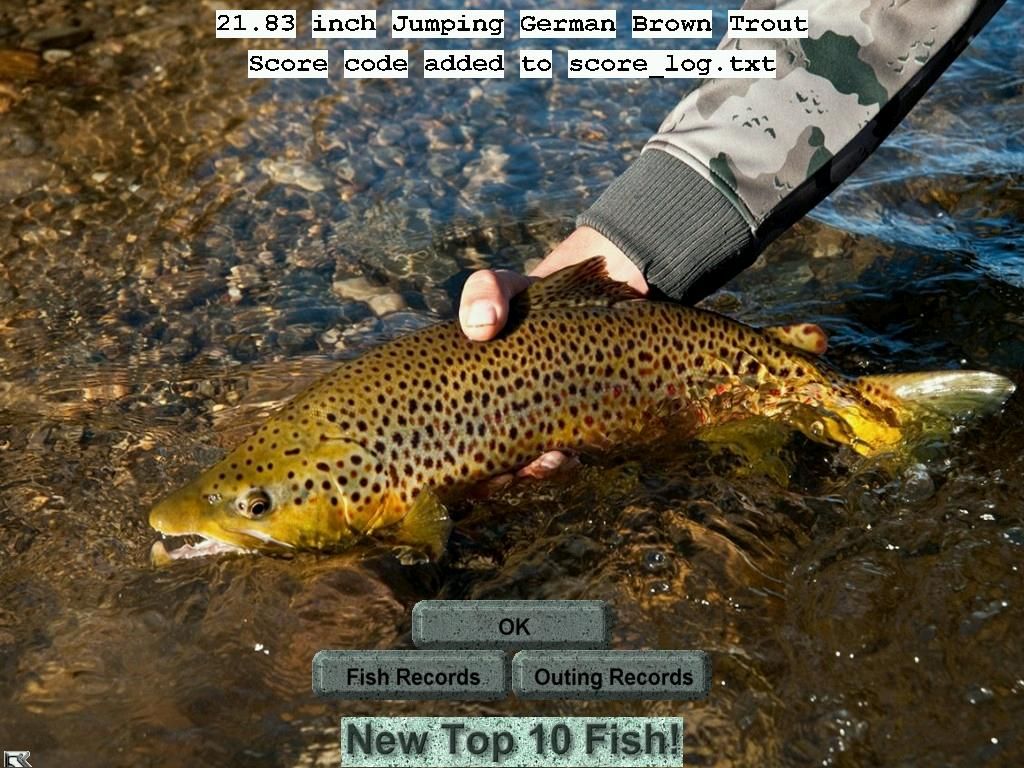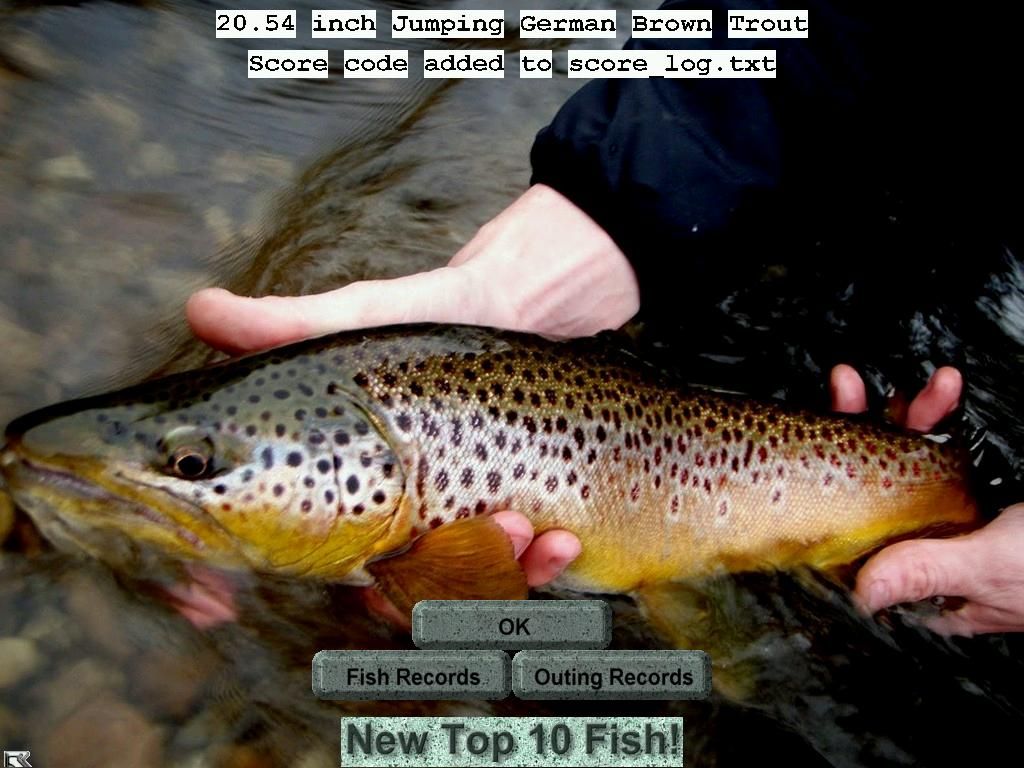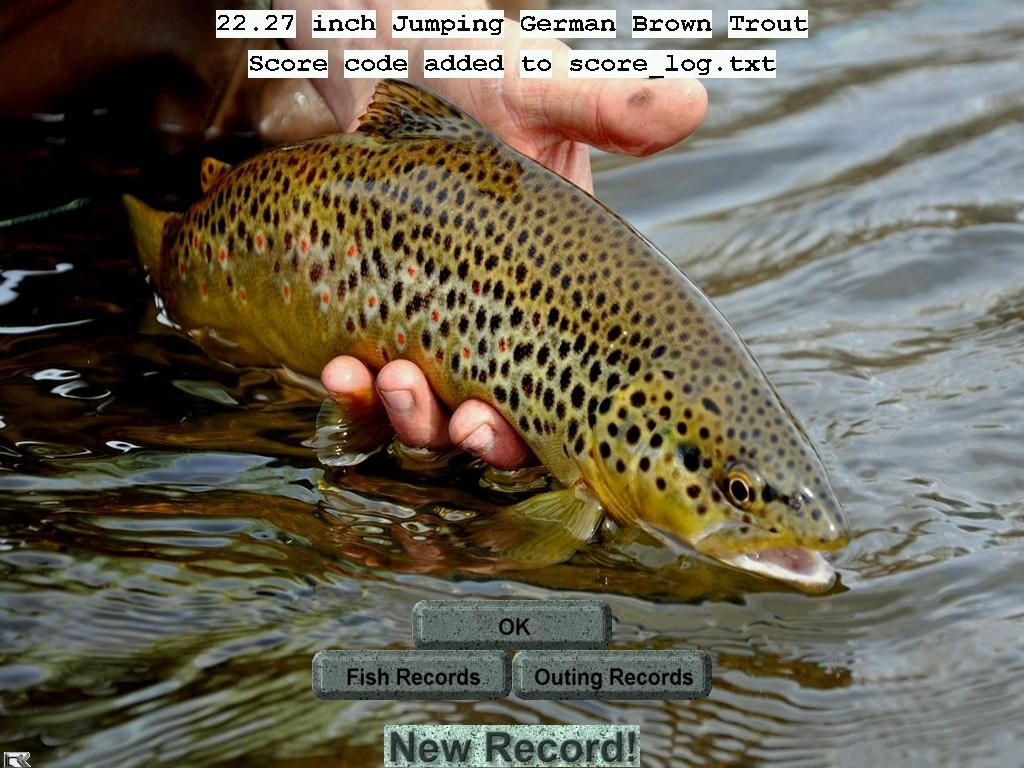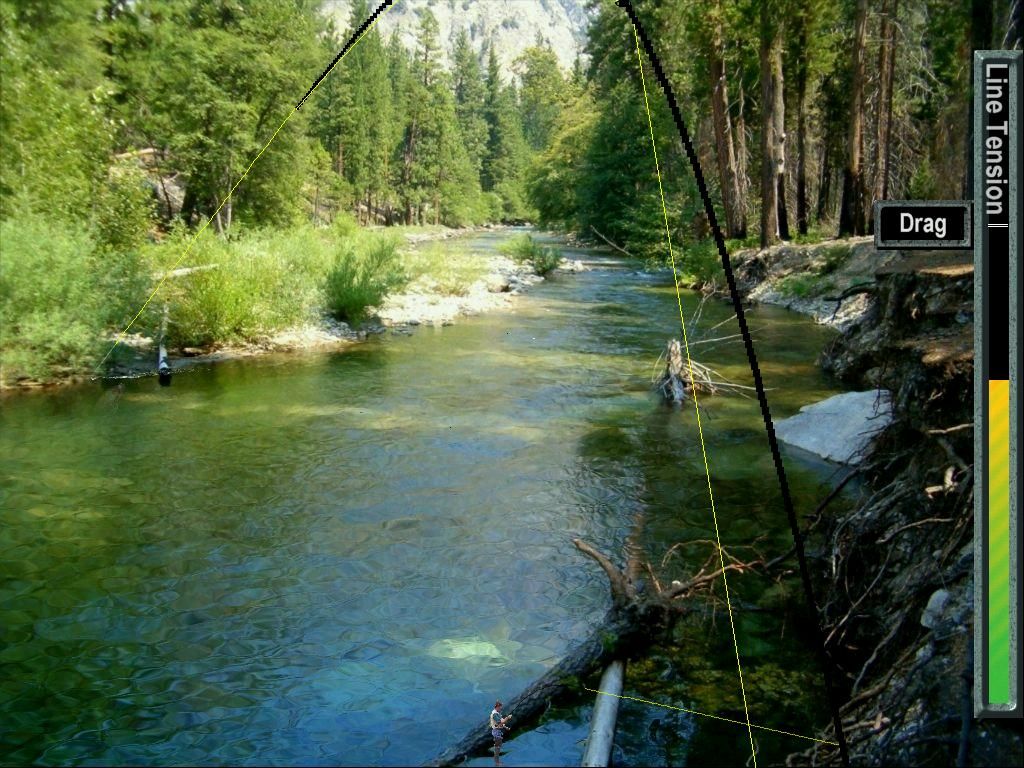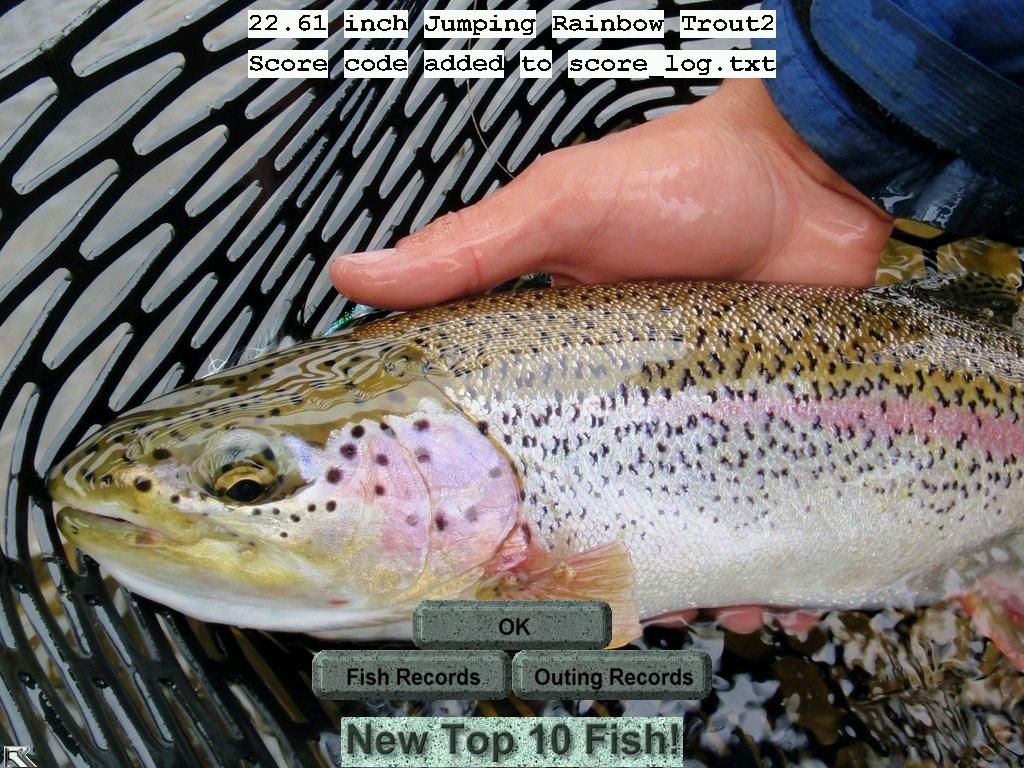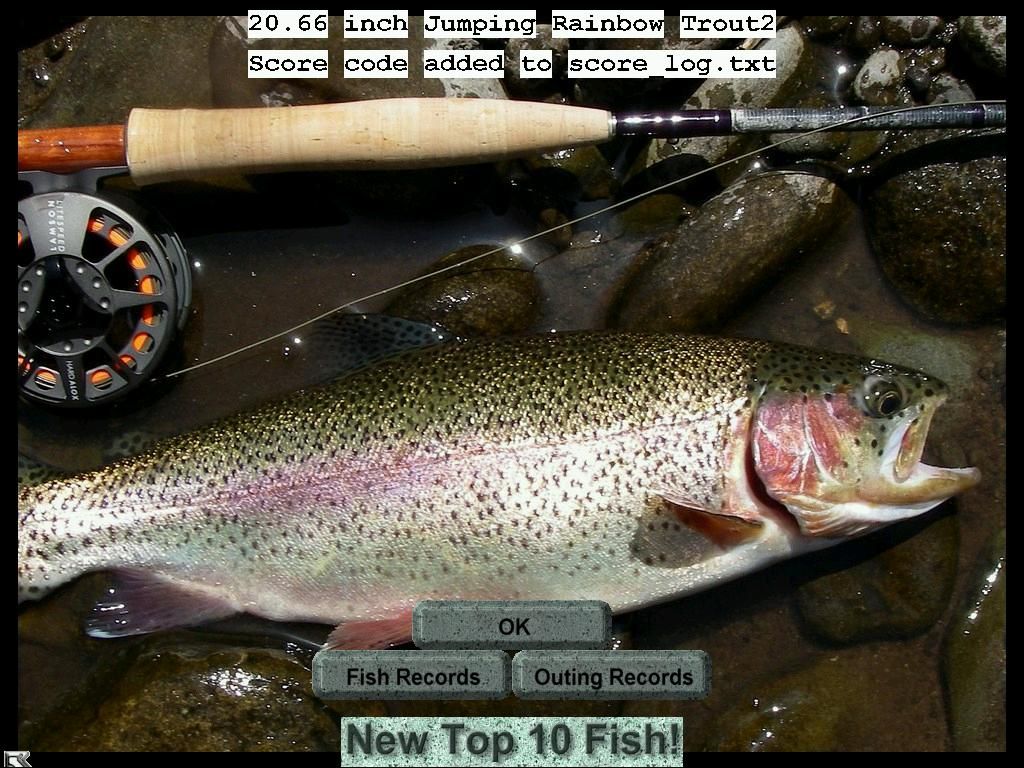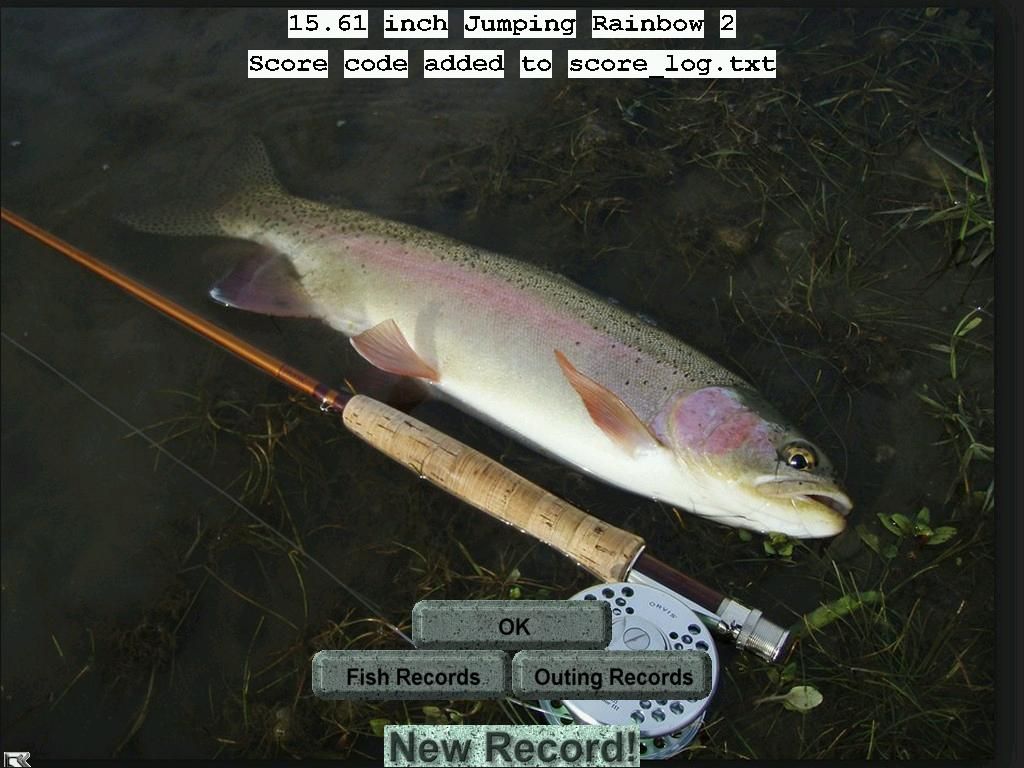 This guy here was pretty good! Kept pullin out nice sized Rainbows. Always posed the same though...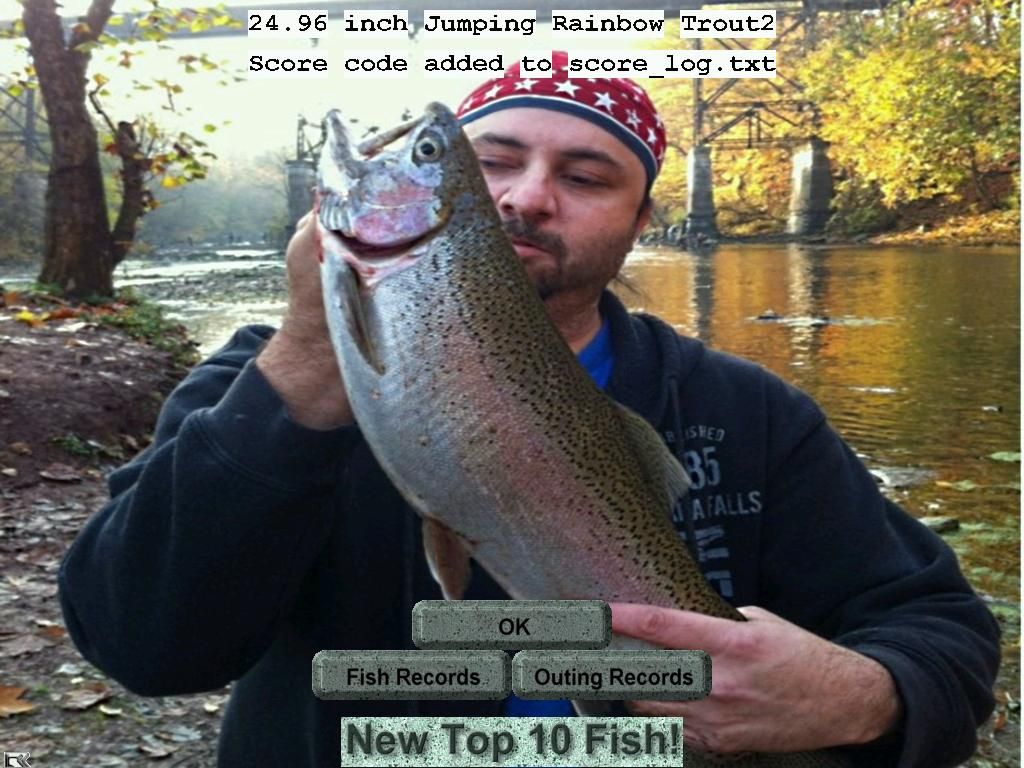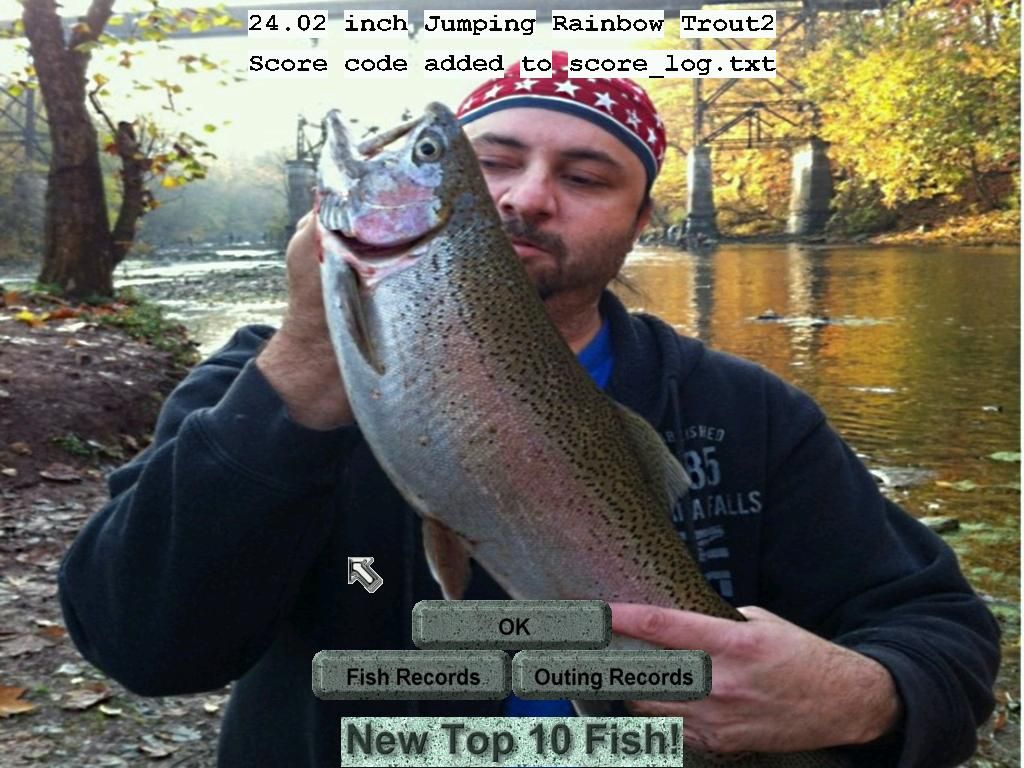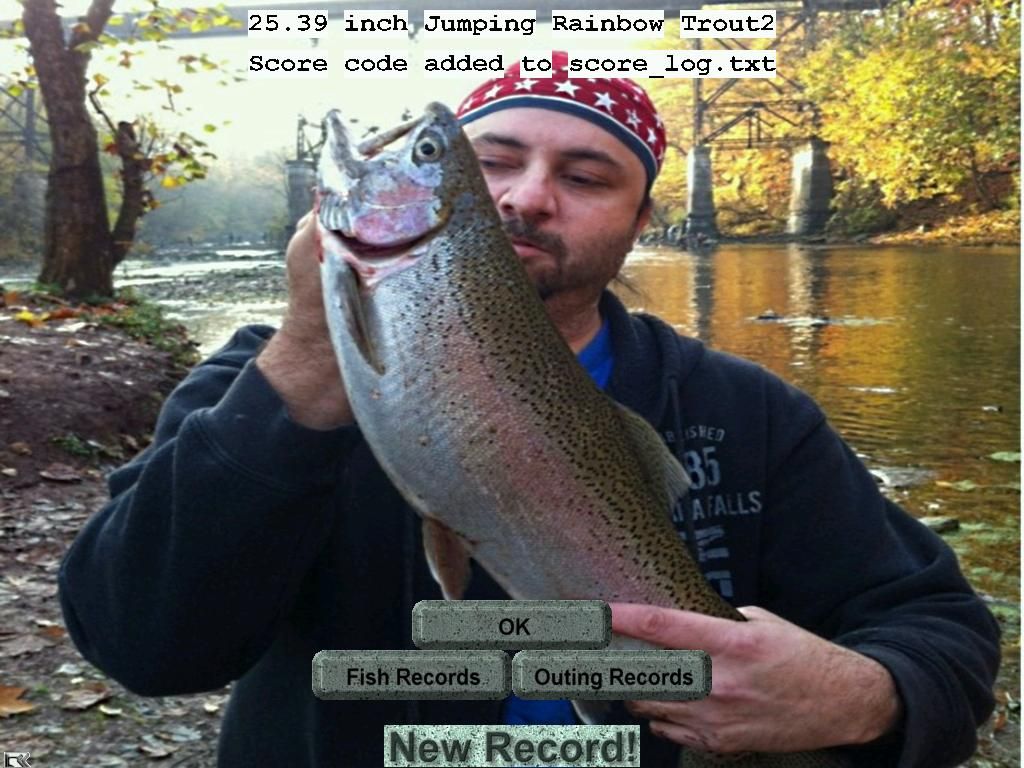 Great job, Stanley! I am supposed to go out tomorrow late morning/afternoon with my buddy to hit Browns, Steelhead, Kings and Coho if he doesn't get called into work. I only hope I have a day like this! Hahaha. I highly recommend you guys try this outing! Here is my catch list:
Fish: 14.71 inch Jumping Rainbow 2 from C L Kings River, California; Code: IFMHOGFXDAJQ0104SKWHVPZCWXRLUIZULYQMXEADQGNLTRJGTIDBONYDZBIXK
Fish: 12.90 inch Jumping Rainbow 2 from C L Kings River, California; Code: QIMWWBIUBZTI5938JPBWVUTLNXJYQBZOIRDEHSEOJPPVMEUPNMOMLEJNRTGRR
Fish: 17.12 inch Jumping Brown Trout 3 from C L Kings River, California; Code: YZNWJFYEHNTPV1302FPFSYQRUDSCLIZNYRKRGNNAKUIPNCEBRVWFYDOTNLTUV
Fish: 21.64 inch Jumping Rainbow Trout2 from C L Kings River, California; Code: WFRMYBHQKPTLL6676HMVVNVSBNCIWASBPJJMIALMTNXZIIYWZGIDUBXBKKZVS
Fish: 15.50 inch Jumping Rainbow 2 from C L Kings River, California; Code: VOZOSCCNQBCBQ5572LFUUTFNOYZEXNTBAFXTDSEYFZPIYRNDRWVFBGTFMWVGT
Fish: 15.61 inch Jumping Rainbow 2 from C L Kings River, California; Code: NFCHYHPUOWTHF5766WTVGQVDMMOQNCVEZOYUNXZVIISANUEFKOHXORLZJYGUK
Fish: 21.24 inch Jumping Rainbow Trout2 from C L Kings River, California; Code: MWVBLQMHRQEJM9257OECDSALWZVWSKZGEIMPZPEQXQNUMMUARFGKEGMWJBISN
Fish: 16.62 inch Jumping Rainbow 2 from C L Kings River, California; Code: HSVTFPBJLWHDK7298AOKPAUMFATEJQSUCTIJFGNGQMXDXXDUGCWMZGWRXPOCE
Fish: 14.08 inch Jumping Rainbow 2 from C L Kings River, California; Code: LHLSSKYQGFETM1480LEEWEYMAGMLVEJHNLRFEJGAKUBMGLQZIYCOBZEOPLBEN
Fish: 13.48 inch Jumping Rainbow 2 from C L Kings River, California; Code: JQMIKMSFTJTKE1574MCBGLQCSGMRJOFQOXHFOUGTPAORENRAHSBWNYDKTGQQX
Fish: 14.36 inch Jumping Rainbow 2 from C L Kings River, California; Code: FAOBJLUBPKYVY5473WLJEFVQSNECCJZALWWTBKMBHTOBXJRFYMZYGYHUFFHHF
Fish: 19.37 inch Jumping Brown Trout 3 from C L Kings River, California; Code: EHILNNGNTPNEO9169XDCBYAABAIPDVUIGBUKCLEVMREWIMMEGCWMCBILWKYLS
Fish: 13.47 inch Jumping Rainbow 2 from C L Kings River, California; Code: FHOOHCGTLWRWC8062AYWYYKFWTXNQHHZQLTRVBGPLFJTTUICZXKYFPNBWFZVS
Fish: 23.97 inch Jumping Rainbow Trout2 from C L Kings River, California; Code: NTDACOUOYMPGT1714NSVTJGYUZATPQWAPKKOCWENPNQJOFDIMLWFMRFOQEISN
Fish: 14.01 inch Jumping Rainbow 2 from C L Kings River, California; Code: JQMIKMSFTKSPE1574MCBGLQCSGMRJNFROXHFOUGTPAORENRAHSBWNYDKSLYLS
Fish: 20.66 inch Jumping Rainbow Trout2 from C L Kings River, California; Code: MAQHNIEPKDIJW7706KNUADTDITIQVRWJSFSGKIVONXTZNADABHFZFWCPHKQQX
Fish: 13.40 inch Jumping Rainbow 2 from C L Kings River, California; Code: RPSFWACMOIOKG0575JVDUGAGTTULPDMMFQYAUQRVUGXSBEGCHAGGFBTLEFOCE
Fish: 25.40 inch Jumping Rainbow Trout2 from C L Kings River, California; Code: WCSQWKPOZBXGF1449CEUGFRAEMTHYCCXJBQNSSKQNWNRHUMPTSLFZGMUSKVGT
Fish: 21.66 inch Jumping Rainbow Trout2 from C L Kings River, California; Code: IMMVVXROZCKCT4628BUUXBWIHZOBYZZSQFMJSNMITSQCPCAUUBHBNWEKOOOLU
Fish: 16.40 inch Jumping Rainbow 2 from C L Kings River, California; Code: PMPCZUJULSTUR6951XWFTHUUGFSXRPWSFPJWTLVMZVNAOBDQXWNCMUAFHCUFD
Fish: 22.61 inch Jumping Rainbow Trout2 from C L Kings River, California; Code: QDHAFLGXOYKDL9944LDOMBJZTTVBICMSUTVPXSTBNJWSFSOJXHAAFPFBMWJNX
Fish: 24.02 inch Jumping Rainbow Trout2 from C L Kings River, California; Code: UTFHHMMBKIEZZ5045JUGOHELTNLQHYSIETGBDUNSVQVHMWGDPODYMPBJQFGUK
Fish: 22.41 inch Jumping Rainbow Trout2 from C L Kings River, California; Code: TPXURWKLYRVUG8171YTAFXCIRGFHXTNJGKMFGVTHZIXTGSPYTPJLMNCRMYFYR
Fish: 13.81 inch Jumping Rainbow 2 from C L Kings River, California; Code: VYQHAKOGWNSDI3086VZIUUGLPGJPIIJEDCMPOJZZQCUIMQQIYVFDVKKTTWVBO
Fish: 16.24 inch Jumping Brown Trout 3 from C L Kings River, California; Code: PWGMHUNYSGHBI6465HQBTIMSHNCIVDMUPMYSDCIVKYAABZYUWWPAGYRLOQRMH
Fish: 12.31 inch Jumping Rainbow 2 from C L Kings River, California; Code: RNFNHASZNPUFQ6354GSFKBUCPMDCZCYLOAJSSZPDNAOWEYELXBQSUHSXSDEOR
Fish: 13.83 inch Jumping Rainbow 2 from C L Kings River, California; Code: QHJJCLHORRSRQ5287SQSZLUWBZFLGVFTAAZNBJMSKEHBAWKQZEGJBLZCJVKJI
Fish: 24.81 inch Jumping Rainbow Trout2 from C L Kings River, California; Code: TDSKUPPWPVOOH6144LXGDRVGEADNDEIGFXHBCNXGARBFVOSLKRJZZHJQSVDSY
Fish: 15.67 inch Jumping Rainbow 2 from C L Kings River, California; Code: RJVEKARJKYOXT8111ZNTXQJFHZTSJIGSIBFCOQXLQGDUJBIECXKJQLXOVHTAA
Fish: 14.37 inch Jumping Rainbow 2 from C L Kings River, California; Code: OSYZJNTPYPYOQ9512WQVKYSYEGWACYPVRDEWGDOLOQVUVWGPJXDFGESUQHGUK
Fish: 22.27 inch Jumping Brown Trout 3 from C L Kings River, California; Code: ZXFIVMORYVERS8084XKYDHLKKTOIQSQMYITHXDNCKULYBLFJARMDQPROAQNRE
Fish: 20.54 inch Jumping Brown Trout 3 from C L Kings River, California; Code: OOWQNFSRVTLVT1279PDJYNHAPTVIEEFCLVAGCUDTAVKKASKIOAPECIXKSWNRE
Fish: 16.34 inch Jumping Rainbow 2 from C L Kings River, California; Code: KUUDITTDOBDOW8630WDHHVTXCNSZCSCJMGJCLSSDKIMXKRJFVRVRUACCPOHHF
Fish: 12.70 inch Jumping Rainbow 2 from C L Kings River, California; Code: IVTBIOUTOXYSM1238JRNSZQAXNZCUZWQSLYOOVHNEJVQRSKIFLIWXHLFQZTAA
Fish: 21.83 inch Jumping Brown Trout 3 from C L Kings River, California; Code: XALCIRGUQAIKL6921CXQBZVUVGQWLNTVKUZDIQCSEERAVDFWBOJDJSPXMRJDX
Fish: 12.02 inch Jumping Rainbow 2 from C L Kings River, California; Code: UWWDRUEDDPRGF0162OBHVPIUQGVQFVIFDBHITCOOKIGPVKSTNUBWGKMHIZZQU
Fish: 13.44 inch Jumping Rainbow 2 from C L Kings River, California; Code: GRMKQRSNCXJZG5489VNNVYDBSMEWOHLALSYTYHUJKVKFAHXEZRAQUZIXLFTAA
Fish: 12.51 inch Jumping Rainbow 2 from C L Kings River, California; Code: DCXLDOVGHSKPF1198KXSNTZAFHKPKTVMATPXSETPJFYOQTDZWVUHSGSIMBFYR
Fish: 21.54 inch Jumping Brown Trout 3 from C L Kings River, California; Code: RVIOIHMISCPDS1866UKNIWQPMFWNUXTNBIJGBYTEQPSPUGEZUVKVVRPHOZTUV
Fish: 16.63 inch Jumping Rainbow 2 from C L Kings River, California; Code: KTSQOKLPWSLGF5514UGEKTMRJTSHUOINEQXLXJAIDXLDYJRNHBNGLZSRKHUFD
Fish: 12.21 inch Jumping Rainbow 2 from C L Kings River, California; Code: TOUHXNCWGYTPQ5076XOXIUDKYMOQPWTEYNIOSNKLAFPZUCFHFZBACUSHGIZVS
Fish: 24.96 inch Jumping Rainbow Trout2 from C L Kings River, California; Code: CIGJNHGBTDJNE2758JJIMKXDWZPSVBOHNJKEFWUFGAFHPOOYIVJSNQKPWUYAH
Fish: 19.19 inch Jumping Brown Trout 3 from C L Kings River, California; Code: KMRCITZPIAIYU1125QTRRSYKFMZXGXIPRBBODSPUZMILUQIZGQCGLIMJTKRMH
Fish: 12.09 inch Jumping Rainbow 2 from C L Kings River, California; Code: YYCROOXFYHSBW0406NTHLKSKIMRBDCFSOZYASWDECRHNBLUCDFOUXKWIHKAZK
Fish: 21.00 inch Jumping Rainbow Trout2 from C L Kings River, California; Code: YRJDIXDVCVZBT7827JZUSRDEWGQRPMXUKKBDYNJZHGEWXBLOCTCUYTQBRUAZK