Hi Everyone,
Well I feel Martin out did himself with this outing, it felt like downhome fishing to me with all the fish I catch in my own home waters.
I was enjoying myself that I fished this outing for almost 4 hours straight, I was having such a blast with it. Caught 14 of the 15 species
but the elusive Black Crappie refused to bite. Thank You very much for this outing Martin, It reminded so much of the Monticello outings
that you did for me. An excellent job and good scenery and alot of hard fighting fish and had 5 or 6 jumpers that threw the hook on me. Will
be fishing the other 2 you released with this outing and will post on them also. I also see another 9 released today so
I will have to put them in my outing list in the morning and will eventually give them a try. Thank You again for another excellent outing.
Roger (rwwalleye)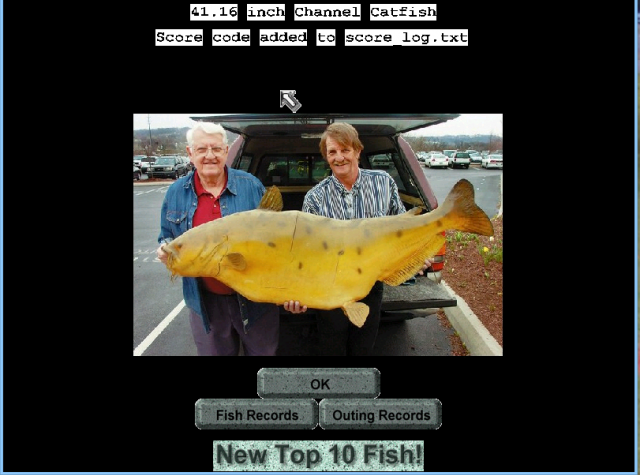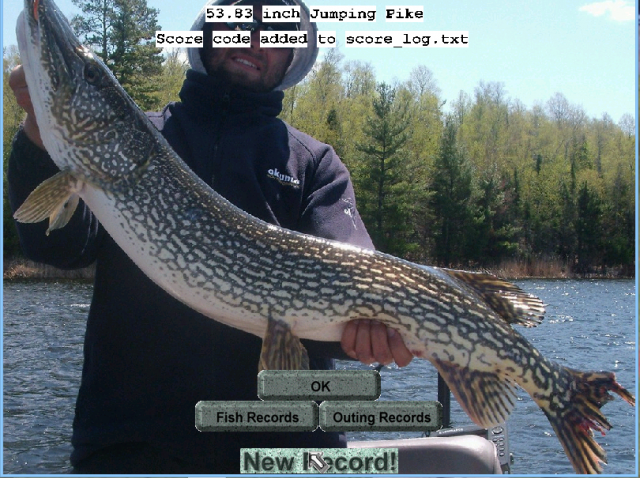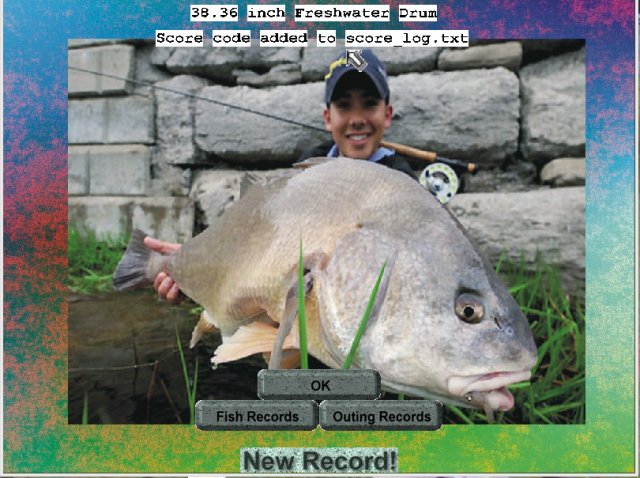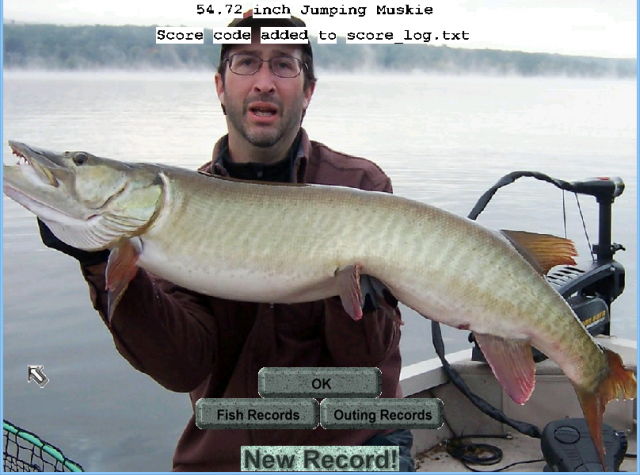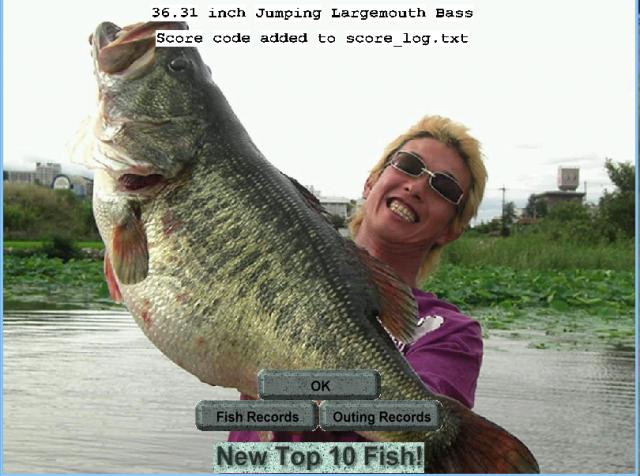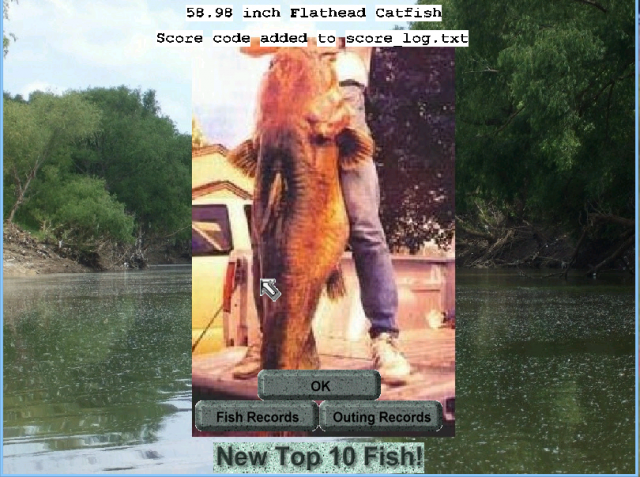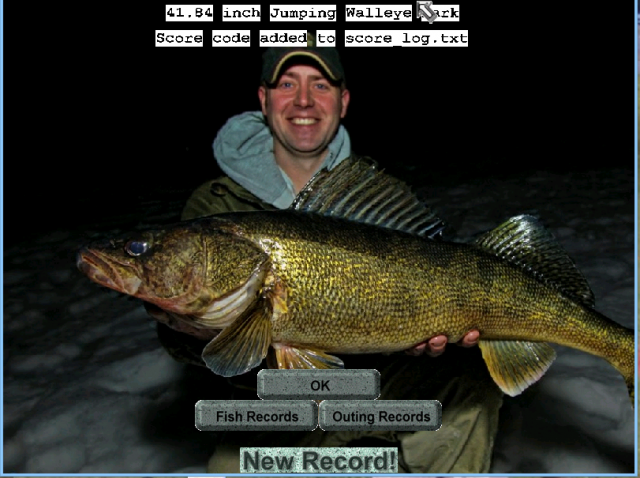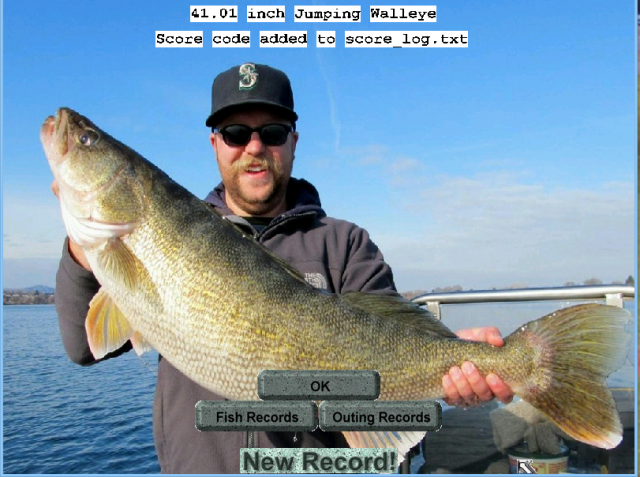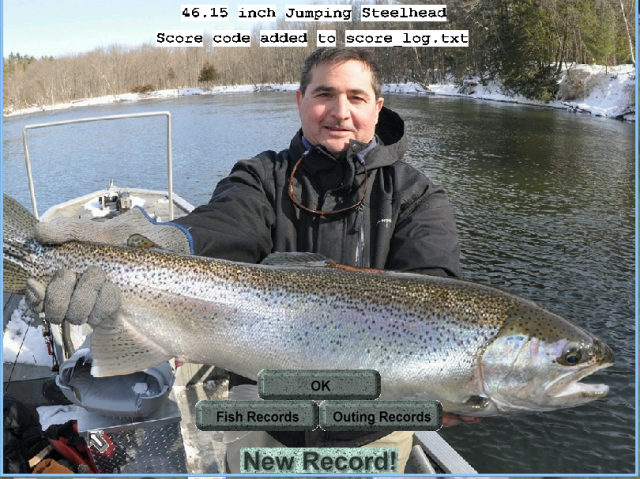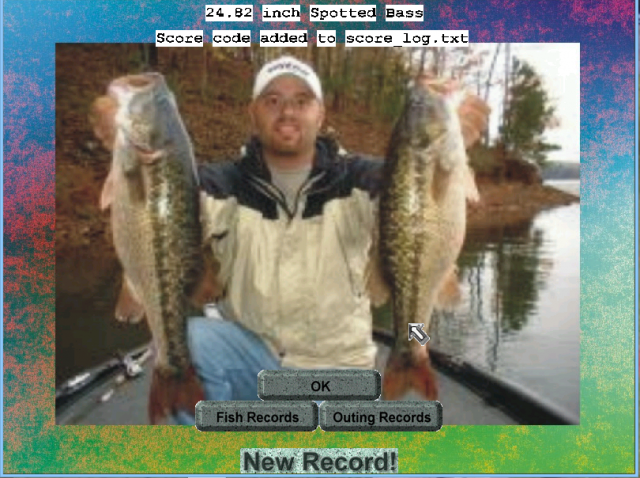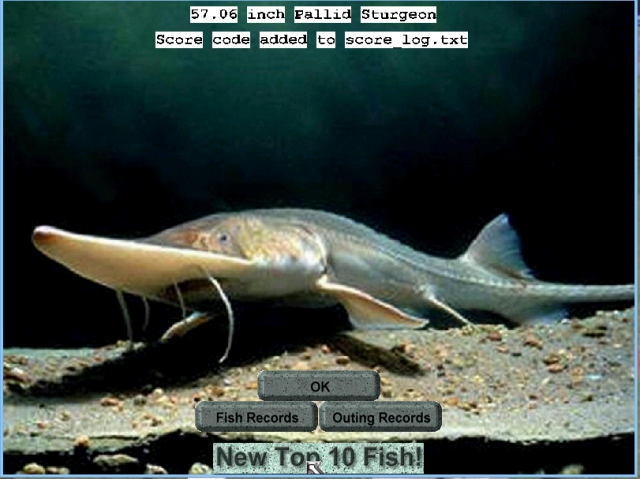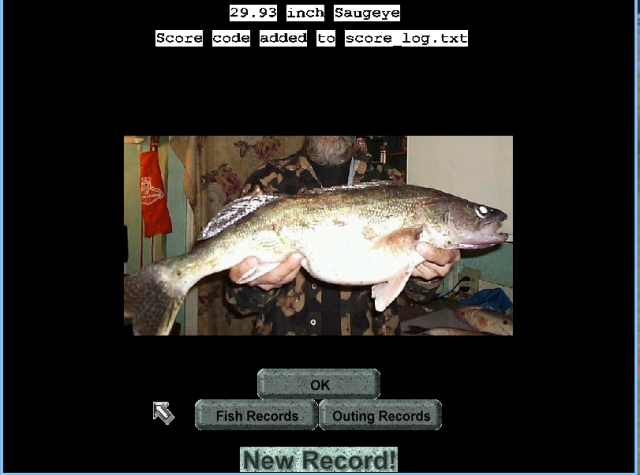 4/3/2014 Sw The Tallahatchie River - Mississippi
Fish: 15.28 inch Yellow Perch from Sw The Tallahatchie River Mississippi; Code: ZUIKSXHQNVRLM1867ZQZCJJHFQZYYPAWDBITQXZZPPDQOJXFJXOEERGQKGNFQ
Fish: 42.13 inch Jumping Steelhead Red from Sw The Tallahatchie River Mississippi; Code: HUJKMPLYONZCA9410LEAGPJMBXNEXKOCWDFKQRBRSEJRQPBOFVMAAXPMMPYYM
Fish: 39.45 inch Jumping Walleye Dark from Sw The Tallahatchie River Mississippi; Code: HBEVYRELKKYYQ3195LWTCIOOKKSZQXCBQILAKSTLOKREBSWFNMJOWIZDVMAMF
Fish: 38.83 inch Jumping Walleye from Sw The Tallahatchie River Mississippi; Code: APUQQBRZHLDHH8740OTITWCXCRAGYEOXSDAIXCQZQWKXLDJVMNSNNKPXHTDNT
Fish: 50.18 inch Flathead Catfish from Sw The Tallahatchie River Mississippi; Code: QXMBZMTNDCEHM6384TFJCUNKNRUPNGBWKQQBTUODSBQZCJHWAULXTCNMDEQPC
Fish: 57.06 inch Pallid Sturgeon from Sw The Tallahatchie River Mississippi; Code: OXRUWLHOUJEMM8860MOMIVLIXEJBGQTHJWCWHXLRFHQXYUYROFQSKUEGXXRZC
Fish: 37.81 inch Channel Catfish from Sw The Tallahatchie River Mississippi; Code: DNSDWFVJHGUBN0727DCTZHITJRQJTFFSOQGDZYKFVXOPDTTZGYLQUMAZIQEID
Fish: 53.83 inch Jumping Pike from Sw The Tallahatchie River Mississippi; Code: NUGNXXCAJZQDS4839VLIFWPTFRDCVGQMBCLQZHJCRCTDVZRLPWEHMTPRYYJQK
Fish: 35.44 inch Freshwater Drum from Sw The Tallahatchie River Mississippi; Code: SRBNIJKSIBMKJ3499XONAVHMSRMJQBWSQKTZYROZCUOKOVZUHOKFSCZOBWODW
Fish: 41.84 inch Jumping Walleye Dark from Sw The Tallahatchie River Mississippi; Code: CNTFEYQVPXQVA1126ZHZKHYOOXTLYTSUEGIWGIJLWJBKSMYBNDXERGWJCAAWP
Fish: 29.93 inch Saugeye from Sw The Tallahatchie River Mississippi; Code: QDQUNVXDPFLJL9944SRYTLTOLRYSGWMZXULAGMGUHVYSBESNMCAADQFBQCFJB
Fish: 48.94 inch Flathead Catfish from Sw The Tallahatchie River Mississippi; Code: RBNLWUUEGBVWR4627AKNGFYHCEDHLHMXRXUZXLGVHVBIPNLCVYRGNCHWCQAMF
Fish: 17.28 inch Yellow Perch from Sw The Tallahatchie River Mississippi; Code: CWJJYRWFDLCMT9734HWSGFTOELMNUTPSHGTKUQEYHJFQUCIGYNYSBRDEEOTOV
Fish: 36.31 inch Jumping Largemouth Bass from Sw The Tallahatchie River Mississippi; Code: QGYWHCYTANXGS4161XYZBTXFILQKWTDEVKEHWUHPWNIHLSEDSJYZYLIZGFYYM
Fish: 28.03 inch Saugeye from Sw The Tallahatchie River Mississippi; Code: XSXHRJDZDQOHW9329GXEHFCTLXWBA?MZLZFGCANVUHCTUOELMCEMCPWVUZJGP
Fish: 43.54 inch Jumping Steelhead Red from Sw The Tallahatchie River Mississippi; Code: QAIVECOXWAXPF2808VJPMDHWOQPRQ@WCZMTBQMNGAENKSQGFNOCKIVTUWGXCT
Fish: 26.36 inch Jumping Smallmouth Bass from Sw The Tallahatchie River Mississippi; Code: SDMHAHPPZKRNU7541HINNJVQBESGOMVWZOZFSSJGVXYBGSBRGRVFCCFZVDGGG
Fish: 56.29 inch Flathead Catfish from Sw The Tallahatchie River Mississippi; Code: UGLRBPFZUHDWB0194BOTOIBKOKMVM@LQYRORTXNOPIASTVDVQVWJVJZFSRSPQ
Fish: 47.85 inch Jumping Pike from Sw The Tallahatchie River Mississippi; Code: GXCLURDOHYMUT7853MJHQYDYDFIGSVRAKJHKNJBTAIGCGWAYSPVFIQWUXFAWP
Fish: 54.72 inch Jumping Muskie from Sw The Tallahatchie River Mississippi; Code: IXHSPNLBRFSQT5250TIEKPFBTRTUITSYMVVHZPDGGKYELCICEEYKGCFBDFIUZ
Fish: 38.10 inch Freshwater Drum from Sw The Tallahatchie River Mississippi; Code: QLGXBMQYVSDFN3439GIHSGPAIKRUURPBRIMOHMSDSSBDREKBJWMLEAULLEBXF
Fish: 41.16 inch Channel Catfish from Sw The Tallahatchie River Mississippi; Code: PLXKDDFZDIZLA5836CNMVPXDNRDWHFCCAYNQOWRKMEOHYXXDQBFZAUQDDRSVN
Fish: 38.36 inch Freshwater Drum from Sw The Tallahatchie River Mississippi; Code: XPLNCKKUKHCHQ4903BPVAXYKPENBKBVCNRMZUAMZNQRDLISDGWYNHUTXCKSSC
Fish: 34.30 inch Jumping Largemouth Bass from Sw The Tallahatchie River Mississippi; Code: SZQBYPOIOEGYC8902LYEYQDYPKXMLWQUCQTNGRAIFJSWWWAIWPEQAUOHWOSVN
Fish: 40.81 inch Jumping Steelhead Red from Sw The Tallahatchie River Mississippi; Code: ADPGBBVPYICMI5813BWOQQVNXLYLNHBCAPWVKMUYYNVCAZNAUPTBYIXWOOHHW
Fish: 17.17 inch Yellow Perch from Sw The Tallahatchie River Mississippi; Code: VKZECEUQNJUKT7130LOSPSEEYRSDFFJIPZINQVHZLRYYAZVAMMQEVLYWSDSSC
Fish: 22.76 inch Spotted Bass from Sw The Tallahatchie River Mississippi; Code: FSAPOZXVCBAIK7682SDXKLCYHDKHZTSFMBBPDUXMXWZUOUQBJITHYVNSVCABU
Fish: 37.98 inch Channel Catfish from Sw The Tallahatchie River Mississippi; Code: CMBVHHMUXSXGB0020XCWFFSQDLCTQXYPWHWFSZRPOGARGEOJZVPTHFEYWUYYM
Fish: 34.48 inch Jumping Largemouth Bass from Sw The Tallahatchie River Mississippi; Code: FHOOHCGNMRRXC8062HMGFIUUORAEOBHGTMJCEVTIFRLTPGMGOSKYDQNBYVDGT
Fish: 41.01 inch Jumping Walleye from Sw The Tallahatchie River Mississippi; Code: YZNWJFYZILTEV1302GRLMXZVYBHOJBZVWPACPHATEGKPJOIFGQWFWEOTPYRUX
Fish: 41.09 inch Jumping Steelhead Red from Sw The Tallahatchie River Mississippi; Code: RSJKYRUPADADM6712GCVXYNCUOCHDUCXDYGSUSFJVJKZHEWODBMEYXEJYKWKT
Fish: 25.66 inch Saugeye from Sw The Tallahatchie River Mississippi; Code: WCBKEUGUZBYGF1449TEDCPSFJORCWWCEJBGYBMXJHIPRDGQTINLFXHMUWFILE
Fish: 40.83 inch Jumping Walleye from Sw The Tallahatchie River Mississippi; Code: FQDUUTJDBKPTU5661HNYPGNDJJOCRTWELJMHADONQIYGRWWLZBEUNTMWIQMAV
Fish: 46.15 inch Jumping Steelhead Red from Sw The Tallahatchie River Mississippi; Code: ZPUPUMUJTPIDY1509ASRAORCSUTBSRWZDCAEFXOLSSKMHOIZSLBSGGTWITFBL
Fish: 50.27 inch Flathead Catfish from Sw The Tallahatchie River Mississippi; Code: DAFTSIJWHMQVQ7977YVVHYUTZCRBSMZTKKQAZHWIWDQAPHNNBSETFNYNBBRJX
Fish: 58.98 inch Flathead Catfish from Sw The Tallahatchie River Mississippi; Code: TCDELADBAUVUR3029BSMUYYGYHJQBUGQXFUUXZTDUACDFKMQDWBOVPAFNUVZT
Fish: 34.24 inch Freshwater Drum from Sw The Tallahatchie River Mississippi; Code: YQUDYILJTZYPC6702YCAIZFDQNWUNBDXBROXBYFOTHFCIXXAVYUKMTHQOJDGT
Fish: 35.83 inch Jumping Largemouth Bass from Sw The Tallahatchie River Mississippi; Code: CLFNPYYWNHWGK7005GRSPCKAXVXGQBETLPSOERATHDRXVOEKDFHJFMVVPSIXK
Fish: 33.87 inch Freshwater Drum from Sw The Tallahatchie River Mississippi; Code: XVAOOJUXOOEUC6466WQNDNXBVCJGYVCEGGXGSAOIJYMBVCQATRCKXKHULTGGG
Fish: 51.58 inch Jumping Muskie from Sw The Tallahatchie River Mississippi; Code: XKCMQZKQXRWIU4637KRNXJXXBIYDNDJFNRFKCBJMRSYHENMFXJKBBXGDXEDNT
Fish: 51.44 inch Jumping Pike from Sw The Tallahatchie River Mississippi; Code: EITYIEOPEEOWF0385PAGCLALROYBJUOLOTOUZOJKGGHQQOAZJNEPJDSWFBRZC
Fish: 26.56 inch Jumping Smallmouth Bass from Sw The Tallahatchie River Mississippi; Code: UQHCFVTBARTUS8898VMGDJTYCOSKQVCLYLENWOZPALNRZUYAXUXHPVQLAKLHN
Fish: 24.82 inch Spotted Bass from Sw The Tallahatchie River Mississippi; Code: MXHJJNJFJCAAD0353HBOEEAVUVTJYATKMHGRWRJFZFYOTGIVCQOUMIWHRFYYM
Fish: 36.07 inch Channel Catfish from Sw The Tallahatchie River Mississippi; Code: SVINZPSRLERRF0760OFZBGJRMBIYNDGTTQXXCIHQRPHMBZWBCKQOWYUYWKXVE
Fish: 22.24 inch Spotted Bass from Sw The Tallahatchie River Mississippi; Code: RCLTQPDJOKLPI5722MBPAHWDAUYUTEGTWLYQLTYRGGCCBVVURHHJXDRGICDGT
Fish: 24.92 inch Jumping Smallmouth Bass from Sw The Tallahatchie River Mississippi; Code: XOEVNZLMZSLAZ3877JEZKUIUJVINLWTGTRJIGJUDFNJJZSIESFQKYTBMVBAMF
Fish: 51.60 inch Jumping Pike from Sw The Tallahatchie River Mississippi; Code: IQOERXSVDIROQ2871ZHPFWHCCPVOUVRAENZKFYSSCYDMGSAFDTNKPTZUOFYYM
Fish: 38.98 inch Jumping Walleye from Sw The Tallahatchie River Mississippi; Code: PRUQQLLWHRDUM7299PGVYFEUMHZBN@IETNHWUEKTPNJEQZVACEBOYKMZNLCRA
Fish: 37.16 inch Jumping Walleye Dark from Sw The Tallahatchie River Mississippi; Code: ELKUKVHYXJBBL5401UHPJBMCNHQCYREIMIPTQWCGUXRYZCMGPUBOEYDUXPADP
Fish: 39.39 inch Jumping Walleye from Sw The Tallahatchie River Mississippi; Code: JZBNYDVPKNHOW8174SRDXTMANWDGL?BXRUJWUWORUEVWBQGRHXCRVKKFXVADP