Hi Stanley, Martin and Everyone,
Well I just finished another one of Martin's new California outings. Whenever I fish a new outing there is a few main things I like to do. I like to check
out the scenery in each site. I also like to check out the background sounds which brings a little more realism to the outing. I always check out the currents
by casting in a wide variety of areas to see exactly how the outing maker has the water flow. I know in some sites you have to experiment and see how your fly
drifts to be able to get to a fish that is in the area. I always check to see how many species are in the outing and try to catch all of them if possible. Even
if I catch all the species in the outing, I make sure I fish all the sites.
I don't know if it is because I'm using Windows 8.1 but I noticed on two of the fish that are in the score log the proper name shows up, but on the caught picture,
it doesn't. In the case of the Jumping Red Rainbow on the caught picture it just shows Rainbow Trout Jumping also with the Jumping Steelhead Red it just shows on
the caught picture Jumping Steelhead. Everytime I caught one of these fish I had to go to score log to make sure which one I had caught. Like I said, I do
try to catch all the species in the outing.
Now to say a little about Martin's new outing. As usual Martin did an excellent job. Beautiful scenery and some nice sounds. Definitely has a few tricky
currents to work on to be able to catch the fish that I sited. I fished anywhere from the surface to 3 feet deep. Used 5 or 6 different flies thru this outing.
As usual you can tell Martin put a lot of time into this outing and it was well worth fishing as you can tell by the amount of fish caught. By the way do not
try to rush reeling in the jumpers to quick, I had a few of them throw the hook on me. I also caught all 12 species that Martin had included in this outing So
Thank You again Martin for another enjoyable outing. Will start fishing another one this evening and be posting in the next few days.
To everyone also, I've been working on my outing of the Rare Trout but I'm having a lot of problems with the fish setup. I truly think it is because I'm working
with Windows 8.1. When I was working in Windows 7 before my old computer crashed, I didn't have the problems I have now. I'll keep working at it and hopefully
will have it straightened out for a soon release. Thanks again Martin for another excellent outing.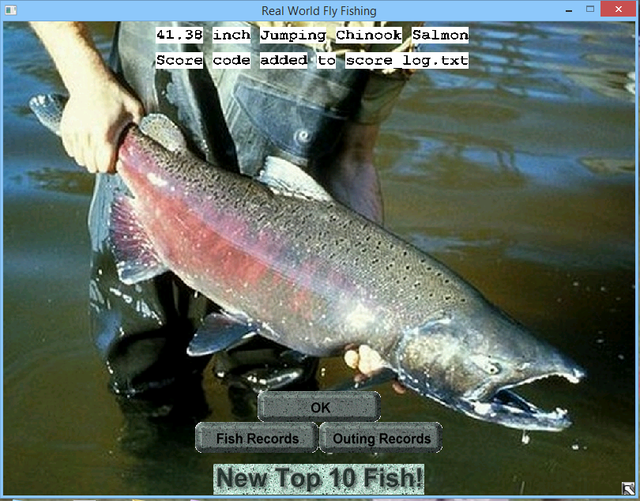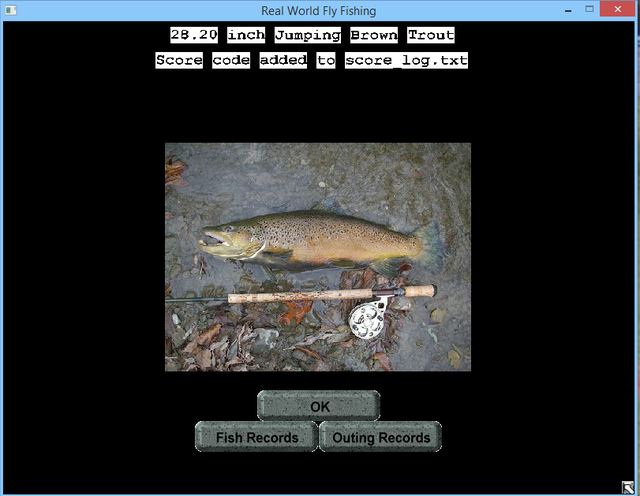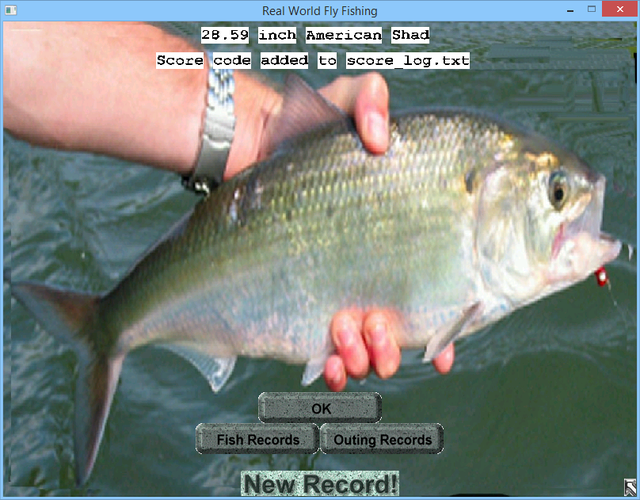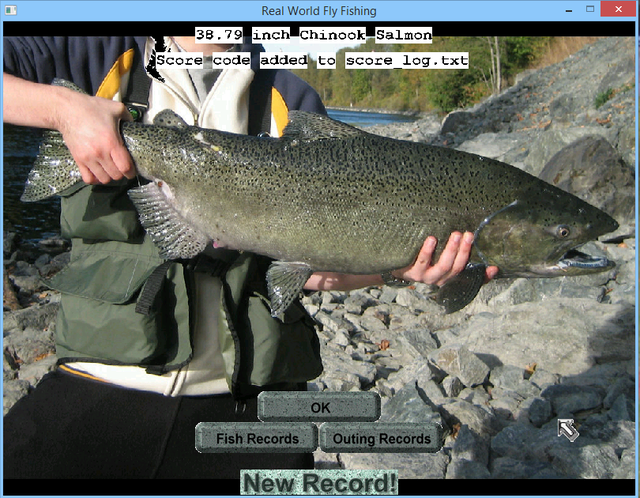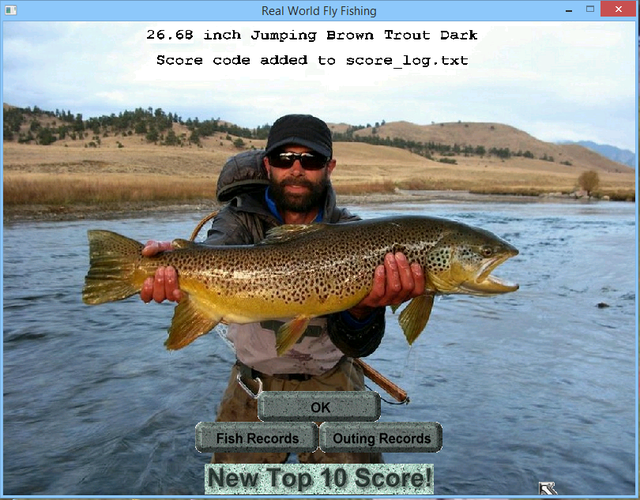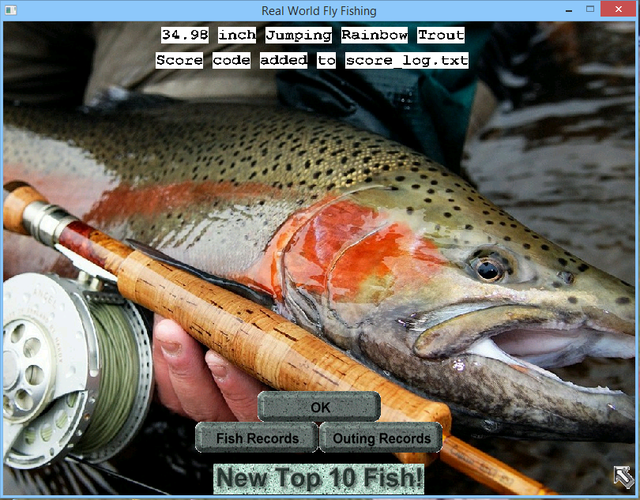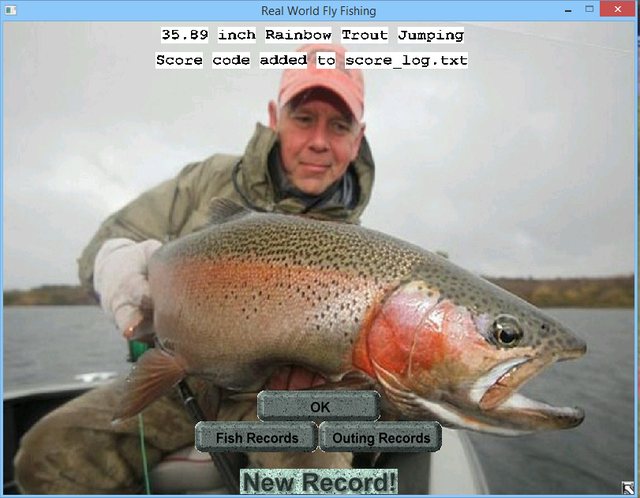 Fish: 35.89 inch Jumping Red Rainbow from Sw The Wondrous Yuba River Middle and South Forks; Code: TEVXPGQLAHQHY7340TXILECTTWHZHUCRQQJDZQFXTYKYNUCCENRCJPEBBIZJM
Fish: 40.14 inch Jumping Steelhead Red from Sw The Wondrous Yuba River Middle and South Forks; Code: PMPCZUJVMQSUR6951OWOPRVZLHQSNJWZFPZHCFLHLROZURDPDCNCXWDFIEXEW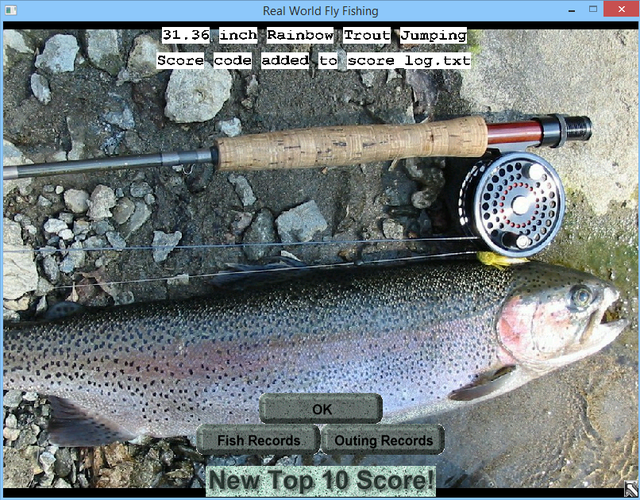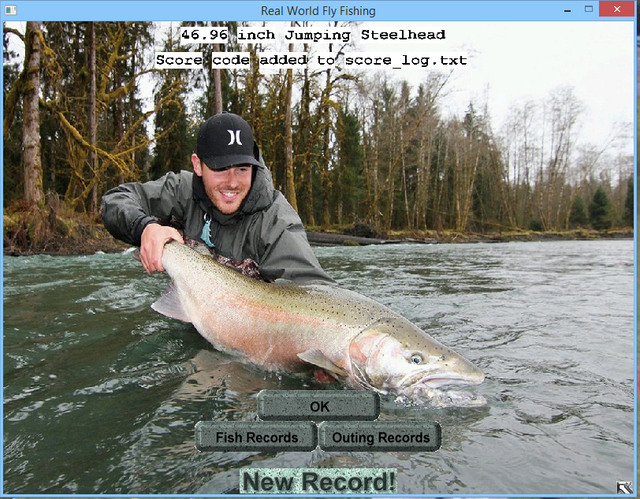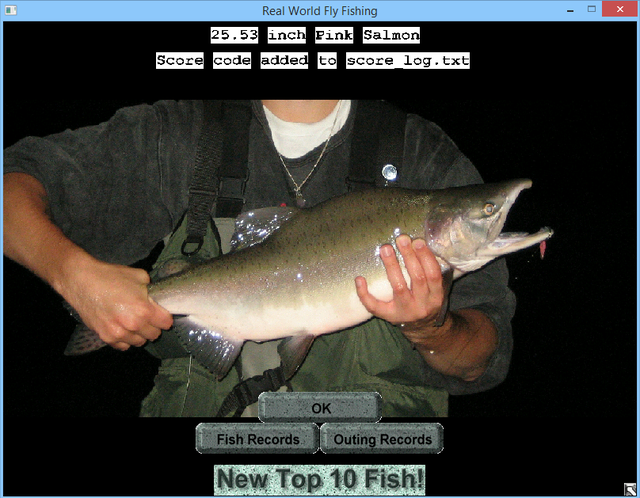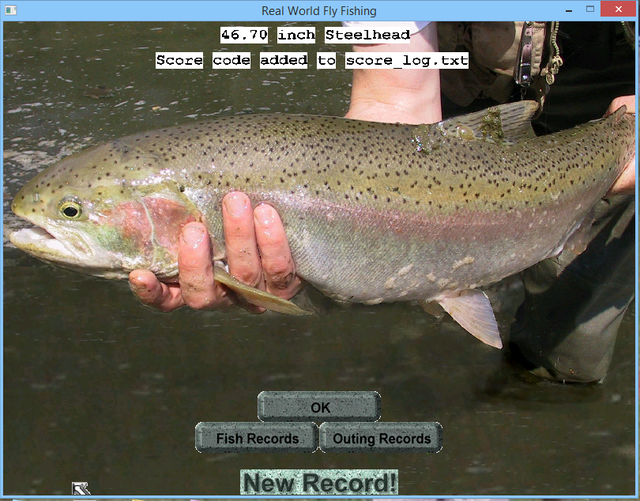 Fish: 27.44 inch Jumping Brown Trout from Sw The Wondrous Yuba River Middle and South Forks; Code: AFDFQBNLANMXP9035VNBWVRRFEQZTIXCNILDMLGAXDEPIBLLDYIPWLBSAHVOI
Fish: 41.38 inch Jumping Chinook Salmon from Sw The Wondrous Yuba River Middle and South Forks; Code: UAARMNXOPHDZP0701QOQWSJTYCUFEFFPZCDLNPWHEKETLXBBCDSMSCFACROPY
Fish: 25.42 inch PinkSalmon from Sw The Wondrous Yuba River Middle and South Forks; Code: JDKUWSTNUORAO5723DEDCNLUQQWAMOYZFVPNXPIRBCRANJDMAKUHJTEYPCCQF
Fish: 30.00 inch Jumping Rainbow Trout from Sw The Wondrous Yuba River Middle and South Forks; Code: WMSAERTIHTKQW0955RBPAPRFBDHOGSSHUBWULCUMJVTQSQGKGYUDWUGIKFVOI
Fish: 46.96 inch Jumping Steelhead from Sw The Wondrous Yuba River Middle and South Forks; Code: BOXOXZQXHYOSD6348OYXOTDOQKYQJMZRZOVPBJCYHQVZDZRPHKQWKCFDKZABU
Fish: 26.68 inch Jumping Brown Trout Dark from Sw The Wondrous Yuba River Middle and South Forks; Code: GDLJMJNVTCPIS9413KSLTWRUFJOOJMDDXPCKTCELPMMUXVZSVBLIPBRJHZFBL
Fish: 26.84 inch Jumping Brown Trout from Sw The Wondrous Yuba River Middle and South Forks; Code: NAXLHQFHVWNBJ6408BMNAMLPHWIJLXJHNQGYMRNCGGHDNYQGAHTLTEKFJEMAV
Fish: 41.30 inch Steelhead from Sw The Wondrous Yuba River Middle and South Forks; Code: YIEFRAXWOCETA9219ZNAZDJSKDJSQOIDSMNJSZEHACAPCBBHPQJHYKMYLVJFZ
Fish: 40.07 inch Jumping Steelhead Red from Sw The Wondrous Yuba River Middle and South Forks; Code: LDJAWKXJEDYAP3228SVZVDNWGCHOTEYOKEDSJULDHWSCRXTRMHPEPNMFVEFML
Fish: 26.77 inch AmericanShad from Sw The Wondrous Yuba River Middle and South Forks; Code: CVZDKYWEULKYU8639EOEEDKAPKNZSOVOYNILGHXWRQEVSQUJBQIHMRPBZIVUG
Fish: 28.18 inch Jumping Brown Trout Dark from Sw The Wondrous Yuba River Middle and South Forks; Code: TCHFHGGAZQSSR3029QVCJYXIPPPQZUGQAGUUXZWFMKBCPOILUHBOIQDFOBUJG
Fish: 23.76 inch PinkSalmon from Sw The Wondrous Yuba River Middle and South Forks; Code: ADVHWGAJXRBHI5813ALDUQLFBXZPLHBCAPWVKMXAQXUBKDJVLATBLJAWQHEWY
Fish: 38.58 inch Steelhead from Sw The Wondrous Yuba River Middle and South Forks; Code: NIJKESEBAMHLL2182HDDYIZBFXBMHSLJAXHMMRQDJVDOCYQLOJFWUOZXFRJFZ
Fish: 39.46 inch Jumping Steelhead Red from Sw The Wondrous Yuba River Middle and South Forks; Code: PKBKKURILXHEB4610AXYUMOPYREJXJAGSZKZANCQEDNMWTBYTEYOMCJSYZDLY
Fish: 31.16 inch Jumping Red Rainbow from Sw The Wondrous Yuba River Middle and South Forks; Code: VSBYOKDDTTPLV1723QVXROQJZWMRQALKJFRCRVNKGPBJZLRJRYBGQWYPNZPZO
Fish: 31.36 inch Jumping Rainbow from Sw The Wondrous Yuba River Middle and South Forks; Code: YTXVXXNIEPUHI1148LMRFHIWDXMVBGTCDAGWJYJMAIORBPFDSYSIUPVPGQTOV
Fish: 41.74 inch Jumping Chinook Salmon from Sw The Wondrous Yuba River Middle and South Forks; Code: PMPCZUJFMRUCR6951DZEERUBCPWSNJWZIQZHCFLHLROZURDPDCNCXWDFKGVUG
Fish: 38.79 inch ChinookSalmon from Sw The Wondrous Yuba River Middle and South Forks; Code: DXKWDKGLNUJWX9453LLFLHZJWCCYVBWNYFVZBOAPFKSOBEKYEJMOTZUFRQLWD
Fish: 44.00 inch Jumping Chinook Salmon from Sw The Wondrous Yuba River Middle and South Forks; Code: MNHWXZJNDIIZT2657FKQSEYZKDOXSECPELQVMAZGYNKOQLJLMBMWFXIBJOVOI
Fish: 28.20 inch Jumping Brown Trout from Sw The Wondrous Yuba River Middle and South Forks; Code: FMTLYTQSZWXQX7428PLCSVCHSDKJR@MLHLQRWUYXTYEVGWOZVQYKWGUVKKCRA
Fish: 41.36 inch Steelhead from Sw The Wondrous Yuba River Middle and South Forks; Code: WKNPLLGTGUREH6933OZJQKMCXWQFQRWGGIGMJLLUCPKCVKMUVZWPLSFNZSDLY
Fish: 27.67 inch AmericanShad from Sw The Wondrous Yuba River Middle and South Forks; Code: XXVGNPAGPAYWS0487OWBUSBOQJHPEOQEZXNOURAKIWMOCMOMUASYVFLHXZUTQ
Fish: 25.10 inch PinkSalmon from Sw The Wondrous Yuba River Middle and South Forks; Code: QHPKXQMJRDPWQ5287YTRKVUDXJJGCPFADBPYKDCNWAIAGMKPFKGJMNCCNAQJO
Fish: 32.12 inch Jumping Rainbow Trout from Sw The Wondrous Yuba River Middle and South Forks; Code: QCWNLCXRXHHVV6829XIKSIDAWJIEWASDPDIJSEAAACWXASWRPXSXGQQQIFAWP
Fish: 41.28 inch Steelhead from Sw The Wondrous Yuba River Middle and South Forks; Code: CNCMASNWPXORA1126YWOOHOGSJUPWTSUEGIWGIMNOTAJCQUWEOXEEHZJDJBXF
Fish: 25.54 inch PinkSalmon from Sw The Wondrous Yuba River Middle and South Forks; Code: JGBZXJLONHGLU2868ILMJVPLNRFABLOWGAHUNXBNITCIWXPCGYSYMOPWGVDLY
Fish: 34.33 inch Jumping Red Rainbow from Sw The Wondrous Yuba River Middle and South Forks; Code: HNJWOYZNSLZFX6840FHCQWKPBCVXHMOERWQNWISFGDFZWAPVVVAAETMFWITOV
Fish: 27.22 inch Jumping Brown Trout Dark from Sw The Wondrous Yuba River Middle and South Forks; Code: NKOVPXRTBLZXB4104LGBINENIWTVPTZJQNWUOIZDQJNCAESCHHVJNIBLQNAMF
Fish: 26.35 inch AmericanShad from Sw The Wondrous Yuba River Middle and South Forks; Code: AABOMKPCFBNLU0777UDUFIZWFEPPVKLXBIDWUMWEBFKTBPXNNLVCQOOYWFAMF
Fish: 44.27 inch Jumping Chinook Salmon from Sw The Wondrous Yuba River Middle and South Forks; Code: CVWYXYKZUDJAU8639EOEEDKAPKNZSOVOYNILGHXWRQEVSQUJBQIHMRPBYPLWD
Fish: 46.70 inch Steelhead from Sw The Wondrous Yuba River Middle and South Forks; Code: FXEPXEZOXKHWF8050ACBXYBLMXNMDREKAZJENUCCLMSXFSAVQFPTZLDEAJKYH
Fish: 23.98 inch PinkSalmon from Sw The Wondrous Yuba River Middle and South Forks; Code: WQZKVWZLJOBBT8405YOTEAUDRJRGVLCIDYASHTFEGXEANMLRAUAMAIBRKMYTZ
Fish: 24.01 inch AmericanShad from Sw The Wondrous Yuba River Middle and South Forks; Code: QUCDZJPRJJQJG1039NMPRMZLUKLSWILZMGXCDUQKVUFQDZRBLQNYBMEONGPZO
Fish: 25.82 inch Jumping Brown Trout Dark from Sw The Wondrous Yuba River Middle and South Forks; Code: NJLQUGIMRAJUK3008JBGDKFHPJTDHOFNIOKDAZIHRGMIOOALLZNGEPRIKQUTQ
Fish: 33.55 inch Jumping Rainbow Trout from Sw The Wondrous Yuba River Middle and South Forks; Code: BMKPQAHBFBSHO2327LVRMNYDMEGHBLLRMXGHZKTYACMLFBPYXEAIZALHXGOPY
Fish: 46.86 inch Jumping Steelhead from Sw The Wondrous Yuba River Middle and South Forks; Code: HCOHLIFOBATYP6011MIDLLDLHQLUWTWGYHPRYBOJOXRXXMCZANRRJGMOCYPIY
Fish: 30.61 inch Jumping Red Rainbow from Sw The Wondrous Yuba River Middle and South Forks; Code: DINMHWGJMWMMS1681THBUTPQNDQDMHBNZSYOHGLTRKTKPLBWHWPETYRFFAUTQ
Fish: 27.67 inch AmericanShad from Sw The Wondrous Yuba River Middle and South Forks; Code: CXNUZGFZWWEKJ0850IQKPIPMTJFAAPJOPVXBIZYWZWFRPWWALOGDYTQPKSUTQ
Fish: 40.14 inch Jumping Steelhead Red from Sw The Wondrous Yuba River Middle and South Forks; Code: PMPCZUJVMQSUR6951OWOPRVZLHQSNJWZFPZHCFLHLROZURDPDCNCXWDFIEXEW
Fish: 34.98 inch Jumping Rainbow Trout from Sw The Wondrous Yuba River Middle and South Forks; Code: GJJKQJYOXWRSE1985YWFSMJTZVJHOGJFQEOQZCYDLVHSQPXPIEGFERNFQFMMQ
Fish: 45.36 inch Jumping Chinook Salmon from Sw The Wondrous Yuba River Middle and South Forks; Code: RHHNDAHHKKTWE4880JOMGVEASCFEPCSZVLFXDTDGVOVFSTFNYEUVGYHSLVHHW
Fish: 35.07 inch Jumping Rainbow from Sw The Wondrous Yuba River Middle and South Forks; Code: CWHKRPLUEDBRT9734GLHKFJGIXNRSTPSHETKUQHAZTEPEGEBPYYSEXGEEJXCT
Fish: 26.76 inch Jumping Brown Trout Dark from Sw The Wondrous Yuba River Middle and South Forks; Code: QAIVECOGWJXLF2808UYEQDXOSCQVO@WCZMTBQMQISOMJCUCAEZCKLBWUWALWD
Fish: 44.42 inch Steelhead from Sw The Wondrous Yuba River Middle and South Forks; Code: JISWOYVNPKZVC4089MOKTAVXRPXBJMCWETWCPOLEQZLEUDRTRXHLNVQSSTQJO
Fish: 25.75 inch Jumping Brown Trout from Sw The Wondrous Yuba River Middle and South Forks; Code: EOJZMDZFHQQOR2746HSOFJPOBQFDMOVNOTHSGWGETYANSVVRMTZMCZRSQAHAE
Fish: 28.27 inch Jumping Brown Trout from Sw The Wondrous Yuba River Middle and South Forks; Code: MRIFUZCCFUYKQ8899MXUFOJXSJXPIFMILLULQJSPVHDPLHFSPYSXZYCKGFUEA
Fish: 33.87 inch Jumping Red Rainbow from Sw The Wondrous Yuba River Middle and South Forks; Code: ZYIVIDXNRPZKR9100XSATUKXZQKUUISXJIMJUFUSVTNRTJPZCFUGTXEZJNDGT
Fish: 27.11 inch Jumping Brown Trout from Sw The Wondrous Yuba River Middle and South Forks; Code: PYUEOUELVBBKQ0686QWYGXSDPWYMY?ICJFDTOVHIDIDVFWAKUANOSHVHCWMAV
Fish: 28.59 inch AmericanShad from Sw The Wondrous Yuba River Middle and South Forks; Code: AJHUABSHDICDU6377CSNIGCOUJAJRKIVWOPBRUZRMFPYDFHSYDOQREWBYSUJG
Fish: 40.96 inch Jumping Chinook Salmon from Sw The Wondrous Yuba River Middle and South Forks; Code: SANCZQWXGYYWO0104BXBKTZRIPBJWPFRAHHGCSTUYQMKHIKWQOXHKNXBVMTOV
Fish: 35.89 inch Jumping Red Rainbow from Sw The Wondrous Yuba River Middle and South Forks; Code: TEVXPGQLAHQHY7340TXILECTTWHZHUCRQQJDZQFXTYKYNUCCENRCJPEBBIZJM
Fish: 25.65 inch AmericanShad from Sw The Wondrous Yuba River Middle and South Forks; Code: COZXMPCUYQINR5249ABRLKNLLEUGE?UQMZLVUREROEADOGMVAFFHDNJTJBPIY
Fish: 43.90 inch Steelhead from Sw The Wondrous Yuba River Middle and South Forks; Code: KXCGGEJLAUSZC3756HNPHNXVNQFVOJSVNPSMKMJULNXMZVVTHETPQCQALPUYV
Fish: 23.63 inch PinkSalmon from Sw The Wondrous Yuba River Middle and South Forks; Code: SLVAOMOHDDMXW1036UOSKPNZPJLMIHPQITITSRXRQWSLGXXSMEPQFAGSTNQCO
Fish: 31.52 inch Jumping Red Rainbow from Sw The Wondrous Yuba River Middle and South Forks; Code: WRWWVADFTFTKS9321ALWEVHMPDJQDQWEIXDJVCXIFANUZCVQWLIPAOLUPZCCI
Fish: 26.63 inch Jumping Brown Trout Dark from Sw The Wondrous Yuba River Middle and South Forks; Code: CADQUHLMPBNEC8273JURUJHCIRADDAMUSAZBGRYRHZKUFDNJZIPIFNXECXTOV