Hi Martin and Everyone,
The forum has been kind of dead and with Martin releasing 12 new California outings, I decided to fish the 2nd one of 12, Lake McCloud. Another superb
outing from Martin. About 1/4 of over 70 fish caught was on the surface, the rest was between 1 and 6 feet. Martin did another excellent job as usual.
Some tricky currents, excellent mountain scenery and a lot of big and hard fighting fish. After over 70 fish caught only one of the 16 species included
in this outing escaped my capture and that was the Red Rainbow Trout. Definitely plenty of fish action and another excellent job from Martin. Thanks
again to Martin for your time and effort put into this outing. In a few days will post another one of the 12 from California. As Martin always says,
tight lines. Also I broke personal records on 4 of the 15 fish. Medium action equipment would also be best for this outing. I just noticed on my caught list
that I did catch the red rainbow but on the caught picture it just showed Jumping Rainbow Trout.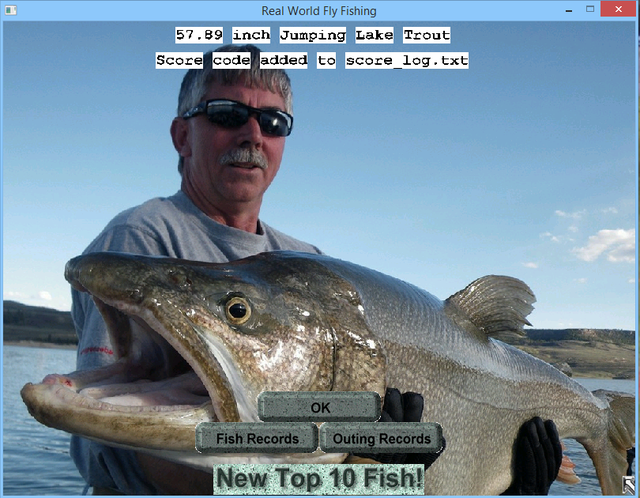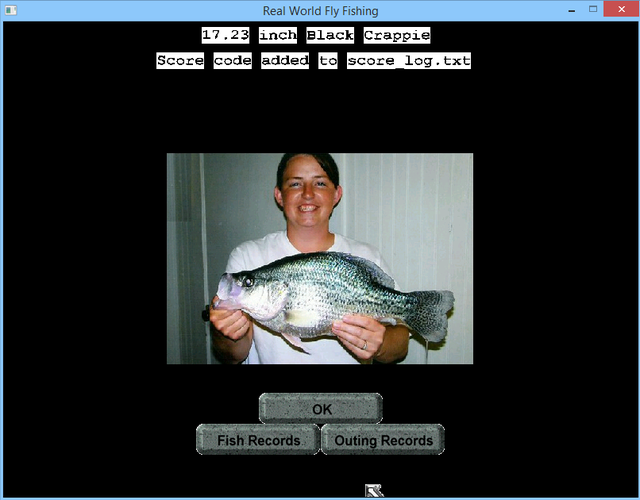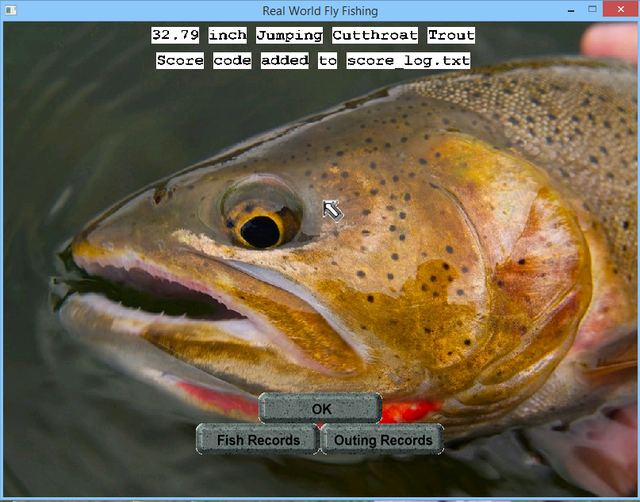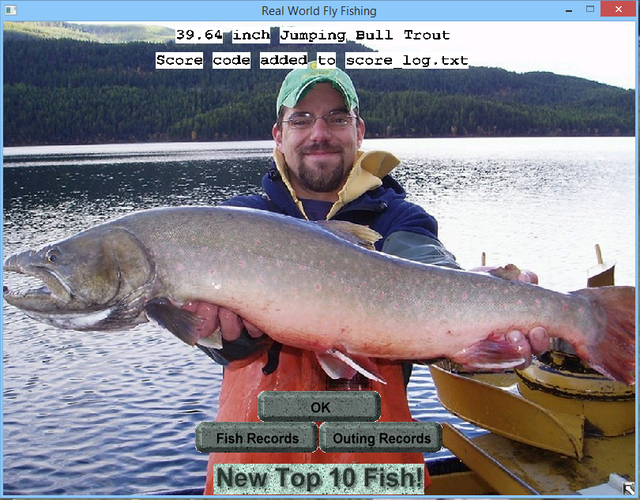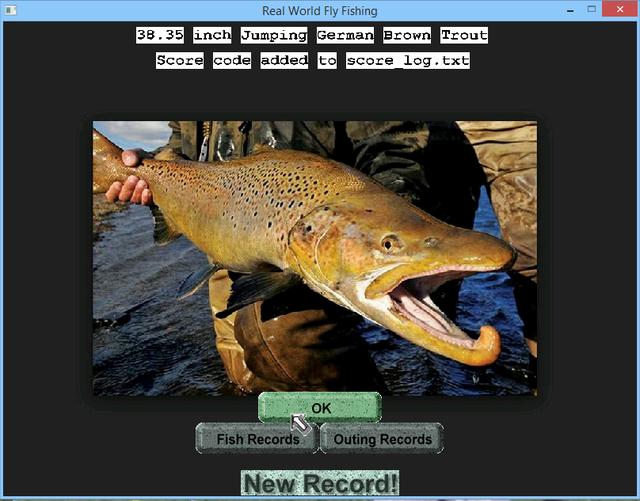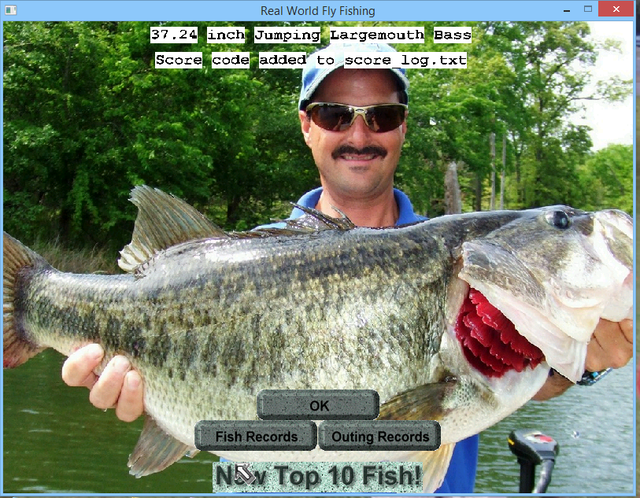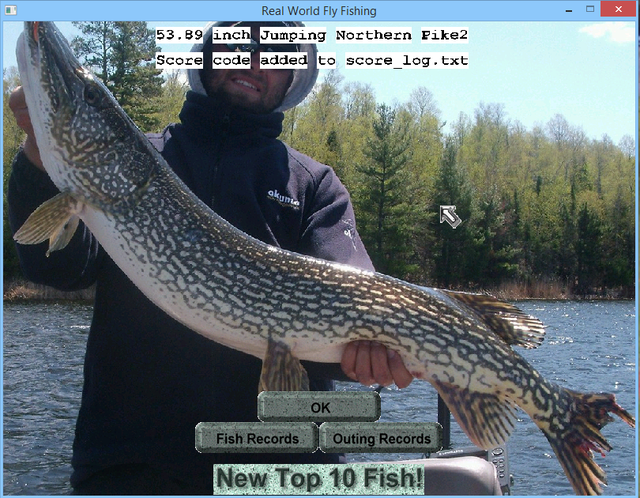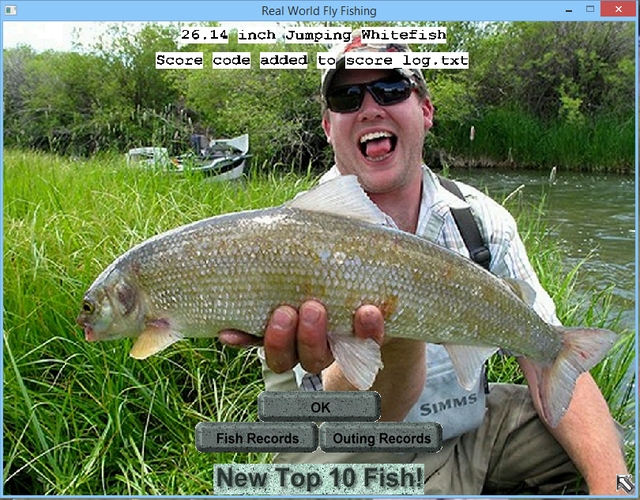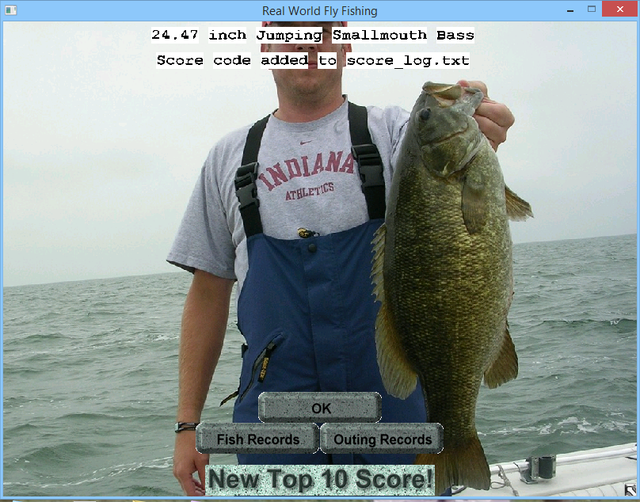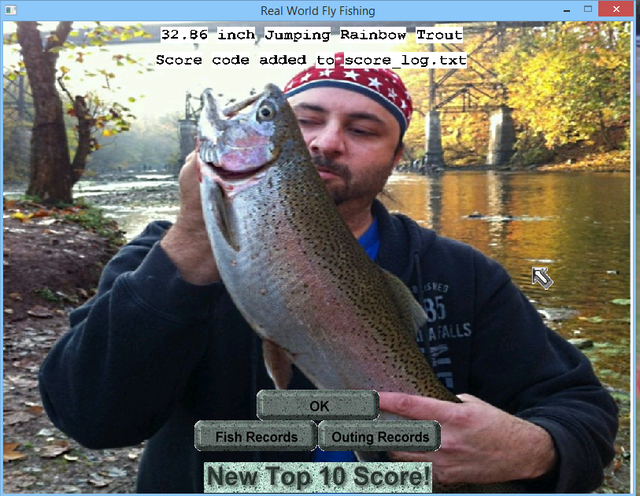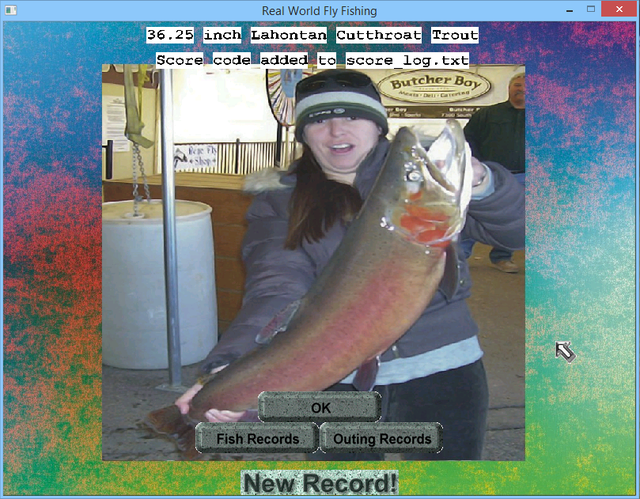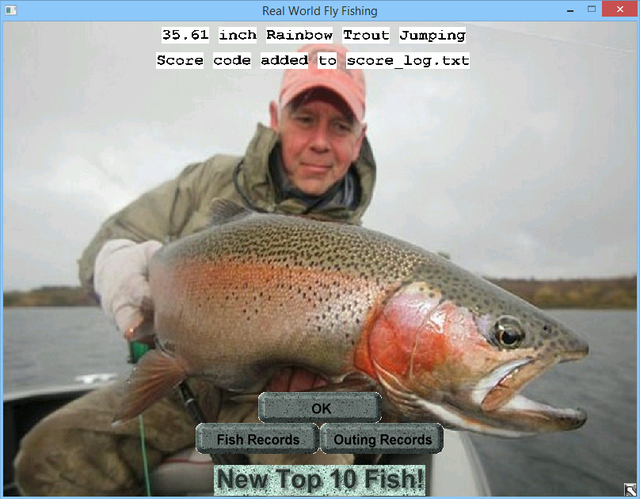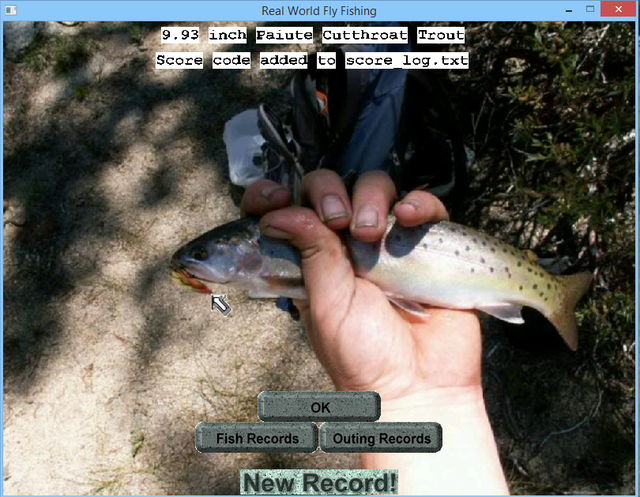 Fish: 35.61 inch Jumping Red Rainbow from Sw The Wondrous Lake McCloud California; Code: ZMDTTVCHILXQK6453KVGIGDNMJPABVGUIWIFPXQSVKYGJVDDTHDUCYKXQZDGT
Fish: 35.91 inch Jumping Brown Trout 2 from Sw The Wondrous Lake McCloud California; Code: HJHNRZYHPKUTS0688YUQEEAALXMFJSWDLPMOSRAWSJUZUNDEJYVREJRWRJGGG
Fish: 23.74 inch Jumping Whitefish from Sw The Wondrous Lake McCloud California; Code: GJJKQJYTWLQUE1985NZVHMIVQDPHOGJFTFOQZCYDLVHCJGIFQEGFIDMFSYXSJ
Fish: 42.37 inch Jumping Northern Pike2 from Sw The Wondrous Lake McCloud California; Code: BFJJKJNFSPQYD8738HJDTNBWAXNPOULTZQJKFBHTWRRDUZRZESXAEDWAHUTOV
Fish: 24.47 inch Jumping Smallmouth Bass from Sw The Wondrous Lake McCloud California; Code: IVTBIOUUOJXVM1238PUMDJQHTXDXQTWXVMOZXPXIQFWZQZVXTRIWMVNFTQJGP
Fish: 37.24 inch Jumping Largemouth Bass from Sw The Wondrous Lake McCloud California; Code: OGTPUFYDRGOPR7565PWSTCLVOKGAMDCHTQQCDPIFJVHHJYUJFFDTQMJSBSPZO
Fish: 23.73 inch Jumping Redband Trout from Sw The Wondrous Lake McCloud California; Code: LCYVBBOUTDZDY2124QXWQBHQVQPWLHESCNZBDLTIZTRSZGUIGRHBKYCUPOLTS
Fish: 34.39 inch Jumping Red Rainbow from Sw The Wondrous Lake McCloud California; Code: STTAMPDLKSGBQ7448AGIGACPZCWXWCSSGBIHAQBABKWHHOIWRXABCRUKMVDGT
Fish: 23.75 inch Jumping Smallmouth Bass from Sw The Wondrous Lake McCloud California; Code: ESKIQLSEKPEYW8088OXSRUALQWPNKHFOURDQKNZVQSLYGICOPQNOUCLBNCRWR
Fish: 32.86 inch Jumping Rainbow Trout from Sw The Wondrous Lake McCloud California; Code: HNJWOYZNSJBGX6840FHCQWKPBCVXHMOERYQNWISFGDFJPRALDVAAIFLFWDXCT
Fish: 9.93 inch Paiute Cutthroat Trout from Sw The Wondrous Lake McCloud California; Code: OOCXALFXVIMIT1279VGIJXHHLDZDA?FJOAQRLOTOMRLTZZVXCGPERWZKWEYNB
Fish: 18.33 inch Jumping Redband Trout from Sw The Wondrous Lake McCloud California; Code: NZSJOOEZCAWAG3285DKFSJXGKDFQYECJPFTFRYWSFJMQFOMUEUSURVVLLCPZO
Fish: 57.89 inch Jumping Lake Trout from Sw The Wondrous Lake McCloud California; Code: INPIHGZPLVEKK5744JCWNOUVWWKNU?BVBKGLPQUZNRSNAZVJWPPMLLQVWLHHW
Fish: 8.62 inch Paiute Cutthroat Trout from Sw The Wondrous Lake McCloud California; Code: XBCOIOUGZWIAB7026KFKJLCHCDTJHDNGWZTFGTJIYDSDFSIDDKRNAZBAWSVUG
Fish: 31.61 inch Jumping Brown Trout 2 from Sw The Wondrous Lake McCloud California; Code: ERZVVURGBPDZY7863MAPMRBFYKXVCLLKMDAZWWHRIPLEUASPTIFLLBBRHXSVN
Fish: 37.59 inch Jumping Largemouth Bass from Sw The Wondrous Lake McCloud California; Code: KTSQOKLJXNLCF5514AJDVDMYFDWCQIIUHTNWGDQDPTMMXQCCVHNGANURMXHHW
Fish: 30.80 inch Jumping Cutthroat Trout from Sw The Wondrous Lake McCloud California; Code: AUHMHSACTGKHC7106VSEOJBSGDKMCCSUPGIPHTDOELDKVLFEBLFZIYWJKMGXW
Fish: 39.64 inch Jumping Bull Trout from Sw The Wondrous Lake McCloud California; Code: EOJZMDZFIEQDR2746HSOFJPOBQFDMOVNORHSGWGETYAXLMGHUTZMQGQSPZVOI
Fish: 24.99 inch Jumping Smallmouth Bass from Sw The Wondrous Lake McCloud California; Code: MQGAZQBFVHYTA7974KSRAMKRZWYYIBSMCTJUCBATNEUFSQGRAQKNDESZCERWR
Fish: 36.24 inch Jumping Bull Trout from Sw The Wondrous Lake McCloud California; Code: FGDKULFOUSXOL5967EWSDFLGZJJQMXFKLVXLQMEOXQKIGSBRQVCVAHYQRIOAJ
Fish: 33.15 inch Jumping Largemouth Bass from Sw The Wondrous Lake McCloud California; Code: OUMRYNDEASROF3533GVSFNXIEXSEOSDCKOBXRPNXQAFQSBTUHBTBWRWHEQOAJ
Fish: 18.75 inch Jumping Redband Trout from Sw The Wondrous Lake McCloud California; Code: WBPDBBGIHLEEO8323GKQUMKBHJXLU@AIENVHNDIPRPFGULNEKIDCVYYSOACRA
Fish: 40.96 inch Jumping Lake Trout from Sw The Wondrous Lake McCloud California; Code: QIMWWBIOCBTOH8382AQVPYTJQDJYCUZWLUTPQMUJVLQELLFEBSOMQXMNSRMAV
Fish: 53.89 inch Jumping Northern Pike2 from Sw The Wondrous Lake McCloud California; Code: XIOUBZAEXBLRN0616WSXKERNPJNUVCVEAEPCAJDOBONVJKQZEVVNPVIQKURKN
Fish: 23.39 inch Jumping Whitefish from Sw The Wondrous Lake McCloud California; Code: VNOJXTBLYIJFA2457QLQAAYOZWDHTKZMVKJNGDLXKSHXMIOBJLNUWYMDINAMF
Fish: 23.20 inch Jumping Whitefish from Sw The Wondrous Lake McCloud California; Code: KBPFNDFKKPAQM0395DXZWZQNHCAPR@PXKQYEWNASTCVTCJHSRGSFVWHTJCNLW
Fish: 38.75 inch Jumping Bull Trout from Sw The Wondrous Lake McCloud California; Code: JXNWRVMZICWCP4153ESNKOFQSXRWTXFWVJTOSWIBEHKRHFLLWJFWRAMRKKRUX
Fish: 34.17 inch Jumping Red Rainbow from Sw The Wondrous Lake McCloud California; Code: EWMRMLTTOCIKT7231VKEDELIYJYFIJPHAAIGGVJNFVEIBMGVJVTXHVHLJOHCZ
Fish: 22.46 inch Jumping Redband Trout from Sw The Wondrous Lake McCloud California; Code: XBWHVIHQZKHKB7026KFKJLCHCDTJHDNGWZTFGTJIYDSDFSIDDKRNQECAVCRZC
Fish: 24.04 inch Jumping Whitefish from Sw The Wondrous Lake McCloud California; Code: ABBOMTMXWIFRS1892WJXKKGBXQHGVPFBJLPNIUNIBJLXGOAUJBDNUGYICJADP
Fish: 30.85 inch Jumping Brown Trout 2 from Sw The Wondrous Lake McCloud California; Code: JMLZOERHSYHDH2222LTWFLGMGDGUHFVXLUBSTXDWMUWQIQYQBBVVVVLBNEKGX
Fish: 9.30 inch Paiute Cutthroat Trout from Sw The Wondrous Lake McCloud California; Code: XQYUHFHOBNDMH7108CJNBZMIMCGWQXPGVMQQAJGXEDRGZLRFBPOYYFFAGJQPC
Fish: 31.34 inch Jumping German Brown Trout from Sw The Wondrous Lake McCloud California; Code: YTXVXXNXEPUFI1148LMRFHIWDXMVBGTCDCGWJYJMAIOBUGQTAYSIOGVPFTRJX
Fish: 23.22 inch Jumping Smallmouth Bass from Sw The Wondrous Lake McCloud California; Code: REQIUJPVQVFJX9743EGLZNAJDJWDZECUXHNYNLCLOWKZBWEVAQXXFTWUVTYNB
Fish: 31.90 inch Jumping Rainbow Trout from Sw The Wondrous Lake McCloud California; Code: PBNFXDWUWKOJJ6020KIFZGMXIDTPBRLAXEYUMFHLLLIIWTCJIMWBLMCPVFLWD
Fish: 21.22 inch Jumping Redband Trout from Sw The Wondrous Lake McCloud California; Code: OYOAVMETCIXMC9983FGTGYTYHYWWLMVDOSFNVFGPEUYAMFPBJGYCRRRQBMAOA
Fish: 25.41 inch Jumping Smallmouth Bass from Sw The Wondrous Lake McCloud California; Code: KENKPMXIDKOKS7440TBKPHDDNVEPGWFUFTQLENBGITNJLXTAXVQDGVSZZKKGX
Fish: 35.66 inch Jumping Rainbow Trout from Sw The Wondrous Lake McCloud California; Code: VHZBLLRDVIBAN2993FWFFQHDCYGNFITLQWQGAVJFOJNZTGQEEQSFXMQYYJXFM
Fish: 20.67 inch Jumping Redband Trout from Sw The Wondrous Lake McCloud California; Code: XDKYKIYLBSCTR1258NIQMXYQKXHJXEJHMIIVIKTAFRCZDYCTWJHBZKDWGKGXW
Fish: 52.25 inch Jumping Northern Pike2 from Sw The Wondrous Lake McCloud California; Code: KMRCITZBKHIEU1125WWQVIPPXKZRCRIWUARZMMFPLIJUTXTOUWCGGFPJVUVZT
Fish: 32.02 inch Jumping Rainbow Trout from Sw The Wondrous Lake McCloud California; Code: TEVXPGQLAENYY7340TXIEKTRPKDYHUCRQPJDZQFXTYKIGLNSMNRCDFEBYYHNK
Fish: 34.50 inch Jumping Rainbow from Sw The Wondrous Lake McCloud California; Code: IEBDUPWQUTPKR9945TODKQACGQZTZGFXGACGSIZUCRNAHIKELGNYHJRSUAUTQ
Fish: 32.44 inch Jumping Red Rainbow from Sw The Wondrous Lake McCloud California; Code: CWHKRPLUEACCT9734GLHKFJGIXNRSTPSHGTKUQHAZTEZXXPRXYYSYNGEEHIUZ
Fish: 30.55 inch Jumping Red Rainbow from Sw The Wondrous Lake McCloud California; Code: VJMABTAYWNVLV4115JYMWQNRJJBXVIPLGLFOCNSFVYWNRMSUOPITQORTLRTIQ
Fish: 31.76 inch Jumping Cutthroat Trout from Sw The Wondrous Lake McCloud California; Code: IAZTXPVLSOCSM1693UBZYFPFZDPJBFVEADYIOZGCGXCYMEGXRJIPDNOJWBPTJ
Fish: 23.20 inch Jumping Whitefish from Sw The Wondrous Lake McCloud California; Code: EQWQBDJVIGIZH6767KUMHOUZFXXEUPJOECWIINPVJMKLJKIYFSXAHJTOCBYNB
Fish: 17.23 inch Jumping Black Crappie from Sw The Wondrous Lake McCloud California; Code: WWJSMRFDNUZKG8769JVDAYKDCDKZJFJBHYLYNTHVBXZHZGUEVXVBATXOREAMF
Fish: 37.47 inch Jumping German Brown Trout from Sw The Wondrous Lake McCloud California; Code: ZNGXNELCSWPNJ7388MTBNIKTFWHRIQAZQWTWDGIWDNHIMLNUHXLFSIDIWWCRA
Fish: 31.78 inch Jumping Rainbow Trout from Sw The Wondrous Lake McCloud California; Code: ELKUKVHTXDELL5401JKFYBLEEPWCWREIPLPTQWFIMHQHCXTROFBOBUGUWJNFQ
Fish: 34.65 inch Jumping Cutthroat Trout from Sw The Wondrous Lake McCloud California; Code: RQVSRRKMZMQMW2690RDFCTGTIQQYTTOXQLRKRBYLFNZVMTBQROOIKZGVMTNFQ
Fish: 31.40 inch Jumping Cutthroat Trout from Sw The Wondrous Lake McCloud California; Code: GSPPDABEUYCYX8595DOPLKCNGJAJSXFDWLAVVKBIWULIKWSLBNITZXVISDQPC
Fish: 35.15 inch Jumping Bull Trout from Sw The Wondrous Lake McCloud California; Code: HNJWOYZXSMYNX6840FHCQWKPBCVXHMOERXQNWISFGDFJPRALDVAAOOMFVJWKT
Fish: 35.54 inch Jumping Largemouth Bass from Sw The Wondrous Lake McCloud California; Code: LQZPGBBPEFCZM8070GWXDMSMEDJANXFNTKTVJLZAGQHBHJLTHNWBGHOJTYGXW
Fish: 38.35 inch Jumping German Brown Trout from Sw The Wondrous Lake McCloud California; Code: OHWCHWZEIQQDI8680RUVQESBHWYSM@WDJHTTRYABIGPBVONIBVLEYOUDGDMAV
Fish: 34.99 inch Jumping Brown Trout 2 from Sw The Wondrous Lake McCloud California; Code: SJBIMHRBDETMH7715QMMFZBRYCUDSGTQVETLYAOZJIRHBQGSJXZCOOEWFKADP
Fish: 36.19 inch Jumping Bull Trout from Sw The Wondrous Lake McCloud California; Code: MESRKIGHOVVXB5047XVXPGEHUQVDOMGJKOEQPSETONFKHMKWJSLBEHAYHQTIQ
Fish: 54.16 inch Jumping Northern Pike2 from Sw The Wondrous Lake McCloud California; Code: JIJPSEYDQUYVC4089MOKTAVXRPXBJMCWETWCPOLEQZLONUCJZXHLHLQSRDYYM
Fish: 33.63 inch Jumping Rainbow Trout from Sw The Wondrous Lake McCloud California; Code: PZXQJLFPMQWNO1702SBBLAZJAQQEGUCYRXHKCEZELLMZJVVRQJVZWQFSQMUJG
Fish: 34.06 inch Lahontan Cutthroat Trout from Sw The Wondrous Lake McCloud California; Code: SKOPXEHRMFJHX0830SRPKCAPJXMVALVUDDWCEIGVQTSBNYYRGNHFYPOHKOHCZ
Fish: 22.82 inch Jumping Redband Trout from Sw The Wondrous Lake McCloud California; Code: XIOUBZAIVWLKN0616WSXKERNPJNUVCVEACPCAJDOBONVJKQZEVVNFZIQLCHHW
Fish: 33.03 inch Jumping Red Rainbow from Sw The Wondrous Lake McCloud California; Code: DVDBYNKWMFLCP7432QJYBCUXKEKPFBIMIZGRZXYQYWRKWPBYCKWBSSTRFFDNT
Fish: 31.99 inch Jumping Rainbow from Sw The Wondrous Lake McCloud California; Code: GQBXWAJGTOSRQ4364ZLJBFWCDKIACFRDFZKNTTSIOGCUNYQURPSFODTNHNTOV
Fish: 26.14 inch Jumping Whitefish from Sw The Wondrous Lake McCloud California; Code: SMAMOYKYOPDDN4151WTVMIGBVWDEIDJUTYLKGAPNYZBPKESHQMWBJJPDXXCRA
Fish: 17.96 inch Jumping Black Crappie from Sw The Wondrous Lake McCloud California; Code: HQIBPPRYKNOPD3967DHDXEOHYDFQXJEBPJJMMITBVUPQYGMSKJGRJJXDOGRZC
Fish: 37.21 inch Jumping Brown Trout 2 from Sw The Wondrous Lake McCloud California; Code: HPXWDYJSTYSHE0062BJISYQHQYDWPMCFHOXVYACFOROWMQCBNTYOZIOSHJGXW
Fish: 30.31 inch Jumping Rainbow Trout from Sw The Wondrous Lake McCloud California; Code: ZAQJDOGAAJNTL4428XZEYVFJSSDVPXTZPRDTDPUZEUKSYZHIBJEIDBBWVALRG
Fish: 33.74 inch Jumping Rainbow from Sw The Wondrous Lake McCloud California; Code: WUVBXRVGMAHNY4647FTXQPNGJLIGTNMJJGWILCYVURXLBISODRFOPZWTGIUJG
Fish: 34.63 inch Jumping Rainbow from Sw The Wondrous Lake McCloud California; Code: FAOBJLUBQEZWY5473COIPPVXOXIXYCZIOXMEKECWTPPKWQCUMSZYBVKUIUVOI
Fish: 40.18 inch Jumping Bull Trout from Sw The Wondrous Lake McCloud California; Code: FGDKULFOUWXIL5967EWSDFLGZJJQMXFKLVXLQMEOXQKIGSBRQVCVQLYQSAADP
Fish: 23.06 inch Jumping Whitefish from Sw The Wondrous Lake McCloud California; Code: KSHDTTKNNQQRG4498YDAQAOSMQELIMGPZQKFSVHHPQDSLASLZRFDWVMOGPUTQ
Fish: 30.48 inch Lahontan Cutthroat Trout from Sw The Wondrous Lake McCloud California; Code: HDTHEXUELTKPF7117ONGQOJRADLME?YCOZSIMJGFOAZBCLFGWVZCKHVZHUJQK
Fish: 17.38 inch Jumping Black Crappie from Sw The Wondrous Lake McCloud California; Code: YYCROOXPYMTEW0406TWGWUSREWVWZWFZRYOLBQTZONIWASFRRLOUIMZIJOGXW
Fish: 35.14 inch Jumping Brown Trout 2 from Sw The Wondrous Lake McCloud California; Code: LRCCASBUOOTWD9196ICAIPZRXPBRVTZSBJWMXUQWOTQVTRDKEDEMGNYUZFLRG
Fish: 17.74 inch Jumping Black Crappie from Sw The Wondrous Lake McCloud California; Code: MLTEQZRZAXYZE8526JIKIYTOYXWOCDOPOXBNKJQGRYACLWSTKDWATDGFXWVOI
Fish: 30.16 inch Jumping Rainbow Trout from Sw The Wondrous Lake McCloud California; Code: BEYWPAECAUWSM5812FMAOKCQPDNXGQJXRTYTRKQPWOIJIJZIIKPXQQOXBQYYM
Fish: 32.79 inch Jumping Cutthroat Trout from Sw The Wondrous Lake McCloud California; Code: LKJOUBQDAQULA6607WPNPWCLSJIHHCZMWWAPDLXRLHNDPHNWDSAEHWSMJFCCS
Fish: 36.21 inch Jumping Brown Trout 2 from Sw The Wondrous Lake McCloud California; Code: OGTPUFYTRFOMR7565PWSTCLVOKGAMDCHTSQCDPIFJVHHJYUJFFDTMAKSARDNT
Fish: 32.24 inch Jumping Rainbow Trout from Sw The Wondrous Lake McCloud California; Code: RXWGPHELVXHVI5088DPSVLVHMWRRGSPVCYOZMKSZJZCMQLJFSZZQZNUDDYAMF
Fish: 33.86 inch Jumping Red Rainbow from Sw The Wondrous Lake McCloud California; Code: FNEPTCQWQKBPO8324QIFXYANLQCBZVGHPGUIKDQTBJNZLDRORGGVGZMYQQYYM
Fish: 34.59 inch Jumping Rainbow Trout from Sw The Wondrous Lake McCloud California; Code: ORVMPWKJPAYHZ8396BORYFLZIWIDYVVFMIJQBOMCBJVJINHNINNDIFLJNDADP
Fish: 31.99 inch Jumping German Brown Trout from Sw The Wondrous Lake McCloud California; Code: JWKRWMDXZMWPQ1957CNKFLHKHCRFLBLSNNQXEOQFXWJXVXBMABXTNQCHFMTIQ
Fish: 33.28 inch Jumping Rainbow from Sw The Wondrous Lake McCloud California; Code: UJOPZEAQEDRCH5311FDJZQDTOPFZAECNXXHQJXRMOKJJGEXWVUTHDFNDKIRUX
Fish: 31.42 inch Jumping Cutthroat Trout from Sw The Wondrous Lake McCloud California; Code: WIQRIJADESFOR2712VTNZFIODISWIQAGNRREHUCUUAIYQDVBLTGCAYMZBMZQU
Fish: 35.52 inch Jumping Rainbow from Sw The Wondrous Lake McCloud California; Code: XHLQGIRTEIJVO9590FRMQBTFFPPCVGTAPJMLMBLSULNBYUGAQFNKTDYFCMEOR
Fish: 20.32 inch Jumping Redband Trout from Sw The Wondrous Lake McCloud California; Code: DUSWEWBQTJTVR4316ZBFHZWPIBEYFWGQXWCATOHUQTIQKHJGGUPQYEJHXCJNX
Fish: 8.14 inch Paiute Cutthroat Trout from Sw The Wondrous Lake McCloud California; Code: ODAAXUSXEKBZL1448VMBPUICIBIAWGMKSHPVVPPJUMXZAKIBZQGDJFZUGROLU
Fish: 36.25 inch Lahontan Cutthroat Trout from Sw The Wondrous Lake McCloud California; Code: ZVTLESMXYZJTL4963AKRLMGFCXAUELCTIFUKEFTXGCDTCMOIERWPIXSTRAAMF
Fish: 26.56 inch Jumping Whitefish from Sw The Wondrous Lake McCloud California; Code: BKWXBAPLECYMY8186PTLKISRAXOYMSPYTTRZXSKGSWCHBLXGNFKMGGKUKSGXW