Hi Everyone,
Haven't posted on the forum recently because of a bou with the flu. Doing better now and last night I decided to fish another one of Martin's lastest
outings. Another excellent job by Martin, scenery was good considering you were fishing at dusk, currents and sounds were excellent, he also did a
real nice job with the fish. Not a light tackle outing that is for sure if you check out my caught list. Definitely huge fish in this one. I did catch
all 15 species of fish in this outing. Had a lot of fun doing it, only had trouble catching 2 fish which caught a lot of fish inbetween and that was
the Perch and the Ide. Fished at different depths to catch all the species. Another excellent job on Martin's part and like I said, do not fish to
light of tackle, I had a few fish snap me off unexpectedly when they got their 2nd wind. Give it a try and enjoy. Thanks again Martin for another
excellent outing.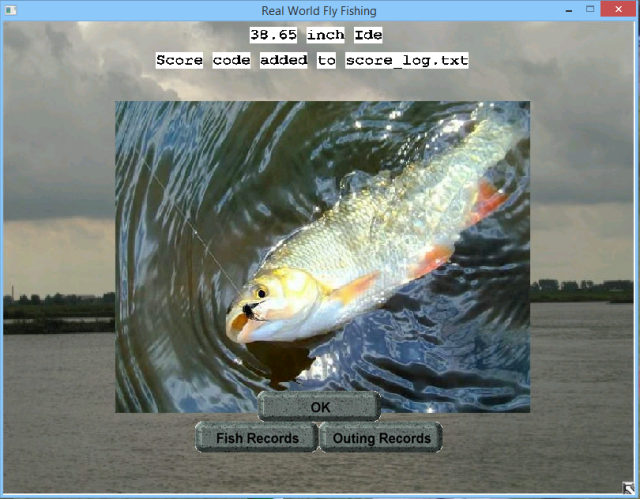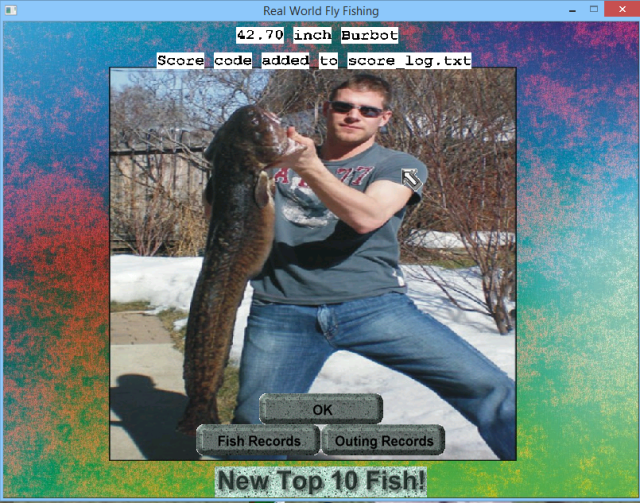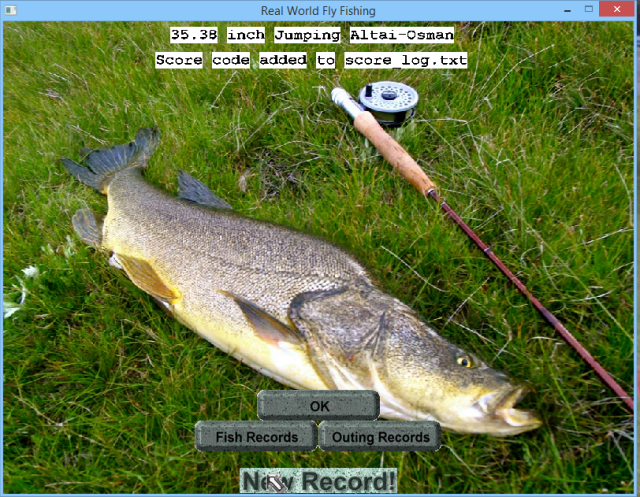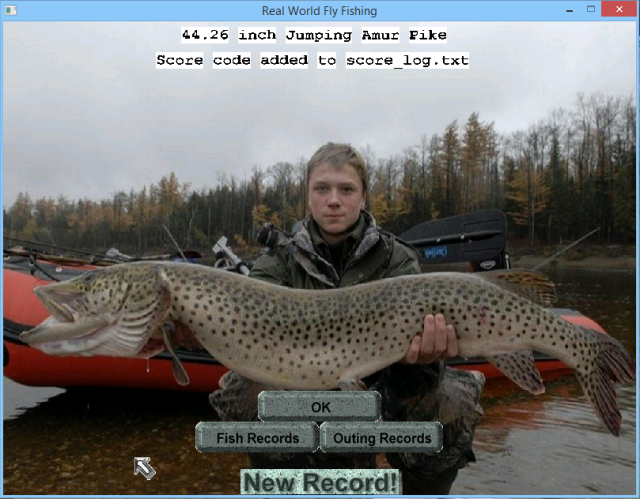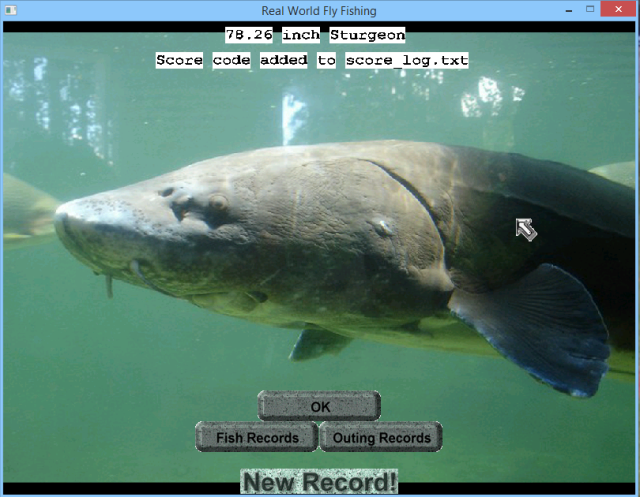 Fish: 44.26 inch Jumping Amur Pike from Sw The Wondrous Irtysh River Mongolia Dusk; Code: QNYKNSSMWIYRD8650IACYLKEQDKHKTDCITBEJDEFSICOBLYRCTKYUVAHYPDVI
Fish: 18.93 inch Jumping Roach from Sw The Wondrous Irtysh River Mongolia Dusk; Code: KLGXVCQQRYSJD0029URNXZRLIKLAWOGSMLNIYENTLFIGQVOEIUUDNJZGSZDAN
Fish: 47.63 inch Jumping Redtail Catfish from Sw The Wondrous Irtysh River Mongolia Dusk; Code: DGZVZWWOLDRSC7430XFVKOJEJWYCGIFMJDJGFHBBJWSMTKXKOMZQAWYSWGMFI
Fish: 35.38 inch Jumping Altai-Osman from Sw The Wondrous Irtysh River Mongolia Dusk; Code: ZCDALOQPCYIWB8759ABKIBLVWZUFT?PAFHSBFHERLITMEDGNWVUVMWVSKGILE
Fish: 44.68 inch Common Carp Light from Sw The Wondrous Irtysh River Mongolia Dusk; Code: UPXYIMHTIAAVU7775ISTNCCATYWIK@AOTOAWIFLVSSDMZNAIKDPWARKAXCVRV
Fish: 38.68 inch WildCarp from Sw The Wondrous Irtysh River Mongolia Dusk; Code: BLMJJYJSWXRJX9201JYOHHZDEYEGQPJVEHUQLBBCAZLHVHVMTKSXXDUFTZHPM
Fish: 39.67 inch Jumping Amur Pike from Sw The Wondrous Irtysh River Mongolia Dusk; Code: OFIKAOPXHHXWS4669ORXOVVVOEWZA@ICLAELXGQJBSGTGOPHBDVRLVTHWRBMU
Fish: 17.76 inch Jumping Roach from Sw The Wondrous Irtysh River Mongolia Dusk; Code: DTPJJNBJKFTKA3201MHAZTWSRMIWTAMMSKRJFGPYRQHCIXEWCAHNEZBWWUCFU
Fish: 34.34 inch Jumping Altai-Osman from Sw The Wondrous Irtysh River Mongolia Dusk; Code: CZYPTFDYXVXRZ4071LSIRRDVQFNZMQFPFQMJKYIOGKOVPSHVOAWQRJLKYZTDC
Fish: 39.75 inch Common Carp Light from Sw The Wondrous Irtysh River Mongolia Dusk; Code: XIHUYZWIWNKDN0616WSXKAZTAYDKRCVEADPCAJDOBONBSQVOOJVNDAJQNYKZX
Fish: 36.14 inch Burbot from Sw The Wondrous Irtysh River Mongolia Dusk; Code: UDITHKGSAUPIV5048VVZDWVRGSUOQCVLAIVKDXPVTBPRWIDOBFYKVLSGVDJDE
Fish: 48.46 inch Jumping Redtail Catfish from Sw The Wondrous Irtysh River Mongolia Dusk; Code: GPYLBRISBWPFR1268XOGWYGCVFGYYAPGXEHOFKAMHDBYKOLSENKUCDLCEJMXA
Fish: 15.24 inch Jumping Roach from Sw The Wondrous Irtysh River Mongolia Dusk; Code: UCNJBNGYQRWHE2922TQWGUXLVYUWIGTPSIKTPOXZLYOXKSTOFXQAMSIWQRAQC
Fish: 29.87 inch Jumping Arctic Grayling from Sw The Wondrous Irtysh River Mongolia Dusk; Code: ARIHFBIPIMXHW2860QKDHXFGVZJJIFCYQUQQZTCSXUTAVCYLFKIARNMLVNTDC
Fish: 38.07 inch Common Carp Light from Sw The Wondrous Irtysh River Mongolia Dusk; Code: CEXAOHJLSPAKZ4516IHVLFUTVLALXCWVJBWRKARIDCVUCWZVLTVJBSTGBEJGP
Fish: 46.01 inch Common Carp from Sw The Wondrous Irtysh River Mongolia Dusk; Code: QWGPYJRWLXLFW5269QPVBNMCRFTRZJZACXMKFLZKDIGUCUJWNLDUCKZCZZRWR
Fish: 69.05 inch Jumping Giant Taimen from Sw The Wondrous Irtysh River Mongolia Dusk; Code: LVELXSDHRYHXA8438PGEUWSVPSAZPVRLHIBKBKBODVBLXBEGIORNSXUDHGNAL
Fish: 48.12 inch Jumping Pike from Sw The Wondrous Irtysh River Mongolia Dusk; Code: VKXFVCJDOOUFT7130KDHTOCCNSJXZFJIPZINQVKBDBXNMAHAVLQEQICWTONSL
Fish: 70.55 inch Jumping Giant Taimen from Sw The Wondrous Irtysh River Mongolia Dusk; Code: ZDONFFZRMQCYS9854CYNNDRAPLMWBUJWNBWSTPVNLLUGQTYMSMCGWXNUQTILE
Fish: 57.69 inch Sturgeon from Sw The Wondrous Irtysh River Mongolia Dusk; Code: QTXABLKABPZWP8914LHMUFILUEBRKMJVETUKPLYOORWMTGXPPWFVZPODJONYQ
Fish: 63.53 inch Jumping Giant Taimen from Sw The Wondrous Irtysh River Mongolia Dusk; Code: GFZATJXVWXCPH3544OURVYFEUFWNVMZENFJSVTOLWAWYXQRNFNBWIRTWUALTS
Fish: 37.64 inch Burbot from Sw The Wondrous Irtysh River Mongolia Dusk; Code: HJZSDFPDPMTSS0688YUQEAIGWMCVFSWDLPMOSRAWSJUFDTITTMVRITTWTAJDE
Fish: 78.26 inch Sturgeon from Sw The Wondrous Irtysh River Mongolia Dusk; Code: WZJWQBEBBWNUM3005GDMHCEBKLSQVLZGFEEXDBIJQPJVRALBDSTATPJMLKSHR
Fish: 48.27 inch Jumping Redtail Catfish from Sw The Wondrous Irtysh River Mongolia Dusk; Code: CHDESYFMLSOLG1652OHESNGLSMRMN@MSHIOYAISEKLFCMLMDSHBHWNEMUCLES
Fish: 27.22 inch Jumping Arctic Grayling from Sw The Wondrous Irtysh River Mongolia Dusk; Code: CADQUHLCPCLPC8273JURZVJEGGQTZAMUVBZBGRYRHZKKHADORWPIXEYEELVRV
Fish: 43.59 inch Common Carp from Sw The Wondrous Irtysh River Mongolia Dusk; Code: WAXYEKUBZJLDX7228EFNPFTKHMVJIVGEWLRQZUQTRMEKRJACGOVRZKPHKZNAL
Fish: 41.86 inch Grass Carp from Sw The Wondrous Irtysh River Mongolia Dusk; Code: AWSIZXGEUBEBK1128RUKQKPKDZSLGVOVFKXFJTMOLRMEBPMJVXVNXCZFZBNSL
Fish: 37.09 inch Burbot from Sw The Wondrous Irtysh River Mongolia Dusk; Code: OVPBXCCXSFKTW4638ITVCMEUIYIMKPFGSMNOFXFTPDOQMXIBNFAEUXHSNCNSL
Fish: 68.18 inch Jumping Giant Taimen from Sw The Wondrous Irtysh River Mongolia Dusk; Code: RGEIJJZWTGZTN3965IJRBONBSFEDDFQUNMCGPCMLVLUTIALBUCMSOOQHILLES
Fish: 44.49 inch Jumping Redtail Catfish from Sw The Wondrous Irtysh River Mongolia Dusk; Code: EZLWOUMVHFWXA2378AJFKIFYGRGVUGFMGGANWVKAUEPWTGXSAXRVPVTJFBFPY
Fish: 45.48 inch Common Carp from Sw The Wondrous Irtysh River Mongolia Dusk; Code: QHCJZLDOSXQIQ5287YTRKRCJIYZWYPFADBPYKDCNWAIQIJAUXYGJUJDCOUQCO
Fish: 48.69 inch Jumping Redtail Catfish from Sw The Wondrous Irtysh River Mongolia Dusk; Code: OPZVIWBOOEMVK4375XLLOWOTPMHKEVZFWOUIZXLKTULTUVKLACXPEHKVEIGUB
Fish: 44.45 inch WildCarp from Sw The Wondrous Irtysh River Mongolia Dusk; Code: TCUEVVROZGTTR3029QVCJUFOAEFGVUGQAGUUXZWFMKBSRLYQMVBOQMEFQOSIH
Fish: 62.67 inch Sturgeon from Sw The Wondrous Irtysh River Mongolia Dusk; Code: CYEJBIJWGOXNA3955JNFUPWQXSVIEMLSXVASWHQSGHOBDBXWASOFPIBZTXODL
Fish: 42.01 inch Burbot from Sw The Wondrous Irtysh River Mongolia Dusk; Code: ACEGSQLFHJYZJ2998YGAPJNFTRXOZLHYRYSEWDFEIMUXAKPJPYLQKMRLKIHPM
Fish: 41.12 inch Common Carp Light from Sw The Wondrous Irtysh River Mongolia Dusk; Code: NDHPOHTZOEXOX1744ZTOPQXEHEQAXUZLLYZXCZOQNYSBYJSSQKRJWVWDCLDVI
Fish: 18.20 inch Jumping Roach from Sw The Wondrous Irtysh River Mongolia Dusk; Code: REQIUJPUQQFHX9743EGLZJIPOYMTVECUXENYNLCLOWKFKCJKKEXXDUXUXHAQC
Fish: 37.32 inch Burbot from Sw The Wondrous Irtysh River Mongolia Dusk; Code: MAIMZOVVLUHBW7706QQTLJBQPSCBNLWQVGIRTCLJZTUOVNTEZBFZYUGPLWYKR
Fish: 49.08 inch Jumping Redtail Catfish from Sw The Wondrous Irtysh River Mongolia Dusk; Code: ZRHHJMEDVKDKG5721TFNZPDWGYGSCKSAWTPMHXBNSISPQVPQTIRGUXZRVVXXO
Fish: 42.47 inch WildCarp from Sw The Wondrous Irtysh River Mongolia Dusk; Code: MLGDEOCNBWXYE8526JIKIUBUJMMEYDOPOWBNKJQGRYAIUCXIURWABZHFZLJDE
Fish: 18.48 inch Perch from Sw The Wondrous Irtysh River Mongolia Dusk; Code: ZSYZRPDQLGXJF8626UDQWACUQLYJKOMWEUBDOFSJZTTJCDHPHYZRVYIUCHTBH
Fish: 42.24 inch Burbot from Sw The Wondrous Irtysh River Mongolia Dusk; Code: XGSIYFHTVGNJX6494SPZAVTQWRLBJBZEKMAUYSUWUAMNVSTYEDFASGPUCANYQ
Fish: 39.77 inch Common Carp Light from Sw The Wondrous Irtysh River Mongolia Dusk; Code: DSXFLWOVTSAAJ0185KBXUQYUYSQNLDSPKHNSRXXCJNGIWGUFGKZCVGJLPVBMU
Fish: 42.70 inch Burbot from Sw The Wondrous Irtysh River Mongolia Dusk; Code: BHPFLPOKTZLTS2959KLJVOONPTVOSNZUQHYSHSRLLFSXADQFZNNWTHAWWZRNX
Fish: 38.66 inch Ide from Sw The Wondrous Irtysh River Mongolia Dusk; Code: OZTYPNWNVHAPB2889HFHPXPRQMRWHQPHZLREJOYLEXZAHTMIHCGNQLBBNKFEN