Hi RWFF Fishfolks:
Tonight I was in the mood for some nostalgia and decided to pay a visit to Cutch's superb Umpqua River outing. The Old Master made a total of three outings and this Umpqua River was one of my favorites. This outing was pretty daring for its time. The caption of the outing said, "Cutch will show you where the big fish are" and he was not just kidding.
In the hay days of RWFF most of the outings concentrated on trout streams found in the Northern Western part of America. We caught mostly little Brookies and Cutthroats, some good sized Rainbows and Browns and an occasional big Steelhead. Old Cutch was one of the original pioneers in developing great outings with big fish and exotic fishing destinations. The Rio Negro will always remain a classic in our RWFF archives.
Upon opening the Umpqua River outing I was immediate impressed by the beautiful scenes and the fast moving water. This older outing utilized the original method of shooting several consecutive frames of a scene and it looks quite different than the later outings as the later ones used one picture and we get the sequence of the scene by using a water animation software. The old method has a slightly different look and feel about them and I think this is really cool. I think both methods worked very well for outing building although the older method might have worked better with the six frame animation, rather then the three frames.
As I went through the scenes and caught and released the fish I was becoming even more impressed by the quality and thought that had been put into building this vintage outing. There were rapids, fast runs and some very moody slow stretches where you could see fish gently dimpling the water surface sucking in floating insects. The Umpqua is a fairly large outing by today's standards as it has a full 20 scenes. Let me assure you that it is worthy of your time to fish and explore each and everyone of those scenes as the fish population is varied and carefully inserted into each scene as seen appropriate by the outing builder.
Folks, if you have never fished this old masterpiece by Cutch you should download it and give it a good going over. Thanks to Richard this download is still available at the RWFF Club House under outing downloads. I am sure you will have all kinds of fun fishing this one!
Here are some pictures of the scenes and fish in the Umpqua outing.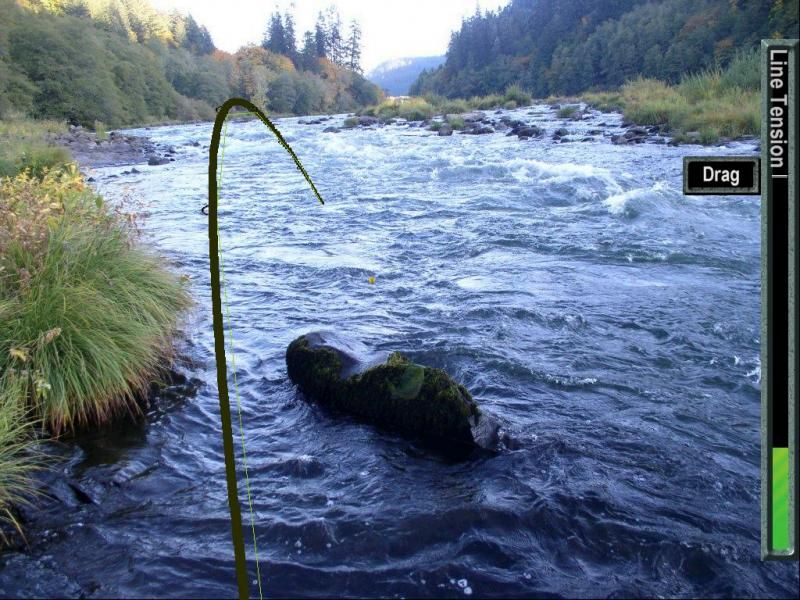 Regards,
Stanley
PS. While fishing the Umpqua I got some nice fishing clips from the outing and I will try to make up a short YouTube video for you guys. This outing is just too good not to be seen in a YouTube video. I hope Cutch will think this is OK for me to do.