Hi Everyone,
Well Barns has put out another excellent outing for us to try. Not alot of different fish species in it but alot were
available to catch. An excellent job with the currents and some beautiful scenery. Had alot of fun with this and the only
Tarpon I hooked was a real jumper. Thanks Brian for another excellent outing.
3/14/2014 Bonefish Fishing Barns Style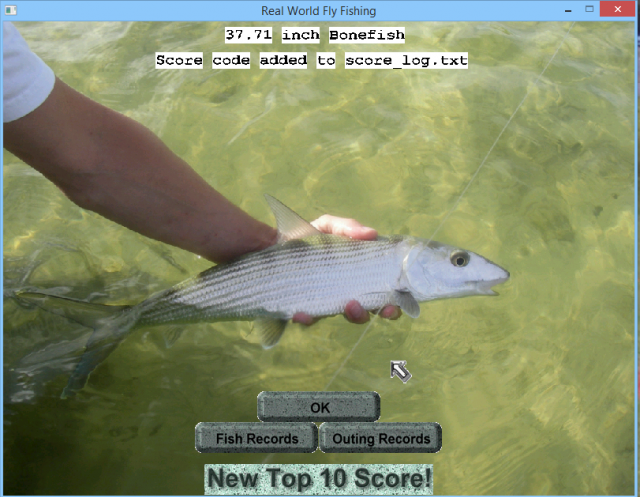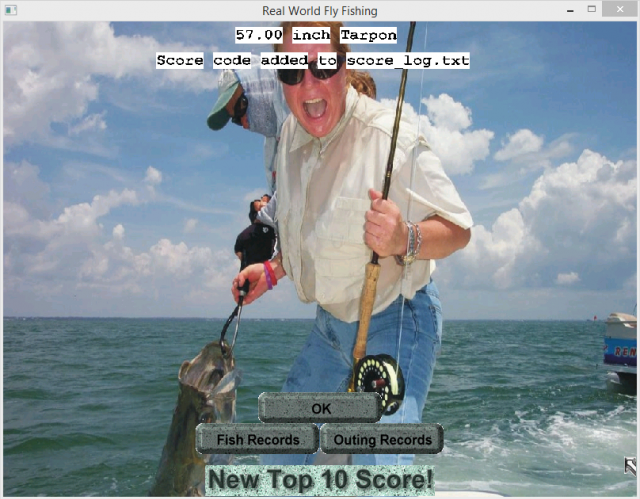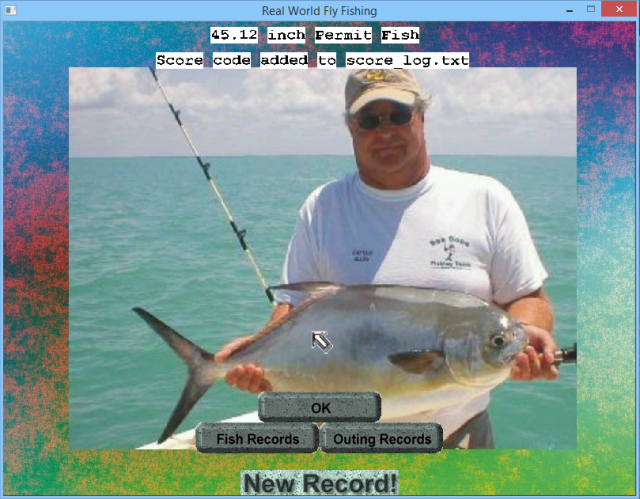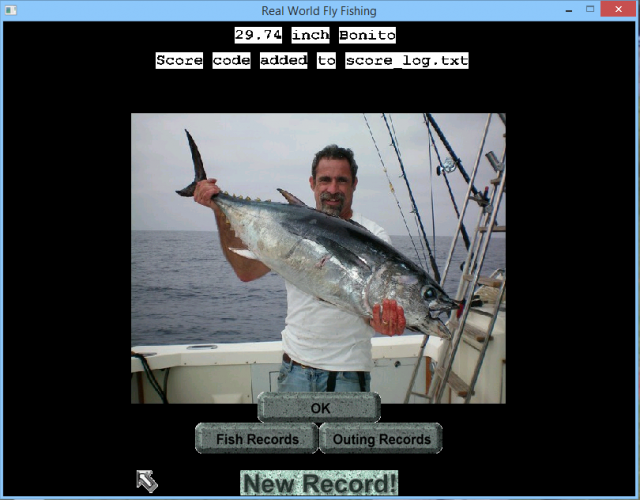 Fish: 12.03 inch Hogfish from Bonefish Fishing Barns Style; Code: XQQHKEVEBQCLH7108DUYXZWQIQFSQXPGVIZHMURPTTMBQQCVIFOYRQEAFZLBQ
Fish: 23.20 inch Hogfish from Bonefish Fishing Barns Style; Code: SUCZXDNXSIYTP9644DOWHDLVOKVCD@MOOAVXAKDOQMSWJJDLMDIDNAMNRAOAJ
Fish: 21.20 inch Hogfish from Bonefish Fishing Barns Style; Code: JTJGKALNEKGHK6811YQUUDMJGXGIVEVVPFYGAZABFVUCDNAUJDZUFXQIMQZSH
Fish: 45.10 inch Permit Fish from Bonefish Fishing Barns Style; Code: YQEDSUUITKYBC6702OQBTZONDJBQLBDXESXONJTIAHZGCXPBBZUKMWJQNIRUX
Fish: 45.12 inch Permit Fish from Bonefish Fishing Barns Style; Code: UCTOYTFZRVWVE2922UBHCYZNGXDCMGTPSITKBZIRAOJMSRZPCZQARYGWMNHCZ
Fish: 29.74 inch Bonito from Bonefish Fishing Barns Style; Code: VRQUXDLCCQQGX0627QBFILTLDYLWQDJFBOOCOXGYVCVUYRVYSGTEUFGEGAGGG
Fish: 34.93 inch Bonefish from Bonefish Fishing Barns Style; Code: TNBDSBUWXTDYR4850CXEKCGUXXRPLMZPTVWZZJTCTGKJYYINEMTXRXCWAWJTD
Fish: 34.93 inch Bonefish from Bonefish Fishing Barns Style; Code: TNBDSBUWXTDYR4850CXEKCGUXXRPLMZPTVWZZJTCTGKJYYINEMTXRXCWAWJTD
Fish: 36.26 inch Bonefish from Bonefish Fishing Barns Style; Code: TSOSJSESKYIMN3216LHTTXYPXXARJKDNHTEORAVQPLENFTXTUZGBFMPQEFWTO
Fish: 34.58 inch Hogfish from Bonefish Fishing Barns Style; Code: RREZTFUNQNJQN5696ULTDVPGXYPLTXITYIESRUBZCGDJPOWXUUWTWZXYRUBKK
Fish: 25.73 inch Bonito from Bonefish Fishing Barns Style; Code: ARAIJLZVHIWTW2860RVODBHIGYSPMFCYQUZHLENKMKOPDBEMCMIAWTKLUMPZO
Fish: 35.62 inch Hogfish from Bonefish Fishing Barns Style; Code: BBFMDONHPGLFG0595BPCDCAHOYDAQTSATJODNVATXMTXQAYJJMJZIXBZHXXVE
Fish: 37.12 inch Bonefish from Bonefish Fishing Barns Style; Code: ZHIYSJBQOKORX7017KWCNSESIYFMDWTXUWJHJJZWWVIFTOAMJKHIFZGEKCDYD
Fish: 34.75 inch Hogfish from Bonefish Fishing Barns Style; Code: JNUFZABJBLHEX6447NJKYNWANDFHPCPUTINITQGKBVAFKLBXWADXQHUEUZVZT
Fish: 23.67 inch Bonito from Bonefish Fishing Barns Style; Code: MTOYNJKLGZTUG2011QKLDUYIREOUY?IJBBTSEUEHRLZQSJDPOMILHPDYTJNLW
Fish: 35.67 inch Hogfish from Bonefish Fishing Barns Style; Code: SMYGEDLZOYFEN4151XEGIIQJRKCAIDJUTTUBSLAFNPWKBJDXXCWBMQODVHKGX
Fish: 34.44 inch Bonefish from Bonefish Fishing Barns Style; Code: WMKBUWUOHXLIW0955SMAWPBNXRGKGSSHXZFLXNFEYLOVCMCQVOUDJWFIIUAOA
Fish: 34.15 inch Bonefish from Bonefish Fishing Barns Style; Code: IWWGLCDGHCPAD2334SCBEMZVIXCLYPYTEDBHXJAENGROTUQEOPQZFMXQWXDYD
Fish: 36.05 inch Bonefish from Bonefish Fishing Barns Style; Code: RFLWEFZHIRYVO2869HPZSPJXKKNRHBWYFUZGNEFHCQOOEJZCDWFHRTEFYZBKK
Fish: 31.79 inch Permit Fish from Bonefish Fishing Barns Style; Code: IIIRNDXZXKXFO5386BDASBVASKHHWAPYNHHNIJUDGBTESSSANSBAHELBRWRJX
Fish: 34.55 inch Bonefish from Bonefish Fishing Barns Style; Code: VXGVVYGGGHYSJ0181AQXEBJUWKMPW?PHXEHAVFIQRLPSQTUNXBXTJVCIOOCXN
Fish: 57.00 inch Tarpon from Bonefish Fishing Barns Style; Code: LULLCJLSIDGHJ6333OMMLXNRPFROLQPOZRYCZNUKSAVGTKAQJIJCNKISYOQPC
Fish: 36.94 inch Bonefish from Bonefish Fishing Barns Style; Code: GUVIINLUWUZWN0516HJGJQRHGDRGA?BEMDYUJMWRSQQRRIGRSBYGNYVWEMXEW
Fish: 24.06 inch Bonefish from Bonefish Fishing Barns Style; Code: PDSXCIHVWNFRY0341PVWXTBJQYKUJKZANUWTAIBUPIFZKXPQZBMPANCKGOXEW
Fish: 43.59 inch Permit Fish from Bonefish Fishing Barns Style; Code: OFOPXUODHLXOS4669PCIKZXXZDFFE@ICLANCJRBBQIBIONVIYFVRQBRHTVKMD
Fish: 34.32 inch Hogfish from Bonefish Fishing Barns Style; Code: YDGEUCZZTTXSE0951SOEMIBXFRZEKQWYWOPLMLFLBNCQFKJHWTNVXXHMFBBKK
Fish: 37.71 inch Bonefish from Bonefish Fishing Barns Style; Code: MDHNFEYXWNEUC2921WJFODPJXKCIGQMNCPKQVVXPDAALNBLVURDYYVQNAOMMQ
Fish: 36.54 inch Bonefish from Bonefish Fishing Barns Style; Code: ECNQMJFUADPAS0891VGXRVBUSYCETRIKNEMFFZVVRFHWRMUCKLIAUQYZTOCXN
Fish: 23.87 inch Bonito from Bonefish Fishing Barns Style; Code: VORPWMTTQJEMQ5572STEBDPCGWCVTGTJDGWVYXFLGLLMODJIMSVFZKVFOBRZC
Fish: 20.62 inch Bonito from Bonefish Fishing Barns Style; Code: ZFUGQPZDMCWTH3875HUELNZOERNLNVFXEOUZHSQFHPYJWQYEZMRUMXEQATLWD
Fish: 19.20 inch Bonito from Bonefish Fishing Barns Style; Code: ZNYYROCTREOMJ7388NEMJIUBBKGNIQAZQUCNPRTOSDCDDQYKONLFVPCIWCOPY
Fish: 45.04 inch Permit Fish from Bonefish Fishing Barns Style; Code: FKLYOZXWXDDMI3107MUPMQGEKKSEJ?YLRUKSGOAXBIQMSUQOSHIXYGAAXTFVG
Fish: 28.94 inch Bonefish from Bonefish Fishing Barns Style; Code: GAMFSXWPILVBM3376GVNAOXLFEDJTOUHYHLUPFOIPLXKYDJQMCNSHIFKOENQJ
Fish: 22.78 inch Hogfish from Bonefish Fishing Barns Style; Code: SPPLGUDJGEUWT9278UEPQQCAGLUAYJZRZBNIILTBUGGALXPFVQURHLZBNLDYD