Hi Everyone:
Things have been very quiet on the Forum of late so I thought this is a great time to develop some new fish for your future fishing pleasure. I looked over the Common Carp fish files that we had and I thought the other two that I did were a bit too dark and lacked the golden shine that these carps sometimes have. I set about making a new golden version and I thought it turned out pretty well. Carp is a desirable game fish in Europe and Asia but they are considered "invasive" and sometimes called a trash fish in the US. However, during the past few years fisherman have come to realize the sporting value of this beautiful fish and many fisherman go after these fish with a renewed passion. Carps are taken mostly by bait and sometimes even by bow and arrow.It is a guarded secret that these strong fish can be great sport when taken with a flyrod, fishing with a sunken nymph under the right conditions. One of my friends who go after these big carps with a flyrod once said this, "I thought my fly had snagged on the rocks on the bottom but after some tugging the bottom moved! These fish have the stamina of a miniature submarine!". That pretty much describes the sensation of hooking into a large carp with a light and limber flyrod.
The Maximum Size for this fish is 43 inches!
Here are some pictures of the new Golden Common Carp.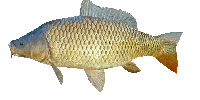 As these fish are widely distributed our outing makers will be able to use them in many of their new outings. Have fun catching this great fish!
Regards,
Stanley