Hi Everyone,
Well in this outing I went to Alaska 4 times to fish the 4 seasons of Alaska. Which in some parts of
Alaska the winters can be 6 to 8 months long. Well with the heat wave we have been having in Indiana
getting to the winter scenes were kind of refreshing. Well it didn't matter what season you are fishing
the fish are all hard fighters. A little above medium tackle would be best for this outing. The jumping
fish can make it a little difficult getting them in and sometimes when you get them close they will spook
and run again. Like a lot of the previous outings, had to fish at different depths. Martin did another
excellent job again as always. Thanks again Martin, another outing that I really enjoyed. Everybody
should enjoy this one.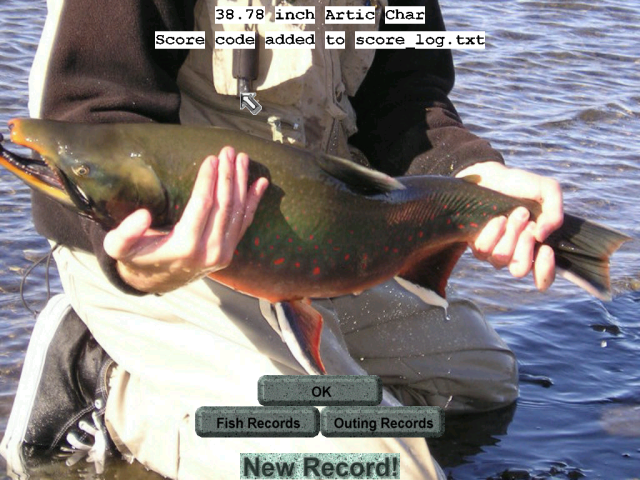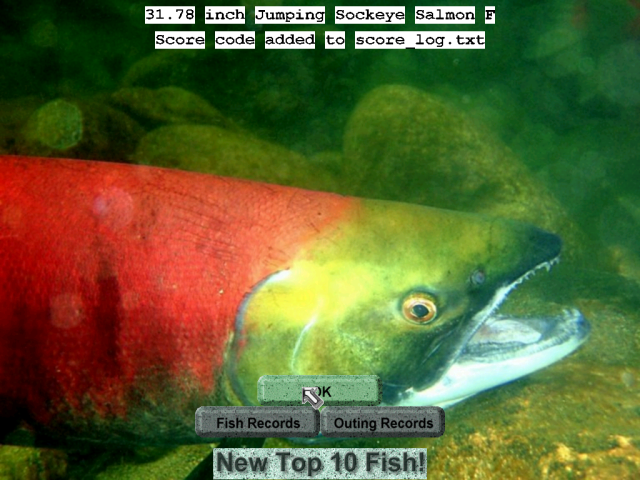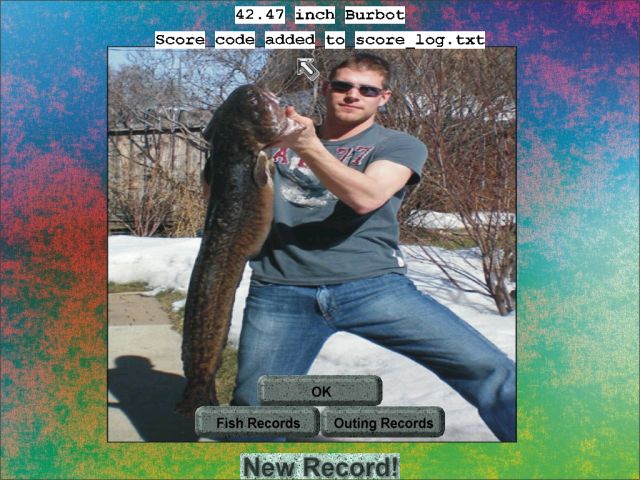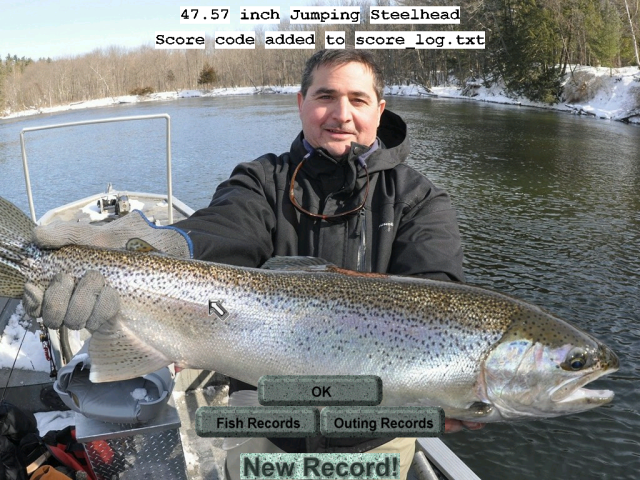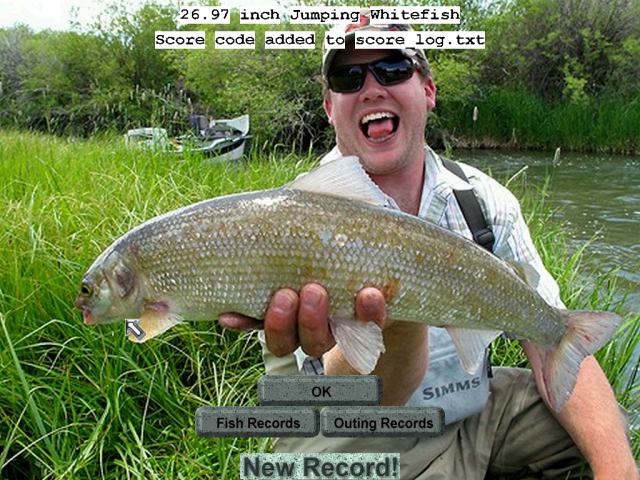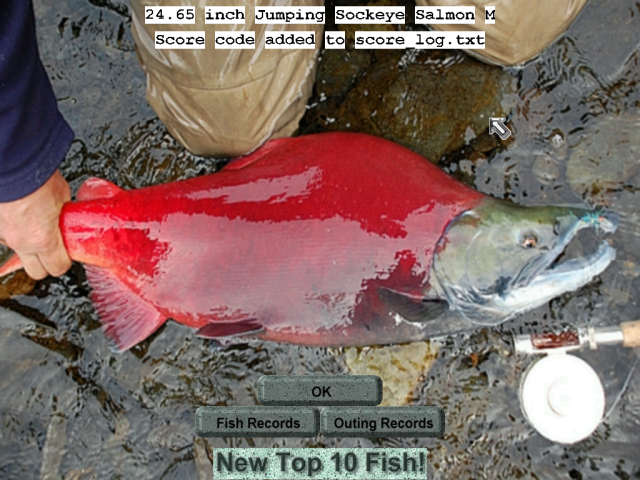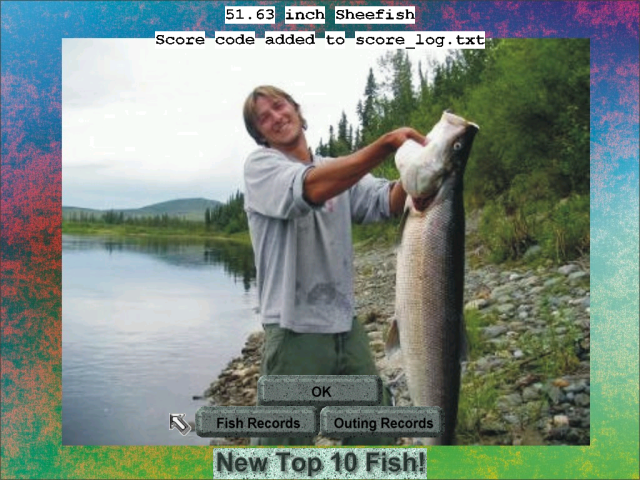 7/24/2013 Sw The Kuskokwim River Alaska Four Seasons
Fish: 46.33 inch Jumping Chinook Salmon from Sw The Kuskokwim River Alaska Four Seasons; Code: LOLXQBJTDGHIX4059ERKMZOEHVWFFWJNCCENHTDNGDKOQMGLEWGNHKNVHTIXK
Fish: 37.48 inch Jumping Dolly Varden from Sw The Kuskokwim River Alaska Four Seasons; Code: XCZTPZPJSAAPS0152MHGZGCQCOQHPIPDEOEWUBPJEZXYYRHLHZZYBGULASKMD
Fish: 41.93 inch Jumping Chinook Salmon from Sw The Kuskokwim River Alaska Four Seasons; Code: LJZJHKHXIQBOB5701VHDVLEJGWNDZ?FQGEWYPCTAKXQKKASFOJSBBNJBDBUEA
Fish: 42.47 inch Burbot from Sw The Kuskokwim River Alaska Four Seasons; Code: JWCWISUOZXUPQ1957DKDQDIOOBWTLBLSNPQXEOEKEPNYCGQVHIXTJICHFGUTQ
Fish: 47.57 inch Jumping Steelhead Red from Sw The Kuskokwim River Alaska Four Seasons; Code: JGVYCEGUODGOU2868JIFUNQPUQKOBLOWGCHUNXPSPMGTWXPBVFSYIGPWFGDNT
Fish: 51.63 inch Sheefish from Sw The Kuskokwim River Alaska Four Seasons; Code: UBMRWJHXZSXJF1827SQMMNJDYVRLMJZLKSGCBYTISORYXNLRGAIXYNXLHARZC
Fish: 54.46 inch Jumping Pike from Sw The Kuskokwim River Alaska Four Seasons; Code: OVXWLWLPTWLEW4638JQONIXSEIXKOPFGSNNOFXTYWWSLKASVKYAEITGSKBBZA
Fish: 26.97 inch Jumping Whitefish from Sw The Kuskokwim River Alaska Four Seasons; Code: YQYYVOVMTRBKC6702OCJIRFJOUHILBDXETOXBYWVSKIMSBTUBQUKVMKQNMWKT
Fish: 25.81 inch Jumping Whitefish from Sw The Kuskokwim River Alaska Four Seasons; Code: ZWUDAVOFOPFIC5188CMNUGFPCIXZEIWXTUXBSOZGVGQOVLNIHOESOQKDXGPTJ
Fish: 42.66 inch Jumping Chinook Salmon from Sw The Kuskokwim River Alaska Four Seasons; Code: FCCSQLEHSWLNG9794YOHCMCNYDFMODVJFPBNMDZBHODHSXTUDXOMYMDHTQFVG
Fish: 44.36 inch Jumping Chinook Salmon from Sw The Kuskokwim River Alaska Four Seasons; Code: PODTGUSAOENEG0973AZDRPAJNVSPVCSZYGOPEEJMAYCYRPFECIDQMIEBUDIXK
Fish: 42.56 inch Jumping Steelhead Red from Sw The Kuskokwim River Alaska Four Seasons; Code: CBGDHQUKHAOIT9399EWNPTJIUCFIDFGRDVDSUAEAVDPZRLXACXXKVTHHHIQPC
Fish: 38.77 inch ArcticChar from Sw The Kuskokwim River Alaska Four Seasons; Code: NPJHKDOVWHIUW5572VNJCAXMQDZSVQLGMMDJGHYWTAKRZRZHEBQVPXFFTJXFM
Fish: 26.95 inch Jumping Whitefish from Sw The Kuskokwim River Alaska Four Seasons; Code: KZHRZKVXBNNSS7977MNGULELGWCSWCONDFHCMDGRZVLLWBPJGJJDHJSVVLQPC
Fish: 42.48 inch Jumping Steelhead Red from Sw The Kuskokwim River Alaska Four Seasons; Code: MHRVMZYAZUJHH0184DAZPGJUYISSEJWOIWFPFSLTJXTBYJLVWFJZLZLWZFUJG
Fish: 31.78 inch Jumping Sockeye Salmon F from Sw The Kuskokwim River Alaska Four Seasons; Code: WWJSMRFUOICNG8769KSWLQLHJCPNJFJBHYLYNTVAIQDIGPJNCEVBMQXOQXCCS
Fish: 48.04 inch Jumping Pike from Sw The Kuskokwim River Alaska Four Seasons; Code: JVZEBVUAHUANZ0832BNALBJQVPEBLXJWFYEGQFMGEMFEQQYETSPIHHSWYTHCZ
Fish: 38.07 inch ArcticChar from Sw The Kuskokwim River Alaska Four Seasons; Code: SCJKKFCXHNPZV4425FWSXRGGTVYGEQTSQYWOEJIRMPSREGNMQTNCBCYPNJEDG
Fish: 24.65 inch Jumping Sockeye Salmon M from Sw The Kuskokwim River Alaska Four Seasons; Code: STTAMPDMJIHBQ7448BDBRSDTGBBLWCSSGBIHAQPFIDAIOXXFYEABUXVKMJFBL