Hey guys!!
I know I haven't posted in a while, been busy with work and many other projects. Haven't really even been at my computer very much over the past few months. In coming on and reading the forum, I see you guys are embroiled in a nice challenge at the moment on Cutch's McKenzie River. Very cool, and I'm even more pleased to see that John has been actively fishing with you guys. Welcome home, John! I also saw that Stanley had inquired about my whereabouts so I thought I'd update you guys on what's goin on here in Buffalo, NY.
I'm sure most of you are aware of the crazy wicked snow storm we had here in Buffalo in mid-November. Dropped 7ft of snow in 2 days! Was insane!! Luckily, the part of Buffalo I love in wasn't really affected, and I had only got a foot or two of snow. Can't say the same for South Buffalo, and the craziest thing was that if I looked down the Niagara River towards Lake Erie and downtown Buffalo, you could see the wall cloud hammering them. Some pics:
This was my view on Day 2, when the Storm was regaining strength: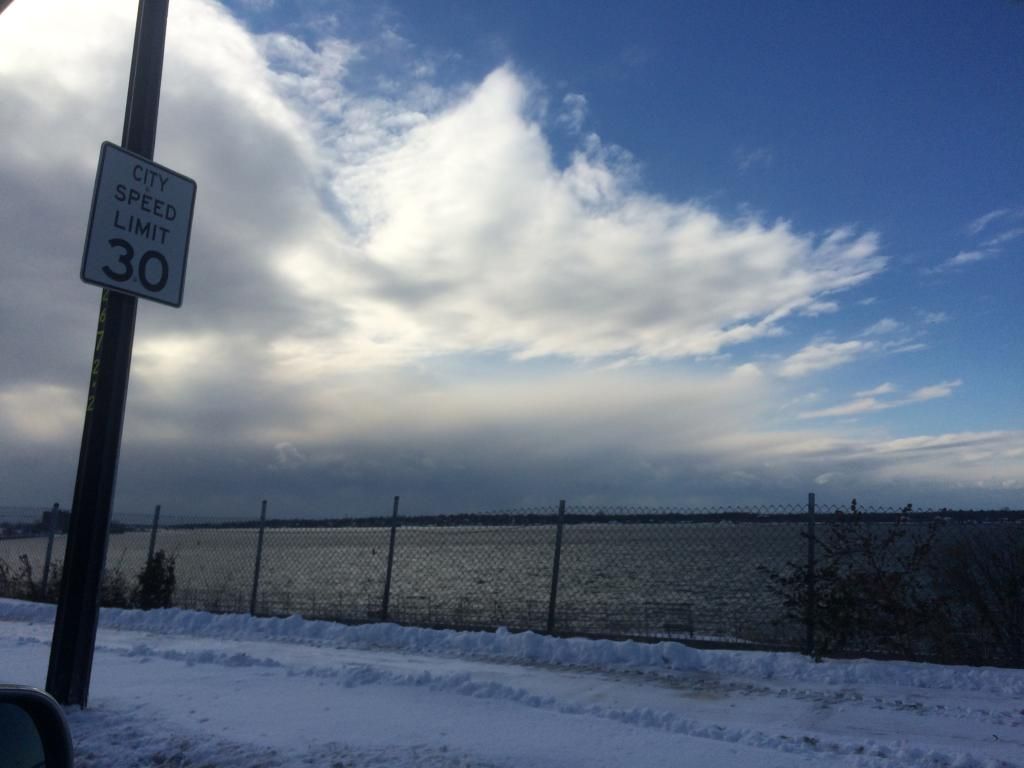 These are pics from the news sites of the storm over part of Lake Erie and South Buffalo: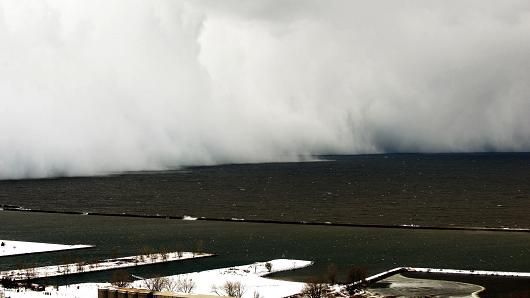 My cousin sent me this picture of his backyard. This is in Hamburg, just South of Buffalo. There is a 5ft above ground pool in the pic:
Fun, huh? But, in typical Buffalo fashion, we dug ourselves out, all that snow eventually melted and is in the history books. But winter is long, let's see what else Mother Nature throws our way.
Now, myself, I have basically been honing my craft as a fly tyer, trying some new things and new ideas. Some will work, others probably won't, but with lessons learned with every mistake made I have made some real progress and have gotten pretty decent at tying flies. A little more on that in a minute. I don't tie a whole lot of trout flies because I don't fish for trout often enough. I have a box full though, ranging from streamers to nymphs to egg patterns. But, I did tie up a few jigs for Steelhead, though the November storm put the kebosh on that. So here are a few Steelhead jigs: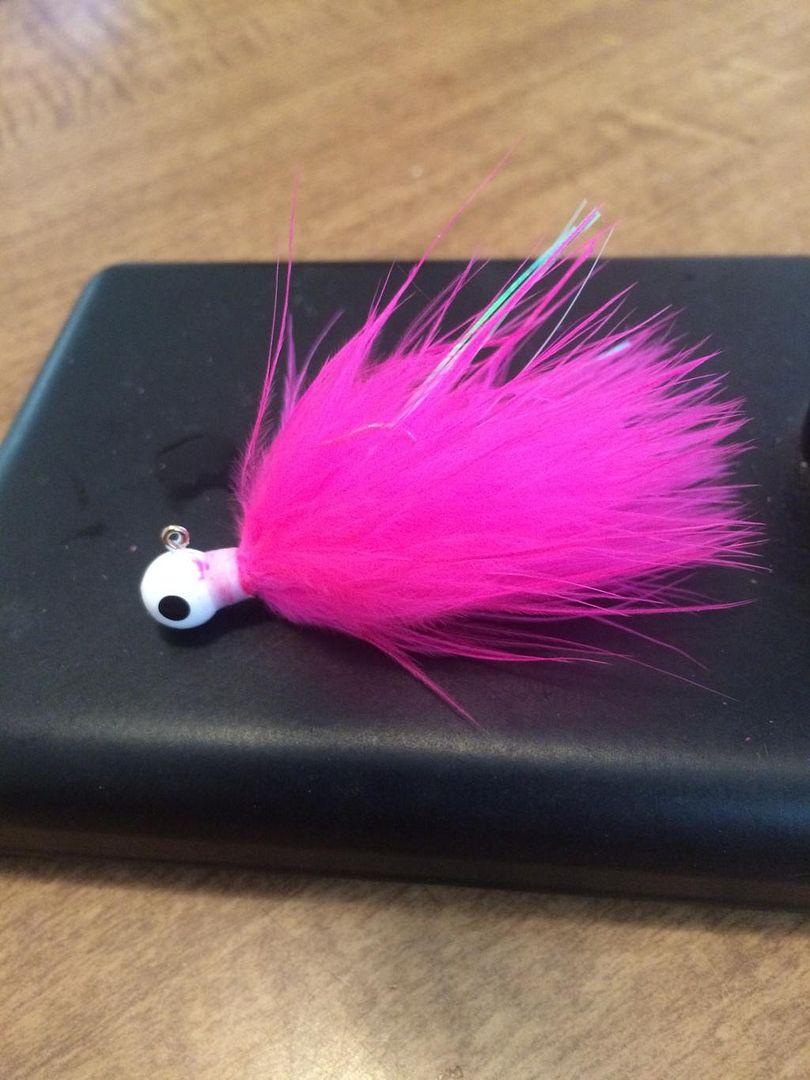 This larger black one can also double as an all-around jig: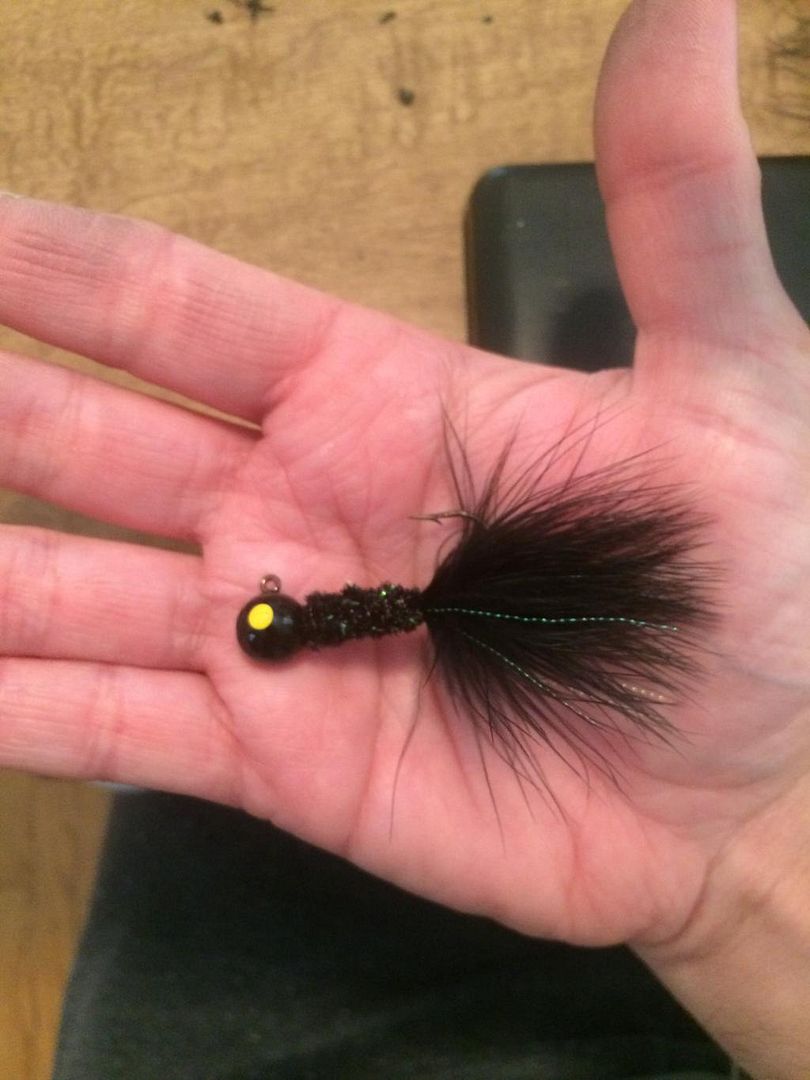 And now for some flies:
A colorful yellow and chartruese Woolly Bugger, tied in #6. Used ice dub for the body, combed out to create a real flashy effect. Panfish LOVE bright colors in the spring/summer!: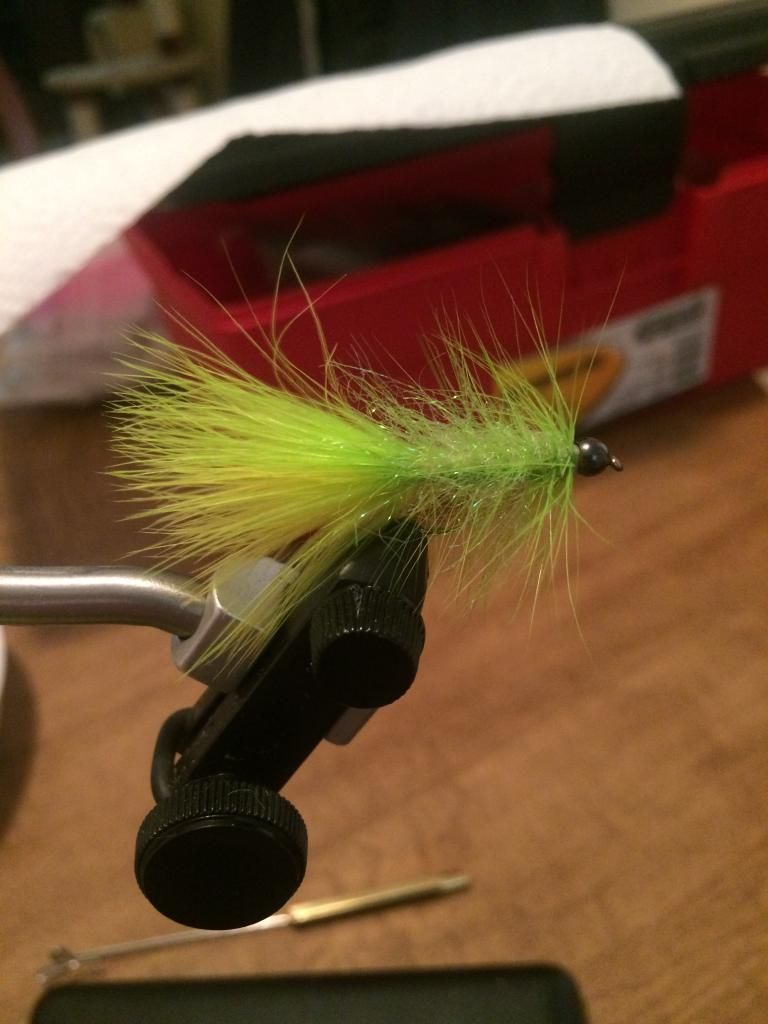 This pic kind of shows the combed out ice dub effect: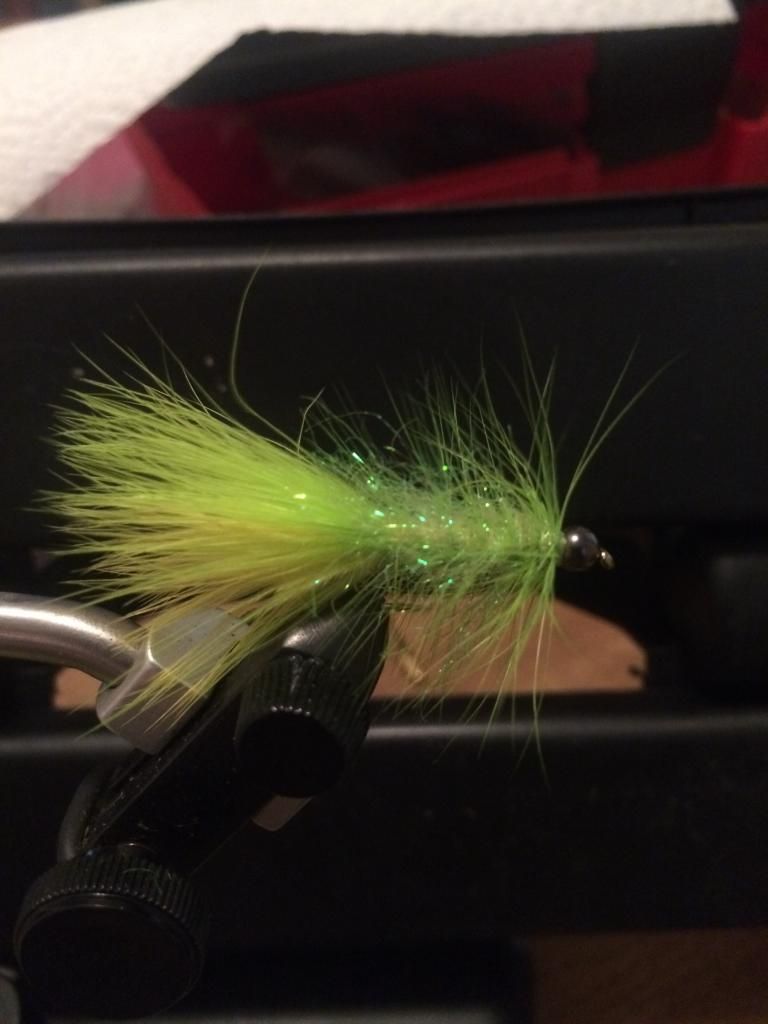 A white and olive Woolly: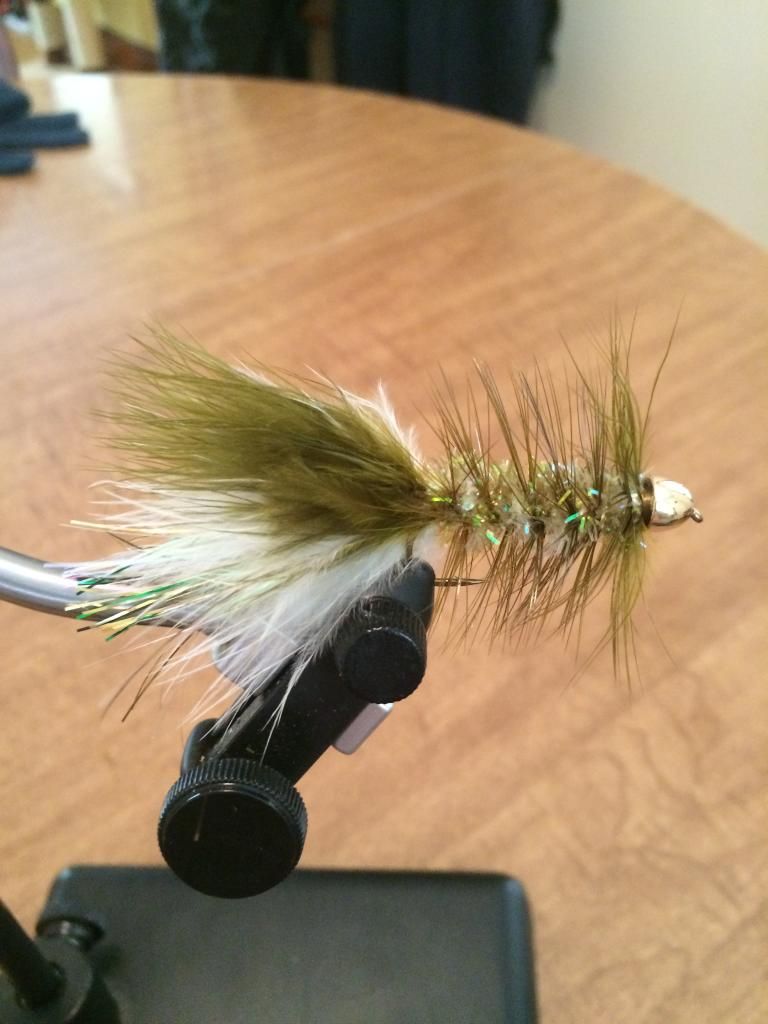 A little minnow pattern I came up with using barred rabbit Zonker and ice dubbing. Weighted with dumb bell eyes. Wished I would of used yellow instead of white ice dub. Would of made a great baby Yellow Perch imitation:
Which also lead to me buying some white zonker strips and flexible glue to try and tie the deadly Double Bunny streamer. Would of came out better had I not used crap white zonker. This one is tied Clouser-style: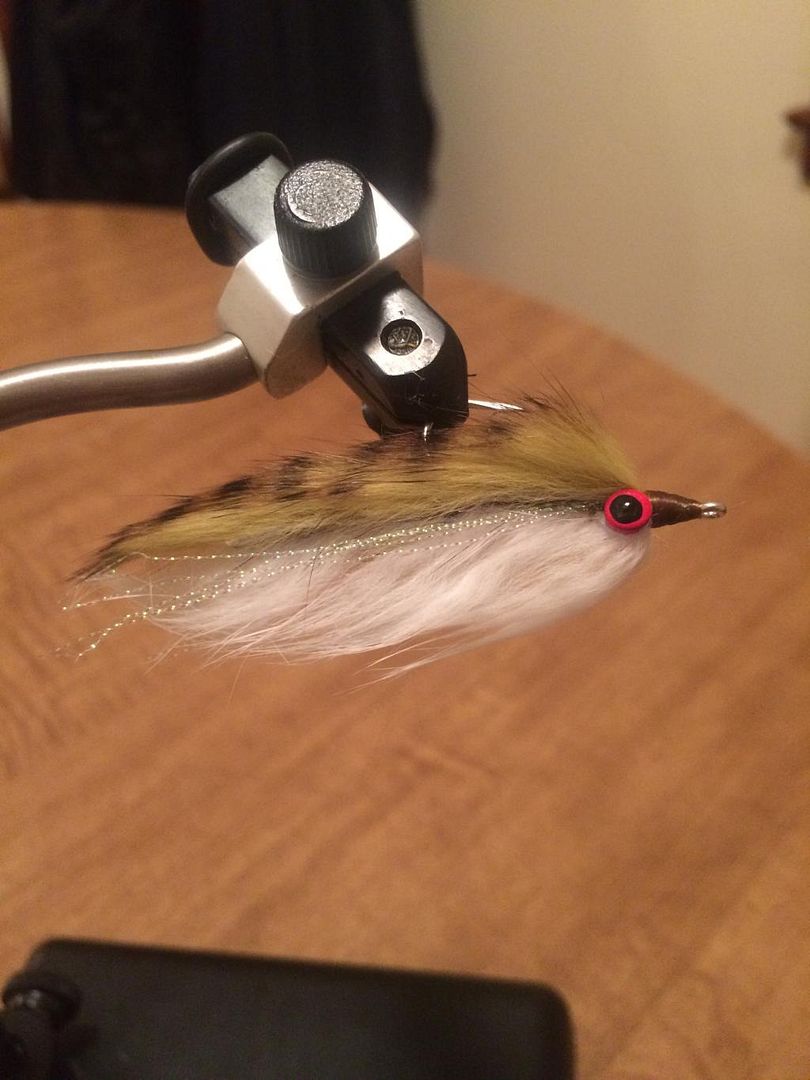 I also tried my hand at tying flies with EP fibers. A bit tough to do as they get pretty bulky quickly if you are not careful, but not too bad for a 1st try! The action on this fly is awesome! I also used a red Sharpie marker to color the throat area. Really resembles a 4" Hot-N-Tot, and the Lake Erie Smallmouths LOVE seeing an injured baitfish: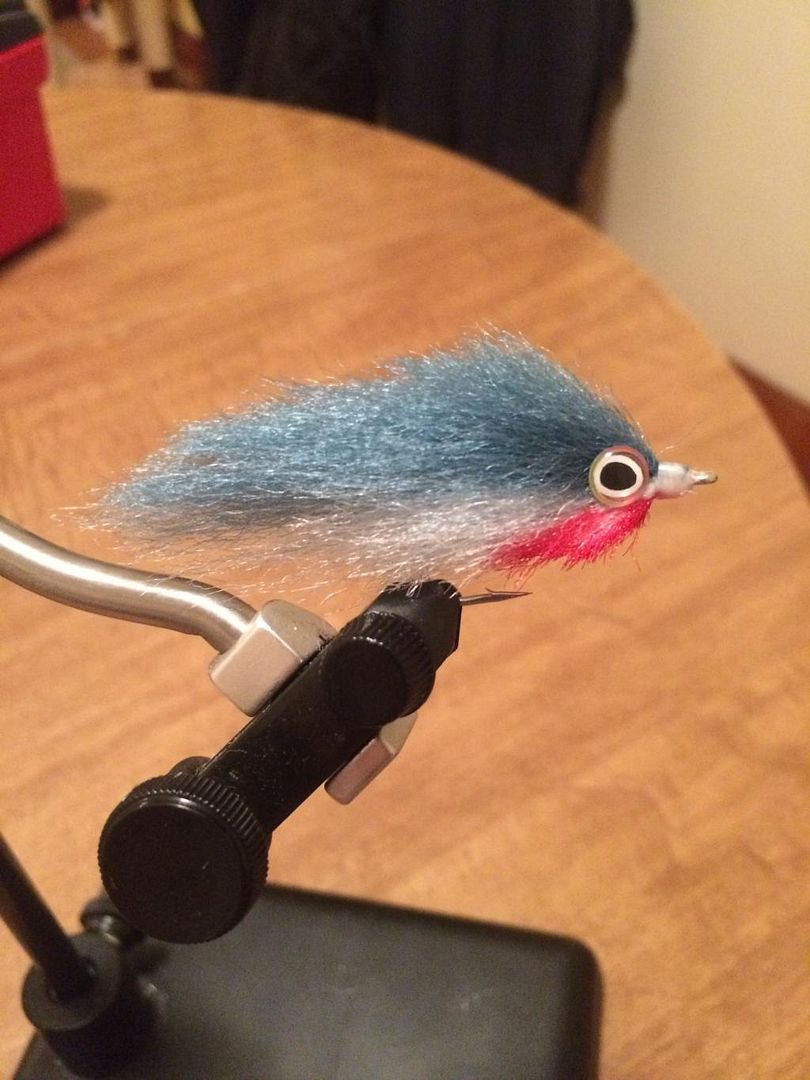 Speaking of Lake Erie Smallmouths, I tied a bunch of these Round Goby/Sculpin imitations: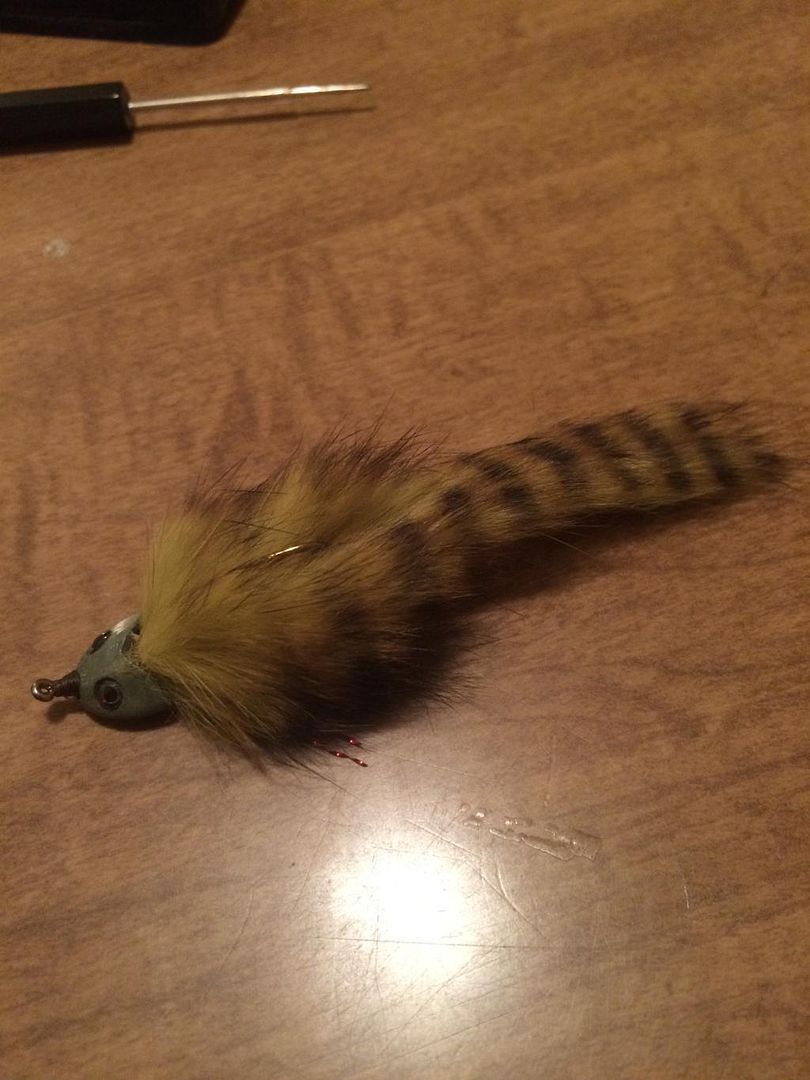 A couple of topwaters as well. Here is a black Dahlberg Diver, using deer hair and rabbit zonker. I also used a piece of 30lb mono around the base of the tail so it would not foul up or tangle: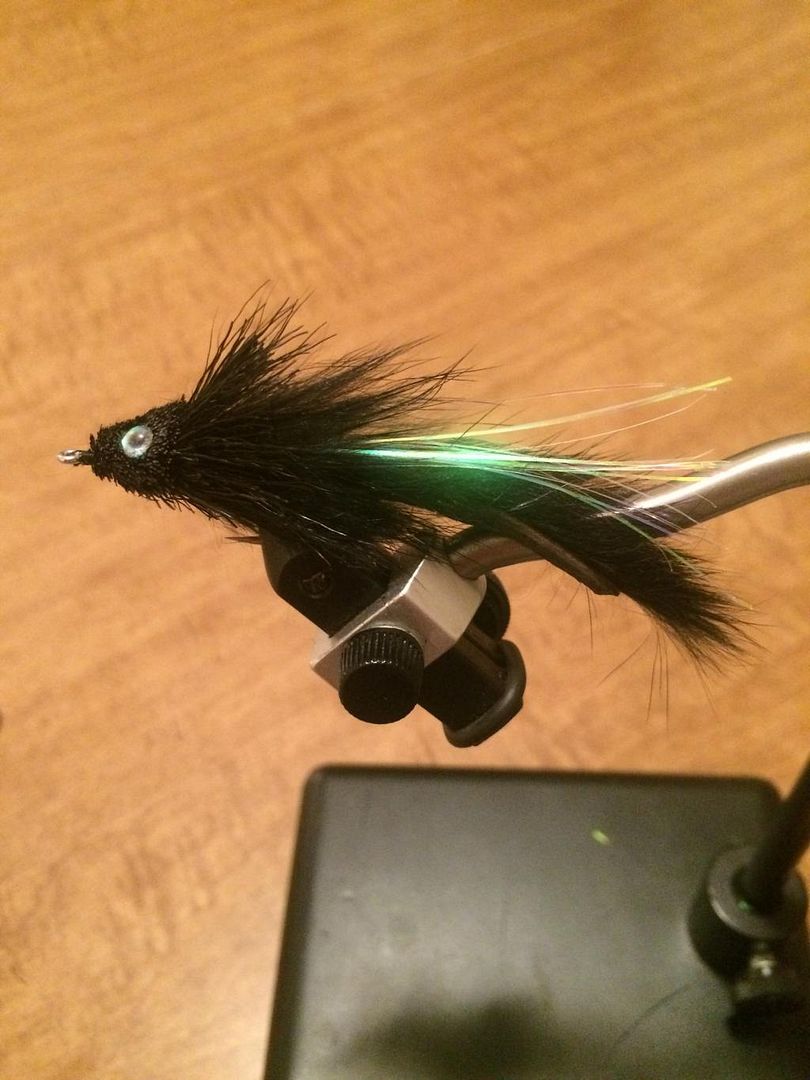 A nice little green Popper for bass and pike, tied a little sparse to move as much water as possible. I used Sharpie markers to color the head, my next move will be to get some epoxy and a dryer so I can give popper heads (among other things) and much better and durable finish:
Now for something really special to me. I really put some thought into this one and though it is a prototype for the most part, I love the way it turned out. We all know that tube jigs catch Smallmouth Bass like crazy, so I thought why not try to make a Tube Jig Fly? Well...here it is: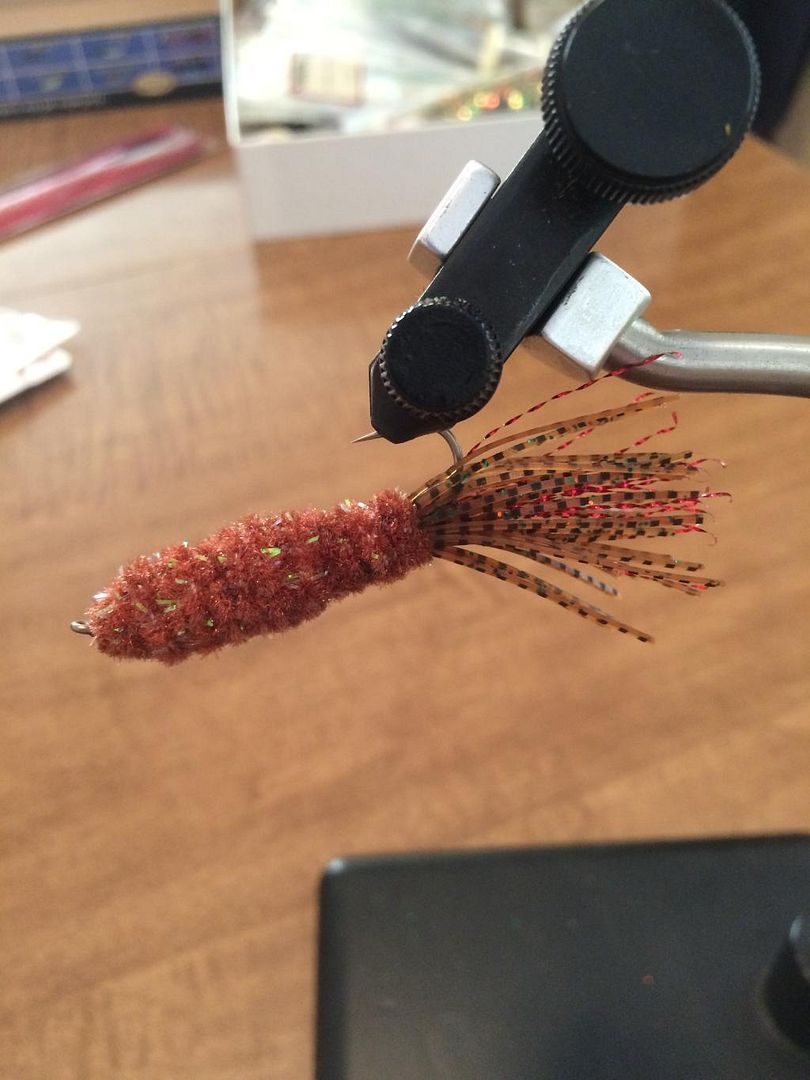 Haha! Nice, right? I used 0.020 lead wire to wrap the body and give it the weight up front to make sure it had that tube jig "scatter" action, had to taper the wire wraps. I then basically tied the chenille in a taper as well to give it that tube jig shape. It's a little tricky, especially when getting the legs in there, and I can tell you for sure that a 7wt-8wt is probably the way to go in order to effectively cast it and work it haha, but I am looking forward to testing it on the bass come spring. But, the coolest part right now is that this Tube Jig Fly already did one thing for me. There was a little contest on a fly fishing forum that I frequent for a few different prizes. The guy throwin the contest had bought a whole slew of fly fishing stuff for his son, but his son didn't really take to it. So, rather than sell, he put em all up as prizes. So, I posted this pic of the Tube Jig Fly, and after a few weeks I had an email saying that I had won a prize and to check with him. I went back to the site and found that my fly had won me a Pflueger President Fly Reel in 8wt!!
That's a $180 reel, used only once, hence the backing on it. I will probably take off the backing and put on my own since I have no idea how much is on there or the line weight. But hell yeah!!
Finally, the big Christmas score. You guys know very well how I like to constantly challenge myself when it comes to my fishing. So, I can say things are gonna be a bit more interesting. Got me a very nice 3wt setup from Wild Water Fly Fishing: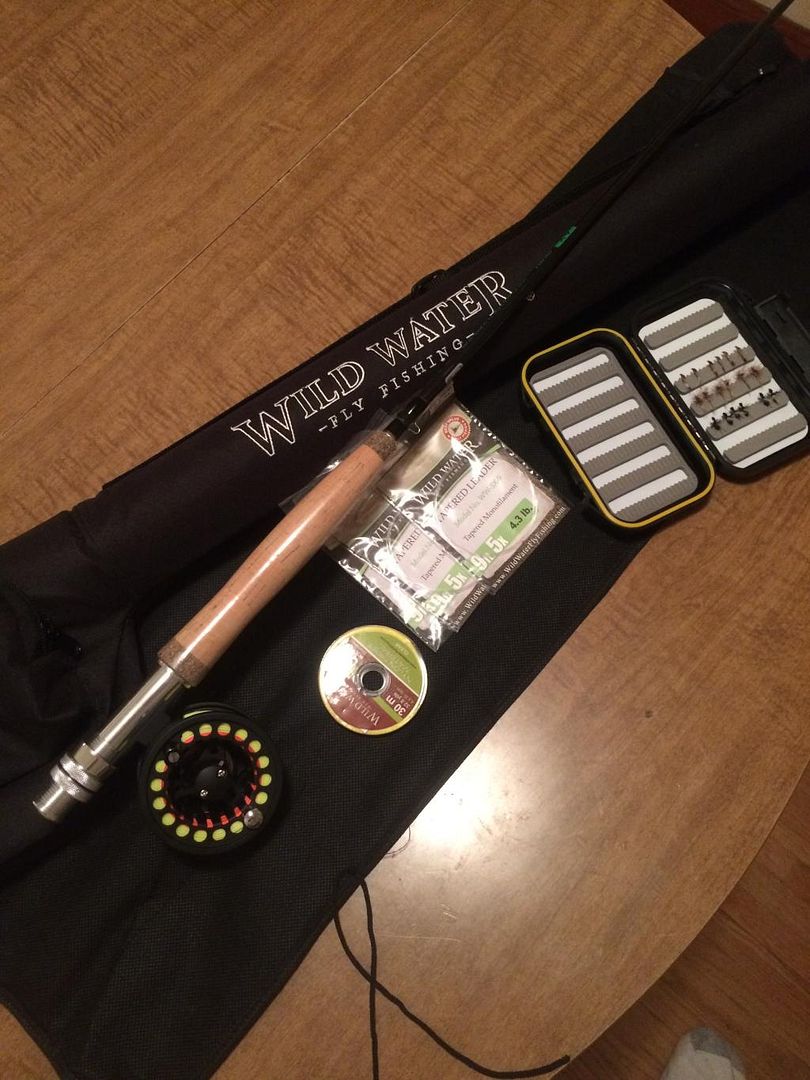 Yes, the plastic is still on the cork in the pic haha. It'll come off
It's a 9', 4pc rod. I wanted the 9' because I like the extra reach, though I know it will probably make fishing for the Brook Trout in Great Valley a little difficult. Was thinking of also picking up a 7' or smaller rod to use there, not sure yet though. All I do know is I am really looking forward to the spring time!
So there ya have it. That's what I have been up to. Spending the winter really honing my craft as a fly tyer and experimenting a bit. Gonna cost me a fortune in hooks haha. Planning on trying my hand at a few articulated flies as well, so we'll see how that goes. I hope you all have had a great holiday season, and I hope you are all in good health and happiness. I'm very glad to see RWFF still goin strong and all the wonderful creations that are still comin out. I'll get into some games here when time permits, but my focus has obviously been elsewhere. You guys are the best, and as always I welcome all comments here. Take care for now!