Hi Martin, Stanley and Everyone,
Well another Christmas is coming upon us and the end of the year will come soon after. Hopefully next year will be a better and healthier year not only for myself but to all my friends from RWFF. The forum has really been dead and it seems that everybody is kind of getting bored with RWFF and in the near future hopefully Paul will come up with some new updates or a new version. I still enjoy the fishing since it's been hard to get to the dam for some real fishing and with the upgrade to the dam, fishing hasn't been that great and water has been really low.
I want to Thank Martin for another excellent outing and thank Stanley for the Jumpers that Martin included in this outing. I lost at least 8 huge jumpers by getting the hook thrown. Some huge fish are in this outing, up to about 60 inches. Martin did an excellent job on the scenery, sounds and currents as usual. I caught all 16 species that he had included in this outing and caught 13 of the 16 on a dry fly. The other 3 were caught between 1 - 4 feet deep. Fished all the sites and spent a total of about 6 hours catching the 52 fish that were caught and long fights with the big jumpers that just loved to throw the hook on you when you finally think you have it caught.
I will try and post 1 more outing before Christmas and maybe 1 or 2 between then and the New Year. Try this outing, you will definitely enjoy it, from the small fish to the large. Hope everybody has a nice weekend.
In Sw The Wondrous Margaree River Nova Scotia 1 You Are Fishing For: Jumping Brook Trout, Brown Trout, Brown Trout 2, Rainbow, Muskie, Northern Pike2, Lake Trout, Smallmouth Bass, King Salmon, Alewife, American Shad, Chain Pickerel, Brown Bullhead, Bluefish, White Perch, Yellow Perch, 16 Species In Total.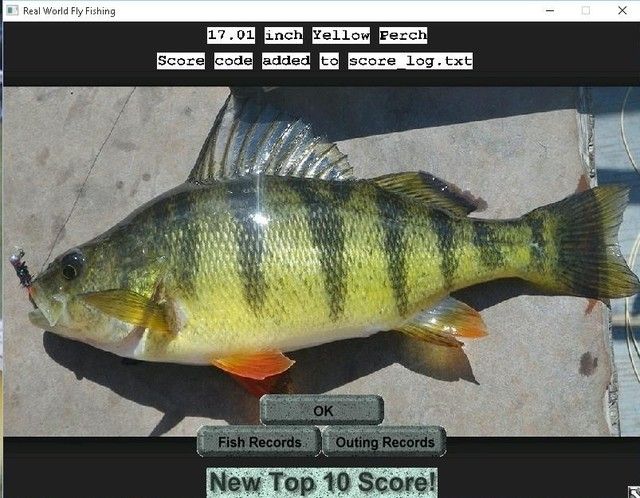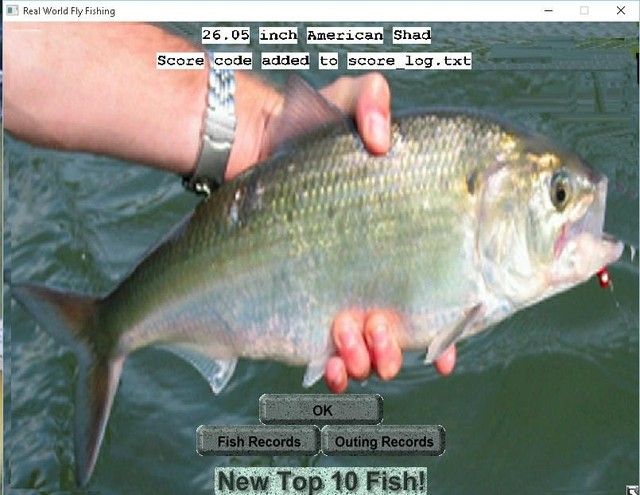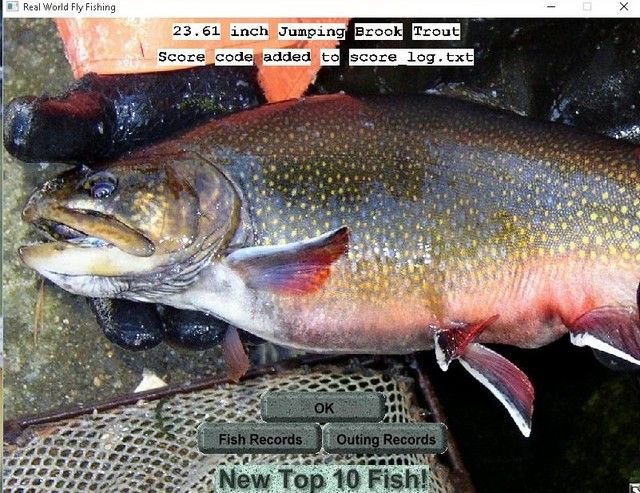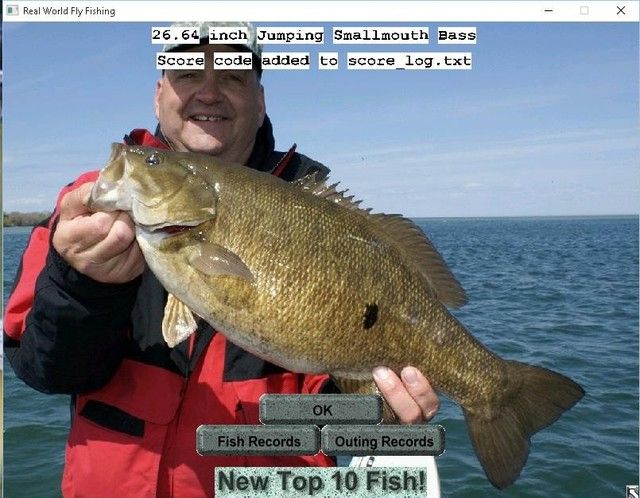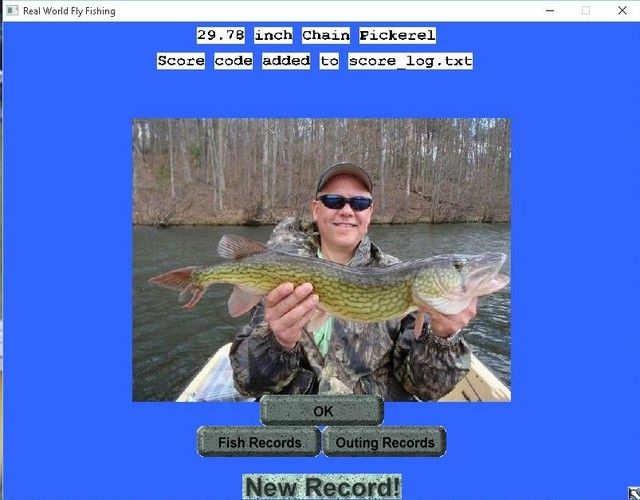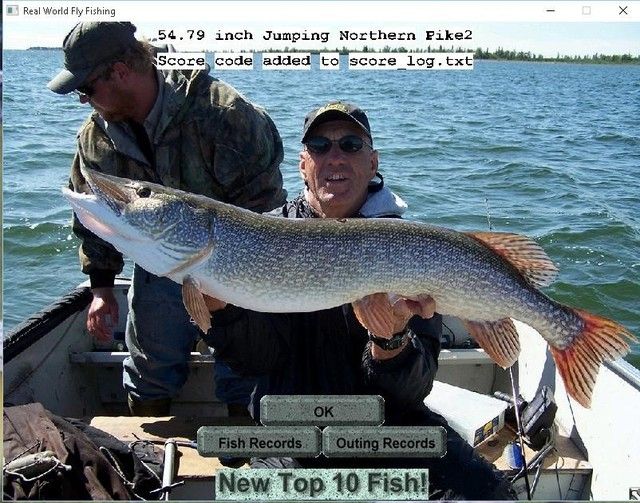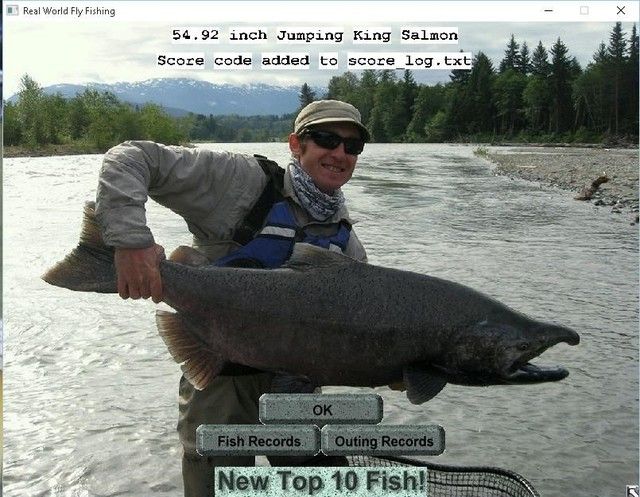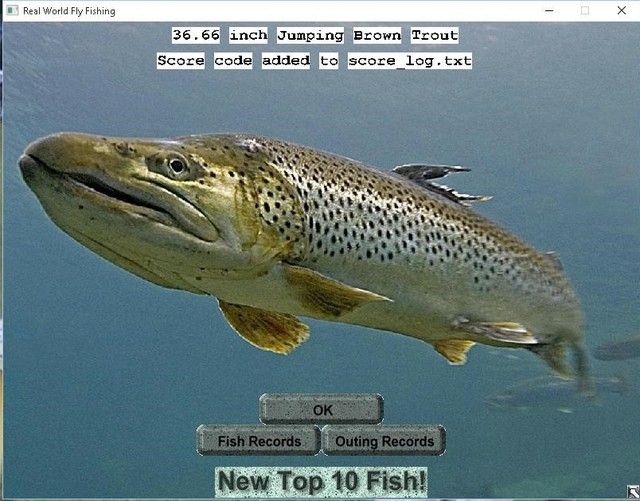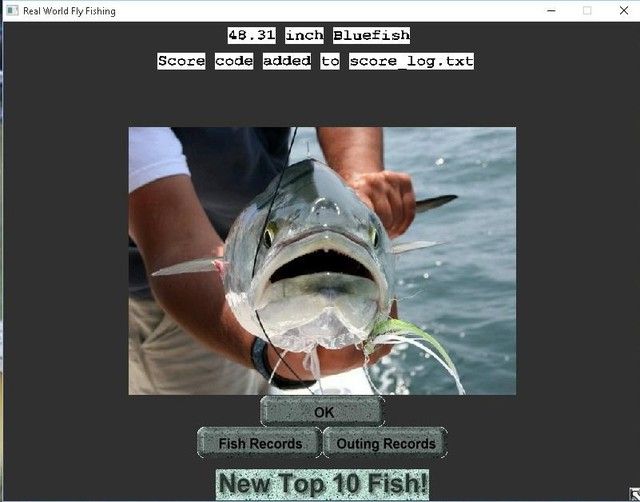 Fish: 22.59 inch Jumping Brook Trout from Sw The Wondrous Margaree River Nova Scotia 1; Code: SANCZQWWFGXLO0104BXBKTZRIPBJSPFVAGHGCSTUYQMVHTKBICXHKTWBXRCQF
Fish: 15.83 inch White Perch from Sw The Wondrous Margaree River Nova Scotia 1; Code: JQZDOODQTLVTE1574SFARVQJOQQMBHFCRYXQXOWOBWPBKOREFMBWOLFKXUNSL
Fish: 6.50 inch Alewife from Sw The Wondrous Margaree River Nova Scotia 1; Code: AYKFCCLFVKXNZ5359FTALUNFFIOEWWCZSAMNLKOGTFONXBQAOVLARLQSKUABU
Fish: 17.01 inch Yellow Perch from Sw The Wondrous Margaree River Nova Scotia 1; Code: WAGXOMJMYJJXX7228PCXAJMCFPZTIVGITKRQZUQTRMEFPXKCGOVRHZNHIDJQK
Fish: 32.84 inch Jumping Rainbow from Sw The Wondrous Margaree River Nova Scotia 1; Code: PVVHNLMZKNRYJ3532WTHKPPRBVIMFBSJHMLMYNGMWRTQVSOHGAHXXSJIKNHCZ
Fish: 54.43 inch Jumping Lake Trout from Sw The Wondrous Margaree River Nova Scotia 1; Code: ISCWYXBMFVKSG6892DJVHBNOFWNXWVGEUDOAHPEUBOLKOFYWXQCYDZCHZNHCZ
Fish: 51.05 inch Jumping King Salmon from Sw The Wondrous Margaree River Nova Scotia 1; Code: MOSBSQJKUYJPK3753RMDJGGDEIAPOIWQJCCMAJRCGQTTCETQAXUZEJQEPNJQK
Fish: 19.44 inch Jumping Brook Trout from Sw The Wondrous Margaree River Nova Scotia 1; Code: XUBEQGVZDZJSL3341ULJYKYVCHJOKRADYOUOERZOBFCRBJCBGIUZQVZJFATIQ
Fish: 47.71 inch Jumping Northern Pike2 from Sw The Wondrous Margaree River Nova Scotia 1; Code: IOANCXIYBUXDB8649WXJVRCYYIEFYUVDOWSCDHLDNUTITJUPCTXXZDHYCSOPY
Fish: 44.28 inch Jumping Muskie from Sw The Wondrous Margaree River Nova Scotia 1; Code: XZGSHPXYRBRWH2709DVRPXHYDHSQIPMJMNCWWRJCPDWVAVQHWUHLEKMDISGXW
Fish: 26.05 inch AmericanShad from Sw The Wondrous Margaree River Nova Scotia 1; Code: SZTGLPAEOWFZC8902VKDNQUOCOSQFWQYZPTNGRDKXTRGGLWIFOEQDGQHVURKN
Fish: 27.37 inch Chain Pickerel from Sw The Wondrous Margaree River Nova Scotia 1; Code: XDDTIKUECZBPR1258YFAERIQXBFKTEJLJCIVIKTAFRCAKSRIGXHBFACWFKKGX
Fish: 22.87 inch Jumping Brook Trout from Sw The Wondrous Margaree River Nova Scotia 1; Code: EGFYTEXGCRWRX6053MXISFUZNIGSNTSPYKZEXWDUQKXMCFUIHGOCBVTASKWKT
Fish: 25.59 inch Jumping Smallmouth Bass from Sw The Wondrous Margaree River Nova Scotia 1; Code: OUMRYNDLZKTGF3533RSCQNYGNPMEKSDGHLBXRPNXQAFRZVIJRPTBIPWHFNVOI
Fish: 23.61 inch Jumping Brook Trout from Sw The Wondrous Margaree River Nova Scotia 1; Code: FXVIBKCSWNHNF8050ACBXYBLMXNMZREOABJENUCCLMSIFDAAITPTFADEAHCQF
Fish: 28.81 inch Chain Pickerel from Sw The Wondrous Margaree River Nova Scotia 1; Code: QQIJNDGMHLNBJ3897OHLFBOVNWCIUPTCGBTDZLXSHZMRIGVZIHHXDNCFOQUTQ
Fish: 43.98 inch Jumping King Salmon from Sw The Wondrous Margaree River Nova Scotia 1; Code: HQIBPPRHLNORD3967DHDXEOHYDFQTJEFPEJMMITBVUPRFABHUXGRFDXDQHQCO
Fish: 44.80 inch Jumping Northern Pike2 from Sw The Wondrous Margaree River Nova Scotia 1; Code: FEQKFLNFTIGXV1736BTMBAGVVCRHSERNVEIDOVVOQJAVQGNQQCEABLFDIWCQF
Fish: 17.76 inch Brown Bullhead from Sw The Wondrous Margaree River Nova Scotia 1; Code: GEOBGAJUKUIBJ2639MPOQZYAQEOFNIFMFOGBHKWHPXNZJOJOJFTTXRJTPVYKR
Fish: 45.59 inch Jumping Northern Pike2 from Sw The Wondrous Margaree River Nova Scotia 1; Code: HXIPWGDUZJODG6556AYACXEMLCSIHHFDZSFJGZFOZGSJJKJWUIKYEMDLEOMAV
Fish: 6.37 inch Alewife from Sw The Wondrous Margaree River Nova Scotia 1; Code: NMEXUHRKCAUAQ8335ZFRVSLXVUFETLVODVDCQHJVYPWBXNMXJTLXEZCGDUPZO
Fish: 26.64 inch Jumping Smallmouth Bass from Sw The Wondrous Margaree River Nova Scotia 1; Code: LQZPGBBWEWCJM8070GWXDIASPSZQJXFRTKTVJLZAGQHCODAIRBWBCBOJVQEQT
Fish: 16.83 inch White Perch from Sw The Wondrous Margaree River Nova Scotia 1; Code: DMBZHYSCOKBSP9824AUNGAILNFPLFBLSGSUMLPVLNEMFBAFIBPDFDJMOFDYTZ
Fish: 18.36 inch Jumping Brook Trout from Sw The Wondrous Margaree River Nova Scotia 1; Code: FXVIBKCSWIGOF8050ACBXUJRXMDCZREOAAJENUCCLMSIFDAAITPTFADEZRYNB
Fish: 48.31 inch Bluefish from Sw The Wondrous Margaree River Nova Scotia 1; Code: GEOVPFPGLZHIJ2639MPOQZYAQEOFNIFMFQGBHKWHPXNZJOJOJFTTXRJTPJZGB
Fish: 24.16 inch AmericanShad from Sw The Wondrous Margaree River Nova Scotia 1; Code: XRGFBQPDKLVJF8224PEARCMEGOZOUUJHAGBHORYBMOSJSVQTHTWJLEPLNFLWD
Fish: 15.94 inch Yellow Perch from Sw The Wondrous Margaree River Nova Scotia 1; Code: TIZFSHCECPWWD5512DHWIOOGKBKKBWMWCVFTDZYPITVLIBGOQYXLEVZCYQRZC
Fish: 43.30 inch Jumping Muskie from Sw The Wondrous Margaree River Nova Scotia 1; Code: FYGNVSDJHIHTW9155NEONBJPGBHEHOYKFPVVBCUYTPTCRLKZECXWHBNPDLBZA
Fish: 34.46 inch Jumping Brown Trout from Sw The Wondrous Margaree River Nova Scotia 1; Code: VLASITKVYBOQK8236XFUJVUAWHFYZJDQCXUEEEBXDEGCVEBAJBYHXCSHWWEID
Fish: 42.35 inch Jumping King Salmon from Sw The Wondrous Margaree River Nova Scotia 1; Code: ZQFCPVDQLUDAP4605CXUFQPILPLSUNQZLBMVTGJJSFRQDTPZXAJDIXOHMKQPC
Fish: 29.78 inch Chain Pickerel from Sw The Wondrous Margaree River Nova Scotia 1; Code: PAVNAOJHEZUMS3904TAUFDOPGBNXPNJIMJUDXXPPLAZPRXGHESOQYFSMNZLBQ
Fish: 35.74 inch Jumping Rainbow from Sw The Wondrous Margaree River Nova Scotia 1; Code: SHNQXHIEBNYRR3793YGYOUXEEOWCGOFBCUDDWAFABCINLMBQJNJPZOLJTWFBL
Fish: 54.79 inch Jumping Northern Pike2 from Sw The Wondrous Margaree River Nova Scotia 1; Code: EHILNNGZVYPUO9169ODLXIBFGCGKVPUTGBKVLFUQYNFGONMIEWWMTSLLYEMMQ
Fish: 18.33 inch Brown Bullhead from Sw The Wondrous Margaree River Nova Scotia 1; Code: MIMFNIUHPFCDY3289PFLMQQULWZVIGYONMJGTBPKCPQVJCVSNCRKFXVHEBRUX
Fish: 27.29 inch Chain Pickerel from Sw The Wondrous Margaree River Nova Scotia 1; Code: UBWREGCKZUWBF1827CQDMVJXAOGXIJZPHQGCBYFDLVNYXYLXJHIXIKXLFVVGT
Fish: 15.05 inch White Perch from Sw The Wondrous Margaree River Nova Scotia 1; Code: RTHRWCOORMBKD9817HHYUBLINBCZFQWYLQKJIBZHUFJDCBCNIQUHBORUFFADP
Fish: 29.50 inch Chain Pickerel from Sw The Wondrous Margaree River Nova Scotia 1; Code: GGDIMCBGMYCXY4660BOWLEECDUAOVJTMSWVJJCFHWDXNHMLFTDJHQLCHYCCCS
Fish: 27.55 inch Chain Pickerel from Sw The Wondrous Margaree River Nova Scotia 1; Code: MMPEBSWOTIRRV9531OKXYBBSABIGGHIPTTNEYSHCZJJFEGZZQZELBTYQBCLBQ
Fish: 14.60 inch White Perch from Sw The Wondrous Margaree River Nova Scotia 1; Code: SWERAIGXURUDW3865QKCYIHXFVIPH@ATBHBOQRCWICHYXWKTZZGRZPGIEOFBL
Fish: 25.33 inch AmericanShad from Sw The Wondrous Margaree River Nova Scotia 1; Code: ZCGFYOCLBOIRB8759LYUTFENUCYPT?PECFSBFHERLITHCRQNWVUVKPUSIGADP
Fish: 54.92 inch Jumping King Salmon from Sw The Wondrous Margaree River Nova Scotia 1; Code: GBXRXJVRTMWKC5292SMPURNGCVQFXLOHDXNCRCVTAGDKAAXGDQVVCWYNVNEID
Fish: 43.44 inch Jumping King Salmon from Sw The Wondrous Margaree River Nova Scotia 1; Code: MWVBLQMASMFDM9257FELZCBQBBTRKDZSEICAIJULJMOESNUEPZGKVXPWLRADP
Fish: 46.31 inch Bluefish from Sw The Wondrous Margaree River Nova Scotia 1; Code: IJFQBLZTHIWUN9281NVCMDLVXIUDAWRGSXKVLHBPQXHEUPORMHJKJSWMXXQPC
Fish: 25.71 inch Jumping Smallmouth Bass from Sw The Wondrous Margaree River Nova Scotia 1; Code: NKOVPXRKAJBUB4104WDLTNFLRONVLTZNNMWUOIZDQJNNAPSHZVVJTXBLQVUTQ
Fish: 31.84 inch Jumping Rainbow from Sw The Wondrous Margaree River Nova Scotia 1; Code: IDYQHGOCDHQHT6020KFSQNUUEOTCNCLEVIRPEZHYVOMHCMHTZDFNUCAHNHUEA
Fish: 44.93 inch Jumping Northern Pike2 from Sw The Wondrous Margaree River Nova Scotia 1; Code: GJJKQJYKXGRNE1985YWFSMJTZVJHKGJJQEOQZCYDLVHDQAXUASGFKGNFRIGGG
Fish: 34.76 inch Jumping Brown Trout 2 from Sw The Wondrous Margaree River Nova Scotia 1; Code: IQOERXSHDRREQ2871OKFAEXCYMLGOVREENZKFYVUUICWQHWFMSNKIJCUNVHCZ
Fish: 15.21 inch White Perch from Sw The Wondrous Margaree River Nova Scotia 1; Code: CNGAIABBOXNKA1126YWOUPFEXYEHSTSYBFIWGIMNOTAUCBUBWCXEKWZJCYTOV
Fish: 24.14 inch Jumping Smallmouth Bass from Sw The Wondrous Margaree River Nova Scotia 1; Code: JUWRHMTOWWHMJ9716ZKMJOSEALJOZAPVUWBHCWHFPQACFKOLAJHFIDBLTAIUZ
Fish: 57.41 inch Jumping Lake Trout from Sw The Wondrous Margaree River Nova Scotia 1; Code: FZJZQJMXRFAPV0271DFZNUYVVLPNHKSONPYMPLMUSSCWCBDQTSFHRUWZJRRUX
Fish: 14.82 inch White Perch from Sw The Wondrous Margaree River Nova Scotia 1; Code: CRIJEAURRXFLX0366XBSYAQBNMOZQVCZHFMUKZFFDOLEXFYIRHCGOSUSABGGG
Fish: 36.66 inch Jumping Brown Trout 2 from Sw The Wondrous Margaree River Nova Scotia 1; Code: NCLCWQWCWYGFZ0629XOTQAIRQSKKPXFLAGNGORWUNNJCKPSTCCJHKNDBTLFVG