Sw Wondrous Duncton Mill Fishery Barry's Photos1
Hi Everyone,
Just finished this outing from Martin's and photo's taken by Badger of a place that he personally fishes. Looks like an excellent place to fish and some nice photos. As usual, Martin did an excellent job with the sounds, currents and definitely the fish. Caught all 16 fish that Martin included in this outing and all fish were caught with dry fly on the surface. Thanks again to Martin for another excellent outing and to Badger for sharing one of his places that he flyfishes. Try this and have fun.
You Are Fishing For: Jumping Tiger, Blue, Brown Trout 5 Versions, Rainbow Trout 5 Versions Plus Non Jumping Tiger, Blue, Brown and Rainbow giving you 4 Species but 16 Fish.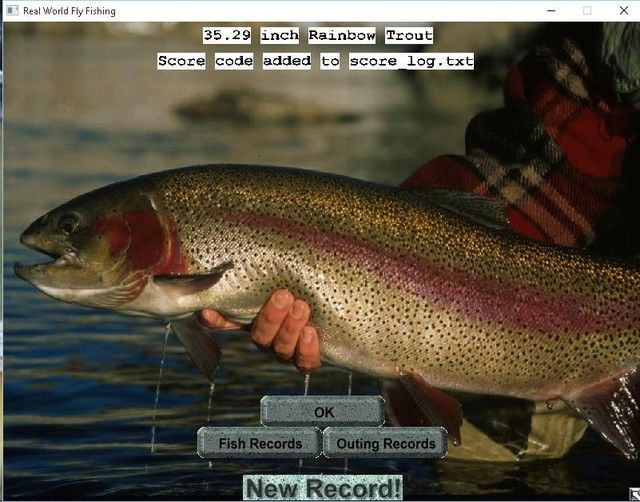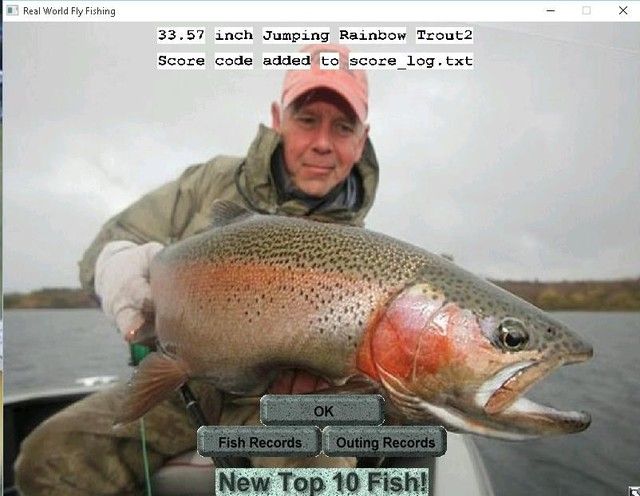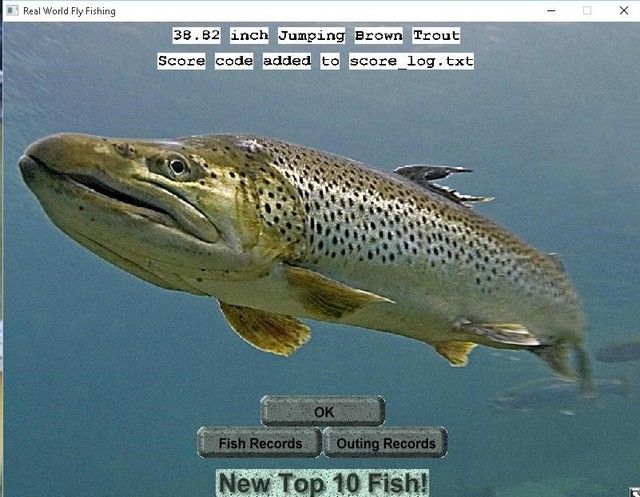 Fish: 35.29 inch RainbowTrout from Sw Wondrous Duncton Mill Fishery Barry's Photos1; Code: PVDIZUZZKQPVJ3532WTHKPPRBVIMLBSFHMLMBTNQLDOGXZJBWOHXZNMIJMDYD
Fish: 34.33 inch Jumping Brown Trout from Sw Wondrous Duncton Mill Fishery Barry's Photos1; Code: NOQMLXSJEUORY2356DIXFGQAZBWNPMRKBMSKVFZZUQTNXSKIJOJSCKYULJKJI
Fish: 36.73 inch Jumping Brown Trout Dark from Sw Wondrous Duncton Mill Fishery Barry's Photos1; Code: VUPPDKNIVQDMD5844FUNMTWTMVYAIBZKWVGKWSDGCPFGZBGZKZRUTEUKWFFYR
Fish: 29.68 inch Jumping Tiger Trout from Sw Wondrous Duncton Mill Fishery Barry's Photos1; Code: ISCWYXBUEWLRG6892DJVHBNOFWNXCVGAUDOAKVLYQAGAQMTQNECYFUFHYFSFI
Fish: 28.86 inch Jumping German Brown Trout from Sw Wondrous Duncton Mill Fishery Barry's Photos1; Code: MSTSOQLOXDTCP1915YRHVRRSTVJHSCONQJYKHYIXKEZKZPSRLQAIDSONKVAZK
Fish: 33.70 inch Jumping Rainbow Trout from Sw Wondrous Duncton Mill Fishery Barry's Photos1; Code: EBSKCNVZQROFC7795DNTJSLEMIFRVVOOCLRXILZLJQGYYSJEHPAQPTRONHXVE
Fish: 35.80 inch Jumping Brown Trout 3 from Sw Wondrous Duncton Mill Fishery Barry's Photos1; Code: RUXBNRMTCHXST0941JFBZDSOYVUQLVYYTPVAZQYHRUNNQYHYMVCSWYLEICVBO
Fish: 32.36 inch Jumping Rainbow from Sw Wondrous Duncton Mill Fishery Barry's Photos1; Code: IQOERXSXDPQQQ2871ZHPFWHCCPVOUVRAENZKIECYJUXMSORZCGNKUAEUMHFYR
Fish: 28.44 inch Jumping Tiger Trout from Sw Wondrous Duncton Mill Fishery Barry's Photos1; Code: BSZYTZRGJHSBA2888GILMDPBGIBBJNRSFURNJYCUTXBKRVIVKJEXGWBMFMSFI
Fish: 34.48 inch Jumping Red Rainbow from Sw Wondrous Duncton Mill Fishery Barry's Photos1; Code: GHVSJJGBWEVYP7766CTZQHDHWPRGIFVEAVZAAQEHTBSXUJQYGZQSDDWSDWULA
Fish: 33.91 inch Jumping Rainbow Trout from Sw Wondrous Duncton Mill Fishery Barry's Photos1; Code: YXZEUFOYHTCUF9381DONCRUKUUPFBADVGGLUQNIHEOUTYLFJVWGJQRSYCSSFI
Fish: 35.22 inch Jumping Brown Trout Dark from Sw Wondrous Duncton Mill Fishery Barry's Photos1; Code: OGTPUFYTREONR7565ATCECMTXCAAODCHQPQCGVPJYHCYSZESFHDTEGMSYWQQX
Fish: 38.35 inch Jumping Brown Trout from Sw Wondrous Duncton Mill Fishery Barry's Photos1; Code: FSRMKTAVDRZTK7682CPWZLTOUHFLZTSFJABPGAHSESTUAQHVIVTHDCSSRFXPH
Fish: 34.85 inch Jumping Brown Trout Dark from Sw Wondrous Duncton Mill Fishery Barry's Photos1; Code: BNMBCQHRXDNWF3423YYECQXGGIAZDPFVRVJYQYSYWRIGTBUWTWILSHXSATAZK
Fish: 30.43 inch Jumping Tiger Trout from Sw Wondrous Duncton Mill Fishery Barry's Photos1; Code: TFGCJXYTSLHYX0466YZNBGCPNITRRRWNWNMUQFEFINGTAUPAIXZMVRQDEKISN
Fish: 32.43 inch Jumping Rainbow 2 from Sw Wondrous Duncton Mill Fishery Barry's Photos1; Code: WZAPOIXVZCNLM3005RAWSGXTIOWABLZGCDEXGHPNFBEGRVQVTGTADZKMHKISN
Fish: 34.29 inch Jumping Rainbow 2 from Sw Wondrous Duncton Mill Fishery Barry's Photos1; Code: JVZEBVUCHGBMZ0832LNRLJJKXITNNXJWCVEGTLFFMFWUSITEMNPIDVUWXAJNX
Fish: 33.28 inch Jumping Brown Trout from Sw Wondrous Duncton Mill Fishery Barry's Photos1; Code: UEBBQNYDSSRZM6963IQMTDVOXHPQEGPQFYZBUMNUPYSWILSZFJGVPWCJWUYLS
Fish: 32.06 inch Jumping Rainbow from Sw Wondrous Duncton Mill Fishery Barry's Photos1; Code: AFDFQBNBASLLP9035GKLHVSPOWKZVIXCNFLDPRNEMPZQKTGKLAIPORDSYAJNX
Fish: 31.20 inch Jumping Blue Trout from Sw Wondrous Duncton Mill Fishery Barry's Photos1; Code: JZBNYDVUKFGVW8174SRDXTMANWDGL?BXRUJWXCYXBAPWNMXLGKCRARPFVQDSY
Fish: 26.93 inch BrownTrout from Sw Wondrous Duncton Mill Fishery Barry's Photos1; Code: XBOMCIUQAOJFB7026VCUULDFLVNJJDNGTUTFJZQMNPNUOTSMDMRNOTEAUNRJX
Fish: 38.16 inch Jumping Brown Trout 2 from Sw Wondrous Duncton Mill Fishery Barry's Photos1; Code: KLGXVCQASSPKD0029FOXIZSJRCFAWNGSJINIBKUXARDRQQTYYIUDNXAGOGJNX
Fish: 33.57 inch Jumping Red Rainbow from Sw Wondrous Duncton Mill Fishery Barry's Photos1; Code: EUYAXLKYMJQCE2010CWIEZGVDVBWUIBHHGSYPKPRMTQLNPOOZZDJTQQXWEZVS
Fish: 33.38 inch Jumping Rainbow from Sw Wondrous Duncton Mill Fishery Barry's Photos1; Code: WFRMYBHQLBSLL6676YMERXWXGPADUTSJPJZXUAILUVTZQQTUNOIDXJCBKQLBQ
Fish: 32.35 inch Jumping Rainbow Trout from Sw Wondrous Duncton Mill Fishery Barry's Photos1; Code: MLTEQZRPBMXME8526UFUTYUMHPQOEDOPLUBNNPXKGKVTUXCCKFWALJIFVTOLU
Fish: 28.39 inch Jumping Tiger Trout from Sw Wondrous Duncton Mill Fishery Barry's Photos1; Code: RHHNDAHYKTTZE4880ULWRVFYBUZERCSZSKFXGZKKKAQGULAMGGUVIZJSJNWTO
Fish: 30.01 inch Jumping Blue Trout from Sw Wondrous Duncton Mill Fishery Barry's Photos1; Code: PVVHNLMJKLOTJ3532WTHKPPRBVIMLBSFHMLMBTNQLDOGXZJBWOHXZNMIIXCZY
Fish: 33.57 inch Jumping Rainbow Trout2 from Sw Wondrous Duncton Mill Fishery Barry's Photos1; Code: SQCVKYLJRYMMK0394GVJKSRWMBHWIFBVESPINOHJBNHQOBGXKKCCTIHESLUWL
Fish: 38.38 inch Jumping Brown Trout Dark from Sw Wondrous Duncton Mill Fishery Barry's Photos1; Code: RUXBNRMTCKVCT0941JFBZDSOYVUQLVYYTPVAZQYHRUNNQYHYMVCSUQGEIYYLS
Fish: 34.38 inch Jumping Blue Trout from Sw Wondrous Duncton Mill Fishery Barry's Photos1; Code: XBWHVIHAAWHCB7026VCUULDFLVNJJDNGTUTFJZQMNPNUOTSMDMRNMLZASUTUV
Fish: 28.29 inch Jumping Tiger Trout from Sw Wondrous Duncton Mill Fishery Barry's Photos1; Code: WGUZSKIHDFLFK7791ARHPZCCRBANUXMFXIKWIIZHCGUTCGDUBXQOXCHEPUZQU
Fish: 38.82 inch Jumping Brown Trout from Sw Wondrous Duncton Mill Fishery Barry's Photos1; Code: KCASIMNVDFEDD3421PZMEBYRBPMGBVRTPCBDFCZSQRZMWAJSNYAITEVDMSMMB
Fish: 31.99 inch Bluetrout from Sw Wondrous Duncton Mill Fishery Barry's Photos1; Code: SAFBDUJSGPYZO0104MULVTAPRHVJYPFRXFHGFYAYNCHLJAFVYQXHKGUBTMKGX
Fish: 29.88 inch Jumping Tiger Trout from Sw Wondrous Duncton Mill Fishery Barry's Photos1; Code: SRFIFPUSIVOCJ3499HAMPVYCFVHNQBWSNJTZBXYFJQIKARQOGBKFVBZOXCRMH
Fish: 32.05 inch Jumping Blue Trout from Sw Wondrous Duncton Mill Fishery Barry's Photos1; Code: BXEMKQTLEOYRW1156EVINBDLLPRKPDVQUSZUTXEHPUVNYHWBAWSJKLJYLXTIQ
Fish: 35.30 inch tiger trout from Sw Wondrous Duncton Mill Fishery Barry's Photos1; Code: USEOWBOXCKMQA2920NRCPYEQRDQTFWQLOUTVBLTVOVJFIWRKGGVVDORYOQABU