Hi Stanley and Everyone,
Stanley did an excellent job again as always. This will be my first time posting in a while. Been going thru tests, seeing doctors and visit to hospital and still more to do. Was able to spend a little time on this one finally. Also still collecting info for Martin for a Lake Michigan outing.
Stanley did an excellent job on the currents with this outing, had to play with the currents to be able to drift a fly to where the fish were. Definitely some excellent scenery. Kind of my type of fishing. There are a lot of excellent jumpers in this outing. Had quite a few throw the hook on me. Some of the sites you definitely have to use some good flyfishing skills to be able to catch some of the fish. When I get the chance will definitely try the challenge. Another excellent outing from Stanley, thats for sure. Another outing everyone should give a try. Don't know exctly how many different species in this outing but these are the caught pictures of the ones I was able to catch. Caught over 55 fish and fished every sight. Beautifully done. Caught all the fish on the surface. Thanks again Stanley, for another outing well done.
C L Gallatin River, MT uploaded!
Light to Medium size tackle recommended to get the maximum enjoyment of fishing this outing. You can try 4-5 wt rods and 3-4X leaders and it should be about right.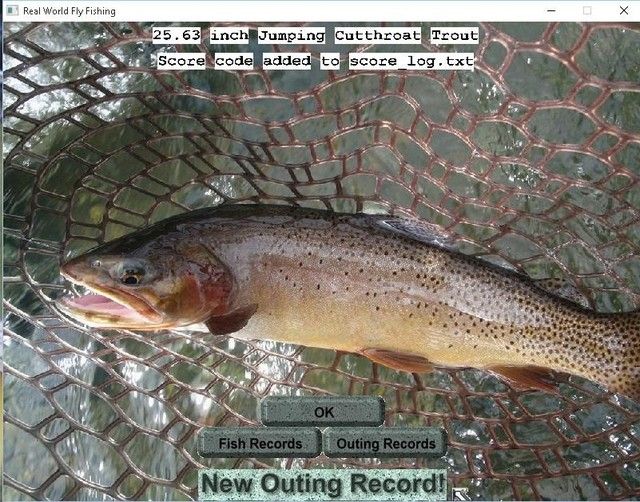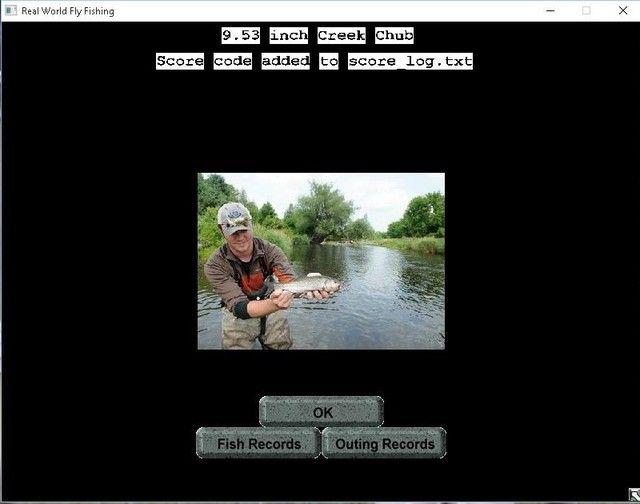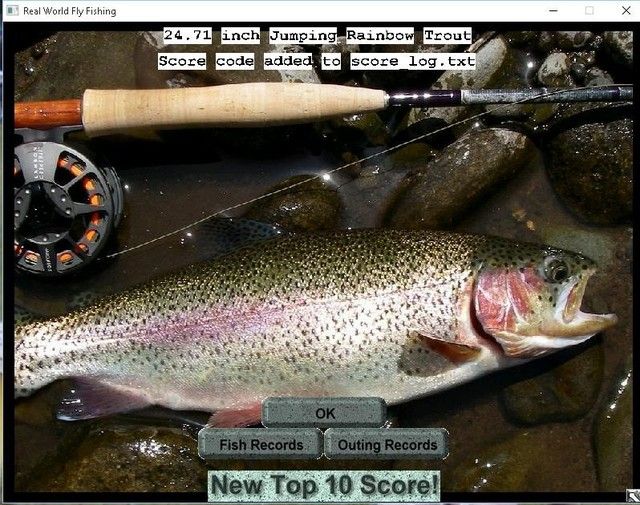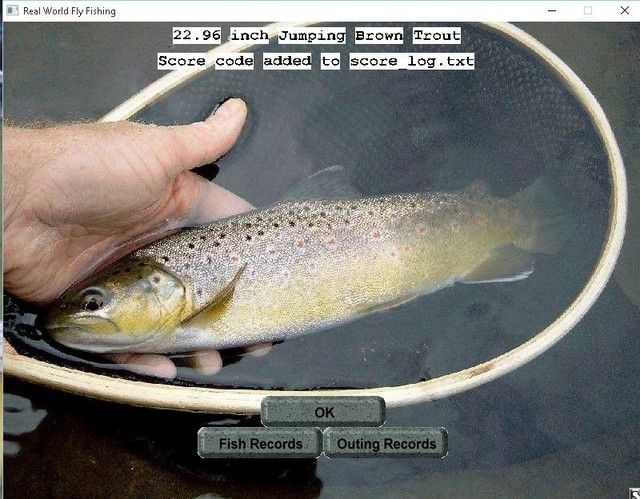 Fish: 25.63 inch Jumping Cutthroat from C L Gallatin River MT; Code: OWAIGMMQAUFGN7754JYYCUUAXXAJYYZVYCAUGSMDHGRKROQGDUIPSFPDTKSHR
Fish: 17.87 inch Jumping Brown Trout from C L Gallatin River MT; Code: KKDKATIUHOZSF7904SMKNZKMEJBFOVMNBJMGXZKDOBLNXGMSOSMSPBOWMVILE
Fish: 16.89 inch Jumping Arctic Grayling from C L Gallatin River MT; Code: XWPWFGFCFGGHB7562MRYSRUPMQXTYWWSOXTMTNXUSLPKMUKYAMKNXPCETMDAN
Fish: 21.40 inch Jumping Cutthroat from C L Gallatin River MT; Code: IMMVVXRZZCJCT4628HXTDNOVSDISCYZRQFMJOLRJPOURQQGEUBHBCJHKSAXXO
Fish: 18.09 inch Jumping Arctic Grayling from C L Gallatin River MT; Code: LHLSSKYQGJEUM1480RHDCQQZLKGCZCJHNLRFAHLBGQFBHZWJIYCOQMHOUSJDE
Fish: 18.88 inch Jumping Rainbow Trout from C L Gallatin River MT; Code: GHVSJJGBVOXMP7766CTZQHDHWPRGKKVWAVJPKOMJOPAMNPBKSRQSPIUSGGMPD
Fish: 18.26 inch Jumping Arctic Grayling from C L Gallatin River MT; Code: FFAXACWYKRFFM4831NWZJCOZXPDZIFLXAVDJPHBYZMMUXJMVOYMKBAOGMCNLW
Fish: 22.30 inch Jumping Whitefish from C L Gallatin River MT; Code: EPLEGUAGZWIGQ3642TMTVMXSDVZMYPPBTIVGHJNGLBEXZBLTUEHXZGBDWJCCI
Fish: 22.65 inch Jumping Cutthroat from C L Gallatin River MT; Code: KFQOJDGYNIQTR8546VZNMJCIYIEZSYZINKERFAIQSWRJRUGMFFYGBMJCHPTOV
Fish: 16.29 inch Jumping Brown Trout from C L Gallatin River MT; Code: HXIPWGDIYGNZG6556AYACXEMLCSIPMFRZSPYTDUUJGVOEXPCWOKYCIDLETADP
Fish: 21.90 inch Jumping Cutthroat from C L Gallatin River MT; Code: JVZEBVUNGTDVZ0832LNRLJJKXITNPCJOCVOVDJNHHTEJLOEQYFPIPASWZTUTQ
Fish: 24.62 inch Jumping Rainbow Trout from C L Gallatin River MT; Code: GAUECSVJHHUVM3376QHMPOOBSIYNXTUZVGMSQYSWKVFVJFTVRGNSYRGKRWHAE
Fish: 19.48 inch Jumping Rainbow Trout from C L Gallatin River MT; Code: BBHSNJMBOQKRG0595LBBSCRXBCYEUYSSQIPBOOEHSWBIBCIOOQJZZGCZKWUYV
Fish: 25.00 inch Jumping Cutthroat from C L Gallatin River MT; Code: SQCVKYLUQQKHK0394GVJKSRWMBHWKKBNESZXXMPLWBPFHHRJWCCCHVKEVGUJG
Fish: 24.03 inch Jumping Rainbow Trout from C L Gallatin River MT; Code: XALCIRGKQDFIL6921TXZXJWZAIORLMTUKUZDEOHTAAVPWRLGBOJDYFSXQKPZO
Fish: 21.74 inch Jumping Whitefish from C L Gallatin River MT; Code: VSBYOKDISJRRV1723BSHCORHIOGRUFLCGEBREZCQQPEZUJXULSBGUHYPNWWNO
Fish: 22.98 inch Jumping Rainbow Trout from C L Gallatin River MT; Code: SRFIFPUQHOOMJ3499HAMPVYCFVHNSGWKNJDOLVGHEEQZTXBASTKFJOCOBCABU
Fish: 21.04 inch Jumping Brown Trout from C L Gallatin River MT; Code: HHTVCZOTNMXOK6469VSSPAMVXKKSFWIVSFHVDEFCUUNRZWWIKUFDTOYAHMTDC
Fish: 17.88 inch Jumping Brown Trout from C L Gallatin River MT; Code: WOFSLRKNHQHVE4274VDNXXHXUEPTSXGZKPVZAGLSIJGULMOMKQKRTZAWYVPOE
Fish: 16.86 inch Jumping Arctic Grayling from C L Gallatin River MT; Code: NSSWQXLHGEWKD0618RQRTSSGURCTPTCDHTGXKMSSLYUEDDRBQCOUSLQDOXMFI
Fish: 19.45 inch Jumping Whitefish from C L Gallatin River MT; Code: OWAIGMMKAOEON7754JYYCUUAXXAJAYZVYCAUGSMDHGRKROQGDUIPSFPDUHHVR
Fish: 9.53 inch Creek Chub from C L Gallatin River MT; Code: BAPSOHMEWXKLP9470YZOXBJZPRCJMBYOIQLKAFMDSTAGPUYWAABOYFTOVZAWP
Fish: 22.05 inch Jumping Whitefish from C L Gallatin River MT; Code: AKPTHKPCLLTML9482EXQIKSAUXQWDLCSBEDISHXTDISIJLFUGFWBOLGEHUAQC
Fish: 17.66 inch Jumping Rainbow Trout from C L Gallatin River MT; Code: QNYKNSSRVHZFD8650IACTNCKFXADMXDUFQLTWHTLCIFOUMOXEZKYGOZHZPZLH
Fish: 24.71 inch Jumping Rainbow Trout from C L Gallatin River MT; Code: DTPJJNBJKMTFA3201MHAUZGSVRICBFMEPFBYSKEEBQKCBYUCEGHNAOAWWZYQO
Fish: 24.04 inch Jumping Cutthroat from C L Gallatin River MT; Code: CIGJNHGMTDGZE2758PMHSWPQHDJJVAOGNHKEBUZGCWJWQCUIIVJSCDNPAKYTZ
Fish: 18.46 inch Jumping Whitefish from C L Gallatin River MT; Code: RNFNHASENVUUQ6354MVEQNMPAQXTZBYKOAJSOXUEJWSLFMKVXBQSJUVXYBHVR
Fish: 19.40 inch Jumping Arctic Grayling from C L Gallatin River MT; Code: OADOJFNFLCPSE4301FHISONSRKVDCOWXUZGLSLDBPUPQTDRPNEAETVOVTHPYE
Fish: 14.16 inch Jumping Rainbow Trout from C L Gallatin River MT; Code: SVPSBPNGKIRAF0760DIPLIAZSDEUPIGLTQHMPMZYTZJBGBYHNPQONKXYAQSIH
Fish: 23.94 inch Jumping Whitefish from C L Gallatin River MT; Code: APUQQBRZGWDSH8740NIXSYKVVXRGAJOPPCKXKGIHSGMMQFLBXSSNUASXKHNYQ
Fish: 16.02 inch Jumping Brown Trout from C L Gallatin River MT; Code: ZDONFFZMKOAXS9854CYNIJBATQMCJZJOKWGHGTKTVLXGJUOSUSCGSMMUPKQJO
Fish: 22.27 inch Jumping Cutthroat from C L Gallatin River MT; Code: HQIBPPRZKSMYD3967DHDSGGNNXVMBOETMDTBZMIHFUSWANHNWDGRDZXDQUTDC
Fish: 23.84 inch Jumping Whitefish from C L Gallatin River MT; Code: XUBEQGVUDDLGL3341JOZIMPDIJFKSWARYOEDRVOULFFWWWIHIOUZEVAJIDWCV
Fish: 22.83 inch Jumping Brown Trout from C L Gallatin River MT; Code: OLYLDWAPKCZRN6933QHHXRVWLEXGOGOWNOHGIKHYHADRSSEKIMRGWAPMGVPOE
Fish: 19.29 inch Jumping Cutthroat from C L Gallatin River MT; Code: QKZNMBZACQDNX2334DSBMFQTIEQDWSVPYISMGHSPNRVYLYCPGSEILTNIGLCQF
Fish: 18.78 inch Jumping Rainbow Trout from C L Gallatin River MT; Code: VDXRPLQVRPWVI4741YRTVUXWFQQSTTICHQEFJRFUJPFWAQPSWGEWUOVPDTSHR
Fish: 7.15 inch Creek Chub from C L Gallatin River MT; Code: HFYJQOYYLGDEV2348CMWDTQBNBWNOVMUBOSNBNEKFOEDBYUSANPQHMXMSXFVG
Fish: 18.93 inch Jumping Arctic Grayling from C L Gallatin River MT; Code: KWIUQTDQPMZRL0651QFWNLANLOIDIKYICWQKJHGEOKZAILJFFQLEUHGXFUSSC
Fish: 16.60 inch Jumping Rainbow Trout from C L Gallatin River MT; Code: BBHSNJMBONLDG0595AERCEIFHEUAUYSSQIPBOOEHSWBIBCIOOQJZZGCZLZNSL
Fish: 8.13 inch Creek Chub from C L Gallatin River MT; Code: TCAKCVHAYWSNR3029QVCEAPOEJFMDZGIXFEJKDLLWKESKMOWOBBOMBDFPYBXF
Fish: 16.20 inch Jumping Arctic Grayling from C L Gallatin River MT; Code: PEDBYMHWGOYQP1247PPOBYQNUQTLVTBXSIJIPJPEKDVEHPJUAVUZAXNNQCFPY
Fish: 18.24 inch Jumping Arctic Grayling from C L Gallatin River MT; Code: RGEIJJZHRIZZN3965IJRWUXBWKEJLKQMKLMVCGBRFLXTBBBHWIMSKDPHJJRNX
Fish: 24.54 inch Jumping Rainbow Trout from C L Gallatin River MT; Code: YVLNMXFDFAHNQ5160OPXKOGOWXTSNEPUQQGTYUHKRWBVTLNFXQQWRCOKUIDAN
Fish: 22.60 inch Jumping Brown Trout from C L Gallatin River MT; Code: WUVBXRVQLPHZY4647FTXLVXGNQIMXSMBGEGXYGNBERARDPNJPLFOJPWTIHEWY
Fish: 21.48 inch Jumping Cutthroat from C L Gallatin River MT; Code: XTRREPNLMSQLN2245HRWLJIXXXNTKZGVQPAMDNWZDUECLGYQTXMWCURYBQUVK
Fish: 22.96 inch Jumping Brown Trout from C L Gallatin River MT; Code: JZBNYDVUJWJTW8174HUTHVDITYZCNDBPRUTLHAGZWOXLGSIXSCCRMWNFZLMFI
Fish: 22.08 inch Jumping Whitefish from C L Gallatin River MT; Code: TWYAPNWALMWDS1469JJMFKQKGRBJKQVGLRJCWKSVZQXZLRDFUAMLSRLZHJGUB
Fish: 19.54 inch Jumping Brown Trout from C L Gallatin River MT; Code: TCHFHGGAYHUCR3029QVCEAPOEJFMDZGIXFEJKDLLWKESKMOWOBBOMBDFQRDVI
Fish: 16.62 inch Jumping Rainbow Trout from C L Gallatin River MT; Code: LBVJHKNNCVGHZ1009OSTGAAQRQFBQICGRVYZCHRSKQLEPXXLWDZRQBMJJALTS
Fish: 23.66 inch Jumping Cutthroat from C L Gallatin River MT; Code: HUJKMPLINUBDA9410KTPFRRKUDEEZPOUTCPZDVTZUOLGVRDUQAMAXSTMNXODW
Fish: 21.43 inch Jumping Whitefish from C L Gallatin River MT; Code: JJUUMVZAYWSGA7185NTNTFUJYENPVNELJHKIQBROHCPOAJHVHHPWAZBUZSPOE
Fish: 6.48 inch Creek Chub from C L Gallatin River MT; Code: XPINUFVCJBCTQ4903AEKZZGIIKEBMGVUKQWOHEEHPATSQKUJRBYNOLXXBNLWD
Fish: 18.21 inch Jumping Brown Trout from C L Gallatin River MT; Code: BWBHQHKWLZFWF0031CPFIQJHCXHPJMBLMTFSPEDNCFUIFXPOQXKGNCDVGVPIY
Fish: 22.57 inch Jumping Whitefish from C L Gallatin River MT; Code: BPATSQZHXIGQU7442QDSOXUAQROWVNBOHMJVCWJAZUZRJNHZQMYYOLPOQQXSJ
Fish: 22.92 inch Jumping Cutthroat from C L Gallatin River MT; Code: VUPPDKNJUCEFD5844UXDWVNBSXUWKGZCWVQZGQLIXDNVSHRLWRRUVOTKZLODW
Fish: 20.87 inch Jumping Rainbow Trout from C L Gallatin River MT; Code: PXJZULVUKLLXZ7561OYVEXLLLDWRUHOQXDCRNQESNXFJOEWDSEFLURMWXFQJO
Fish: 19.20 inch Jumping Arctic Grayling from C L Gallatin River MT; Code: LVELXSDSPAHMA8438PGEPCCVTXAFXARDEHLZOOQUNVELQCUMKURNERUDHJTDC