Hi Everyone on RWFF:
During the time when I had to rest my overworked eyes I found an older outing which I did several years ago but it was never released on the RWFF Forum. It is called : C L Yellowstone Moods". The 16 site outing was done in the older 3 frames per cycle but it still looked pretty good to me so I decided to finish it up tonight and share it with you guys.
Those of you who knew me would know that I lived in Montana, on the banks of the Yellowstone River for many years. In fact I had a 500 acre ranch there with the Yellowstone River running on one side of the property, and the Mission Creek running through the property and it was heaven for those who loved to fish. Besides the Blue Ribbon Rated Yellowstone River there were also some fantastic Spring Creeks in the area around Livingston, Montana. I would fish the Nelson Spring Creek, the Armstrong Spring Creek and the DePuy Spring Creek when the water is too high or too low on the Mighty Yellowstone for good fishing. A great place for someone who likes to fish, like myself.
The big Yellowstone River is a very large and long river with varied water types as it tumbles out of the Yellowstone Park heading for the low lands. There are no fewer than 20 native Montana fish species in the River and many imported ones. The prize fish for this river would be the very large spawning Brown Trout usually caught in the Fall using lead core casting lines and big rods. The Cutthroat Trout are also much sought after as the Rainbow Trout who are very active in these waters. A good day floating the Yellowstone River in the Summer might produce some 40-50 fish while you flyfish out of the boat. In some areas you will be trying to shake off the ever present and hungry Whitefish so you can present your fly to a feeding trout.
To fully enjoy this "Yellowstone Moods" outing you should use tackle typical for this kind of river fishing. For normal flyfishing conditions most people would use a 8 1/2 or 9 foot graphite rod with a number 6 or 7 weight forward floating lines. Leader size would be around 5x for floating flies and slightly heavier for sunken weighted nymphs and bigger streamers. The fish sizes in this outing are not overly large and fairly typical of what you might catch on the Yellowstone River if you had a good day. Light tackle here would give you much more enjoyment than big heavy tackle as then the fish will be given a chance to fight like they should.
Here are some scenes of the "Yellowstone Moods" outing. The link to download this outing should be available in the Development Forum within an hour or so.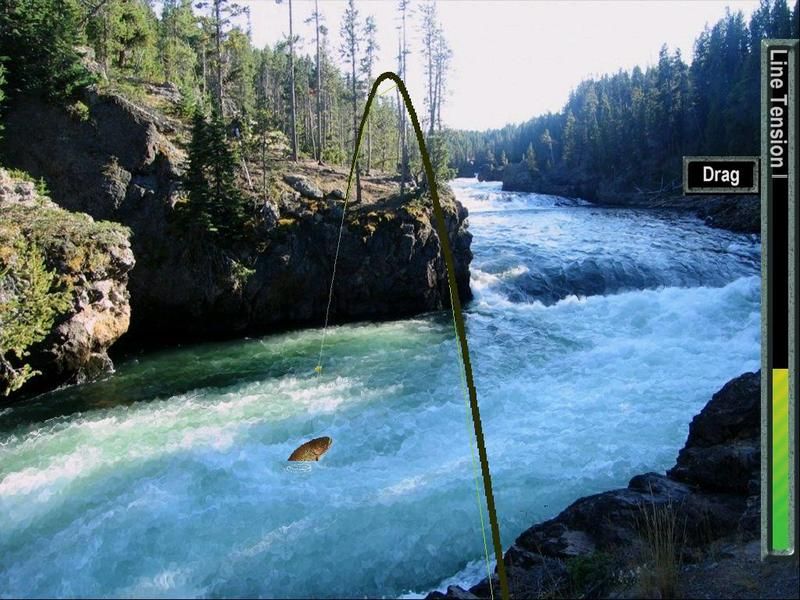 Please give this outing a try and see if you liked it. Please make some posts on the Forum of your catches for everyone.
Regards,
Stanley