Hi Martin and Everyone,
Well I decided to leave the great fishing in California experiencing all the great outings Martin had done. An excellent all around job and really
enjoyed the scenery. Well I decided to make my next destination the Firehole River in Yellowstone. Some of the most famous Rivers for that area
around Yellowstone national Park. I was reading on the history of Yellowstone National Park and discovered a lot of interesting facts. All the area
surrounding Yellowstone had been explored for many years, but very few expeditions crossed the mountains that surrounded Yellowstone. Some private
expeditions were done in the early 1850's, where a few explorers discovered the great geysers and hot springs but when they tried to tell the stories
of these amazing discoveries, everyone thought they were crazy. It wasn't until approximately 1879 and 1880 that the government decided to send
expeditions there, discovering that all the tales told were true and approximately within 5 years the U.S. Government declared the area as
Yellowstone National Park. So i decided to fish some of the Rivers of this area and found some outings from Martin and Stanley and decided to give
them a try. With so many outings I couldn't remember if I had fished them before or not and gave Martin's Firehole River the 1st shot of the few
I put in my outing folder.
I fished this outing mostly topwater and with some sites I fished to 3 feet deep. I found another beautifully done outing from Martin. The great
scenery and all around fishing was great as you can see my caught list as Usual. Thanks Martin for another great outing and another enjoyable one to fish.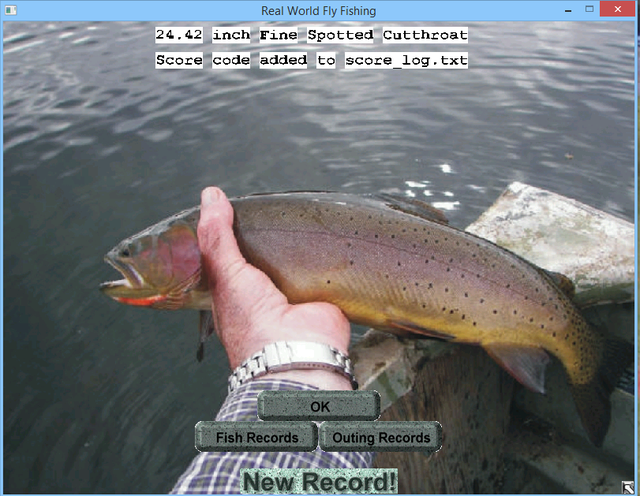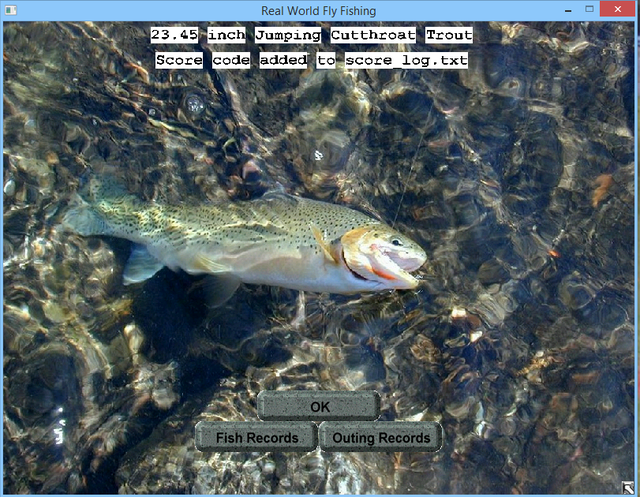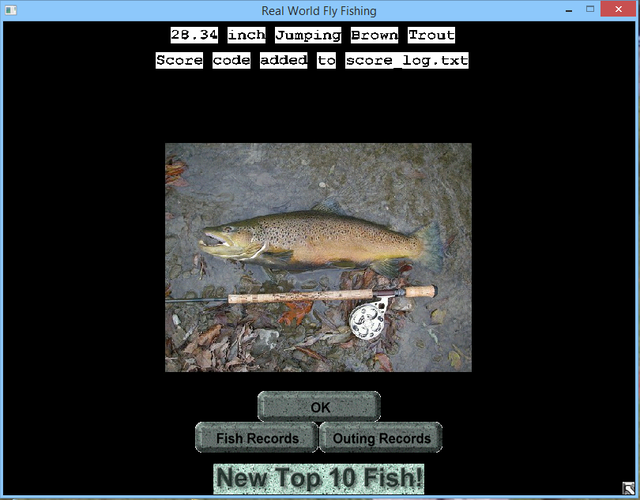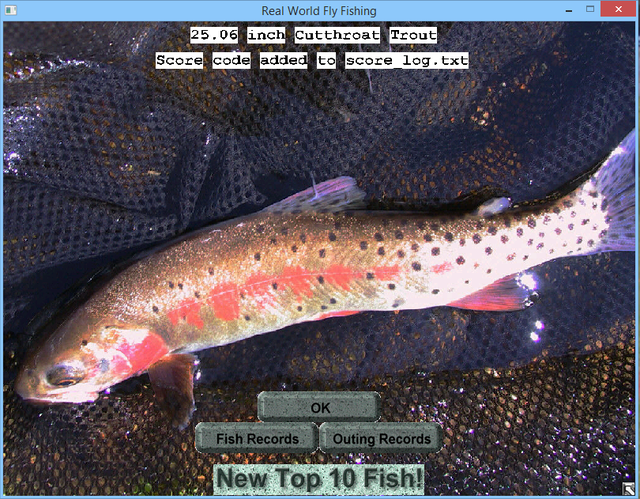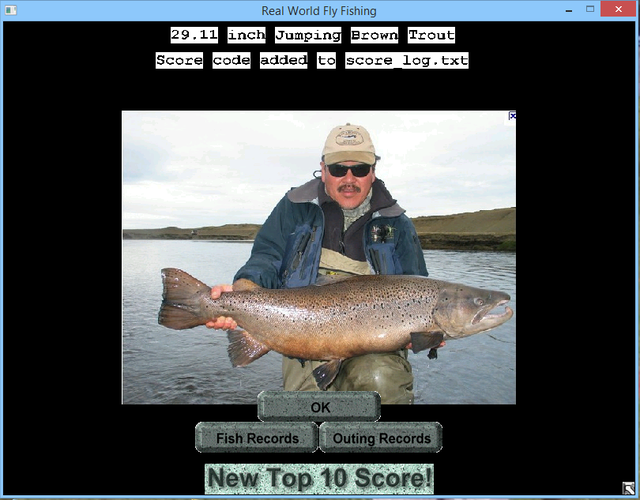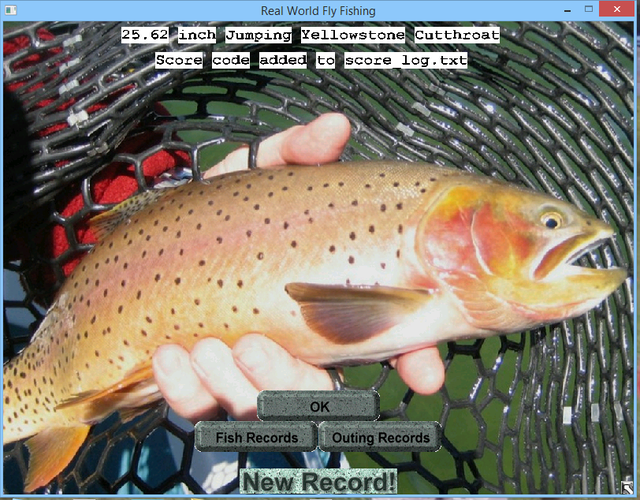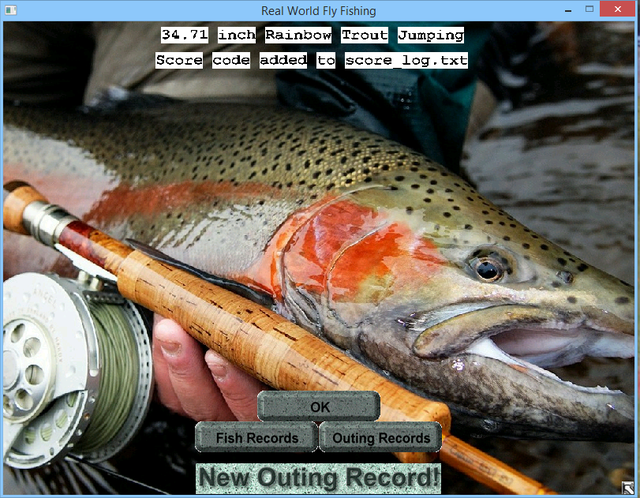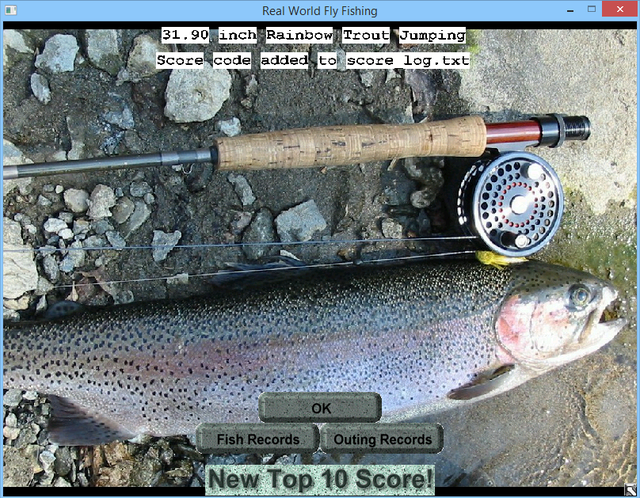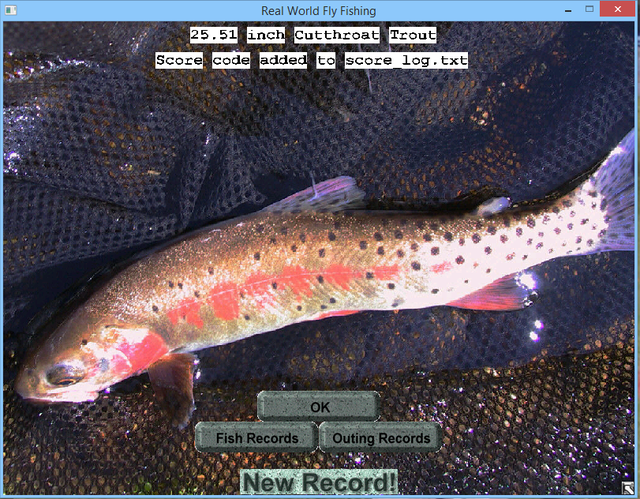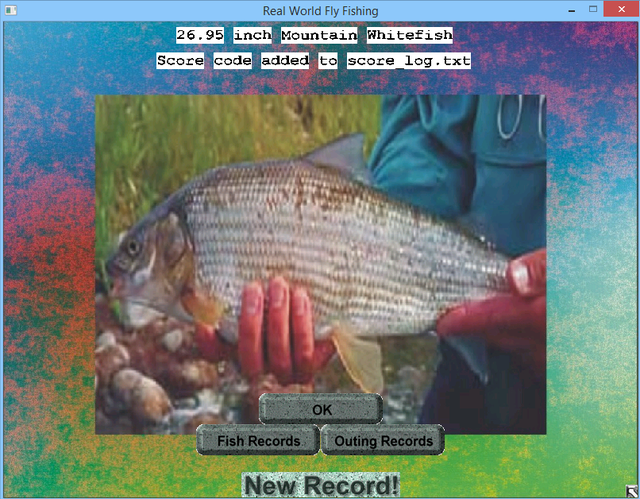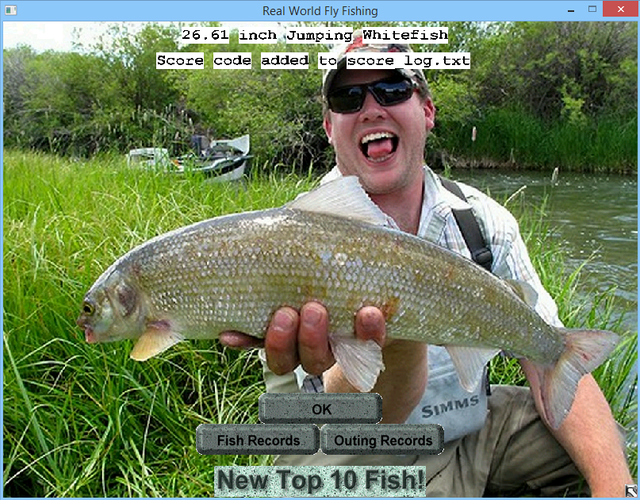 Fish: 22.36 inch Jumping Yellowstone Cutthroat from Sw The Firehole River Yellowstone; Code: WUVBXRVALPGBY4647QQHBTGYHOMQXRMJGEWILCHZYLWVIHBIKHFOJNTTGSDGT
Fish: 26.22 inch Mountain Whitefish from Sw The Firehole River Yellowstone; Code: EPOFKUQRAAHYQ3642TMTVMXSDVZMYOPJTILRUFHEFVABETZSPAHXZEYDWHVUG
Fish: 24.90 inch Mountain Whitefish from Sw The Firehole River Yellowstone; Code: RJYFOAHZKHPUT8111QNCTAKKMBRNJGGZIBVNXKWKGWDNPHCNXTKJFWXOYARWR
Fish: 25.36 inch Jumping Cutthroat from Sw The Firehole River Yellowstone; Code: WWJSMRFENCAXG8769JVDAYKDCDKZNJJBHWLYNTQZFRYRGFDYCNVBUHUOTMDAN
Fish: 28.34 inch Jumping Brown Trout 2 from Sw The Firehole River Yellowstone; Code: YCFXRGQXKEEJN9855XGQLFTJQQIROQCBNYUDMRLCIOFMJOXUADFKNDVBCAWNO
Fish: 25.07 inch Jumping Cutthroat Trout from Sw The Firehole River Yellowstone; Code: JSAAAMCLVFMJT5795VIGTBWVRXIVZDTRHHMYAFORMWPYHRFZNNRKVDEYJKYKR
Fish: 27.97 inch Jumping Brown Trout 2 from Sw The Firehole River Yellowstone; Code: ZNGXNELXSMRLJ7388MTBIJQZQOVRMUAZNTTWDGRAHHGSTKWOONLFMWAIYNKYH
Fish: 26.61 inch Jumping Whitefish from Sw The Firehole River Yellowstone; Code: XGADMZQSVQPUX6494DMJLZMIUUPLNEZEHKAUYSDAYULRTLXDBFFAOTLUZRYYM
Fish: 22.70 inch FineSpottedCutthroat from Sw The Firehole River Yellowstone; Code: ZZPIFOTEZFZEI0205KMNJWJABUDMCIMUOZYAIONSHYVFEPTJFLCRRUKCQBQJO
Fish: 24.05 inch Jumping Yellowstone Cutthroat from Sw The Firehole River Yellowstone; Code: CEEARHNFRBAIZ4516TEFWJNLTOEVBFWVGAWRKAAMHWUYAPDAIVVJXFPGAXLWD
Fish: 31.87 inch Jumping Red Rainbow from Sw The Firehole River Yellowstone; Code: HDRMGRNTLUMCF7117ZKQBOKPJVFMEBYCLYSIMJPJSUYLJKOADLZCOQSZHXPTJ
Fish: 25.62 inch Jumping Yellowstone Cutthroat from Sw The Firehole River Yellowstone; Code: WWJSMRFNNCBXG8769USNLYLBLVEZJIJBEVLYNTQZFRYRGFDYCNVBUHUORKNLW
Fish: 24.43 inch Mountain Whitefish from Sw The Firehole River Yellowstone; Code: FJFHACNWMZLOR2083UALWNROECNRBFWGGCQKGMGNIBTIXYWBERAMFUGPTLJGP
Fish: 24.42 inch FineSpottedCutthroat from Sw The Firehole River Yellowstone; Code: RLNXDCWGLRIUB2332ITYTBXESFFMNYCABKKVZBFCNCMBMGWEIRAEYQYBMPTBH
Fish: 23.62 inch YSCutthroatTrout from Sw The Firehole River Yellowstone; Code: WBYTFHHIHQERO8323GKQUISHSYNBUCAIEOVHNDRTVJEQBKWYRYDCFQVSRVCFU
Fish: 23.95 inch FineSpottedCutthroat from Sw The Firehole River Yellowstone; Code: UUENFWAKCQIZP6141RCIEQLDTYXSLAMMPPIDAEENTJWUESSMYSLJKBKUCLHMB
Fish: 34.72 inch Jumping Rainbow from Sw The Firehole River Yellowstone; Code: IMMVVXROAPKIT4628HXTIHEVOYIMUWZZTJCUBHLHJIQVVIUDPXHBCHEKSBNSL
Fish: 24.53 inch Jumping Cutthroat from Sw The Firehole River Yellowstone; Code: CADQUHLNOZNUC8273JURZVJEGGQTDDMUVCZBGRHVLTJOFTHTOYPIPFVEDKJFZ
Fish: 24.19 inch Jumping Yellowstone Cutthroat from Sw The Firehole River Yellowstone; Code: CRVOAYJARHCAX0366XBSSOHJTMUXUYCVKGMUKZOJHIKNXKSNOJCGIASSCBPOE
Fish: 29.11 inch Jumping Brown Trout from Sw The Firehole River Yellowstone; Code: BDVRCJDGQKVCV4717ODHUHWIFIPOYXPTGYUCDBHXTXGZDAYDTKHMOMCMTEAOA
Fish: 23.78 inch FineSpottedCutthroat from Sw The Firehole River Yellowstone; Code: GZMEMTZNHKGJI9974SFMPDAAUHVUGZGBXZWSHBWRDAGJOOKTJOLTOIZQJXHHW
Fish: 25.51 inch YSCutthroatTrout from Sw The Firehole River Yellowstone; Code: CZHFXLEEWMXIZ4071WPSCVWNOIRJQTFPCLMJKYRSKENZNLLALCWQJKIKXFSSC
Fish: 26.95 inch Mountain Whitefish from Sw The Firehole River Yellowstone; Code: JWNSAMTYZHWLQ1957NKUQLIIQULFLELSKMQXEOZJBQIHCWKGHRXTNNAHFTFBL
Fish: 25.70 inch Jumping Brown Trout 2 from Sw The Firehole River Yellowstone; Code: BIAFLAFDCREER3055XNOLVODGIRPEUBYVXCJVBRLPCADKMMJKXVZUJGGZGSVN
Fish: 31.90 inch Jumping Rainbow from Sw The Firehole River Yellowstone; Code: IAZTXPVASODGM1693FYJJFQDIVJJBIVEXAYIOZPGKRBITDPRYZIPTPMJVPQPC
Fish: 28.30 inch Jumping Brown Trout 2 from Sw The Firehole River Yellowstone; Code: VZBLMTXXHLJPZ4102OEUVHGWNUZCECLHLTNZLMQTODDUEMUIHZNGPKCWAMXVE
Fish: 25.06 inch YSCutthroatTrout from Sw The Firehole River Yellowstone; Code: HKBQQOILGJLXQ1704LWDUGZWNBYWRRYAQNPFGAAWVGUDNCWPEWDCJVZGXDRZC
Fish: 28.18 inch Jumping Brown Trout 2 from Sw The Firehole River Yellowstone; Code: CUTTCPBRDEPGD5603NFLSAESNIQIKVTRFMEUSZPFWZUVGYEUUQAEDVDQRVMMQ
Fish: 22.42 inch Jumping Yellowstone Cutthroat from Sw The Firehole River Yellowstone; Code: GCIWSAEYIPNXB8318UJSZUUMVPQWBSIHLXRTFTWTLDLVMVJLWADFFXFYCKPTJ
Fish: 25.68 inch Jumping Cutthroat Trout from Sw The Firehole River Yellowstone; Code: QGYWHCYKZCYRS4161HKYQTOVVPLOUWDESJEHWUTVSRGAVMUIYKYZLJJZGBTIQ
Fish: 23.45 inch Jumping Cutthroat from Sw The Firehole River Yellowstone; Code: BCKEISVSYDDZW1691MYEXFYCMOPWYAUWYHQDPTPBTUGFSKOMFCZKFTSCPUTIQ
Fish: 23.30 inch FineSpottedCutthroat from Sw The Firehole River Yellowstone; Code: IFIIRISZDJIBI0041GIQATAYIVLLGFZBLYGXGYZCGWNEZXDPOEDBZMZDAKOPY