Hi Martin and Everyone,
Well I finally finished fishing another one of Martin's California outings. Our infamous outing maker Martin did another excellent job as usual. A lot
of beautiful scenery with waterfalls. Nice background sounds and some fast water and excellent currents. A very good outing to spend during a nice
peaceful evening. Makes it very relaxing. Another one to put on the enjoyment list. I noticed the forum has been really quiet. Would have finished
this a few days ago, but another trip to the doctor trying to get rid of sinus and severe ear infections. Been fighting this for almost 2 months.
Well to everyone out there, try fishing this one, like I said before, a lot of beautiful scenery. Thanks again for another fabulous outing. I did catch
all 16 Species and I fished from the surface to 3 feet deep.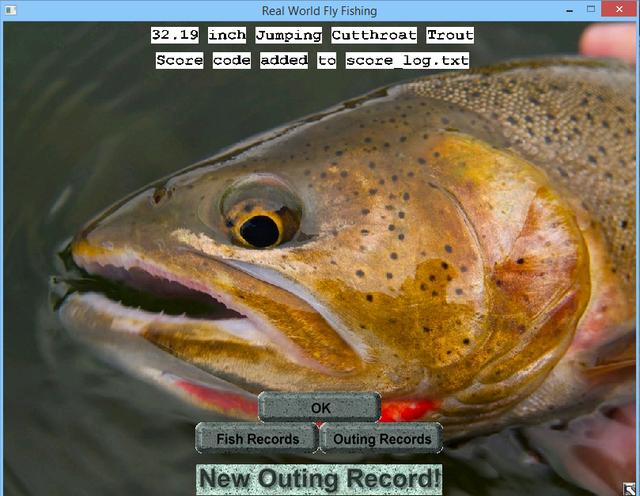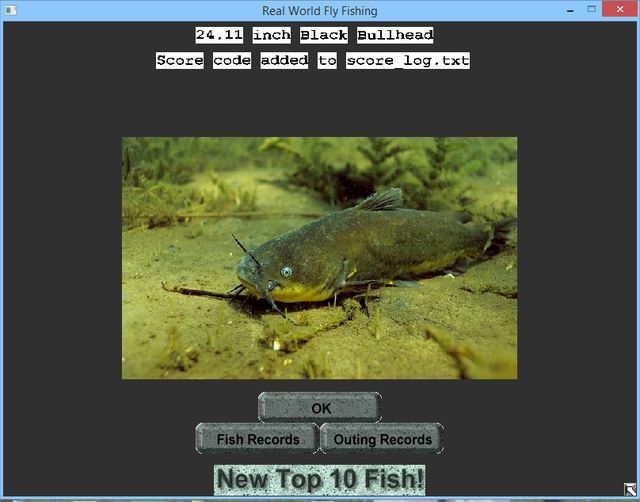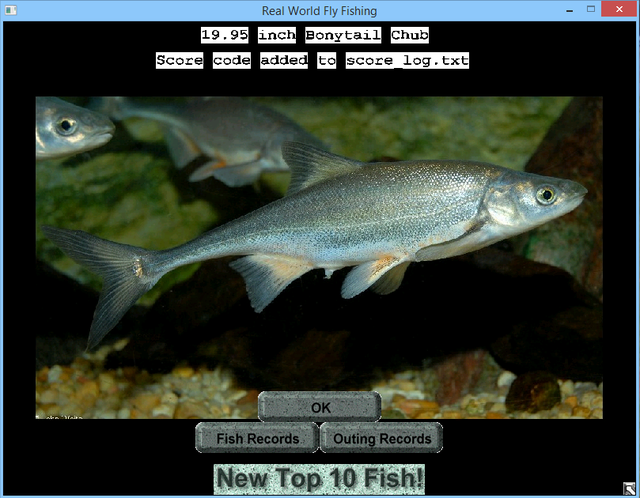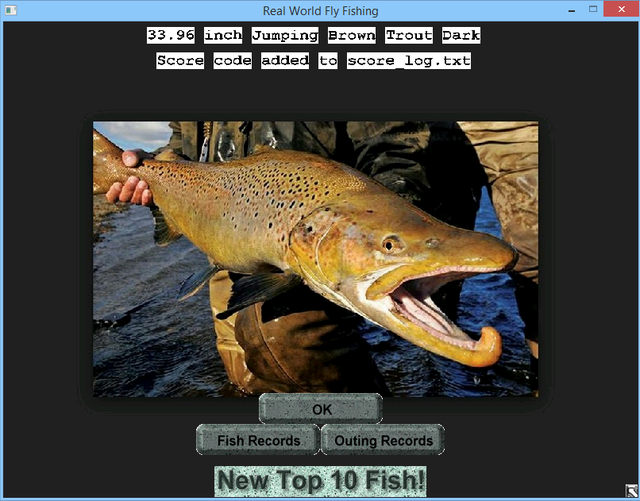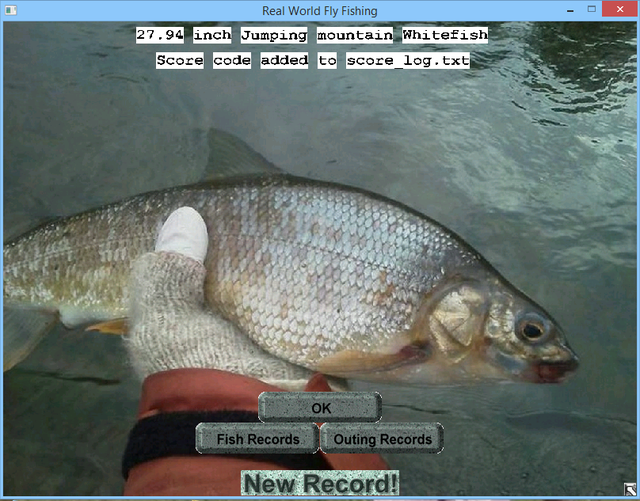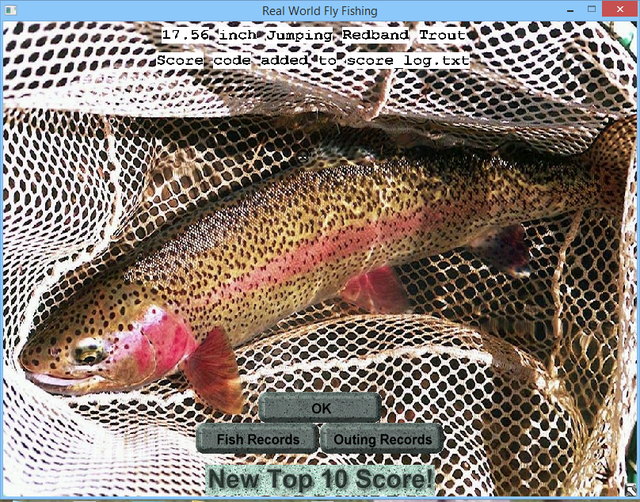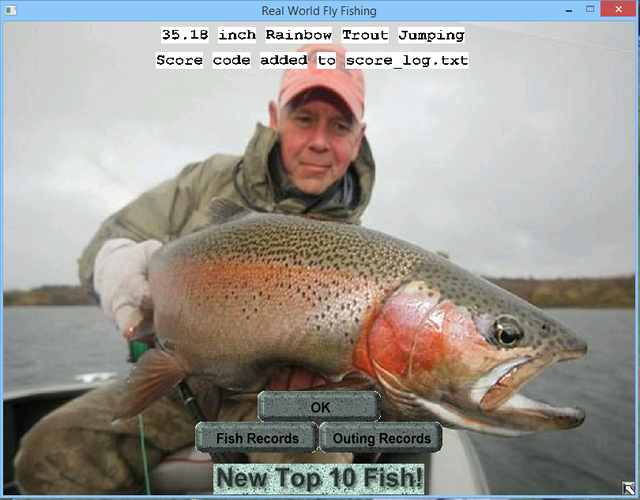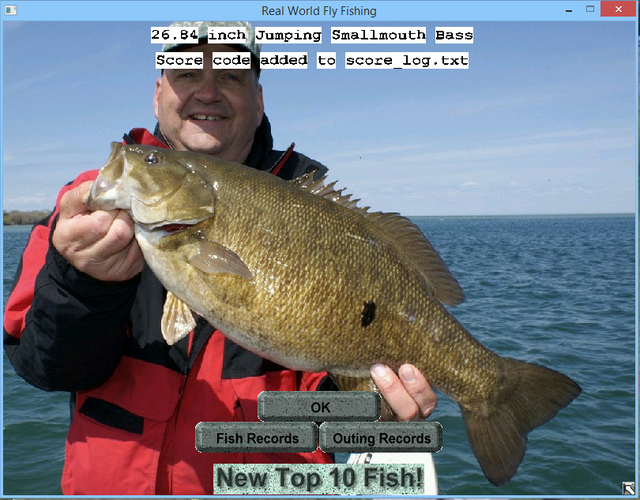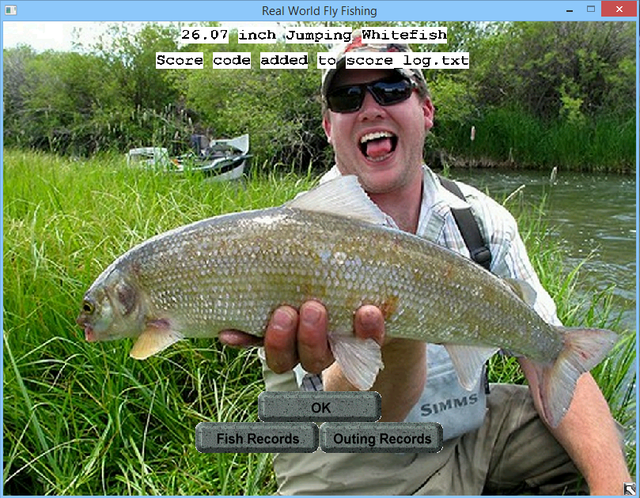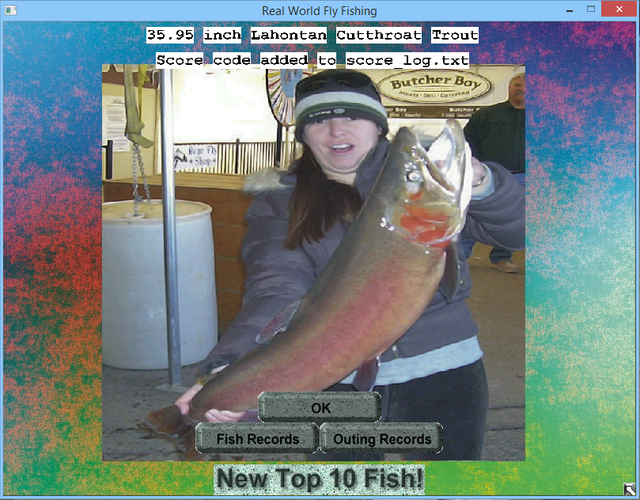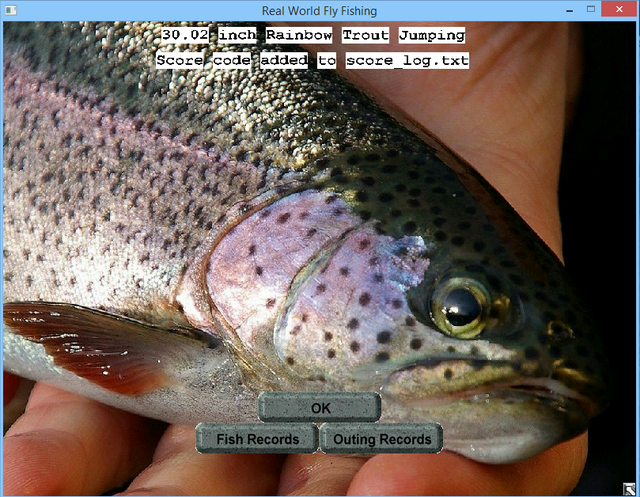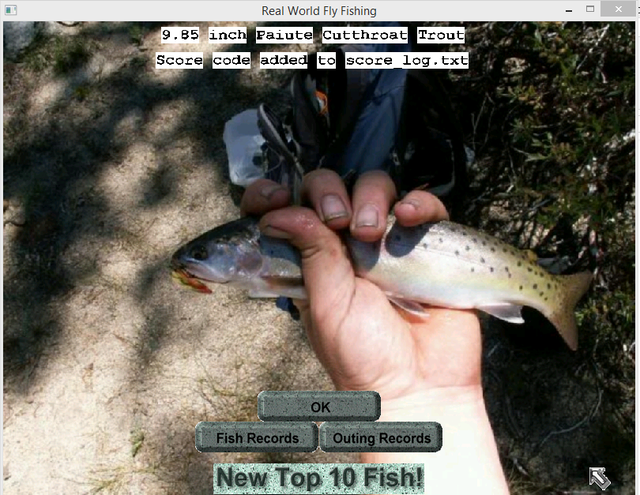 Fish: 32.19 inch Jumping Cutthroat Trout from Sw The Wondrous Upper McCloud River California; Code: RBRMSAXEGLSZR4627ZZCKFOZGQELHHMXRVUZXLJXZFAVXNCNLRRGYOLWCBAWP
Fish: 36.14 inch Jumping Bull Trout from Sw The Wondrous Upper McCloud River California; Code: ZLSGYETKRLUKT5257IQDDDFHBPPIZPMYADEOBPHWWZYQCSVDOHVRMWCNKOTOV
Fish: 32.30 inch Jumping Brown Trout Dark from Sw The Wondrous Upper McCloud River California; Code: QWNPBJVGLJMIW5269QPVBREWGQDBBJZACXMKFLZKDIGSYTOHUFDUSZZCYOVOI
Fish: 9.85 inch Paiute Cutthroat Trout from Sw The Wondrous Upper McCloud River California; Code: LYJXLOIKIIXGO3575MONBIOYBWUCHSZPFQTJRKCJSMLYUOVZVXPMDHFBYUDLY
Fish: 17.56 inch Jumping Redband Trout from Sw The Wondrous Upper McCloud River California; Code: OHWCHWZPHVRYI8680RUVQESBHWYSK@WDJHTTRYABIGPFATXISDLEMEVDHOHAE
Fish: 38.85 inch Jumping German Brown Trout from Sw The Wondrous Upper McCloud River California; Code: XZGSHPXSRVTBH2709SYHEXGAUPYQKPMFPOCWWRJCPDWYYGLSDOHLMKODKVZJM
Fish: 30.53 inch Jumping Rainbow Trout from Sw The Wondrous Upper McCloud River California; Code: MYJTAQVCTQSIC1479YJHYHGDWPQAUWVOXARIKADCQSYVNWRFOREXYNJRXIUTQ
Fish: 27.45 inch Jumping Mountain Whitefish from Sw The Wondrous Upper McCloud River California; Code: KVFIDKCFZVEKN9735ELJXISJJJOLWJWUXACEIVAUWHOEZTOTWODCFGYMZFCCI
Fish: 31.75 inch Jumping Red Rainbow from Sw The Wondrous Upper McCloud River California; Code: GAUECSVJIOUIM3376FKCEONDJQENROUHYLCDDUDQAVCTMDIAWUNSSRHKRIGEM
Fish: 23.14 inch Black Bullhead from Sw The Wondrous Upper McCloud River California; Code: ZOJJVSGWJRHRA0484YVODLKWHITJOMCVVKXNRPASLRIGDGHTUNTPHRNLAFFYR
Fish: 32.11 inch Jumping Red Rainbow from Sw The Wondrous Upper McCloud River California; Code: CSYBVPRMBYVDO1482KDFIVZHBBYZARERPEPLYHWJCZTBHYDKUJKQIHFDEXAOA
Fish: 30.07 inch Jumping Cutthroat Trout from Sw The Wondrous Upper McCloud River California; Code: GNKTURRQAUUXB7127FJSFXTQPBTZKIBGELSGDTRMZPSIJPOMBIUHZYJONPIIU
Fish: 30.86 inch Jumping Red Rainbow from Sw The Wondrous Upper McCloud River California; Code: UWWDRUEDEHUMF0162UEGGZIBMQZLZPIMGCXTCWEJWEHCZWNISIBWPXQHMTWHJ
Fish: 31.78 inch Jumping Brown Trout 3 from Sw The Wondrous Upper McCloud River California; Code: MUHKDQUEZQNQX5136CUNXWWEXCBIECCNGZNSGRLLCYNTSRNYMUQWCOKIWFYLS
Fish: 30.20 inch Jumping Brown Trout Dark from Sw The Wondrous Upper McCloud River California; Code: EYAJULDQPICJJ1452JJMQKRSLIKOOKLINNXWINTFMBGAEPKMSBJLEGFYUTUFD
Fish: 24.11 inch Black Bullhead from Sw The Wondrous Upper McCloud River California; Code: PTZGKIPGHNUHC9211SJBIKJGXORKZAWEREWEWWXVPDRFWXGBDWRCUFGNWHKJI
Fish: 27.94 inch Jumping Mountain Whitefish from Sw The Wondrous Upper McCloud River California; Code: IWEFVXCVHVSBD2334COATMQLVBXPWPYTBCSQLYPMYQWXHUPOYHQZQKVQWKFYR
Fish: 37.58 inch Jumping Brown Trout 3 from Sw The Wondrous Upper McCloud River California; Code: BKWXBAPQENYOY8186AQVVITPJPIYKSPYTNRZXSKGSWCLGQHGENKMEGHUIRGUK
Fish: 21.90 inch Bonytail Chub from Sw The Wondrous Upper McCloud River California; Code: KUMEMRPTOGFSW8630NDQDFUCHPQUWMCQMGZNUMIYWENKODEUAFVRDCCCQCWTO
Fish: 16.09 inch Jumping Redband Trout from Sw The Wondrous Upper McCloud River California; Code: EOJZMDZVHHOAR2746SPYQJQMKIZDKOVNLQHSGWGETYABQRQHLBZMKUOSNGYAH
Fish: 9.80 inch Paiute Cutthroat Trout from Sw The Wondrous Upper McCloud River California; Code: LTWAUYGNOYQYT3217XBIVUFBJONABUVKOQLUZTSWVHRVVCHBFKBZXHXHRVISN
Fish: 33.96 inch Jumping Brown Trout Dark from Sw The Wondrous Upper McCloud River California; Code: DHCHUFFEDQUKB0556RKYPRIKCRQUCLZRRSMXTPTXRZSEBRMMSWHTFBEUBFMPD
Fish: 19.95 inch Bonytail Chub from Sw The Wondrous Upper McCloud River California; Code: DBEIMDRHXQLWO8092PVOBBSBIWPSWJBPVDBRNPRONQYHIPOXFTMEQLIYJBPIY
Fish: 35.95 inch Lahontan Cutthroat Trout from Sw The Wondrous Upper McCloud River California; Code: THWPOCPXTADUE4497QFJSMGDQPRSVSSOXXCCPQGTIQVUUWJHJBPACJEZTDDLY
Fish: 26.84 inch Jumping Smallmouth Bass from Sw The Wondrous Upper McCloud River California; Code: YKIQKGKEPFAJP3530DPGJJOENJBTWHWDICDRVQOHPIKRXVQOGWZVXQKTXIWHJ
Fish: 30.13 inch Jumping Cutthroat Trout from Sw The Wondrous Upper McCloud River California; Code: MTWXJZTQHGRSG2011PZAHUOAVQPYW?IJBBKBSJTPCVEZGJCZYEILIRBYTLUTQ
Fish: 17.03 inch Bonytail Chub from Sw The Wondrous Upper McCloud River California; Code: CKMBYFTEVGATM6909TOFZZCWVQLWFWCPGYPXQILAZCQQRYDEXIZGXQLKKPNLW
Fish: 35.20 inch Jumping Largemouth Bass from Sw The Wondrous Upper McCloud River California; Code: FAOBJLUVQFXFY5473COIPPVXOXIXWCZIOXMEKECWTPPOBVMUDAZYFEHUJBUYV
Fish: 38.63 inch Jumping Bull Trout from Sw The Wondrous Upper McCloud River California; Code: WZAPOIXFZIOFM3005GDMHGWVZWCAXLZGFEEXDBIJQPJTNZQMKMTAZXFMKYFML
Fish: 33.55 inch Jumping Brown Trout Dark from Sw The Wondrous Upper McCloud River California; Code: TUKIINMKLFECC7247NGGHCTSNQTEWLZNYCKFHPUQIJKKQRYTPQWXRQGDSEIUZ
Fish: 31.15 inch Jumping Red Rainbow from Sw The Wondrous Upper McCloud River California; Code: LTQTHSTXPUNLT3217MEYKUEDAWTABUVKRRLUZTSWVHRVVCHBFKBZNLXHUUODW
Fish: 18.69 inch Bonytail Chub from Sw The Wondrous Upper McCloud River California; Code: PAUTGKJEDOTDS3904IDKUDNRXJTXRNJEPKUDXXPPLAZSPIBSLMOQGUPMQZHAE
Fish: 33.79 inch Lahontan Cutthroat Trout from Sw The Wondrous Upper McCloud River California; Code: QEMAYIWPZSEGK0040TLIDNIMAQZNCSPDFTPZUVBSHJXZVUTXYDILGWODUXKBS
Fish: 39.94 inch Jumping Bull Trout from Sw The Wondrous Upper McCloud River California; Code: MWVBLQMRSIHBM9257UHBOCASSJZRMDZOHJCAIJULJMOHQYPPWTGKDMMWMWJFZ
Fish: 36.72 inch Jumping Brown Trout 3 from Sw The Wondrous Upper McCloud River California; Code: YOKZGOLDSROPM1780KCKVTZTDXKLTIPWOBZHZZYYELVBSZUVBTEWCEFDDGJFZ
Fish: 31.51 inch Jumping Rainbow Trout from Sw The Wondrous Upper McCloud River California; Code: IJNRLGYNHTWON9281CYSBDKXOQADCWRCVYKVLHBPQXHHSAJCTBJKRHTMZBWNO
Fish: 33.08 inch Jumping Largemouth Bass from Sw The Wondrous Upper McCloud River California; Code: LXADMRMHSXTWQ2650LJKWFPSQKCTZOFLXYQSDCKNKBKWIYLIZGHBJHRQSCFML
Fish: 30.02 inch Jumping Red Rainbow from Sw The Wondrous Upper McCloud River California; Code: UGPSXVIOTHCVB0194ADISIRCSWNZI@LQYRORTXQQHSZFBVUGGOWJWOZFULPZO
Fish: 25.54 inch Jumping Smallmouth Bass from Sw The Wondrous Upper McCloud River California; Code: OCRGQFXBNAKCM8322IKOHRBYGWWIMBSGNLLEHYXNMBWJTZIKCQQSWIEJDWWNO
Fish: 25.43 inch Jumping Whitefish from Sw The Wondrous Upper McCloud River California; Code: PEDBYMHBGXZNP1247PPOGWYHFWDPPOBFVLZTCFAYADSCKNYZFJUZKQKNPPHPM
Fish: 22.14 inch Black Bullhead from Sw The Wondrous Upper McCloud River California; Code: QGQVUZTTZZWPS4161WNOFTNXMXROSTDEVKEHWUKROXHUTSVOICYZZQIZGSOPY
Fish: 9.24 inch Paiute Cutthroat Trout from Sw The Wondrous Upper McCloud River California; Code: LQFWTHOLDFAVM8070GWXDMSMEDJALXFNTJTVJLZAGQHFMOVTYVWBKQLJWKFJB
Fish: 34.58 inch Jumping Cutthroat Trout from Sw The Wondrous Upper McCloud River California; Code: DCXLDOVRIOLWF1198BXBJDAFKJIKENVTATFIBYJKVBZBUFYOBJUHRMSIMHSFI
Fish: 18.65 inch Jumping Redband Trout from Sw The Wondrous Upper McCloud River California; Code: VYQHAKOGWSRNI3086MZRQEHQUIHKCCJLDCCAXDPUCYVVQCLXDJFDUQKTVABZA
Fish: 35.18 inch Jumping Red Rainbow from Sw The Wondrous Upper McCloud River California; Code: CIGJNHGBUOGNE2758AJRIUYIBBNNPVOONHAPOQKASWGUTAJNNJJSMWKPXRFVG
Fish: 26.07 inch Jumping Whitefish from Sw The Wondrous Upper McCloud River California; Code: BXEMKQTGEIYTW1156PSSDRYFHHLKLDVQUSZUQRXDAIAAULWSRCSJIRJYJUAOA