Hi Everyone,
Well here is another one of Martin's California outings completed. As usual Martin did another excellent job. Beautiful scenery, nice background sounds
and plenty of fish to catch. I caught approximately 60 fish in this outing, it was really enjoyable to fish. Martin included 15 species in this outing,
which it took a little work but I did get all 15. You need to use at least medium size tackle. Even with that said a few of these fish will give you a
really hard and long fight. Just check out my caught list and you'll see why. Some of the fish are real superb jumpers and even had a few throw the hook.
Give these California outings a try and I know you will enjoy them. Barry posted on the last one and really enjoyed it. So give it a try and show us what
you catch. Thanks Martin, another superb job and greatly appreciate all your hard work and can add this one to the greatly enjoyable list.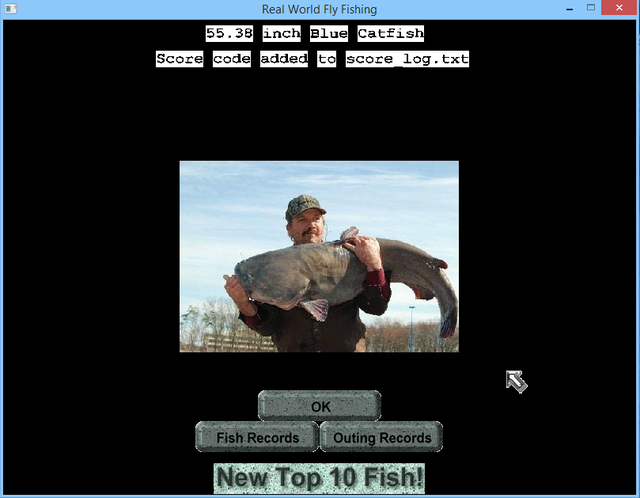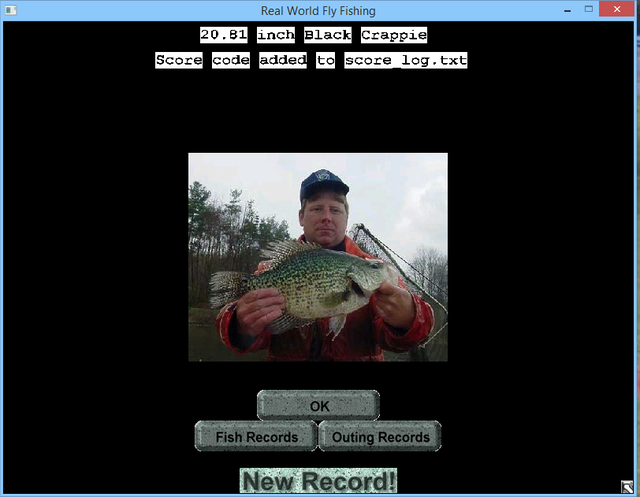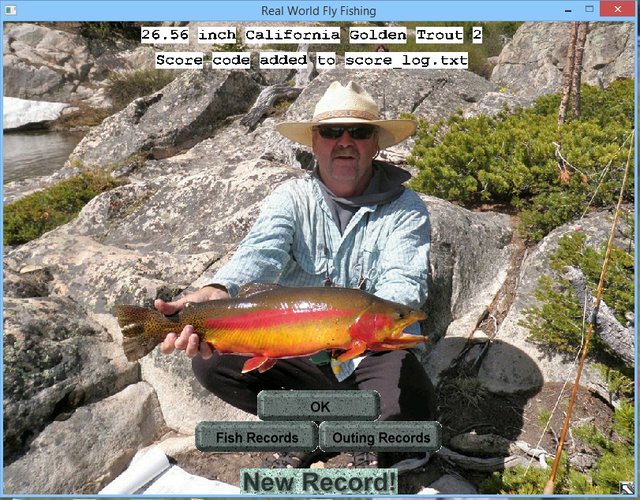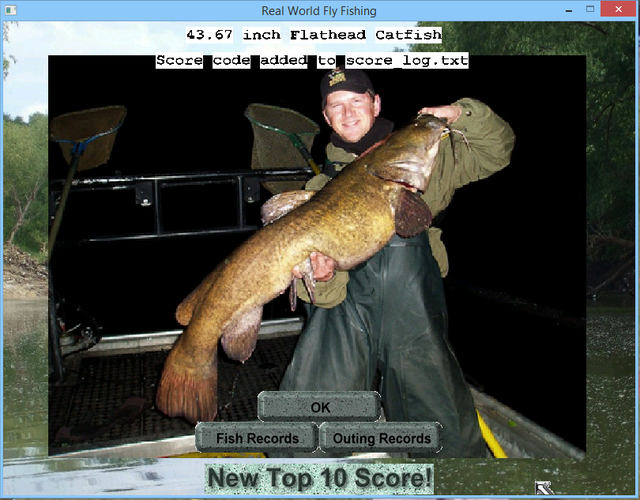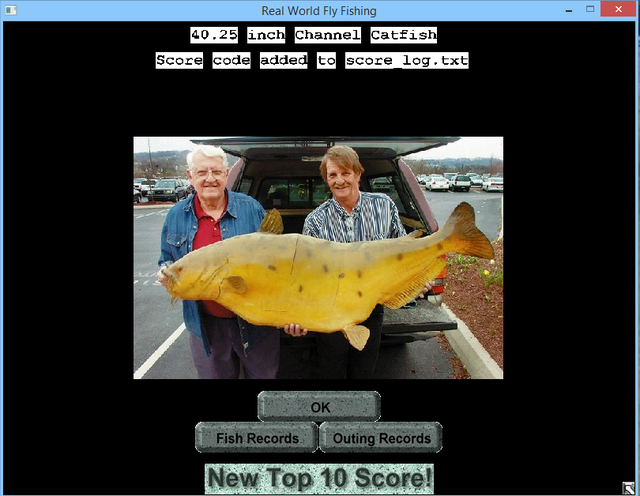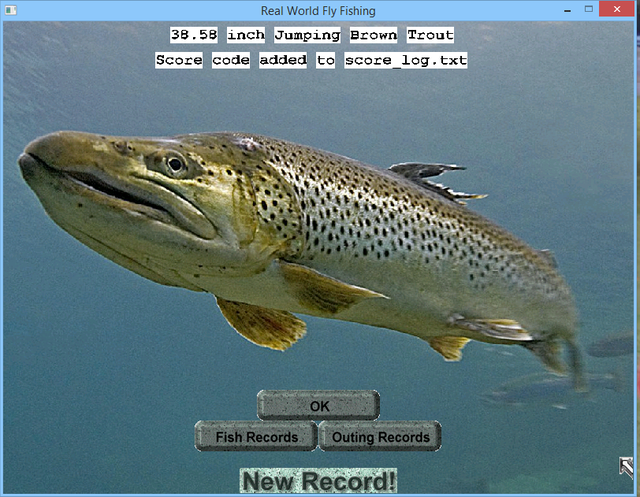 Fish: 33.18 inch Jumping Red Rainbow from Sw The Wondrous Lake Siskiyou California 1; Code: GGKNOAFNMCBRY4660QRMAEDEUCGOXJTIVXVJJCFHWDXMAYMYAXJHGKCHAPABU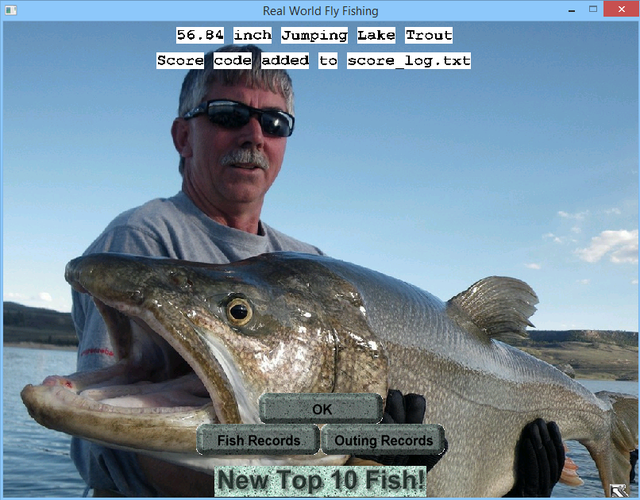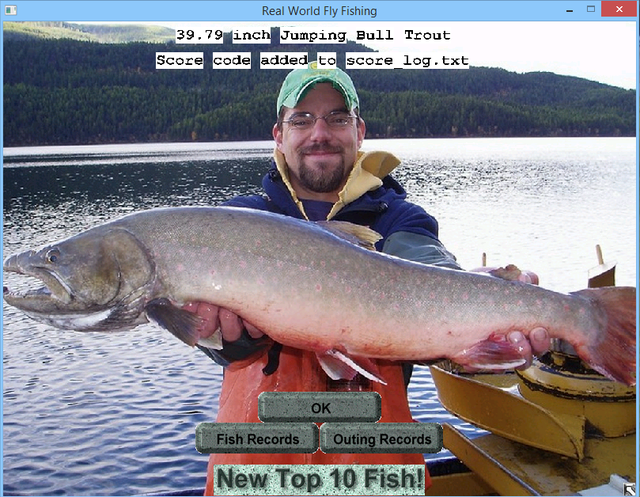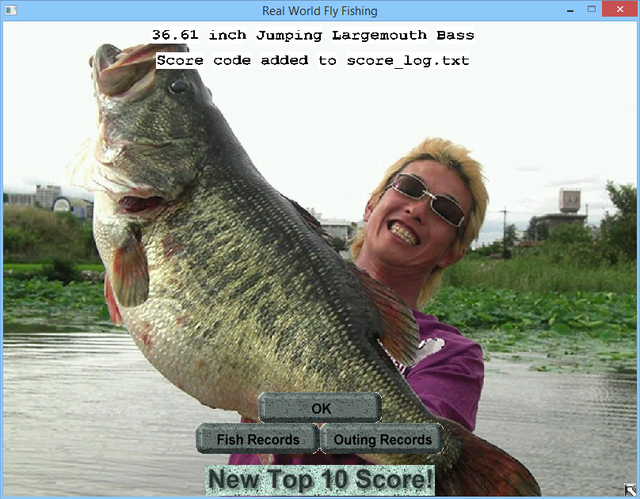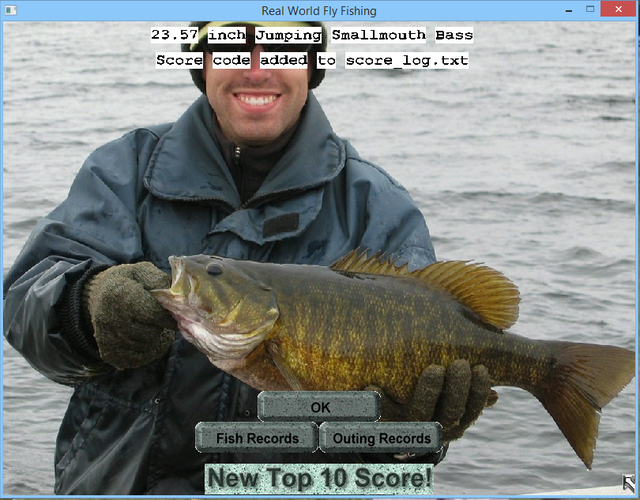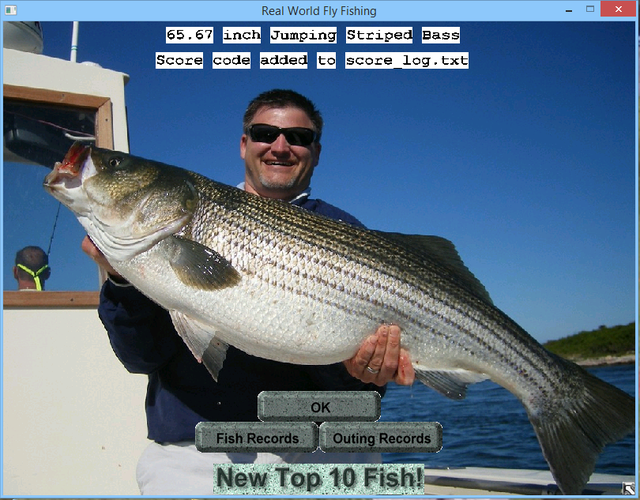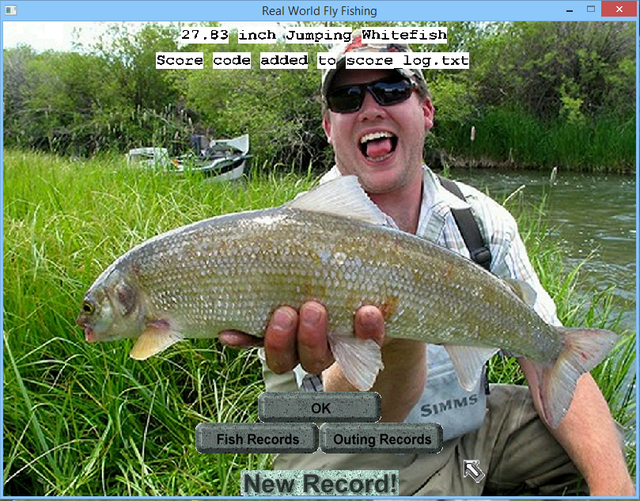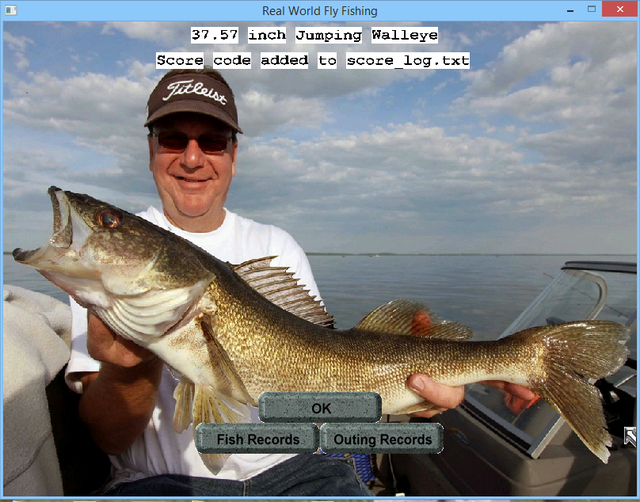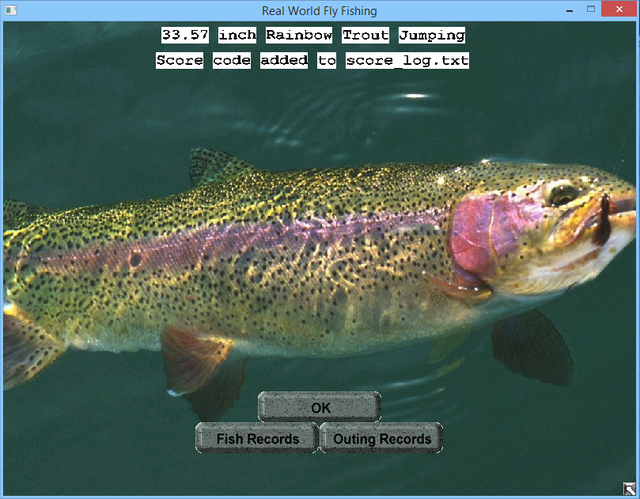 Fish: 53.92 inch Jumping Lake Trout from Sw The Wondrous Lake Siskiyou California 1; Code: MXYGFHMPLFAKD0353WEETEZXLDZJUATKPKGRWRMHRPXXWHFOSJOUVXZHSJJFZ
Fish: 36.61 inch Jumping Largemouth Bass from Sw The Wondrous Lake Siskiyou California 1; Code: HPXWDYJCTXUVE0062BJISCIBFJNGNMCFHOXVYACFOROWMWSJEBYOLBOSJYYNB
Fish: 33.84 inch Jumping Brown Trout from Sw The Wondrous Lake Siskiyou California 1; Code: KUUDITTNPSFMW8630CGGSFTEYXWUWMCQPJZNUMIYWENGJEKCAFVRBQFCSQTOV
Fish: 23.57 inch Jumping Smallmouth Bass from Sw The Wondrous Lake Siskiyou California 1; Code: SWRWWGVNUAUAW3865FNSNIGZWDOPJ@APEKBOQRCWICHXQILMGTGRPOGIGGDVI
Fish: 27.84 inch Jumping Whitefish from Sw The Wondrous Lake Siskiyou California 1; Code: NZSJOOEEDJYZG3285DKFSJXGKDFQWECJPBTFRYWSFJMQFUCCVCSUJXWLLKJFZ
Fish: 30.79 inch Jumping Rainbow from Sw The Wondrous Lake Siskiyou California 1; Code: SSQNZYUESFHEZ4515YBFJYWJGQFFUGQWYJEQMIJEUHWNVMGNLXSQKSMZHYFML
Fish: 36.85 inch Channel Catfish from Sw The Wondrous Lake Siskiyou California 1; Code: JDXOZNTDVZTRO5723DEDCNLUQQWAKOYZITPNXPIRBCRKGGEKZSUHFHEYNRHHW
Fish: 25.56 inch California Golden Trout 2 from Sw The Wondrous Lake Siskiyou California 1; Code: VPVACXSQZUESP6496TNWKGEADDVQZDVNLYQVAVMPRGQLJUGAKSDQRPNQVHBXF
Fish: 37.95 inch Jumping Bull Trout from Sw The Wondrous Lake Siskiyou California 1; Code: UPEYLMLDITBWU7775ISTNGUUIJGSM@AOTOAWIFLVSSDGQNLBRXPWOJJAWCHAE
Fish: 23.88 inch Jumping Smallmouth Bass from Sw The Wondrous Lake Siskiyou California 1; Code: QWNPBJVXKAOOW5269QPVBREWGQDBBJZACYMKFLZKDIGOTUUPUFDUQCYCAKZGB
Fish: 24.93 inch California Golden Trout 2 from Sw The Wondrous Lake Siskiyou California 1; Code: TIQFBJYICYWVD5512SKMXONIBJQKDWMSFXFTDZYPITVKBNHHXSXLUUZCZUJGP
Fish: 43.67 inch Flathead Catfish from Sw The Wondrous Lake Siskiyou California 1; Code: TERWTANWAPPLY7340TXILECTTWHZFUCRQQJDZQFXTYKIGRDADVRCPYEBBNVUG
Fish: 51.70 inch Blue Catfish from Sw The Wondrous Lake Siskiyou California 1; Code: VKPEIIIGORWLT7130KDHTSUWCDTHBFJIPAINQVKBDBXHDASTCFQEEABWSTWNO
Fish: 35.84 inch Jumping Largemouth Bass from Sw The Wondrous Lake Siskiyou California 1; Code: NXEKZOVYBAEDY9956AAHQERVGWNHHMGIZTEXPHNAYDCCIOAMLDCGQDDXZIBXF
Fish: 47.95 inch Flathead Catfish from Sw The Wondrous Lake Siskiyou California 1; Code: UGLRBPFZTYFKB0194ADISIRCSWNZI@LQYQORTXQQHSZBWWAOGOWJEYCFUVYNB
Fish: 40.26 inch Channel Catfish from Sw The Wondrous Lake Siskiyou California 1; Code: KXMUIKRQARQNC3756HNPHNXVNQFVMJSVNQSMKMJULNXWSSWRGMTPWLQAKLCRA
Fish: 39.79 inch Jumping Bull Trout from Sw The Wondrous Lake Siskiyou California 1; Code: NMCNEXAODHWQQ8335OIHKSKZMCLEVLVKGXDCQHJVYPWAQZNQQNLXUYCGCPTOV
Fish: 55.38 inch Blue Catfish from Sw The Wondrous Lake Siskiyou California 1; Code: UETADTXUTORJM6963XTCIDUQOPVQAGPQIAZBRGGQAMXFZQYYWPGVTEAJZGTOV
Fish: 45.23 inch Jumping Lake Trout from Sw The Wondrous Lake Siskiyou California 1; Code: DNZIYFQSHORVN0727CRIDHYLNDRNPFFSOQGDZYNHNHNYGUQSWRLQDBDZLGILE
Fish: 25.71 inch Jumping Whitefish from Sw The Wondrous Lake Siskiyou California 1; Code: ZKPTDVSRGRDED2131GTAGAYBIDXRRTKUSMTPNGPAOWXSLDRUZRNGJGSKGXXXO
Fish: 20.81 inch Jumping Black Crappie from Sw The Wondrous Lake Siskiyou California 1; Code: PACSCMNYDQUPS3904IDKUDNRXJTXRNJEPKUDXXPPLAZOKJHALMOQOESMQSWHJ
Fish: 56.84 inch Jumping Lake Trout from Sw The Wondrous Lake Siskiyou California 1; Code: NPBRGOSZXZJBW5572UQQRIWIJEUETQLGMNDJGHKRMHGQSOAGOCQVPTFFVBWHJ
Fish: 33.57 inch Jumping Rainbow from Sw The Wondrous Lake Siskiyou California 1; Code: WKEIPRJNGMSZH6933OZJQKMCXWQFORWGGJGMJLLUCPKMOHNSUHWPHGFNZMJFZ
Fish: 26.64 inch Jumping Whitefish from Sw The Wondrous Lake Siskiyou California 1; Code: HDRMGRNYLPLFF7117ONGQOJRADLMC?YCOASIMJGFOAZBCRVONDZCGVVZIFEQT
Fish: 52.52 inch Flathead Catfish from Sw The Wondrous Lake Siskiyou California 1; Code: ZIXAAPYJHIJQN8112DJUWVTQFWGIBSVTCXMHLPGAHQNEOFPEHSPSQEQOSMMAV
Fish: 30.72 inch Jumping Rainbow from Sw The Wondrous Lake Siskiyou California 1; Code: VXOUFTFAGDYJJ0181ZFMIBZMAWNTU?PHXEYJJUXYCVUXZUZFHTXTSHDIRYQJO
Fish: 53.26 inch Jumping Lake Trout from Sw The Wondrous Lake Siskiyou California 1; Code: YYCROOXZAWTSW0406TWGWUSREWVWXWFZRYOLBQTZONIWAYVZITOUEAZIKJXCT
Fish: 46.25 inch Flathead Catfish from Sw The Wondrous Lake Siskiyou California 1; Code: ZBWVUZMSKIOYK5533ZWHDCEJAPFXNBVWXGPKRYMVDXSMKNHPGHMTYVKHDLEQT
Fish: 33.18 inch Jumping Red Rainbow from Sw The Wondrous Lake Siskiyou California 1; Code: GGKNOAFNMCBRY4660QRMAEDEUCGOXJTIVXVJJCFHWDXMAYMYAXJHGKCHAPABU
Fish: 29.62 inch Jumping Brown Trout from Sw The Wondrous Lake Siskiyou California 1; Code: PHCGIDZHAUVNV6583VPXNECYCPUQFLRBTRRSKNBUPUDGOCQPLXSQNVYTFXNLW
Fish: 39.37 inch Jumping Bull Trout from Sw The Wondrous Lake Siskiyou California 1; Code: BCKEISVRZTDRW1691BBUMFXEDWVWWXUWBIQDPTGXPAHVLRVAPUZKBKUCQWWHJ
Fish: 37.57 inch Jumping Walleye from Sw The Wondrous Lake Siskiyou California 1; Code: ZDONFFZHLJCAS9854CYNNHJUEWWGDUJWNXWSTPVNLLUAHTJFZGCGKPMUPGLTS
Fish: 36.25 inch Jumping Bull Trout from Sw The Wondrous Lake Siskiyou California 1; Code: XQSNUZUICOCHH7108CJNBZMIMCGWOXPGVJQQAJGXEDRGZRHNSXOYACFAIDEQT
Fish: 24.03 inch Jumping Whitefish from Sw The Wondrous Lake Siskiyou California 1; Code: UYSDYCODFLMDU4383XHMQEONQXRMHQWNWTEBENOADSIMSDVHKHQKYUQDZHNAL
Fish: 18.78 inch Jumping Black Crappie from Sw The Wondrous Lake Siskiyou California 1; Code: PBNFXDWEVXOXJ6020KIFZGMXIDTPZRLAXBYUMFHLLLIIWZSRZUWBXFCPVSAWP
Fish: 65.67 inch Jumping Striped Bass from Sw The Wondrous Lake Siskiyou California 1; Code: QMNFTBJDFCYVE5555HVZBJEYXJSQYNJXZCXNVUMBKFBOGVZTVFUWWQHWSETDC
Fish: 23.39 inch Jumping Smallmouth Bass from Sw The Wondrous Lake Siskiyou California 1; Code: WLHVJASCODSSX7039QEMVNLZQJIWWNQCOASDXUDQJSTGZXXRJPMAQHPXGOZGB
Fish: 41.52 inch Jumping Lake Trout from Sw The Wondrous Lake Siskiyou California 1; Code: GVOUNRTXFARRD3632IVQSSOFDKSBGDVAUUSULSUVLMWQMRVAYKGRGLGHMWBXF
Fish: 38.58 inch Jumping Brown Trout from Sw The Wondrous Lake Siskiyou California 1; Code: BBHSNJMLPJLBG0595AERHCQZSKEEOTSATKFMBKPBIWYCZBDBTEJZRJCZKFZJM
Fish: 17.96 inch Jumping Black Crappie from Sw The Wondrous Lake Siskiyou California 1; Code: DINMHWGTLJNVS1681THBUTPQNDQDKHBNZTYOHGLTRKTUIICUGEPEPMRFGVUYV
Fish: 36.61 inch Jumping Walleye from Sw The Wondrous Lake Siskiyou California 1; Code: JFSLQNFKWJNPV9942GGJMSRFUWNJRHMAYCEVZGSRJIBYDMGBRYKVYJFTAOQJO
Fish: 50.11 inch Flathead Catfish from Sw The Wondrous Lake Siskiyou California 1; Code: CGOQCBTRTTMKP8737MJBNPRZODBEHDSWZRLZMZAILIFCRDNFCLTXBMTBNQVUG
Fish: 43.81 inch Flathead Catfish from Sw The Wondrous Lake Siskiyou California 1; Code: EYWIYFARPVFSJ1452YMCFKQUCQQOOKLIQOXWINTFMBGWZQQUSBJLCUIYWLOPY
Fish: 26.56 inch California Golden Trout 2 from Sw The Wondrous Lake Siskiyou California 1; Code: PDTVCHNEXPHPY0341OKLBTRBUKLYHKZANSNCOXQCASKETYUIJTMPJZDKHUFBL
Fish: 32.78 inch Jumping Rainbow from Sw The Wondrous Lake Siskiyou California 1; Code: RUXBNRMJCEXQT0941YIRODRQPDAQHVYYWQVAWKRDCISWHDNXDBCSAGJEMRWHJ
Fish: 25.71 inch Jumping Smallmouth Bass from Sw The Wondrous Lake Siskiyou California 1; Code: LQZPGBBWDVCQM8070GWXDMSMEDJALXFNTJTVJLZAGQHBHPBBYVWBSAOJWQSHR
Fish: 18.11 inch Jumping Black Crappie from Sw The Wondrous Lake Siskiyou California 1; Code: PIFKDUIWJSMZU0489WUASHJEVKMINIMGBRVRYWTQPXDASKIOZGIBPOIWMXCCI
Fish: 53.30 inch Blue Catfish from Sw The Wondrous Lake Siskiyou California 1; Code: SFRXVNXKBVDDC1562JHITPRUJXKTSNJXPFOVUJVIUNYYGSABGJLTWTJVHACRA
Fish: 39.07 inch Channel Catfish from Sw The Wondrous Lake Siskiyou California 1; Code: TEOSNGVWALNDY7340TXILECTTWHZFUCRQQJDZQFXTYKIGRDADVRCPYEBAAXCT
Fish: 34.00 inch Jumping Rainbow from Sw The Wondrous Lake Siskiyou California 1; Code: KMRCITZFJPIFU1125WWQCCYRBWDSARIWUBRZMMFPLIJUTDJWLECGSYPJXUWHJ
Fish: 41.77 inch Jumping Lake Trout from Sw The Wondrous Lake Siskiyou California 1; Code: CHDESYFGLLPJG1652OHESRYFHXBWP@MSHKOYAISEKLFWDLXWZBBHKFDMUXYTZ
Fish: 32.16 inch Jumping Red Rainbow from Sw The Wondrous Lake Siskiyou California 1; Code: KFQOJDGNOSOWR8546KCDBJBKPQKZMTZQQMUCSWTKIWODPTBZKTYGTPJCIKLTS
Fish: 24.62 inch Jumping Smallmouth Bass from Sw The Wondrous Lake Siskiyou California 1; Code: OTJEEWUFPASYH0617EQXAKQDLCAMEWJGCWYGDGWBIPEXGZZLKBLQPNMEBWZGB
Fish: 38.43 inch Jumping Bull Trout from Sw The Wondrous Lake Siskiyou California 1; Code: EOJZMDZFIDPIR2746HSOFJPOBQFDKOVNOSHSGWGETYAXLSWPLBZMIIRSQZJFZ
Fish: 30.94 inch Jumping Red Rainbow from Sw The Wondrous Lake Siskiyou California 1; Code: JVZEBVUCHCDZZ0832AQHAJIMOQZNJXJWFXEGQFYBXTBDJNZDDTPIHDSWAQJGP
Fish: 48.53 inch Flathead Catfish from Sw The Wondrous Lake Siskiyou California 1; Code: ACIAKERKHPAZJ2998YGAPNFZICHYBLHYRZSEWDFEIMURRKACWSLQYEQLINUTQ
Fish: 39.09 inch Jumping Walleye from Sw The Wondrous Lake Siskiyou California 1; Code: FPSHICIOSAKME2545UTLHDGZPWUKFWCIGUJQMUZTIPOVIHBFSMWJNPFUDZGEM
Fish: 25.98 inch California Golden Trout 2 from Sw The Wondrous Lake Siskiyou California 1; Code: RWESKUCTCPRGJ4962CKPYJWCBKRZWVNYUBDIYBADJWUSFBPNNZRFLICSZFNAL
Fish: 38.48 inch Channel Catfish from Sw The Wondrous Lake Siskiyou California 1; Code: FWLQETZMFTNYH5934YFYAWDFTDVDTNCGSIGNHLLGLBRNMZRBTXHJMYLBTGMPD
Fish: 39.92 inch Channel Catfish from Sw The Wondrous Lake Siskiyou California 1; Code: MJYIZZMFABFVO4305GFEGTNCUQEFSKSOYFMXIKGOKSZOOEOKREGNWXNSMOPZO