Hi Martin and Everyone,
Just finished one of Martin's newly released outings from California. Martin include some nice scenery in this outing. I was able to catch 10 of the
14 species that he put in this outing. A lot of excellent jumpers and hard fighting fish. In some of the sites Martin had put in some tricky currents
and had to do a lot of casting to get the fly in the right position to be able to catch the rising fish I was after. Martin did an excellent all around
job with this outing. Was very impressed with it. Thank you Martin for another excellent outing. Time to start fishing the next one and will post within a few days.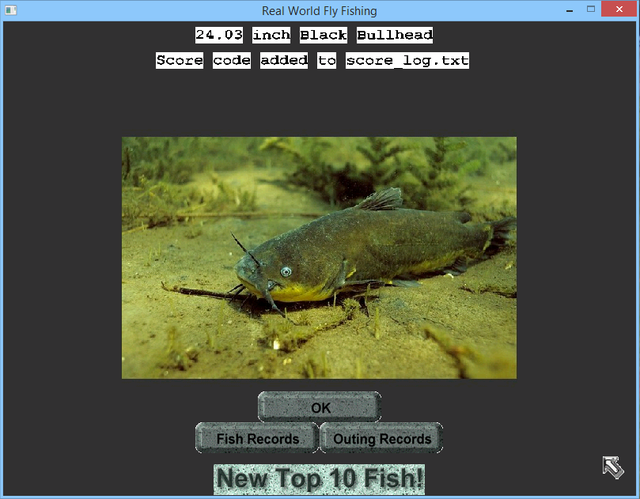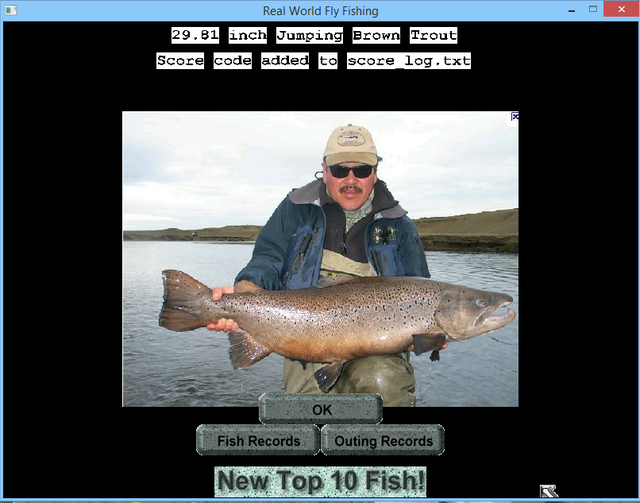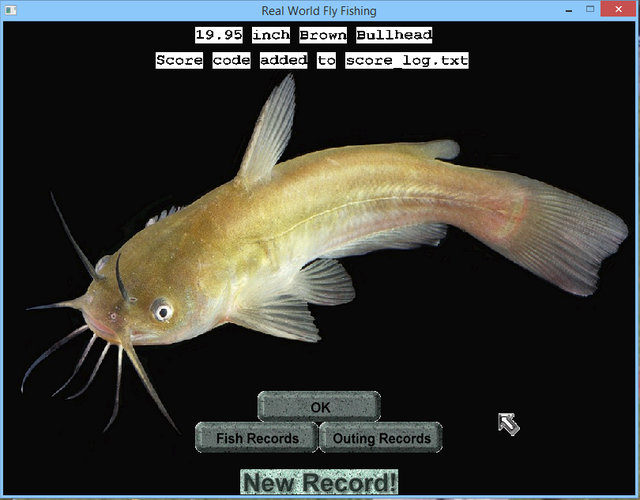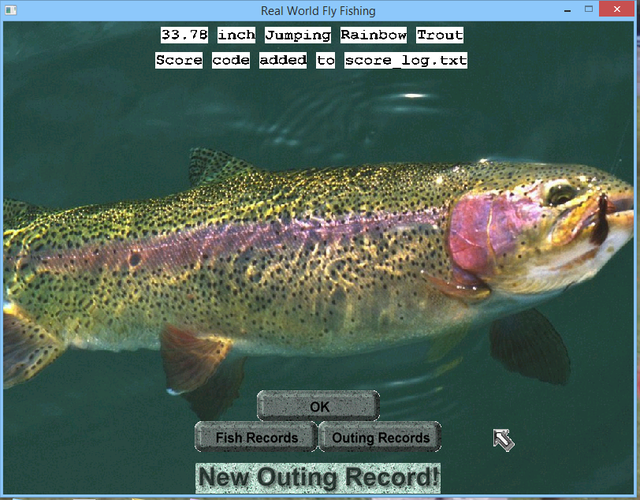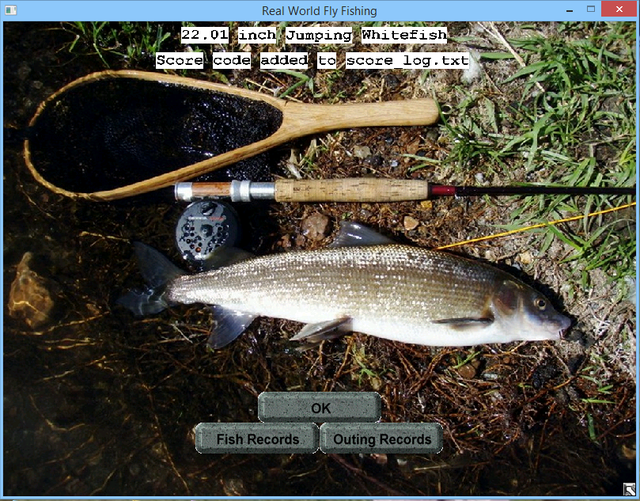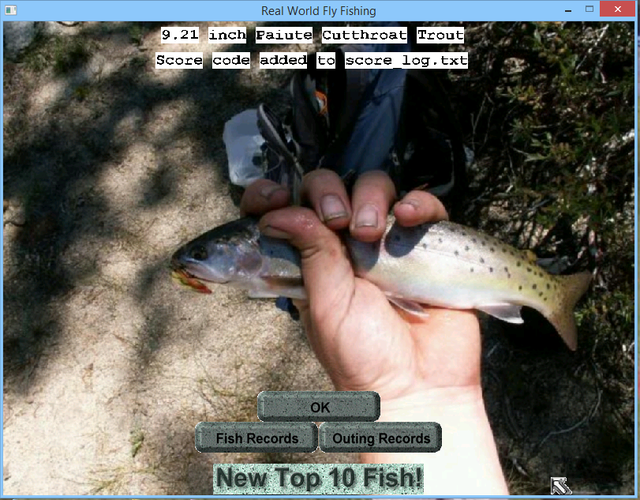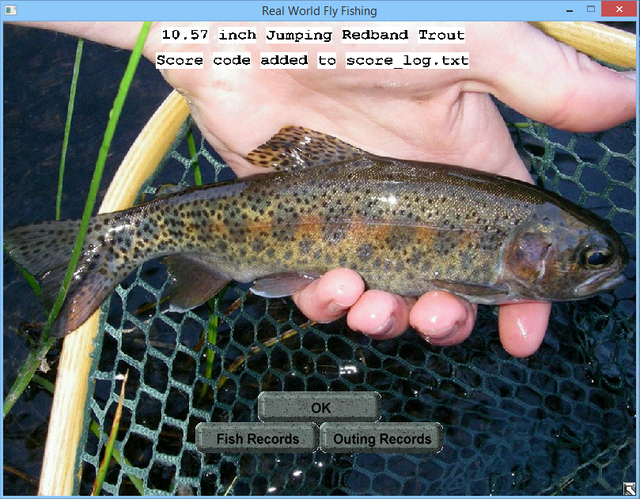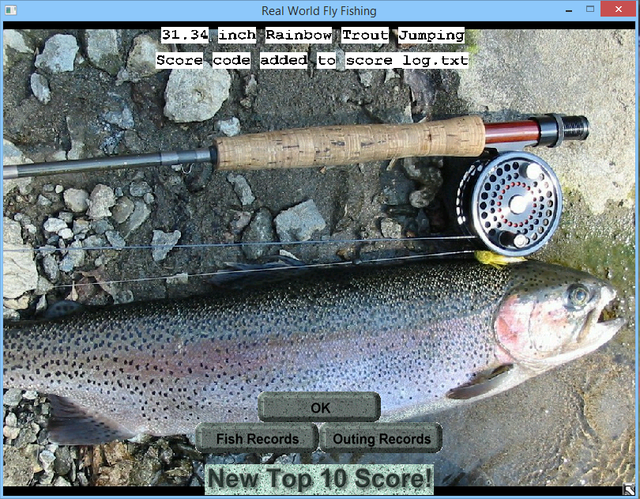 Fish: 25.24 inch Jumping Red Rainbow from Sw The Wondrous Hat Creek California 1; Code: LPOKLSSPLMZKO5975FRUBUAKGJJINVLRIRHEVCHEHNGDEJQCCNOQJSEYSWVHA
Fish: 20.07 inch Jumping Mountain Whitefish from Sw The Wondrous Hat Creek California 1; Code: XXSBAPOLOTWOS0487OWBPCHSDJHPMRQEWWNOURAKIWMUETOKTISYJMKHZCJDE
Fish: 9.18 inch Jumping Redband Trout from Sw The Wondrous Hat Creek California 1; Code: BZSDAQDOEJSAM5178IXOPGJWXWITZHSQKBOKSIHVHWBGWUVQCAIXBOMUZNAQC
Fish: 29.81 inch Jumping Brown Trout from Sw The Wondrous Hat Creek California 1; Code: RKGRFRAIVNJWK1237HOVJNWWBDPFJCIVQSGELTECKFFTDPSBEBSTYVRREDJGP
Fish: 25.04 inch Jumping Rainbow from Sw The Wondrous Hat Creek California 1; Code: KBPFNDFFKRAAM0395NEORFSKYCAPVCPXKMYEWNASTCVPLZWAIOSFPMGTKJQEJ
Fish: 18.28 inch Brown Bullhead from Sw The Wondrous Hat Creek California 1; Code: LYVVFIQOIRVBO3575MONWKGEQQKYNVZPCPTJRKCJSMLQYZAHVXPMTDDBYFQEJ
Fish: 9.77 inch Jumping Redband Trout from Sw The Wondrous Hat Creek California 1; Code: CSYBVPRMABXRO1482ZGVSXQPHDUVGUERPEPLYHWJCZTTLJISUJKQYDDDHVGEM
Fish: 17.98 inch Brown Bullhead from Sw The Wondrous Hat Creek California 1; Code: KLYCCCLKRXSOD0029UXCMZCDVGFIYQGSJINIYENTLFIWQFYXPOUDJYXGQFTIQ
Fish: 17.22 inch Brown Bullhead from Sw The Wondrous Hat Creek California 1; Code: LYVVFIQOIQUVO3575MUCQIZQOSOKNVZPCPTJRKCJSMLQYZAHVXPMTDDBXFDNT
Fish: 21.86 inch Jumping Rainbow Trout from Sw The Wondrous Hat Creek California 1; Code: BVQUDQKGCTHYH9905BQZFLDNHNTJBNHXECKMOSWDKCRWBQZJHDCVXSJLZEDNT
Fish: 22.52 inch Jumping Rainbow from Sw The Wondrous Hat Creek California 1; Code: XQSNUZUYBAEIH7108CPCQZXAZYAEUAPGSHQQAJGXEDRCIBGNSXOYSVEAGHBZA
Fish: 23.15 inch Jumping Mountain Whitefish from Sw The Wondrous Hat Creek California 1; Code: EERHMENWAAZJI2012XEHUAZINFPRNVEKATSWVFTVJVVLHVALECYOGPZMHWTIQ
Fish: 33.78 inch Jumping Rainbow Trout from Sw The Wondrous Hat Creek California 1; Code: LAKEMTEHTDOMI8193MBFDVUFWFRDIKIRIVKTAUKQSFHAKQHZNAROJZAGBBLHN
Fish: 28.91 inch Jumping Brown Trout from Sw The Wondrous Hat Creek California 1; Code: KYWMFTVWSOUDT4872JZZTQPTTZZUSJMRSFVDYVBQLYYMNSFJCCBSQXZLOBJTD
Fish: 9.21 inch Paiute Cutthroat Trout from Sw The Wondrous Hat Creek California 1; Code: JJABZBMLYKRKA7185XACTJEAAKXTVLETMIATDXCIXCMEHSBIMVPWUQZUYVHAE
Fish: 9.69 inch Jumping Redband Trout from Sw The Wondrous Hat Creek California 1; Code: KCASIMNLCCDQD3421EIRIBILFTMODYRTPCBDCWSOBFERWPOREEAIHSXDOFKMD
Fish: 10.57 inch Jumping Redband Trout from Sw The Wondrous Hat Creek California 1; Code: FUFDZTKGDZULZ1813VVSQQXUPWDURXOFCSRFFUJGEVINYLOLJZJVJCRFHOODW
Fish: 31.34 inch Jumping Rainbow from Sw The Wondrous Hat Creek California 1; Code: NUGNXXCCIDOGS4839UAXEYXRYXUCXJQMYBLQZHMEJMSIHKNEFPEHDGRRYRTOV
Fish: 28.31 inch Jumping Brown Trout 3 from Sw The Wondrous Hat Creek California 1; Code: KIPTLUYZHHDSX3782PJMLTFABDJVITQVLSUBIEMYWNYHHRMPJHWFWIUIYZDNT
Fish: 18.98 inch Jumping Redband Trout from Sw The Wondrous Hat Creek California 1; Code: TZPEZEOWXBMWY7605OJVMSVBDKKKAMLKJZRUZGEDEHEFBORAFCKJNNVXXIGEM
Fish: 21.72 inch Black Bullhead from Sw The Wondrous Hat Creek California 1; Code: CNLERVLKODPJA1126YWOJJGMHDKLAWSUBFIWGIMNOTAPEXUUDWXEITYJCQRZC
Fish: 23.62 inch Jumping German Brown Trout from Sw The Wondrous Hat Creek California 1; Code: HSVTFPBYLDHDK7298GRJVMMZQENVJMSCCTYUOADBCIYIFUDRLQWMOUYRBXMPD
Fish: 23.09 inch Jumping Brown Trout from Sw The Wondrous Hat Creek California 1; Code: ECVPWEEYZQNHS0891UVMQXJSLETEXUIKKDDOTOKDCPMXJXYUUDIALAYZVAKBS
Fish: 22.50 inch Black Bullhead from Sw The Wondrous Hat Creek California 1; Code: CVOXKVFITHJXU8639EOEZFCGEEDVWRVOVMILGHXWRQEBUXUHAYIHQDOBYWOPY
Fish: 16.21 inch Jumping Redband Trout from Sw The Wondrous Hat Creek California 1; Code: KFQOJDGNNCOBR8546KCDWLTQEKAVSWZQNKUCSWTKIWOZYDAZKTYGBNICILJGP
Fish: 20.14 inch Jumping Rainbow Trout from Sw The Wondrous Hat Creek California 1; Code: SEXUVYPDHFJCL8647ICFJOCUNXAXYLPSEMLWGAEENKXADUPBKSDQCQZKCYDLY
Fish: 11.40 inch Jumping Redband Trout from Sw The Wondrous Hat Creek California 1; Code: IOANCXICAKWYB8649LAZFTTGEKABGXVZOWSCDHLDNUTDVFUIJNXXNEHYDHBXF
Fish: 27.51 inch Jumping Brown Trout 3 from Sw The Wondrous Hat Creek California 1; Code: BCKEISVRZHDFW1691BBUHHPKSQLSCAUWYHQDPTGXPAHRUBUAPUZKJITCPMNLW
Fish: 20.32 inch Jumping Mountain Whitefish from Sw The Wondrous Hat Creek California 1; Code: DTPJJNBEKISSA3201MHAUZGSVRICBDMMPFRJFGPYRQHSIHOPJUHNAPZWUQWHJ
Fish: 27.56 inch Jumping Brown Trout 3 from Sw The Wondrous Hat Creek California 1; Code: HQIBPPRYLXNBD3967DHDSGGNNXVMBMEBMDJMMITBVUPMHWBABRGRDAWDORMAV
Fish: 8.40 inch Paiute Cutthroat Trout from Sw The Wondrous Hat Creek California 1; Code: ZOXRVBYSJCIRA0484NYENNBENKPFUPCVVKXNRPASLRIYHRMBUNTPNSLLDLODW
Fish: 19.95 inch Brown Bullhead from Sw The Wondrous Hat Creek California 1; Code: MIMFNIUHPGENY3289EIBWSHCRYVRQJYKNMJGTBPKCPQQLYVLUWRKDUUHGVODW
Fish: 24.81 inch Jumping Red Rainbow from Sw The Wondrous Hat Creek California 1; Code: TLWDVWJVVRJQJ0639XKVZYJGMXQGZWCPADYALHZKXKFWTLSWEGVBXNJIRKYNB
Fish: 25.49 inch Jumping Mountain Whitefish from Sw The Wondrous Hat Creek California 1; Code: GGKNOAFILUCWY4660QRMVGVKJWWKDMTISWVJJCFHWDXIJILYAXJHOIBHBVNAL
Fish: 18.86 inch Brown Bullhead from Sw The Wondrous Hat Creek California 1; Code: PDSBTDBJWHITY0341OQAQTCTHGFGNNZAKRNCOXQCASKACITIJTMPRXCKGXXFM
Fish: 16.21 inch Jumping Redband Trout from Sw The Wondrous Hat Creek California 1; Code: TEVXPGQLZONRY7340TDXAENLGSBHLXCRNOJDZQFXTYKEPBCADVRCXWDBAJDNT
Fish: 26.34 inch Jumping Brown Trout 3 from Sw The Wondrous Hat Creek California 1; Code: IMMVVXRYAHJWT4628HXTDNOVSDISWWZZQFCUBHCDFORHXZARZPHBCKGKQHMAV
Fish: 24.03 inch Black Bullhead from Sw The Wondrous Hat Creek California 1; Code: DLVQDCTFEJXFY6708YPKWDLFYQPADIRSVZRVXGEPGTDGSGNBMSVCSFBEWGGXW
Fish: 23.81 inch Jumping German Brown Trout from Sw The Wondrous Hat Creek California 1; Code: GONGHAAAROYEA0143WJDUCJEGXHNWHVCMCVXRBJQHAAUZQLMXQCROSZZVWKBS
Fish: 27.87 inch Jumping German Brown Trout from Sw The Wondrous Hat Creek California 1; Code: UOTLQVCUZAALD6679GNQDGFVEJWXIXGKIVOFUWTZLPDINHACDPHUNOYXPVFBL
Fish: 28.05 inch Jumping Brown Trout 3 from Sw The Wondrous Hat Creek California 1; Code: FOHCNTZNAGRXN1449SNIXCZZLESPBVIMUAXZYMHXAMNPFJQNEWOYTMVJVVWKT
Fish: 34.92 inch Jumping Rainbow Trout from Sw The Wondrous Hat Creek California 1; Code: EZLWOUMVHVYOA2378APUZMIKIYKNAJFMDFANWVKAUEPMTQHLHRRVLLRJBLFVG
Fish: 30.74 inch Jumping Rainbow from Sw The Wondrous Hat Creek California 1; Code: WXMXYINIYQUUE9884DGVUBCBILEZLNDFMMWPBKZRJIHXTMTMAODMELGZWULRG
Fish: 11.97 inch Jumping Redband Trout from Sw The Wondrous Hat Creek California 1; Code: RYZLJQFZDLLBY8183FAKPOFFSMDIIRJRHOSYASKVRCDCLRQEFXHTFADGISQPC
Fish: 21.84 inch Black Bullhead from Sw The Wondrous Hat Creek California 1; Code: MXQFSEHPJZACD0353WKTIEKPYZTRYDTKMHGRWRMHRPXTFREOSJOUDVYHPHFYR
Fish: 22.01 inch Jumping Whitefish from Sw The Wondrous Hat Creek California 1; Code: XZGSHPXIQFQVH2709SYHZZYGJJOMOSMFMNCWWRJCPDWQCRQADOHLSLMDKDBXF
Fish: 17.43 inch Brown Bullhead from Sw The Wondrous Hat Creek California 1; Code: HYDZXPHHPIGYF7652RYTRCCZKQOWVHZDHJJAUIXKYJTYXWBOXLSBMKUVLBBXF
Fish: 26.58 inch Jumping Rainbow from Sw The Wondrous Hat Creek California 1; Code: PPGYBDBWGVPLX3078AHNGBQQOKDOFKMDDXSOSNMDSIYNFMPCARLAWDNEBVRZC