Hi Everyone,
Well after a bout with 3 trips to the hospital, I was finally able to fish Martin's Lake Isabella Dusk outing. It was definitely as good as the 1st one.
I fished anywhere from surface to 4 feet deep to catch all 15 species that Martin put in this one also. Fish are definitely hard fighters, especially
the Jumpers. I was lucky enough for no thrown hooks. Thanks Martin for another excellent outing and look forward to fishing your new ones that you will
release shortly. Everyone should enjoy this one.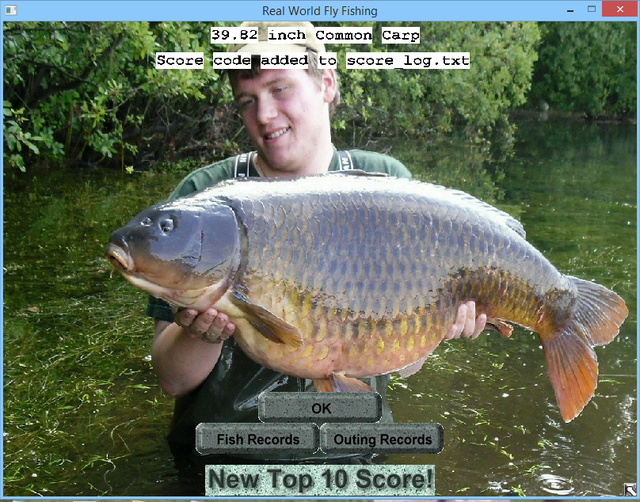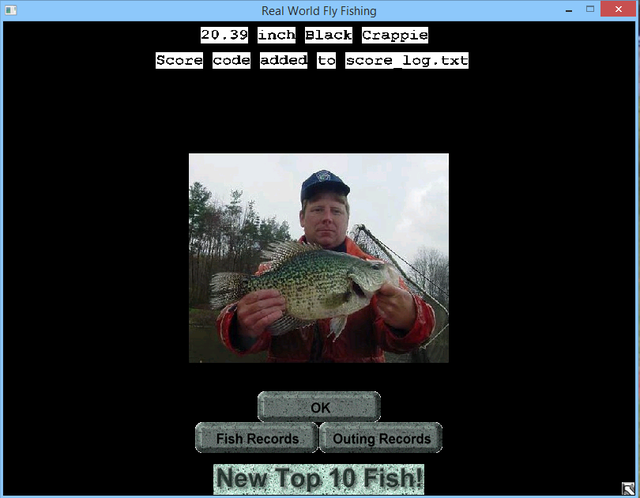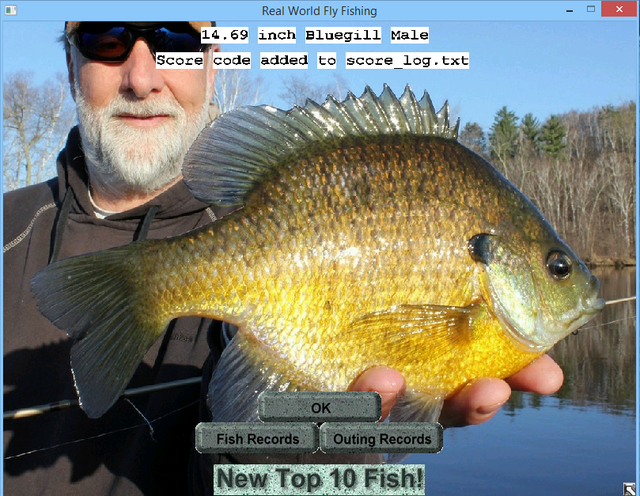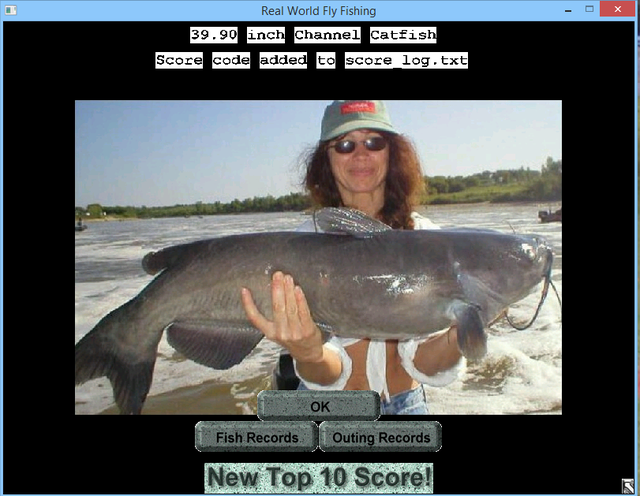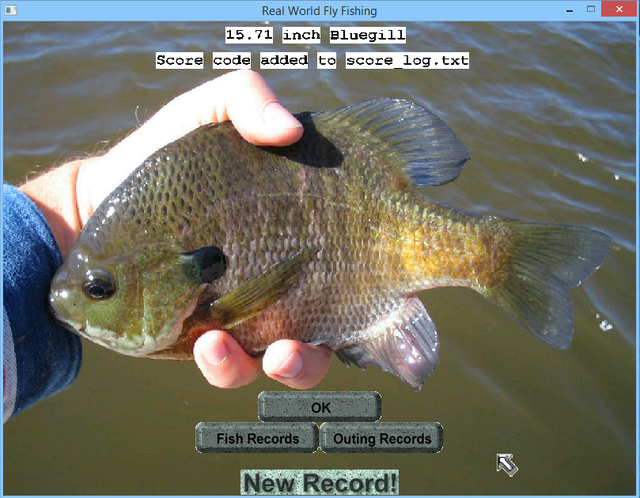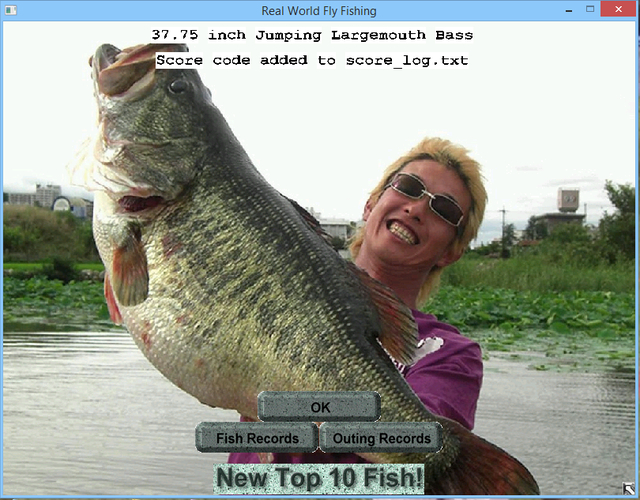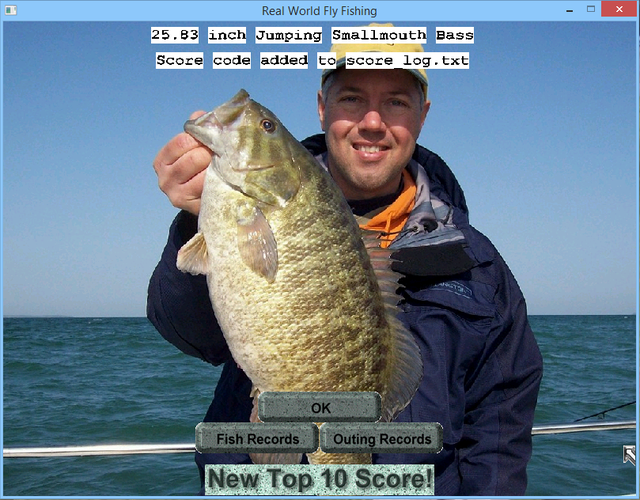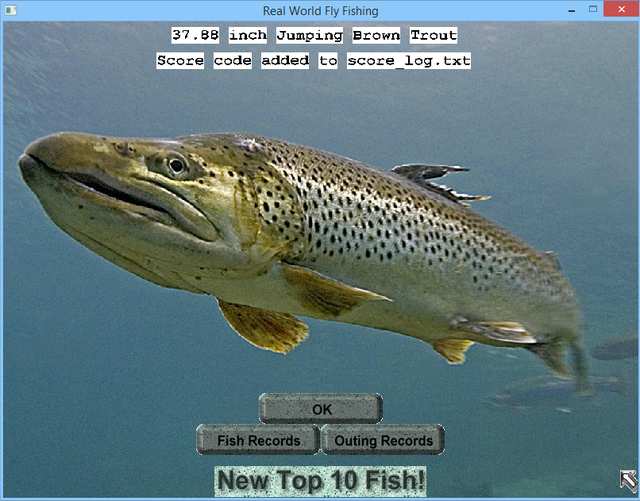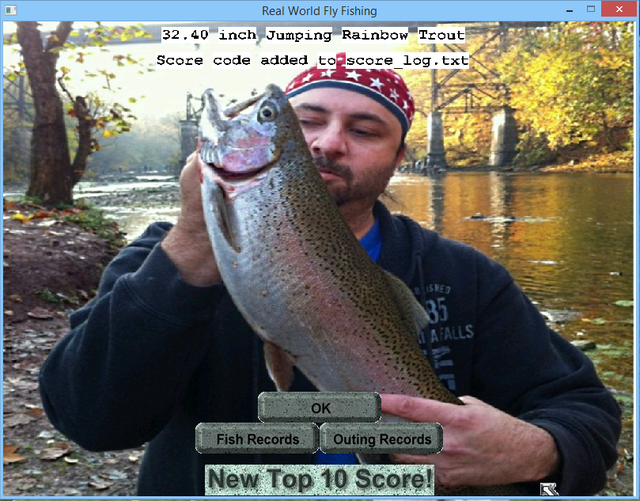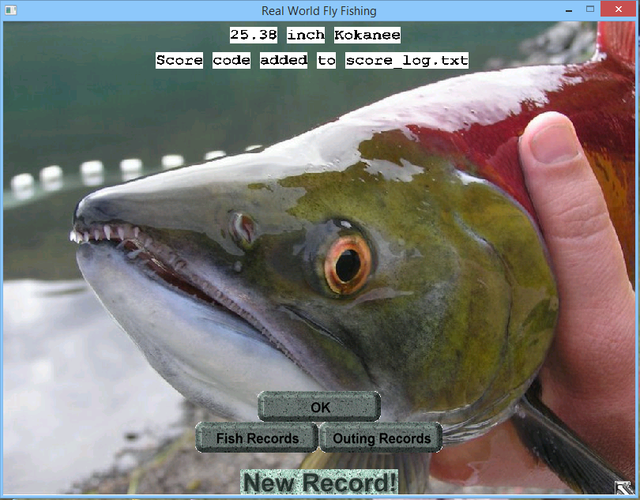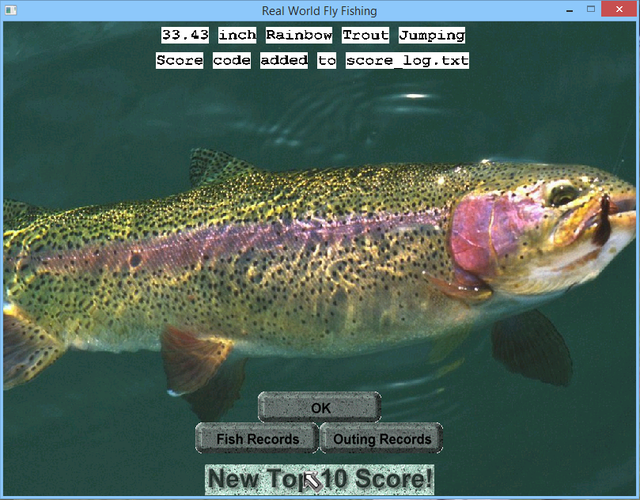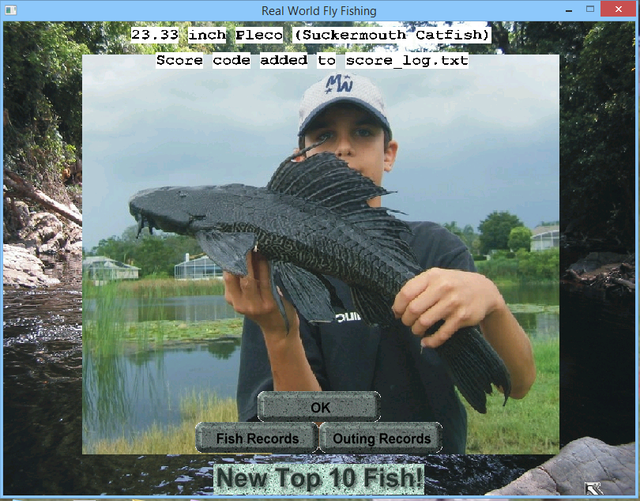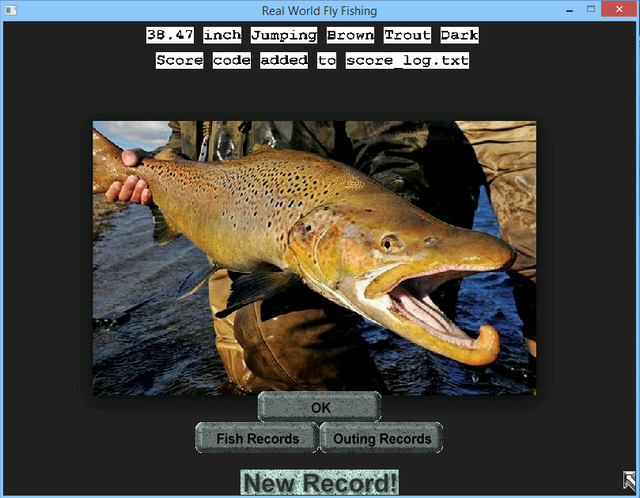 Fish: 22.15 inch Kokanee from Sw The Wondrous Lake Isabella California Dusk; Code: HXJNUQUEYMMLG6556PBQRXDOCKYILHFZCVFJGZFOZGSICWTQKTKYEYBLGGYKR
Fish: 22.68 inch Pleco from Sw The Wondrous Lake Isabella California Dusk; Code: LMDFWLRTAQNVH0828ZRLRBIOWQAIPVVMMNPXFCGISWWZMLOVNPQAGRSAYIHPM
Fish: 14.69 inch Bluegill Male from Sw The Wondrous Lake Isabella California Dusk; Code: ZAIIUMLVZTOFL4428XZEYZXDHDNFPXTZPSDTDPUZEUKSYFGRBIEIZHZWWAHHW
Fish: 37.88 inch Jumping Brown Trout from Sw The Wondrous Lake Isabella California Dusk; Code: HTGFZYKAWABOJ8314IOMFMSYUXWQNGUYNPBLCIUXCLZGHAXRQXEPAKHBGJCRA
Fish: 15.71 inch Bluegill from Sw The Wondrous Lake Isabella California Dusk; Code: PGJSFKDXHXULE5468TSUIBDSRDUYZHPFLDGBEFJYHJUMCMPYYYKNNHMJAVVUG
Fish: 43.13 inch Common Carp Light from Sw The Wondrous Lake Isabella California Dusk; Code: RGXIGJVHSHZON3965IJRBSFVHQONHFQUNPCGPCMLVLUNZAFVKNMSMTNHGUDGT
Fish: 18.52 inch Jumping White Crappie from Sw The Wondrous Lake Isabella California Dusk; Code: EWMRMLTYNMKTT7231VKEDELIYJYFIJPHAZIGGVJNFVEIBSFEJUTXTFFLLTQEJ
Fish: 32.40 inch Jumping Rainbow Trout from Sw The Wondrous Lake Isabella California Dusk; Code: XQSNUZUYCKDWH7108CJNBZMIMCGWQXPGVIQQAJGXEDRGZRQOBOOYKPDAHLTOV
Fish: 25.83 inch Jumping Smallmouth Bass from Sw The Wondrous Lake Isabella California Dusk; Code: XVEJLPEWNGEQC6466LTDSNWDMKPGWVCEJKXGSARKBILKYDWUSBCKQMIUMXYNB
Fish: 23.33 inch Pleco from Sw The Wondrous Lake Isabella California Dusk; Code: KDJWHNNGLZVRB4327GZXZEVZLJSYYSLQAFNUQEKKAIFPZNISBLITSAGOXIPOE
Fish: 14.72 inch Bluegill from Sw The Wondrous Lake Isabella California Dusk; Code: BWTGHFPSLVHVF0031CPFNORBNDRTFHBTPXVDCAOHSFRCDWTCECKGZNAVGNVUG
Fish: 37.75 inch Jumping Largemouth Bass from Sw The Wondrous Lake Isabella California Dusk; Code: OVXWLWLLSFMHW4638ITVCQWOXJSWOPFGSPNOFXFTPDOKDXCVDQAESCESMRSSC
Fish: 24.45 inch Jumping Smallmouth Bass from Sw The Wondrous Lake Isabella California Dusk; Code: TGJPEGHZBOALO1591PAGVJHXXDZBXVYRHIQLBHOXBEMWDPORWKHPBKVONRUYV
Fish: 24.06 inch Kokanee from Sw The Wondrous Lake Isabella California Dusk; Code: RTVUQKUJRVBLD9817WKOJBKKEJIZJQWUOTKJIBZHUFJCVNMHYBUHRFPUHGZGB
Fish: 39.90 inch Channel Catfish from Sw The Wondrous Lake Isabella California Dusk; Code: NTWVAOZZZCPZT1714TVUETGFQJEOLKWHSOAZLQUIBJRSNSNGAQWFTZGOSTJQK
Fish: 22.04 inch Pleco from Sw The Wondrous Lake Isabella California Dusk; Code: MLZDDJIVACWHE8526JIKIYTOYXWOCDOPOYBNKJQGRYACLCRCKCWAPJEFYKXSJ
Fish: 33.43 inch Jumping Red Rainbow from Sw The Wondrous Lake Isabella California Dusk; Code: IDYQHGOCDJOST6020ZIIFNTWVWZCRCLAYMRPEZHYVOMGVYRNPOFNKTYHOQAWP
Fish: 25.38 inch Kokanee from Sw The Wondrous Lake Isabella California Dusk; Code: KMSAGDQLIGJRU1125WWQCCYRBWDSCRIWUDRZMMFPLIJUTDSXUVCGSQNJYFSHR
Fish: 36.34 inch Jumping Largemouth Bass from Sw The Wondrous Lake Isabella California Dusk; Code: BGMOEAWRBKRYB9833IOGYPHCTJFGORFXIJNBTJZPEUSXGVAITIFLFQNLNOLWD
Fish: 13.57 inch Bluegill from Sw The Wondrous Lake Isabella California Dusk; Code: MGYHQGUYOIRFI9268AYDZLJTYXNMENCKAYTYRKFSVBPGFQLWTPBWCUATTPFBL
Fish: 20.39 inch Jumping Black Crappie from Sw The Wondrous Lake Isabella California Dusk; Code: XEMLFZZCSBUCI2373PNTYTGYZWDCXBDDUGLMWTKENUCTOMTBKQPMVOLGNJHHW
Fish: 33.98 inch Jumping Rainbow Trout from Sw The Wondrous Lake Isabella California Dusk; Code: MWVBLQMHSCHFM9257UHBOCASSJZRODZOHJCAIJULJMODLZEYFKGKLONWMNQEJ
Fish: 24.50 inch Jumping Smallmouth Bass from Sw The Wondrous Lake Isabella California Dusk; Code: NYPXTFWLKXVGP0082BFKVGQARJNYRIIFHNHODQFWXGLWTETMQCKRZWLAFKGEM
Fish: 46.80 inch Common Carp Light from Sw The Wondrous Lake Isabella California Dusk; Code: GWKYEIQJXOTEC4737KATPVNLOWJTQ@PECNELZBMZKPWJXHOAVJOCPWNRRMUJG
Fish: 39.82 inch Common Carp from Sw The Wondrous Lake Isabella California Dusk; Code: BBASKJIBPKMZG0595AERHCQZSKEEQTSATJFMBKPBIWYCZBMCCVJZRBAZJISVN
Fish: 24.78 inch Kokanee from Sw The Wondrous Lake Isabella California Dusk; Code: CEFYPRERRBDDZ4516IHVLJMNKWKVBCWVJBWRKARIDCVOTWTPBEVJPCQGCMDVI
Fish: 41.79 inch Common Carp Light from Sw The Wondrous Lake Isabella California Dusk; Code: FCVSNLAWSVMAG9794XRORUBJREAYODVJFOBNMDLWAVZGLUDUWPOMYABHUETIQ
Fish: 13.79 inch Bluegill Male from Sw The Wondrous Lake Isabella California Dusk; Code: RUPAEPREBLXRT0941YIRODRQPDAQJVYYWQVAWKRDCISWHDWYMSCSAYHEKGBZA
Fish: 14.57 inch Bluegill from Sw The Wondrous Lake Isabella California Dusk; Code: LDBZNICODDAYP3228SVZVDNWGCHOTEYOKEDSJULDHWSMKUDQUGPELTKFUJGGG
Fish: 44.14 inch Common Carp from Sw The Wondrous Lake Isabella California Dusk; Code: VMEXZCPAPUGVJ1351OGNDYAIGKLQLGFINPXWSVTTKPGVAGDLVCGRXUASCJRZC
Fish: 31.77 inch Jumping Brown Trout from Sw The Wondrous Lake Isabella California Dusk; Code: LQZPGBBFEBCWM8070GWXDMSMEDJANXFNTLTVJLZAGQHBHPKCHMWBSSMJUQRZC
Fish: 35.84 inch Jumping Largemouth Bass from Sw The Wondrous Lake Isabella California Dusk; Code: FXVIBKCCXZIKF8050ACBXYBLMXNMDREKABJENUCCLMSHYPKUYEPTVRBEYQUJG
Fish: 31.54 inch Jumping Red Rainbow from Sw The Wondrous Lake Isabella California Dusk; Code: RBRMSAXTGKUIR4627ZZCKFOZGQELJHMXRXUZXLJXZFARSORWUIRGWJIWCKGGG
Fish: 18.78 inch Jumping Black Crappie from Sw The Wondrous Lake Isabella California Dusk; Code: SEXUVYPNHDMOL8647ICFOMKOYDKBUIPSHPLWGAEENKXEUKZCTJDQUKYKBLSVN
Fish: 20.55 inch Jumping Black Crappie from Sw The Wondrous Lake Isabella California Dusk; Code: GZQDJRMVHHFMI9974HICEDZCLPBUGWGBACWSHBNNZGHZHVAICXLTKRZQJNPTJ
Fish: 38.47 inch Jumping Brown Trout Dark from Sw The Wondrous Lake Isabella California Dusk; Code: NIADIYHFAMGAL2182HDDYIZBFXBMHSLJAZHMMRQDJVDYVVAKWIFWQUXXEYHHW
Fish: 33.31 inch Jumping Rainbow Trout from Sw The Wondrous Lake Isabella California Dusk; Code: EUYAXLKYMJPCE2010RZYTZFXUDHWSIBHKJSYMEINXHVUEUDOZWDJXQMXYLLWD
Fish: 25.50 inch Jumping Smallmouth Bass from Sw The Wondrous Lake Isabella California Dusk; Code: OPZVIWBPNHLCK4375XLLOAGNEXRUIVZFWQUIZXLKTULNLVEFQNXPSRHVCCGEM
Fish: 24.60 inch Jumping Smallmouth Bass from Sw The Wondrous Lake Isabella California Dusk; Code: CTIGQYSUSZQLM4587BDYCXEOLDWQCOYNAYTDMQOFKCURNPCSZQSTPDTFNSCCI