Hi Everyone,
Well just got done fishing another fabulous outing from Martin. He did another excellent job on this outing. Beautiful scenery, 15 species of fish, excellent
and most enjoyable fishing, just like in his 2 California outings. I did happen to catch all 15 species of jumpers in this outing and even had a few that
jumped so much that they even threw the hook and they were some nice sized fish. All the fish were great fighters. My recommendation would be to use at least
medium sized tackle, because some of these fish are between 40 - 60 inches. Fished mostly between 1 - 3 feet deep. This is another one to definitely give a try.
Have fun and spend some time catching some excellent fish.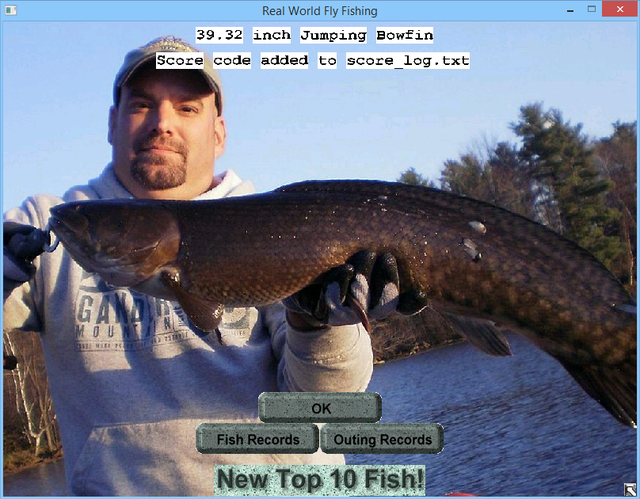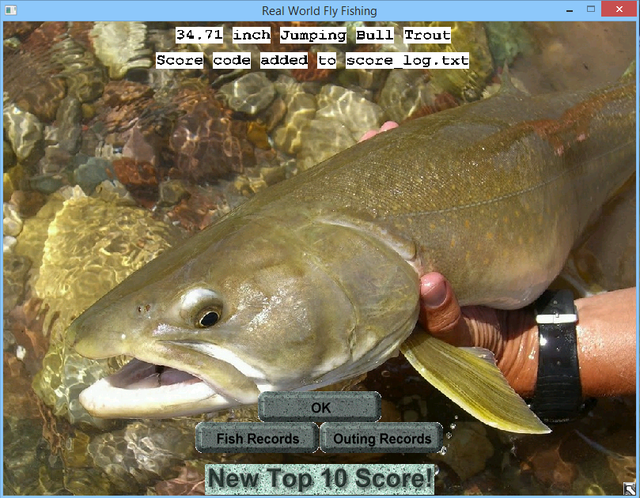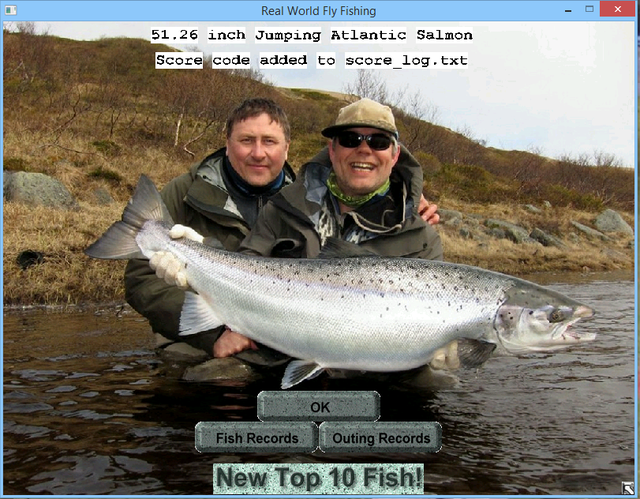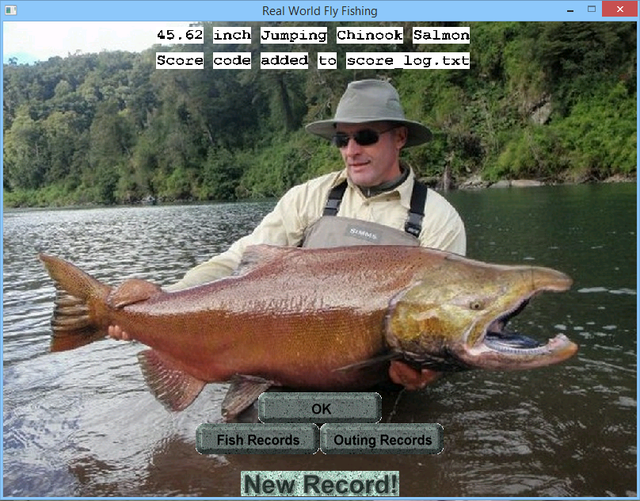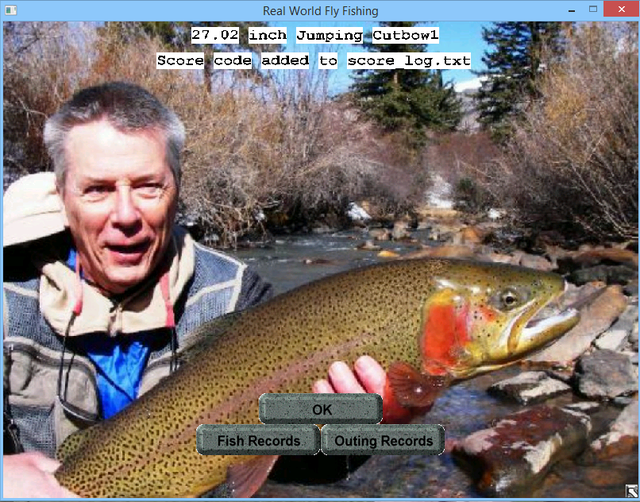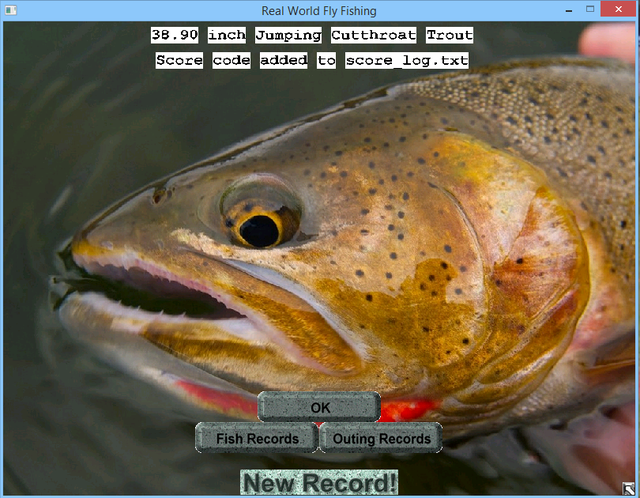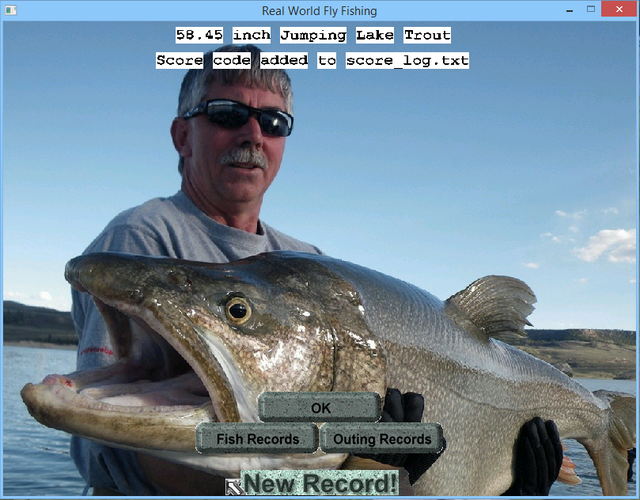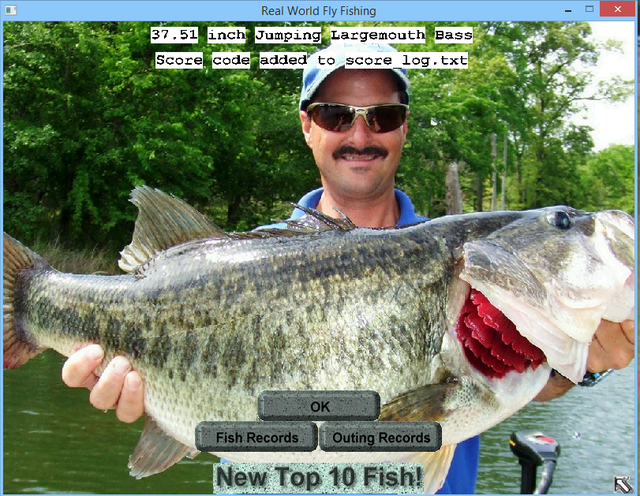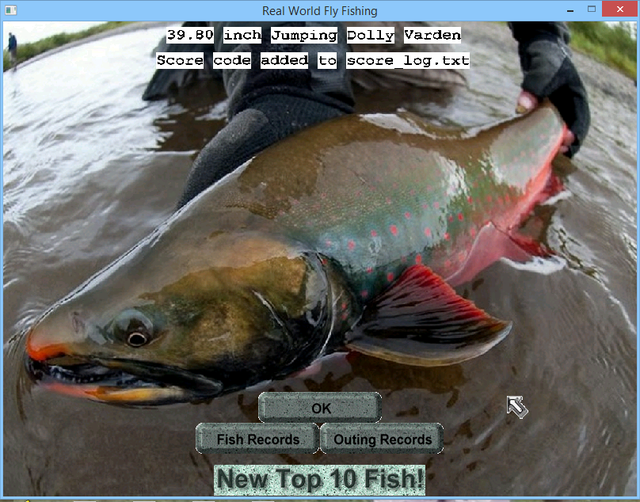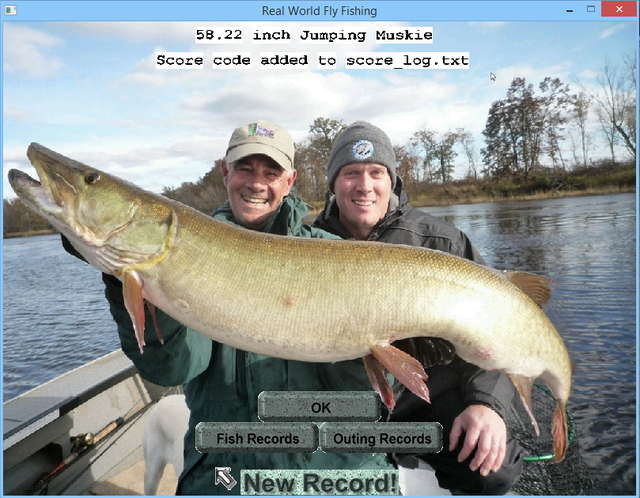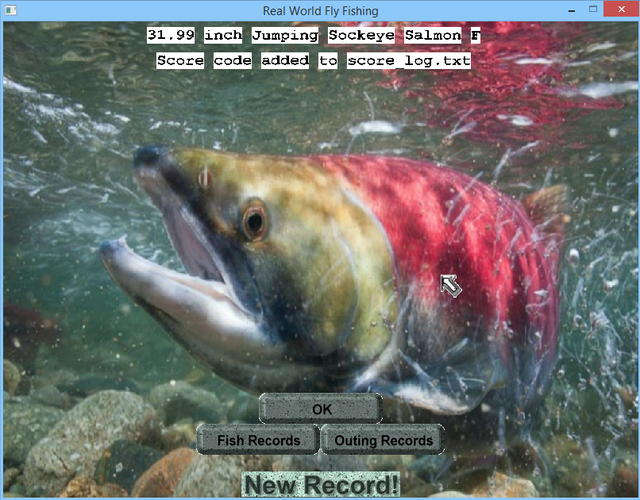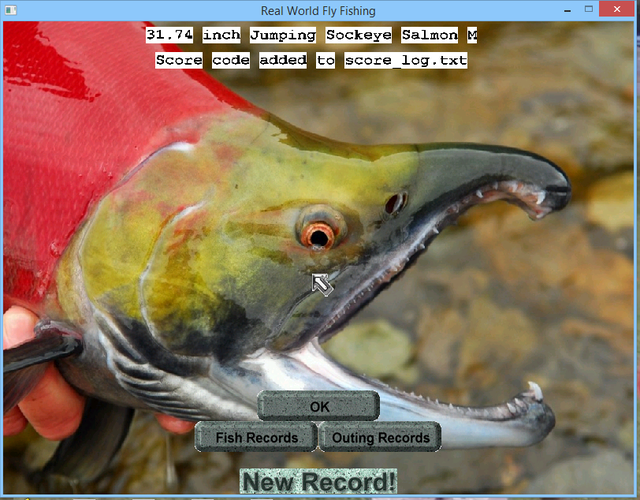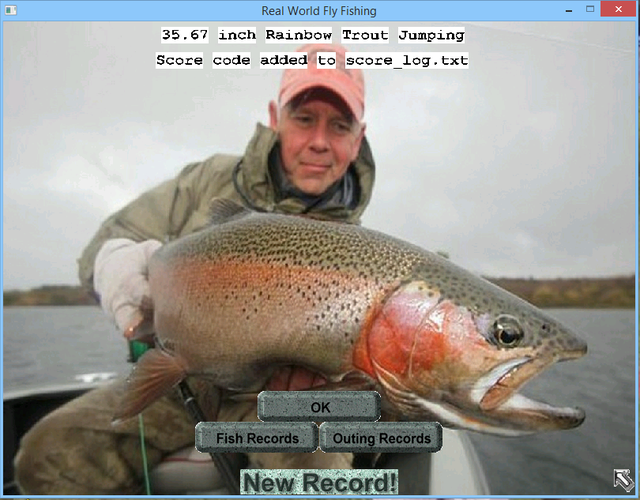 Fish: 37.97 inch Jumping Cutthroat from Sw The Wondrous Harrison River British Columbia 1; Code: GMZOZAQBQSEYL6022SGFPUMMNXZHMDZCZXGPPKZQAMRGZZKYCCMEHNZELBMFI
Fish: 39.80 inch Jumping Dolly Varden from Sw The Wondrous Harrison River British Columbia 1; Code: RDFDZAGSHCPEZ8648CBIUKTLKXWMRIAYPGJHZCLPGTKBXLKHSAPUTYFJQBYTZ
Fish: 30.75 inch Jumping Sockeye Salmon F from Sw The Wondrous Harrison River British Columbia 1; Code: PWGMHUNPTUJAI6465NTAESMZDXGDRXMBSPODMWYQWUBFHLZUQUPAZBVLUDLKX
Fish: 27.11 inch Jumping Sockeye Salmon M from Sw The Wondrous Harrison River British Columbia 1; Code: AAYJZKDNFCMNU0777UDUFIZWFEPPVKLXBKDWUMWEBFKZBLYOBDVCYPPYYHQCO
Fish: 51.26 inch Jumping Atlantic Salmon from Sw The Wondrous Harrison River British Columbia 1; Code: FEQKFLNLTPEVV1736BTMBAGVVCRHWERJVGIDOVVOQJAQQROMMGEADXGDJZWCV
Fish: 35.67 inch Jumping Red Rainbow from Sw The Wondrous Harrison River British Columbia 1; Code: QTOTZSDUATZUP8914LHMUJAFJPLBOMJVERUKPLYOORWCRFILLAFVZUODJCGUB
Fish: 37.87 inch Jumping Dolly Varden from Sw The Wondrous Harrison River British Columbia 1; Code: XGADMZQZVBQUX6494SPZAZLKLCVLNBZEKNAUYSUWUAMDTREUAHFASLPUBXLES
Fish: 34.72 inch Jumping Cutthroat from Sw The Wondrous Harrison River British Columbia 1; Code: VGWWZCIHLYIVO9898DYCHIJZNQKXFLZHICMPMNRJGGMTPDWPOSKUTZHVVDXXO
Fish: 31.29 inch Jumping Red Rainbow from Sw The Wondrous Harrison River British Columbia 1; Code: IHAZEGPSFJCWY4260YNMRYEMDKJUODVCELVFIQSPJIXLXCNWXMTPAKVQOWKZX
Fish: 45.62 inch Jumping Chinook Salmon from Sw The Wondrous Harrison River British Columbia 1; Code: XPPIZQUDKODHQ4903AEKEXOCTQOFIBVCNTMZUAPBFAQIVIPZLZYNCWXXDUXXO
Fish: 34.72 inch Jumping Bull Trout from Sw The Wondrous Harrison River British Columbia 1; Code: UCNJBNGIRKYDE2922TQWGYPFKJEGMGTPSKKTPOXZLYONIREKBBQAMXIWPIHPM
Fish: 56.30 inch Jumping Lake Trout from Sw The Wondrous Harrison River British Columbia 1; Code: ZFCFMFIROMVNH3875GJTPNPGIDOPNVFXEOLIVHFNSZDKMQDZYORUHWGQCMILE
Fish: 30.03 inch Jumping Sockeye Salmon F from Sw The Wondrous Harrison River British Columbia 1; Code: JWKRWMDJZLTXQ1957CNKFLHKHCRFLBLSNNQXEOQFXWJTCCRXGTXTVRDHHTFJB
Fish: 58.22 inch Jumping Muskie from Sw The Wondrous Harrison River British Columbia 1; Code: GSPPDABOVZBGX8595DOPLKCNGJAJSXFDWMAVVKBIWULERBIWHFITXDWIWJZLH
Fish: 31.99 inch Jumping Sockeye Salmon F from Sw The Wondrous Harrison River British Columbia 1; Code: PYUEOUECVFEUQ0686QWYGXSDPWYMY?ICJFDTOVHIDIDBFSBLISNOKDWHFDLKX
Fish: 38.27 inch Jumping Cutthroat from Sw The Wondrous Harrison River British Columbia 1; Code: ASTUASJHSEOKN3985SPGMEWGCWTLMBEUZLBHFCUWXXTKESTYXEQLTLWWBXNAL
Fish: 33.02 inch Jumping Red Rainbow from Sw The Wondrous Harrison River British Columbia 1; Code: BQLGMZAJIUXYL8567SIVZYIAUJQSZNVSSECXDAMQWXXBATMGGAGJLXHRXPEWY
Fish: 58.45 inch Jumping Lake Trout from Sw The Wondrous Harrison River British Columbia 1; Code: JUWRHMTHYEIRJ9716ZKMDGBGVWZWDAPRXXBHCWHFPQAXFVPHWNHFKPCLVGDAN
Fish: 34.49 inch Jumping Bull Trout from Sw The Wondrous Harrison River British Columbia 1; Code: KNCPCCAVTYKFL4040YTTZNWXMRDJKOCSDSCQAVWLTLSKMSUQOWKROMAUEMHPM
Fish: 28.14 inch Jumping Sockeye Salmon F from Sw The Wondrous Harrison River British Columbia 1; Code: ECVPWEEPAVNMS0891UVMVVRMWKDITRIKNEDOTOKDCPMXHMZXJNIAPPAZXUYKR
Fish: 37.51 inch Jumping Largemouth Bass from Sw The Wondrous Harrison River British Columbia 1; Code: UDQOVEPGAVQTV5048VVZDANLVDEYUCVLAHVKDXPVTBPHUHOKXJYKVQSGWKMXA
Fish: 28.24 inch Jumping Arctic Grayling from Sw The Wondrous Harrison River British Columbia 1; Code: HUJKMPLXOZZNA9410KTPKPZEFJOIVKOCWFFKQRETKOIWAPYKKYMALDTMPMGUB
Fish: 31.38 inch Jumping Sockeye Salmon M from Sw The Wondrous Harrison River British Columbia 1; Code: CHDESYFNLBOWG1652OHESRYFHXBWR@MSHKOYAISEKLFSKKXZOLBHWSEMUMDAN
Fish: 38.90 inch Jumping Cutthroat from Sw The Wondrous Harrison River British Columbia 1; Code: REQIUJPFRKIZX9743EGLZNAJDJWDZECUXFNYNLCLOWKVIBUGGIXXDZXUWWSHR
Fish: 34.37 inch Jumping Bull Trout from Sw The Wondrous Harrison River British Columbia 1; Code: FCCSQLEGSOKKG9794XRORUBJREAYODVJFOBNMDLWAVZCSTUWCIOMKVEHWHILE
Fish: 39.98 inch Jumping Muskie from Sw The Wondrous Harrison River British Columbia 1; Code: AVSRCJBSLYDKT8202PPHTMAYZPCDK?UZXTUOVCVKMOEAOGFODTNKOGHUUIMXA
Fish: 27.45 inch Jumping Arctic Grayling from Sw The Wondrous Harrison River British Columbia 1; Code: WSHBIRELLCMOJ0426CQZONAOUPJHLMYITPHAJKODNDOTLPGIYLQAULEFWBDAN
Fish: 39.08 inch Jumping Bowfin from Sw The Wondrous Harrison River British Columbia 1; Code: HPXWDYJSTASUE0062BJISCIBFJNGPMCFHMXVYACFOROSTVSMTLYOXOPSKSZGB
Fish: 30.67 inch Jumping Sockeye Salmon M from Sw The Wondrous Harrison River British Columbia 1; Code: UHAXSEQWDIFTA3390CADPLYILJNQSEFMGHSIHGHMHVIRPDKQRODMZMMPBLUVK
Fish: 39.26 inch Jumping Chinook Salmon from Sw The Wondrous Harrison River British Columbia 1; Code: JNWLJVAOBQGHX6447MYZCNMSRPGLPCPUTIERHFVSMFFGALGSVCDXLGWEXVNAL
Fish: 27.02 inch Jumping Cutbow from Sw The Wondrous Harrison River British Columbia 1; Code: ZZTHCMGNAKXOI0205ZPDYWICSCJMCFMURAYAIOEODEWREVAAENCRVMOCQUEQT
Fish: 28.59 inch Jumping Sockeye Salmon F from Sw The Wondrous Harrison River British Columbia 1; Code: CYVCZPCRFGXFA3955JNFUTOKMDFSIMLSXVASWHQSGHORBAISWWOFPNBZSWKZX
Fish: 28.30 inch Jumping Arctic Grayling from Sw The Wondrous Harrison River British Columbia 1; Code: WZAPOIXVZYNYM3005GDMHGWVZWCAZLZGFEEXDBIJQPJLPZWXZWTATUJMLDPOE
Fish: 39.32 inch Jumping Bowfin from Sw The Wondrous Harrison River British Columbia 1; Code: SHNQXHIOBRXBR3793NJODUWGVWCCKOFXFVDDWAFABCIILXCMFRJPBAMJVSILE
Fish: 49.66 inch Jumping Atlantic Salmon from Sw The Wondrous Harrison River British Columbia 1; Code: IFMHOGFZEJJLI0041VLGPTZAZDRLGCZBOZGXGYQYCCOQZDKGNGDBHQCDDHETN
Fish: 31.74 inch Jumping Sockeye Salmon M from Sw The Wondrous Harrison River British Columbia 1; Code: KAMASMEZBOJIV9290BAWRWRHOQBXJVVTCPMNIEJPTZUVXYNEJQKUPKYQGXPYE
Fish: 37.14 inch Jumping Chinook Salmon from Sw The Wondrous Harrison River British Columbia 1; Code: JMLZOERISFEKH2222LTWFLGMGDGUHFVXLQBSTXDWMUWMPVOBHTVVZKMBRNZGB
Fish: 26.54 inch Jumping Arctic Grayling from Sw The Wondrous Harrison River British Columbia 1; Code: VUPPDKNYVGDTD5844UXDBTVVDDEAGBZKZXGKTMWCNDKLXFMBQPRUZETKAYDVI
Fish: 36.64 inch Jumping Walleye from Sw The Wondrous Harrison River British Columbia 1; Code: KTSQOKLUXMLHF5514AJDVDMYFDWCQIIUHPNWGDQDPTMIEVSNBZNGUHWROFJDE
Fish: 27.24 inch Jumping Sockeye Salmon F from Sw The Wondrous Harrison River British Columbia 1; Code: LRCCASBLOGTGD9196ICAIPZRXPBRVTZSBJWMXUQWOTQRAWTVKVEMETZUCKDAN